When This Little Boy Vanished, The Police Followed Paw Prints To Track Him Down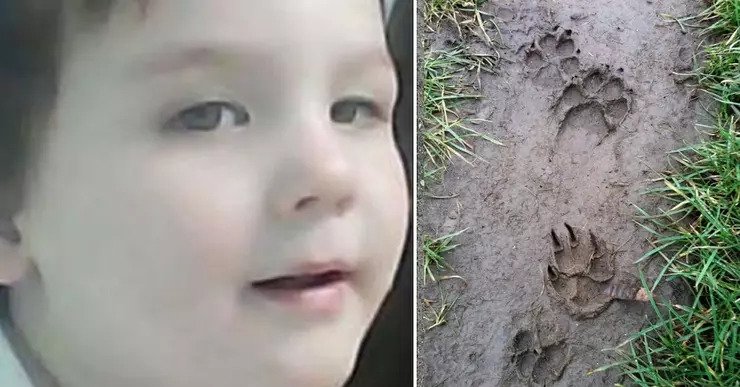 Any parent can relate to that sinking feeling in the back of their mind that something is wrong. It is a hard feeling to shake once it arrives. Chelsea Nobel is a parent who recently experienced this exact emotion. She woke up one October morning with the distinct feeling that something was wrong.
Call it a mother's intuition. As we all know, a mother's intuition is never wrong. A mother knows when her children are upset and she knows when they are in peril. Her son William was not in his usual spot. When she went to check for the boy that morning, he was gone. Her blood ran cold and she knew that she had to do everything in her power to find him.
At first, she had hoped that he was somewhere in the home. It took a frantic search before she realized that this was not the case. Once it became apparent that he was nowhere near by, she knew that she had to contact the police. The officers arrived soon after the call and were prepared to do everything in their power to help her bring her little boy back home.
William was somewhere out there in the world, lost and scared. Who knows what was going through this little boy's mind at this exact moment? The search for the little boy was extensive. The Mississippi community where Chelsea and William reside rallied around the family during their time of need.
Everyone wanted to make sure that the little boy was safe. Volunteers assisted the police officers, helicopters and K-9 units with their search but they were not having any luck. Chelsea was distraught. No mother ever wants to lose their child, especially not under these sorts of circumstances. She would never be able to forgive herself if she was unable to locate him.
Parents of all ages can understand where she is coming from here. We would not be able to sleep or eat for weeks if our children went missing. The idea of a small child lost and alone in the world is enough to bring anyone to tears. Just when it seemed like all hope was lost, the authorities made a crucial discovery that cracked open the case.
They found a set of small footprints out in the woods. As they followed William's footprints, they realized that there was a second set next to them. As it turns out, William was not alone during this harrowing search. He had a dog beside him the whole time!
Meanwhile, an older boy named Blake Carroll had just gotten home from school when he heard his uncle's truck beeping at him. However, his uncle was not inside. The aforementioned dog was circling the truck, trying their best to get inside. You will never guess who was inside of the truck.
It was William! Blake and his uncle pulled the little boy to safety and at long last, this mother's nightmare was over. Best of all, William was no worse for the wear. He had a few scratches and some bug bites but was otherwise fine. This young man had taken quite the late-night journey.
Since William is a nonverbal child who is currently being tested for signs of being autistic, it is entirely possible that he did not respond when the officers tried to call out to him. Luckily, he had this heroic dog by his side to make sure he was okay. Jezebel is the dog's name and she was hailed for keeping him safe during this disappearance. All's well that ends well! Please be sure to share this story with your friends and loved ones on Facebook.
The little boy shares a special moment with a police officer during a protest rally for George Floyd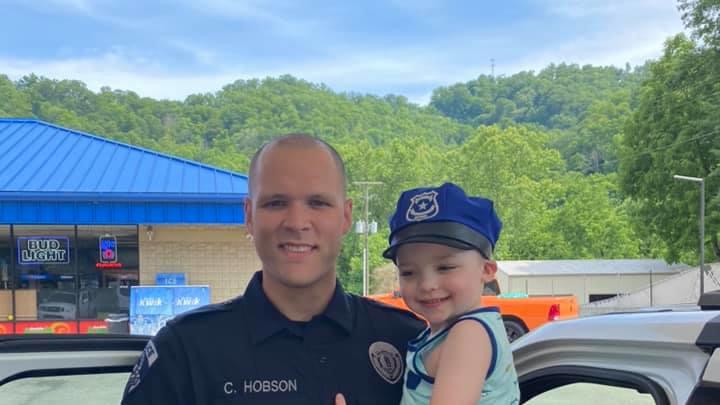 The ruthless killing of George Floyd has caused a thunderous uproar and rage throughout the world. In Winston-Salem, NC, hundreds of people gathered to protest against the killing of Floyd. They took to one knee for 8 minutes and 46 seconds that is the exact length of time former police officer Derek Chauvin had shoved his knee onto Floyd's neck which resulted in Floyd's death. The killing of George Floyd has become a symbol of injustice not only in American society but throughout the world. "Say no to racism" has been the most trending topic in all regions of the globe. In this particular incident, it was a black man who was the victim and this is not the only time it has happened. Several cases have occurred which demonstrated the lack of compassion and justice in the way law enforcement has dealt with individuals from minority racial groups.
Yolanda Williams Dickey, a resident of Winston-Salem, NC, was driving by the protest when she decided she wanted her family to be part of this protest as a sign of solidarity against discrimination against the minority groups. She went home to pick up her husband and son, who were glad they got a chance to be part of this historic protest. For her little son, Kamari it was quite the experience. He had never seen a protest rally before this. He saw a lot of anger and pain in the faces of the protestors. He could also see his parents being very emotional too. His parents had told him what the protest was about and how Floyd had been murdered. Kamari couldn't understand why the former police officer did what he did to George Floyd.
Kamari's attention went to the police officers on the sidelines. He watched them very closely as they stood by making sure there was no violence at the protest. Kamari had always wanted to a police officer himself but now his mother was concerned that after this incident, maybe he would not want to be one. Most of the toys that Kamari had were related to the police and he spent most of his days playing with them. He often told his parents that when he grows up he wanted to be a police officer so he could catch the bad guys. This unfortunate killing of George Floyd might have shattered the dreams of the little boy. At the protest, as the family moved closer to the police officers, Kamari approached Sgt. Dan Battjes, who was sitting on his motorcycle.
Kamari formally introduced himself to the police officer, who was very kind and friendly to the boy. After a few minutes of talking, Kamari said goodbye to the officer by a friendly fist pump. While the citizens of the country are demonstrating against the police and there is an unbelievable level of anger toward law enforcement, this little boy kept no hatred in his heart. The innocence of the little boy showed the resilience of the American community. One incident cannot dismantle years of peaceful coexistence. Yes, there have been cases where the minority communities have been discriminated and there should be strict actions and reforms against such incident but Americans still need to live together. The dream of Kamari to become a police officer might still be alive. The question remains, is the dream of a multi-racial America living with each other with love, compassion, and tolerance still alive? Only time will tell if this dream is alive.