When She Asked Twitter for a Date, The Most Unexpected Thing Happened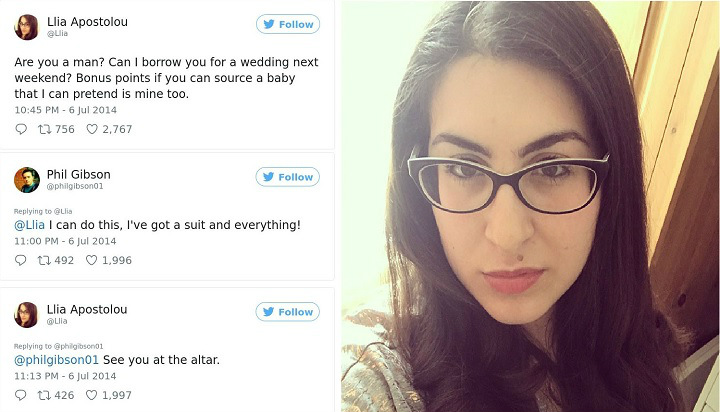 We all know what it's like when you have an event, like a wedding, to go to and you need a date. You aren't dating anyone and you don't have someone in reserve for times such as these. You've asked all your friends and your friends friends and you've come up empty. What's a girl to do?
Lila Apostolou had just the answer. She took to social media to find herself a date. Three years ago, she was in exactly this dilemma. She was dateless for a wedding that she was going to attend soon, as in the next weekend. She didn't have any viable options, so she decided to do something a little different than she had ever done before. This is the age of the internet, so why not use it? She sent out a tweet to get the answer she needed.
Using humor to get her message out to the masses, she sent a tweet that read "Are you a man? Can I borrow you for a wedding next weekend? Bonus points if you can source a baby that I can pretend is mine too." This same humor will be a theme through many of her next tweets.
You know how it goes, someone reads it and then retweets it and suddenly the message it out. That post was retweeted over a thousand times. Of all the responses she received, it was Phil Gibson's that stood out above all the rest. It said "I can do this, I've got a suit and everything!"
That was all she wrote. That one tweet was all it took for the pair to begin friendly and incredibly flirty interactions, all via tweets for the whole world to read. The world had no idea what they were watching unfold right before them.
Keeping humor in her response, Apostolou tweeted, "see you at the altar" back to Gibson.
He wanted to make sure they were both on the same page as to what was actually going to happen that weekend, so he replied with, "It's a date! Just a date though, right?"
Apostolou then asked "@philgibson01 is this how internet dating works?" You never know, they might have created the next hot thing in online dating, just sending out random tweets.
Gibson, an old soul at heart joked back by saying they should take it to the next level by writing. He also quipped "My grandma already wants to meet you."
Apostolou got the last word, or tweet by playfully responding, "that's nice and all, but I didn't invite her to my wedding. No, wait, THE wedding. Slip of the tongue."
Many commented on their tweets about how much they enjoyed the banter between the two and they didn't know that they continued communicating outside of the tweets. The soon graduated to direct messages and long emails about themselves to get to know each other.
You just never know where a little tweet might go. Almost three years to the day, they joined each other to witness another wedding, their own. For anyone that thinks that nothing positive comes out of social media, Apostolou and Gibson are proof to prove them wrong.
Giant Seal is Beached and Then has a Baby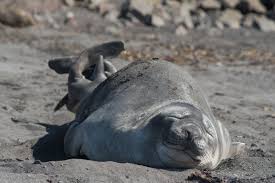 The exact moment when a mother sees her newborn baby for the first time is one of the most amazing sights in the world. The utter disbelief and joy on her face in combination with wonderment is one of the finest moments in any woman's life. It is the same feeling that animals have when they give birth and the look on their faces when they first see their babies is as equally magical.
Recently a tourist spotted a large female seal on the beach. She appeared to be in great pain because of the manner in which she was writhing around. The tourist shot a video of the seal. A few minutes later, the elephant seal appeared to have a spot beneath her tail. After some hard pushing, her calf was born. She quickly turned around and inspected her new baby to make certain that it was okay.
Elephant Seal Interesting Facts
Giant seals or elephant seals are the largest seals in the world. There are two types: the Northern elephant seal and the Southern elephant seal. The northern species are found in the coastal waters near Canada and Mexico and the southern species are found off the coast of South Africa, Argentina and New Zealand.
The adult bull or male seal has a proboscis that appears much like the trunk of an elephant, making it easy to distinguish males from females at a glance. The males roar through this appendage during the mating season to attract females. They also use it to fight with other males in order to win battles and claim females as their own.
The average adult southern male can weigh up to 6,600 pounds and reach a length of 16 feet in total. The female adults weigh about 2,000 pounds and measure around 10 feet long. Elephant seals may be light brown, dark brown, gray or rust colored.
Southern elephant seals can live to reach 22 years old and the northern species life span is only about 9 years.
Elephant Seal Reproduction
Elephant seals return to the coast for their breeding grounds in the winter. Female giant seals reach maturity between 3 and 6 years old and males mature slower between 5 and 6 years. Males battle each other to gain the alpha status that allows them to mate with the females. A male will mate with 30 to 100 females. A bit over 50 percent of first time breeding seals fail to produce a pup. A female elephant seal has one pup per year and the gestation period is 11 months. So, when females arrive at the breeding grounds in the winter, they are already pregnant. Females don't eat while nursing their pups for the first month of its life.
Don't Get Too Close to Wildlife
If you ever spot an animal of any kind that appears to be hurt, it's best not to get too close to them. In 2000, Homer, an elephant male seal terrorized Gisborne, a town in New Zealand. He attacked trash bins, cars, boat trailers, a tree and a power transformer in a rage. It isn't known what made him so mad, but it's best to keep your distance from all wildlife—thus the term of wild and life.