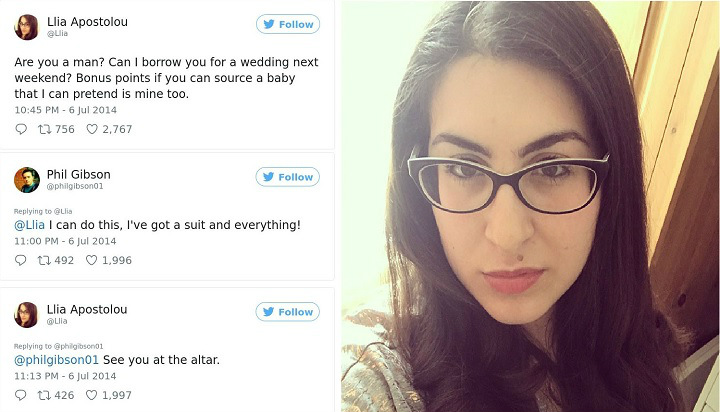 When She Asked Twitter for a Date, The Most Unexpected Thing Happened
We all know what it's like when you have an event, like a wedding, to go to and you need a date. You aren't dating anyone and you don't have someone in reserve for times such as these. You've asked all your friends and your friends friends and you've come up empty. What's a girl to do?
Lila Apostolou had just the answer. She took to social media to find herself a date. Three years ago, she was in exactly this dilemma. She was dateless for a wedding that she was going to attend soon, as in the next weekend. She didn't have any viable options, so she decided to do something a little different than she had ever done before. This is the age of the internet, so why not use it? She sent out a tweet to get the answer she needed.
Using humor to get her message out to the masses, she sent a tweet that read "Are you a man? Can I borrow you for a wedding next weekend? Bonus points if you can source a baby that I can pretend is mine too." This same humor will be a theme through many of her next tweets.
You know how it goes, someone reads it and then retweets it and suddenly the message it out. That post was retweeted over a thousand times. Of all the responses she received, it was Phil Gibson's that stood out above all the rest. It said "I can do this, I've got a suit and everything!"
That was all she wrote. That one tweet was all it took for the pair to begin friendly and incredibly flirty interactions, all via tweets for the whole world to read. The world had no idea what they were watching unfold right before them.
Keeping humor in her response, Apostolou tweeted, "see you at the altar" back to Gibson.
He wanted to make sure they were both on the same page as to what was actually going to happen that weekend, so he replied with, "It's a date! Just a date though, right?"
Apostolou then asked "@philgibson01 is this how internet dating works?" You never know, they might have created the next hot thing in online dating, just sending out random tweets.
Gibson, an old soul at heart joked back by saying they should take it to the next level by writing. He also quipped "My grandma already wants to meet you."
Apostolou got the last word, or tweet by playfully responding, "that's nice and all, but I didn't invite her to my wedding. No, wait, THE wedding. Slip of the tongue."
Many commented on their tweets about how much they enjoyed the banter between the two and they didn't know that they continued communicating outside of the tweets. The soon graduated to direct messages and long emails about themselves to get to know each other.
You just never know where a little tweet might go. Almost three years to the day, they joined each other to witness another wedding, their own. For anyone that thinks that nothing positive comes out of social media, Apostolou and Gibson are proof to prove them wrong.
Love, Laughter, and 75 Years Together: Gene and Virginia Nelson's Remarkable Anniversary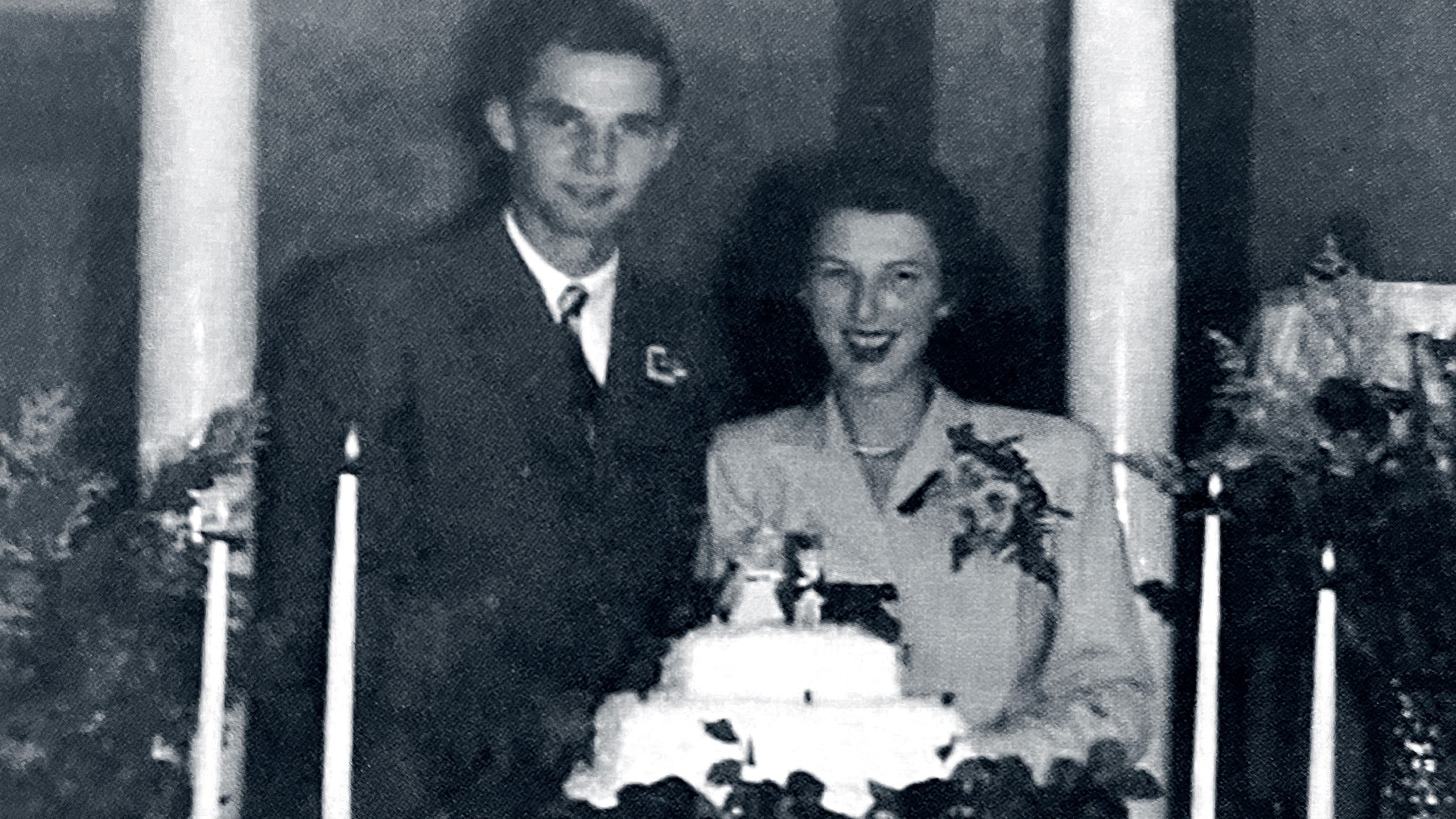 Gene and Virginia Nelson of Canby, Oregon, have a relationship that showcases love's enduring power. The couple recently celebrated an incredible 75 years of marriage, a milestone that very few can claim to have reached. When asked the secret to their lasting love, they attribute it to patience, trust, and a good sense of humor.
Gene, at 95, and Virginia, at 92, have seen a lifetime of changes and challenges, but their love has remained steadfast. When questioned about their enduring bond, Virginia simply replied, "We were just meant to be together!" Gene chimed in, "Have patience through the good times and the bad, try to be honest and faithful."
Their journey began 75 years ago on August 8 when they decided to elope from Brownsville, Oregon, in Linn County. They hopped on a bus to Reno and got married, a move that still brings a giggle to Virginia's lips as she recalls how they outfoxed their parents. At the time, Virginia was just 17, and Gene was 20, with Gene humorously adding, "I was 20 and five months, lacked 2 days, and she was 17 years and 25 days."
According to their grandson, Cody Westphal, their sharp minds are one of the reasons behind their enduring relationship. He said, "Just actively trying to exercise your mind is how it stays sharp."
The couple has three children and seven grandchildren, with the youngest being 29 years old. Gene recalled what made him know that Virginia was the one, saying, "She was a sweet girlfriend, and I hadn't found out any of her faults yet when we were young," which elicited laughter from both of them.
Judy, their daughter, expressed her pride in her parents' long-lasting love. She said, "It takes a lot to make it 75 years and not give up, and they never gave up."
Their sense of humor remains a cornerstone of their relationship, as Judy shared, "They both have a really good sense of humor." Gene and Virginia often engage in friendly banter, and even if they have disagreements during the day, they never go to bed angry.
The couple's thrifty nature is another shared trait. They still have the refrigerator they purchased right after their wedding from Sears Roebucks, and it's still in working condition. Just like their marriage, it has stood the test of time. Gene proudly mentioned, "Never had a service charge, and it's still working! We've always been thrifty."
Their light-hearted arguments, thrifty habits, and enduring love have earned them the nickname "the Bickersons" among family members. Cody noted, "Even if they fight all day, they don't go to bed angry. I think that's why they wake up the next day, and they're still the Bickersons!"
In the twilight of their lives, Gene and Virginia continue to cherish their partnership. As Gene put it, "We're in our waning days. I hope she outlives me because I don't want to outlive her." Their story is a heartwarming reminder that love, patience, and a good sense of humor can make a marriage truly timeless.