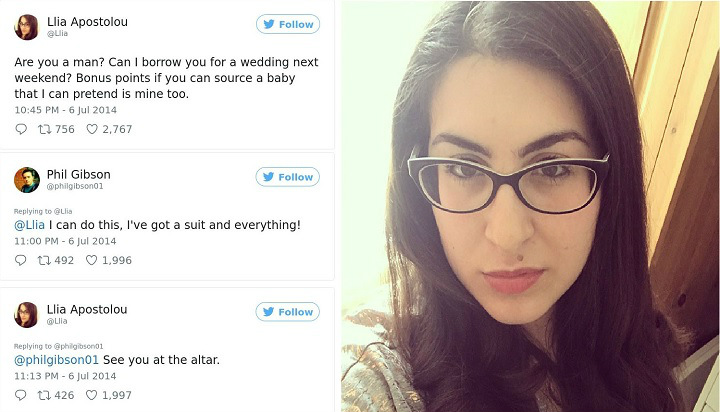 When She Asked Twitter for a Date, The Most Unexpected Thing Happened
We all know what it's like when you have an event, like a wedding, to go to and you need a date. You aren't dating anyone and you don't have someone in reserve for times such as these. You've asked all your friends and your friends friends and you've come up empty. What's a girl to do?
Lila Apostolou had just the answer. She took to social media to find herself a date. Three years ago, she was in exactly this dilemma. She was dateless for a wedding that she was going to attend soon, as in the next weekend. She didn't have any viable options, so she decided to do something a little different than she had ever done before. This is the age of the internet, so why not use it? She sent out a tweet to get the answer she needed.
Using humor to get her message out to the masses, she sent a tweet that read "Are you a man? Can I borrow you for a wedding next weekend? Bonus points if you can source a baby that I can pretend is mine too." This same humor will be a theme through many of her next tweets.
You know how it goes, someone reads it and then retweets it and suddenly the message it out. That post was retweeted over a thousand times. Of all the responses she received, it was Phil Gibson's that stood out above all the rest. It said "I can do this, I've got a suit and everything!"
That was all she wrote. That one tweet was all it took for the pair to begin friendly and incredibly flirty interactions, all via tweets for the whole world to read. The world had no idea what they were watching unfold right before them.
Keeping humor in her response, Apostolou tweeted, "see you at the altar" back to Gibson.
He wanted to make sure they were both on the same page as to what was actually going to happen that weekend, so he replied with, "It's a date! Just a date though, right?"
Apostolou then asked "@philgibson01 is this how internet dating works?" You never know, they might have created the next hot thing in online dating, just sending out random tweets.
Gibson, an old soul at heart joked back by saying they should take it to the next level by writing. He also quipped "My grandma already wants to meet you."
Apostolou got the last word, or tweet by playfully responding, "that's nice and all, but I didn't invite her to my wedding. No, wait, THE wedding. Slip of the tongue."
Many commented on their tweets about how much they enjoyed the banter between the two and they didn't know that they continued communicating outside of the tweets. The soon graduated to direct messages and long emails about themselves to get to know each other.
You just never know where a little tweet might go. Almost three years to the day, they joined each other to witness another wedding, their own. For anyone that thinks that nothing positive comes out of social media, Apostolou and Gibson are proof to prove them wrong.
Buzz Aldrin Finally Marries Long-Term Love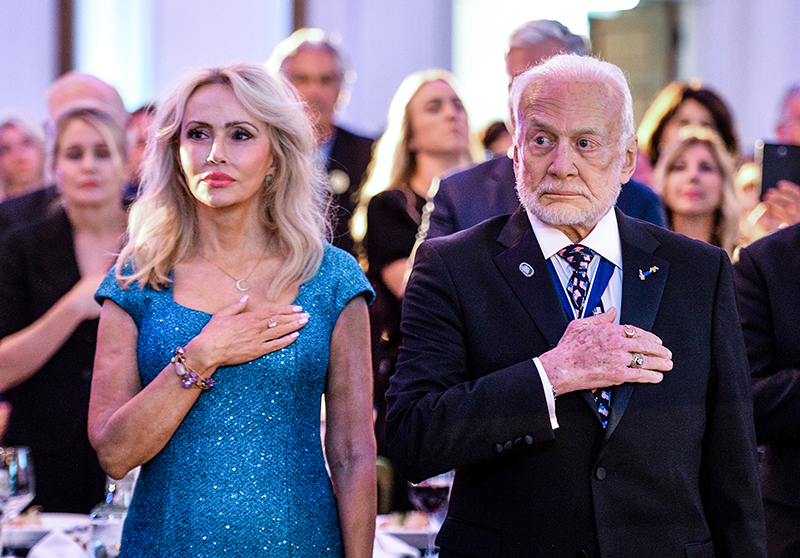 Buzz Aldrin, the second man to walk on the moon, recently married his longtime love, Lois Driggs Cannon. The couple, who have been together for more than a decade, married in a private ceremony in Los Angeles, California.

Aldrin, who is now 93 years old, first met Cannon at a gala event in Los Angeles in the late 1990s. They quickly became friends and began dating. They've been together ever since, and their love has only grown stronger over time.

Aldrin is best known for his involvement in the Apollo 11 mission, which saw him and astronaut Neil Armstrong become the first humans to walk on the moon in 1969. Since then, he has devoted his life to promoting space exploration and education. He is also a published author, having written several books about his astronaut experiences, including "Return to Earth" and "Magnificent Desolation: The Long Journey Home from the Moon."

Cannon, a retired businesswoman, has been an unwavering supporter of Aldrin throughout his career. She has accompanied him on many of his public appearances and speaking engagements. She has also been a strong supporter of space exploration and education, and the two have frequently collaborated to advance these causes.

The couple's wedding was a small and intimate affair attended by only close family and friends. The wedding took place at a private residence in Los Angeles, and the couple exchanged vows in a stunning outdoor setting. The ceremony was followed by a reception with food, drinks, and music for the guests.

The wedding of Aldrin and Cannon is a testament to the power of love and the value of companionship in life. Despite the difficulties and challenges they have faced, their love for one another has remained strong. The couple's marriage serves as an example to others and a reminder that love knows no age limit.
Aldrin is an American hero not only for his role in the Apollo 11 mission but also for his adventurous spirit and unyielding passion for space exploration. The news of his marriage serves as a reminder that love and companionship are important aspects of human life, even after achieving great heights and facing challenges. Marriage is a celebration of love, commitment, and a lifetime of shared adventures and experiences for the couple.