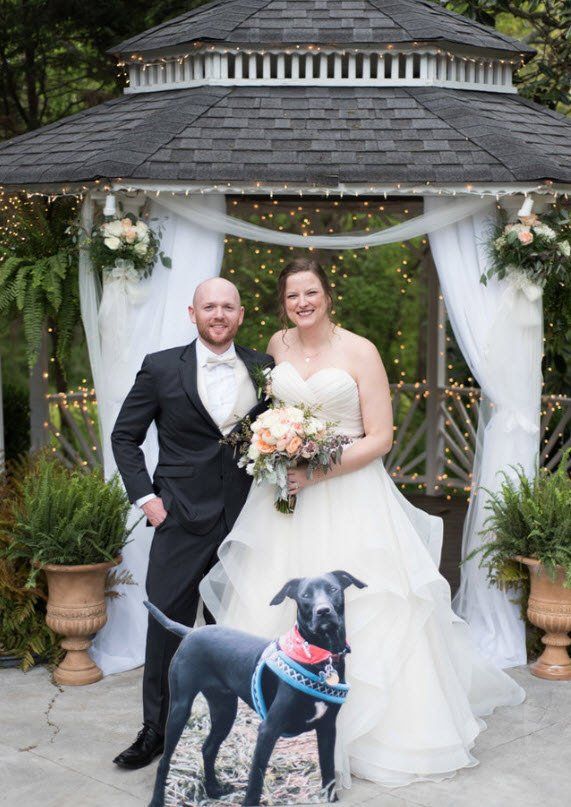 When a Bride Can't Bring Her Dog on Her Destination Wedding, Dad Comes up With a Hilarious Solution!
There is something infinitely precious about leaving home behind for a destination wedding. Destination weddings can be magical events where families and friends come together to celebrate in a way that is at once memorable and special. However, destination weddings can provide certain hurdles that are difficult to clear for attendees and bridal party members alike. When bride-to-be Hillary Bowles decided to have her destination wedding in North Carolina, she realized pretty quickly that her loving Goldendoodle named Leo would not be able to join her. Fortunately for Hillary, her father came through with quite the solution!
While many dog breeds travel well, ultimately it comes down to the personality and temperament of the individual pet. The Goldendoodle is a cross-breed between a Golden Retriever and a Poodle, an odd but adorable mix. Most Goldendoodles are known for being both intelligent and friendly. Unfortunately Hillary, Leo never got used to traveling and so it was all but certain that he would be unable to come. As the wedding drew nearer, Hillary would book a stay at a cozy animal resort for Leo while she was away. What came next, well, let' just say that Hillary didn't see it coming!
When your daughter is about to walk down the aisle, it makes sense to do everything you can as a father to commemorate the occasion. For Wayne Bowles, Hillary's hilarious father, this meant making sure that Leo was in attendance in some capacity. While Wayne couldn't bring Leo to the wedding, he did manage to put together a life-sized cardboard cutout of Leo! The massive photo of Leo looked as real as it gets! When Hillary saw the cardboard cutout, she couldn't help but feel overjoyed.
During the wedding events in North Carolina, Hillary and her family would take the cardboard cutout of Leo with them everywhere. From restroom breaks to the reception dinner, the family made sure that Leo was involved in spirit if not in person. Eventually, the cardboard cutout would find its way to the dance floor where the hilarity would hit altogether new levels! While this event happened, the real Leo was blissfully unaware of the festivities as he enjoyed his vacation at the pet resort!
When it comes to showing how much you care about the ones you love, sometimes little gestures like this can make all the difference in the world. Wayne saw that his daughter was stressed about her dog being left behind, so he made sure to do what he could to make the day special for her! We have to raise a glass to celebrate all of the men and women in the world who are willing to go the extra mile to make sure that their children are happy on their special days!
Would you want to have a cardboard cutout of your pets if you had a destination wedding? We know we would!

Love, Laughter, and 75 Years Together: Gene and Virginia Nelson's Remarkable Anniversary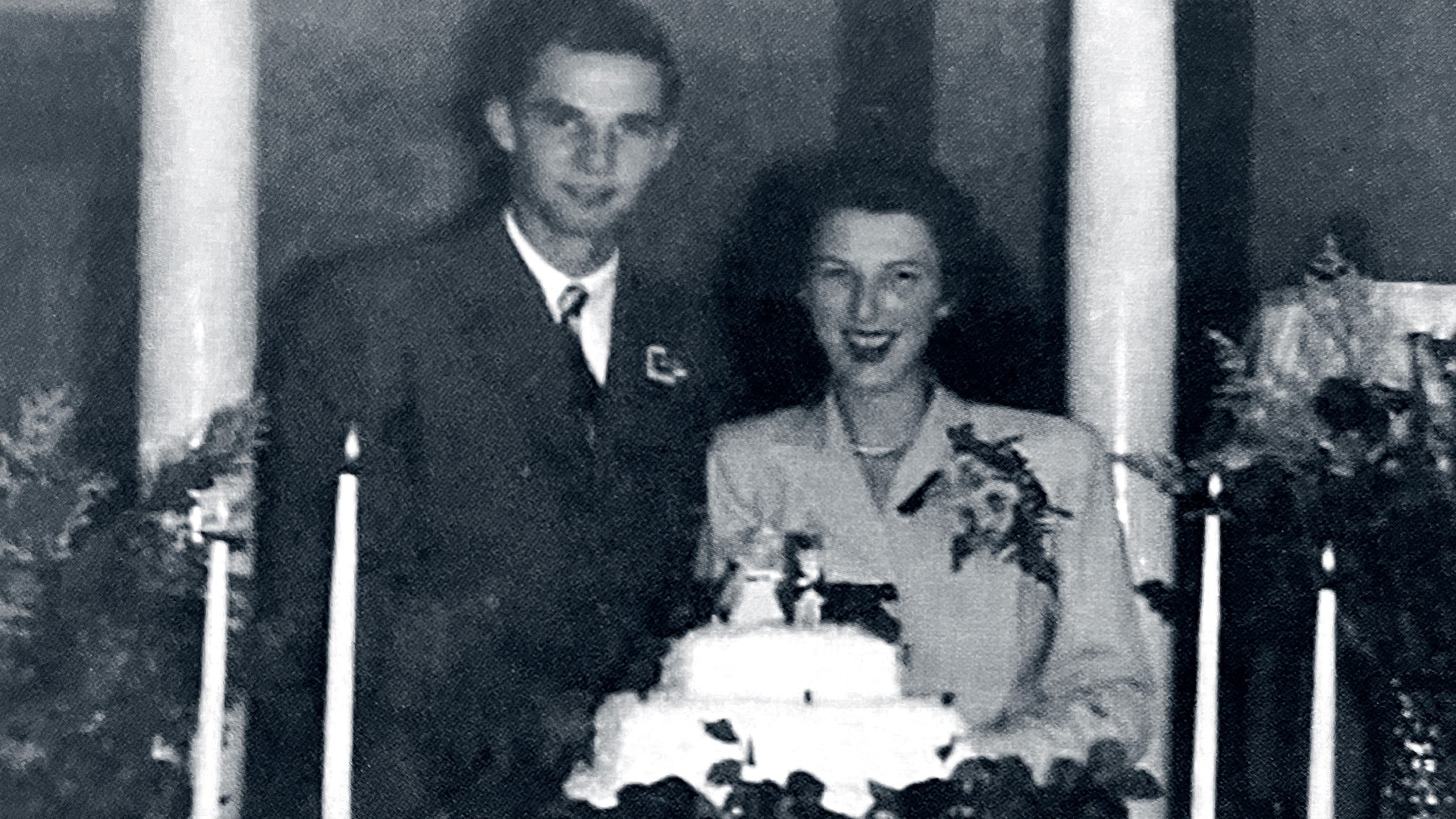 Gene and Virginia Nelson of Canby, Oregon, have a relationship that showcases love's enduring power. The couple recently celebrated an incredible 75 years of marriage, a milestone that very few can claim to have reached. When asked the secret to their lasting love, they attribute it to patience, trust, and a good sense of humor.
Gene, at 95, and Virginia, at 92, have seen a lifetime of changes and challenges, but their love has remained steadfast. When questioned about their enduring bond, Virginia simply replied, "We were just meant to be together!" Gene chimed in, "Have patience through the good times and the bad, try to be honest and faithful."
Their journey began 75 years ago on August 8 when they decided to elope from Brownsville, Oregon, in Linn County. They hopped on a bus to Reno and got married, a move that still brings a giggle to Virginia's lips as she recalls how they outfoxed their parents. At the time, Virginia was just 17, and Gene was 20, with Gene humorously adding, "I was 20 and five months, lacked 2 days, and she was 17 years and 25 days."
According to their grandson, Cody Westphal, their sharp minds are one of the reasons behind their enduring relationship. He said, "Just actively trying to exercise your mind is how it stays sharp."
The couple has three children and seven grandchildren, with the youngest being 29 years old. Gene recalled what made him know that Virginia was the one, saying, "She was a sweet girlfriend, and I hadn't found out any of her faults yet when we were young," which elicited laughter from both of them.
Judy, their daughter, expressed her pride in her parents' long-lasting love. She said, "It takes a lot to make it 75 years and not give up, and they never gave up."
Their sense of humor remains a cornerstone of their relationship, as Judy shared, "They both have a really good sense of humor." Gene and Virginia often engage in friendly banter, and even if they have disagreements during the day, they never go to bed angry.
The couple's thrifty nature is another shared trait. They still have the refrigerator they purchased right after their wedding from Sears Roebucks, and it's still in working condition. Just like their marriage, it has stood the test of time. Gene proudly mentioned, "Never had a service charge, and it's still working! We've always been thrifty."
Their light-hearted arguments, thrifty habits, and enduring love have earned them the nickname "the Bickersons" among family members. Cody noted, "Even if they fight all day, they don't go to bed angry. I think that's why they wake up the next day, and they're still the Bickersons!"
In the twilight of their lives, Gene and Virginia continue to cherish their partnership. As Gene put it, "We're in our waning days. I hope she outlives me because I don't want to outlive her." Their story is a heartwarming reminder that love, patience, and a good sense of humor can make a marriage truly timeless.