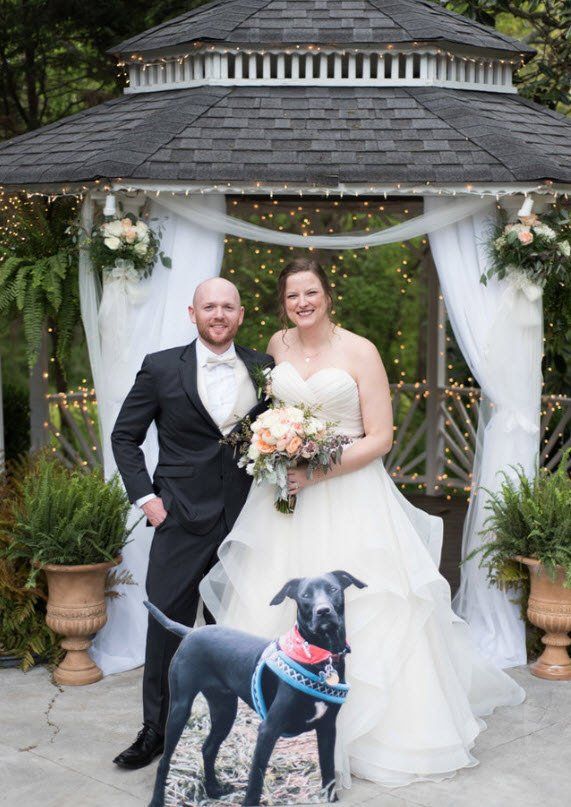 When a Bride Can't Bring Her Dog on Her Destination Wedding, Dad Comes up With a Hilarious Solution!
There is something infinitely precious about leaving home behind for a destination wedding. Destination weddings can be magical events where families and friends come together to celebrate in a way that is at once memorable and special. However, destination weddings can provide certain hurdles that are difficult to clear for attendees and bridal party members alike. When bride-to-be Hillary Bowles decided to have her destination wedding in North Carolina, she realized pretty quickly that her loving Goldendoodle named Leo would not be able to join her. Fortunately for Hillary, her father came through with quite the solution!
While many dog breeds travel well, ultimately it comes down to the personality and temperament of the individual pet. The Goldendoodle is a cross-breed between a Golden Retriever and a Poodle, an odd but adorable mix. Most Goldendoodles are known for being both intelligent and friendly. Unfortunately Hillary, Leo never got used to traveling and so it was all but certain that he would be unable to come. As the wedding drew nearer, Hillary would book a stay at a cozy animal resort for Leo while she was away. What came next, well, let' just say that Hillary didn't see it coming!
When your daughter is about to walk down the aisle, it makes sense to do everything you can as a father to commemorate the occasion. For Wayne Bowles, Hillary's hilarious father, this meant making sure that Leo was in attendance in some capacity. While Wayne couldn't bring Leo to the wedding, he did manage to put together a life-sized cardboard cutout of Leo! The massive photo of Leo looked as real as it gets! When Hillary saw the cardboard cutout, she couldn't help but feel overjoyed.
During the wedding events in North Carolina, Hillary and her family would take the cardboard cutout of Leo with them everywhere. From restroom breaks to the reception dinner, the family made sure that Leo was involved in spirit if not in person. Eventually, the cardboard cutout would find its way to the dance floor where the hilarity would hit altogether new levels! While this event happened, the real Leo was blissfully unaware of the festivities as he enjoyed his vacation at the pet resort!
When it comes to showing how much you care about the ones you love, sometimes little gestures like this can make all the difference in the world. Wayne saw that his daughter was stressed about her dog being left behind, so he made sure to do what he could to make the day special for her! We have to raise a glass to celebrate all of the men and women in the world who are willing to go the extra mile to make sure that their children are happy on their special days!
Would you want to have a cardboard cutout of your pets if you had a destination wedding? We know we would!

Dog Trainer and Dog Groomer Get Married Accompanied By Their Best Friends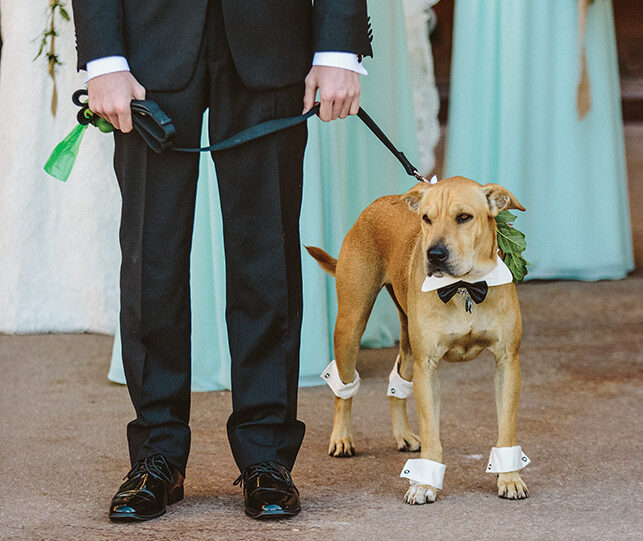 Weddings Are for Sharing With Loved Ones
When people get married, they spend one perfect day with their most loved friends and family. While many people only think about their human friends and family, there are a lot of people who could never imagine starting this important new chapter in their lives without their beloved pets. In fact, many people might have to admit, if they were being honest, that they loved their pets more than some of the relatives who came to the wedding, especially if they felt obligated to invite some relatives they rarely see and barely know.
Some People Already Spend Their Lives With Pets
Anyone who works full-time as a dog trainer or groomer already spends most of their working days with animals. They see dogs all day long, and they make the choice to do so because of many reasons. Working with pets is rewarding on many levels. Especially if you see the same dogs again and again, you form a close bond. Communicating with pets is therapeutic and generally far less stressful than dealing with humans. The people who work with dogs don't get sick of dogs and try to go home to a quiet house; they tend to have larger pet families than average.
A Dog Trainer and a Dog Groomer Tie the Knot
Paul and Annette Anthony are typical in that they work with dogs as a profession, and they have a large pet family. On the day they got married, their family consisted of 2 humans and 9 canines. Both Paul and Annette admitted that their pets were more to them than just fun — their beloved dogs also helped them get through rough times in their lives, including personal tragedies. Annette's German Shepherd Pesci is even an emotional support animal, helping her to deal with severe anxiety and depression. There was no way that their pets were going to be left out of the most important day of their lives going forward.
Canine Best Man
Paul's service dog Finn has earned his retirement. Finn has competed in over 40 events, earning titles and even setting records. He was also there for Paul when Paul developed PTSD after being at the scene of the deadliest plane crash in Pennsylvania's history. Finn was the one who helped with the proposal, giving Annette the ring with a note asking her to marry his dad. It was only fitting that Finn ended up being one of the best men at the wedding too.
A Family Affair
All 9 dogs walked down the aisle and stayed throughout the ceremony. Annette's dog Pesci even came to comfort her during the ceremony when she started to cry from happiness because he wanted to make sure his momma was all right. Whether you want to use your dogs in the ceremony as ring bearers, best men, or flower girls, or if you just want them to be present, it makes sense to have your pets help you celebrate such an important day in your life.