When a Bride Can't Bring Her Dog on Her Destination Wedding, Dad Comes up With a Hilarious Solution!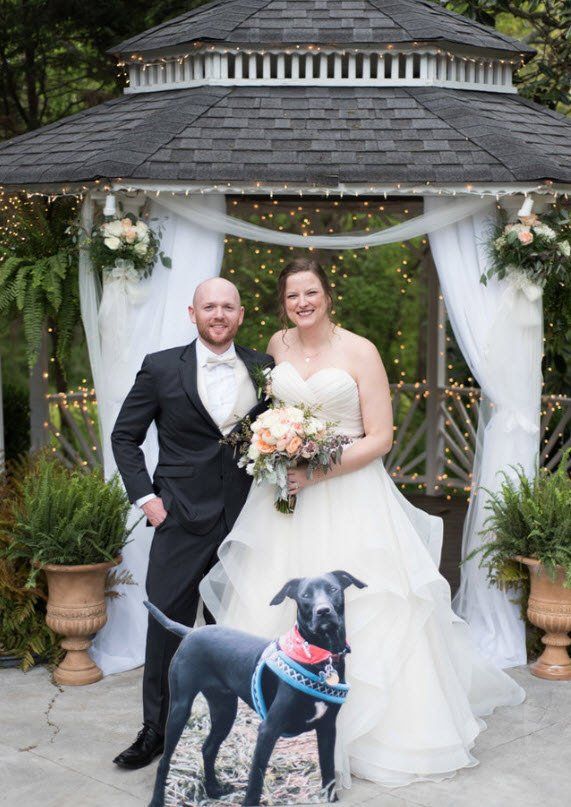 There is something infinitely precious about leaving home behind for a destination wedding. Destination weddings can be magical events where families and friends come together to celebrate in a way that is at once memorable and special. However, destination weddings can provide certain hurdles that are difficult to clear for attendees and bridal party members alike. When bride-to-be Hillary Bowles decided to have her destination wedding in North Carolina, she realized pretty quickly that her loving Goldendoodle named Leo would not be able to join her. Fortunately for Hillary, her father came through with quite the solution!
While many dog breeds travel well, ultimately it comes down to the personality and temperament of the individual pet. The Goldendoodle is a cross-breed between a Golden Retriever and a Poodle, an odd but adorable mix. Most Goldendoodles are known for being both intelligent and friendly. Unfortunately Hillary, Leo never got used to traveling and so it was all but certain that he would be unable to come. As the wedding drew nearer, Hillary would book a stay at a cozy animal resort for Leo while she was away. What came next, well, let' just say that Hillary didn't see it coming!
When your daughter is about to walk down the aisle, it makes sense to do everything you can as a father to commemorate the occasion. For Wayne Bowles, Hillary's hilarious father, this meant making sure that Leo was in attendance in some capacity. While Wayne couldn't bring Leo to the wedding, he did manage to put together a life-sized cardboard cutout of Leo! The massive photo of Leo looked as real as it gets! When Hillary saw the cardboard cutout, she couldn't help but feel overjoyed.
During the wedding events in North Carolina, Hillary and her family would take the cardboard cutout of Leo with them everywhere. From restroom breaks to the reception dinner, the family made sure that Leo was involved in spirit if not in person. Eventually, the cardboard cutout would find its way to the dance floor where the hilarity would hit altogether new levels! While this event happened, the real Leo was blissfully unaware of the festivities as he enjoyed his vacation at the pet resort!
When it comes to showing how much you care about the ones you love, sometimes little gestures like this can make all the difference in the world. Wayne saw that his daughter was stressed about her dog being left behind, so he made sure to do what he could to make the day special for her! We have to raise a glass to celebrate all of the men and women in the world who are willing to go the extra mile to make sure that their children are happy on their special days!
Would you want to have a cardboard cutout of your pets if you had a destination wedding? We know we would!

Handicapped Puppy Befriends Flightless Pigeon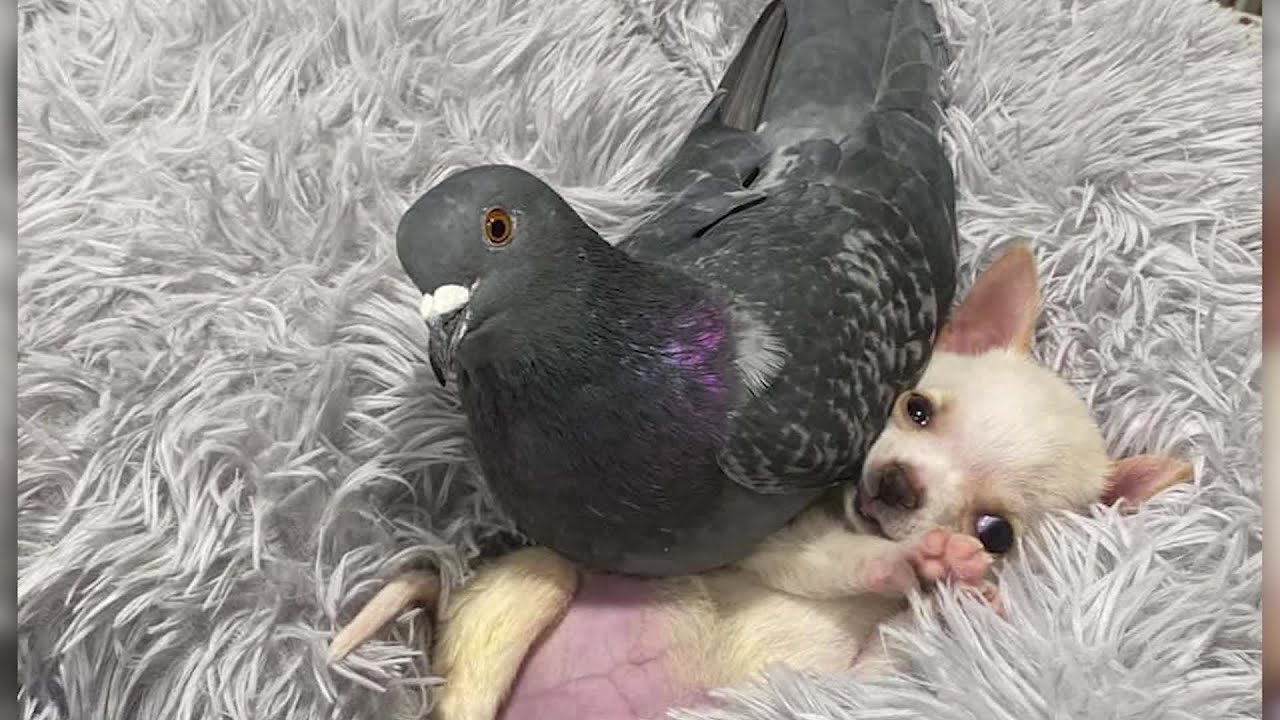 In Rochester, NY, Sue Rogers runs a non-profit called the Mia Foundation. The rescue organization rescues and rehabilitates animals who have birth defects or deformities and tries to find them a loving home. About a year ago, a pigeon was found unable to move in the parking lot of a car dealership. The pigeon was huddled and cowering on the ground. When a local wildlife rescue was called, they said the bird had neurological damage that caused him not to be able to fly. They thought that euthanization would be the best option for him.
Sue was having none of that. She stepped in and took the bird, who she named Herman, under her wing, so to speak. She made space for him in her shelter and kept him close where she could keep an eye on him. He liked to sit on a furry dog pillow and watch her work.
A couple months ago, a tiny Chihuahua was brought to the Mia Foundation. He was an infant, maybe a few months old, when his South Carolina breeders sent him to Sue. He's a teacup sized Chihuahua they named Little Lundy and he was born with spinal cord damage. Sue also determined that he was suffering from swimmers syndrome. Swimmers syndrome is a developmental deformity that causes the front and hind legs to be splayed out. This makes it almost impossible for Little Lundy to walk.
Although swimmers syndrome is thought to be untreatable, according to a few studies and an article in a veterinary journal, it can be treatable. With some physical therapy and at-home treatment, Little Lundy could live a long and happy life, which is exactly what Sue plans for him.
When Little Lundy arrived at the Mia Foundation he decided to get acquainted with his new surroundings and the other animals at the shelter. One particular encounter, created a friendship that has gone viral. Herman and Little Lundy, a puppy and a pigeon, are the unlikeliest of friends, but they have a lot in common. They both have trouble walking, or flying in Hermans case, and they were living in the same place. You could say, they were in the right place at the right time to become instant friends.
In the six weeks they have been together, Herman and Little Lundy have become inseparable. They do everything together, which is a lot of sleeping and snuggling. Mostly, with Herman sitting on top of Little Lundy, which doesn't bother him in the slightest. This friendship was so out of the ordinary that Sue had to document it. The viral sensation of the puppy and pigeon has brought attention to the Mia Foundation that was much needed. The rescue organization runs solely on donations to help cover the costs of taking care of the animals and for needed surgeries. So far, about $6000 was donated because of this unlikely friendship and over 100 adoption inquiries. Hopefully when they are adopted, they are able to stay together.