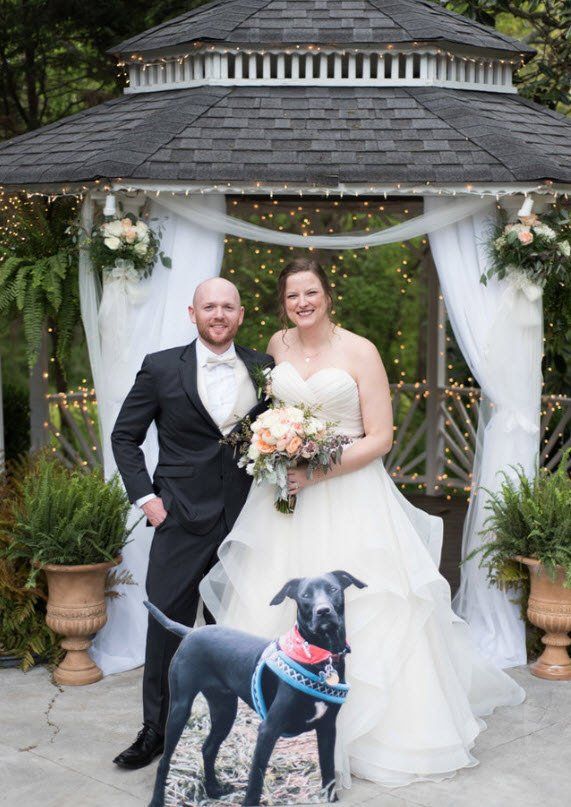 When a Bride Can't Bring Her Dog on Her Destination Wedding, Dad Comes up With a Hilarious Solution!
There is something infinitely precious about leaving home behind for a destination wedding. Destination weddings can be magical events where families and friends come together to celebrate in a way that is at once memorable and special. However, destination weddings can provide certain hurdles that are difficult to clear for attendees and bridal party members alike. When bride-to-be Hillary Bowles decided to have her destination wedding in North Carolina, she realized pretty quickly that her loving Goldendoodle named Leo would not be able to join her. Fortunately for Hillary, her father came through with quite the solution!
While many dog breeds travel well, ultimately it comes down to the personality and temperament of the individual pet. The Goldendoodle is a cross-breed between a Golden Retriever and a Poodle, an odd but adorable mix. Most Goldendoodles are known for being both intelligent and friendly. Unfortunately Hillary, Leo never got used to traveling and so it was all but certain that he would be unable to come. As the wedding drew nearer, Hillary would book a stay at a cozy animal resort for Leo while she was away. What came next, well, let' just say that Hillary didn't see it coming!
When your daughter is about to walk down the aisle, it makes sense to do everything you can as a father to commemorate the occasion. For Wayne Bowles, Hillary's hilarious father, this meant making sure that Leo was in attendance in some capacity. While Wayne couldn't bring Leo to the wedding, he did manage to put together a life-sized cardboard cutout of Leo! The massive photo of Leo looked as real as it gets! When Hillary saw the cardboard cutout, she couldn't help but feel overjoyed.
During the wedding events in North Carolina, Hillary and her family would take the cardboard cutout of Leo with them everywhere. From restroom breaks to the reception dinner, the family made sure that Leo was involved in spirit if not in person. Eventually, the cardboard cutout would find its way to the dance floor where the hilarity would hit altogether new levels! While this event happened, the real Leo was blissfully unaware of the festivities as he enjoyed his vacation at the pet resort!
When it comes to showing how much you care about the ones you love, sometimes little gestures like this can make all the difference in the world. Wayne saw that his daughter was stressed about her dog being left behind, so he made sure to do what he could to make the day special for her! We have to raise a glass to celebrate all of the men and women in the world who are willing to go the extra mile to make sure that their children are happy on their special days!
Would you want to have a cardboard cutout of your pets if you had a destination wedding? We know we would!

Sweet Elderly Man Joins Makeup Class To Help Wife With Makeup, Quickly Goes Viral!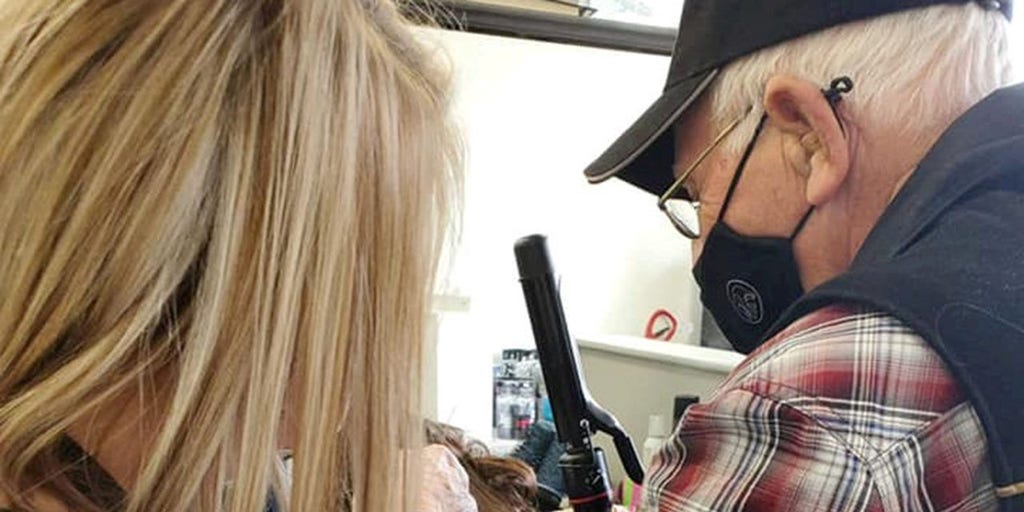 Carrie Hannah is the director at Delmar College of Hair and Esthetics, located in Alberta, Canada. A haircare professional with years of experience under her belt as an instructor, Hannah had grown accustomed to teaching even the most unusual of students the skills they would need to succeed in the hair, makeup, and beauty world. With that being said, even Carrie was surprised when she met with an elderly man at her school who had wished to learn a few things in the field. His reasoning? Well, that's the reason for today's story.
Let's leap into one of the most touching beauty school stories you'll ever read!
Helping Hands For Those We Love
There are few things in life more important than taking care of and providing care to the ones that we love. When we stand before our significant other and bind ourselves together in marriage, we truly hope to embrace 'TIl Death Do Us Part' in the same way that our story's subject has.
Carrie Hannah had been preparing for classes with her students as if it were any other day when she was approached by a white-haired, elderly man. The man, who wishes to remain anonymous, would introduce himself to Carrie before getting into the reason for their meeting — the elderly man had wanted to help his wife with her makeup.
According to Carrie, the elderly man explained that his wife had been struggling with her vision as she grew older. As she struggled to see, her beauty routine became more of a chore. His wife was struggling to curl her hair and had even burned herself in the process. Her husband wanted to help, but he didn't know exactly how, and that's where our two protagonists came together.
Carrie would go on to say that the man "genuinely cared" about his wife and her process. Carrie would continue, "His wife always cared about her appearance, and he wanted to help."
A New Set of Skills
With his motive explained and a spot available to him, Carrie would quickly get her new student into a class. At 79 years old, he was certainly going to be one of her most experienced students. The story would get picked up by Hair Design by Birtney and photos from the class would quickly go viral. Thousands of users would share the images and hundreds of thousands of views would quickly follow.
According to Hair Design by Britney, the man learned how to use a curler while also teaching him how to perform volume curls on shorter hair. Another point of emphasis that the teacher was sure to go over would involve the application of mascara. Of course, all of these lessons were combined with a hefty dose of safety training as they did not want to have any more burn incidents at home.
Commenters on the story would go crazy for the elderly man looking to support his wife. Comments ranged from compliments over his heart and attention to respect for his ambition to learn new skills outside his comfort zone. Another user recalled that their father had done something similar for their mother who had been diagnosed with Alzheimer's.
According to Hannah, working with the man to help his wife would become a highlight of her more than 31-year-career in the beauty industry. Hannah says, "We needed some cheering up and he sure did it."