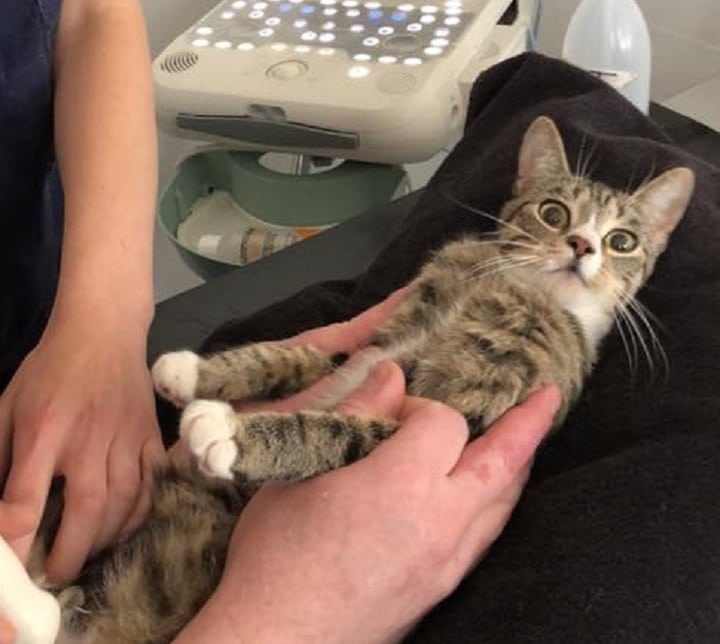 What Happens When a Cat Finds Out She Is Pregnant Is Hilarious
There are a few memorable events I life that we do not forget even after many years. Finding out that you are pregnant is one of these milestones for most mothers. Everyone remembers how they reacted. Were you shocked? Were you excited? Or did you stand and stare in utter terror? Ulla, a tabby cat, had a hilarious reaction when she first found out that she was going to be a mother. The veterinarians who took her ultrasound agree that it was one of the funniest reactions they have ever seen. She was just as shocked as anyone would be if they found out that they would be giving birth to four or five little ones in a few weeks.
 Getting Out of The Streets
When Ulla was found, she was homeless roaming the streets of Nuuk, Greenland. If she had not been rescued, Ulla might not have survived the cold. She was taken into Dyrenes Venner's rescue organization. Ullah quickly got used to her new home. In the home, there were other cats, guinea pigs, and dogs. They did not know her little secret yet.
The Surprise
It was not long before the volunteers started to notice that Ulla was growing bigger and bigger. They suspected that she might be pregnant. They took Ulla to the vet for an ultrasound which confirmed that she was indeed pregnant. Ulla's expression upon finding out that she was pregnant was hilarious.  The doctor managed to get a few photos of the cat's expression. Tone Frank, a board member of the shelter, says he was happy to take Ulla to a vet for scanning, but she was not very pleased with her results. Ullah was expecting four to five kittens. She was due in the next two weeks. He says that he had never seen a cat get an ultrasound before. The shelter soon posted photos of Ullah's amazing reaction on Reddit captioning it 'When you find out you're pregnant.' It went viral soon after that.
After the Surprise
According to the policies of the shelter, Ullah and her young ones were spayed after she delivered. Soon after that, she was adopted by a loving family soon after her photos were shared online. Tec a-loving family adopted both Ullah and her young ones. The family as another cat called Sofus.
Ullah's Story
According to Frank, the story of Ullah can be traced back to last year. When she first came to the rescue center, Ullah was very young. She found a home shortly after that, and they all assumed that she was leading a god life with her new family. It was not until April that she was back to Dyrenes Venner. Efforts to contact her owner were unsuccessful After posting her pictures on Facebook, they expected that the owner would see her and contact them, but that did not happen. It was at that point that they started looking for a new home for Ullah.
Reactions
Reddit users have found Ullah to be hilarious and adorable. 'Immeaowculate conception,' commented one of the users. 'Why aren't they teaching kids safe sex practices?' Another one added. The cat was, after all, only one year old at the time. Others went on to share their funny or cute cat stories. Ullah's purr-fect reaction has earned her a good home with new humans who will help her to raise her kittens. Even though she seemed unhappy to be having kittens, many think that she will be an excellent mother to her kittens until they are old enough to be adopted.
Love, Laughter, and 75 Years Together: Gene and Virginia Nelson's Remarkable Anniversary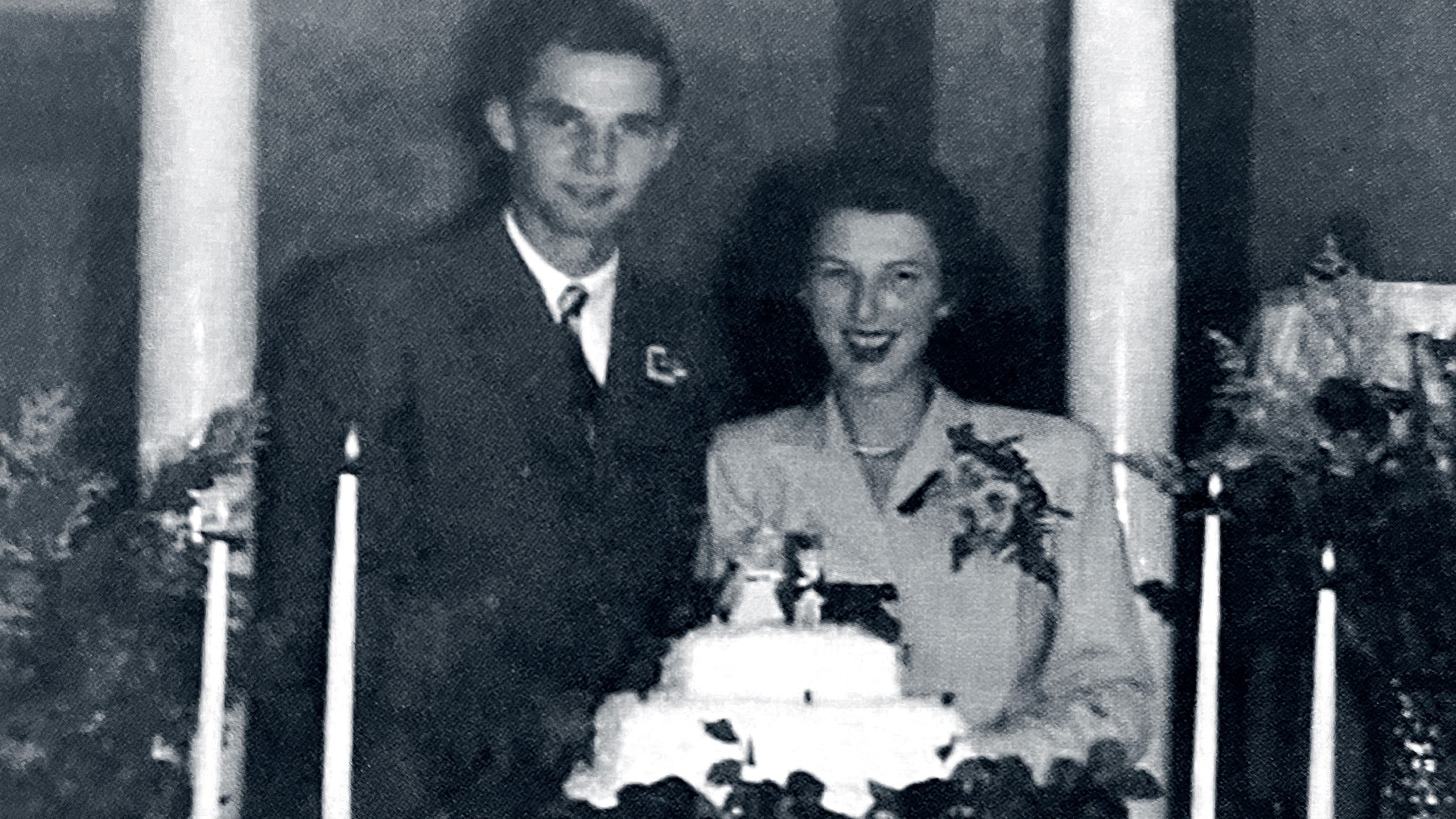 Gene and Virginia Nelson of Canby, Oregon, have a relationship that showcases love's enduring power. The couple recently celebrated an incredible 75 years of marriage, a milestone that very few can claim to have reached. When asked the secret to their lasting love, they attribute it to patience, trust, and a good sense of humor.
Gene, at 95, and Virginia, at 92, have seen a lifetime of changes and challenges, but their love has remained steadfast. When questioned about their enduring bond, Virginia simply replied, "We were just meant to be together!" Gene chimed in, "Have patience through the good times and the bad, try to be honest and faithful."
Their journey began 75 years ago on August 8 when they decided to elope from Brownsville, Oregon, in Linn County. They hopped on a bus to Reno and got married, a move that still brings a giggle to Virginia's lips as she recalls how they outfoxed their parents. At the time, Virginia was just 17, and Gene was 20, with Gene humorously adding, "I was 20 and five months, lacked 2 days, and she was 17 years and 25 days."
According to their grandson, Cody Westphal, their sharp minds are one of the reasons behind their enduring relationship. He said, "Just actively trying to exercise your mind is how it stays sharp."
The couple has three children and seven grandchildren, with the youngest being 29 years old. Gene recalled what made him know that Virginia was the one, saying, "She was a sweet girlfriend, and I hadn't found out any of her faults yet when we were young," which elicited laughter from both of them.
Judy, their daughter, expressed her pride in her parents' long-lasting love. She said, "It takes a lot to make it 75 years and not give up, and they never gave up."
Their sense of humor remains a cornerstone of their relationship, as Judy shared, "They both have a really good sense of humor." Gene and Virginia often engage in friendly banter, and even if they have disagreements during the day, they never go to bed angry.
The couple's thrifty nature is another shared trait. They still have the refrigerator they purchased right after their wedding from Sears Roebucks, and it's still in working condition. Just like their marriage, it has stood the test of time. Gene proudly mentioned, "Never had a service charge, and it's still working! We've always been thrifty."
Their light-hearted arguments, thrifty habits, and enduring love have earned them the nickname "the Bickersons" among family members. Cody noted, "Even if they fight all day, they don't go to bed angry. I think that's why they wake up the next day, and they're still the Bickersons!"
In the twilight of their lives, Gene and Virginia continue to cherish their partnership. As Gene put it, "We're in our waning days. I hope she outlives me because I don't want to outlive her." Their story is a heartwarming reminder that love, patience, and a good sense of humor can make a marriage truly timeless.