What Happens When a Cat Finds Out She Is Pregnant Is Hilarious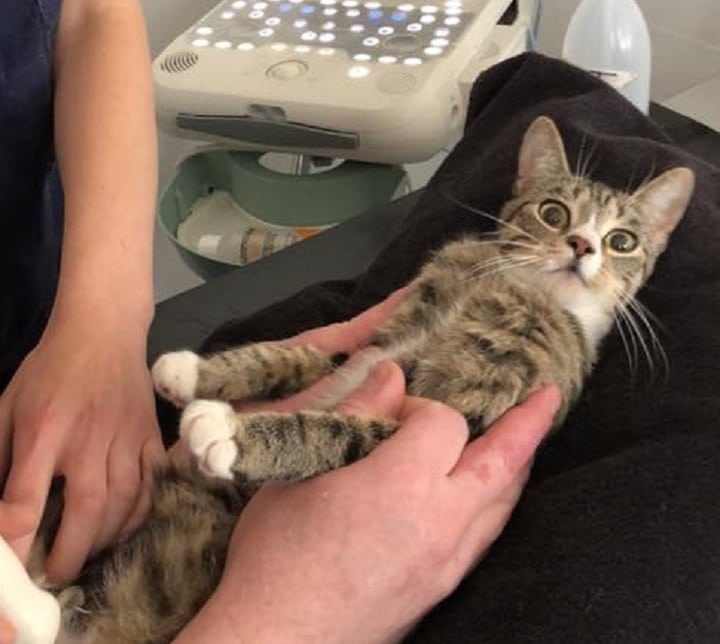 There are a few memorable events I life that we do not forget even after many years. Finding out that you are pregnant is one of these milestones for most mothers. Everyone remembers how they reacted. Were you shocked? Were you excited? Or did you stand and stare in utter terror? Ulla, a tabby cat, had a hilarious reaction when she first found out that she was going to be a mother. The veterinarians who took her ultrasound agree that it was one of the funniest reactions they have ever seen. She was just as shocked as anyone would be if they found out that they would be giving birth to four or five little ones in a few weeks.
 Getting Out of The Streets
When Ulla was found, she was homeless roaming the streets of Nuuk, Greenland. If she had not been rescued, Ulla might not have survived the cold. She was taken into Dyrenes Venner's rescue organization. Ullah quickly got used to her new home. In the home, there were other cats, guinea pigs, and dogs. They did not know her little secret yet.
The Surprise
It was not long before the volunteers started to notice that Ulla was growing bigger and bigger. They suspected that she might be pregnant. They took Ulla to the vet for an ultrasound which confirmed that she was indeed pregnant. Ulla's expression upon finding out that she was pregnant was hilarious.  The doctor managed to get a few photos of the cat's expression. Tone Frank, a board member of the shelter, says he was happy to take Ulla to a vet for scanning, but she was not very pleased with her results. Ullah was expecting four to five kittens. She was due in the next two weeks. He says that he had never seen a cat get an ultrasound before. The shelter soon posted photos of Ullah's amazing reaction on Reddit captioning it 'When you find out you're pregnant.' It went viral soon after that.
After the Surprise
According to the policies of the shelter, Ullah and her young ones were spayed after she delivered. Soon after that, she was adopted by a loving family soon after her photos were shared online. Tec a-loving family adopted both Ullah and her young ones. The family as another cat called Sofus.
Ullah's Story
According to Frank, the story of Ullah can be traced back to last year. When she first came to the rescue center, Ullah was very young. She found a home shortly after that, and they all assumed that she was leading a god life with her new family. It was not until April that she was back to Dyrenes Venner. Efforts to contact her owner were unsuccessful After posting her pictures on Facebook, they expected that the owner would see her and contact them, but that did not happen. It was at that point that they started looking for a new home for Ullah.
Reactions
Reddit users have found Ullah to be hilarious and adorable. 'Immeaowculate conception,' commented one of the users. 'Why aren't they teaching kids safe sex practices?' Another one added. The cat was, after all, only one year old at the time. Others went on to share their funny or cute cat stories. Ullah's purr-fect reaction has earned her a good home with new humans who will help her to raise her kittens. Even though she seemed unhappy to be having kittens, many think that she will be an excellent mother to her kittens until they are old enough to be adopted.
Giant Seal is Beached and Then has a Baby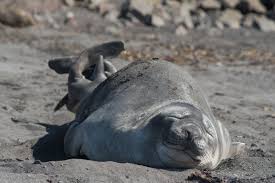 The exact moment when a mother sees her newborn baby for the first time is one of the most amazing sights in the world. The utter disbelief and joy on her face in combination with wonderment is one of the finest moments in any woman's life. It is the same feeling that animals have when they give birth and the look on their faces when they first see their babies is as equally magical.
Recently a tourist spotted a large female seal on the beach. She appeared to be in great pain because of the manner in which she was writhing around. The tourist shot a video of the seal. A few minutes later, the elephant seal appeared to have a spot beneath her tail. After some hard pushing, her calf was born. She quickly turned around and inspected her new baby to make certain that it was okay.
Elephant Seal Interesting Facts
Giant seals or elephant seals are the largest seals in the world. There are two types: the Northern elephant seal and the Southern elephant seal. The northern species are found in the coastal waters near Canada and Mexico and the southern species are found off the coast of South Africa, Argentina and New Zealand.
The adult bull or male seal has a proboscis that appears much like the trunk of an elephant, making it easy to distinguish males from females at a glance. The males roar through this appendage during the mating season to attract females. They also use it to fight with other males in order to win battles and claim females as their own.
The average adult southern male can weigh up to 6,600 pounds and reach a length of 16 feet in total. The female adults weigh about 2,000 pounds and measure around 10 feet long. Elephant seals may be light brown, dark brown, gray or rust colored.
Southern elephant seals can live to reach 22 years old and the northern species life span is only about 9 years.
Elephant Seal Reproduction
Elephant seals return to the coast for their breeding grounds in the winter. Female giant seals reach maturity between 3 and 6 years old and males mature slower between 5 and 6 years. Males battle each other to gain the alpha status that allows them to mate with the females. A male will mate with 30 to 100 females. A bit over 50 percent of first time breeding seals fail to produce a pup. A female elephant seal has one pup per year and the gestation period is 11 months. So, when females arrive at the breeding grounds in the winter, they are already pregnant. Females don't eat while nursing their pups for the first month of its life.
Don't Get Too Close to Wildlife
If you ever spot an animal of any kind that appears to be hurt, it's best not to get too close to them. In 2000, Homer, an elephant male seal terrorized Gisborne, a town in New Zealand. He attacked trash bins, cars, boat trailers, a tree and a power transformer in a rage. It isn't known what made him so mad, but it's best to keep your distance from all wildlife—thus the term of wild and life.