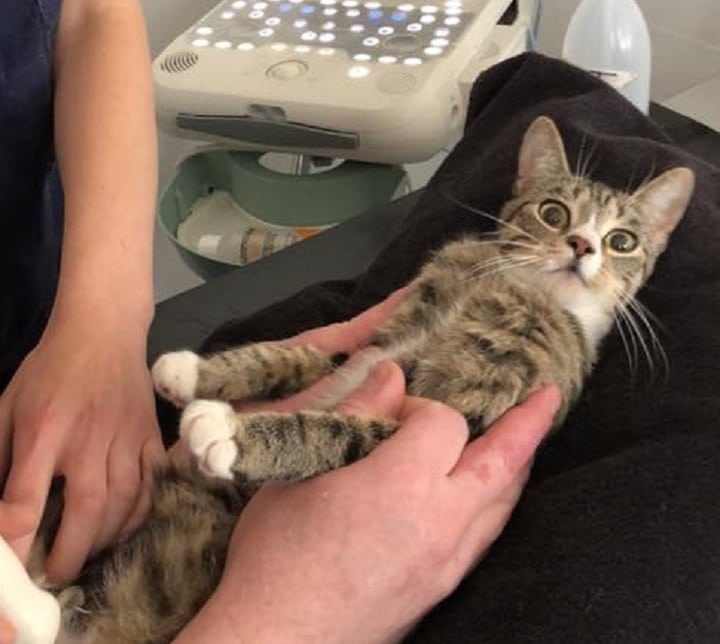 What Happens When a Cat Finds Out She Is Pregnant Is Hilarious
There are a few memorable events I life that we do not forget even after many years. Finding out that you are pregnant is one of these milestones for most mothers. Everyone remembers how they reacted. Were you shocked? Were you excited? Or did you stand and stare in utter terror? Ulla, a tabby cat, had a hilarious reaction when she first found out that she was going to be a mother. The veterinarians who took her ultrasound agree that it was one of the funniest reactions they have ever seen. She was just as shocked as anyone would be if they found out that they would be giving birth to four or five little ones in a few weeks.
 Getting Out of The Streets
When Ulla was found, she was homeless roaming the streets of Nuuk, Greenland. If she had not been rescued, Ulla might not have survived the cold. She was taken into Dyrenes Venner's rescue organization. Ullah quickly got used to her new home. In the home, there were other cats, guinea pigs, and dogs. They did not know her little secret yet.
The Surprise
It was not long before the volunteers started to notice that Ulla was growing bigger and bigger. They suspected that she might be pregnant. They took Ulla to the vet for an ultrasound which confirmed that she was indeed pregnant. Ulla's expression upon finding out that she was pregnant was hilarious.  The doctor managed to get a few photos of the cat's expression. Tone Frank, a board member of the shelter, says he was happy to take Ulla to a vet for scanning, but she was not very pleased with her results. Ullah was expecting four to five kittens. She was due in the next two weeks. He says that he had never seen a cat get an ultrasound before. The shelter soon posted photos of Ullah's amazing reaction on Reddit captioning it 'When you find out you're pregnant.' It went viral soon after that.
After the Surprise
According to the policies of the shelter, Ullah and her young ones were spayed after she delivered. Soon after that, she was adopted by a loving family soon after her photos were shared online. Tec a-loving family adopted both Ullah and her young ones. The family as another cat called Sofus.
Ullah's Story
According to Frank, the story of Ullah can be traced back to last year. When she first came to the rescue center, Ullah was very young. She found a home shortly after that, and they all assumed that she was leading a god life with her new family. It was not until April that she was back to Dyrenes Venner. Efforts to contact her owner were unsuccessful After posting her pictures on Facebook, they expected that the owner would see her and contact them, but that did not happen. It was at that point that they started looking for a new home for Ullah.
Reactions
Reddit users have found Ullah to be hilarious and adorable. 'Immeaowculate conception,' commented one of the users. 'Why aren't they teaching kids safe sex practices?' Another one added. The cat was, after all, only one year old at the time. Others went on to share their funny or cute cat stories. Ullah's purr-fect reaction has earned her a good home with new humans who will help her to raise her kittens. Even though she seemed unhappy to be having kittens, many think that she will be an excellent mother to her kittens until they are old enough to be adopted.
Dog Trainer and Dog Groomer Get Married Accompanied By Their Best Friends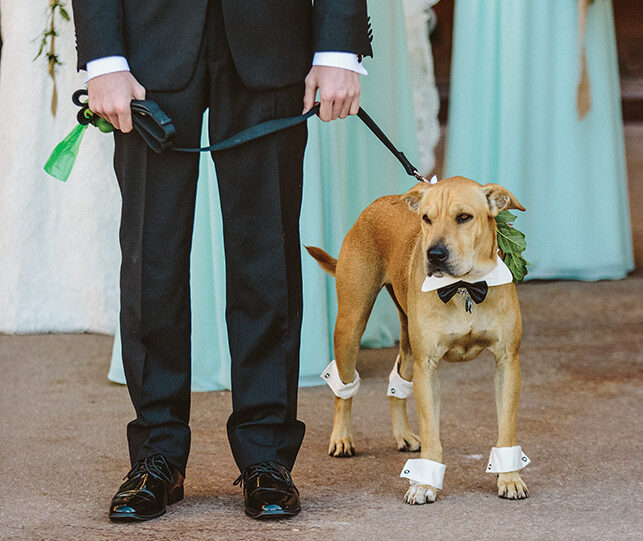 Weddings Are for Sharing With Loved Ones
When people get married, they spend one perfect day with their most loved friends and family. While many people only think about their human friends and family, there are a lot of people who could never imagine starting this important new chapter in their lives without their beloved pets. In fact, many people might have to admit, if they were being honest, that they loved their pets more than some of the relatives who came to the wedding, especially if they felt obligated to invite some relatives they rarely see and barely know.
Some People Already Spend Their Lives With Pets
Anyone who works full-time as a dog trainer or groomer already spends most of their working days with animals. They see dogs all day long, and they make the choice to do so because of many reasons. Working with pets is rewarding on many levels. Especially if you see the same dogs again and again, you form a close bond. Communicating with pets is therapeutic and generally far less stressful than dealing with humans. The people who work with dogs don't get sick of dogs and try to go home to a quiet house; they tend to have larger pet families than average.
A Dog Trainer and a Dog Groomer Tie the Knot
Paul and Annette Anthony are typical in that they work with dogs as a profession, and they have a large pet family. On the day they got married, their family consisted of 2 humans and 9 canines. Both Paul and Annette admitted that their pets were more to them than just fun — their beloved dogs also helped them get through rough times in their lives, including personal tragedies. Annette's German Shepherd Pesci is even an emotional support animal, helping her to deal with severe anxiety and depression. There was no way that their pets were going to be left out of the most important day of their lives going forward.
Canine Best Man
Paul's service dog Finn has earned his retirement. Finn has competed in over 40 events, earning titles and even setting records. He was also there for Paul when Paul developed PTSD after being at the scene of the deadliest plane crash in Pennsylvania's history. Finn was the one who helped with the proposal, giving Annette the ring with a note asking her to marry his dad. It was only fitting that Finn ended up being one of the best men at the wedding too.
A Family Affair
All 9 dogs walked down the aisle and stayed throughout the ceremony. Annette's dog Pesci even came to comfort her during the ceremony when she started to cry from happiness because he wanted to make sure his momma was all right. Whether you want to use your dogs in the ceremony as ring bearers, best men, or flower girls, or if you just want them to be present, it makes sense to have your pets help you celebrate such an important day in your life.