What Happens When a Cat Finds Out She Is Pregnant Is Hilarious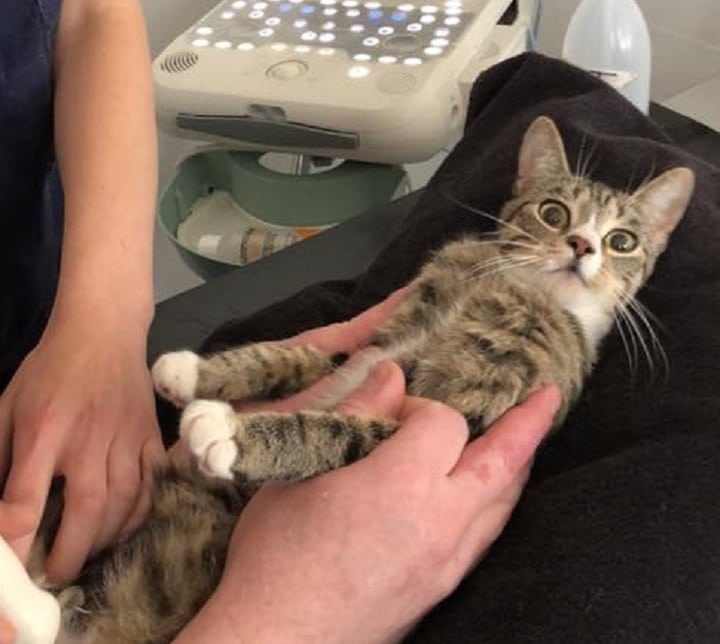 There are a few memorable events I life that we do not forget even after many years. Finding out that you are pregnant is one of these milestones for most mothers. Everyone remembers how they reacted. Were you shocked? Were you excited? Or did you stand and stare in utter terror? Ulla, a tabby cat, had a hilarious reaction when she first found out that she was going to be a mother. The veterinarians who took her ultrasound agree that it was one of the funniest reactions they have ever seen. She was just as shocked as anyone would be if they found out that they would be giving birth to four or five little ones in a few weeks.
 Getting Out of The Streets
When Ulla was found, she was homeless roaming the streets of Nuuk, Greenland. If she had not been rescued, Ulla might not have survived the cold. She was taken into Dyrenes Venner's rescue organization. Ullah quickly got used to her new home. In the home, there were other cats, guinea pigs, and dogs. They did not know her little secret yet.
The Surprise
It was not long before the volunteers started to notice that Ulla was growing bigger and bigger. They suspected that she might be pregnant. They took Ulla to the vet for an ultrasound which confirmed that she was indeed pregnant. Ulla's expression upon finding out that she was pregnant was hilarious.  The doctor managed to get a few photos of the cat's expression. Tone Frank, a board member of the shelter, says he was happy to take Ulla to a vet for scanning, but she was not very pleased with her results. Ullah was expecting four to five kittens. She was due in the next two weeks. He says that he had never seen a cat get an ultrasound before. The shelter soon posted photos of Ullah's amazing reaction on Reddit captioning it 'When you find out you're pregnant.' It went viral soon after that.
After the Surprise
According to the policies of the shelter, Ullah and her young ones were spayed after she delivered. Soon after that, she was adopted by a loving family soon after her photos were shared online. Tec a-loving family adopted both Ullah and her young ones. The family as another cat called Sofus.
Ullah's Story
According to Frank, the story of Ullah can be traced back to last year. When she first came to the rescue center, Ullah was very young. She found a home shortly after that, and they all assumed that she was leading a god life with her new family. It was not until April that she was back to Dyrenes Venner. Efforts to contact her owner were unsuccessful After posting her pictures on Facebook, they expected that the owner would see her and contact them, but that did not happen. It was at that point that they started looking for a new home for Ullah.
Reactions
Reddit users have found Ullah to be hilarious and adorable. 'Immeaowculate conception,' commented one of the users. 'Why aren't they teaching kids safe sex practices?' Another one added. The cat was, after all, only one year old at the time. Others went on to share their funny or cute cat stories. Ullah's purr-fect reaction has earned her a good home with new humans who will help her to raise her kittens. Even though she seemed unhappy to be having kittens, many think that she will be an excellent mother to her kittens until they are old enough to be adopted.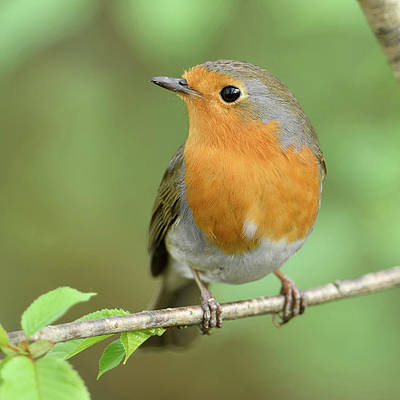 The color peach is most associated with the fruit of the same name. Apart from the fruit and a few flowers, the color peach is not commonly found in nature. There are certainly very few animals that have any shades of peach. However, there is one breed in birds that do display the color peach on its chest. The Eurasian Bullfinch is a small-size but bulky looking bird that is native to Europe and certain regions of Asia. Their range of travel is estimated to be around ten million square kilometers. Their preferred habitat parks, gardens, hedges, trees, and agricultural areas. They get their name from the bull-shaped head. Parts of the upper body are colored grey while the feathers are a mixture of black and white. The legs and feet are pinkish-brown in color. Juvenile bullfinch birds have the same shape as adult birds but they don't have the same colors. The young ones are mostly grey and brown.
For breeding purposes, the Eurasian Bullfinch nests in tall bushes. They lay about 4-7 eggs. The chest is often mistakenly described as red, but it is as peach as it gets. The males have brighter colors, while the females have a slightly beige color on their chest. Their unique color makes them easily recognizable from other birds with similar size and shape. Although the bird has a bulky shape, it is considered a small to medium-sized bird.
They are social creatures and are often found in pairs or groups. They are mostly found busy looking for seeds. Only 10% of BTO Garden BirdWatch gardens have the Bullfinch. Their shy and reclusive personality makes them a rare bird to fine. Although they mostly eat seeds, for their young ones do they occasionally feed on insects. Initially, they were mostly found in woodlands but have now slowly moved to gardens too. Although they migrate during winter months, mostly they stay in the same spot throughout their lives. If you are looking to spot one, try to look for them in a suburban garden with scrubs or thick hedgerows. They prefer to find a thick cover for the nests. As food supply has become more scattered, it has forced the bullfinch to travel more often.
There are reclusive in personality and shy away from human contact. During colder months, they migrate to southern regions of Europe and Asia. Their diet mostly consists of seeds from plants such as ash, elm, and nettle. Their liking for flower buds made them be considered as a pest of fruit trees. Although they are not considered to be an endangered species, their population has seen a decline due to the loss of arable weeds and new agricultural practices.
One of the unique features of the Eurasian Bullfinch is its ability to store seeds in a small sac at the bottom of their mouths. This feature is useful when they have to bring back seeds from long distances for their young ones. Amongst the finch species of bird, the Bullfinch is the only bird that has evolved into adapting this remarkable sac in the mouth.
Another stunning feature of the Eurasian Bullfinch is their singing ability. They have a beautiful soft and subtle call. When the male seeks to attract the females, it uses a soft tone mostly audible to other bullfinch birds only. The call from the male is a polite descending set of notes, repeated at specific intervals. The bullfinch is also skillful in mimicry and is popular birds to keep as pets. They are even able to follow tunes played to them.