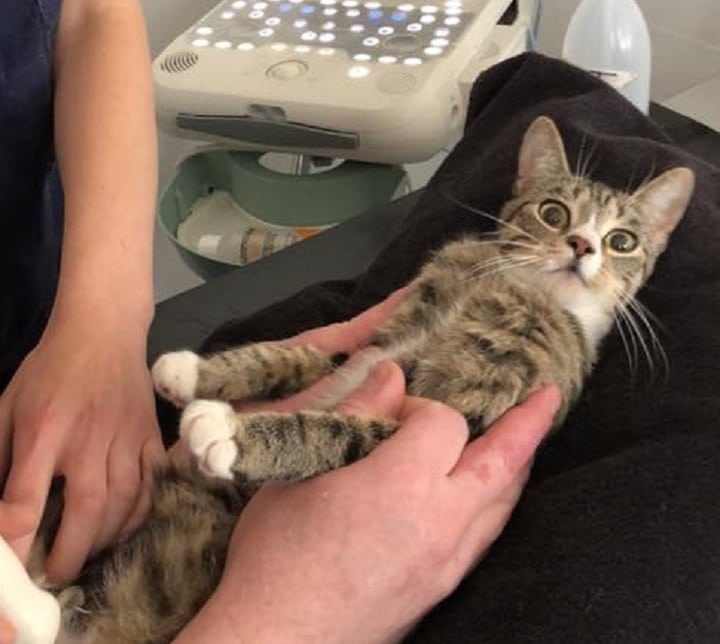 What Happens When a Cat Finds Out She Is Pregnant Is Hilarious
There are a few memorable events I life that we do not forget even after many years. Finding out that you are pregnant is one of these milestones for most mothers. Everyone remembers how they reacted. Were you shocked? Were you excited? Or did you stand and stare in utter terror? Ulla, a tabby cat, had a hilarious reaction when she first found out that she was going to be a mother. The veterinarians who took her ultrasound agree that it was one of the funniest reactions they have ever seen. She was just as shocked as anyone would be if they found out that they would be giving birth to four or five little ones in a few weeks.
 Getting Out of The Streets
When Ulla was found, she was homeless roaming the streets of Nuuk, Greenland. If she had not been rescued, Ulla might not have survived the cold. She was taken into Dyrenes Venner's rescue organization. Ullah quickly got used to her new home. In the home, there were other cats, guinea pigs, and dogs. They did not know her little secret yet.
The Surprise
It was not long before the volunteers started to notice that Ulla was growing bigger and bigger. They suspected that she might be pregnant. They took Ulla to the vet for an ultrasound which confirmed that she was indeed pregnant. Ulla's expression upon finding out that she was pregnant was hilarious.  The doctor managed to get a few photos of the cat's expression. Tone Frank, a board member of the shelter, says he was happy to take Ulla to a vet for scanning, but she was not very pleased with her results. Ullah was expecting four to five kittens. She was due in the next two weeks. He says that he had never seen a cat get an ultrasound before. The shelter soon posted photos of Ullah's amazing reaction on Reddit captioning it 'When you find out you're pregnant.' It went viral soon after that.
After the Surprise
According to the policies of the shelter, Ullah and her young ones were spayed after she delivered. Soon after that, she was adopted by a loving family soon after her photos were shared online. Tec a-loving family adopted both Ullah and her young ones. The family as another cat called Sofus.
Ullah's Story
According to Frank, the story of Ullah can be traced back to last year. When she first came to the rescue center, Ullah was very young. She found a home shortly after that, and they all assumed that she was leading a god life with her new family. It was not until April that she was back to Dyrenes Venner. Efforts to contact her owner were unsuccessful After posting her pictures on Facebook, they expected that the owner would see her and contact them, but that did not happen. It was at that point that they started looking for a new home for Ullah.
Reactions
Reddit users have found Ullah to be hilarious and adorable. 'Immeaowculate conception,' commented one of the users. 'Why aren't they teaching kids safe sex practices?' Another one added. The cat was, after all, only one year old at the time. Others went on to share their funny or cute cat stories. Ullah's purr-fect reaction has earned her a good home with new humans who will help her to raise her kittens. Even though she seemed unhappy to be having kittens, many think that she will be an excellent mother to her kittens until they are old enough to be adopted.
Sweet Elderly Man Joins Makeup Class To Help Wife With Makeup, Quickly Goes Viral!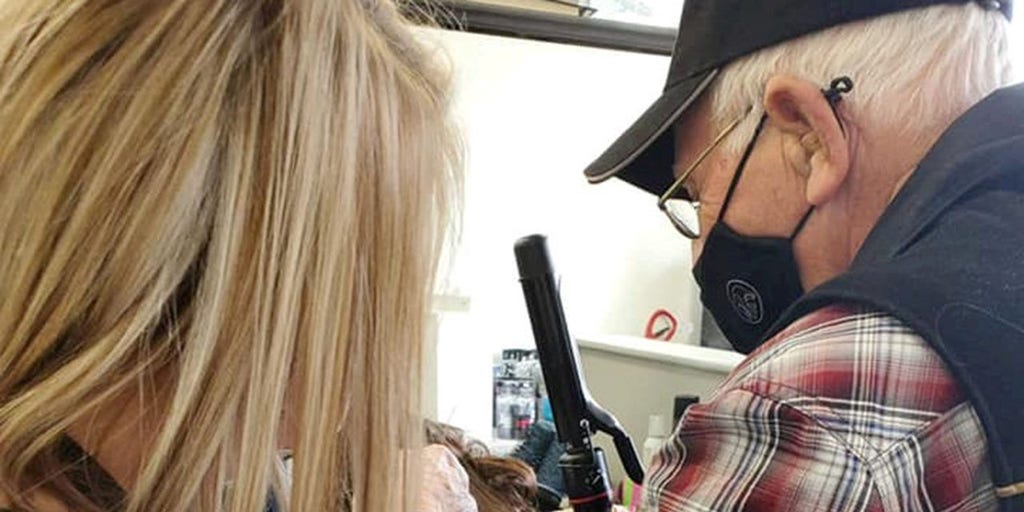 Carrie Hannah is the director at Delmar College of Hair and Esthetics, located in Alberta, Canada. A haircare professional with years of experience under her belt as an instructor, Hannah had grown accustomed to teaching even the most unusual of students the skills they would need to succeed in the hair, makeup, and beauty world. With that being said, even Carrie was surprised when she met with an elderly man at her school who had wished to learn a few things in the field. His reasoning? Well, that's the reason for today's story.
Let's leap into one of the most touching beauty school stories you'll ever read!
Helping Hands For Those We Love
There are few things in life more important than taking care of and providing care to the ones that we love. When we stand before our significant other and bind ourselves together in marriage, we truly hope to embrace 'TIl Death Do Us Part' in the same way that our story's subject has.
Carrie Hannah had been preparing for classes with her students as if it were any other day when she was approached by a white-haired, elderly man. The man, who wishes to remain anonymous, would introduce himself to Carrie before getting into the reason for their meeting — the elderly man had wanted to help his wife with her makeup.
According to Carrie, the elderly man explained that his wife had been struggling with her vision as she grew older. As she struggled to see, her beauty routine became more of a chore. His wife was struggling to curl her hair and had even burned herself in the process. Her husband wanted to help, but he didn't know exactly how, and that's where our two protagonists came together.
Carrie would go on to say that the man "genuinely cared" about his wife and her process. Carrie would continue, "His wife always cared about her appearance, and he wanted to help."
A New Set of Skills
With his motive explained and a spot available to him, Carrie would quickly get her new student into a class. At 79 years old, he was certainly going to be one of her most experienced students. The story would get picked up by Hair Design by Birtney and photos from the class would quickly go viral. Thousands of users would share the images and hundreds of thousands of views would quickly follow.
According to Hair Design by Britney, the man learned how to use a curler while also teaching him how to perform volume curls on shorter hair. Another point of emphasis that the teacher was sure to go over would involve the application of mascara. Of course, all of these lessons were combined with a hefty dose of safety training as they did not want to have any more burn incidents at home.
Commenters on the story would go crazy for the elderly man looking to support his wife. Comments ranged from compliments over his heart and attention to respect for his ambition to learn new skills outside his comfort zone. Another user recalled that their father had done something similar for their mother who had been diagnosed with Alzheimer's.
According to Hannah, working with the man to help his wife would become a highlight of her more than 31-year-career in the beauty industry. Hannah says, "We needed some cheering up and he sure did it."