Voicemail from Grandmother is Memorialized in a Tattoo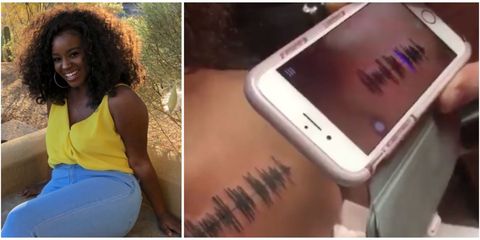 Recently, a story was published about a person who got a tattoo of a voicemail. This young woman received a voicemail from her grandmother about three years ago. This voicemail was left to wish this young lady a happy birthday. Even though this took place three years ago, this lady decided that she wanted to hang onto the voicemail. While most of us simply forget to clear out our old voicemails, this person made an active decision to keep this voicemail. It turns out, she is very happy that she decided to do so. Sadly, about a month after the voicemail was left, the grandmother who left the message ended up passing away.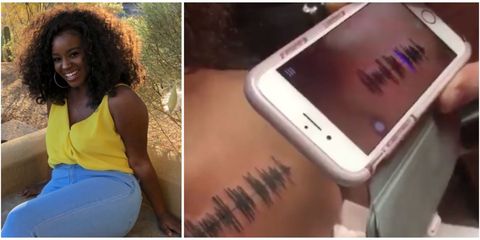 Similar to how most of us feel when losing a member of the family, this woman was absolutely devastated. She said that she simply couldn't find the words to describe how bad she felt or how much she missed her. Even though her grandma has passed on to a better place, she still missed her grandmother terribly. At the time, she was still in high school and didn't have a lot of experience processing loss, grief, and tragedy. Furthermore, she decided to listen to the voicemail over and over again. She could still hear the voice of her grandmother in the voicemail and this brought her some solace and peace during an otherwise difficult time. She wanted to do something more to make sure that her grandmother was never forgotten and that her memory would live in. She eventually found a great way to do exactly that.
She decided that the best way to do this was to get a tattoo; however, while plenty of people have tattoos, this one was a little bit unique. The ink in this tattoo actually allows this person to hear the voice of her grandmother, wishing her a happy birthday via voicemail, whenever she wants. She actually found a tattoo artist who was able to look at the voicemail recording, develop the waveform, and then get apply that tattoo to the skin of the person in that exact shape. She even posted a video on Twitter showing how the tattoo works. Furthermore, it turns out this tattoo artist did a great job with the waveform. By taking the camera of a phone and holding it over the tattoo, the phone can actually place the voicemail recording. The technology, and the video that she posted, are absolutely unbelievable.
Even though the technology may seem unbelievable to many, it is actually a relatively straightforward design. The app that this lay used for her tattoo is able to scan an image wherever it might be, including on the human skin. Then, the app will take the image and translate it into an audio file that matches the video. While the app isn't reading the sound waves on the skin, it is recognizing the graphic of the tattoo itself. After this, the app plays the audio that is tied to the graphic. Think of this as a phone reading a QR code.
Regardless of how the technology works, this lady now has a powerful way to keep the memory of her grandmother alive. She wants her grandmother to know how much of a difference she has made in her life. This tattoo is a great way to do that. She knows that her grandmother is still looking down on her from above and is blessing her every day. She wants to continue to make her grandmother proud with the long life she still has in front of her.
A Bank and Non-Profit Company Help Girls Enter Tech and Other STEM Fields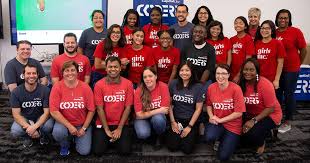 The technology field has undergone a lot of changes over the past few decades. One of the biggest changes has been the growing interest that women are taking. In secondary schools across the country, there has been an increased focus on STEM fields. STEM stands for science, technology, engineering, and math. Because of the increased focus, children of all backgrounds are beaming with a desire to learn more about these fields. This includes girls. Sadly, these are fields that have been historically dominated by men. This causes young women to be hesitant about joining these fields, knowing the societal pressure they might face. Fortunately, there is a nonprofit organization that exists to help women get into this field. This comes in the form of Girls, Inc.
The focus of this field is to help girls between the ages of six and 18 learn more about themselves and these fields as they strive to discover what it takes to build a successful career in these fields. This organization helps girls find mentoring relationships in a pro-girl environment and pushes them to conduct research that will help them build their resumes as they look to learn more about STEM fields. In this organization, girls learn about the various characteristics that are necessary to navigate social, gender, and economic barriers as they try to gain confidence and independence while also receiving a top-notch education.
Thie program also gives girls the chance to partner with one of the largest banks in the world. This comes in the form of CApital One, a well-respected financial institution that has a program known as Capital One Program. This program places girls in a position to work with volunteer coders, who are professionals in the tech field. This gives girls the chance to learn more about coding and computer design. In some situations, the girls might even be able to build their own applications. This gives participants a unique experience with app-building tools. They learn about algorithms and get to ask questions of some of the most successful and generous professionals in the field. The mentors play a critical role in helping girls enter this field. The goal of this program is to help people acquire the skills and resources they are going to need in order to survive in an economy that is largely driven by the tech field.
There are numerous locations throughout the country that Capital One has set up programs like this, including Texas and the Bay Area out in California. Given the tremendous success that this program has already seen, the program is likely to expand to other parts of the country. Capital One desires to partner with other nonprofit organizations that work to break down barriers in the STEM fields of all types. This organization is always trying to find ways to increase the amount of diversity in this field, including encouraging women to get more involved. In the eyes of many, the STEM fields are the future. These fields are going to produce novel products and services in fields such as engineering, computers, healthcare, and more.
It is incumbent on all of these organizations to push everyone, including girls and young women, to push people to think outside the box. Only when people start to step outside of their comfort zone will they discover what they are truly capable of accomplishing. This is true for young girls who would like to learn more about STEM fields and how they can turn a hobby into a long and rewarding career.