Vail's Newest Ski Patroller is a 9-Week-Old Puppy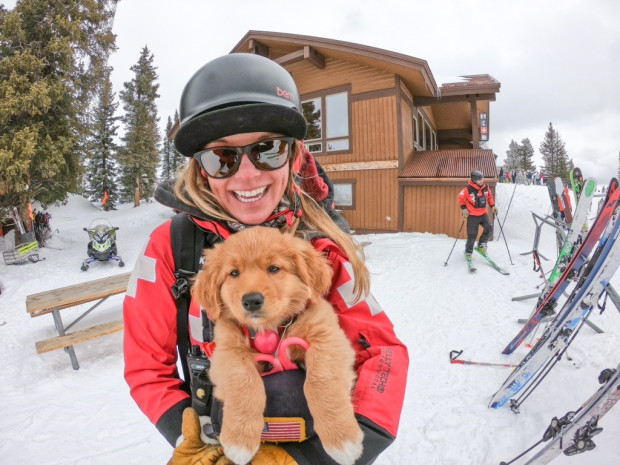 Vail Ski Resort has a new ski patrol trainee, a 9-week-old puppy named Cowgirl. Cowgirl is a Novia Scotia Duck Tolling Retriever born in Port Coquitland, B.C., a town near Vancouver. She and her handler Kori Landauer, will be training for the next two years to gain their Colorado Rapid Avalanche Deployment certificate and become the newest member to the ski patrol team. First though, she must get acquainted with one of the busiest ski mountains in America, and her four other canine co-workers.
Hannah Dixon, a spokeswoman for Vail Ski Resort, told the Denver post that Cowgirl did well on her first day and her first goal is to become desensitized to all of the things on the mountain to include snowcats, chair lifts and the mass of people.
Ski patrol dogs are needed on large mountains for avalanche rescues and for many other duties, like helping teach ski safety to guests and kids, assisting as therapy dogs for injured skiers, and more. With their speed, agility, and sense of smell, they are capable of locating buried avalanche victims. Luckily, avalanches within ski resort areas are rare. This is in part due to avalanche control measures that patrollers take part in, like firing explosives on risky slopes. Although avalanches are rare on ski resorts, ski patrol dogs continue their training and may even be called to help with off-site avalanche rescues by the county sheriffs. It is said, that one dog and its handler can do the job that 150 trained searchers can do in the same amount of time.
Colorado's Rapid Avalanche Deployment team aims for successful avalanche search and rescue. Cowgirl and Landauer will be trained for this and more to help save lives in case of an avalanche.
According to the American Kennel Club, Cowgirl's breed make good work dogs, so they are perfect for ski patrol. Novia Scotia Duck Tolling Retrievers are known for their intelligence, affection, are eager to please, and are hard-working. They also have a lot of energy and are strong, athletic, and agile.
Landauer grew up in Vail Valley and has worked as a patroller at Vail Ski Resort for the last six seasons. To become a handler, she has be training and working with the other patrol dogs, who have welcomed Cowgirl with open paws to their team.
Dixon said that Cowgirl "has been getting along great with the other dogs and is very smart, wide-eyed, and just taking it all in."
If you're wondering where the name Cowgirl came from, Landauer always wanted to be a cowgirl. She may not have lived up to that dream, but she now has a cowgirl in her life, in the form of her newest friend and puppy.
Zookeepers Set Up Camera And Capture Pregnant Rhino Giving Birth Without Any Assistance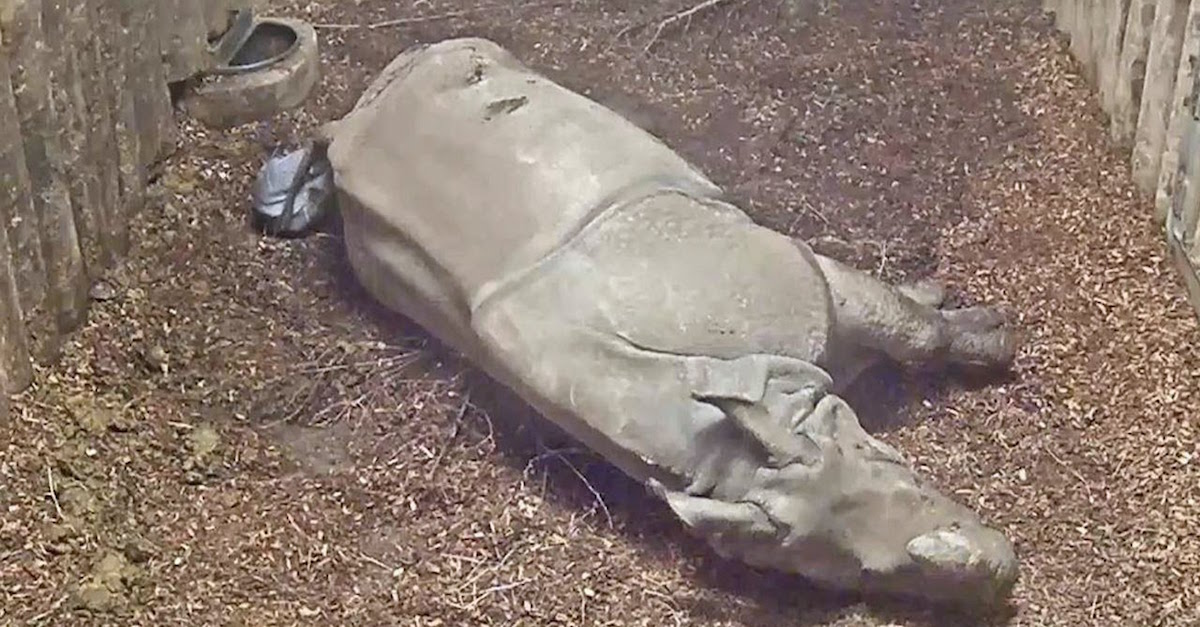 For a whopping sixteen months, Asha carried her baby in her womb. Asha, a rare greater one-horned rhinoceros, lives at the Chester Zoo in Cheshire, England. Luckily, her labor and delivery were much quicker than the gestational period was for her baby Rhino to come into the world.
After only about 20 minutes of labor, Asha successfully delivered a healthy male calf in the early morning hours on May 3, 2018, at her home at the Chester Zoo. The staff at the zoo were able to capture Asha's labor and delivery on video. The mama had an easy delivery on the floor of her enclosure and did not require assistance from the staff as she labored and brought her 132-pound baby boy. Once he is fully grown, Asha's son will balloon to an eye-popping two tons plus in weight!
Guests of the Chester Zoo were excited to visit the little rhino and his mama in their exhibit. Asha's baby is named Akeno which means "beautiful sunrise." Along with his birth, Akeno's first steps were also caught on tape along with snuggles with his 11-year-old mother Asha. They are a hit at the zoo and seem to be getting along well.
The staff at the well-visited zoo have been working towards keeping beautiful animals like Asha and baby Akeno together and better protected. One-horned rhinos are one-horned rhinos that are endangered at this point in a critical way and the staff is hoping the miraculous birth will not only attract visitors to the zoo but will draw attention to their work on this front. Animals like Asha and baby Akeno are the object of hunters who illegally poach them to be able to obtain their horns and sell them. There is a market for them as they are used in traditional Chinese medicine. A hunter can sell a single horn on the Asian black market for around $65,000 United States dollars. Even more offensive is the fact that wealthy hunters simply want the horns to hang on their walls and show off to friends as a status symbol of wealth and popularity.
According to a staff member of the Chester Zoo, not long ago there were less than 200 greater one-horned rhinoceros in the wild.
"They were hunted almost to extinction. Just in time steps were taken to protect them. Now there are about 2,600, but they still face threats in India and Nepal… it's important we do all we can to stop their numbers going down to critical levels again."
As the staff and many others work hard to fight against the illegally poaching of these beautiful animals, Asha and Akeno, who appears like he is dressed in a dark gray suit of armor, are enjoying their stay at the zoo and the many delighted visitors they come into contact with each day. The birth of Akeno on video has drawn more new visitors to the Chester Zoo and everyone seems to be happy with this new situation.