Vail's Newest Ski Patroller is a 9-Week-Old Puppy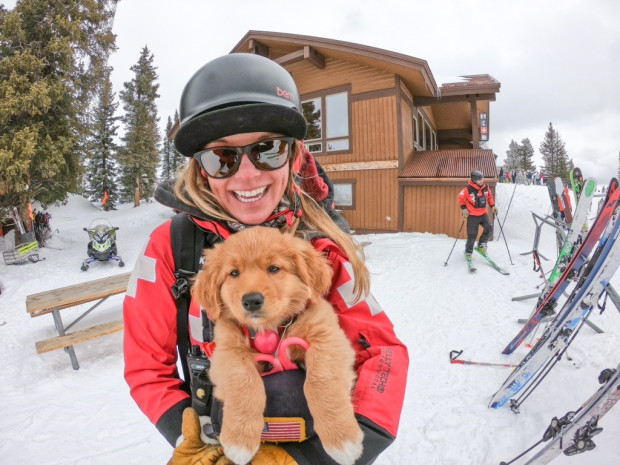 Vail Ski Resort has a new ski patrol trainee, a 9-week-old puppy named Cowgirl. Cowgirl is a Novia Scotia Duck Tolling Retriever born in Port Coquitland, B.C., a town near Vancouver. She and her handler Kori Landauer, will be training for the next two years to gain their Colorado Rapid Avalanche Deployment certificate and become the newest member to the ski patrol team. First though, she must get acquainted with one of the busiest ski mountains in America, and her four other canine co-workers.
Hannah Dixon, a spokeswoman for Vail Ski Resort, told the Denver post that Cowgirl did well on her first day and her first goal is to become desensitized to all of the things on the mountain to include snowcats, chair lifts and the mass of people.
Ski patrol dogs are needed on large mountains for avalanche rescues and for many other duties, like helping teach ski safety to guests and kids, assisting as therapy dogs for injured skiers, and more. With their speed, agility, and sense of smell, they are capable of locating buried avalanche victims. Luckily, avalanches within ski resort areas are rare. This is in part due to avalanche control measures that patrollers take part in, like firing explosives on risky slopes. Although avalanches are rare on ski resorts, ski patrol dogs continue their training and may even be called to help with off-site avalanche rescues by the county sheriffs. It is said, that one dog and its handler can do the job that 150 trained searchers can do in the same amount of time.
Colorado's Rapid Avalanche Deployment team aims  for successful avalanche search and rescue. Cowgirl and Landauer will be trained for this and more to help save lives in case of an avalanche.
According to the American Kennel Club, Cowgirl's breed make good work dogs, so they are perfect for ski patrol. Novia Scotia Duck Tolling Retrievers are known for their intelligence, affection, are eager to please, and are hard-working. They also have a lot of energy and are strong, athletic, and agile.
Landauer grew up in Vail Valley and has worked as a patroller at Vail Ski Resort for the last six seasons. To become a handler, she has be training and working with the other patrol dogs, who have welcomed Cowgirl with open paws to their team.
Dixon said that Cowgirl "has been getting along great with the other dogs and is very smart, wide-eyed, and just taking it all in."
If you're wondering where the name Cowgirl came from, Landauer always wanted to be a cowgirl. She may not have lived up to that dream, but she now has a cowgirl in her life, in the form of her newest friend and puppy.
'Chewy' Online Pet Store Offers Incredible Gesture to Grieving Pet Owner.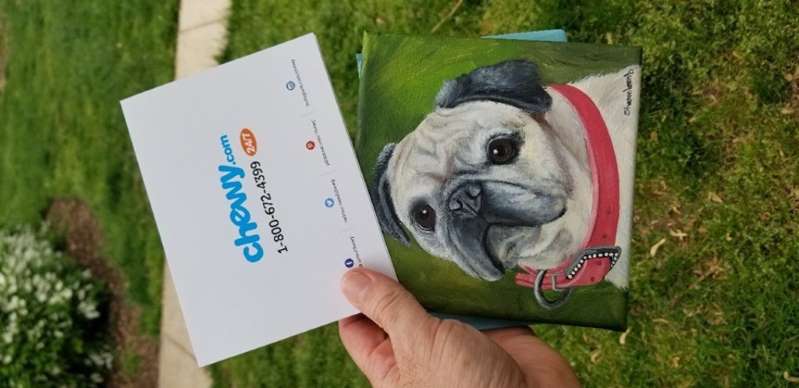 When you adopt a pet, you are bringing them into your family for life. When you lose a pet, it feels like you just lost a member of your family. While the grief that we feel over losing our beloved pets is not easy to forget, there are kindhearted souls out there that are doing their part to make it easier. Joseph Inabnet had to put down his 14-year-old pug, named Bailey, due to continual health problems that were not getting better. With a bag of prescription pet food that he could no longer use, Inabnet decided to contact the online pet retailer 'Chewy', in order to see if he could get a refund. What happened next would leave Inabnet crying bittersweet tears of happiness. Let's see if you can keep your tears from flowing!
According to Inabnet, Bailey had been struggling with health issues since her fifth birthday. In reality, Inabnet had assumed that he would have to let her go before she turned eight. However, Inabnet worked hard with Bailey's veterinarian, and they were able to extend her life for almost a full decade, thus allowing Inabnet and Bailey to share many moments of joy together. One of Bailey's favorite tricks was to sit on her backside in order to beg for treats. Inabnet loved to take pictures of Bailey when she performed this trick, and he sent one photo to Chewy along with his email, detailing the tragic loss of his best furry friend. Chewy told Inabnet to donate the pet food to a shelter and that they would send him a refund. Inabnet thought that this was the end of the story, but it was not.
Weeks later, Inabnet received a curious package in the mail from Chewy. Not sure what the object was, Inabnet slowly opened the package. As he unwrapped the package, weeks after saying goodbye to Bailey, his heart began to thud. What could be in here? What did Chewy send him? When he finally opened the package, he found a hand-painted portrait of Bailey doing her favorite trick. Inside of the package was a handwritten note from the owners of Chewy, sending love to Inabnet and a promise to support him if he ever needed anything. The painting captured Bailey in all of her silly joy and Inabnet was overcome with emotion. How could he not be? Inabnet was quick to share the lovely portrait on social media whereupon it was quicker to go viral. After being shared hundreds of thousands of times, Inabnet's story was soon all over the internet.
While Inabnet will never truly get over the loss of Bailey, he was afforded one of the kindest parting gifts that a pet owner could ever ask for. Inabnet praised the portrait a thousand times over before tearfully talking about his beloved pup. Bailey loved to always do her 'sit up' trick, and she had even been attempting to do it when he had to put her down due to her terminal illness. With one portrait and a lovely letter, Chewy was able to change Inabnet's last memories of his faithful, furry friend. Bailey was Inabnet's first pet, and he was quick to talk about how much she had changed his life. Inabnet went on to point out that he had never been closer to any animal and that he didn't know if he ever would be again. It's clear to see that Bailey left an impression on Inabnet, and we are happy to read that Chewy helped him to get through the grieving process.