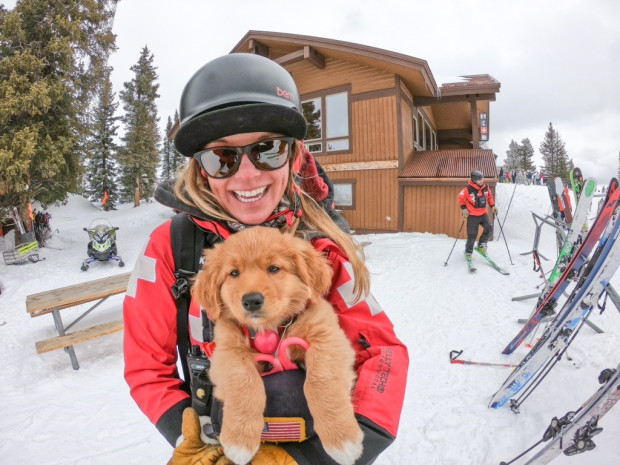 Vail's Newest Ski Patroller is a 9-Week-Old Puppy
Vail Ski Resort has a new ski patrol trainee, a 9-week-old puppy named Cowgirl. Cowgirl is a Novia Scotia Duck Tolling Retriever born in Port Coquitland, B.C., a town near Vancouver. She and her handler Kori Landauer, will be training for the next two years to gain their Colorado Rapid Avalanche Deployment certificate and become the newest member to the ski patrol team. First though, she must get acquainted with one of the busiest ski mountains in America, and her four other canine co-workers.
Hannah Dixon, a spokeswoman for Vail Ski Resort, told the Denver post that Cowgirl did well on her first day and her first goal is to become desensitized to all of the things on the mountain to include snowcats, chair lifts and the mass of people.
Ski patrol dogs are needed on large mountains for avalanche rescues and for many other duties, like helping teach ski safety to guests and kids, assisting as therapy dogs for injured skiers, and more. With their speed, agility, and sense of smell, they are capable of locating buried avalanche victims. Luckily, avalanches within ski resort areas are rare. This is in part due to avalanche control measures that patrollers take part in, like firing explosives on risky slopes. Although avalanches are rare on ski resorts, ski patrol dogs continue their training and may even be called to help with off-site avalanche rescues by the county sheriffs. It is said, that one dog and its handler can do the job that 150 trained searchers can do in the same amount of time.
Colorado's Rapid Avalanche Deployment team aims for successful avalanche search and rescue. Cowgirl and Landauer will be trained for this and more to help save lives in case of an avalanche.
According to the American Kennel Club, Cowgirl's breed make good work dogs, so they are perfect for ski patrol. Novia Scotia Duck Tolling Retrievers are known for their intelligence, affection, are eager to please, and are hard-working. They also have a lot of energy and are strong, athletic, and agile.
Landauer grew up in Vail Valley and has worked as a patroller at Vail Ski Resort for the last six seasons. To become a handler, she has be training and working with the other patrol dogs, who have welcomed Cowgirl with open paws to their team.
Dixon said that Cowgirl "has been getting along great with the other dogs and is very smart, wide-eyed, and just taking it all in."
If you're wondering where the name Cowgirl came from, Landauer always wanted to be a cowgirl. She may not have lived up to that dream, but she now has a cowgirl in her life, in the form of her newest friend and puppy.
Father in Bumblebee costume escorts his kid back to school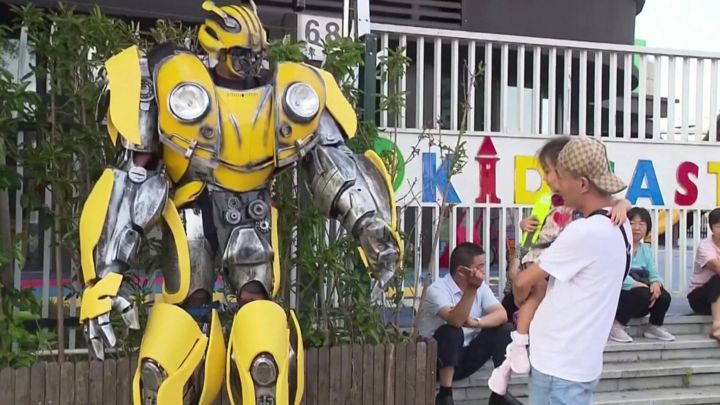 Bumblebee from the American sci-fi movie series Transformers never had a kid, but if he did, he'd have definitely escorted him to school.
A father in Shanghai, China has gone above and beyond to encourage his kid to go back to school after staying at home for months due to the Covid-19 pandemic. There's no way any child is refusing to walk with Bumblebee into school, and this man had that in mind when building his Autobot suit.
Just like the rest of the world, China had been on lockdown, and for months, kids had to stay away from school to prevent infection and spread of the deadly virus. However, some normalcy is being restored in some parts of the region, and schools now have the green light to open and allow children continue with their education.
The Bumblebee suit wasn't only for his kid, though. He built it to serve as some amusement and surprise to other kids at school- and that he did.
"I also want to bring happiness to other children. I didn't only wear it for my own child. All of them were preschoolers," he said in the video.
His suit looks like the real thing. The only things missing were metal, alien technology, and missiles- not much, right? Standing about 2.3-metre tall, the suit was built using soft materials to prevent touchy and curious children from getting injured- and he was right to have done that because he was rushed and hugged by children upon arrival at the school.
The excitement of the kids at the sight of Bumblebee could light up astronomical units of outer space, as the intergalactic warrior once again put smiles on the faces of humans. Kudos to this amazing dad for his efforts to make kids happy to resume back to school- he'd probably do it every day if he could.
The home-made suit seems to be inspired by the 2017 movie Bumblebee.