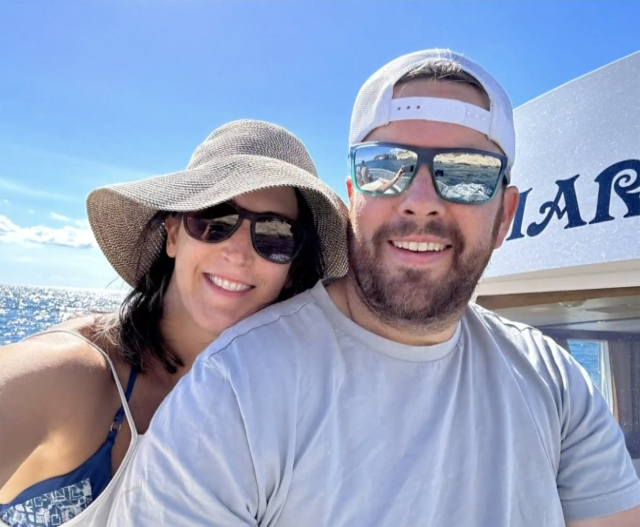 US Couple Saves Babies From Fire While on Barcelona Vacation
A United States couple are being celebrated as heroes after they saved infants from a raging fire in a Spanish daycare. Doran Smith and David Squillante, who married two years ago, had to wait to take their honeymoon due the COVID-19 pandemic; however, they finally were able tour Barcelona. While on a walk enjoying views of a picturesque park, the pair saw black smoke emanating from what turned out to be an inferno at a local daycare.
"As I was watching the women leave, I suddenly noticed that the door they had just exited was on fire," Smith told WJAR reporter Katie Benoit. "I was in disbelief and said, 'Oh my god, there's a fire.'"
After Smith notified everyone of the fire, Squillante recalls that his "instincts kicked in." The oblivious newlywed ran into to building without any hesitations, not knowing that he was running into a nursery with sleeping infants.
"I was looking at 15-20 sleeping babies and lining them up in the cribs," Squillante told Benoit.
Squillante stated that none of the employees at the nursery knew English.
The couple helped save the babies by rapidly moving all of the young children out of the nursery as smoke from an electrical fire filled the space, according to Benoit's report.
"We were just taking cribs with a few kids in them and rolling them across the street to the high school lobby," Smith explained.
Squillante told Benoit that, although the heroic efforts lasted around 10 minutes, it felt like it was over in an "instant."
"It turned out okay in the end," Squillante said.
After Barcelona fire crews put out the blaze and calmed the scene, the couple said they walked to the park as if it were any other day.
The couple's honeymoon tale is now unique and heroic. Benoit noted in her report that it wasn't a normal day.
Barcelona is located in the Catalonia region of Spain. Catalonia is a renowned tourist destination. According to the U.S. Department of State, over 18 million American citizens visit Spain each year.
Doran Smith and David Squillante are from Bristol, which is part of Rhode Island's East Bay region
400-Pound Black Bear Rescued From Waterway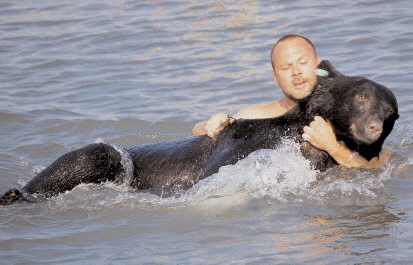 A Florida man recently became a hero after saving a 400lb black bear from drowning. Black bears are known to be excellent swimmers and are athletic animals, but the bear in question was not in its usual state when it jumped into the water. The bear had been tranquilized after walking into a residential neighborhood, and when the tranquilizer started to take effect, it ran towards the water and eventually began to sink.
Wildlife biologist Adam Warwick immediately sprang into action, jumping into the water to save the bear. Despite the bear's massive size, Adam was able to keep its head above water and pull it to safety. Although he suffered only a scratch in the process, Adam's bravery was a testament to the care and dedication of wildlife officials in protecting and preserving the natural world.
Black bears are found in various parts of North America, including Florida, and are excellent swimmers. They are known for their athletic ability and can easily swim across rivers and lakes in search of food and territory. However, when the bear in question was tranquilized, it was not in its natural state, and its swimming abilities were significantly compromised.
The incident highlights the importance of wildlife officials in preserving natural habitats and protecting animals from harm. Despite the risks involved, these officials put their lives on the line to ensure that animals receive the care and protection they need. The successful rescue of the black bear is a reminder of the importance of caring for the environment and all its inhabitants, no matter how large or small.