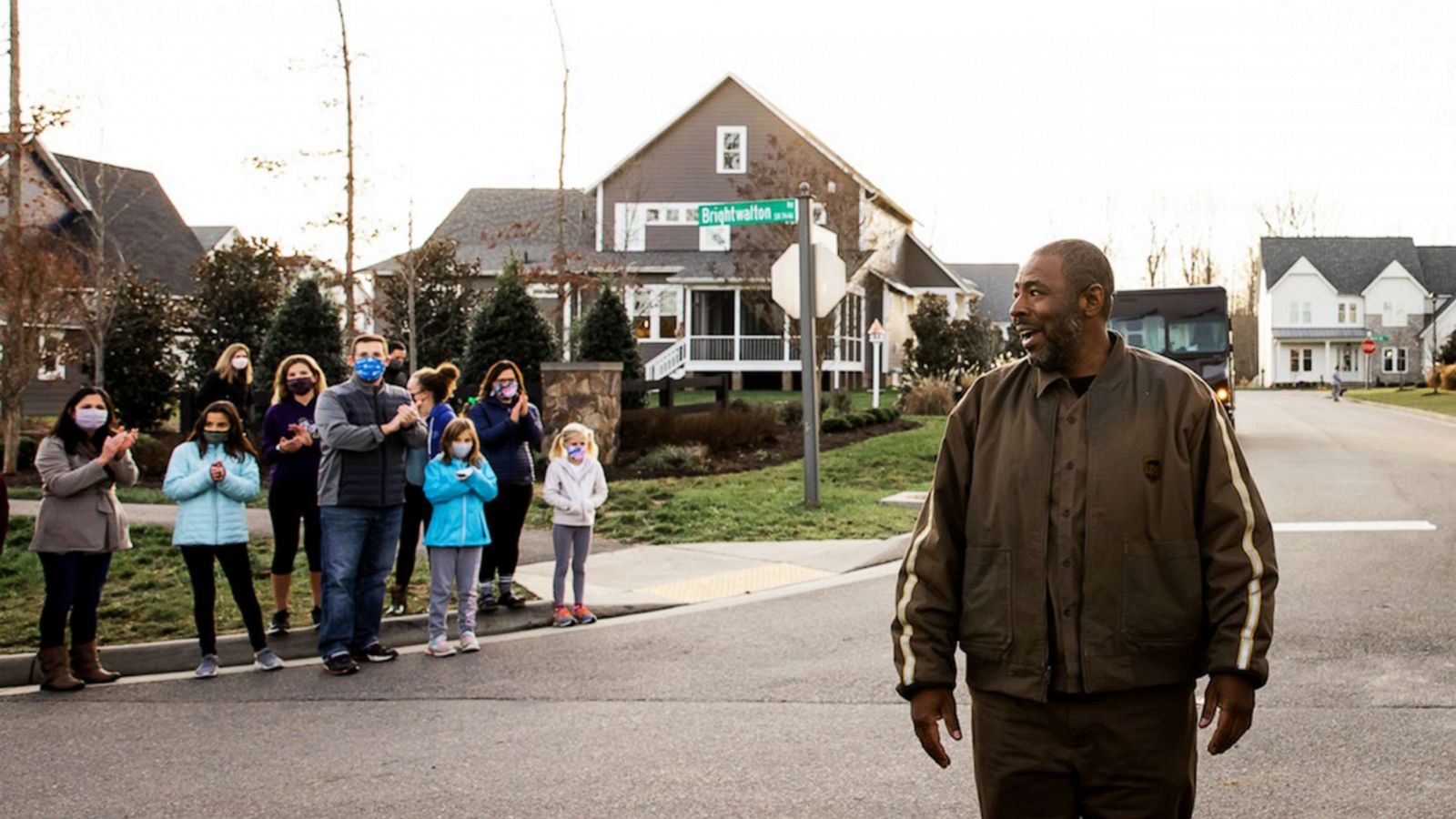 UPS Driver Gets Dazzling Appreciation From Appreciative Community
From the onset of the coronavirus pandemic, most households have been reliant on UPS drivers to deliver their necessities, especially since many physical stores had closed their doors to the public.
The drivers put themselves and their families at risk to get those essentials delivered to millions of homes across the country and make the quarantine less strenuous for families.
One particular UPS delivery driver caught the attention of residents in Smithtown, Long Island, New York where he has been dropping packages off tirelessly both day and night.
For 25 years, Gregory Watkins Sr. has been working for UPS and he has spent the last thirteen of these years assigned to Long Island.
Didn't he eventually get bored? Actually, it was the opposite for Watkins, who says he liked his job and the welcoming atmosphere of the community he's been serving for more than a decade.
Recently, in a bid to help meet the pandemic demands, Watkins took on additional shifts which did not go unnoticed by the residents.
The residents were blown away by the father of four turning up six days every week and we're moved to show their appreciation.
The fact that the busy driver always wore a smile, and went above and beyond to assist the customers, was the icing on the cake.
The residents huddled and came up with a surprise plan, which turned out to be just that, for the valuable UPS delivery driver.
The clueless driver reacted to a text message for assistance from one of the residents, but came upon a host of people converging on the roadway and vehicles lining the sidewalks.
He was unsure of whether to drive through the crowd, but his desire to fulfill the customer's wishes outweighed his doubt and he slowly began driving towards the crowd.
What greeted him next made the driver gasp for air as residents began emerging from their vehicles with signs and loud cheers egging him on and showing their appreciation.
The driver questioned if what was going on was really to honor him. The doubts were quickly erased as he heard his name being chanted by the excited residents.
As he continued driving down the road, he saw the many signs with positive messages showing appreciation for his remarkable service.
Meanwhile a resident captured the entire event on camera, taking comments from multiple residents who openly thanked the driver.
The residents expressed that they know his family, which drove home the fact that they knew he was making a huge sacrifice since he has four children at home.
The dazzled driver regained his composure and decided to emerge from the vehicle where he was greeted with a barrage of gifts.
He explained to the grateful residents that it has been sheer enjoyment delivering to their community and being of assistance in whatever way possible.
He said watching how everyone evolved, including kids becoming adults or obtaining their drivers license was a part of the pleasure.
As Watkin thanked the residents and expressed what he observed over the last 13 years, he informed them that his tenure would end in two years.
There was a unanimous groan in response to the beloved driver's statement, but that did not put a damper on the next few minutes as they continued to show their appreciation.
Overall, Watkins says he felt love and care exuded from the residents who even penned their thoughts.
He has been humbled by the gesture and plans to continue serving the community of Smithstown faithfully.
Many people do good but it doesn't always come back the way they give it. In fact it comes back when they least expect it and that's exactly what happened to this hardworking father of four.
Twins Whose Lemonade Stand Was Robbed Gets Surprised By Community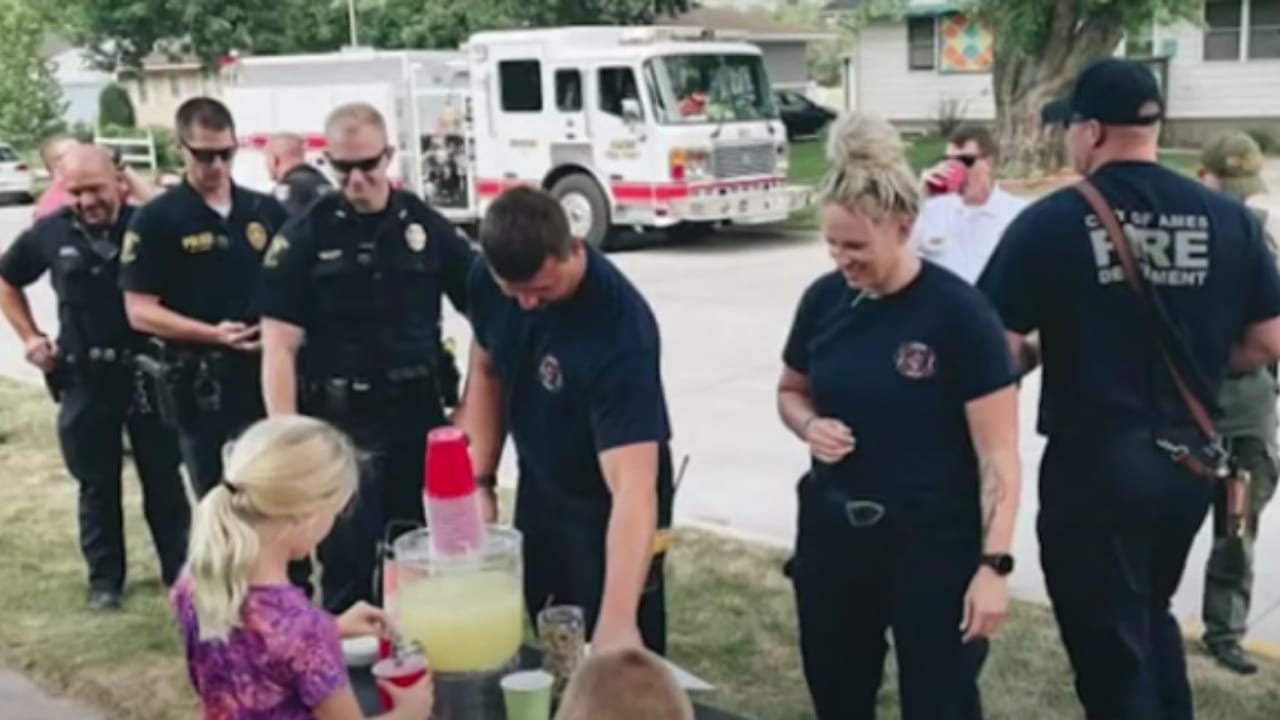 Being robbed is bad by every means; however, when it's a child or children who the criminals prey on, this draws the wrath of everyone.
When two innocent young girls are trying their hands at entrepreneurship, it is a sign that they have great plans ahead and believe that the world awaits them with open arms.
However, for a pair of nine-year-old twins, they saw the bitter side of life way too early, and the community decided to chime in and help remove or at least soften the scars in their minds of what the world represents.
After a robber decided to steal from a lemonade stand operated by the two 9-year-olds, the Ames community reacted.
Katelyn and Elias, twins, had a lemonade business on Monday, but things rapidly went south.
"We were simply selling lemonade when a car pulled up, and a girl got out, so I asked if she wanted lemonade," Katelyn explained. "She answered 'sure,' then took the tip jar, climbed into the passenger seat, and drove away."
When the family phoned the cops, they said the response was better than they could have ever imagined.
Officer Celena Rohland stated, "I started texting some of the folks I work with, asking them to get together and maybe visit the lemonade stand so that we could make a difference in Katelyn and Elias' day."
The twins reopened their stand, deciding that when life hands you lemons, you make lemonade.
The cops had no intention of taking the matter lightly. Four different law enforcement agencies arrived to assist them in recovering the money that the culprit stole.
"It makes me so glad to see these youngsters so happy right now. It's all about that. Taking care of our neighborhood," said one community member, Kyle Dirks. It is a sentiment shared by scores of other residents there.
Katelyn and Elias' mother commented that this life lesson makes it all worthwhile.
"There was one terrible apple," Karen Smidt explained, "but they got to experience the goodness of so many more people, and one bad apple will not spoil it for us." "We're going to keep going."
According to the family, they have now raised more than $750. They intend to donate the entire sum to the Shop with a Cop program, and they are thrilled to be able to give back to the community that has helped them.
What happened to these young entrepreneurs might be a lesson to many criminals who have the money but not the people's hearts.