Unknown Creatures Made From Sticks Left in Canadian Park
Since the beginning of lockdown, many people have adopted many arts to kill their anxiety, boredom and relieve stress. Some of the art adopted includes baking banana cakes, running, cycling, drawing, singing. Others have discovered their talents. But there is one artist on the west coast of Canada who elevated her artistic skills to a whole new level by making unbelievably iconic sculptures out of twigs and dried grass.
During the covid-19 pandemic lockdown in 2020, artist Nickie Lewis began to make sculptures to beat her boredom and anxiety.
She began this fun job on Canada's west coast in a little place known as Robert Burnaby Park. The park has a basketball pitch on the exteriors; then, trees are planted behind it, stretching hundreds of acres for you to venture inside and enjoy nature.
Lewis was bored like the rest of us during the pandemic lockdown, but she interestingly did something unique with her name in the park. She used the sizeable unused park space to display her imagination by making sculptures of magical forest creatures. She used nature waste materials like twine, clippers, sticks, and occasional nails altogether.
Speaking to the Global and Mail, she said that her inspiration behind the fascinating project that she claims to achieve it by using willow branches and reeds.
The sculpture making began in August 2020 and continued for months. Lewis has made some iconic and breathtaking pieces, including a fairy, unicorn, mermaid, a dragon, two Ewoks, a wasp, Chewbacca, and a gigantic troll creating huge and small surprises for strangers.
All this artwork began with just an obvious making of the unicorn as a symbolic gesture, which she went ahead and named the unicorn as the Guardian of the Forest.
You can find Lewis art spreading around Robert Burnaby park, but you need to pay attention to your surroundings to spot them. Most people have been asking Nickie Lewis why she can't put her artwork somewhere it is easy to spot, and she answered, "I don't want my art to be easily found, I want people to work to find it since when I am building this, it is kind of a therapy for me, and I like it to be secretly hidden from everyone."
Nickie Lewis told BCIT news that she had created a trail of sculptures on google maps for people to find when you go looking for her sculptures using google maps while in the park, you will note that it feels like treasure hunting giving you a great sense of joy and therapeutic fulfillment outdoors.
According to Burnaby, Now speaking of her, Nickie Lewis has kept many locals distracted and thinking positively during these challenging times of the Covid-19 pandemic.
Nickie reported to Burnaby Now that "Most people were scared and stressed, which is horrible. And for that reason, I began creating situations where people can engage with one another. Although some sculptures make you frightened, it is fun in a way, and it makes people happy too, something I never expected"
Surprisingly, after all the hard work, Nickie Lewis does not expect any donations or many visitors. Anxiety Canada and visitors advise that "if you are going to hang out around the art, please be kind to her work and also remember that her work is done out of sticks and dried grass.
Nickie Lewis added that "the mythical creatures are meant to be viewed at a distance, and they cannot hold any weight since they will collapse, thus causing little injuries to you or your loved one.
Her work's intention is for people to have fun and to raise awareness of anxiety. Her biggest hope is that people will respect her work and maintain safety guidelines.
If you cannot reach or get near Burnaby park, don't worry. Nickie has been posting photos of her outstanding work of intricate creatures on social media such as Instagram and Pinterest so that people outside the city or state can get familiar with them.
U.K. Conservationists See Rising #s in Great Crane Project Success Story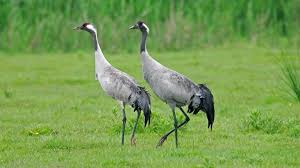 The Cranes of Great Britain may sound like the title of a lost Sherlock Holmes novel, but we assure you that isn't the case. Instead, cranes are large, long-necked, and long-legged birds that once happily called the United Kingdom their home. Over 400 years ago, the Cranes of the United Kingdom would go extinct as a direct result of over-hunting and habitat destruction, particularly to the wetlands of the United Kingdom.
While their extinction was on the record more than 400 years prior, careful work by conservationists along with some natural luck has led to renewed optimism for the species. One particularly large reason for hope in the Great Crane population throughout the United Kingdom can be tied directly to the work of The Great Crane Project, established in 2009 through a partnership with the Wildfowl and Wetlands Trust, Pensthrope Conservation Trust, and The RSPB.
Successes of the Great Crane Project
We can't look directly at the work of the Great Crane Project for a complete understanding of how we've arrived to this point with the great cranes of Britain. The luck we mentioned above is likely due to the return of a few birds to the county of Norfolk back in 1979. This coupled with intense conservation efforts would lead to some semblance of the success we are currently experiencing.
According to a survey published in partnership with RSPB, the Wetlands Trust, and Wildfowl, more than 85% of the wild crane breeding population can be tied to protected natural reserves, places where conservationists are proud to do most of their work. Developing their efforts together, the team behind the Great Crane Project has been successful at helping rehabilitate existing habitats while developing new protected areas for the birds to call home.
Originally traced back to the Middle Ages, the cranes of Britain had been gone for quite some time. Typically associated with breeding throughout Middle-Aged Europe, the history of the bird has some unique legal relevance as well. In 1533 a measure was introduced through an Act of Parliament to make the theft of a cranes' egg a punishable offense that included a fine. More mentions of crane preservation manifested within the Household Book of the L'Estrange Family.
A Rapidly Recovering Bird
According to the most recent estimates supplied by the British Trust for Ornithology, 2017 estimates would reveal that the U.K.'s breeding population of cranes at just 10 pairs. After years of work through The Great Crane Project, that number is now up to a robust 64 pairs across the United Kingdom. In 2020, those 64 pairs would go on to produce an additional 23 chicks. Some experts in the field of conservation have argued that there are more than 200 cranes within the United Kingdom at the time of this writing. Creating a diverse and growing pool is immensely important for such an endangered animal.
While the rising numbers of the crane population are inspiring, there is still plenty of work to do for the bird to experience a full comeback. The Great Crane Project has worked extensively with what funding they've acquired to create 'crane schools' or rearing facilities throughout the U.K. One crane school was established at WWT Slimbridge to feature an acre of marshy garden purposed solely for rearing crane chicks. More than 20 cranes are raised and released every single year at the crane school, with more birds finding the same experience at Somerset.
Damon Bridge is the chairman at UK Crane Working Group and he has pointed out the resilience of the bird through its recent resurgence. Bridge would go on to argue that continued success can be found through adequate environmental protection.