Unknown Creatures Made From Sticks Left in Canadian Park
Since the beginning of lockdown, many people have adopted many arts to kill their anxiety, boredom and relieve stress. Some of the art adopted includes baking banana cakes, running, cycling, drawing, singing. Others have discovered their talents. But there is one artist on the west coast of Canada who elevated her artistic skills to a whole new level by making unbelievably iconic sculptures out of twigs and dried grass.
During the covid-19 pandemic lockdown in 2020, artist Nickie Lewis began to make sculptures to beat her boredom and anxiety.
She began this fun job on Canada's west coast in a little place known as Robert Burnaby Park. The park has a basketball pitch on the exteriors; then, trees are planted behind it, stretching hundreds of acres for you to venture inside and enjoy nature.
Lewis was bored like the rest of us during the pandemic lockdown, but she interestingly did something unique with her name in the park. She used the sizeable unused park space to display her imagination by making sculptures of magical forest creatures. She used nature waste materials like twine, clippers, sticks, and occasional nails altogether.
Speaking to the Global and Mail, she said that her inspiration behind the fascinating project that she claims to achieve it by using willow branches and reeds.
The sculpture making began in August 2020 and continued for months. Lewis has made some iconic and breathtaking pieces, including a fairy, unicorn, mermaid, a dragon, two Ewoks, a wasp, Chewbacca, and a gigantic troll creating huge and small surprises for strangers.
All this artwork began with just an obvious making of the unicorn as a symbolic gesture, which she went ahead and named the unicorn as the Guardian of the Forest.
You can find Lewis art spreading around Robert Burnaby park, but you need to pay attention to your surroundings to spot them. Most people have been asking Nickie Lewis why she can't put her artwork somewhere it is easy to spot, and she answered, "I don't want my art to be easily found, I want people to work to find it since when I am building this, it is kind of a therapy for me, and I like it to be secretly hidden from everyone."
Nickie Lewis told BCIT news that she had created a trail of sculptures on google maps for people to find when you go looking for her sculptures using google maps while in the park, you will note that it feels like treasure hunting giving you a great sense of joy and therapeutic fulfillment outdoors.
According to Burnaby, Now speaking of her, Nickie Lewis has kept many locals distracted and thinking positively during these challenging times of the Covid-19 pandemic.
Nickie reported to Burnaby Now that "Most people were scared and stressed, which is horrible. And for that reason, I began creating situations where people can engage with one another. Although some sculptures make you frightened, it is fun in a way, and it makes people happy too, something I never expected"
Surprisingly, after all the hard work, Nickie Lewis does not expect any donations or many visitors. Anxiety Canada and visitors advise that "if you are going to hang out around the art, please be kind to her work and also remember that her work is done out of sticks and dried grass.
Nickie Lewis added that "the mythical creatures are meant to be viewed at a distance, and they cannot hold any weight since they will collapse, thus causing little injuries to you or your loved one.
Her work's intention is for people to have fun and to raise awareness of anxiety. Her biggest hope is that people will respect her work and maintain safety guidelines.
If you cannot reach or get near Burnaby park, don't worry. Nickie has been posting photos of her outstanding work of intricate creatures on social media such as Instagram and Pinterest so that people outside the city or state can get familiar with them.
Rehabilitation Facility Ushers in 'Healing Forest', Planted by Indigenous Inmates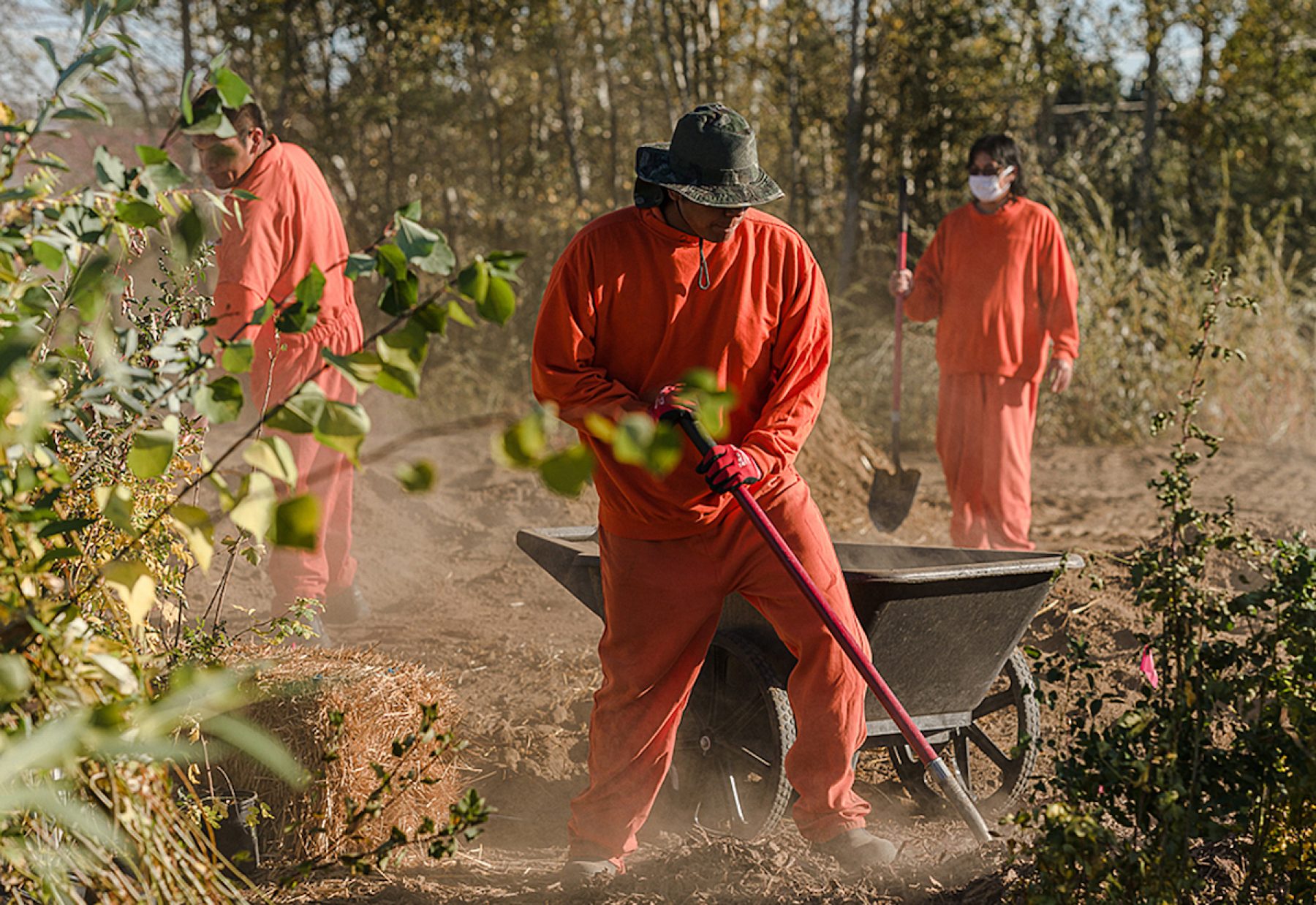 Found in the heart of Washington State is the Yakama Nation Correctional and Rehabilitation Facility, one of the first projects introduced through the DOJ's American Recovery and Reinvestment Act of 2009. This adult and juvenile facility is designed to do more than meet the needs of the region, it also has a unique way of addressing rehabilitation through outdoor projects — including the healing forest.
At the heart of this restorative project are the inmates who identify with and want to embrace their culture and identity. A member of the Yakama Nation, Marylee Smunitee Jones has also been a vocal leader for the healing forest campaign that has been gaining nationwide attention. Jones has worked alongside Ethan Bryson, forest maker and founder of Sugi, to get their ambitious project off of the ground. Jones said that the identity of Yakama Nation lay with the plants, "They show us that it's okay to be unique."
After successfully organizing the healing forest project, Bryson and his team would successfully enter the second phase of the plan. This would lead to more than 5,000 native trees successfully entering the ground, incorporating more than 36 species spanning medicinal and non-medicinal plants alike.
In order to find so much success getting plants in the ground, Sugi has followed the Miyawaki method for planting. This method originally took root in Japan where it focused on the diverse planting of species in a confined space. Elise Van Middelem is the founder of Sugi and also one of the leading voices in the company. Speaking on the Miyawaki method Elise would say that this method was "30 times denser, featured16 times more carbon, and was100 times more biodiverse"
Impact of the Healing Forest
While much of today's discussion has been focused on the sheer volume of plants and the efficacy of the workflow, the effect that the healing forest has had supersedes even these boundaries. An anonymous inmate spoke about the project saying, "It feels great. It makes my heart feel really good." Other inmates discussed how they would be able to show their kids the massive garden in the future when they finish their sentence.
Even though the impact of the healing forest has been immeasurable to the inmates, it also highlighted an important prospect to discuss on a global scale. According to a 2019 report published at Global Forest Watch, more than 12 million hectares of tropical forest were destroyed in that year alone. Developments surrounding green projects like the healing forest are going to become increasingly welcomed as environmentalism takes center stage on a global scale.
Another initiative operating out of 1t.org would get unveiled during the 2020 World Economic Forum in Davos. The goal of the platform is to help the world plant an additional 1 trillion trees by the end of 2030.
Marylee Smunitee Jones says of the Healing Forest and its importance, "We all have our own medicines and that the healing forest is needed… it is needed very much."