Try Not to Smile When Looking at This Dogs Stunt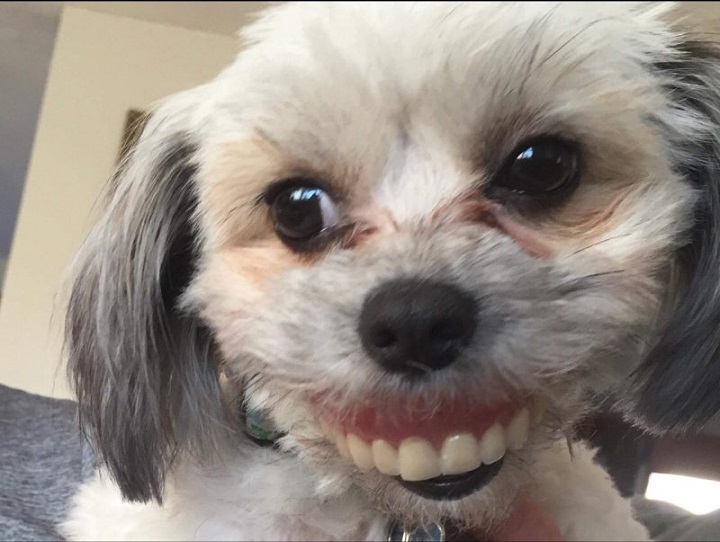 It is no secret that pets live to make us happy. They do just about anything they can manage to make sure we are not only happy with them, but happy in general. One pet, a Shih Tzu and Chihuahua mix named Maggie is no strange to trying to make her humans smile. Maggie belongs to Eunice and her father, who love to share photos of their perky pup on the social media platform, Twitter.
Maggie is known for her cute poses, her hilarious antics, and her adorable photos featuring the pup in sweaters, funny costumes, and more. She is certainly an adorable little lady that makes all her followers smile each and every day.
Maggie has long been known for her cute looks and her trouble making ways, earlier this month however, she tried a new trick that did a little more than make her humans happy. The father of this pup wears dentures, and as dentures will do, they started to bother him. As a habit, Eunice's father began taking his dentures out at nap time and when they truly started to bother him to give his mouth a break and to make sure he was able to rest.
He always took the time to place them within reach so he could quickly get them back as needed. If you know how mischievous small dogs can be, you probably know this story is headed. One day when he woke up from his nap and reached for his dentures however, they were nowhere to be found. He got up quickly and started searching for his teeth to no avail. Not long after he started his search however, he found the culprit.
Tiny little Maggie has taken his teeth and put them in her own mouth creating a smile like no other. While we are sure she didn't mean to create this adorable and slightly terrifying smile, the fact that she was able to fit the teeth in her mouth is impressive. Maggie created a new smile for herself similar to some of the most hilarious cartoons we see today. Some might feel that this is a scary sight to see, but big teeth in a tiny pup's mouth is actually quite comical.
Her humans quickly snapped a photo and added to Twitter to show their followers just what the pup looked like with her new, stolen smile. There is no telling how Maggie got the massive teeth into her tiny mouth, or how she managed to get them positioned properly, but the result is certainly hysterical.
There was no mention of whether or not the teeth were damaged or if the pup was hurt in any way but we are sure that she was fine since her humans love her so much. Funny stories like this are a great way to uplift your day and to really get a good laugh when you think about it. Though she was cute enough without the false teeth, she certainly was that much cuter and that much more amusing with them.
Giant Seal is Beached and Then has a Baby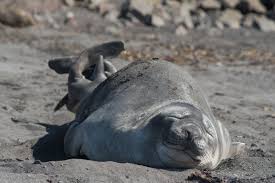 The exact moment when a mother sees her newborn baby for the first time is one of the most amazing sights in the world. The utter disbelief and joy on her face in combination with wonderment is one of the finest moments in any woman's life. It is the same feeling that animals have when they give birth and the look on their faces when they first see their babies is as equally magical.
Recently a tourist spotted a large female seal on the beach. She appeared to be in great pain because of the manner in which she was writhing around. The tourist shot a video of the seal. A few minutes later, the elephant seal appeared to have a spot beneath her tail. After some hard pushing, her calf was born. She quickly turned around and inspected her new baby to make certain that it was okay.
Elephant Seal Interesting Facts
Giant seals or elephant seals are the largest seals in the world. There are two types: the Northern elephant seal and the Southern elephant seal. The northern species are found in the coastal waters near Canada and Mexico and the southern species are found off the coast of South Africa, Argentina and New Zealand.
The adult bull or male seal has a proboscis that appears much like the trunk of an elephant, making it easy to distinguish males from females at a glance. The males roar through this appendage during the mating season to attract females. They also use it to fight with other males in order to win battles and claim females as their own.
The average adult southern male can weigh up to 6,600 pounds and reach a length of 16 feet in total. The female adults weigh about 2,000 pounds and measure around 10 feet long. Elephant seals may be light brown, dark brown, gray or rust colored.
Southern elephant seals can live to reach 22 years old and the northern species life span is only about 9 years.
Elephant Seal Reproduction
Elephant seals return to the coast for their breeding grounds in the winter. Female giant seals reach maturity between 3 and 6 years old and males mature slower between 5 and 6 years. Males battle each other to gain the alpha status that allows them to mate with the females. A male will mate with 30 to 100 females. A bit over 50 percent of first time breeding seals fail to produce a pup. A female elephant seal has one pup per year and the gestation period is 11 months. So, when females arrive at the breeding grounds in the winter, they are already pregnant. Females don't eat while nursing their pups for the first month of its life.
Don't Get Too Close to Wildlife
If you ever spot an animal of any kind that appears to be hurt, it's best not to get too close to them. In 2000, Homer, an elephant male seal terrorized Gisborne, a town in New Zealand. He attacked trash bins, cars, boat trailers, a tree and a power transformer in a rage. It isn't known what made him so mad, but it's best to keep your distance from all wildlife—thus the term of wild and life.