Try Not to Smile When Looking at This Dogs Stunt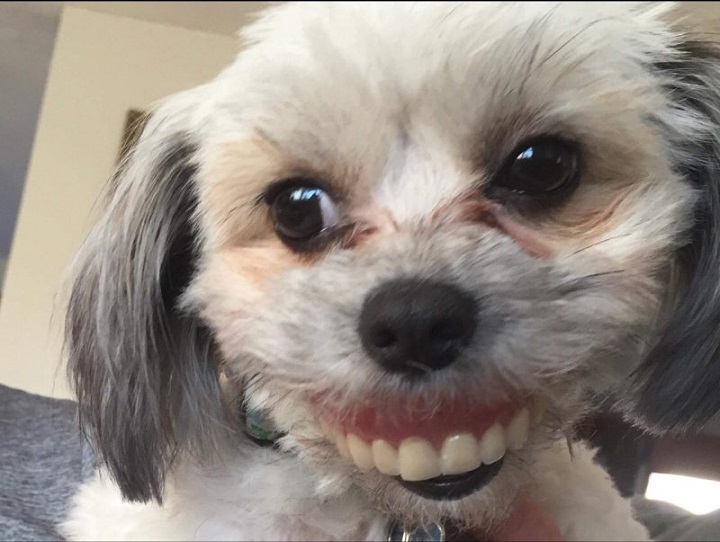 It is no secret that pets live to make us happy. They do just about anything they can manage to make sure we are not only happy with them, but happy in general. One pet, a Shih Tzu and Chihuahua mix named Maggie is no strange to trying to make her humans smile. Maggie belongs to Eunice and her father, who love to share photos of their perky pup on the social media platform, Twitter.
Maggie is known for her cute poses, her hilarious antics, and her adorable photos featuring the pup in sweaters, funny costumes, and more. She is certainly an adorable little lady that makes all her followers smile each and every day.
Maggie has long been known for her cute looks and her trouble making ways, earlier this month however, she tried a new trick that did a little more than make her humans happy. The father of this pup wears dentures, and as dentures will do, they started to bother him. As a habit, Eunice's father began taking his dentures out at nap time and when they truly started to bother him to give his mouth a break and to make sure he was able to rest.
He always took the time to place them within reach so he could quickly get them back as needed. If you know how mischievous small dogs can be, you probably know this story is headed. One day when he woke up from his nap and reached for his dentures however, they were nowhere to be found. He got up quickly and started searching for his teeth to no avail. Not long after he started his search however, he found the culprit.
Tiny little Maggie has taken his teeth and put them in her own mouth creating a smile like no other. While we are sure she didn't mean to create this adorable and slightly terrifying smile, the fact that she was able to fit the teeth in her mouth is impressive. Maggie created a new smile for herself similar to some of the most hilarious cartoons we see today. Some might feel that this is a scary sight to see, but big teeth in a tiny pup's mouth is actually quite comical.
Her humans quickly snapped a photo and added to Twitter to show their followers just what the pup looked like with her new, stolen smile. There is no telling how Maggie got the massive teeth into her tiny mouth, or how she managed to get them positioned properly, but the result is certainly hysterical.
There was no mention of whether or not the teeth were damaged or if the pup was hurt in any way but we are sure that she was fine since her humans love her so much. Funny stories like this are a great way to uplift your day and to really get a good laugh when you think about it. Though she was cute enough without the false teeth, she certainly was that much cuter and that much more amusing with them.
'Chewy' Online Pet Store Offers Incredible Gesture to Grieving Pet Owner.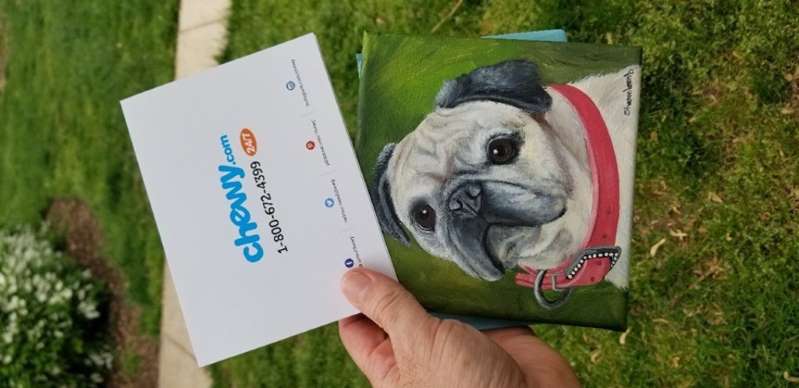 When you adopt a pet, you are bringing them into your family for life. When you lose a pet, it feels like you just lost a member of your family. While the grief that we feel over losing our beloved pets is not easy to forget, there are kindhearted souls out there that are doing their part to make it easier. Joseph Inabnet had to put down his 14-year-old pug, named Bailey, due to continual health problems that were not getting better. With a bag of prescription pet food that he could no longer use, Inabnet decided to contact the online pet retailer 'Chewy', in order to see if he could get a refund. What happened next would leave Inabnet crying bittersweet tears of happiness. Let's see if you can keep your tears from flowing!
According to Inabnet, Bailey had been struggling with health issues since her fifth birthday. In reality, Inabnet had assumed that he would have to let her go before she turned eight. However, Inabnet worked hard with Bailey's veterinarian, and they were able to extend her life for almost a full decade, thus allowing Inabnet and Bailey to share many moments of joy together. One of Bailey's favorite tricks was to sit on her backside in order to beg for treats. Inabnet loved to take pictures of Bailey when she performed this trick, and he sent one photo to Chewy along with his email, detailing the tragic loss of his best furry friend. Chewy told Inabnet to donate the pet food to a shelter and that they would send him a refund. Inabnet thought that this was the end of the story, but it was not.
Weeks later, Inabnet received a curious package in the mail from Chewy. Not sure what the object was, Inabnet slowly opened the package. As he unwrapped the package, weeks after saying goodbye to Bailey, his heart began to thud. What could be in here? What did Chewy send him? When he finally opened the package, he found a hand-painted portrait of Bailey doing her favorite trick. Inside of the package was a handwritten note from the owners of Chewy, sending love to Inabnet and a promise to support him if he ever needed anything. The painting captured Bailey in all of her silly joy and Inabnet was overcome with emotion. How could he not be? Inabnet was quick to share the lovely portrait on social media whereupon it was quicker to go viral. After being shared hundreds of thousands of times, Inabnet's story was soon all over the internet.
While Inabnet will never truly get over the loss of Bailey, he was afforded one of the kindest parting gifts that a pet owner could ever ask for. Inabnet praised the portrait a thousand times over before tearfully talking about his beloved pup. Bailey loved to always do her 'sit up' trick, and she had even been attempting to do it when he had to put her down due to her terminal illness. With one portrait and a lovely letter, Chewy was able to change Inabnet's last memories of his faithful, furry friend. Bailey was Inabnet's first pet, and he was quick to talk about how much she had changed his life. Inabnet went on to point out that he had never been closer to any animal and that he didn't know if he ever would be again. It's clear to see that Bailey left an impression on Inabnet, and we are happy to read that Chewy helped him to get through the grieving process.