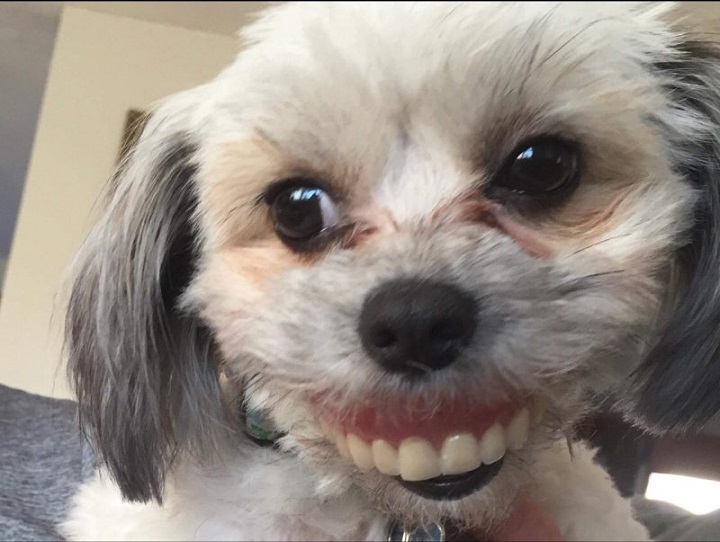 Try Not to Smile When Looking at This Dogs Stunt
It is no secret that pets live to make us happy. They do just about anything they can manage to make sure we are not only happy with them, but happy in general. One pet, a Shih Tzu and Chihuahua mix named Maggie is no strange to trying to make her humans smile. Maggie belongs to Eunice and her father, who love to share photos of their perky pup on the social media platform, Twitter.
Maggie is known for her cute poses, her hilarious antics, and her adorable photos featuring the pup in sweaters, funny costumes, and more. She is certainly an adorable little lady that makes all her followers smile each and every day.
Maggie has long been known for her cute looks and her trouble making ways, earlier this month however, she tried a new trick that did a little more than make her humans happy. The father of this pup wears dentures, and as dentures will do, they started to bother him. As a habit, Eunice's father began taking his dentures out at nap time and when they truly started to bother him to give his mouth a break and to make sure he was able to rest.
He always took the time to place them within reach so he could quickly get them back as needed. If you know how mischievous small dogs can be, you probably know this story is headed. One day when he woke up from his nap and reached for his dentures however, they were nowhere to be found. He got up quickly and started searching for his teeth to no avail. Not long after he started his search however, he found the culprit.
Tiny little Maggie has taken his teeth and put them in her own mouth creating a smile like no other. While we are sure she didn't mean to create this adorable and slightly terrifying smile, the fact that she was able to fit the teeth in her mouth is impressive. Maggie created a new smile for herself similar to some of the most hilarious cartoons we see today. Some might feel that this is a scary sight to see, but big teeth in a tiny pup's mouth is actually quite comical.
Her humans quickly snapped a photo and added to Twitter to show their followers just what the pup looked like with her new, stolen smile. There is no telling how Maggie got the massive teeth into her tiny mouth, or how she managed to get them positioned properly, but the result is certainly hysterical.
There was no mention of whether or not the teeth were damaged or if the pup was hurt in any way but we are sure that she was fine since her humans love her so much. Funny stories like this are a great way to uplift your day and to really get a good laugh when you think about it. Though she was cute enough without the false teeth, she certainly was that much cuter and that much more amusing with them.
Buzz Aldrin Finally Marries Long-Term Love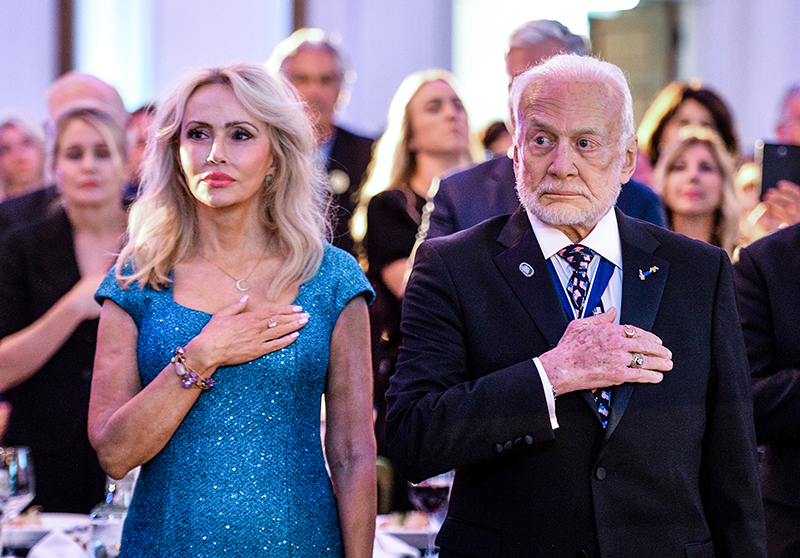 Buzz Aldrin, the second man to walk on the moon, recently married his longtime love, Lois Driggs Cannon. The couple, who have been together for more than a decade, married in a private ceremony in Los Angeles, California.

Aldrin, who is now 93 years old, first met Cannon at a gala event in Los Angeles in the late 1990s. They quickly became friends and began dating. They've been together ever since, and their love has only grown stronger over time.

Aldrin is best known for his involvement in the Apollo 11 mission, which saw him and astronaut Neil Armstrong become the first humans to walk on the moon in 1969. Since then, he has devoted his life to promoting space exploration and education. He is also a published author, having written several books about his astronaut experiences, including "Return to Earth" and "Magnificent Desolation: The Long Journey Home from the Moon."

Cannon, a retired businesswoman, has been an unwavering supporter of Aldrin throughout his career. She has accompanied him on many of his public appearances and speaking engagements. She has also been a strong supporter of space exploration and education, and the two have frequently collaborated to advance these causes.

The couple's wedding was a small and intimate affair attended by only close family and friends. The wedding took place at a private residence in Los Angeles, and the couple exchanged vows in a stunning outdoor setting. The ceremony was followed by a reception with food, drinks, and music for the guests.

The wedding of Aldrin and Cannon is a testament to the power of love and the value of companionship in life. Despite the difficulties and challenges they have faced, their love for one another has remained strong. The couple's marriage serves as an example to others and a reminder that love knows no age limit.
Aldrin is an American hero not only for his role in the Apollo 11 mission but also for his adventurous spirit and unyielding passion for space exploration. The news of his marriage serves as a reminder that love and companionship are important aspects of human life, even after achieving great heights and facing challenges. Marriage is a celebration of love, commitment, and a lifetime of shared adventures and experiences for the couple.