'Trail Angel' Leaves Behind Good Deeds For Other Hikers to Find
A marked route stretching between the Eastern United States and into Maine, the Appalachian Trail offers hikers the chance to experience the longest hiking-only trail on the planet. As a one-of-a-kind destination, the Appalachian Trail brings in more than 2 million visitors every single year. Reaching heights of 6,643 feet and extending for more than 2,200 total miles, the Appalachian Trail is as challenging as it is inviting, a testament both to nature and those willing to overcome it.
Due to the intensity of the trail and its large coverage area, Trail Angels have begun to leave behind little gifts to help others follow in their path. Michele Staudenmaier had been hiking on the Appalachian Trail (A.T.) in March alongside her son, Zach. While walking the trail, Zach and Michele got to talking about gifts left behind for the hikers. Apparently, the hiking community has always appreciated donated gifts and drinks alongside trail markers, lovingly referring to these individuals as Trail Angels.
Understanding how important food and drink can be to a wilderness hike that ranges from easy to strenuous, Michel decided that she would become a Trail Angel herself alongside her husband, Dave.
Becoming a Trail Angel
When Michel and Zach had their discussion regarding trail angels, they were in the middle of a fun family trip. Michel's husband, Dave, had already booked several Airbnb's along their route through the A.T., with booked stops in Georgia, Tennessee, Vermont, Maine, West Virginia, and Pennsylvania. The trip was scheduled to take roughly six months, crossing through many significantly remote and rural places. Some of these rural areas end up featuring a small oasis of hikers, and finding these areas is known as stumbling upon Trail Magic.
Michel and her family ran into a group of Trail Angels during their work. Michele said, "I realized there was a massive community of volunteers that spend their time and money to support A.T. hikers." Michele went on to say, "I had no idea!"
While an average hike will knock out nearly 600 calories per hour, it can be hard to normalize this average. Many hikers will carry packs weighing upwards of 30 to 50lbs, adding a tremendous amount of stress to their physical efforts. To help keep these folks fed and energized, Michele would cook and pack foods like hot dogs, chips, sweet treats, Gatorade, and even sodas. One such Trail Magic event saw Michele arrive with several buckets of Kentucky Fried Chicken, leading to more than 30 hikers eating well and sharing their stories.
One event showed Michele the true stakes pertaining to Trail Angels as well as the importance of her own work. Michele had fueled a trail marker with food when a hiker arrived. After talking to the weakened hiker, he revealed that he had run out of food completely. Had he not found Michele and her food, there is no telling what could have happened.
According to Michele and many of the hiking enthusiasts that she has met, it is rare to have any food leftover after a long hike. For that reason, unexpected hot meals waiting in the middle of the A.T. will always be seen and enjoyed as a magical moment!
Traveling Dog in Instanbul Gains Celebrity Status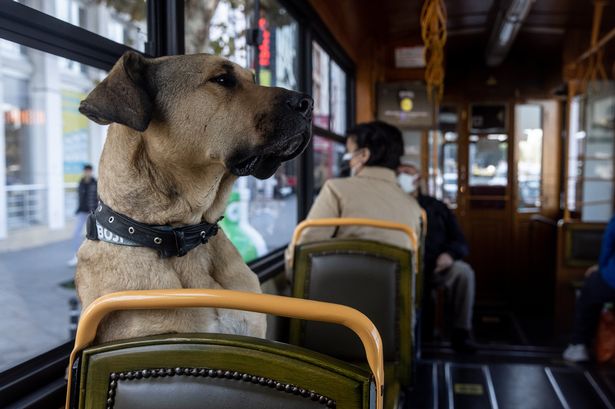 On the city's buses, ferries, and subways, Boji the street dog has been something of a local celebrity. A few months ago, his exploits began to surface, and local officials started to keep track of his whereabouts. They were amazed by his ingenuity.
On a typical day, one can expect Boji to cover a distance of 30 kilometers (18.6 miles), traveling through lots of Subway stations and taking two ferry trips.
"He's such a wanderer," Chris McGrath, a Getty Images photojournalist who got to spend a day alongside Boji throughout the city, said. All he cares about is taking a ride on a moving vehicle. The moment he sees a bus or van, he can't help but want to hop on. "It's a little out of this world."
Boji takes a nap on Istanbul's subway system. Due to his neuter and vaccination tag in his ear, you may have seen him roaming the city as a stray.
McGrath first came across Boji on Twitter, where individuals show photos and selfies of the mixed-breed canine. With tens of thousands of supporters on Twitter and Instagram, the dog has become a social media sensation.
McGrath said, "Everyone recognizes Boji now. Business owners have taken to guarding him because of the affection he has gained in the community."
As he makes his way to Beşiktaş via ferry, onlookers snap photos of themselves with Boji. He is also well-protected by city employees, who have been taking good care of him. They brought him in for personal maintenance and a healthcare inspection early last month.
Officials also conducted behavioral research on the dog recently to ensure he is doing well and to make sure the public stays safe as well.
The city has also set up a small kennel for him outside one of their Subway stations, where he can get fed whenever he chooses to return. Then again, Boji likes to go on the run.
Keeping up with Boji was a challenge, photographer Chris McGrath noted,because he understands precisely where to go and doesn't always slow down.
Boji jogs alongside a subway train that is about to arrive.
Using a mobile app, city workers keep an eye on Boji's whereabouts. When McGrath met them last week, it was to spend the day following Boji, who is adept at navigating the subway system.
Dogs have an intuitive sense of where they should go when they get on a ferry, and Boji is no exception. On the Beşiktaş ferry, McGrath noted that Boji had slipped underneath the turnstiles and continued on his journey, which he said he seemed to enjoy the most.
On the subway and the Ferry, McGrath discovered that Boji enjoys looking out over all of their wheels, from the engines to their gears. Boji got his nickname from this section of the subway car. The Turkish word for "bogie" is "boji," and the railroad term for it is "bogie area."
Cats are the only thing Boji dislikes. Then there are the numerous stray cats that he encounters on his journeys. Except for that one flaw, he's a model canine. He's not doing anything in particular. Everyone adores him. McGrath said, "He's ecstatic."
Boji doesn't have a hard time finding food in Istanbul since there are so many strays. Residents and restaurant operators place water and food bowls for animals around restaurants or homes, McGrath said. In that case, Boji will be on the right path.
Individuals will soon be able to see informational advertisements regarding Boji on the public transportation system, according to McGrath. However, don't expect your dog to follow your lead.