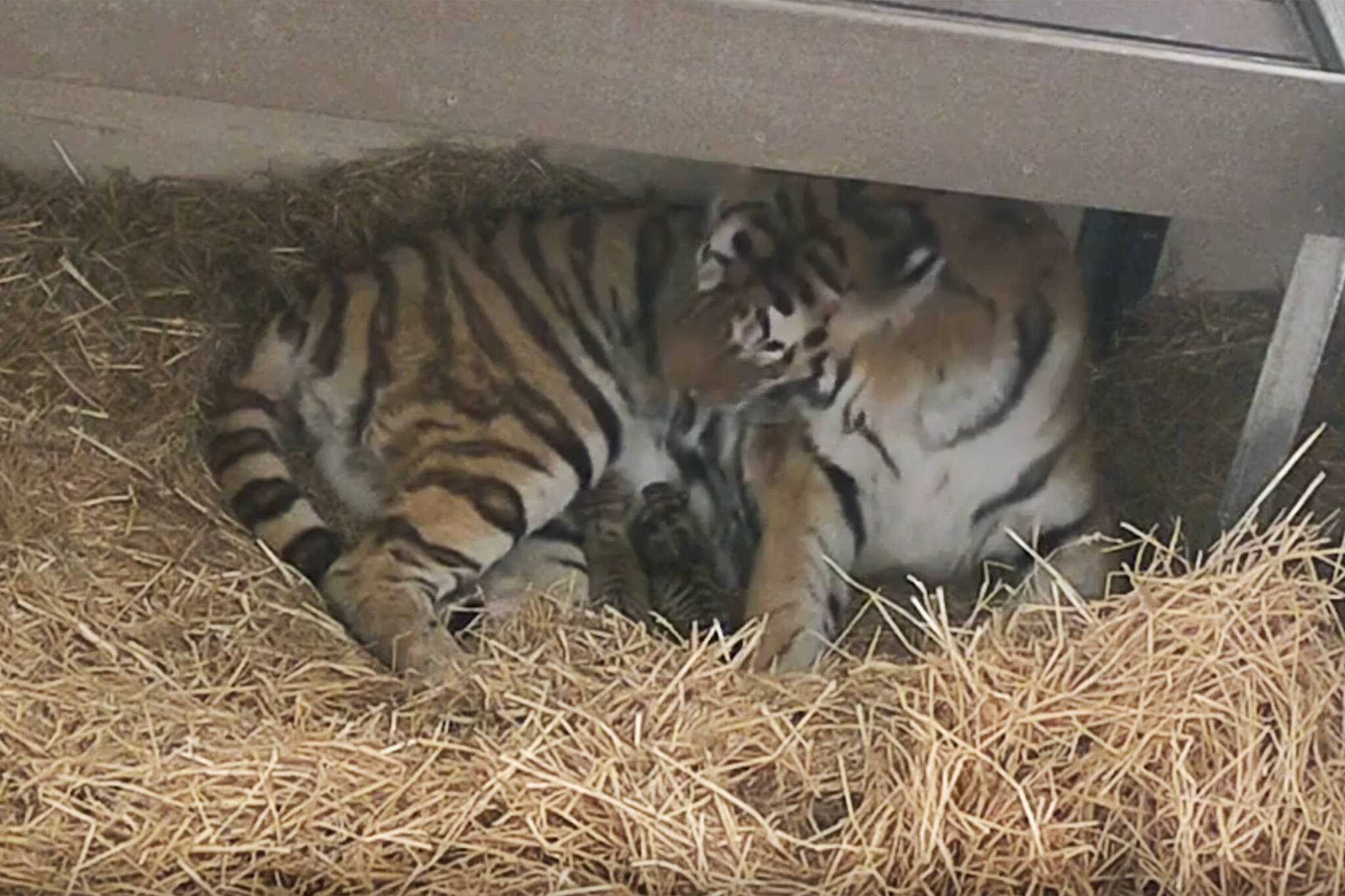 Toronto Zoo Welcomes Endangered Cubs After Touching Experience
There are few things in life quite as exciting as seeing a tiger up close and for the first time. Now if you are like most people, you'd rather see a tiger in a safe setting (No thank you, Joe Exotic!) and that is exactly what the Toronto Zoo offers its clients throughout the year.
The largest zoo in all of Canada, the Toronto Zoo features more than 5,000 animals across 460 different species. With millions of visitors every single year, all eyes were on the facility when the zoo announced that an endangered tiger had become pregnant.
Meet Mazy the Amur Tiger
Most major zoos around the world are focused in some respect on the idea of conservation. The Toronto Zoo has been trying to rehabilitate Siberian Tigers, also known as Amur tigers, for years. When the zoo was visited by a male tiger named Vasili, as part of a larger conservation program, the Toronto Zoo staff held their breath.
With fewer than 500 Amur Tigers in the wild, the endangered species is still very much on the brink of extinction. Still, that doesn't mean that things aren't looking up. Mazy's successful pairing with the male tiger Vasili would lead to the birth of three happy and healthy cubs. The successful birth would mark the next chapter in what has been a successful effort to bring Amur tigers back from the brink. As recently as the 1930s, there were only 20 or 30 Amur Tigers in the wild!
Rehabilitation: Back from the Brink
Dolf DeJong is the Chief Executive Officer at the Toronto Zoo. DeJong gave a statement following the successful birth of Mazy's cubs. DeJong would say, "This birth is an important contribution to a genetically healthy (Amur) tiger population."
DeJong would go on to explain that Amur tigers have been facing increased pressure due in large part to illegal poaching and destructive habitat loss. These two metics combined have created a very real concern for the end of the population, despite positive population growth in recent years. DeJong believes that the most important step going forward is to educate the public on the plight of these creatures while mitigating whatever physical threats they may face.
All About the Amur Tiger
Siberian Tigers are native to Korea, Northeast China, and throughout the far east of Russia. These big cats are considered a close relation to Caspian Tigers and their large size reinforces this connection. Throughout the '80s, the average wild male Siberian tiger would weigh between 400lbs and 675lbs with even larger cats becoming targets for poachers.
What makes the Amur Tiger particularly fascinating is that it has far-ranging travel capabilities with ranges up to 620 miles. Due to their far-ranging nature and low population, it has been exceedingly difficult to maintain an accurate count of the Amur tiger population. Thankfully, there are some signs in the wild that nature is recovering. Early in 2014, the World Wild Fund For Nature would capture on video a wild tigress with her cubs.
As far as mating is concerned, Siberian tigers will spend between five and six days with their mate. Gestation lasts nearly 3.5 months with litter sizes rarely exceeding six cubs. Cubs are originally born blind and t hey are sheltered within a den while the tigress hunts for food. The average lifespan of these gorgeous big cats ranges between 10 and 18 years depending on habitat and captivity. Captive Amur Tigers may live upwards of 25 years.
'Trail Angel' Leaves Behind Good Deeds For Other Hikers to Find
A marked route stretching between the Eastern United States and into Maine, the Appalachian Trail offers hikers the chance to experience the longest hiking-only trail on the planet. As a one-of-a-kind destination, the Appalachian Trail brings in more than 2 million visitors every single year. Reaching heights of 6,643 feet and extending for more than 2,200 total miles, the Appalachian Trail is as challenging as it is inviting, a testament both to nature and those willing to overcome it.
Due to the intensity of the trail and its large coverage area, Trail Angels have begun to leave behind little gifts to help others follow in their path. Michele Staudenmaier had been hiking on the Appalachian Trail (A.T.) in March alongside her son, Zach. While walking the trail, Zach and Michele got to talking about gifts left behind for the hikers. Apparently, the hiking community has always appreciated donated gifts and drinks alongside trail markers, lovingly referring to these individuals as Trail Angels.
Understanding how important food and drink can be to a wilderness hike that ranges from easy to strenuous, Michel decided that she would become a Trail Angel herself alongside her husband, Dave.
Becoming a Trail Angel
When Michel and Zach had their discussion regarding trail angels, they were in the middle of a fun family trip. Michel's husband, Dave, had already booked several Airbnb's along their route through the A.T., with booked stops in Georgia, Tennessee, Vermont, Maine, West Virginia, and Pennsylvania. The trip was scheduled to take roughly six months, crossing through many significantly remote and rural places. Some of these rural areas end up featuring a small oasis of hikers, and finding these areas is known as stumbling upon Trail Magic.
Michel and her family ran into a group of Trail Angels during their work. Michele said, "I realized there was a massive community of volunteers that spend their time and money to support A.T. hikers." Michele went on to say, "I had no idea!"
While an average hike will knock out nearly 600 calories per hour, it can be hard to normalize this average. Many hikers will carry packs weighing upwards of 30 to 50lbs, adding a tremendous amount of stress to their physical efforts. To help keep these folks fed and energized, Michele would cook and pack foods like hot dogs, chips, sweet treats, Gatorade, and even sodas. One such Trail Magic event saw Michele arrive with several buckets of Kentucky Fried Chicken, leading to more than 30 hikers eating well and sharing their stories.
One event showed Michele the true stakes pertaining to Trail Angels as well as the importance of her own work. Michele had fueled a trail marker with food when a hiker arrived. After talking to the weakened hiker, he revealed that he had run out of food completely. Had he not found Michele and her food, there is no telling what could have happened.
According to Michele and many of the hiking enthusiasts that she has met, it is rare to have any food leftover after a long hike. For that reason, unexpected hot meals waiting in the middle of the A.T. will always be seen and enjoyed as a magical moment!