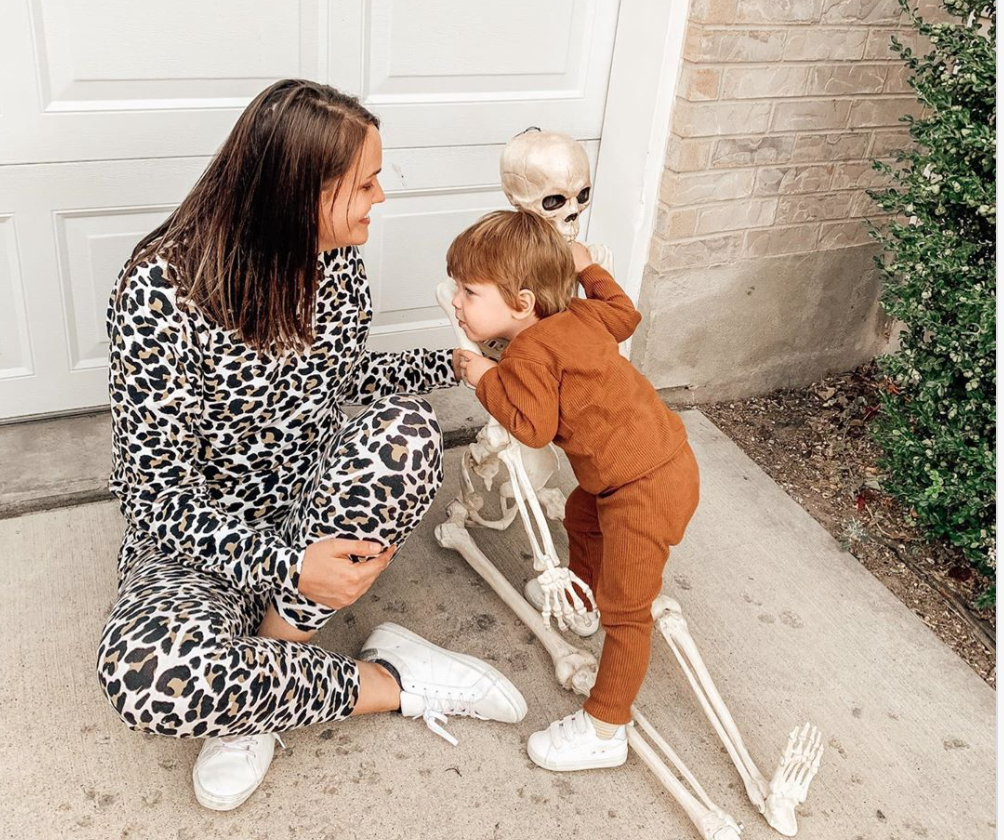 Toddler Forms Friendship With Life-Size Skeleton. He Takes Him Everywhere
Abigail Brady was busy mopping up her basement after the family's water heater got damaged thereby causing a little flood in the basement. All of a sudden, she was disturbed by the cries of her 2-year-old son, Theo who needed her attention urgently.
"Help! Sel-eton!" she said her son kept calling out. "Sel-eton!"
Brady who resides in Herriman, Utah hurried to have a glimpse at what was happening. On getting there, she was startled to see Theo struggling to pull one of their past Halloween decorations, a life sized skeleton up the stairs. The whole sight cracked her up.
"The Halloween decorations had been in a corner by the water heater, so I'd pulled them away from the mess," she said. "While everything was drying out, Theo found the skeleton. It was an instant hit."
The tall, life-sized skeleton had been bought a couple of years ago for $20 at a store in the neighborhood. Brady at that point thought it would be a good addition for her front yard as part of Halloween celebrations.
"When we put it out last year, Theo hardly noticed because he was only 1," said Brady, a stay-at-home mom.
Things would change later this year. Her son had resolved to be a close pal of Skeletons.
After helping Theo by taking the Skeletons upstairs, Theo was adamant on bringing his bony pal along to a visit to a local reservoir that mid-September day, Brady said.
"And when we got there, he wouldn't let me leave him behind in the car," Brady said. "So I carried him out to the beach, and we propped him up in the sand."
Children and their parents were thrilled by the sight of Theo's friend. While this was happening, Brady took her phone and recorded a video of Theo and Skeletons, posting it on TikTok. The video surprisingly caught on with people and the next day, she was shocked to see that it had amassed several thousand views. Now it's gained over 2 million views.
Theo would later develop close interactions with Skeletons much to his mom's surprise.
Theo coaxed his mum and dad, Casey Brady in allowing Skeletons stay with him in his room. He wanted to show Skeletons his most loved books and toys and especially the little yellow construction excavator that he once used to carry everywhere.
The excavator would soon be abandoned though.
"I put the skeleton in Theo's rocking chair, but then I was lying in bed and thought, 'It's kind of weird to have a skeleton in my child's room late at night,' " she said. "So I went in and sneaked it out."
When Theo couldn't find his new pal, his cries was heard yet again. "Sel-eton! Sel-eton!"
"After that," Brady said, "I realized it was a losing battle."
She and her husband came to an agreement to allow Skeletons to be his close pal.
"I really can't say this is anything different for [Theo]," said Casey Brady, 30, who owns a roofing company. "It's just a normal day for him. He's the cutest kid — I love being his dad and seeing his imagination grow."
Abigail Brady then came up with an idea to give Skeleton a name since he was going to accompany Theo on most days.
She sought for name suggestions on her Instagram page and eventually settled on Benny, the name of the skeleton character in the Disney series "Halloweentown".
Benny now tags along with the family frequently. From the grocery store to the playground and the local swimming pool, he's a usual sight with Theo.
"We've even taken him to a wedding," she said.
The bond has grown stronger and Theo now has his breakfast with Benny every morning and thereafter proceeds to watch his sitcoms with the skeleton.
"Sometimes, he'll also join us for dinner," Brady said. "He's a picky eater and doesn't eat much."
Brady is happy. She's overjoyed that people on social media find it funny when they see photos and videos of Benny.
"The year 2020 has thrown us a hardball, so it makes me happy to know people are finding something positive to connect with," Brady said. Brady still harbors plans to carry on with the postings and is even more prepared for one special day: Halloween.
"We're planning to have a small family party with my parents and sister, and we'll all dress up," she said.
When asked what will be Theo's costume this year, her son has chosen already.
"He definitely wants to be a skeleton."
Herriot the Heron and the Underpants Sling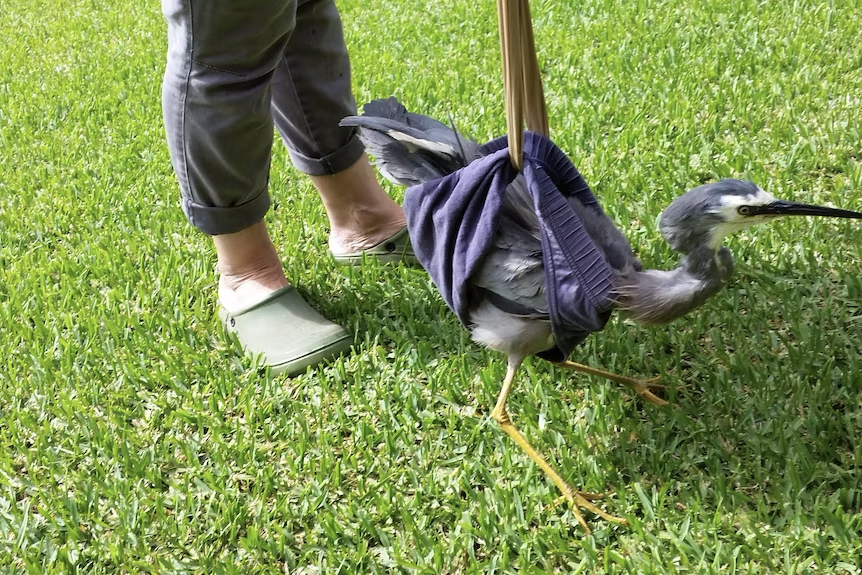 In the world of wildlife rescue, there are heroes who go above and beyond to help our feathered friends when they are in need. One such hero is Karen Ledger, a dedicated wildlife rescuer with a heart of gold. With over a decade of experience, Karen has helped countless birds in distress. However, it was her ingenious creation of an "underpants sling" that recently captured hearts and headlines, as she helped a heron named Herriot regain his ability to walk.
Herriot's story began with a troubling challenge. This majestic heron found himself unable to use his legs for reasons unknown. It was a dire situation, and things didn't look promising at the start. As Karen Ledger recounted, "It didn't look good at the start. He couldn't use his legs for unknown reasons. He might have been hit by a car."
Determined to help this long-legged bird find his footing again, Karen put her inventive mind to work. She faced the daunting task of making a heron walk when it seemed impossible. Her solution? An unconventional yet effective "underpants sling" made with a pair of stockings and her husband's underwear.
"I put the heron in the sling and physically made him use his legs three or four times a day until he could walk by himself," Karen explained. It was no easy feat, requiring intense effort and dedication. But for Karen, every minute was worth it when she saw Herriot finally regain his ability to walk independently.
Herriot's journey to recovery didn't end there. After his progress in the makeshift sling, he continued to improve by walking in an enclosed outdoor area for weeks. Finally, the day came when Herriot was strong enough to be released back into the wild, near a tranquil dam.
Karen's extraordinary efforts aren't limited to Herriot alone. She has a track record of helping a variety of birds in need. One heartwarming tale involves a barn owl who had lost his mate in a tragic road accident. Karen noticed that the owl was not physically injured but was deeply depressed, spending a week with his eyes closed and his head down.
Karen knew she had to find a way to lift the owl's spirits. "You have to think outside the square, just look at what you've got and adapt," she said. Drawing on her resourcefulness, she placed a stuffed toy penguin, roughly the same size as the owl, next to him in his cage. This simple act of comfort worked wonders. "After a couple of days, he started brightening up and opening his eyes. He came back to the point that he was well enough to be released," Karen said.
Karen Ledger's wildlife rescue efforts extend beyond her heroic acts with Herriot and the barn owl. She has dedicated herself to helping a wide array of birds, from barn owls and tawny frogmouths to lorikeets, rosellas, kookaburras, and more.