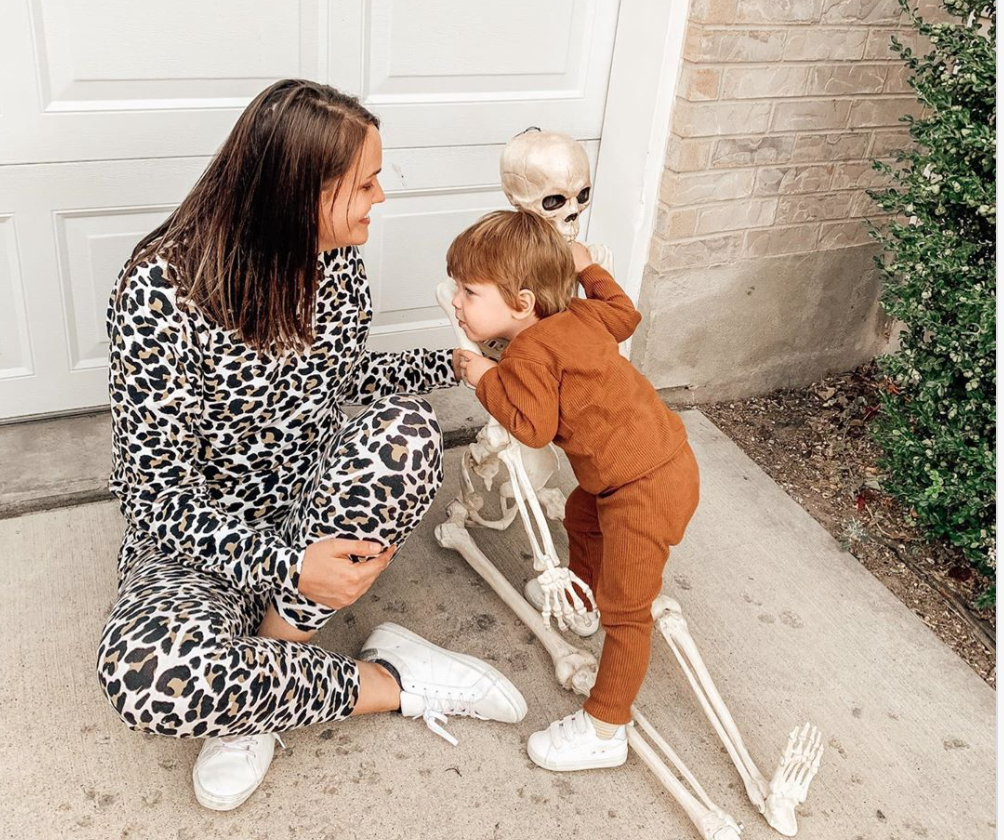 Toddler Forms Friendship With Life-Size Skeleton. He Takes Him Everywhere
Abigail Brady was busy mopping up her basement after the family's water heater got damaged thereby causing a little flood in the basement. All of a sudden, she was disturbed by the cries of her 2-year-old son, Theo who needed her attention urgently.
"Help! Sel-eton!" she said her son kept calling out. "Sel-eton!"
Brady who resides in Herriman, Utah hurried to have a glimpse at what was happening. On getting there, she was startled to see Theo struggling to pull one of their past Halloween decorations, a life sized skeleton up the stairs. The whole sight cracked her up.
"The Halloween decorations had been in a corner by the water heater, so I'd pulled them away from the mess," she said. "While everything was drying out, Theo found the skeleton. It was an instant hit."
The tall, life-sized skeleton had been bought a couple of years ago for $20 at a store in the neighborhood. Brady at that point thought it would be a good addition for her front yard as part of Halloween celebrations.
"When we put it out last year, Theo hardly noticed because he was only 1," said Brady, a stay-at-home mom.
Things would change later this year. Her son had resolved to be a close pal of Skeletons.
After helping Theo by taking the Skeletons upstairs, Theo was adamant on bringing his bony pal along to a visit to a local reservoir that mid-September day, Brady said.
"And when we got there, he wouldn't let me leave him behind in the car," Brady said. "So I carried him out to the beach, and we propped him up in the sand."
Children and their parents were thrilled by the sight of Theo's friend. While this was happening, Brady took her phone and recorded a video of Theo and Skeletons, posting it on TikTok. The video surprisingly caught on with people and the next day, she was shocked to see that it had amassed several thousand views. Now it's gained over 2 million views.
Theo would later develop close interactions with Skeletons much to his mom's surprise.
Theo coaxed his mum and dad, Casey Brady in allowing Skeletons stay with him in his room. He wanted to show Skeletons his most loved books and toys and especially the little yellow construction excavator that he once used to carry everywhere.
The excavator would soon be abandoned though.
"I put the skeleton in Theo's rocking chair, but then I was lying in bed and thought, 'It's kind of weird to have a skeleton in my child's room late at night,' " she said. "So I went in and sneaked it out."
When Theo couldn't find his new pal, his cries was heard yet again. "Sel-eton! Sel-eton!"
"After that," Brady said, "I realized it was a losing battle."
She and her husband came to an agreement to allow Skeletons to be his close pal.
"I really can't say this is anything different for [Theo]," said Casey Brady, 30, who owns a roofing company. "It's just a normal day for him. He's the cutest kid — I love being his dad and seeing his imagination grow."
Abigail Brady then came up with an idea to give Skeleton a name since he was going to accompany Theo on most days.
She sought for name suggestions on her Instagram page and eventually settled on Benny, the name of the skeleton character in the Disney series "Halloweentown".
Benny now tags along with the family frequently. From the grocery store to the playground and the local swimming pool, he's a usual sight with Theo.
"We've even taken him to a wedding," she said.
The bond has grown stronger and Theo now has his breakfast with Benny every morning and thereafter proceeds to watch his sitcoms with the skeleton.
"Sometimes, he'll also join us for dinner," Brady said. "He's a picky eater and doesn't eat much."
Brady is happy. She's overjoyed that people on social media find it funny when they see photos and videos of Benny.
"The year 2020 has thrown us a hardball, so it makes me happy to know people are finding something positive to connect with," Brady said. Brady still harbors plans to carry on with the postings and is even more prepared for one special day: Halloween.
"We're planning to have a small family party with my parents and sister, and we'll all dress up," she said.
When asked what will be Theo's costume this year, her son has chosen already.
"He definitely wants to be a skeleton."
Geese Showing Off By Flying Upside Down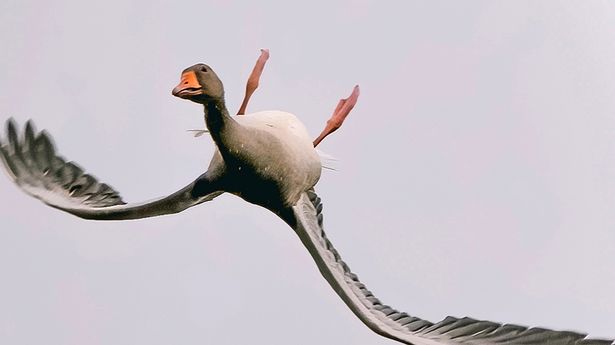 Amateur photographers love to get great shots, especially given that sometimes they seem random, and the trick to reaching professional status is to produce great shots consistently versus every once in a while. So, for photographers in Holland watching geese fly near Arnhem, the opportunity to catch a goose flying upside down was a bit out of the norm and eye-catching. As it turned out, the goose was showing off.
Geese in the region have regularly been seen flying upside down, which might seem somewhat odd to the bystander seeing the behavior for the first time. Locally referred to as "whiffling," upside-down geese flying occurs on a regular basis when the bird manages to twist its belly up in the air and keep flying while the head is also twisted right side up. No one is quite sure why geese do this, but some guesses are it helps distract would-be predator birds from attacking when something looks odd, or it slows the goose's flight to the ground. Geese are not the only birds to perform whiffling either; lapwings and godwits have been seen doing the same in flight.
Vincent Cornelissen was the lucky photographer who was able to snap a wonderfully clear shot of a goose near Arnhem, and it was his image that ended up triggering the latest online debate and interest in geese whiffling. Cornelissen had posted the image to his Facebook page to show off the photograph, and it ended up expanding his audience to some 10,000 different followers as a result. One particular fellow in Turkey turned out to be an aerodynamics professor at Istanbul University and used Cornelissen's image as an example for students studying flight capabilities.
The upside-down goose was not Cornelissen's first bird shot either. The photographer has been watching and catching images of birds since childhood, and his library of photographs over the years has grown expansive. However, the odd goose flight could arguably be Cornelissen's most famous photograph by far. It was pure accident that he even got the shot, simply noticing that one of the birds was flying weirdly at the time. The odd flight approach wasn't fully noticed until Cornelissen was working on post-processing of his images when he realized what the bird was doing.
At first, Cornelissen thought his audience would accuse the amateur of photoshopping the image, the practice of making a fake image with Adobe Photoshop, a highly powerful post-processing image editing program. However, Cornelissen was soon buffered by those in other countries who confirmed the behavior as being real and accurate.
As it turns out, when young geese become accomplished in flight, they do dumb stuff, most notably, flying upside down to apparently "show off." It works great until the goose runs into trouble and then has to adjust for a potential flight mishap and crash on the ground. The whiffling has been confirmed by other photographers after Cornelissen's image was produced, but his image remains the greatest clarity so far of the goose's flight behavior.