To Get Sweet, Long-Suffering Dog a Home, a Local Man Lived in the Shelter With Her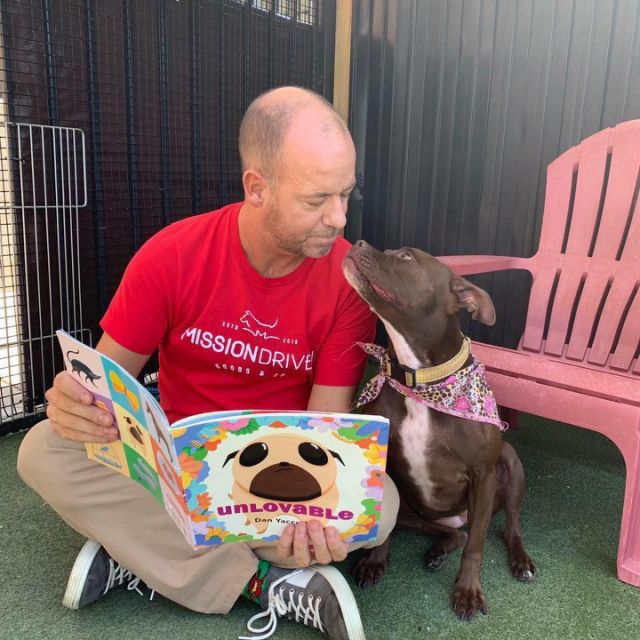 It Wasn't Because Scott Poore Needed an Office for His Business
In an age where shared workspaces are a popular solution for small business owners, you could imagine that Scott moved into a dog's shelter space for practical reasons. In a way, he did: he wanted to bring focus on the wonderful creature he had met, and help her find a forever home after more than 400 days at the shelter. It just happened that Scott could also operate his business, animal-oriented Mission Driven Goods, while spending time living with his new friend, a terrier mix named Queen.
Things Happen When People Pay Attention
When Scott noticed that the doggie was looking down more days than not and seemed to be losing heart and hope, he took action. He moved in. He not only ran his business from the small kennel space, he also contributed in lieu of rent. It's a good thing he didn't sign a long-term lease.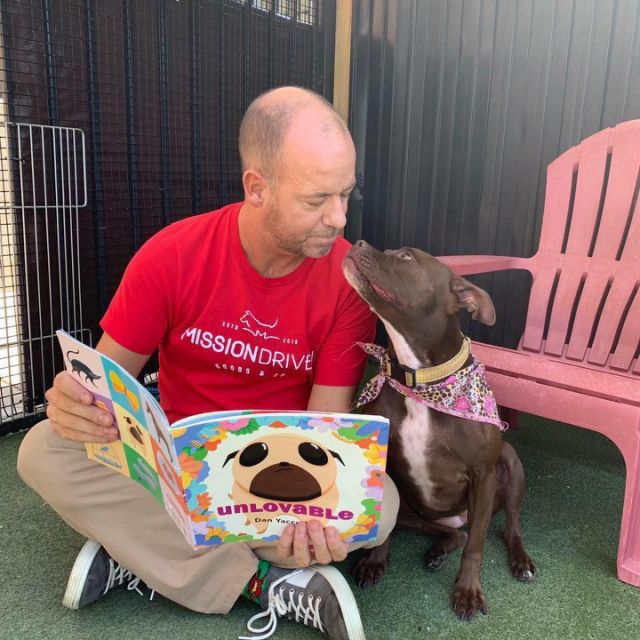 A Dog's Bad Luck, Bound to Turn Good Eventually
According to Scott, Queen came from a bad home in a bad neighborhood. She lived in a dumpster when she was found, with nowhere to go but up. She got veterinary care and attention at the shelter to make her ready for adoption, but still after 400 days she was looking eagerly at every visitor to her corner of the shelter, and nothing was happening. When Scott visited, he saw her kind nature and thought it was just a matter of increased awareness about this wonderful stray dog.
Shelter Operations and Local Politics Can Dwarf the Needs of a Lone Creature
Great Plains Shelter has been involved in animal shelter operations in the local area and county during turbulent times, and with record volumes of pets and strays passing through, Queenie could have gotten lost in the shuffle despite their best efforts. The role of a single individual made a big difference in Queen's life, and in the life of the lucky new owner who took her home.
Life in the Shelter for Man and Dog
Scott moved into Queen's space as part of his mission to raise awareness about shelter pets, especially ones which have resided in facilities for a long time. Sometimes it's just a matter of time and exposure, a chance for the right person to come along. Scott brought a desk and other living materials in and vowed to stay until Queen left, too, for a new home. He noted two reasons that he picked her for his enhanced support: she was one of the most friendly, personal creatures he'd met, and she had had a rough life from the beginning up to the 400-day shelter stay. Things were looking up overall, but she was starting to look down.
Making National News Once for Moving in, Twice for Moving Out
The good news came soon after, though, as Scott's contribution to Queen's visibility and adoption prospects appeared to pay off. The reach of Queen's and Scott's story shows how people around the globe and in the local community took an interest. As reported in sources including the New York Post, it took just a week of living together before Queen — and Scott — moved out. In a surprise twist, her new owner Tony Puluso said he didn't know the backstory including Scott's somewhat odd behavior. He just thought Queen was the dog for him. But who knows how many other pets were adopted after long shelter stays because of the story?
A Call to Change by An Amazing Third Grade Class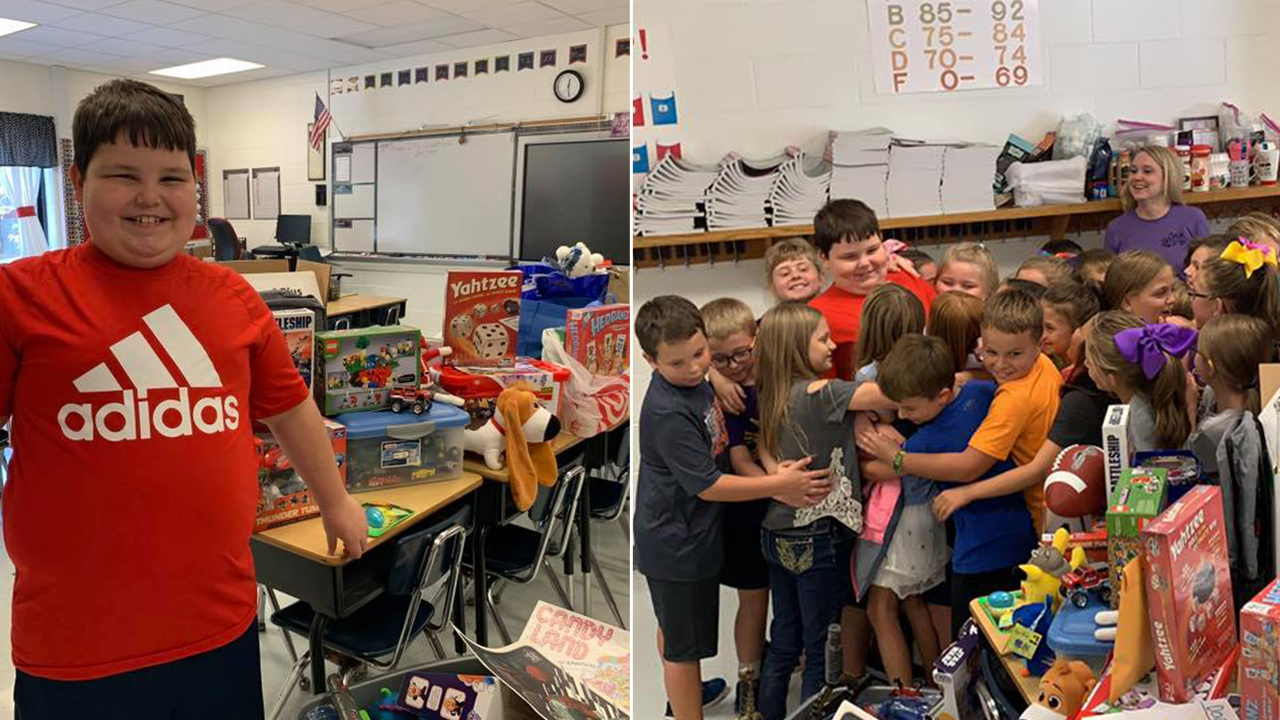 I have always believed that hate and greed are things that humans are taught- that they are learned behaviors- not characteristics that we are born with. Children are pure and, unless taught otherwise, they are full of love and compassion. This story encompasses this theory more than any other I have ever seen.
Just a few weeks ago on September 21, 2019, sweet and lovable eight year old Daniel Hunt's and his family's Tennessee home went up in smoke, along with their possessions. This included all of Daniel's beloved toys. What was a devastating blow to this child did not stop him from being the happy and friendly kid on campus.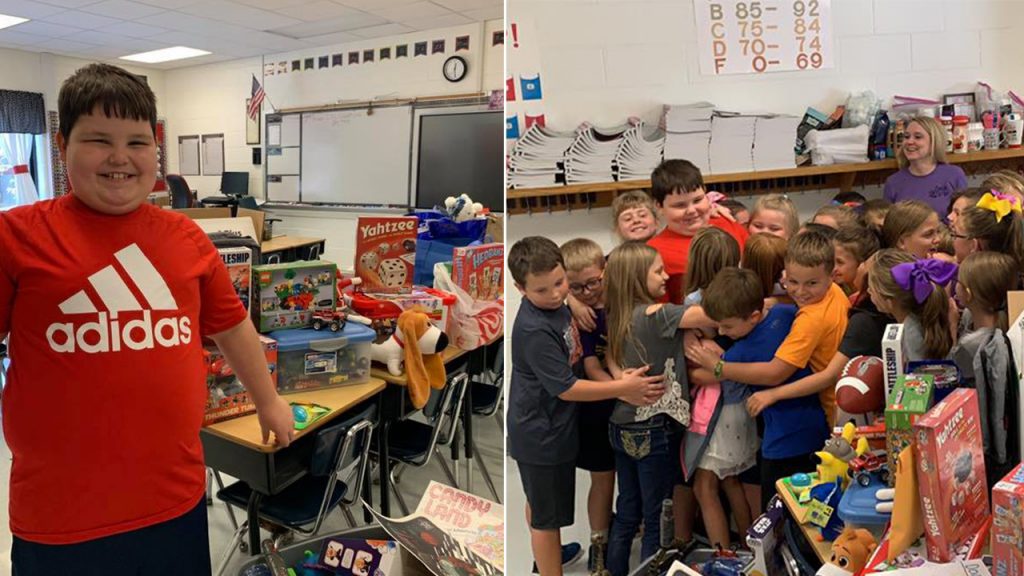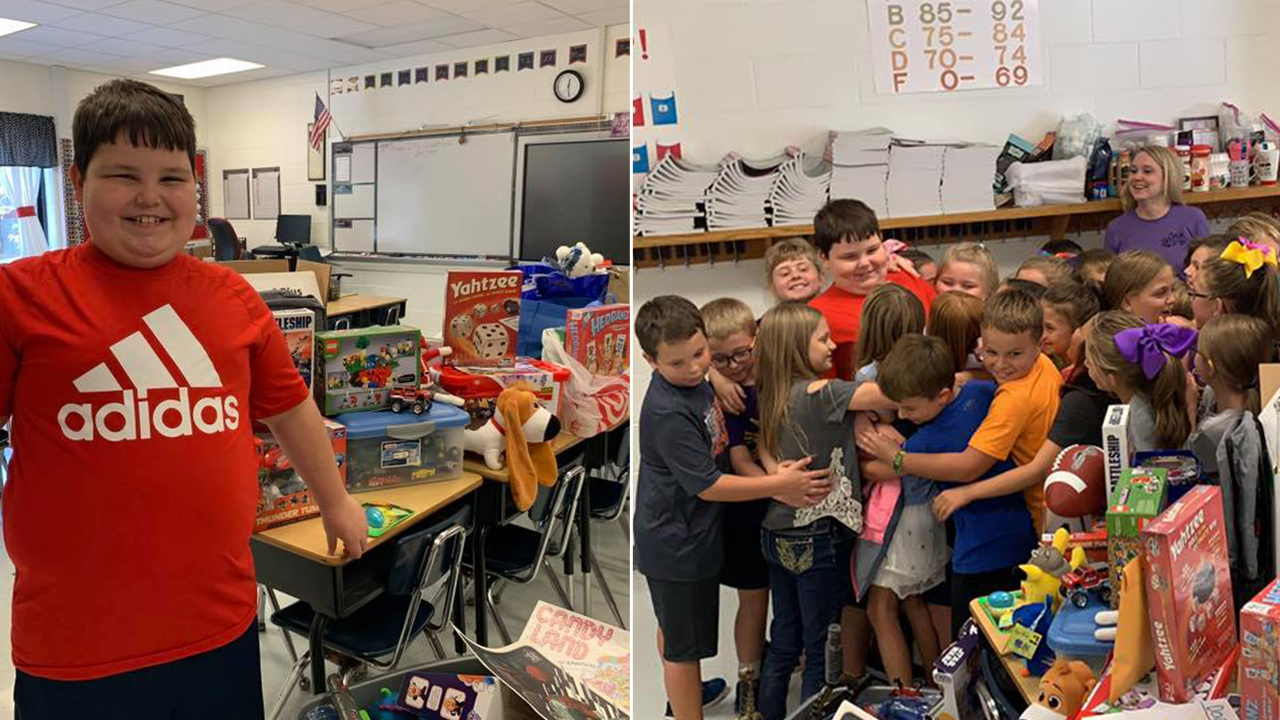 More touching, though, is his classmates' response. It started with being overly friendly- making an extra effort to play with him, holding doors for him, even sharpening his pencils for class- but sweet Daniel could have never guessed just how far it would go.
After being sent on an errand by the teacher, Daniel Hunt returns to his classroom to find a large pile of toys and classmates yelling, "Surprise!" Turns out, his teachers and classmates had been secretly collecting toys for Daniel. This group of 8 year olds had such compassion for their classmate that they put extreme effort into replacing the possessions that kids love most- his toys.
And, in true Daniel Hunt fashion, while being elated at his new toys, he responded in a way that most adults would not: He turned to his classmates first- before even approaching his new toys- to say, "I love it!" and called them all in for a giant group hug.
These selfless, loving, and compassionate acts from such young hearts is incredibly touching. At the same time, it calls us to question ourselves. When is the last time we have given so selflessly to others in need? As adults, it is so easy to worry about whether our bills are paid as opposed to caring for others as we should. Not these young children- they simply worried that their friend had nothing to play with.
This group of eight years olds- both Daniel and his classmates- can inspire the world to be different. They can remind us of the compassion that we should show other humans. They can remind us of the joy of giving. It is time that we learn to give again.
People are in need year round, so there is always a reason to give, but this time of year is a great time to start. With the holidays quickly approaching, we should bear in mind the families who cannot afford to buy their children Christmas presents, the elderly who have no family to visit them, the single moms and dads who are merely trying to keep their heads above water, the families with no heat for the winter, and those with no home at all.
Let's take a lesson from these incredible children and find the love that we were born with to give to others what they need this year and every year to come.