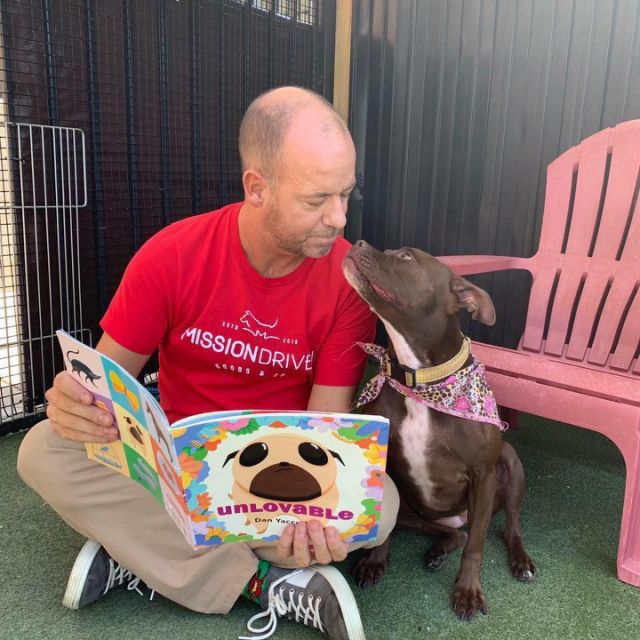 To Get Sweet, Long-Suffering Dog a Home, a Local Man Lived in the Shelter With Her
It Wasn't Because Scott Poore Needed an Office for His Business
In an age where shared workspaces are a popular solution for small business owners, you could imagine that Scott moved into a dog's shelter space for practical reasons. In a way, he did: he wanted to bring focus on the wonderful creature he had met, and help her find a forever home after more than 400 days at the shelter. It just happened that Scott could also operate his business, animal-oriented Mission Driven Goods, while spending time living with his new friend, a terrier mix named Queen.
Things Happen When People Pay Attention
When Scott noticed that the doggie was looking down more days than not and seemed to be losing heart and hope, he took action. He moved in. He not only ran his business from the small kennel space, he also contributed in lieu of rent. It's a good thing he didn't sign a long-term lease.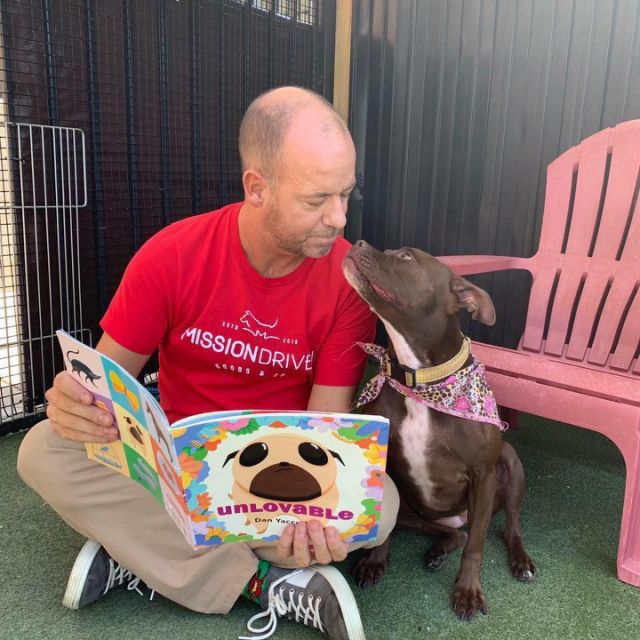 A Dog's Bad Luck, Bound to Turn Good Eventually
According to Scott, Queen came from a bad home in a bad neighborhood. She lived in a dumpster when she was found, with nowhere to go but up. She got veterinary care and attention at the shelter to make her ready for adoption, but still after 400 days she was looking eagerly at every visitor to her corner of the shelter, and nothing was happening. When Scott visited, he saw her kind nature and thought it was just a matter of increased awareness about this wonderful stray dog.
Shelter Operations and Local Politics Can Dwarf the Needs of a Lone Creature
Great Plains Shelter has been involved in animal shelter operations in the local area and county during turbulent times, and with record volumes of pets and strays passing through, Queenie could have gotten lost in the shuffle despite their best efforts. The role of a single individual made a big difference in Queen's life, and in the life of the lucky new owner who took her home.
Life in the Shelter for Man and Dog
Scott moved into Queen's space as part of his mission to raise awareness about shelter pets, especially ones which have resided in facilities for a long time. Sometimes it's just a matter of time and exposure, a chance for the right person to come along. Scott brought a desk and other living materials in and vowed to stay until Queen left, too, for a new home. He noted two reasons that he picked her for his enhanced support: she was one of the most friendly, personal creatures he'd met, and she had had a rough life from the beginning up to the 400-day shelter stay. Things were looking up overall, but she was starting to look down.
Making National News Once for Moving in, Twice for Moving Out
The good news came soon after, though, as Scott's contribution to Queen's visibility and adoption prospects appeared to pay off. The reach of Queen's and Scott's story shows how people around the globe and in the local community took an interest. As reported in sources including the New York Post, it took just a week of living together before Queen — and Scott — moved out. In a surprise twist, her new owner Tony Puluso said he didn't know the backstory including Scott's somewhat odd behavior. He just thought Queen was the dog for him. But who knows how many other pets were adopted after long shelter stays because of the story?
500,000-Year-Old Wooden Structure Rewrites History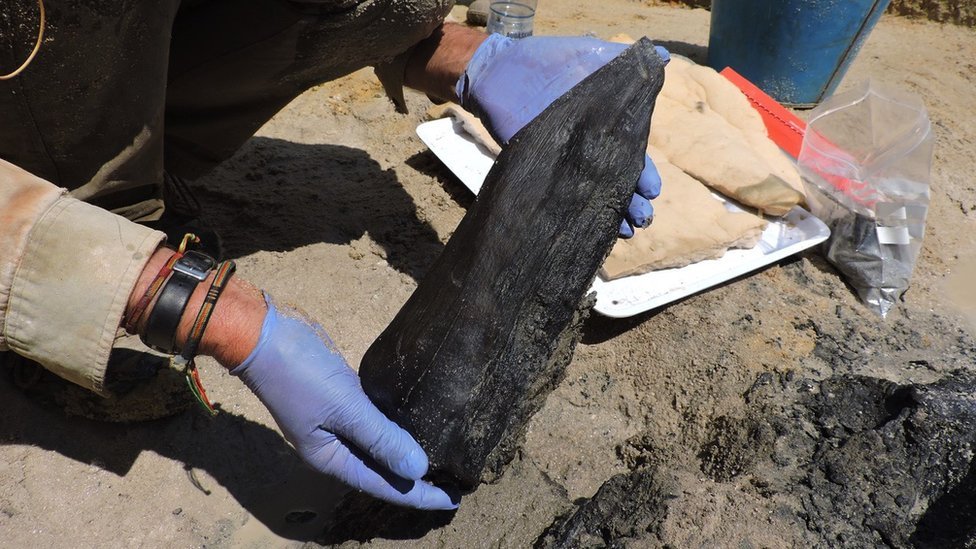 In an archaeological discovery, a wooden structure dating back an astonishing 500,000 years has been unearthed on the banks of a river in Zambia, challenging long-held beliefs about the capabilities of ancient humans. Researchers stumbled upon these ancient wooden logs, a revelation that has the potential to reshape our understanding of the lives of early humans.
The find, located on the riverbanks near Zambia's Kalambo Falls, provides compelling evidence that stone-age people may have constructed primitive shelters, forever altering our perception of their intelligence and resourcefulness. Archaeologist Prof Larry Barham, who led the research, was profoundly impacted by the discovery, stating, "This find has changed how I think about our early ancestors."
What makes this find truly remarkable is that it suggests ancient humans did more than merely survive; they thrived by creating something entirely new. These early humans exhibited intelligence, imagination, and craftsmanship by fashioning structures from wood, a material that had never before been transformed into such large and sophisticated objects.
The researchers also uncovered ancient tools, including digging sticks, but the most exciting find was two pieces of wood positioned at right angles to each other. "One is lying over the other, and both pieces of wood have notches cut into them," explained Geoff Duller, a professor of geography at the University of Aberystwyth and a member of the research team. "You can clearly see those notches have been cut by stone tools, making the two logs fit together to become structural objects."
Radiocarbon dating confirmed the wood's age, placing it at a staggering 476,000 years old. This revelation has ignited curiosity about the woodworking traditions of ancient societies, challenging the prevailing notion that early humans led simplistic, nomadic lives.
Perrice Nkombwe, a team member from the Livingstone Museum in Zambia, expressed her astonishment, saying, "I was amazed to know that woodworking was such a deep-rooted tradition. It dawned on me that we had uncovered something extraordinary."
The preservation of the wooden structure itself is a miracle. Typically, wood decays over time unless preserved under specific conditions. However, in the waterlogged environment along the Kalambo Falls, the wood remained intact, essentially pickled by the elements for millennia.
While the exact purpose of this ancient wooden structure remains a mystery, it has sparked numerous speculations. Prof. Duller suggests it might have been used as a place to sit beside the river and fish, although a complete understanding of its function remains elusive.
Moreover, the identity of the individuals who constructed this structure raises intriguing questions. "We don't know – it could have been Homo sapiens, and we just haven't discovered fossils from that age yet," Prof. Duller added. "But it could be a different species – [perhaps] Homo erectus or Homo naledi – there were a number of hominid species around at that time in southern Africa."
This discovery has the potential to enrich our understanding of ancient woodworking techniques, craftsmanship, and human interaction with the environment. As researchers continue their work at the Kalambo Falls site, the pages of history are being rewritten, and our appreciation for the ingenuity of our ancient ancestors grows ever deeper.