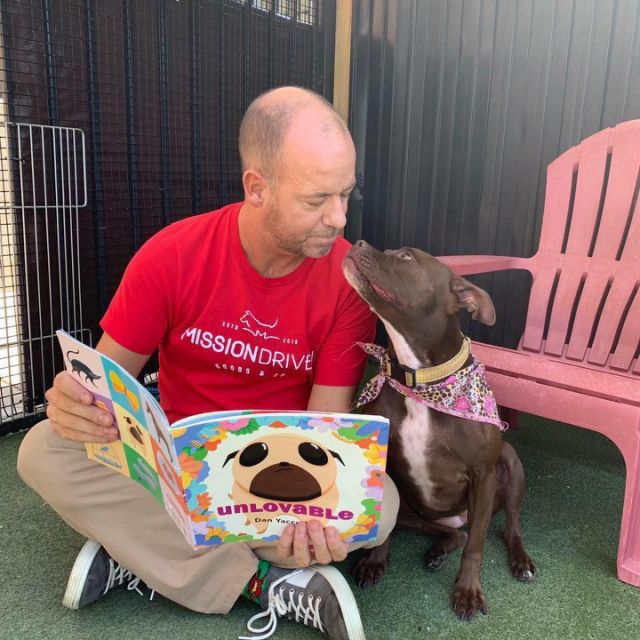 To Get Sweet, Long-Suffering Dog a Home, a Local Man Lived in the Shelter With Her
It Wasn't Because Scott Poore Needed an Office for His Business
In an age where shared workspaces are a popular solution for small business owners, you could imagine that Scott moved into a dog's shelter space for practical reasons. In a way, he did: he wanted to bring focus on the wonderful creature he had met, and help her find a forever home after more than 400 days at the shelter. It just happened that Scott could also operate his business, animal-oriented Mission Driven Goods, while spending time living with his new friend, a terrier mix named Queen.
Things Happen When People Pay Attention
When Scott noticed that the doggie was looking down more days than not and seemed to be losing heart and hope, he took action. He moved in. He not only ran his business from the small kennel space, he also contributed in lieu of rent. It's a good thing he didn't sign a long-term lease.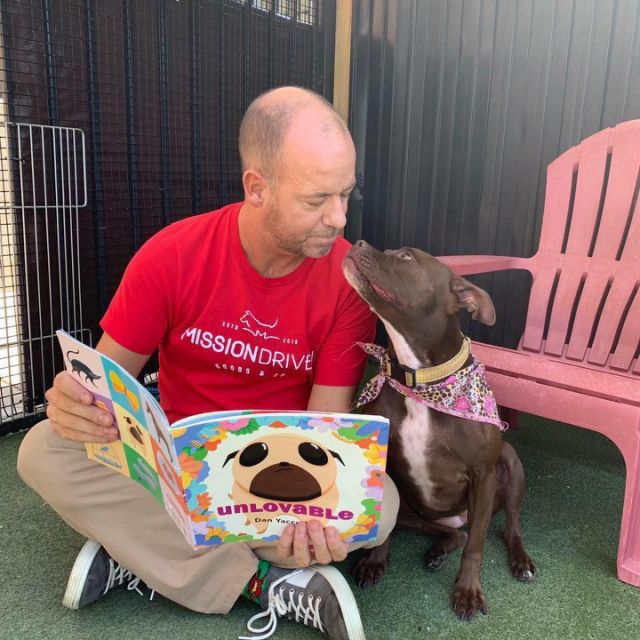 A Dog's Bad Luck, Bound to Turn Good Eventually
According to Scott, Queen came from a bad home in a bad neighborhood. She lived in a dumpster when she was found, with nowhere to go but up. She got veterinary care and attention at the shelter to make her ready for adoption, but still after 400 days she was looking eagerly at every visitor to her corner of the shelter, and nothing was happening. When Scott visited, he saw her kind nature and thought it was just a matter of increased awareness about this wonderful stray dog.
Shelter Operations and Local Politics Can Dwarf the Needs of a Lone Creature
Great Plains Shelter has been involved in animal shelter operations in the local area and county during turbulent times, and with record volumes of pets and strays passing through, Queenie could have gotten lost in the shuffle despite their best efforts. The role of a single individual made a big difference in Queen's life, and in the life of the lucky new owner who took her home.
Life in the Shelter for Man and Dog
Scott moved into Queen's space as part of his mission to raise awareness about shelter pets, especially ones which have resided in facilities for a long time. Sometimes it's just a matter of time and exposure, a chance for the right person to come along. Scott brought a desk and other living materials in and vowed to stay until Queen left, too, for a new home. He noted two reasons that he picked her for his enhanced support: she was one of the most friendly, personal creatures he'd met, and she had had a rough life from the beginning up to the 400-day shelter stay. Things were looking up overall, but she was starting to look down.
Making National News Once for Moving in, Twice for Moving Out
The good news came soon after, though, as Scott's contribution to Queen's visibility and adoption prospects appeared to pay off. The reach of Queen's and Scott's story shows how people around the globe and in the local community took an interest. As reported in sources including the New York Post, it took just a week of living together before Queen — and Scott — moved out. In a surprise twist, her new owner Tony Puluso said he didn't know the backstory including Scott's somewhat odd behavior. He just thought Queen was the dog for him. But who knows how many other pets were adopted after long shelter stays because of the story?
The little boy shares a special moment with a police officer during a protest rally for George Floyd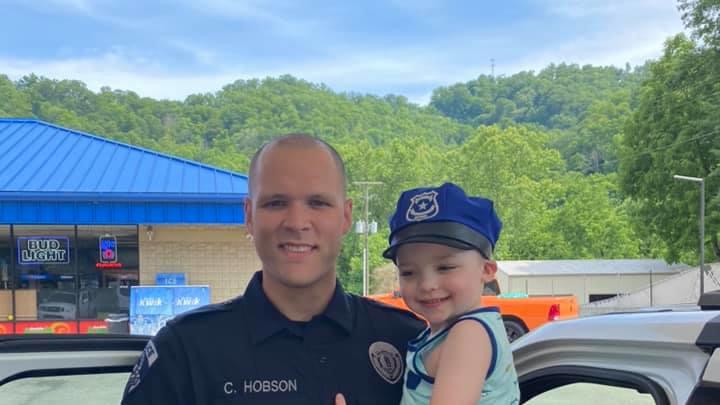 The ruthless killing of George Floyd has caused a thunderous uproar and rage throughout the world. In Winston-Salem, NC, hundreds of people gathered to protest against the killing of Floyd. They took to one knee for 8 minutes and 46 seconds that is the exact length of time former police officer Derek Chauvin had shoved his knee onto Floyd's neck which resulted in Floyd's death. The killing of George Floyd has become a symbol of injustice not only in American society but throughout the world. "Say no to racism" has been the most trending topic in all regions of the globe. In this particular incident, it was a black man who was the victim and this is not the only time it has happened. Several cases have occurred which demonstrated the lack of compassion and justice in the way law enforcement has dealt with individuals from minority racial groups.
Yolanda Williams Dickey, a resident of Winston-Salem, NC, was driving by the protest when she decided she wanted her family to be part of this protest as a sign of solidarity against discrimination against the minority groups. She went home to pick up her husband and son, who were glad they got a chance to be part of this historic protest. For her little son, Kamari it was quite the experience. He had never seen a protest rally before this. He saw a lot of anger and pain in the faces of the protestors. He could also see his parents being very emotional too. His parents had told him what the protest was about and how Floyd had been murdered. Kamari couldn't understand why the former police officer did what he did to George Floyd.
Kamari's attention went to the police officers on the sidelines. He watched them very closely as they stood by making sure there was no violence at the protest. Kamari had always wanted to a police officer himself but now his mother was concerned that after this incident, maybe he would not want to be one. Most of the toys that Kamari had were related to the police and he spent most of his days playing with them. He often told his parents that when he grows up he wanted to be a police officer so he could catch the bad guys. This unfortunate killing of George Floyd might have shattered the dreams of the little boy. At the protest, as the family moved closer to the police officers, Kamari approached Sgt. Dan Battjes, who was sitting on his motorcycle.
Kamari formally introduced himself to the police officer, who was very kind and friendly to the boy. After a few minutes of talking, Kamari said goodbye to the officer by a friendly fist pump. While the citizens of the country are demonstrating against the police and there is an unbelievable level of anger toward law enforcement, this little boy kept no hatred in his heart. The innocence of the little boy showed the resilience of the American community. One incident cannot dismantle years of peaceful coexistence. Yes, there have been cases where the minority communities have been discriminated and there should be strict actions and reforms against such incident but Americans still need to live together. The dream of Kamari to become a police officer might still be alive. The question remains, is the dream of a multi-racial America living with each other with love, compassion, and tolerance still alive? Only time will tell if this dream is alive.