This Naughty Squirrel Got Themselves In Trouble With The Law!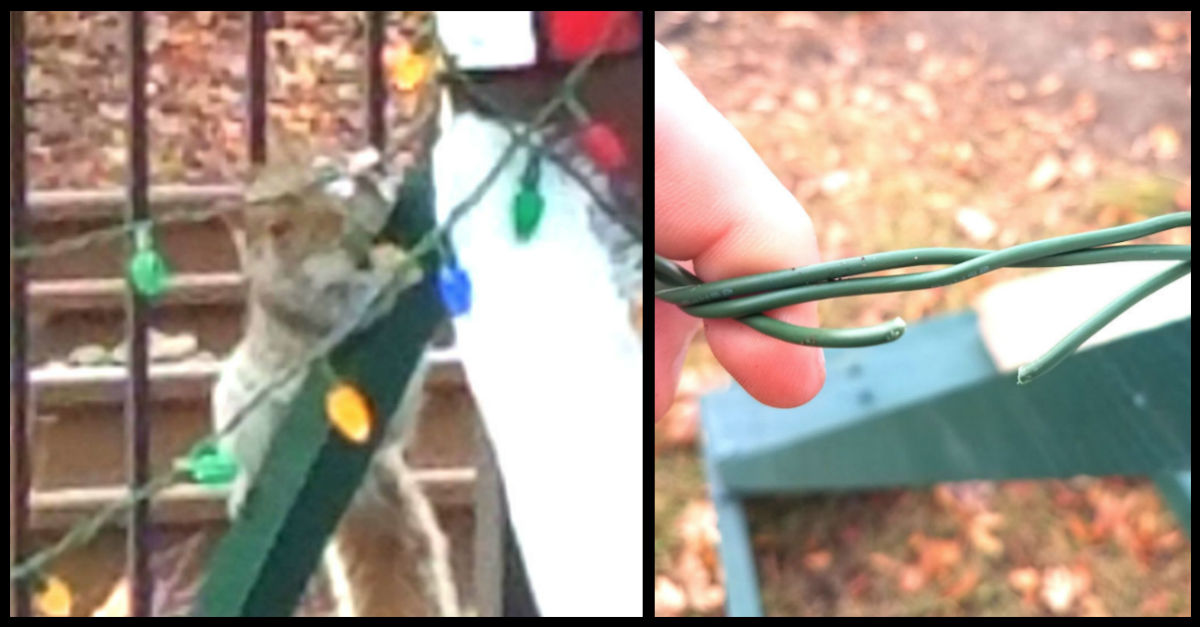 Vandalism is a serious problem that many communities are forced to deal with. This issue gets especially serious during the holiday seasons. There are too many people out there who like to mess with signage that is not theirs and the police officers who are tasked with assisting these communities are left to pick up the pieces.
But what happens when the vandals in question are not actually human beings? What happens if the vandalism is being perpetrated by animals? It's not like there are any tiny handcuffs that can be placed on these creatures. When a vandal started messing with the Christmas lights in this New Jersey community one year, the officers were unsure how to proceed.
The Sea Girt Police Department decided that they would do their best to keep a close watch for the culprit. That's all you can do in scenarios like these. Little did these officers know what they were up against. They would need to make a pair of tiny handcuffs to bring this particular culprit to justice. The lights were not being tampered with by a human being at all.
After they took a closer look at the surveillance footage from this lighting setup, they were able to identify the perpetrator. As it turns out, there was a little squirrel gnawing on the lights. We can't believe that this squirrel was willing to risk their freedom like this! Don't they know what happens to vandals in the clink?
All jokes aside, we cannot stop laughing at the sheer absurdity of this story. These police officers probably thought that they were going to find some punk kid who was stopping by every night with a set of clippers. Instead, all they found was one silly squirrel who just wanted to find a place to get their gnaw on.
The cops knew that they could not give the squirrel any sort of special treatment just because they were an animal. They would need to make sure that the squirrel was actually going to pay for their crimes. Of course, this is all in good fun and they were not really going to arrest the squirrel.
They decided that the best way to go about this task was by creating a Facebook post. That's how they would let the community know that they had brought this animal to justice. The post was made in jest but they were sure to let the community know that the squirrel had been charged for the crime. The animal would be facing criminal mischief charges!
The squirrel is probably not even aware of all this hubbub, which makes the story even funnier. Do you think that the squirrel would take this charge or would they start snitching on their fellow squirrels to get a lesser punishment? If you would like to see this squirrel getting caught in the act, you should definitely take the time to watch the video below.
We are just glad that this town was able to get to the bottom of the mystery before it was too late. Anyone who has ever experienced tampering with their Christmas lights is definitely going to relate to this one. It can be annoying to have your handiwork ruined by a vandal and it is not a fate that we wish on anyone.
Hopefully, this squirrel was able to learn their lesson. We would hate to see them turn into a career criminal. Sometimes, all it takes is one bust for a wayward soul to turn their lives around. In the meantime, please be sure to share this hilarious story with your closest friends and loved ones.
A baby bear, tiger, and a lion found in a basement 12 years ago are now best friends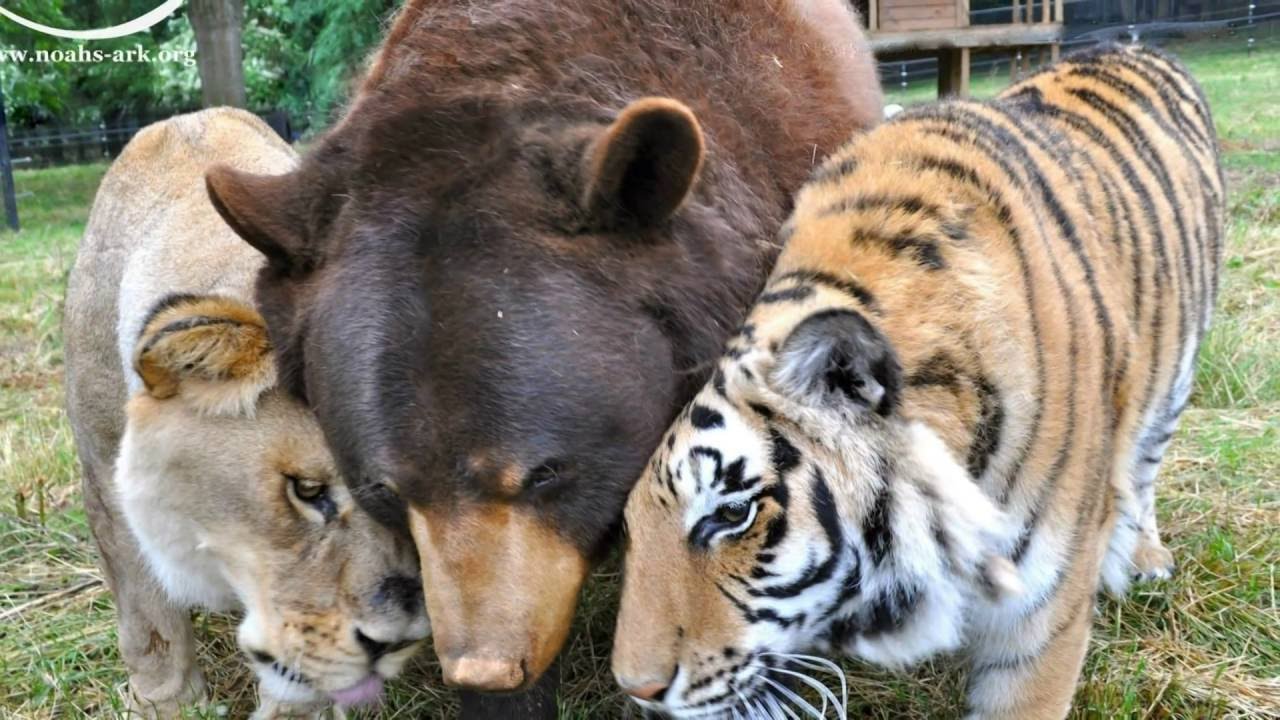 Wild animals try to stick to their natural habitat and they also tend to follow their natural social characteristics. For example, leopards are known to be very reclusive creatures and often prefer a solitary life. Bears and tigers are also not very social too.
In this fascinating story, a bear, a tiger, and a lion have grown up to become best buddies. In a video posted online, a 12-year-old Black Bear, named Baloo, walks over to his friend, Shere Khan, a Bengal Tiger, and cuddles with him as if they are brothers. Tigers don't even get along with their kin. So this friendship between the bear and tiger is even beyond kinship. To make things even more unbelievable, they have another friend, named Leo. You guessed it right, Leo is a lion.
What might explain this unusual friendship is their common history. 12 years ago, when these three animals were babies, they were being kept in terrible conditions in a basement. Fortunately, they were recovered by the police and bought to Noah's Ark Sanctuary in Locust Grove, GA. The three animals have cared for their entire life at the Sanctuary.
The staff at Noah's Ark Sanctuary have never heard of such friendship between a big cat and a bear. They do share the same habitat, especially in the Fat East, but any encounters between them as most aggressive or they just ignore each other and keep out of the way of the other. They don't walk up and cuddle each other. The staff at the sanctuary does point out that out of these three, Shere Khan has kept a little bit of natural wild mannerism but he is still very friendly. When it is sleep time, the trio shares the same room and cuddle together. They were kept as pets in that basement, which was legally not allowed. The owner of the basement was a drug dealer. They were confiscated and bought the sanctuary. Since then the owner of the sanctuary has looked after these three.
Unfortunately, Leo has passed away, leaving his loved ones with wonderful memories of him. He was 15 years of age when he passed away. He had been feeling sick and during surgery, his doctor found 80% of his liver was damaged. He could not have survived in such a condition. The difficult decision to let him go had to be made so that he does not suffer. His end in the world was peaceful.
Leo's best friends, Shere Khan and Baloo, were able to say a final goodbye to him. They have been doing all right since their best friend's departure. The staff at the sanctuary keeps a close eye to check off any worrisome signs of depression or change in behavior. The staff believes these two already knew Leo was terminally ill long before the staff was able to find out.
Leo's final resting place is located by the clubhouse at the sanctuary. Such compassion and bond in animals of different species are very rare. In the wild, they might have been foes, but at the sanctuary they were brothers. Their story is an example of when nurture overtakes nature. They grew up together and build a bond that went beyond the design of nature. Humans do not fully understand the communication or relationship dynamics of the animals. This story is an example of how wild animals can get along in the right environment.