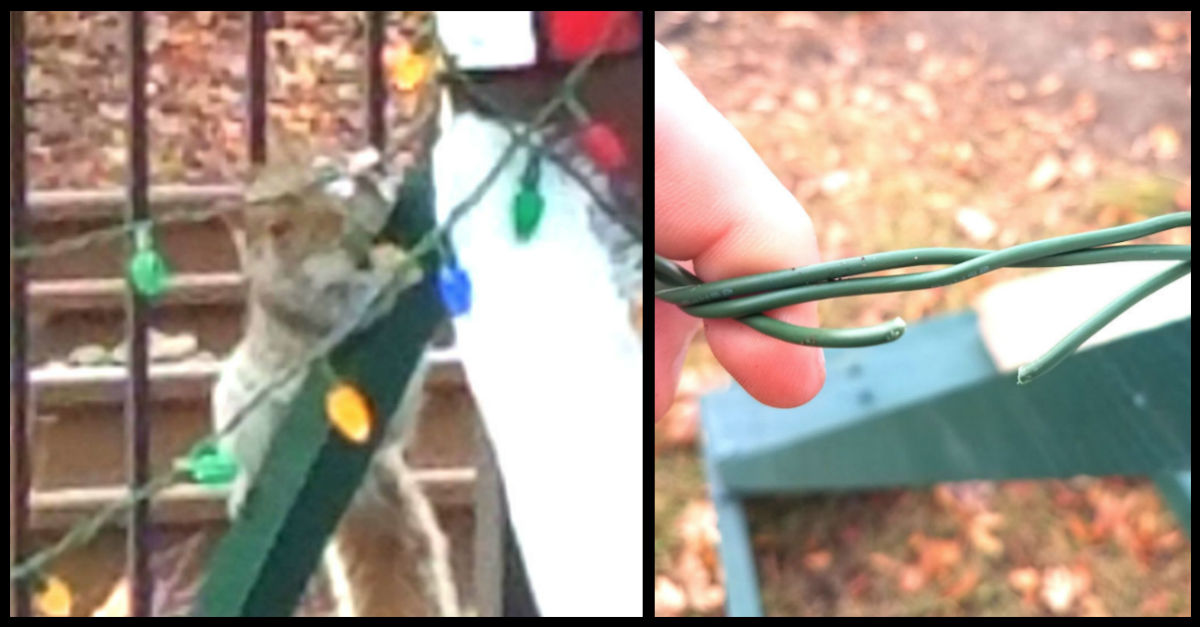 This Naughty Squirrel Got Themselves In Trouble With The Law!
Vandalism is a serious problem that many communities are forced to deal with. This issue gets especially serious during the holiday seasons. There are too many people out there who like to mess with signage that is not theirs and the police officers who are tasked with assisting these communities are left to pick up the pieces.
But what happens when the vandals in question are not actually human beings? What happens if the vandalism is being perpetrated by animals? It's not like there are any tiny handcuffs that can be placed on these creatures. When a vandal started messing with the Christmas lights in this New Jersey community one year, the officers were unsure how to proceed.
The Sea Girt Police Department decided that they would do their best to keep a close watch for the culprit. That's all you can do in scenarios like these. Little did these officers know what they were up against. They would need to make a pair of tiny handcuffs to bring this particular culprit to justice. The lights were not being tampered with by a human being at all.
After they took a closer look at the surveillance footage from this lighting setup, they were able to identify the perpetrator. As it turns out, there was a little squirrel gnawing on the lights. We can't believe that this squirrel was willing to risk their freedom like this! Don't they know what happens to vandals in the clink?
All jokes aside, we cannot stop laughing at the sheer absurdity of this story. These police officers probably thought that they were going to find some punk kid who was stopping by every night with a set of clippers. Instead, all they found was one silly squirrel who just wanted to find a place to get their gnaw on.
The cops knew that they could not give the squirrel any sort of special treatment just because they were an animal. They would need to make sure that the squirrel was actually going to pay for their crimes. Of course, this is all in good fun and they were not really going to arrest the squirrel.
They decided that the best way to go about this task was by creating a Facebook post. That's how they would let the community know that they had brought this animal to justice. The post was made in jest but they were sure to let the community know that the squirrel had been charged for the crime. The animal would be facing criminal mischief charges!
The squirrel is probably not even aware of all this hubbub, which makes the story even funnier. Do you think that the squirrel would take this charge or would they start snitching on their fellow squirrels to get a lesser punishment? If you would like to see this squirrel getting caught in the act, you should definitely take the time to watch the video below.
We are just glad that this town was able to get to the bottom of the mystery before it was too late. Anyone who has ever experienced tampering with their Christmas lights is definitely going to relate to this one. It can be annoying to have your handiwork ruined by a vandal and it is not a fate that we wish on anyone.
Hopefully, this squirrel was able to learn their lesson. We would hate to see them turn into a career criminal. Sometimes, all it takes is one bust for a wayward soul to turn their lives around. In the meantime, please be sure to share this hilarious story with your closest friends and loved ones.
400-Pound Black Bear Rescued From Waterway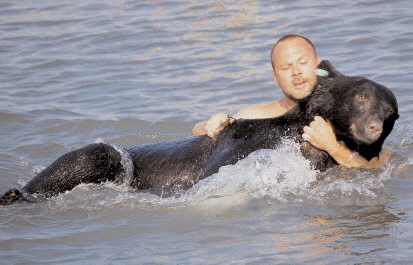 A Florida man recently became a hero after saving a 400lb black bear from drowning. Black bears are known to be excellent swimmers and are athletic animals, but the bear in question was not in its usual state when it jumped into the water. The bear had been tranquilized after walking into a residential neighborhood, and when the tranquilizer started to take effect, it ran towards the water and eventually began to sink.
Wildlife biologist Adam Warwick immediately sprang into action, jumping into the water to save the bear. Despite the bear's massive size, Adam was able to keep its head above water and pull it to safety. Although he suffered only a scratch in the process, Adam's bravery was a testament to the care and dedication of wildlife officials in protecting and preserving the natural world.
Black bears are found in various parts of North America, including Florida, and are excellent swimmers. They are known for their athletic ability and can easily swim across rivers and lakes in search of food and territory. However, when the bear in question was tranquilized, it was not in its natural state, and its swimming abilities were significantly compromised.
The incident highlights the importance of wildlife officials in preserving natural habitats and protecting animals from harm. Despite the risks involved, these officials put their lives on the line to ensure that animals receive the care and protection they need. The successful rescue of the black bear is a reminder of the importance of caring for the environment and all its inhabitants, no matter how large or small.