This Man Couldn't Decide On The Perfect Engagement Ring….So He Bought 6!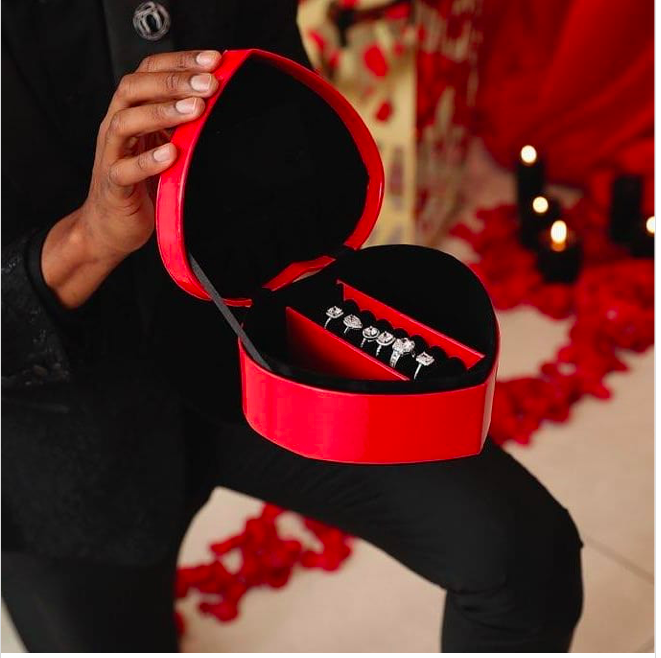 Romantic gestures have a way of dividing the Internet. While most people like to play it cool when they are online and affect a nonchalant persona, most of us have strong feelings when it comes to relationships. Even stories that seem positive to most people are able to be spun negatively online.
This is especially true of marriage proposal. The average man is not going to feel a certain way about these conversations but women will tend to voice their opinions. That is because many women have spent time dreaming about their fantasy proposal and they have certain ideas in mind.
The story of Dennis and Akara's engagement was always going to inspire some silly commentary, mostly because this man decided that he was going to go above and beyond for his sweetheart. Any man who has ever gone through the engagement process can tell you that Dennis found a wonderful hack for the toughest aspect.
Instead of going through what most men go through, he found a way around these concerns. The average man would probably take a look at her jewelry box when she is not at home or ask her friend or sister what her ring size would be. Not Dennis, though. He's got the funds for something a bit more lavish and he is not afraid to use them.
He decided that he would let Atara decide. When the big day finally came, he put together an awesome proposal. No expense was going to be spared. Dennis hired a wide range of professionals, who were tasked with helping him to create the perfect proposal. Florists, designers, event planners and photographers were given the chance to assist Dennis with this task.
This is one of the most glamorous displays that we have ever seen and Dennis did not skimp on the most important part: the ring. Or should we say….rings? He did not want to risk choosing the wrong ring for the love of his life and he came up with the perfect solution to this potential problem.
Dennis gave her a whopping SIX rings to select from! Women everywhere had to be swooning when they first heard about this touching gesture. Of course, the haters are always going to have to chime in as well. There were those who needed to let the world know that they found the rings to be "excessive".
Who would even think to critique someone else's engagement like this? Judging from the pictures that we are seeing, Atara seems to be pretty happy. Aren't her feelings the only ones that matter here? If anything, we must admit that we are a bit jealous of this proposal but we promise that it is all in good fun.
The ring that Atara decided on was an especially beautiful one. She chose the diamond in the shape of a teardrop and her taste is exquisite. Anyone who wants to talk about this proposal and call it "excessive" would never be singing the same tune if their sweetheart was the one who decided to line up an array of beautiful engagement rings, just saying.
We are wishing this couple all of the best going forward. Judging from these photos, Dennis and Akara are madly in love with one another. He is grateful to God for sending him a fellow prayer warrior to spend the rest of his life with. He was fortunate enough to fall in love with his best friend and we wish the same for everyone in 2019. The bar has been set, men. It's time to do the same for your special lady!
"Homeless Hero" Saves Multiple People from Fiery Highway Crash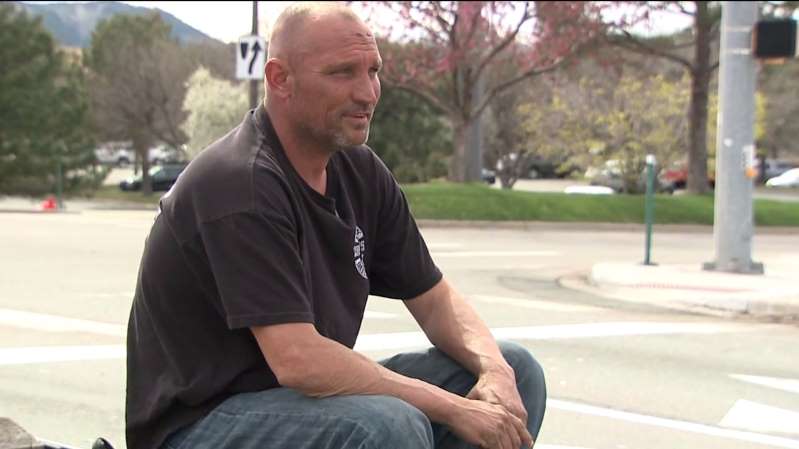 Just two short days ago a man named Darin Barton, who the people and news are calling the "Homeless Hero," saved multiple people from a fiery car crash on Colorado's Interstate 70.
Reports say the late April crash was caused by a truck driver that had lost control of his vehicle and collided with oncoming traffic. The same company has a bad history of problems with their vehicles. There are multiple reports letting trucks in need of repair on the road—including vehicles with break problems.
Luckily for the survivors of the crash, Darin Barton just happened to be passing by. Barton, a local homeless man, saw the crash happen and immediately sprang into action. He was able to pull several victims from the wreckage before emergency services arrived on the scene. The survivors of the crash are all lucky to have had the "Homeless Hero" passing by in their time of need.
Interestingly, this isn't the first time Barton has been a hero to the victims of a traffic accident. Two years ago, Barton saved a woman named Valerie Blease from a flaming car wreck. Blease describes how the collision left her confused and unable to escape her burning car when the "Homeless Hero" arrived and pulled her from the fire. She recalls that in the moment, she didn't know what was happening, only that someone was telling her there was a fire and she needed to get out.
Barton has become something of a local celebrity in Colorado despite his homelessness. He has appeared several times on the local news. Each of these appearances have been stories covering his heroics and even interviews with the "Homeless Hero" and the people he has saved. One of the victims of April's pileup said she "wasn't surprised" to learn that Barton had saved people from these kinds of wrecks before.
Not to leave this selfless hero unrewarded, the local community has banded together and raised thousands of dollars to help Barton in his time of need. Just like he has helped save people from car crashes on multiple occasions, the people of Colorado have come together to help Barton. Local news agencies have started a fundraising effort that has, so far, raised thousands of dollars to help cover Barton's costs as he finds work and a place to live. There have been some concerns that Barton may be the target of robbery given his insecure living situation and sudden rush to local fame, but a few local news agencies said they are working with local authorities to help ensure Barton's safety.
Darin Barton, the "Homeless Hero," is an inspiration reminder that even those of us with the least to give can still help people in the time of need. When interviewed, Barton said he was just helping people in need and hopes that others will be inspired to do the same.