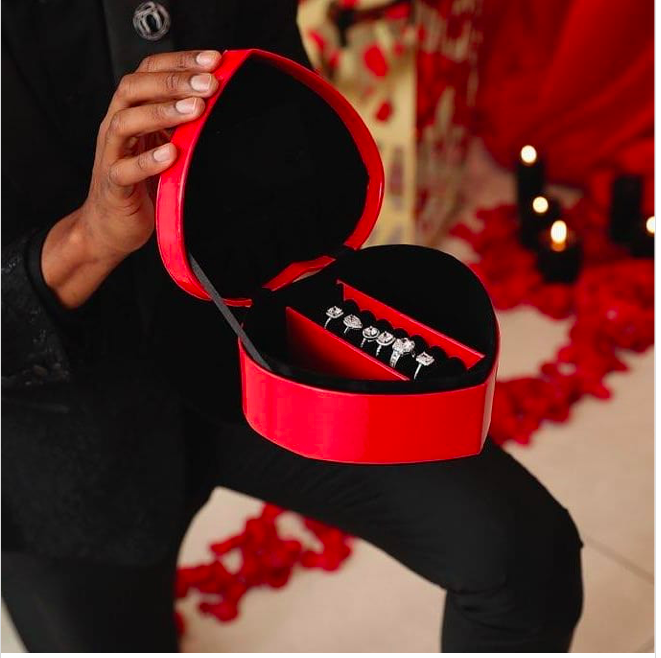 This Man Couldn't Decide On The Perfect Engagement Ring….So He Bought 6!
Romantic gestures have a way of dividing the Internet. While most people like to play it cool when they are online and affect a nonchalant persona, most of us have strong feelings when it comes to relationships. Even stories that seem positive to most people are able to be spun negatively online.
This is especially true of marriage proposal. The average man is not going to feel a certain way about these conversations but women will tend to voice their opinions. That is because many women have spent time dreaming about their fantasy proposal and they have certain ideas in mind.
The story of Dennis and Akara's engagement was always going to inspire some silly commentary, mostly because this man decided that he was going to go above and beyond for his sweetheart. Any man who has ever gone through the engagement process can tell you that Dennis found a wonderful hack for the toughest aspect.
Instead of going through what most men go through, he found a way around these concerns. The average man would probably take a look at her jewelry box when she is not at home or ask her friend or sister what her ring size would be. Not Dennis, though. He's got the funds for something a bit more lavish and he is not afraid to use them.
He decided that he would let Atara decide. When the big day finally came, he put together an awesome proposal. No expense was going to be spared. Dennis hired a wide range of professionals, who were tasked with helping him to create the perfect proposal. Florists, designers, event planners and photographers were given the chance to assist Dennis with this task.
This is one of the most glamorous displays that we have ever seen and Dennis did not skimp on the most important part: the ring. Or should we say….rings? He did not want to risk choosing the wrong ring for the love of his life and he came up with the perfect solution to this potential problem.
Dennis gave her a whopping SIX rings to select from! Women everywhere had to be swooning when they first heard about this touching gesture. Of course, the haters are always going to have to chime in as well. There were those who needed to let the world know that they found the rings to be "excessive".
Who would even think to critique someone else's engagement like this? Judging from the pictures that we are seeing, Atara seems to be pretty happy. Aren't her feelings the only ones that matter here? If anything, we must admit that we are a bit jealous of this proposal but we promise that it is all in good fun.
The ring that Atara decided on was an especially beautiful one. She chose the diamond in the shape of a teardrop and her taste is exquisite. Anyone who wants to talk about this proposal and call it "excessive" would never be singing the same tune if their sweetheart was the one who decided to line up an array of beautiful engagement rings, just saying.
We are wishing this couple all of the best going forward. Judging from these photos, Dennis and Akara are madly in love with one another. He is grateful to God for sending him a fellow prayer warrior to spend the rest of his life with. He was fortunate enough to fall in love with his best friend and we wish the same for everyone in 2019. The bar has been set, men. It's time to do the same for your special lady!
The little boy shares a special moment with a police officer during a protest rally for George Floyd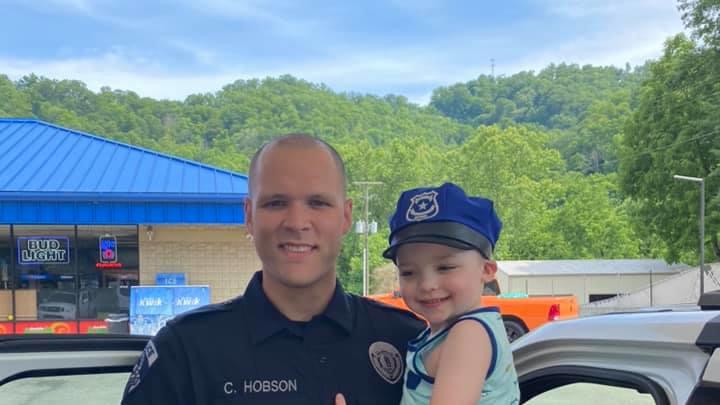 The ruthless killing of George Floyd has caused a thunderous uproar and rage throughout the world. In Winston-Salem, NC, hundreds of people gathered to protest against the killing of Floyd. They took to one knee for 8 minutes and 46 seconds that is the exact length of time former police officer Derek Chauvin had shoved his knee onto Floyd's neck which resulted in Floyd's death. The killing of George Floyd has become a symbol of injustice not only in American society but throughout the world. "Say no to racism" has been the most trending topic in all regions of the globe. In this particular incident, it was a black man who was the victim and this is not the only time it has happened. Several cases have occurred which demonstrated the lack of compassion and justice in the way law enforcement has dealt with individuals from minority racial groups.
Yolanda Williams Dickey, a resident of Winston-Salem, NC, was driving by the protest when she decided she wanted her family to be part of this protest as a sign of solidarity against discrimination against the minority groups. She went home to pick up her husband and son, who were glad they got a chance to be part of this historic protest. For her little son, Kamari it was quite the experience. He had never seen a protest rally before this. He saw a lot of anger and pain in the faces of the protestors. He could also see his parents being very emotional too. His parents had told him what the protest was about and how Floyd had been murdered. Kamari couldn't understand why the former police officer did what he did to George Floyd.
Kamari's attention went to the police officers on the sidelines. He watched them very closely as they stood by making sure there was no violence at the protest. Kamari had always wanted to a police officer himself but now his mother was concerned that after this incident, maybe he would not want to be one. Most of the toys that Kamari had were related to the police and he spent most of his days playing with them. He often told his parents that when he grows up he wanted to be a police officer so he could catch the bad guys. This unfortunate killing of George Floyd might have shattered the dreams of the little boy. At the protest, as the family moved closer to the police officers, Kamari approached Sgt. Dan Battjes, who was sitting on his motorcycle.
Kamari formally introduced himself to the police officer, who was very kind and friendly to the boy. After a few minutes of talking, Kamari said goodbye to the officer by a friendly fist pump. While the citizens of the country are demonstrating against the police and there is an unbelievable level of anger toward law enforcement, this little boy kept no hatred in his heart. The innocence of the little boy showed the resilience of the American community. One incident cannot dismantle years of peaceful coexistence. Yes, there have been cases where the minority communities have been discriminated and there should be strict actions and reforms against such incident but Americans still need to live together. The dream of Kamari to become a police officer might still be alive. The question remains, is the dream of a multi-racial America living with each other with love, compassion, and tolerance still alive? Only time will tell if this dream is alive.