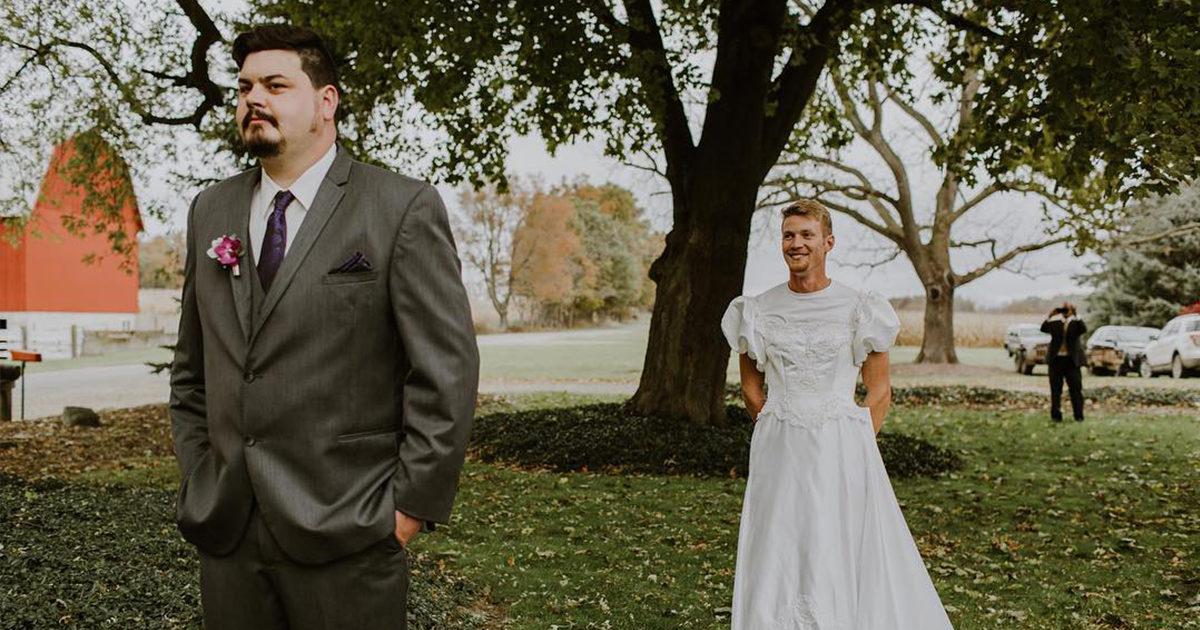 This Groom Was Surprised on His Wedding Day When His Bride Did This
Many brides want to make their entrance spectacular, as it's the first moment that the groom sees his bride for the first time. Other brides and grooms do a first look before the ceremony, where it is just the two of them, and they have a private moment to enjoy before the craziness of the ceremony and reception set in. Whether it's a grand entrance or a first look, it's a special moment that should be captured with video and photography and one that stands out. For one couple, this moment turned into something much more.
Jake and Faye Lorraine VanSickle started planning their big day, and obviously one of the details that were important was photography. They started working with Rebekah Lehman, who owns Kindred Photo & Design in Michigan, to go over the photography needs of their special day. After the meeting, bride-to-be Faye went back to talk with Rebekah about something special she wanted to do during the first look, in order to prank her groom and get a laugh. Since wedding ceremonies can be stressful with making sure everything goes according to plan and dealing with the nerves that come along with the big day, having some fun is the perfect way to enjoy the day and make it memorable. During the first look that was planned, Faye wanted to have Jake's best friend Taylor meet him instead. The first look typically begins with the groom covering his eyes or facing away from the camera, and then the bride comes out and surprises him. Instead of Faye showing up to meet Jake, Taylor was there with a wedding dress on.
Jake admitted after the prank that it took him a split second to realize what was going on. After he realized what was happening, he played along and had a fit of laughter. He couldn't believe his bride pulled off the prank and he was staring at his best friend wearing a wedding dress. After some fun photos of the two best friends, Faye came out in her wedding dress and the two had a real first look photo shoot. During the shoot, the bride and groom couldn't stop laughing, but they still had the adorable photos of them gazing into each others eyes and showing their love, along with other images you would want for your wedding day.
Photos of the prank were posted on social media and quickly spread. The photos received around 31,000 reactions, and people from around the world were commenting on the funny prank and how cute it was.
First look photo shoots aren't necessarily a new wedding trend, but they still are a hot topic for those who are planning their wedding. There is a superstition and time-honored practice of not seeing the bride before she walks down the aisle, so some couples decide to stick with that. Other couples choose to do a first look photo shoot, in order to get in some more photos before the ceremony begins so they can enjoy the reception they worked so hard at planning, as well as the cocktail hour with their guests. For many brides and grooms, a first look provides the couple a way to ease some of the nerves that come with the big day. In this case, the first look not only gave Jake and Faye some time to enjoy as a couple before the wedding festivities began, but it also gave Faye the perfect opportunity to give her groom the memory of a lifetime and start their marriage with laughter. This was one enjoyable first look for all those who were involved.
The little boy shares a special moment with a police officer during a protest rally for George Floyd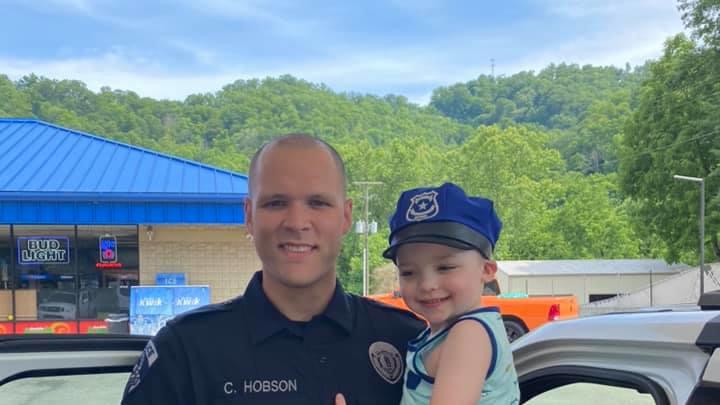 The ruthless killing of George Floyd has caused a thunderous uproar and rage throughout the world. In Winston-Salem, NC, hundreds of people gathered to protest against the killing of Floyd. They took to one knee for 8 minutes and 46 seconds that is the exact length of time former police officer Derek Chauvin had shoved his knee onto Floyd's neck which resulted in Floyd's death. The killing of George Floyd has become a symbol of injustice not only in American society but throughout the world. "Say no to racism" has been the most trending topic in all regions of the globe. In this particular incident, it was a black man who was the victim and this is not the only time it has happened. Several cases have occurred which demonstrated the lack of compassion and justice in the way law enforcement has dealt with individuals from minority racial groups.
Yolanda Williams Dickey, a resident of Winston-Salem, NC, was driving by the protest when she decided she wanted her family to be part of this protest as a sign of solidarity against discrimination against the minority groups. She went home to pick up her husband and son, who were glad they got a chance to be part of this historic protest. For her little son, Kamari it was quite the experience. He had never seen a protest rally before this. He saw a lot of anger and pain in the faces of the protestors. He could also see his parents being very emotional too. His parents had told him what the protest was about and how Floyd had been murdered. Kamari couldn't understand why the former police officer did what he did to George Floyd.
Kamari's attention went to the police officers on the sidelines. He watched them very closely as they stood by making sure there was no violence at the protest. Kamari had always wanted to a police officer himself but now his mother was concerned that after this incident, maybe he would not want to be one. Most of the toys that Kamari had were related to the police and he spent most of his days playing with them. He often told his parents that when he grows up he wanted to be a police officer so he could catch the bad guys. This unfortunate killing of George Floyd might have shattered the dreams of the little boy. At the protest, as the family moved closer to the police officers, Kamari approached Sgt. Dan Battjes, who was sitting on his motorcycle.
Kamari formally introduced himself to the police officer, who was very kind and friendly to the boy. After a few minutes of talking, Kamari said goodbye to the officer by a friendly fist pump. While the citizens of the country are demonstrating against the police and there is an unbelievable level of anger toward law enforcement, this little boy kept no hatred in his heart. The innocence of the little boy showed the resilience of the American community. One incident cannot dismantle years of peaceful coexistence. Yes, there have been cases where the minority communities have been discriminated and there should be strict actions and reforms against such incident but Americans still need to live together. The dream of Kamari to become a police officer might still be alive. The question remains, is the dream of a multi-racial America living with each other with love, compassion, and tolerance still alive? Only time will tell if this dream is alive.