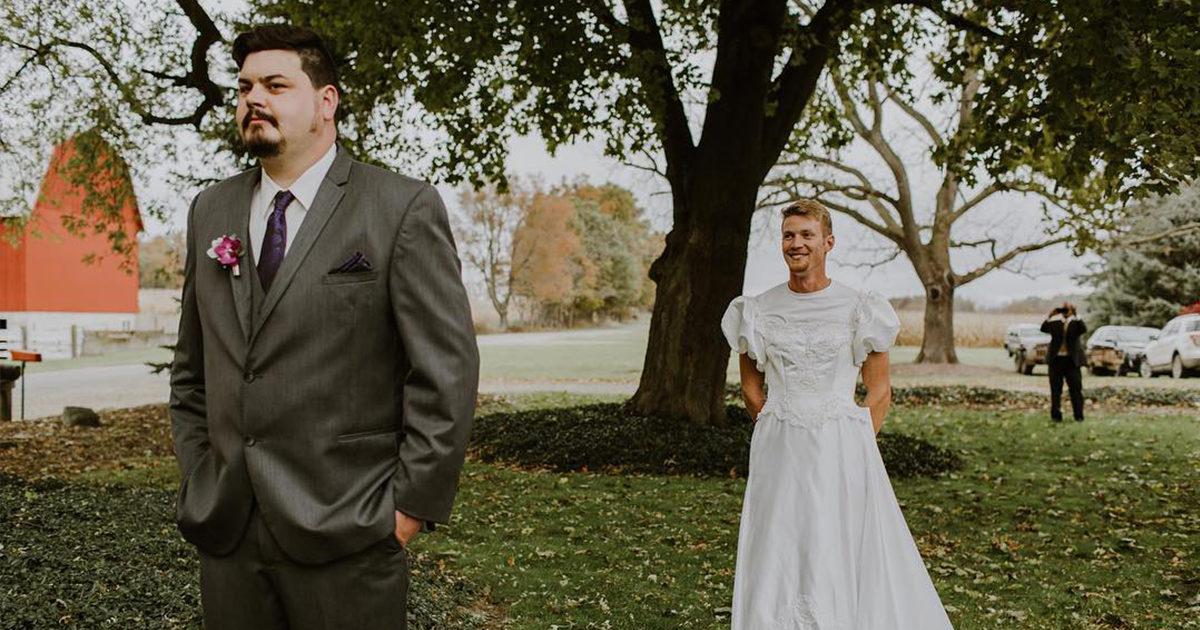 This Groom Was Surprised on His Wedding Day When His Bride Did This
Many brides want to make their entrance spectacular, as it's the first moment that the groom sees his bride for the first time. Other brides and grooms do a first look before the ceremony, where it is just the two of them, and they have a private moment to enjoy before the craziness of the ceremony and reception set in. Whether it's a grand entrance or a first look, it's a special moment that should be captured with video and photography and one that stands out. For one couple, this moment turned into something much more.
Jake and Faye Lorraine VanSickle started planning their big day, and obviously one of the details that were important was photography. They started working with Rebekah Lehman, who owns Kindred Photo & Design in Michigan, to go over the photography needs of their special day. After the meeting, bride-to-be Faye went back to talk with Rebekah about something special she wanted to do during the first look, in order to prank her groom and get a laugh. Since wedding ceremonies can be stressful with making sure everything goes according to plan and dealing with the nerves that come along with the big day, having some fun is the perfect way to enjoy the day and make it memorable. During the first look that was planned, Faye wanted to have Jake's best friend Taylor meet him instead. The first look typically begins with the groom covering his eyes or facing away from the camera, and then the bride comes out and surprises him. Instead of Faye showing up to meet Jake, Taylor was there with a wedding dress on.
Jake admitted after the prank that it took him a split second to realize what was going on. After he realized what was happening, he played along and had a fit of laughter. He couldn't believe his bride pulled off the prank and he was staring at his best friend wearing a wedding dress. After some fun photos of the two best friends, Faye came out in her wedding dress and the two had a real first look photo shoot. During the shoot, the bride and groom couldn't stop laughing, but they still had the adorable photos of them gazing into each others eyes and showing their love, along with other images you would want for your wedding day.
Photos of the prank were posted on social media and quickly spread. The photos received around 31,000 reactions, and people from around the world were commenting on the funny prank and how cute it was.
First look photo shoots aren't necessarily a new wedding trend, but they still are a hot topic for those who are planning their wedding. There is a superstition and time-honored practice of not seeing the bride before she walks down the aisle, so some couples decide to stick with that. Other couples choose to do a first look photo shoot, in order to get in some more photos before the ceremony begins so they can enjoy the reception they worked so hard at planning, as well as the cocktail hour with their guests. For many brides and grooms, a first look provides the couple a way to ease some of the nerves that come with the big day. In this case, the first look not only gave Jake and Faye some time to enjoy as a couple before the wedding festivities began, but it also gave Faye the perfect opportunity to give her groom the memory of a lifetime and start their marriage with laughter. This was one enjoyable first look for all those who were involved.
AI, Childhood Images and a Holocaust Survivor Finding Her History Again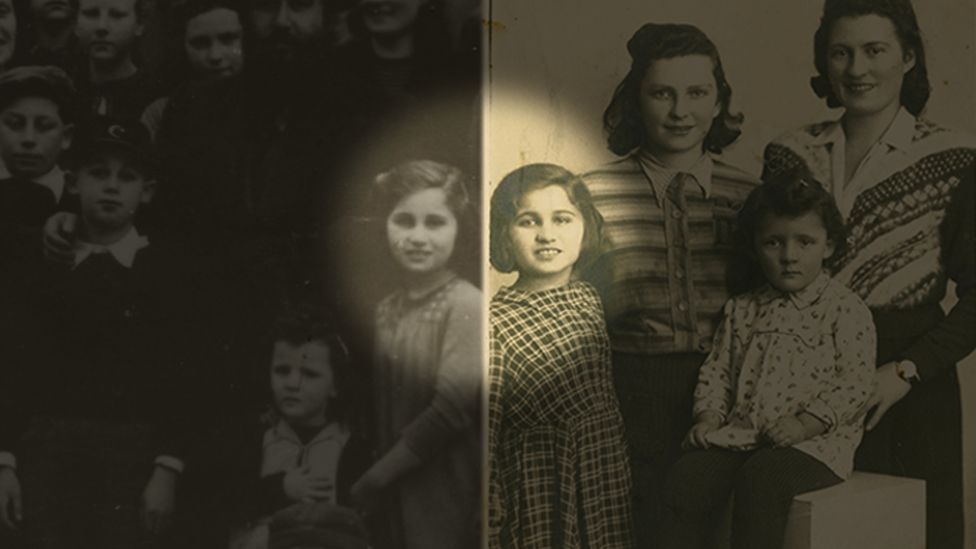 The first half the 20th century was not a good one for Blanche Fixler. As a Jew, she was a target for the Nazis, who succeeded in killing at least 6 million of her countrymen. They were so close to Fixler, at one point she was hiding underneath a bed trying not to breathe. Had she made a noise, the Nazi troops searching the room she was in would have grabbed her in an instant. Through luck, fear, feistiness and perseverance, Fixler survived the Holocaust.
Now, almost some 80 years later, Blanche Fixler is relieving history thanks to artificial intelligence, or AI. A program written by Daniel Pratt, also known as a engineer at Google, has become extremely effective at matching people's faces to their parts in history. In fact, it was so effective, it had a direct impact on Fixler; the software found her face in a historical image from the war period that no one previously knew was Blanche at all. She was just another face of thousands lost until she wasn't.
Dubbed "Numbers to Names," Pratt's program relies on the technology of facial recognition to do its work. While a person's appearance might change over time, their facial structure doesn't. And that makes for a comparable identification when the details are run through the thousands of calculations per second via the software.
In some respects, the software works with the logic of connecting dots. As it makes connections, it builds on that library and makes more connections. Many photos may have one or even two connections, but they still have five or a dozen more than are unknown. By constantly running and making new connections, the software persistently whittles away at the challenge. As it turned out, one of those successes was Blanche Fixler.
Blanche Fixler today is at the ripe age of 86. She is a world away from Germany and Poland and the nightmare she lived through, ensconced in the urban distance of New York. However, thanks to Pratt's program, Fixler has now been identified as a child in two historical photos. Pratt's software did the hard work and connected the dots.
Among the many who were grabbed, rounded up and killed in Poland, Fixler's entire family were victims of the Nazis. At the time, Blanche's name was Bronia to her family, but that was left in the past as she survived the war. Her luck was made possible by an aunt who hid Fixler from the soldiers regularly looking for Jews in hiding. When Fixler saw the photos that had her in them, she also identified her aunt as well as other relatives. That in turn creates more connections that Pratt and those using the software can benefit from in their ongoing work of identification.
The work has been partnered with the U.S. Holocaust Memorial Museum, and it continues to be worked on to provide closure and dignity for the thousands of families related to the victims of the Holocaust. By personalizing the faces of the 6 million, they gain a confirmed history versus being nameless and unknown among the masses lost.