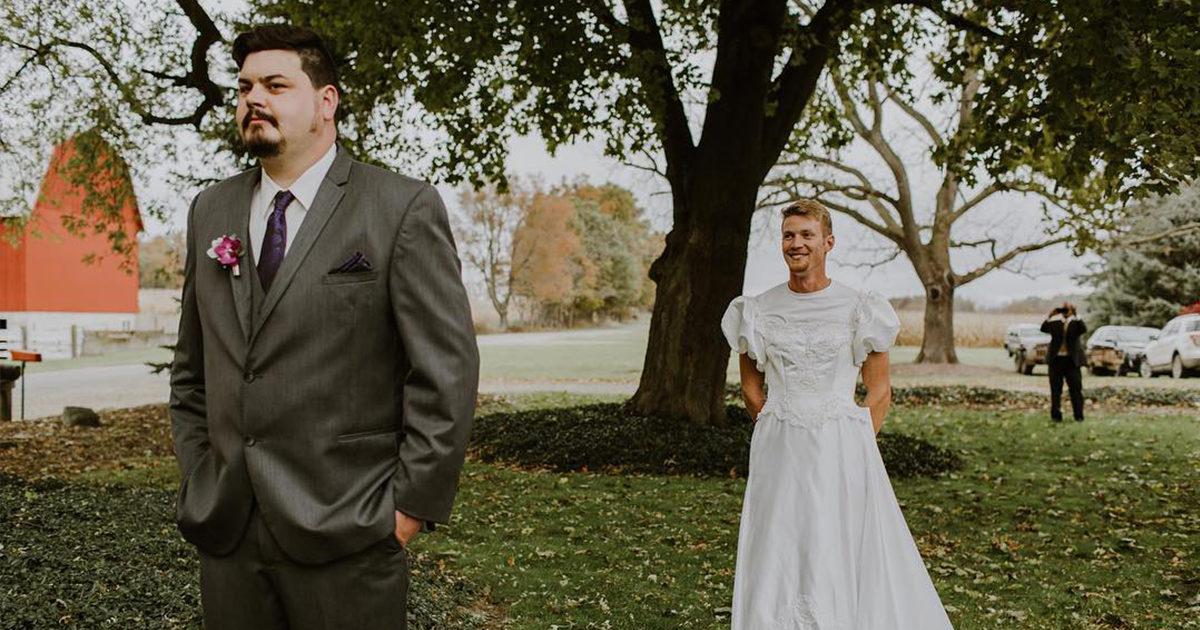 This Groom Was Surprised on His Wedding Day When His Bride Did This
Many brides want to make their entrance spectacular, as it's the first moment that the groom sees his bride for the first time. Other brides and grooms do a first look before the ceremony, where it is just the two of them, and they have a private moment to enjoy before the craziness of the ceremony and reception set in. Whether it's a grand entrance or a first look, it's a special moment that should be captured with video and photography and one that stands out. For one couple, this moment turned into something much more.
Jake and Faye Lorraine VanSickle started planning their big day, and obviously one of the details that were important was photography. They started working with Rebekah Lehman, who owns Kindred Photo & Design in Michigan, to go over the photography needs of their special day. After the meeting, bride-to-be Faye went back to talk with Rebekah about something special she wanted to do during the first look, in order to prank her groom and get a laugh. Since wedding ceremonies can be stressful with making sure everything goes according to plan and dealing with the nerves that come along with the big day, having some fun is the perfect way to enjoy the day and make it memorable. During the first look that was planned, Faye wanted to have Jake's best friend Taylor meet him instead. The first look typically begins with the groom covering his eyes or facing away from the camera, and then the bride comes out and surprises him. Instead of Faye showing up to meet Jake, Taylor was there with a wedding dress on.
Jake admitted after the prank that it took him a split second to realize what was going on. After he realized what was happening, he played along and had a fit of laughter. He couldn't believe his bride pulled off the prank and he was staring at his best friend wearing a wedding dress. After some fun photos of the two best friends, Faye came out in her wedding dress and the two had a real first look photo shoot. During the shoot, the bride and groom couldn't stop laughing, but they still had the adorable photos of them gazing into each others eyes and showing their love, along with other images you would want for your wedding day.
Photos of the prank were posted on social media and quickly spread. The photos received around 31,000 reactions, and people from around the world were commenting on the funny prank and how cute it was.
First look photo shoots aren't necessarily a new wedding trend, but they still are a hot topic for those who are planning their wedding. There is a superstition and time-honored practice of not seeing the bride before she walks down the aisle, so some couples decide to stick with that. Other couples choose to do a first look photo shoot, in order to get in some more photos before the ceremony begins so they can enjoy the reception they worked so hard at planning, as well as the cocktail hour with their guests. For many brides and grooms, a first look provides the couple a way to ease some of the nerves that come with the big day. In this case, the first look not only gave Jake and Faye some time to enjoy as a couple before the wedding festivities began, but it also gave Faye the perfect opportunity to give her groom the memory of a lifetime and start their marriage with laughter. This was one enjoyable first look for all those who were involved.
Paralyzed Farmer Returns to Work Thanks to One-of-a-Kind Tractor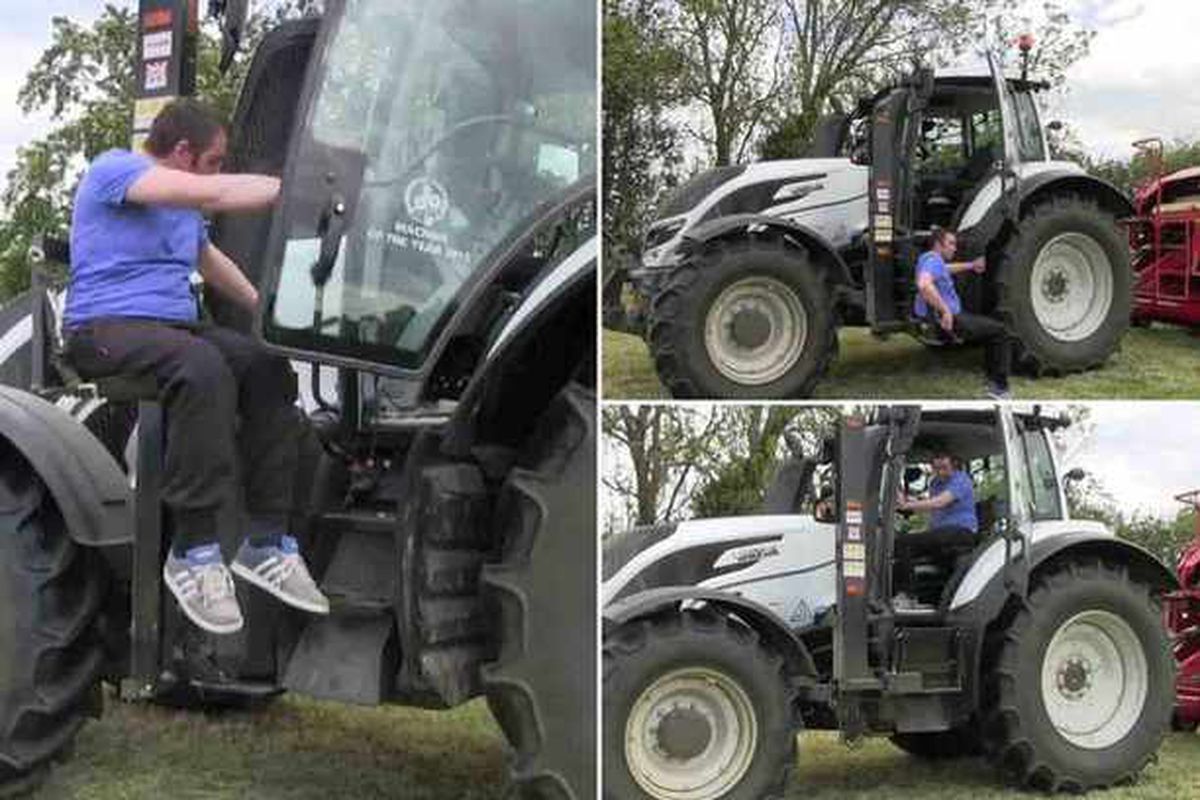 Matthew Evans was as hard a working farmer as there was in the country when the 30-year-old experienced a tragic accident. Left paralyzed from the chest down, Evans would have to turn away from his career as a farmer due to the repercussions of the sudden incident. Injured and desperate to get back on the road and into work, Evans would work alongside another disabled farmer to craft something that would change both of their lives.
Introducing the Valtra Tractor
Matthew had been leaving a Denbigh and Flint Show in late April 2014 when he was struck by a 4×4 truck while walking along the road. Injured and immediately in need of help, Evans would get taken to the Ysbyty Glan Clwyd in Rhyl before getting transferred via an ambulance to the Robert Jones and Agnes Hunt Orthopaedic Hospital. It was there that the agriculture contractor would be forced to undergo several operations to fix his spine. Broken in two places, the outcome of the incident was nothing less than dire.
While the incident was seven years ago at the time of this writing, Evans would require only ten months of recovery before he was able to return to some semblance of his normal routine. While the therapy was life-changing it was also painful, slow, and filled with frustration. After leaving rehab behind, Matthew knew that he would want more help in the future so that he could get back to life as he knew it. This would lead to a meeting with an engineer by the name of Andrew Stubbs.
The duo had met after Matthew wrote about his story, submitting it to WalesOnline. Stubbs had read Mathew's story on the website and due to his relative proximity to the farmer, the duo decided to connect. Stubbs had been living in Astle Farm East of Cheshire at the time and he had been disabled himself, offering another layer of connectivity between the two. Andrew said, "You can see by the smile on his face what it means to be back on the job."
Andrew Stubbs is a fellow disabled farmer who had been figuring out his own ways back into the industry. In order to get Matthew back on the tractor, the duo decided to work on a Valtra Tractor that had been specially fitted with a hydraulic chairlift. This chairlift would offer Matthew the ability to get in and out of the tractor while remaining in his wheelchair. Matthew says, "I've been using it for the past six weeks or so — and so far, no hiccups."
While working with Andrew, Matthew would request that the tractor be painted white so that he could drive it during his wedding the following year. For his part, Matthew has revered the ability to engage with and develop his independence once again, noting just how difficult the journey has been.
Andrew and Michael have shared their story extensively and it has been covered by the production company known as Funkimation. The video would get posted online to the Vimeo platform where tens of thousands of viewers have already viewed Michael's journey.