This Family Has Created the FUNNIEST Christmas Cards For Years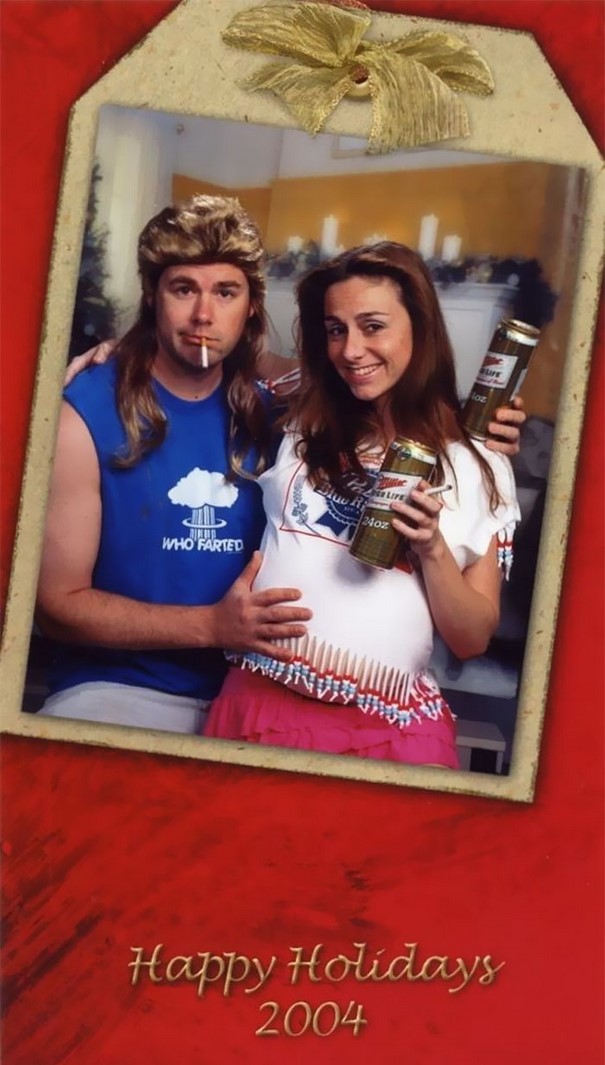 The holiday season brings plenty of Christmas cards in your mailbox, but instead of just a posed photo and smiling faces, the Bergerons do something a little different. This ensures that their friends and family are never going to be bored of their Christmas cards. Plus, these cards are just perfect to hang on the fridge for the best holiday conversation starter.
Mike and Laura Bergeron say that creativity has come naturally to them throughout the last 16 years. Instead of using their creativity in their home decor or cookie decorating, they do some hilarious Christmas cards that get sent to friends and family.
The couple started the tradition in 2003 and have done pictures from Buddhist monks, American Gothic characters, and '80s dancers. They have also started to incorporate their two daughters, Juju and Gigi, into the pictures. While the family does come up with the photo shoot ideas on their own, they aren't responsible for taking the pictures, even in today's world of selfies, selfie sticks, and timers. The family will get into their costumes and then head to the JCPenney photo studio, where they get their pictures taken and sometimes edited. The couple said that occasionally they feel embarrassed to be walking through the store in their costumes for the yearly shoot. However, the photographers get a kick out of their ideas and they are getting more creative as the years go by.
The couple isn't sure who originally came up with the idea to incorporate the funny images into their Christmas card tradition. Mike thinks that it's the best way to keep up the morale of their friends and family in the stressful time that can come with the holiday season. They really do dedicate themselves to this and try to outdo themselves every year. As such, they spend plenty of energy, time, and money on the photographs. Mike has even gone so far as to shave his head to achieve the look. When they started incorporating their daughters into the card, the cards became even more charming and silly. Some of their other cards where they have incorporated their children include dressing like everything from country hicks to emo babies. From head to toe, the couple and children fully commit to the tradition. In the photo where the family is dressed like country hicks, Mike can be seen with blacked out teeth, cut off shorts, an old raggy T-shirt, and a baseball hat. Laura is seen wearing a plaid dress with brown boots. The children are seen in disheveled clothing and no shoes, and one daughter is wearing a backwards baseball cap and picking her nose. One child is seen holding a slingshot and what looks like an animal that was hunted.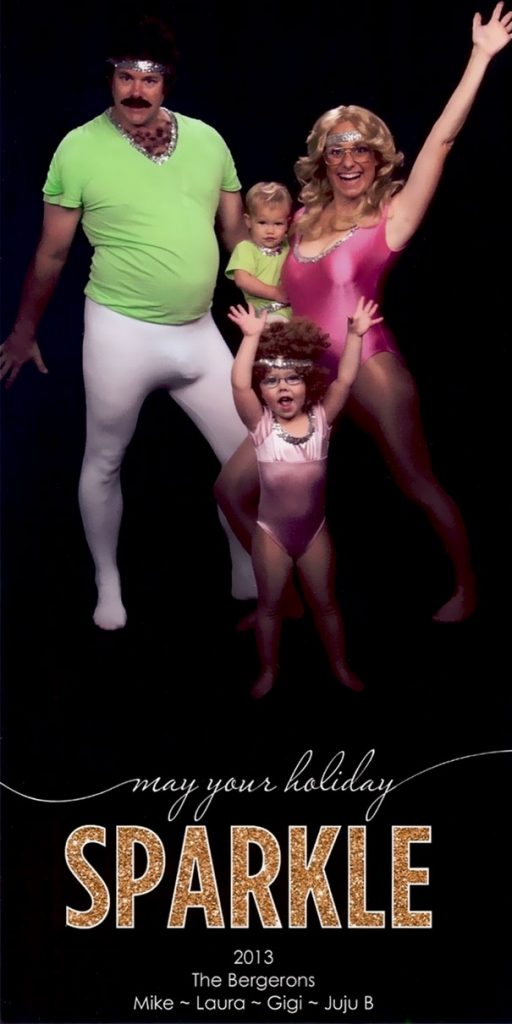 Christmas cards have come a long way from their start in the UK in 1843, when Sir Henry Cole came up with the idea of the cards with his friend John Horsley, an artist. The first Christmas card had three panels featuring caring for the poor and a large Christmas dinner. The card even created some controversy because it showed a child consuming a glass of wine. Soon Christmas cards became more popular because printing methods improved and the cost of sending the cards dropped, which meant more people were able to afford them and send them out. While the Bergerons' Christmas cards are a long way from the first Christmas card, it does serve the intended purpose of bringing joy and reminding people to slow down have a laugh during the holiday season.
Handicapped Puppy Befriends Flightless Pigeon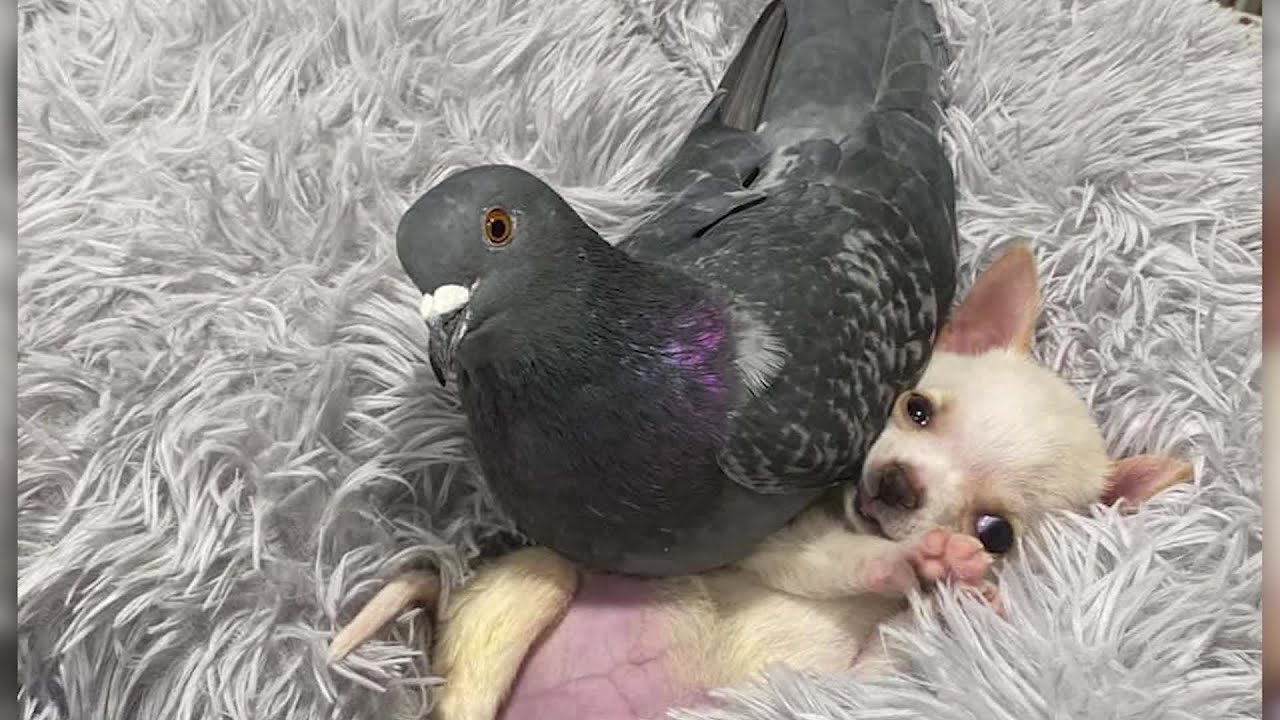 In Rochester, NY, Sue Rogers runs a non-profit called the Mia Foundation. The rescue organization rescues and rehabilitates animals who have birth defects or deformities and tries to find them a loving home. About a year ago, a pigeon was found unable to move in the parking lot of a car dealership. The pigeon was huddled and cowering on the ground. When a local wildlife rescue was called, they said the bird had neurological damage that caused him not to be able to fly. They thought that euthanization would be the best option for him.
Sue was having none of that. She stepped in and took the bird, who she named Herman, under her wing, so to speak. She made space for him in her shelter and kept him close where she could keep an eye on him. He liked to sit on a furry dog pillow and watch her work.
A couple months ago, a tiny Chihuahua was brought to the Mia Foundation. He was an infant, maybe a few months old, when his South Carolina breeders sent him to Sue. He's a teacup sized Chihuahua they named Little Lundy and he was born with spinal cord damage. Sue also determined that he was suffering from swimmers syndrome. Swimmers syndrome is a developmental deformity that causes the front and hind legs to be splayed out. This makes it almost impossible for Little Lundy to walk.
Although swimmers syndrome is thought to be untreatable, according to a few studies and an article in a veterinary journal, it can be treatable. With some physical therapy and at-home treatment, Little Lundy could live a long and happy life, which is exactly what Sue plans for him.
When Little Lundy arrived at the Mia Foundation he decided to get acquainted with his new surroundings and the other animals at the shelter. One particular encounter, created a friendship that has gone viral. Herman and Little Lundy, a puppy and a pigeon, are the unlikeliest of friends, but they have a lot in common. They both have trouble walking, or flying in Hermans case, and they were living in the same place. You could say, they were in the right place at the right time to become instant friends.
In the six weeks they have been together, Herman and Little Lundy have become inseparable. They do everything together, which is a lot of sleeping and snuggling. Mostly, with Herman sitting on top of Little Lundy, which doesn't bother him in the slightest. This friendship was so out of the ordinary that Sue had to document it. The viral sensation of the puppy and pigeon has brought attention to the Mia Foundation that was much needed. The rescue organization runs solely on donations to help cover the costs of taking care of the animals and for needed surgeries. So far, about $6000 was donated because of this unlikely friendship and over 100 adoption inquiries. Hopefully when they are adopted, they are able to stay together.