This Family Has Created the FUNNIEST Christmas Cards For Years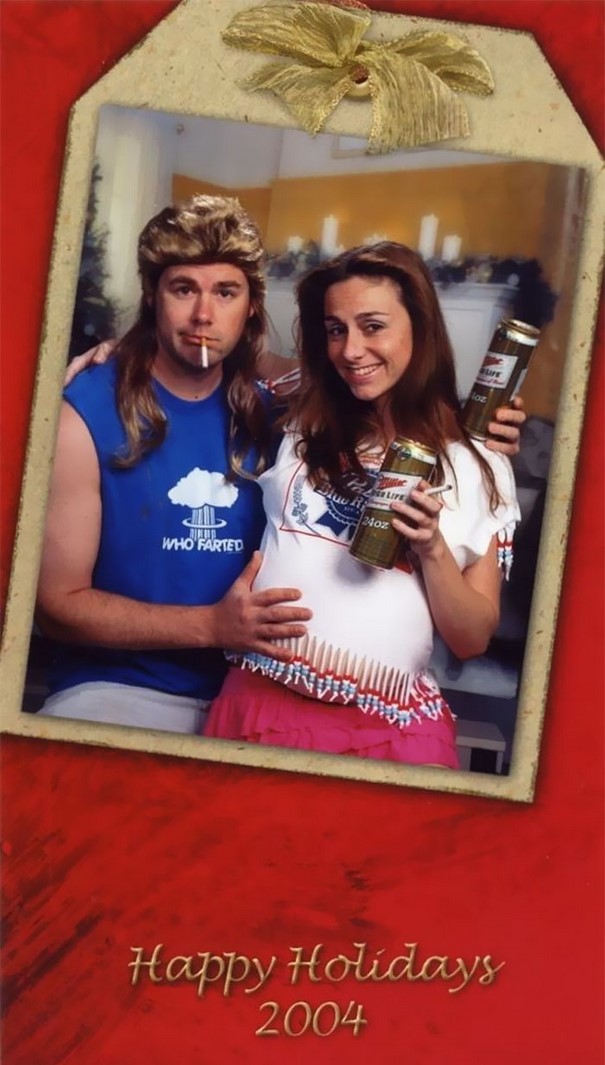 The holiday season brings plenty of Christmas cards in your mailbox, but instead of just a posed photo and smiling faces, the Bergerons do something a little different. This ensures that their friends and family are never going to be bored of their Christmas cards. Plus, these cards are just perfect to hang on the fridge for the best holiday conversation starter.
Mike and Laura Bergeron say that creativity has come naturally to them throughout the last 16 years. Instead of using their creativity in their home decor or cookie decorating, they do some hilarious Christmas cards that get sent to friends and family.
The couple started the tradition in 2003 and have done pictures from Buddhist monks, American Gothic characters, and '80s dancers. They have also started to incorporate their two daughters, Juju and Gigi, into the pictures. While the family does come up with the photo shoot ideas on their own, they aren't responsible for taking the pictures, even in today's world of selfies, selfie sticks, and timers. The family will get into their costumes and then head to the JCPenney photo studio, where they get their pictures taken and sometimes edited. The couple said that occasionally they feel embarrassed to be walking through the store in their costumes for the yearly shoot. However, the photographers get a kick out of their ideas and they are getting more creative as the years go by.
The couple isn't sure who originally came up with the idea to incorporate the funny images into their Christmas card tradition. Mike thinks that it's the best way to keep up the morale of their friends and family in the stressful time that can come with the holiday season. They really do dedicate themselves to this and try to outdo themselves every year. As such, they spend plenty of energy, time, and money on the photographs. Mike has even gone so far as to shave his head to achieve the look. When they started incorporating their daughters into the card, the cards became even more charming and silly. Some of their other cards where they have incorporated their children include dressing like everything from country hicks to emo babies. From head to toe, the couple and children fully commit to the tradition. In the photo where the family is dressed like country hicks, Mike can be seen with blacked out teeth, cut off shorts, an old raggy T-shirt, and a baseball hat. Laura is seen wearing a plaid dress with brown boots. The children are seen in disheveled clothing and no shoes, and one daughter is wearing a backwards baseball cap and picking her nose. One child is seen holding a slingshot and what looks like an animal that was hunted.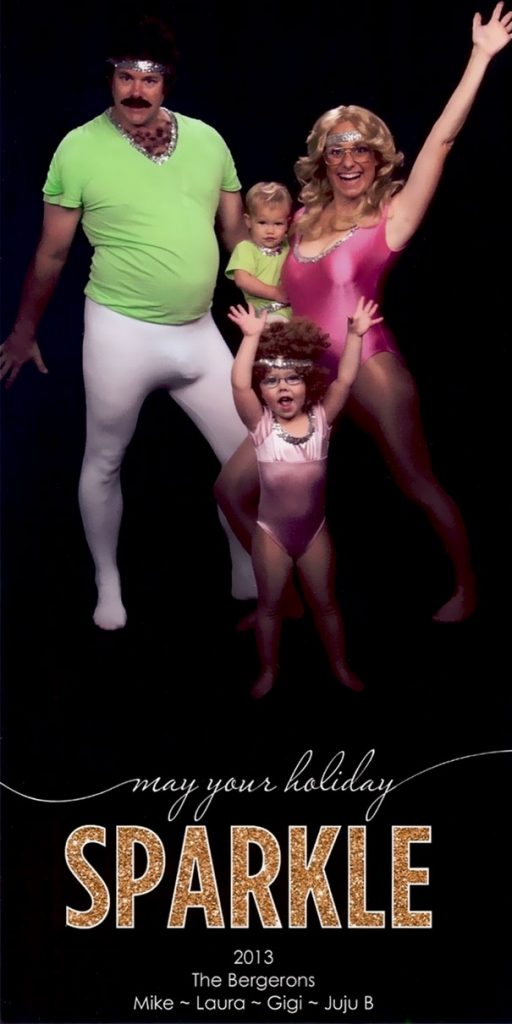 Christmas cards have come a long way from their start in the UK in 1843, when Sir Henry Cole came up with the idea of the cards with his friend John Horsley, an artist. The first Christmas card had three panels featuring caring for the poor and a large Christmas dinner. The card even created some controversy because it showed a child consuming a glass of wine. Soon Christmas cards became more popular because printing methods improved and the cost of sending the cards dropped, which meant more people were able to afford them and send them out. While the Bergerons' Christmas cards are a long way from the first Christmas card, it does serve the intended purpose of bringing joy and reminding people to slow down have a laugh during the holiday season.
These Hermit Crabs Will Blow Your Mind With Stunning Natural Ritual.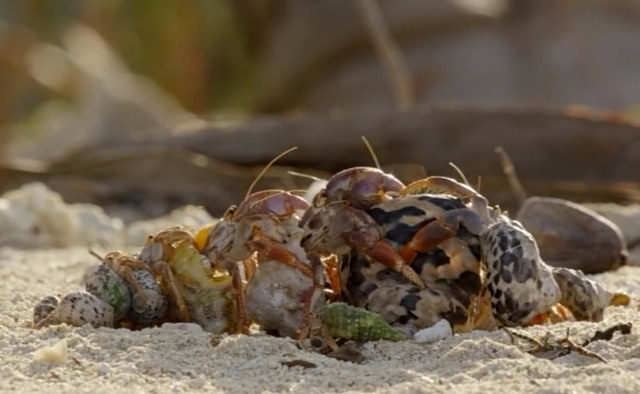 If you are like most people then you are likely fascinated with the ocean and all the creatures inside it. While we can talk forever about massive whales, scuttling squids, and scary sharks, we'd rather highlight a cute little crustacean known as the hermit crab. Now, you've likely heard of the hermit crab and, perhaps, you even know what it looks like. As a member of the superfamily known as the Paguroidea, hermit crabs manage to stand out all on their own. In fact, after learning about this natural ritual that hermit crabs complete, you might even want one of your own!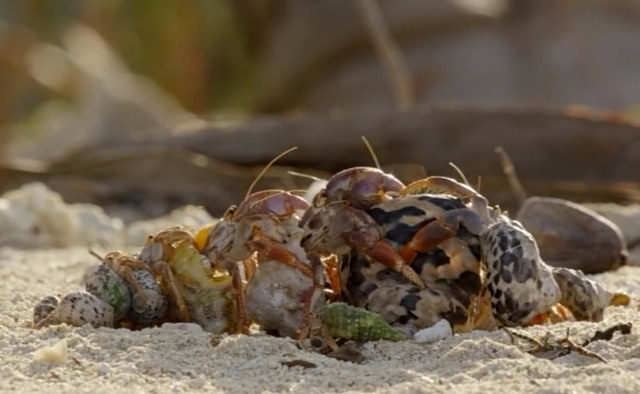 In a post shared on Facebook by a user named Melody Flowers, it was revealed that hermit crabs are always looking for bigger shells to live in. While you probably knew this already, what you didn't realize about this ritual is far more fascinating. According to the post, which has since been backed up by other scientific journals, hermit crabs like to line up next to shells that happen to be too big for them. Hermit crabs can wait for up to eight hours for another crab to come along and try the shell out. Why do these crabs wait next to shells that are too large for them? As it turns out, the first hermit crab is simply waiting for the second crab in line to discard its shell.
So we outlined a natural ritual that hermit crabs undertake when finding a new home. Why is this so fascinating? While you may have summoned up an image of two hermit crabs swapping shells, that isn't entirely accurate. As the second crab lines up behind the shell, more will come to follow. Before long, observers would be able to watch as dozens of hermit crabs all trade shells with one another to ensure that everyone has a comfortable home to live in. The smallest shell of the bunch gets left behind while the shell that started the queue will go to the largest hermit crab of the lot. That's pretty amazing, isn't it? The coordination and cooperation that these hermit crabs have to deploy is nothing short of impressive. If only humans could get along so well when it comes to making to sure everyone is comfortable and safe within their home.
Even though hermit crabs will work together in order to find homes, they are still a competitive species. Gastropod shells can become a limited resource due to a variety of natural and unnatural factors, such as climate change and pollution. When hermit crabs are of a similar size, they are more competitive and violent with one another. When hermit crabs vary dramatically in size, there are more resources available for every member of the group. Hermit crabs are a fascinating sort of creature because they can come in varying sizes with a lifespan ranging between 12 and 70 years. The next time that you see a hermit crab, make sure it has the perfect shell to call home. Maybe it will remember you a couple of decades later!