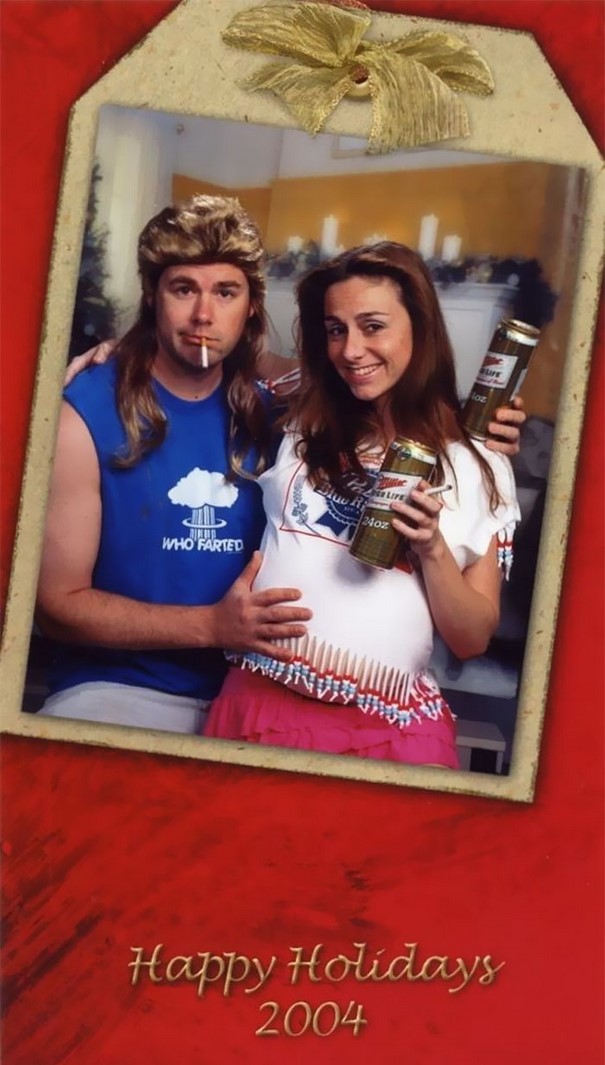 This Family Has Created the FUNNIEST Christmas Cards For Years
The holiday season brings plenty of Christmas cards in your mailbox, but instead of just a posed photo and smiling faces, the Bergerons do something a little different. This ensures that their friends and family are never going to be bored of their Christmas cards. Plus, these cards are just perfect to hang on the fridge for the best holiday conversation starter.
Mike and Laura Bergeron say that creativity has come naturally to them throughout the last 16 years. Instead of using their creativity in their home decor or cookie decorating, they do some hilarious Christmas cards that get sent to friends and family.
The couple started the tradition in 2003 and have done pictures from Buddhist monks, American Gothic characters, and '80s dancers. They have also started to incorporate their two daughters, Juju and Gigi, into the pictures. While the family does come up with the photo shoot ideas on their own, they aren't responsible for taking the pictures, even in today's world of selfies, selfie sticks, and timers. The family will get into their costumes and then head to the JCPenney photo studio, where they get their pictures taken and sometimes edited. The couple said that occasionally they feel embarrassed to be walking through the store in their costumes for the yearly shoot. However, the photographers get a kick out of their ideas and they are getting more creative as the years go by.
The couple isn't sure who originally came up with the idea to incorporate the funny images into their Christmas card tradition. Mike thinks that it's the best way to keep up the morale of their friends and family in the stressful time that can come with the holiday season. They really do dedicate themselves to this and try to outdo themselves every year. As such, they spend plenty of energy, time, and money on the photographs. Mike has even gone so far as to shave his head to achieve the look. When they started incorporating their daughters into the card, the cards became even more charming and silly. Some of their other cards where they have incorporated their children include dressing like everything from country hicks to emo babies. From head to toe, the couple and children fully commit to the tradition. In the photo where the family is dressed like country hicks, Mike can be seen with blacked out teeth, cut off shorts, an old raggy T-shirt, and a baseball hat. Laura is seen wearing a plaid dress with brown boots. The children are seen in disheveled clothing and no shoes, and one daughter is wearing a backwards baseball cap and picking her nose. One child is seen holding a slingshot and what looks like an animal that was hunted.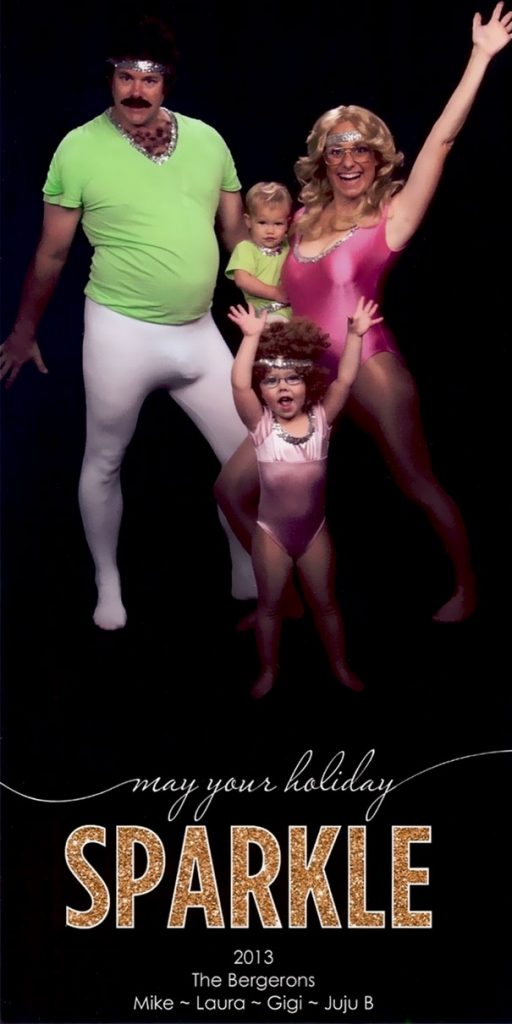 Christmas cards have come a long way from their start in the UK in 1843, when Sir Henry Cole came up with the idea of the cards with his friend John Horsley, an artist. The first Christmas card had three panels featuring caring for the poor and a large Christmas dinner. The card even created some controversy because it showed a child consuming a glass of wine. Soon Christmas cards became more popular because printing methods improved and the cost of sending the cards dropped, which meant more people were able to afford them and send them out. While the Bergerons' Christmas cards are a long way from the first Christmas card, it does serve the intended purpose of bringing joy and reminding people to slow down have a laugh during the holiday season.
American Couple's Kindness Shines in Snowy Adventure with South Korean Tourists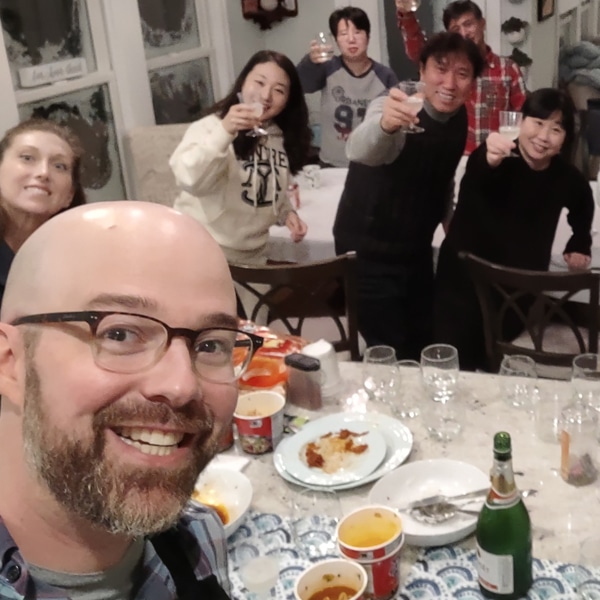 In a heartwarming tale of kindness and friendship, an American couple from Buffalo, New York, opened their home to a group of stranded South Korean tourists during a severe blizzard on December 23rd. What started as a simple request for shovels turned into a heartwarming story that went viral, bringing people together across borders. The couple's act of compassion not only provided shelter but also sparked an enduring bond that led to a special reunion in South Korea. Let's delve into this remarkable story and explore the lasting impact of their selfless act.
As the blizzard raged outside, ten South Korean tourists found themselves stuck in their van, unable to move through the heavy snow. Seeking assistance, they approached a nearby house and requested shovels to dig themselves out. However, they received much more than they had anticipated. The couple, who had prepared for a quiet Christmas at home, welcomed the strangers with open arms and invited them inside.
The storm had brought these strangers together, creating an opportunity for cultural exchange and friendship. During the two nights and three days they spent together, the couple and their unexpected guests bonded over stories, shared meals, and even watched American football. The couple, who had a deep appreciation for Korean cuisine, surprised their guests with an array of Korean food ingredients. The South Korean visitors were amazed to find soy sauce, mirin, chili powder, chili paste, a rice cooker, and Korean cookbooks, as if the couple had been preparing for their arrival.
News of the couple's kindness quickly spread across the internet, captivating hearts around the world. Social media platforms buzzed with messages of admiration and appreciation for their selfless act. Many people were inspired by their story and were motivated to perform acts of kindness themselves. The couple received an outpouring of support, with kind messages, cards, and generous gifts from various Korean groups, including a year of free fried chicken at Genesis BBQ.
Months later, in May, the couple embarked on a 10-day tour of Seoul, graciously invited by the Korea Tourism Organization. This visit was not merely a sightseeing adventure but a chance to reunite with the guests they had sheltered during the blizzard. Andrea, the wife, expressed her gratitude and joy, saying, "To see everyone in Korea again is such a blessing." The couple had always held an appreciation and interest in Korean culture, and their chance encounter had brought them closer to this beautiful country.
The bond forged during their time together in Buffalo proved to be strong and lasting. The couple and their South Korean guests became lifelong friends. The experience inspired not only the couple but also their guests, who felt compelled to pay it forward and spread kindness to others. Through their act of compassion, the American couple created a ripple effect of goodwill, reminding us of the power of empathy and humanity.