This Beloved Police Dog Took A Bullet In The Line Of Duty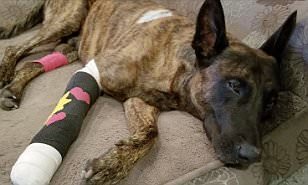 While there are many people out there who love to offer negative commentary on the police, few stop to realize the amount of risk that they are taking on each day. This level of risk even extends to the four-legged officers who assist the police force with important busts. Mikey the police dog is a prime example.
He took a bullet in the line of duty back in 2017. The shooting took place during a SWAT call in Fresno, California. Mikey was shot when a bullet passed through the dog it was meant for and hit him as well. He bled out for some time and lost two toes as a result of the incident.
Deputy Jerry Kitchens was his handler at the time. He made sure that Mikey received the medical assistance he needed but he did not think that the dog would ever return to duty. The shooting was severe. Jerry just wanted to make sure that the dog would be able to recover. The idea of him returning to active police duty was too much to fathom.
However, Mikey had other ideas. He wanted to return to his post and did not care about his own safety. The dog eventually recovered from his initial wound and made his way back. These are the police-related stories that are not always told. These officers are willing to risk life and limb to make sure that their communities remain protected.
Mikey received the surgery that he required so that he could keep his leg. This was the first step to a full comeback. If not for the work of this surgeon, who knows what might have happened to Mikey? We shudder to think. Dogs are just like the rest of us, after all. They need to have a sense of purpose in order to be happy.
He proved all of his doubters wrong in no time at all. This is one dog that was bound and determined to return to his regular duties. Many animals would have been content to live out the rest of their days as a police hero. Mikey would have had all of the biscuits he could eat and a nice, warm bed. Instead, he pushed through the pain and found his way back.
The rehab and training processes were challenging. He did not allow them to break his stride. He was back on his feet again and ready to assist his fellow officers once the rehab and training were complete. Can you believe that he was back and ready to work within just four months?
These are the stories that remind us how resilient dogs can be. When they put their minds to something, there is nothing that can stop them. The initial injury took place in July and Mikey was back on the front lines by November. Most humans would not be able to replicate the speed of his recovery. That's what makes this story such a special one.
If you would like to see how excited Mikey was to return to the police force, please be sure to check out the video below. He is not even showing signs of the injury. Mikey came back, good as new and ready to rock and roll. The officers are also happy to have him back, as you would expect.
This is the type of video that you will want to share with your closest friends and loved ones. They are sure to appreciate all of Mikey's hard work. Mikey lives to help keep people safe and he does not know what to do with himself otherwise. In the meantime, please take the time to share this story with your Facebook friends today!
The Remarkable Story Of Felix The Black Lab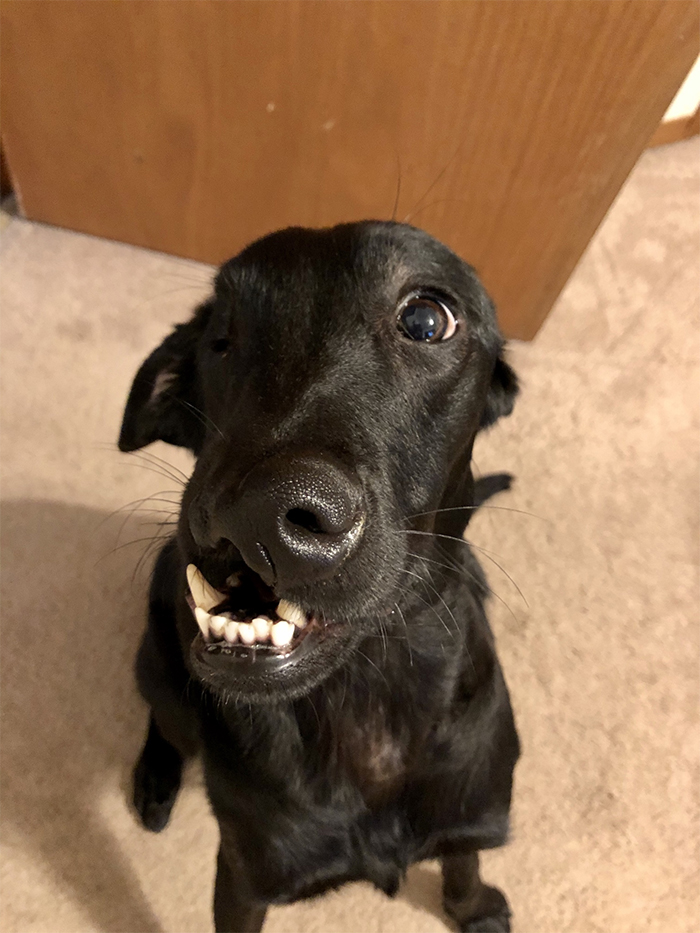 This is the remarkable story of Felix the Black Lab. Felix has had to overcome a lot of obstacles throughout his life. Felix was born with a cleft lip and cleft palate. Cleft lip and cleft palate are openings in the upper lip and the roof of the mouth. These openings can develop during infancy when the facial structures don't completely develop. While cleft lip and cleft palate are often seen as birth defects, they can be inherited through genetics. Felix's owner believes that the dog developed the defects due to his mother having a poor diet or possibly inhaling chemicals.
In addition to being born with a cleft lip and cleft palate, Felix has also struggled with other health problems throughout his life. However, despite all of his struggles, Felix continues to have a great personality: always laughing and smiling.
Felix was adopted when he was just a few days old. The owner said that Felix was close to dying because his cleft lip and cleft palate left him unable to receive nutrients from his mother. Felix had pneumonia and the veterinarian declared that he only had a few more hours to live. As Felix started to grow, he had colon issues that caused digestive problems. He also has only one functioning eye and his jaws aren't aligned properly. Because Felix's teeth were not aligned properly, he was only able to eat canned food.
In spite of all of these issues, Felix continued to fight. His owner fed him through a tube for a few weeks until he recovered from his pneumonia symptoms. Felix's condition left him unable to chew dog food and lap water out of a bowl. He also had problems swallowing his food at times. Through it all, Felix remained energetic.
However, Felix's owner wanted to try to give him a better quality of living, so he had surgery to correct his clefts. The surgery was a success. The surgeon was able to repair the roof of Felix's mouth and rebuild his palate. The surgeon completed the procedure using Felix's own tissues. The surgery also caused Felix's skull to shift. In order to help transition to his new life post-surgery, Felix also takes some medications. In the aftermath of the surgery, Felix also had to eat through a feeding tube in his neck. It has been a huge adjustment period.
Thanks to the successful surgery, Felix has been able to enjoy many new experiences. He was able to go swimming for the first time. He's also able to eat and drink regularly like normal dogs. Felix enjoys spending time with his brothers and sisters, including an Australian cattle dog and a terrier. He enjoys playing with stuffed animals. Felix is a great example that you can overcome challenges if you maintain a positive outlook. To follow Felix's journey, go to his Imgur account.