This Adorable Pup Finally Got The Chance To Enjoy Snow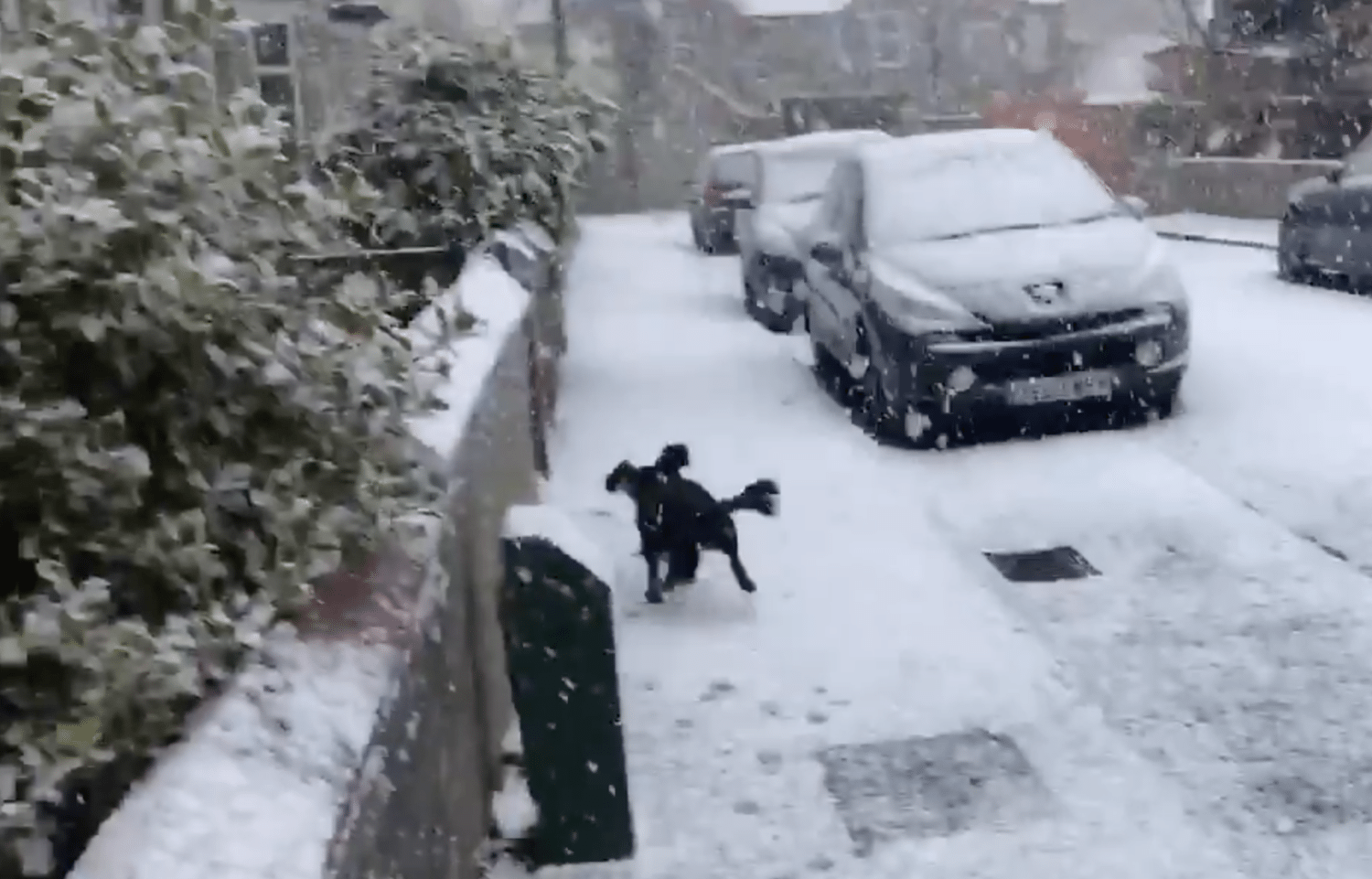 Snow is not something that a lot of us enjoy. In fact, it is a downright nuisance. The prospect of having to get up early to bundle up and clean off your vehicle before work each day is a harrowing one. However, dogs do not view things in the same way that we do. They have more of a glass half full approach at times like these, don't they?
The dog in this story certainly does, that is for sure. Truffle resides in England and when the first snowfall came, he could not contain his excitement. He's not one to care about the dirty and slippery aspect of snow. Truffle is here to have a good time and that is all there is to it.
The magical moment was not going to pass this dog by. He's the type to appreciate life and all that it has to offer. Some of us could stand to learn a thing or two from this pup. Once you have gotten the chance to watch this awesome video, you are going to see exactly what we mean by that.
Jo is his mother and the two live together in York, England. The cocker spaniel is known to have quite the lust for life, too. While he had never experienced snowfall in the past, he wasted no time inserting himself into the mix. He was given the chance to head outside and enjoy it by his mother, running full speed all the while.
Luckily, Jo was willing to record this moment and share it with the rest of us. Try your best not to grin as you watch this dog living it up. There is something about seeing snow for the first time that brings out the inner child in all of us. The dogs that we know and love are certainly no different in this regard. They do not have the same worries that we do.
Truffle does not have to worry about going to buy a winter coat or a set of snow tires. All he has to do is play. Let Jo be the one to scrape the car off when it is time to go to work. Truffle will be too busy dashing through the snow and letting us know just how much fun he is having.
Watching this dog slip and slide around like this is giving us life. Once it was time for the dog to come back inside, he had a very predictable reaction. Truffle decided that he was going to show his mother that he was not ready yet. Instead of racing back inside like some dogs do when they are exposed to the cold, he elected to pout instead. The mental image of this dog sulking is too much! We cannot stop laughing.
While we are not dealing with the same amount of snowfall where we live, we can still appreciate a video like this one. Who wouldn't love to see Truffle react like this on an everyday basis. This video is making us wish that we could take our dog out to play in the snow, to be honest. As soon as you have seen Truffle enjoying the snow, you will want to share this clip.
All of the dog owners in your life are sure to appreciate this one. There is nothing quite like seeing your first snowfall and this is an experience that needs to be shared. Please take a moment to pass this one along to your Facebook friends as soon as possible. It is time that the rest of the world got to know our good friend Truffle.
Handicapped Puppy Befriends Flightless Pigeon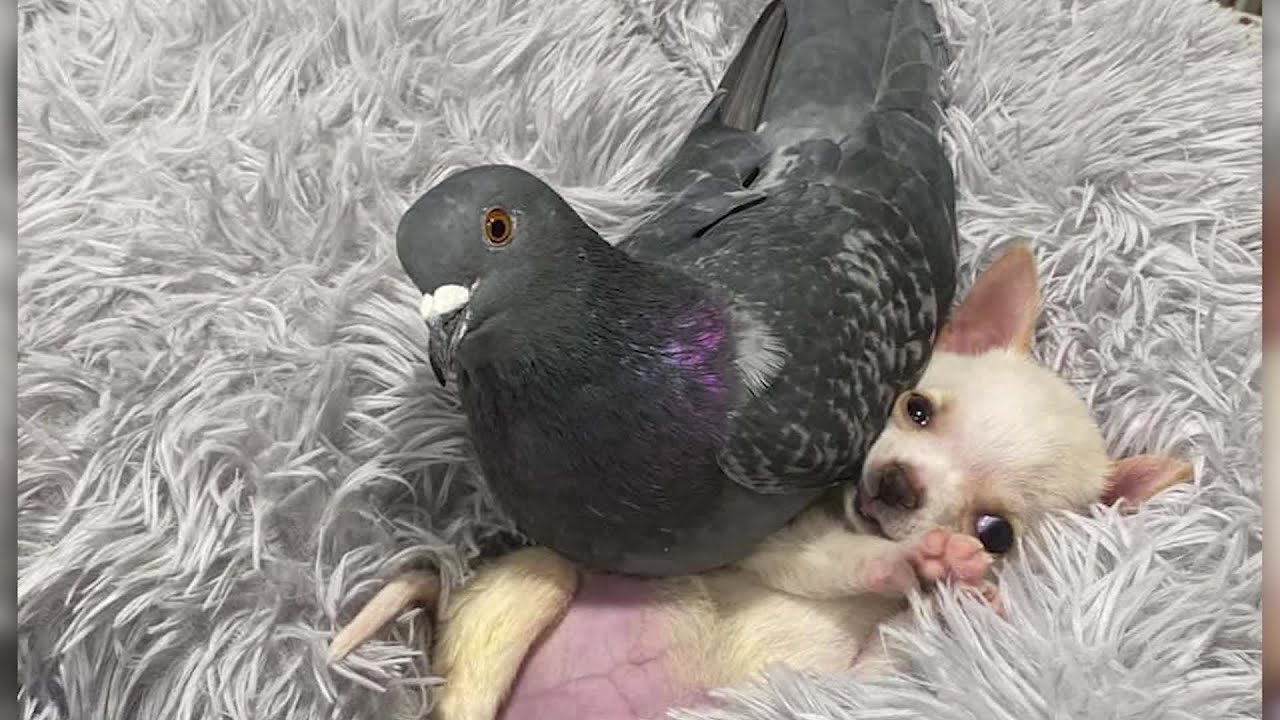 In Rochester, NY, Sue Rogers runs a non-profit called the Mia Foundation. The rescue organization rescues and rehabilitates animals who have birth defects or deformities and tries to find them a loving home. About a year ago, a pigeon was found unable to move in the parking lot of a car dealership. The pigeon was huddled and cowering on the ground. When a local wildlife rescue was called, they said the bird had neurological damage that caused him not to be able to fly. They thought that euthanization would be the best option for him.
Sue was having none of that. She stepped in and took the bird, who she named Herman, under her wing, so to speak. She made space for him in her shelter and kept him close where she could keep an eye on him. He liked to sit on a furry dog pillow and watch her work.
A couple months ago, a tiny Chihuahua was brought to the Mia Foundation. He was an infant, maybe a few months old, when his South Carolina breeders sent him to Sue. He's a teacup sized Chihuahua they named Little Lundy and he was born with spinal cord damage. Sue also determined that he was suffering from swimmers syndrome. Swimmers syndrome is a developmental deformity that causes the front and hind legs to be splayed out. This makes it almost impossible for Little Lundy to walk.
Although swimmers syndrome is thought to be untreatable, according to a few studies and an article in a veterinary journal, it can be treatable. With some physical therapy and at-home treatment, Little Lundy could live a long and happy life, which is exactly what Sue plans for him.
When Little Lundy arrived at the Mia Foundation he decided to get acquainted with his new surroundings and the other animals at the shelter. One particular encounter, created a friendship that has gone viral. Herman and Little Lundy, a puppy and a pigeon, are the unlikeliest of friends, but they have a lot in common. They both have trouble walking, or flying in Hermans case, and they were living in the same place. You could say, they were in the right place at the right time to become instant friends.
In the six weeks they have been together, Herman and Little Lundy have become inseparable. They do everything together, which is a lot of sleeping and snuggling. Mostly, with Herman sitting on top of Little Lundy, which doesn't bother him in the slightest. This friendship was so out of the ordinary that Sue had to document it. The viral sensation of the puppy and pigeon has brought attention to the Mia Foundation that was much needed. The rescue organization runs solely on donations to help cover the costs of taking care of the animals and for needed surgeries. So far, about $6000 was donated because of this unlikely friendship and over 100 adoption inquiries. Hopefully when they are adopted, they are able to stay together.