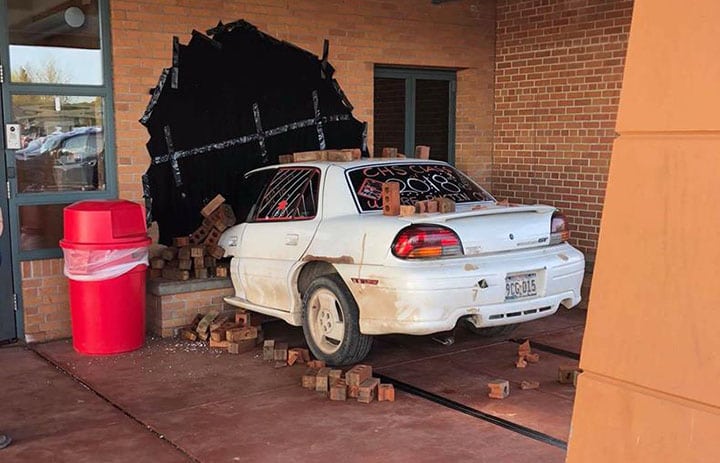 These Seniors Pull Off the Most Epic Senior Prank
Educational institutions in some parts of the world like Australia, the United Kingdom and the USA are well-known for the long-standing tradition of senior pranks. The senior students of a high school, college or university pull an organized prank at the end of their senior year as a way of leaving the school.
In the United States, some schools have banned the tradition of senior pranks and replaced it with subtler graduating activities to ensure that the senior students do not vandalize or destroy any institutional property.
Not all pranks are equal and some college students take the game too seriously than others. The senior 2018 class at Cumberland High School based in Wisconsin, is such a case. These creative students staged an accident scene that looked so real that even the local cops loved it.
Fake Accident Scene
The seniors organized themselves to come up with something that would be remembered for a long time. They wanted to make a great mark before leaving high school to join college or pursue other interests. These young kids put their minds together and came up with a legit prank.
On Monday morning, students and teachers arrived at the high school only to find a shocking scene. They saw a white car that had crashed into the side of one wall of their school, leaving just the dark half visible. Piles of bricks resulting from the car crash had been thrown all over. It seemed like a real accident scene.
Closer Look
At first glance, even 2nd glance, the site looked so real that the people were convinced it was an actual accident, but taking a further closer look at the shocking sight, the teachers and high school students saw a different story.
Actually, the gaping hole in the building was made out of some black tarp together with duct tape. The white car had been sliced in half and was only resting against the wall. The surrounding bricks had been put there to make the scene look more real. This was so surprising. The teens had chosen to go for an elaborate prank, without destroying any school property.
Local Police Department is Impressed
At first, the fake accident scene looked so real that the police were called in to inspect it. They were so impressed just like anyone else there with the fact that the graduating students had been able to set such an incredible prank without damaging the school property.
They loved the prank so much that they gave the school a shout out on their Facebook page. The law enforcement guys congratulated the seniors for the best ever prank seen in the Cumberland High School. The social media post sent by the police department received numerous comments from online users. People were amazed by the prank and how the local police reacted.
Social Media Views
The Facebook posts seen in the pages of the police department and the school district's too about the seniors' prank in Wisconsin have been shared more than 3000 times. The news spread like wildfire across the world. Social media users from as far as Britain praised the seniors for being so creative and the police too for their take on the prank.
Just with some tape, black tarp, car parts, and bricks, these creative youngsters were successful in pulling off one of the most epic pranks ever witnessed in schools. The fact that they got an honorable mention from the cops just goes to show that it was really good.
Other epic pranks that have been witnessed include the mystery of the missing letter W and the seniors who employed a mariachi band to constantly follow their principal for the entire day.
Punk Kid Goes From Homeless to Opening A Quirky Barbershop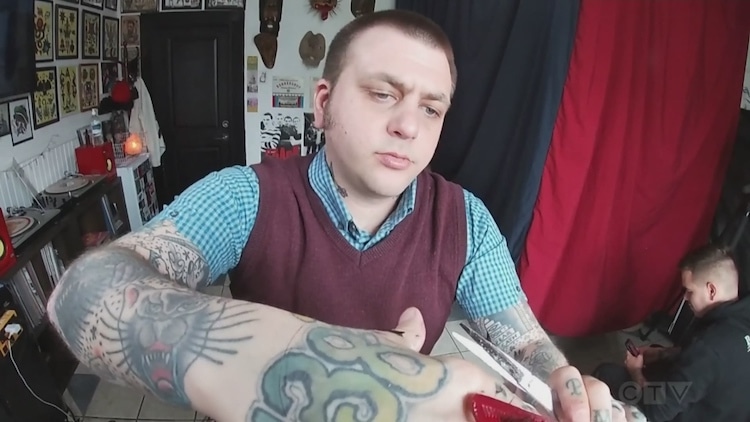 If you've ever seen the musical movie, Sweeney Todd: The Demon Barber of Fleet Street, starring Johnny Depp and Helena Bonham-Carter, then you could be forgiven for thinking twice before stepping into a barbershop for a straight-razor shave. However, many people have that reaction as well when stepping into Daryl Bidner's Little Barbershop of Horrors in today's Vancouver Island.
Bidner himself was never one for being mainstream. Growing up as a punk kid in his teen years, the barber today is a close-cropped fellow, arms blazoned with tattoos, and a late 1960s skinhead-style outfit décor via collared shirt, sleeveless sweater matched to his jeans and boots. However, when it comes to cutting hair, Bidner is all the professional and about business.
Starting off definitely wanting his barbershop to stand out and apart from the competition locally, Bidner modeled the entire theme of his haircutting venue around the movie, Little Shop of Horrors. He parlayed his interest in cutting hair for friends with mohawks into a bona fide skill, and now enjoys regular business as a barber for clientele young and old.
However, life wasn't always peachy-keen for Bidner. He was a school drop-out, had been in and out of drug addiction, and reached his own personal bottom after being homeless for an extended period. Ironically, it was a tattoo that finally seemed to put the young man back on track. His first tattoo allowed Bidner to skip the usual downspin of wasting the night high on something, and he sobered up. A number of days later, he did it again, using tattoos to get clean. By the 40th inking, Bidner was fundamentally off his addictions and broke his need to use mindlessly.
The tattooing was cathartic for Bidner, and he finally began to think about tomorrow instead of the next binge today. That in turn got him into thinking what Bidner could do for a proper living. Obviously, the young man was not going to go and wear a corporate suit the following Monday. So, he looked around at what made sense. Being a tattoo artist was logical, but then haircutting and being a barber appealed even more.
Bidner knuckled down, figured out how to get himself into barbering school, and after three years of grinding to perfect his skill, he had a license and started his own business with a single barber chair. Since that major breakthrough, Bidner has been at it as a barber for over five years, and he's been involved with community help drives and giving free haircuts to the homeless at local shelters as well. No surprise, Bidner credits his profession for saving his life and giving him direction, but it has also been a living lesson to others that no matter how bad it gets, people can pull themselves out and up again.