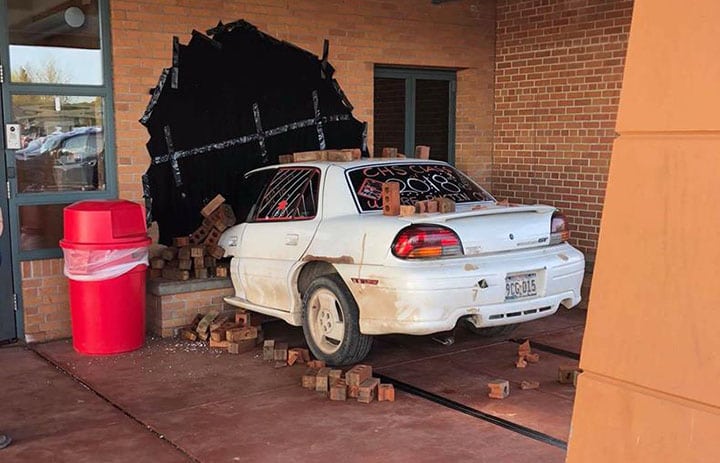 These Seniors Pull Off the Most Epic Senior Prank
Educational institutions in some parts of the world like Australia, the United Kingdom and the USA are well-known for the long-standing tradition of senior pranks. The senior students of a high school, college or university pull an organized prank at the end of their senior year as a way of leaving the school.
In the United States, some schools have banned the tradition of senior pranks and replaced it with subtler graduating activities to ensure that the senior students do not vandalize or destroy any institutional property.
Not all pranks are equal and some college students take the game too seriously than others. The senior 2018 class at Cumberland High School based in Wisconsin, is such a case. These creative students staged an accident scene that looked so real that even the local cops loved it.
Fake Accident Scene
The seniors organized themselves to come up with something that would be remembered for a long time. They wanted to make a great mark before leaving high school to join college or pursue other interests. These young kids put their minds together and came up with a legit prank.
On Monday morning, students and teachers arrived at the high school only to find a shocking scene. They saw a white car that had crashed into the side of one wall of their school, leaving just the dark half visible. Piles of bricks resulting from the car crash had been thrown all over. It seemed like a real accident scene.
Closer Look
At first glance, even 2nd glance, the site looked so real that the people were convinced it was an actual accident, but taking a further closer look at the shocking sight, the teachers and high school students saw a different story.
Actually, the gaping hole in the building was made out of some black tarp together with duct tape. The white car had been sliced in half and was only resting against the wall. The surrounding bricks had been put there to make the scene look more real. This was so surprising. The teens had chosen to go for an elaborate prank, without destroying any school property.
Local Police Department is Impressed
At first, the fake accident scene looked so real that the police were called in to inspect it. They were so impressed just like anyone else there with the fact that the graduating students had been able to set such an incredible prank without damaging the school property.
They loved the prank so much that they gave the school a shout out on their Facebook page. The law enforcement guys congratulated the seniors for the best ever prank seen in the Cumberland High School. The social media post sent by the police department received numerous comments from online users. People were amazed by the prank and how the local police reacted.
Social Media Views
The Facebook posts seen in the pages of the police department and the school district's too about the seniors' prank in Wisconsin have been shared more than 3000 times. The news spread like wildfire across the world. Social media users from as far as Britain praised the seniors for being so creative and the police too for their take on the prank.
Just with some tape, black tarp, car parts, and bricks, these creative youngsters were successful in pulling off one of the most epic pranks ever witnessed in schools. The fact that they got an honorable mention from the cops just goes to show that it was really good.
Other epic pranks that have been witnessed include the mystery of the missing letter W and the seniors who employed a mariachi band to constantly follow their principal for the entire day.
Herriot the Heron and the Underpants Sling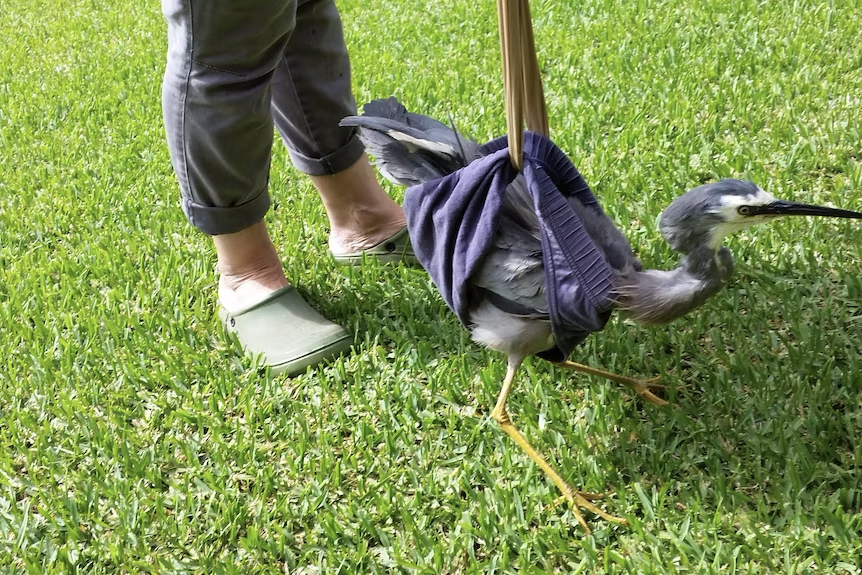 In the world of wildlife rescue, there are heroes who go above and beyond to help our feathered friends when they are in need. One such hero is Karen Ledger, a dedicated wildlife rescuer with a heart of gold. With over a decade of experience, Karen has helped countless birds in distress. However, it was her ingenious creation of an "underpants sling" that recently captured hearts and headlines, as she helped a heron named Herriot regain his ability to walk.
Herriot's story began with a troubling challenge. This majestic heron found himself unable to use his legs for reasons unknown. It was a dire situation, and things didn't look promising at the start. As Karen Ledger recounted, "It didn't look good at the start. He couldn't use his legs for unknown reasons. He might have been hit by a car."
Determined to help this long-legged bird find his footing again, Karen put her inventive mind to work. She faced the daunting task of making a heron walk when it seemed impossible. Her solution? An unconventional yet effective "underpants sling" made with a pair of stockings and her husband's underwear.
"I put the heron in the sling and physically made him use his legs three or four times a day until he could walk by himself," Karen explained. It was no easy feat, requiring intense effort and dedication. But for Karen, every minute was worth it when she saw Herriot finally regain his ability to walk independently.
Herriot's journey to recovery didn't end there. After his progress in the makeshift sling, he continued to improve by walking in an enclosed outdoor area for weeks. Finally, the day came when Herriot was strong enough to be released back into the wild, near a tranquil dam.
Karen's extraordinary efforts aren't limited to Herriot alone. She has a track record of helping a variety of birds in need. One heartwarming tale involves a barn owl who had lost his mate in a tragic road accident. Karen noticed that the owl was not physically injured but was deeply depressed, spending a week with his eyes closed and his head down.
Karen knew she had to find a way to lift the owl's spirits. "You have to think outside the square, just look at what you've got and adapt," she said. Drawing on her resourcefulness, she placed a stuffed toy penguin, roughly the same size as the owl, next to him in his cage. This simple act of comfort worked wonders. "After a couple of days, he started brightening up and opening his eyes. He came back to the point that he was well enough to be released," Karen said.
Karen Ledger's wildlife rescue efforts extend beyond her heroic acts with Herriot and the barn owl. She has dedicated herself to helping a wide array of birds, from barn owls and tawny frogmouths to lorikeets, rosellas, kookaburras, and more.