These Police Officers Are Mixing It Up With The Local Kids….Find Out How!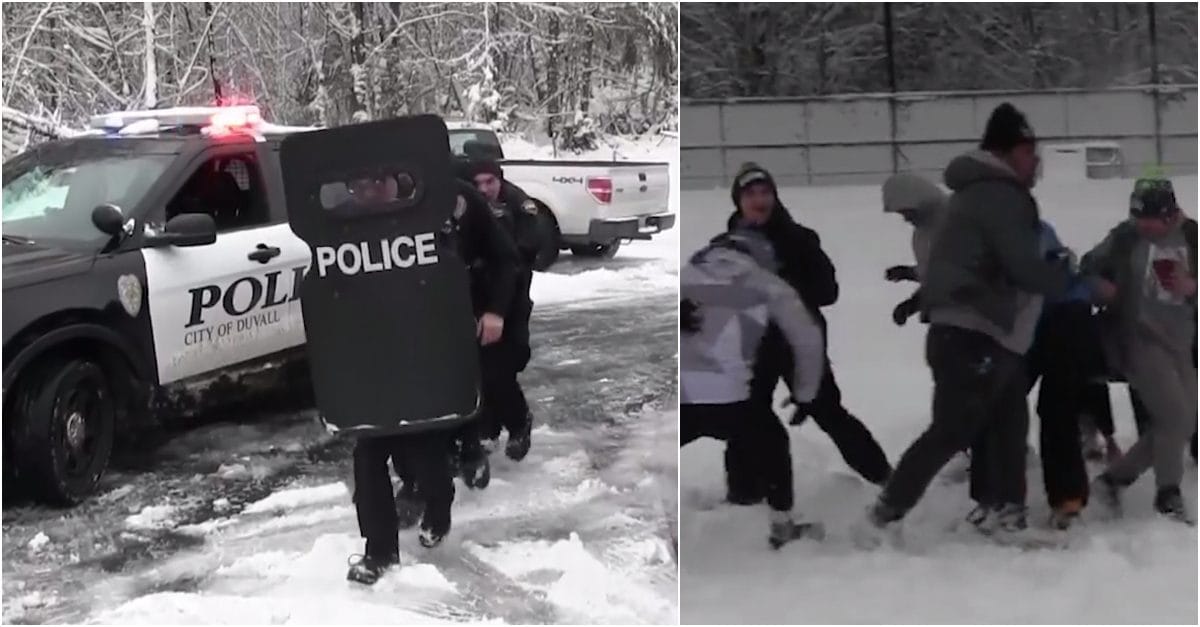 For those of us who have gotten sick and tired of always reading headlines about the mistakes that police officers make on the job, this story is going to serve as a breath of fresh air. In a world where it feels like we are constantly inundated with bad news about our nation's police officers, it is good to see a story like this one.
Children who reside in Duvall, Washington were recently given quite the special treat. They were at a local park and they had come together to play some football in the snow. When these officers arrived on the scene, the children were not happy. What child would be?
We are sure that these kids probably assumed that the officers were on hand to mess up their game. We would have thought the same exact thing if we were in their position. However, these officers were not looking to put a stop to their good time. Their intentions were something else entirely.
When the clip first begins, we see the cops pulling up the football field. We also see the cops exiting their vehicles, while clad in full riot gear. This is the part where we started to get skeptical. These kids are just trying to have a good time. Why are these cops rolling up on them as if they are in the midst of some horrific crime spree?
The cops start to approach the children. It is clear to see that they are taking a more cautious approach. The kids also look like they are pretty nervous about the arrival of the police. Can you imagine getting ready to play an innocent game of snow football and being greeted by a sizable percentage of the Duvall police force? We would probably take off running right then and there.
The kids decided that they were going to let the officers know exactly what they thought of this intrusion. The football game was called off and the kids began to make a pile of snowballs. By the time the cops start to speak to the children, their fears are assuaged. This is not a form of harassment. These cops are simply here to have fun.
They crack a few jokes about taking the kids downtown but it is all in good fun. Once they "advance" on the kids, they begin to pelt the officers with snowballs. It is a good thing that they have all this riot gear, huh? They are going to stay protected from the barrage of snowballs and teach the kids a valuable lesson in the process.
It is not about who has the most snowballs to throw. It is about who has the most protection from said snowballs. There is something to be said for teaching the youth the most valuable lessons that they will need going forward. Now, these kids will probably take the time to build some shields, in addition to a mountain of snowballs.
We got a major kick out of the one officer who hid behind all of the others and lobbed snowballs over the top of the rest of the group. He's got the best idea of all. He gets all of the advantages associated with the riot shields and still gets to throw snowballs at these kids. That's a man who has life all figured out.
If you would like to check out this hilarious clip for yourself, please be sure to take a closer look at the link below. We are glad that this police visit ended in the way that it did. It was definitely quite the scary sight at first!
Police Have 45-Minute Standoff With A Tiger Before Discovering It's Just A Toy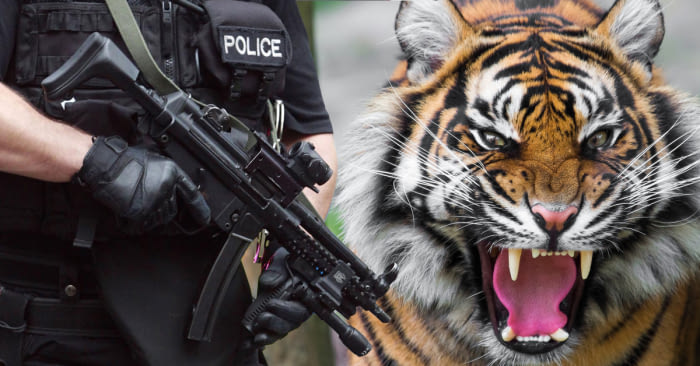 Police have a very difficult job that at times takes a toll on their perception and their ability to judge situations. That being said, sometimes what might seem like the worst situation possible is actually no where near as scary as you might imagine.
Just such a case happened in Scotland when police received a call that a wild tiger was loose on someone's property in February of 2018. The call was about what was perceived to be a wild tiger on the grounds of a farm in the Hatton area that was not restrained or caged. The police took the call from the farm owner himself who claimed he had spotted a real tiger on his farm.
It is not every day that you get a call about a wild animal being loose on someone's property, especially a tiger that could easily kill a person in a matter of seconds. The officers took the time to strategize and figure out how to get the tiger contained without hurting it. They dispatched officers to the farm to take care of the issue and to handle the tiger and before they knew it, they were in a heated and intense standoff with the beast.
They arrived quickly to find the flustered homeowner that was ready for the animal to be removed from his property. The police ended up in a standoff for about 45 minutes before someone noticed something fishy about the ferocious beast. Upon further inspection, it was found that the full size tiger they thought they were fighting, was actually just a stuffed animal that was life size and made to be very realistic.
Though officers felt silly following the call, it was for the best that the animal was not real as it would likely have been killed if it had been. It is not often that this type of animal is loose with the general public, not even in cases where zoos are nearby for the simple fact that they are secured to make sure that they do not escape.
In this case, everything worked out for the best but there have been numerous other cases where an animal escapes or is set free by its owner only to wreak havoc and to scare the living daylights out of everyone that sees them. In most cases, animals that are wild that do escape from captivity are humanely euthanized to prevent them from hurting anyone that is part of the general public.
Officers that were involved in the standoff may have felt silly but in the end it was best for beast and humans alike that the animal turned out to be stuffed. No word on what it was doing on the farm or how it got there but I'm sure the farm owner is happy as well that the ferocious beast turned out to be nothing more than an oversized children's toy that posed no threat.