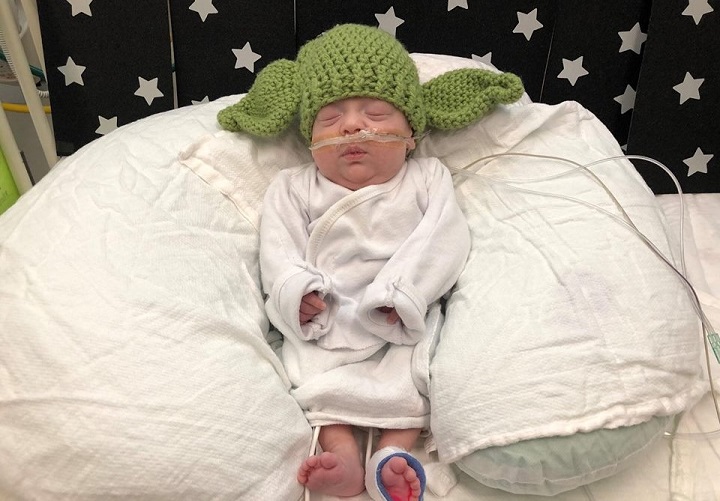 These NICU Halloween Costumes are Absolutely Adorable
Having a baby in the NICU is one of the most terrifying and overwhelming experiences a parent can face. While their baby has the best care imaginable, having a newborn in the NICU really takes a toll on the parents. All they want is to bring their baby home. Those feelings are compounded when the NICU stay occurs over the holidays They often miss out on family celebrations.
This past Halloween, babies were stuck in the NICU and missed out on their first chance to experience the magical spookiness of Halloween. They aren't able to get into a costume and experience their first chance to get candy, even if they aren't able to eat it. Thanks to some of the incredible nurses at Advocate Children's Hospital were determined to make this Halloween different for the babies and their families. They wanted to help the parents enjoy the day even if it wouldn't be a typical Halloween celebration.
One of those people, Paula Glass, who is the NICU Clinical Manager, wanted to make a difference in their lives by bringing some joy for those who weren't able to have their babies home this past October 31. Not only was this touching for the parents, but also adorable for anyone else who got to witness it. Over the years, she has seen the stress NICU parents are under and she wanted to bring some relief to them, if only for a little while. She wanted to make Halloween feel as normal as it could considering their circumstances.
Advocate Children's Hospital is located in Illinois and was rated the best children's hospital for neonatology for 2018-2019. Their staff is truly full of special people. They decided to host a Halloween costume contest. They thought there would be no better way to brighten up the often sad moments for these parents by dressing their babies up in tiny costumes. The nurses designed all the costumes and dressed the babies. After dressing the babies, they snapped some pictures so the parents would always have them as mementos. The parents were thrilled to see the cuteness on overload, but also warmed by the thoughtfulness of the nurses.
The nurses thought of every costume you can imagine from superheroes to Disney costumes. The costumes were meant to allow the children to participate in every day life, which they wouldn't normally be able to do while in the NICU, and also to help lift the spirits of their parents. The pictures were also posted on the Hospital's FaceBook page. There was a Yoda, an octopus from Finding Nemo, and even twin puppies. They truly are adorable.
It's always a wonderful moment when the families are able to forget about the medical challenges their babies are facing. If only for a few moments, the parents can enjoy time with their babies like every other parent on Halloween. Hopefully, this is only the beginning and more NICU nurses will come up with other creative ways for the babies and their families to enjoy the Holidays. There is nothing worse for a parent than to be separated from their baby, but Advocate Children's Hospital is doing its best to bring sunshine to bleak and stressful days.
Dog Trainer and Dog Groomer Get Married Accompanied By Their Best Friends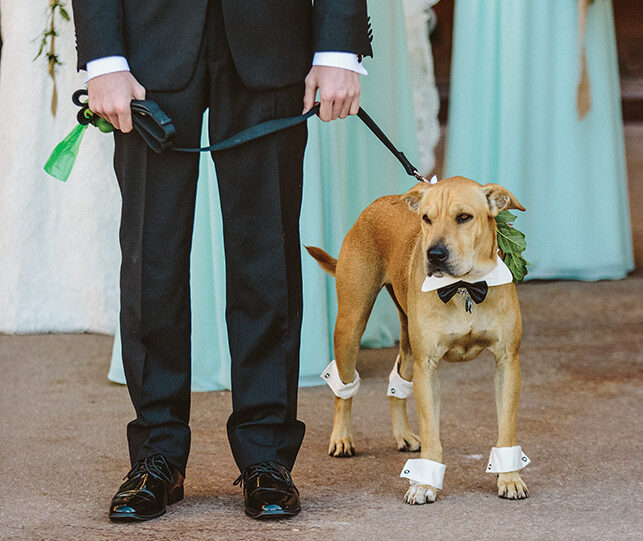 Weddings Are for Sharing With Loved Ones
When people get married, they spend one perfect day with their most loved friends and family. While many people only think about their human friends and family, there are a lot of people who could never imagine starting this important new chapter in their lives without their beloved pets. In fact, many people might have to admit, if they were being honest, that they loved their pets more than some of the relatives who came to the wedding, especially if they felt obligated to invite some relatives they rarely see and barely know.
Some People Already Spend Their Lives With Pets
Anyone who works full-time as a dog trainer or groomer already spends most of their working days with animals. They see dogs all day long, and they make the choice to do so because of many reasons. Working with pets is rewarding on many levels. Especially if you see the same dogs again and again, you form a close bond. Communicating with pets is therapeutic and generally far less stressful than dealing with humans. The people who work with dogs don't get sick of dogs and try to go home to a quiet house; they tend to have larger pet families than average.
A Dog Trainer and a Dog Groomer Tie the Knot
Paul and Annette Anthony are typical in that they work with dogs as a profession, and they have a large pet family. On the day they got married, their family consisted of 2 humans and 9 canines. Both Paul and Annette admitted that their pets were more to them than just fun — their beloved dogs also helped them get through rough times in their lives, including personal tragedies. Annette's German Shepherd Pesci is even an emotional support animal, helping her to deal with severe anxiety and depression. There was no way that their pets were going to be left out of the most important day of their lives going forward.
Canine Best Man
Paul's service dog Finn has earned his retirement. Finn has competed in over 40 events, earning titles and even setting records. He was also there for Paul when Paul developed PTSD after being at the scene of the deadliest plane crash in Pennsylvania's history. Finn was the one who helped with the proposal, giving Annette the ring with a note asking her to marry his dad. It was only fitting that Finn ended up being one of the best men at the wedding too.
A Family Affair
All 9 dogs walked down the aisle and stayed throughout the ceremony. Annette's dog Pesci even came to comfort her during the ceremony when she started to cry from happiness because he wanted to make sure his momma was all right. Whether you want to use your dogs in the ceremony as ring bearers, best men, or flower girls, or if you just want them to be present, it makes sense to have your pets help you celebrate such an important day in your life.