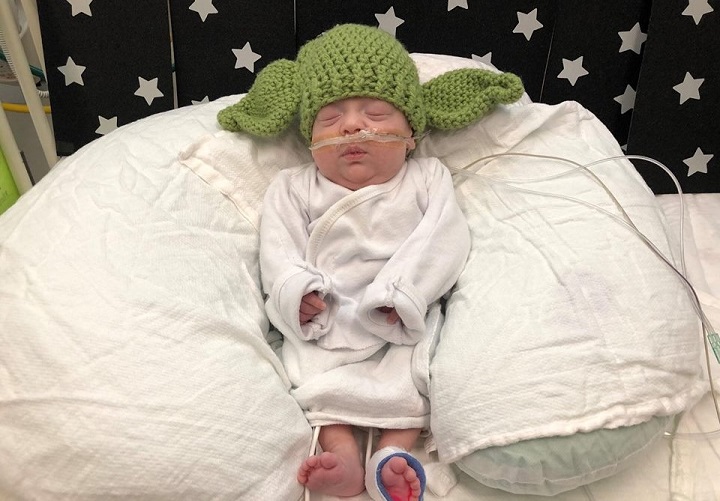 These NICU Halloween Costumes are Absolutely Adorable
Having a baby in the NICU is one of the most terrifying and overwhelming experiences a parent can face. While their baby has the best care imaginable, having a newborn in the NICU really takes a toll on the parents. All they want is to bring their baby home. Those feelings are compounded when the NICU stay occurs over the holidays They often miss out on family celebrations.
This past Halloween, babies were stuck in the NICU and missed out on their first chance to experience the magical spookiness of Halloween. They aren't able to get into a costume and experience their first chance to get candy, even if they aren't able to eat it. Thanks to some of the incredible nurses at Advocate Children's Hospital were determined to make this Halloween different for the babies and their families. They wanted to help the parents enjoy the day even if it wouldn't be a typical Halloween celebration.
One of those people, Paula Glass, who is the NICU Clinical Manager, wanted to make a difference in their lives by bringing some joy for those who weren't able to have their babies home this past October 31. Not only was this touching for the parents, but also adorable for anyone else who got to witness it. Over the years, she has seen the stress NICU parents are under and she wanted to bring some relief to them, if only for a little while. She wanted to make Halloween feel as normal as it could considering their circumstances.
Advocate Children's Hospital is located in Illinois and was rated the best children's hospital for neonatology for 2018-2019. Their staff is truly full of special people. They decided to host a Halloween costume contest. They thought there would be no better way to brighten up the often sad moments for these parents by dressing their babies up in tiny costumes. The nurses designed all the costumes and dressed the babies. After dressing the babies, they snapped some pictures so the parents would always have them as mementos. The parents were thrilled to see the cuteness on overload, but also warmed by the thoughtfulness of the nurses.
The nurses thought of every costume you can imagine from superheroes to Disney costumes. The costumes were meant to allow the children to participate in every day life, which they wouldn't normally be able to do while in the NICU, and also to help lift the spirits of their parents. The pictures were also posted on the Hospital's FaceBook page. There was a Yoda, an octopus from Finding Nemo, and even twin puppies. They truly are adorable.
It's always a wonderful moment when the families are able to forget about the medical challenges their babies are facing. If only for a few moments, the parents can enjoy time with their babies like every other parent on Halloween. Hopefully, this is only the beginning and more NICU nurses will come up with other creative ways for the babies and their families to enjoy the Holidays. There is nothing worse for a parent than to be separated from their baby, but Advocate Children's Hospital is doing its best to bring sunshine to bleak and stressful days.
Father in Bumblebee costume escorts his kid back to school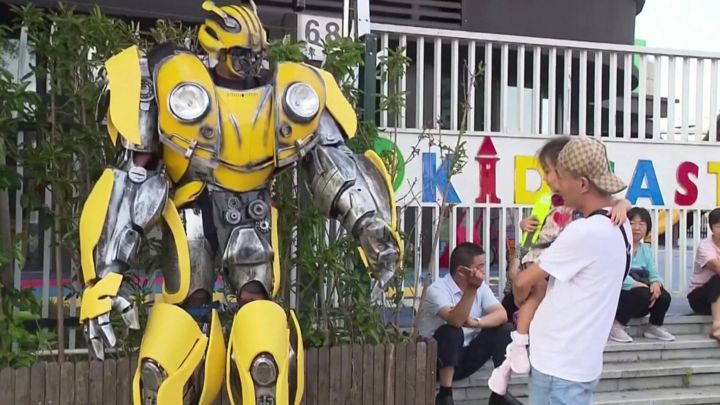 Bumblebee from the American sci-fi movie series Transformers never had a kid, but if he did, he'd have definitely escorted him to school.
A father in Shanghai, China has gone above and beyond to encourage his kid to go back to school after staying at home for months due to the Covid-19 pandemic. There's no way any child is refusing to walk with Bumblebee into school, and this man had that in mind when building his Autobot suit.
Just like the rest of the world, China had been on lockdown, and for months, kids had to stay away from school to prevent infection and spread of the deadly virus. However, some normalcy is being restored in some parts of the region, and schools now have the green light to open and allow children continue with their education.
The Bumblebee suit wasn't only for his kid, though. He built it to serve as some amusement and surprise to other kids at school- and that he did.
"I also want to bring happiness to other children. I didn't only wear it for my own child. All of them were preschoolers," he said in the video.
His suit looks like the real thing. The only things missing were metal, alien technology, and missiles- not much, right? Standing about 2.3-metre tall, the suit was built using soft materials to prevent touchy and curious children from getting injured- and he was right to have done that because he was rushed and hugged by children upon arrival at the school.
The excitement of the kids at the sight of Bumblebee could light up astronomical units of outer space, as the intergalactic warrior once again put smiles on the faces of humans. Kudos to this amazing dad for his efforts to make kids happy to resume back to school- he'd probably do it every day if he could.
The home-made suit seems to be inspired by the 2017 movie Bumblebee.