These NICU Halloween Costumes are Absolutely Adorable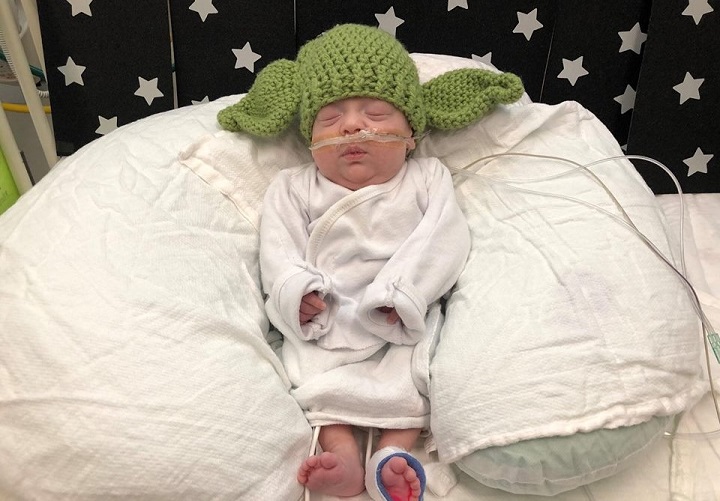 Having a baby in the NICU is one of the most terrifying and overwhelming experiences a parent can face. While their baby has the best care imaginable, having a newborn in the NICU really takes a toll on the parents. All they want is to bring their baby home. Those feelings are compounded when the NICU stay occurs over the holidays They often miss out on family celebrations.
This past Halloween, babies were stuck in the NICU and missed out on their first chance to experience the magical spookiness of Halloween. They aren't able to get into a costume and experience their first chance to get candy, even if they aren't able to eat it. Thanks to some of the incredible nurses at Advocate Children's Hospital were determined to make this Halloween different for the babies and their families. They wanted to help the parents enjoy the day even if it wouldn't be a typical Halloween celebration.
One of those people, Paula Glass, who is the NICU Clinical Manager, wanted to make a difference in their lives by bringing some joy for those who weren't able to have their babies home this past October 31. Not only was this touching for the parents, but also adorable for anyone else who got to witness it. Over the years, she has seen the stress NICU parents are under and she wanted to bring some relief to them, if only for a little while. She wanted to make Halloween feel as normal as it could considering their circumstances.
Advocate Children's Hospital is located in Illinois and was rated the best children's hospital for neonatology for 2018-2019. Their staff is truly full of special people. They decided to host a Halloween costume contest. They thought there would be no better way to brighten up the often sad moments for these parents by dressing their babies up in tiny costumes. The nurses designed all the costumes and dressed the babies. After dressing the babies, they snapped some pictures so the parents would always have them as mementos. The parents were thrilled to see the cuteness on overload, but also warmed by the thoughtfulness of the nurses.
The nurses thought of every costume you can imagine from superheroes to Disney costumes. The costumes were meant to allow the children to participate in every day life, which they wouldn't normally be able to do while in the NICU, and also to help lift the spirits of their parents. The pictures were also posted on the Hospital's FaceBook page. There was a Yoda, an octopus from Finding Nemo, and even twin puppies. They truly are adorable.
It's always a wonderful moment when the families are able to forget about the medical challenges their babies are facing. If only for a few moments, the parents can enjoy time with their babies like every other parent on Halloween. Hopefully, this is only the beginning and more NICU nurses will come up with other creative ways for the babies and their families to enjoy the Holidays. There is nothing worse for a parent than to be separated from their baby, but Advocate Children's Hospital is doing its best to bring sunshine to bleak and stressful days.
Handicapped Puppy Befriends Flightless Pigeon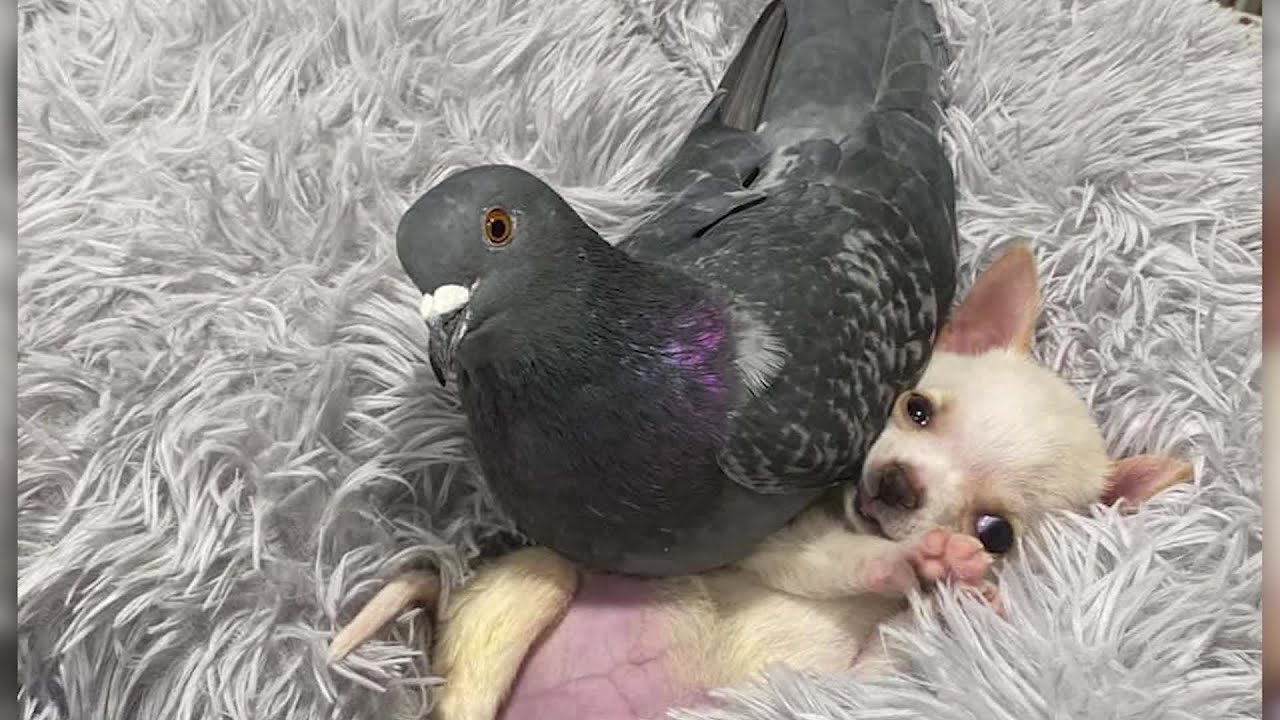 In Rochester, NY, Sue Rogers runs a non-profit called the Mia Foundation. The rescue organization rescues and rehabilitates animals who have birth defects or deformities and tries to find them a loving home. About a year ago, a pigeon was found unable to move in the parking lot of a car dealership. The pigeon was huddled and cowering on the ground. When a local wildlife rescue was called, they said the bird had neurological damage that caused him not to be able to fly. They thought that euthanization would be the best option for him.
Sue was having none of that. She stepped in and took the bird, who she named Herman, under her wing, so to speak. She made space for him in her shelter and kept him close where she could keep an eye on him. He liked to sit on a furry dog pillow and watch her work.
A couple months ago, a tiny Chihuahua was brought to the Mia Foundation. He was an infant, maybe a few months old, when his South Carolina breeders sent him to Sue. He's a teacup sized Chihuahua they named Little Lundy and he was born with spinal cord damage. Sue also determined that he was suffering from swimmers syndrome. Swimmers syndrome is a developmental deformity that causes the front and hind legs to be splayed out. This makes it almost impossible for Little Lundy to walk.
Although swimmers syndrome is thought to be untreatable, according to a few studies and an article in a veterinary journal, it can be treatable. With some physical therapy and at-home treatment, Little Lundy could live a long and happy life, which is exactly what Sue plans for him.
When Little Lundy arrived at the Mia Foundation he decided to get acquainted with his new surroundings and the other animals at the shelter. One particular encounter, created a friendship that has gone viral. Herman and Little Lundy, a puppy and a pigeon, are the unlikeliest of friends, but they have a lot in common. They both have trouble walking, or flying in Hermans case, and they were living in the same place. You could say, they were in the right place at the right time to become instant friends.
In the six weeks they have been together, Herman and Little Lundy have become inseparable. They do everything together, which is a lot of sleeping and snuggling. Mostly, with Herman sitting on top of Little Lundy, which doesn't bother him in the slightest. This friendship was so out of the ordinary that Sue had to document it. The viral sensation of the puppy and pigeon has brought attention to the Mia Foundation that was much needed. The rescue organization runs solely on donations to help cover the costs of taking care of the animals and for needed surgeries. So far, about $6000 was donated because of this unlikely friendship and over 100 adoption inquiries. Hopefully when they are adopted, they are able to stay together.