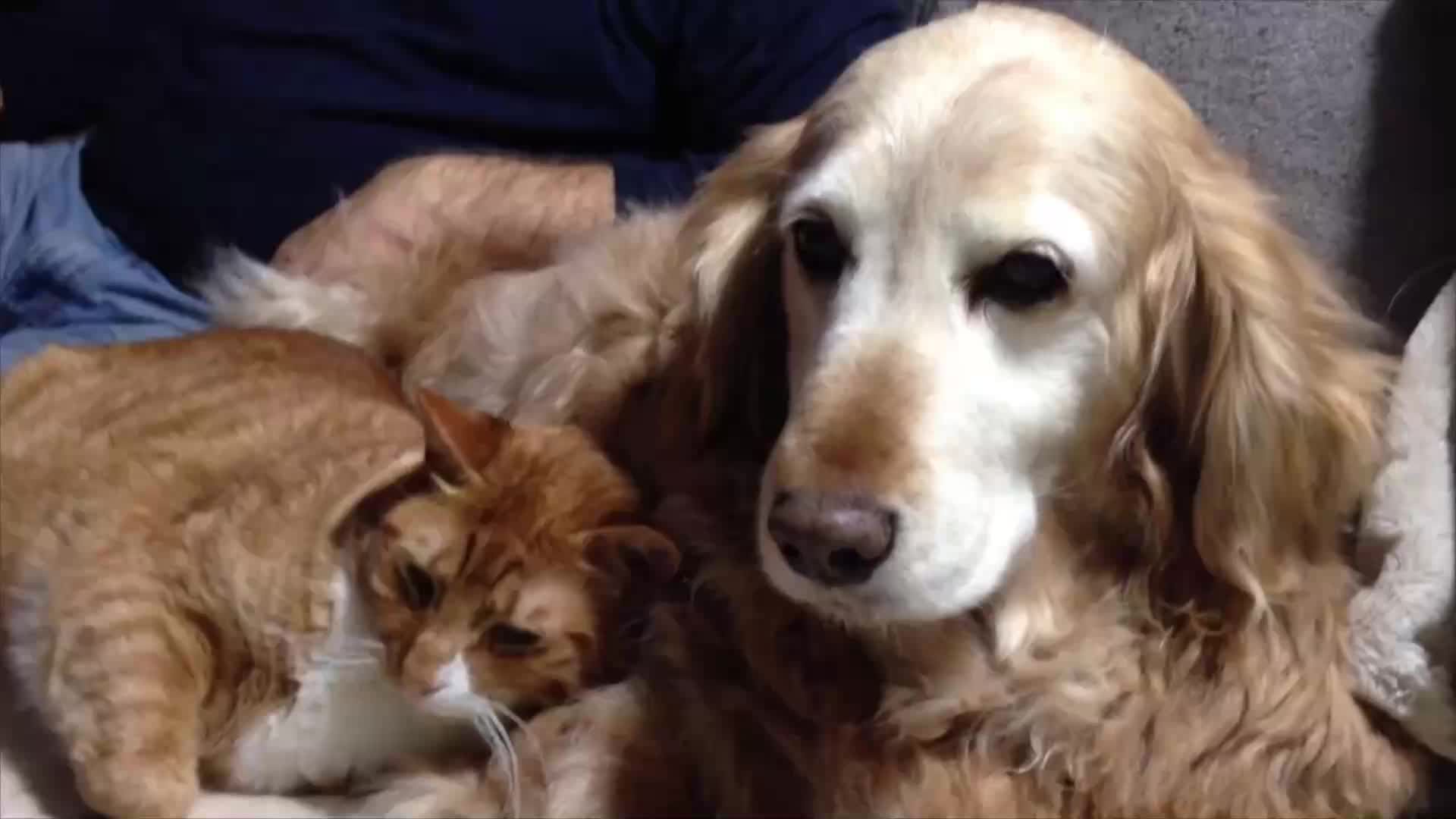 The Unique and Uplifting Relationship Between Cats and Dogs
You don't have to be an animal expert to understand that cats and dogs don't always get along. In fact, dogs and cats are known as something close to sworn enemies. Stereotypes have propped up this idea and pop-culture has run with it. It isn't uncommon to see sections of the internet sequestered between cat and dog lovers! With all of that being said, we need to ask ourselves why this is the case while also highlighting how it may not be true!
The average American household will have either a cat or a dog as a pet, sometimes both. When cats and dogs are housed together, one of two things will happen. Either the cat and dog will get along fine or they will bicker and cause issues between one another. While this isn't unusual, it is interesting to see how pet owners look at the relationships between their cats and dogs. According to a study compiled by the Journal of Veterinary Behavior, a vast majority of pet owner believe that their cat and dog live amicably together. As you can see in pictures like this, even the smallest of cats can become best friends with the largest of dogs.
While it is understood that cats and dogs can generally get along, the aforementioned study by the Journal of Veterinary Behavior concluded that cats were more likely to attack and/or threaten their canine companion. In addition to this, the average cat and dog did not share their toys, beds, or food. The study went on to conclude that while cats and dogs would even groom each other occasionally, this was infrequent. So when we see images like this one, are we to conclude that they are a rarity or the mark of a good pair of furry friends?
Even though we do not completely understand why cats and dogs are diametrically opposed to one another, some researchers have thoughts on the subject. Traditionally, dogs behave as predators which include chasing smaller animals. As most cats are smaller than most dogs, this could be a formative aspect of the relationship between these two animals. Along that same train of thought, cats might be uncomfortably aware of the size disparity that they share with their canine companions, thus leading to more skittish and defensive behaviors.
With all of this being said, cats and dogs can live and coexist together peacefully in the right circumstances. When pet owners decide to raise their young cats and dogs together, it is possible for them to accelerate beyond this natural anxious relationship that we have highlighted. With the right pet parenting techniques, it is more than possible to foster a beautiful friendship between your cats and dogs — assuming that they want to share their friendship, of course!
Do you think that cats and dogs make great companions? Do you have any amazing stories of cats and dogs living peacefully and enjoyably together?
Newly Discovered Flower Blooms Atop One of the World's RAREST Trees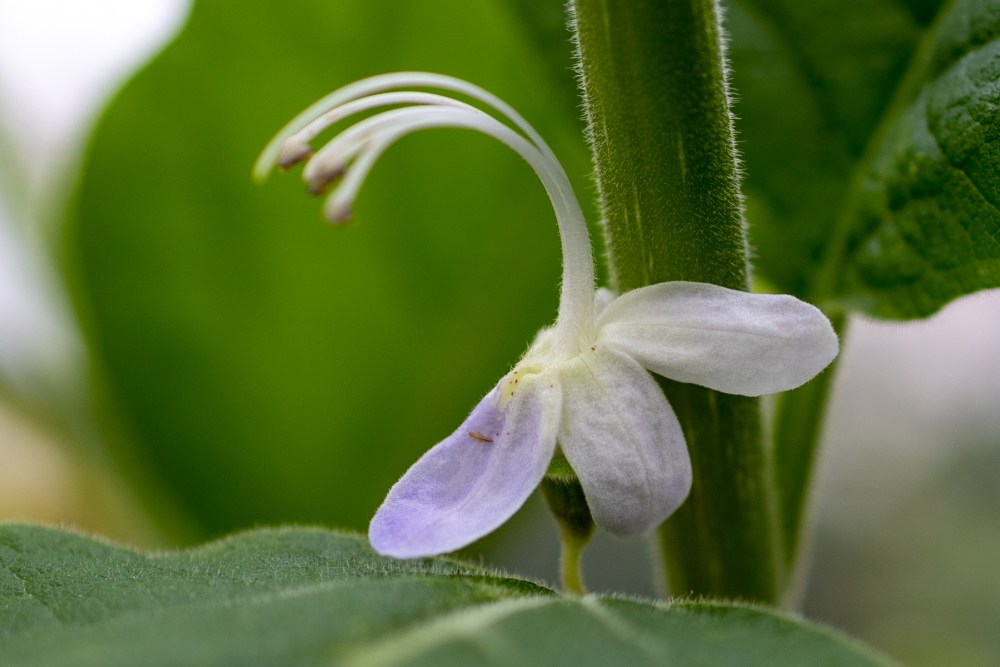 The Missouri Botanical Garden in St. Louis is known by locals for the intense work performed by the experts inside. When a small purple-and-white flower began to grow within their greenhouse, the team of experts at the Missouri Botanical Garden were confused. From their perspective, they were seeing something brand new – a completely fresh discovery.
Discovery on May 3rd
Justin Lee is a senior horticulturist at the Missouri Botanical Garden, and he was performing regular work on a Karomia Gigas sapling in the greenhouse when he first stumbled upon the rare purple-and-white flower. The Karomia Gigas is a tree from Africa with close relations to the mint plant. An endangered tree species in Africa, Justin was confused by the flower that had grown nearly an inch in length atop the tree.
Lee says of his discovery, "It's a bit odd for a mint flower. It seems flipped inside out."
The flower measured an inch in length with a strong halo of purple petals, sloping gently downward toward white stamens bearing pollen. According to Lee, the mint family likes to put out tube-styled flowers in an attempt to attract bees, butterflies, and moths. Lee also suggests that the tree can self-pollinate if necessary.
As the discovery made headlines around the city, the researchers at Missouri's Botanical Garden are preparing for more blooms in the future. Research has suggested that more Karomia Gigas flowers will grow at the greenhouse and it is then that their scientific research will really begin. Lee and his team are focused on successfully cultivating cross-pollination, thus improving the survivability of the plant in the world. At the time of this writing, only about two dozen of the Karomia Gigas trees can be found in the wilds throughout Tanzania.
The Wilds of Tanzania
At the time of this writing, the Karomia Gigas is considered so rare as to not even have a local Tanzanian nickname, nor is there an English one. What little is broadly known about the Karomia is that it can grow in straight stretches for up to 80 feet, limiting branch exposure until nearly halfway to its final height. As a result of its odd, stick-like growth, finding these unseen flower blooms has been harder than you might anticipate!
Roy Gereau is a program director for Tanzania at the Missouri Botanical Garden. Surprised but not shocked by the flower, Gereau was quick to admit that the bloom was new. Gereau said of the rare flower, "There certainly is no record of the flowers in scientific literature."
More important than discovering the flower, researchers in Missouri believe that they can maintain the health of the newly bloomed petals to prevent them from disappearing. Andrew Wyatt is the VP of Horticulture at the Missouri Botanical Garden, and he said, "We can make sure the species doesn't go extinct."
It has been a challenge to grow the plant in Missouri, as has been repeated by researchers at the facility. Seeds had been collected in 2018 from a series of Tanzanian field expeditions. These seeds were shipped to St. Louis where only around 100 were thought to be viable. To make things even more difficult, it was a task to match Tanzanian growing conditions within greenhouses in Missouri.
Despite the challenges that they had to face, it looks like the Karomia is finding solid footing within St. Louis. With some momentum and optimism on their side, what's next?
Andrew Wyatt said of the rare blooming flower and of his own future, "We were debating whether it would even flower in our careers."