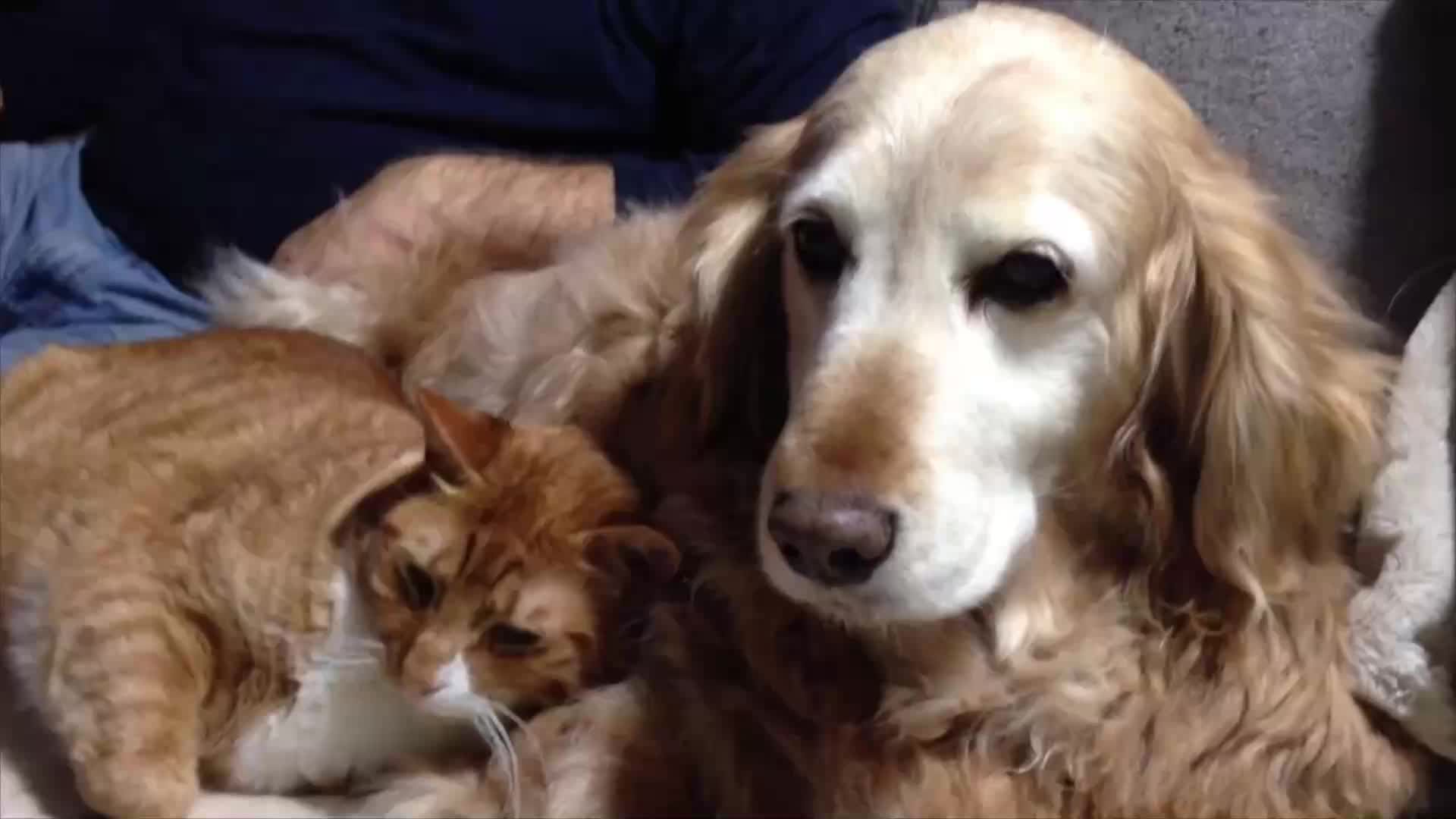 The Unique and Uplifting Relationship Between Cats and Dogs
You don't have to be an animal expert to understand that cats and dogs don't always get along. In fact, dogs and cats are known as something close to sworn enemies. Stereotypes have propped up this idea and pop-culture has run with it. It isn't uncommon to see sections of the internet sequestered between cat and dog lovers! With all of that being said, we need to ask ourselves why this is the case while also highlighting how it may not be true!
The average American household will have either a cat or a dog as a pet, sometimes both. When cats and dogs are housed together, one of two things will happen. Either the cat and dog will get along fine or they will bicker and cause issues between one another. While this isn't unusual, it is interesting to see how pet owners look at the relationships between their cats and dogs. According to a study compiled by the Journal of Veterinary Behavior, a vast majority of pet owner believe that their cat and dog live amicably together. As you can see in pictures like this, even the smallest of cats can become best friends with the largest of dogs.
While it is understood that cats and dogs can generally get along, the aforementioned study by the Journal of Veterinary Behavior concluded that cats were more likely to attack and/or threaten their canine companion. In addition to this, the average cat and dog did not share their toys, beds, or food. The study went on to conclude that while cats and dogs would even groom each other occasionally, this was infrequent. So when we see images like this one, are we to conclude that they are a rarity or the mark of a good pair of furry friends?
Even though we do not completely understand why cats and dogs are diametrically opposed to one another, some researchers have thoughts on the subject. Traditionally, dogs behave as predators which include chasing smaller animals. As most cats are smaller than most dogs, this could be a formative aspect of the relationship between these two animals. Along that same train of thought, cats might be uncomfortably aware of the size disparity that they share with their canine companions, thus leading to more skittish and defensive behaviors.
With all of this being said, cats and dogs can live and coexist together peacefully in the right circumstances. When pet owners decide to raise their young cats and dogs together, it is possible for them to accelerate beyond this natural anxious relationship that we have highlighted. With the right pet parenting techniques, it is more than possible to foster a beautiful friendship between your cats and dogs — assuming that they want to share their friendship, of course!
Do you think that cats and dogs make great companions? Do you have any amazing stories of cats and dogs living peacefully and enjoyably together?
Dutch Artist Pays Off Student Loan Debt with Unique Tapestry Creation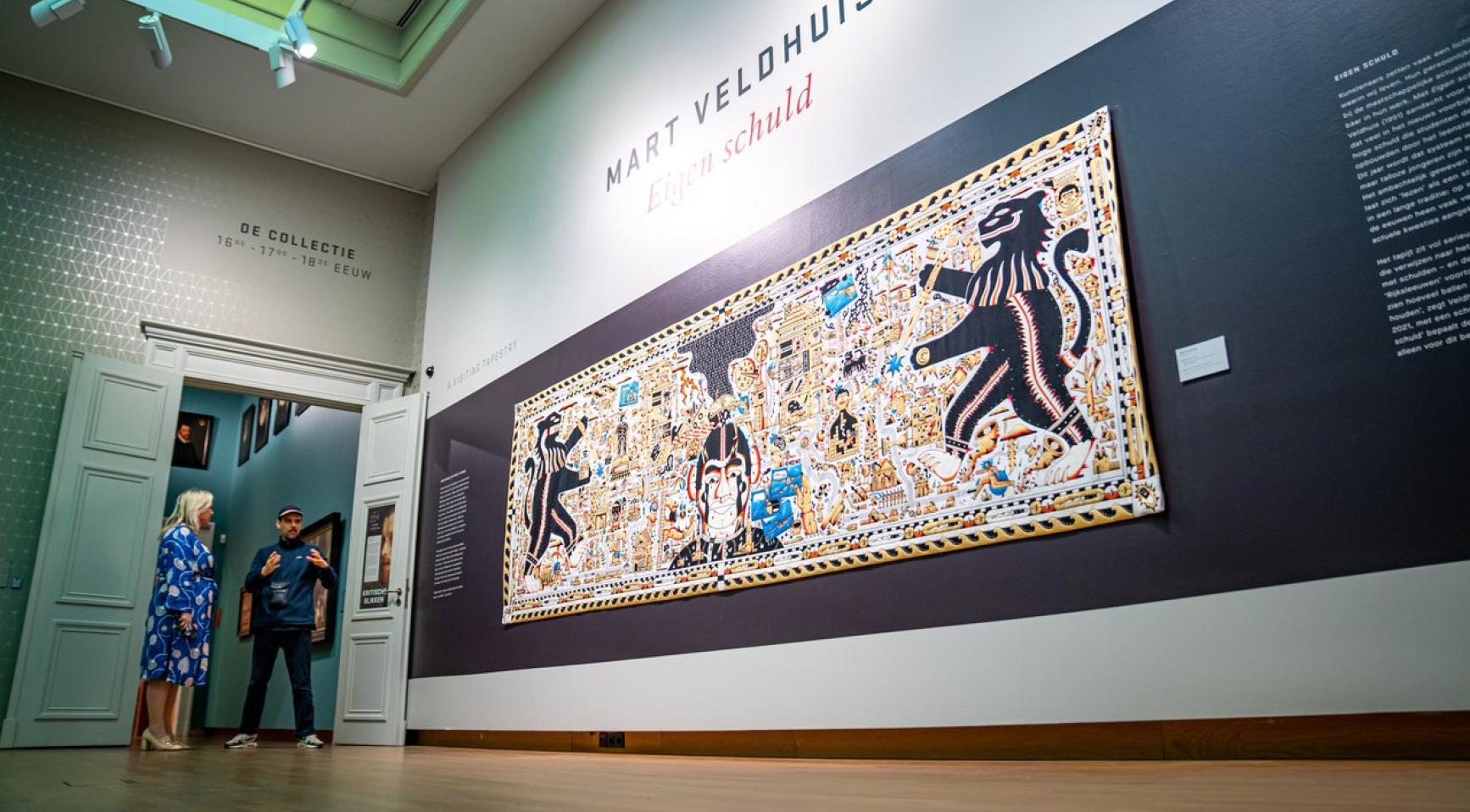 Mart Veldhuis, a talented Dutch artist, found a creative way to pay off his student loan debt. He crafted a remarkable tapestry that depicted the 46,000 euros he owed. This intricate work of art, titled "Eigen Schuld," meaning "Own Debt" or "Own Fault," became a symbol of Veldhuis' financial burden.
Once completed, the tapestry found its home in the prestigious Dordrechts Museum. Unexpectedly, a buyer was captivated by the artwork and decided to purchase it for 45,879.40 euros. This generous offer brought Veldhuis closer to becoming debt-free, leaving him in a state of disbelief and joy. "This is what I had hoped for, but when I heard the news, I was really speechless. It still feels very unreal," shared Veldhuis.
The tapestry itself was a visually striking piece, featuring various elements that conveyed Veldhuis' feelings towards his indebtedness. One of the central motifs portrayed a Dutch lion clutching a menacing sword, symbolizing the artist's perception of owing a significant debt to the state. The tapestry served as a powerful medium for Veldhuis to express his emotions and experiences.
The Dordrechts Museum facilitated the transaction and revealed the identity of the buyers as renowned art dealers Joke van Veen, 75, and Jaap Versteegh, 69. When asked about their decision to acquire the tapestry, Versteegh explained, "We bought the tapestry in the first place because we think it's a good work of art. It is innovative and visually strong. In addition, the social theme of the work – the consequences of student debt and the social loan system – strongly appeals to us."
Veldhuis' creation not only captured the attention of art enthusiasts but also highlighted the pressing issue of student loan debt. Many students struggle with the financial burden of loans, and Veldhuis's artwork serves as a reminder of this widespread concern. By showcasing his own experience, he sparked conversations about the consequences of student debt and the loan system in society.
The success of Veldhuis' tapestry represents a triumph for the artist and sheds light on the power of art to address social issues. Through his creative expression, he not only managed to alleviate his financial struggles but also stimulated meaningful discussions about the challenges faced by students burdened with debt.
As Veldhuis moves forward, he can embrace a debt-free future, thanks to his artistic talent and the support of individuals who recognized the significance of his work. The tapestry will forever stand as a symbol of his journey, inspiring others to find innovative ways to confront their own challenges.