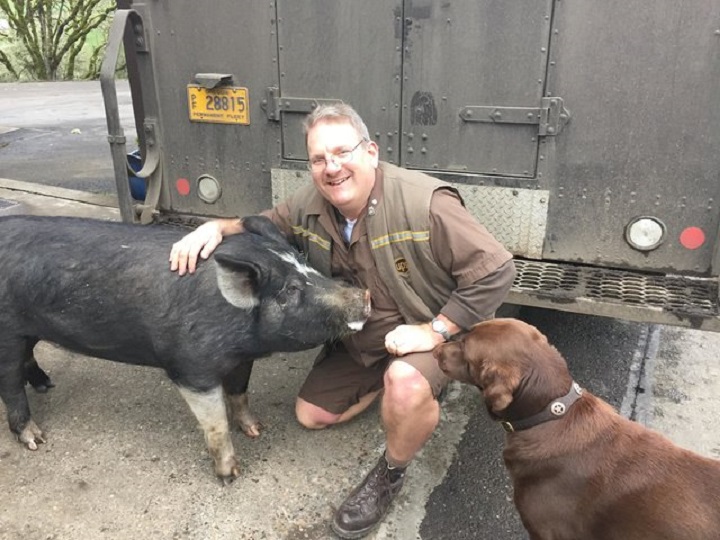 The Unexpected Friendship Between a UPS Driver and a Pig?
Miss Porkchop has personality. The 400 pound pig saw what was happening around her and wanted in on the deal, so she made herself known. Her fellow farm animals were getting special treats from their local delivery man and she wanted to make sure she wasn't forgotten.
Scott Hodges has been driving for UPS for over 30 years and in that time has forged many bonds. The strongest one being with the many animals along his delivery route. He would often have treats available for the dogs that he passed along the way. Three years ago, Hodges met a special animal unlike any other. Miss Porkchop trudged her way to Scott's truck to get in line for a treat. She walked right up to him, so he gave her a piece of granola. She's been coming back to see him ever since.
Hodges loves interacting with all of the animals. Most of the time, the dogs will go up in his truck to greet him, but Miss Porkchop can only manage to get her front legs up on the steps. Her little legs just can't make it up the ladder. That's probably a good thing because if she got up, she most likely wouldn't be able to get back down. 400 pounds is a lot of animal for Hodges to try to lift. Although, being a UPS driver, he's used to the heavy lifting.
Hodges and Porkchop met at a vineyard in Newberg, Oregon where he makes regular deliveries. Due to high rate of deliveries they receive, he's often there about four times a week. That leave plenty of time for Miss Porkchop to get her snacks. Those deliveries have become the highlight of Hodges day. Miss Porkchop lives on the grounds and is used to greeting people regularly as she likes to interact with those who come there for wine tasting.
Miss Porkchop is friendly and thinks she's just one of the dogs. Hodges treats all the animals with the same love and respect. He has added some additional snacks to his arsenal for Miss Porkchop. He's added apples, granola and carrots for her. She even allowed him to see her piglets when they were born, proving that the relationship is as important to her as it is to him. Now, she often brings them to the truck with her when she visits Hodges for treats.
Since having the babies, Miss Porkchop and her family have been moved into an outdoor enclosure to keep them all safe. There is a lot of traffic at the vineyard and everyone wants to ensure their safety. Even so, she still comes running over to see Hodges whenever he is there.
Hodges doesn't stop his friendship with dogs and pigs. He has extended it to horses, llamas and goats. He goes through almost three boxes of dog biscuits and extra produce per week to feed all of his friends. He doesn't mind, though, because the animals love him as much as he loves them. They make his job enjoyable and he looks forward to seeing them every day.
Punk Kid Goes From Homeless to Opening A Quirky Barbershop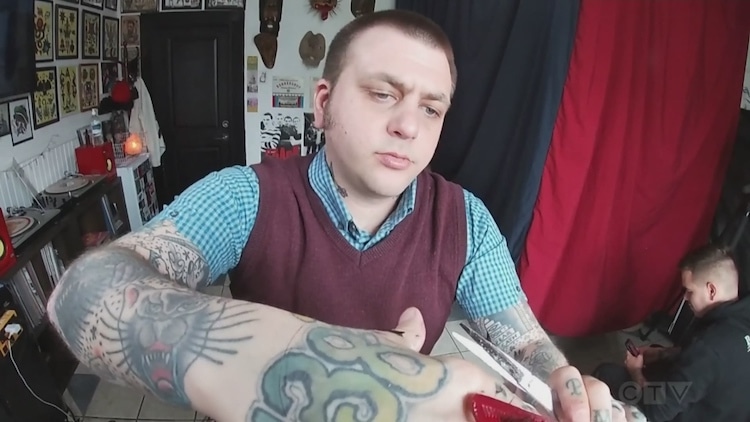 If you've ever seen the musical movie, Sweeney Todd: The Demon Barber of Fleet Street, starring Johnny Depp and Helena Bonham-Carter, then you could be forgiven for thinking twice before stepping into a barbershop for a straight-razor shave. However, many people have that reaction as well when stepping into Daryl Bidner's Little Barbershop of Horrors in today's Vancouver Island.
Bidner himself was never one for being mainstream. Growing up as a punk kid in his teen years, the barber today is a close-cropped fellow, arms blazoned with tattoos, and a late 1960s skinhead-style outfit décor via collared shirt, sleeveless sweater matched to his jeans and boots. However, when it comes to cutting hair, Bidner is all the professional and about business.
Starting off definitely wanting his barbershop to stand out and apart from the competition locally, Bidner modeled the entire theme of his haircutting venue around the movie, Little Shop of Horrors. He parlayed his interest in cutting hair for friends with mohawks into a bona fide skill, and now enjoys regular business as a barber for clientele young and old.
However, life wasn't always peachy-keen for Bidner. He was a school drop-out, had been in and out of drug addiction, and reached his own personal bottom after being homeless for an extended period. Ironically, it was a tattoo that finally seemed to put the young man back on track. His first tattoo allowed Bidner to skip the usual downspin of wasting the night high on something, and he sobered up. A number of days later, he did it again, using tattoos to get clean. By the 40th inking, Bidner was fundamentally off his addictions and broke his need to use mindlessly.
The tattooing was cathartic for Bidner, and he finally began to think about tomorrow instead of the next binge today. That in turn got him into thinking what Bidner could do for a proper living. Obviously, the young man was not going to go and wear a corporate suit the following Monday. So, he looked around at what made sense. Being a tattoo artist was logical, but then haircutting and being a barber appealed even more.
Bidner knuckled down, figured out how to get himself into barbering school, and after three years of grinding to perfect his skill, he had a license and started his own business with a single barber chair. Since that major breakthrough, Bidner has been at it as a barber for over five years, and he's been involved with community help drives and giving free haircuts to the homeless at local shelters as well. No surprise, Bidner credits his profession for saving his life and giving him direction, but it has also been a living lesson to others that no matter how bad it gets, people can pull themselves out and up again.