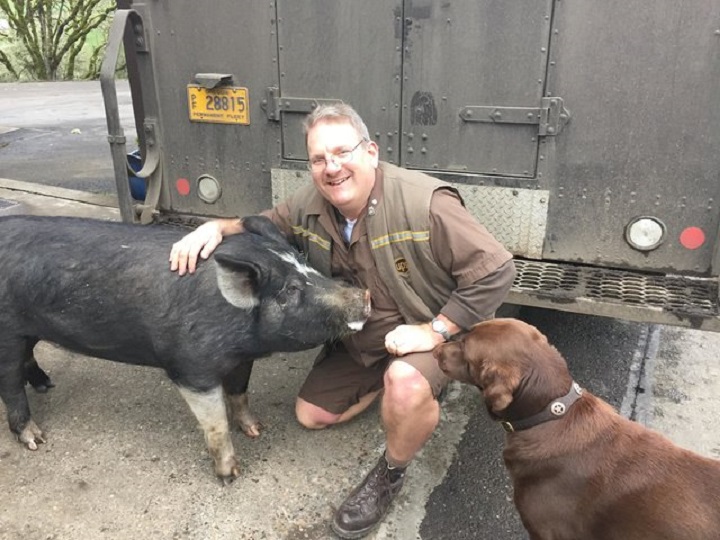 The Unexpected Friendship Between a UPS Driver and a Pig?
Miss Porkchop has personality. The 400 pound pig saw what was happening around her and wanted in on the deal, so she made herself known. Her fellow farm animals were getting special treats from their local delivery man and she wanted to make sure she wasn't forgotten.
Scott Hodges has been driving for UPS for over 30 years and in that time has forged many bonds. The strongest one being with the many animals along his delivery route. He would often have treats available for the dogs that he passed along the way. Three years ago, Hodges met a special animal unlike any other. Miss Porkchop trudged her way to Scott's truck to get in line for a treat. She walked right up to him, so he gave her a piece of granola. She's been coming back to see him ever since.
Hodges loves interacting with all of the animals. Most of the time, the dogs will go up in his truck to greet him, but Miss Porkchop can only manage to get her front legs up on the steps. Her little legs just can't make it up the ladder. That's probably a good thing because if she got up, she most likely wouldn't be able to get back down. 400 pounds is a lot of animal for Hodges to try to lift. Although, being a UPS driver, he's used to the heavy lifting.
Hodges and Porkchop met at a vineyard in Newberg, Oregon where he makes regular deliveries. Due to high rate of deliveries they receive, he's often there about four times a week. That leave plenty of time for Miss Porkchop to get her snacks. Those deliveries have become the highlight of Hodges day. Miss Porkchop lives on the grounds and is used to greeting people regularly as she likes to interact with those who come there for wine tasting.
Miss Porkchop is friendly and thinks she's just one of the dogs. Hodges treats all the animals with the same love and respect. He has added some additional snacks to his arsenal for Miss Porkchop. He's added apples, granola and carrots for her. She even allowed him to see her piglets when they were born, proving that the relationship is as important to her as it is to him. Now, she often brings them to the truck with her when she visits Hodges for treats.
Since having the babies, Miss Porkchop and her family have been moved into an outdoor enclosure to keep them all safe. There is a lot of traffic at the vineyard and everyone wants to ensure their safety. Even so, she still comes running over to see Hodges whenever he is there.
Hodges doesn't stop his friendship with dogs and pigs. He has extended it to horses, llamas and goats. He goes through almost three boxes of dog biscuits and extra produce per week to feed all of his friends. He doesn't mind, though, because the animals love him as much as he loves them. They make his job enjoyable and he looks forward to seeing them every day.
Hell, MI, Appoints Wonky Feet Big-Eyed Cat as Mayor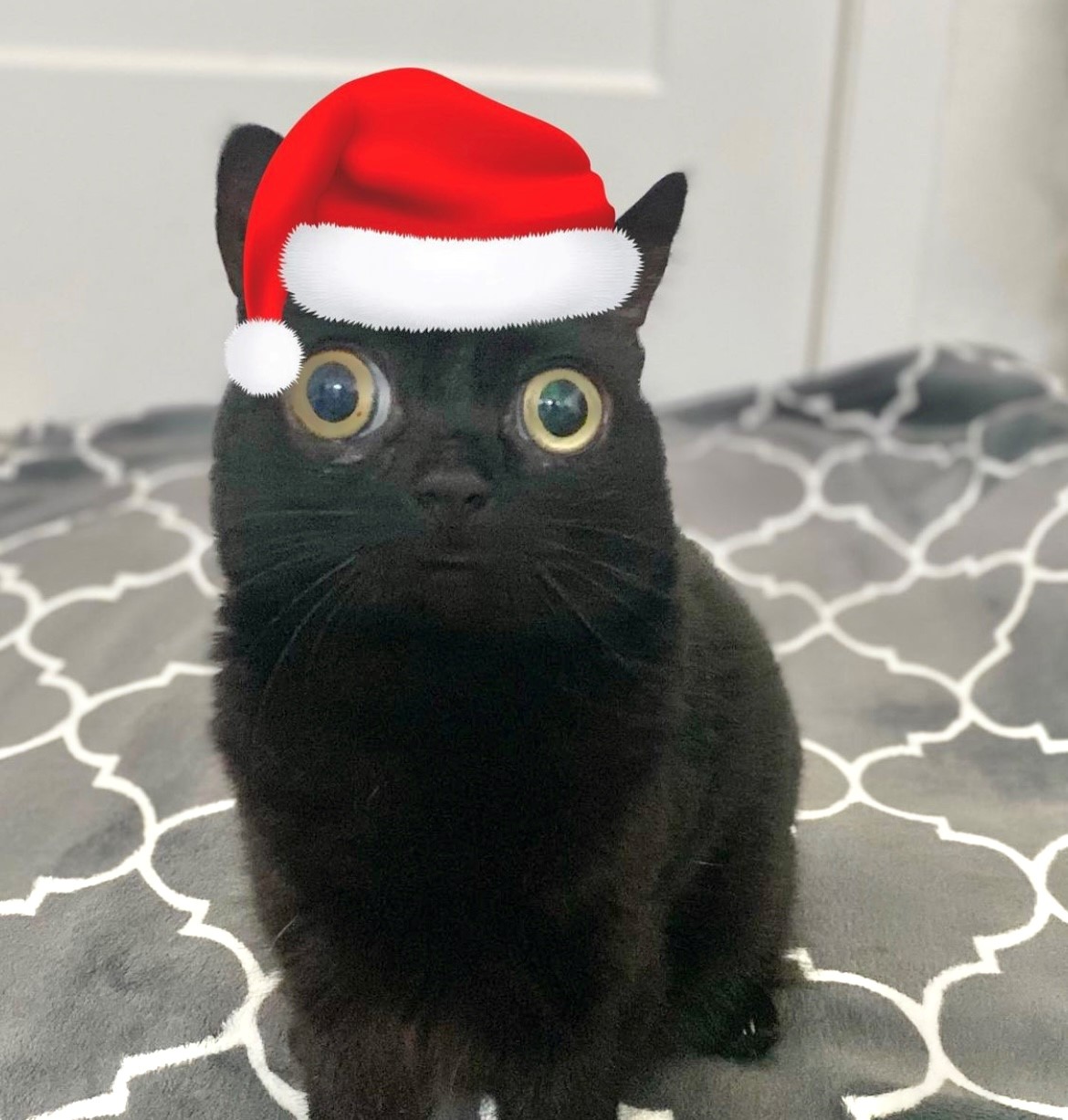 Don't let the name fool you, because Hell, a town in Michigan, is nothing like the name might suggest. Most recently, the town went as far as to install its most unlikely mayor, a cat! Keep reading for all the details.
A small Michigan town will very soon have as its mayor, a cat with big eyes and crooked feet. And it's not just any city either. Hell, which is approximately 20 miles to the north of Ann Arbor, will be under the control of this tiny black cat.
Just about anyone can elect the mayor of Hell for one day. Part of the town's marketing strategy. Pets, on the other hand, are a very different story. This is going to be an unprecedented move to have a cat intervene to keep Hell from erupting on April 24.
They've been together since Jinx's rescue by her owner, Mia, three years ago. Jinx follows Mia anywhere she goes. Mia is always in Jinx's vicinity.
California is where they reside. Because of Jinx's large number of followers on social media, Mia, a.k.a. MiaJinx, refused to have her surname included in this tale. We're talking about 735,000 TikTok followers as well as 400,000 Instagram followers here.
"I didn't even hunt for a cat when I saved Jinx in 2018," Mia told MLive. "I returned home from a football event early one day. I was meant to get home a long time later. I found her after hearing her meow in the backyard. She was only 3 weeks old at the time."
As Jinx developed, Mia claims she began to notice something odd about her new kitten.
"She had large eyes that didn't shrink in size as she grew larger, and I also noted she had large feet. The vet says she's healthy and hasn't found anything wrong with her. She'd just been born with these abnormalities. She's also a touch sluggish and awkward compared to other cats. This is her first year of landing on her feet."
From afar, Jinx will control Hell for the day. At approximately 4 p.m. ET which is 1:00 p.m. on the Pacific coast, Mia intends to make a huge declaration through Livestream on Jinx's Twitch page.
On the day before the cat's impeachment by the Reverend, Mia plots to jokingly produce graphs demonstrating how Jinx was elected mayor by a landslide, as well as what her proclamation states for the day.
According to Hell's Reverend Vonn, who will swear in Jinx as mayor over the phone, "We adore our in-person and faraway mayors." When it comes to individuals who are difficult to buy for or already have everything, the Mayor of the Day bundle is the ideal solution. They get to spend one Helluva wonderful day and then get the dreaded telephone call that they're about to be impeached."
How did a viral cat's owner in California come across the small town of Hell and realize that she could appoint her beloved kitty mayor for the day?
"I made a joke about Jinx running for president on Twitter. After seeing animal mayors earlier, I asked on Twitter how to make Jinx mayor, and somebody mentioned Michigan as well as the possibility of paying to be the mayor of Hell for a day.
For both animals and humans alike, it costs $100 to reign Hell for a day. It comes with a certificate of impeachment, a cup from Hell, a shirt from Hell, along with a certificate of mayor proclamation. In Hell, the mayor will have the property of his or her own as well. One square millimeter of space.
Interested in becoming mayor of Hell? Fill out a form or contact them at 734-878-2233 to find out when the position is available.