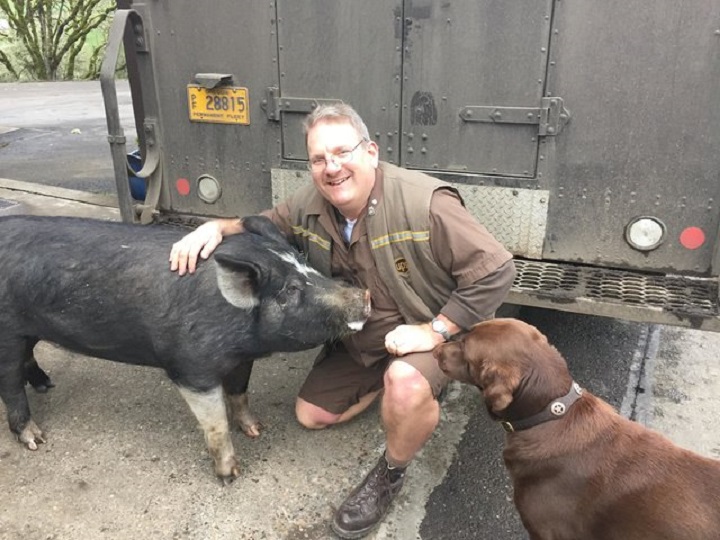 The Unexpected Friendship Between a UPS Driver and a Pig?
Miss Porkchop has personality. The 400 pound pig saw what was happening around her and wanted in on the deal, so she made herself known. Her fellow farm animals were getting special treats from their local delivery man and she wanted to make sure she wasn't forgotten.
Scott Hodges has been driving for UPS for over 30 years and in that time has forged many bonds. The strongest one being with the many animals along his delivery route. He would often have treats available for the dogs that he passed along the way. Three years ago, Hodges met a special animal unlike any other. Miss Porkchop trudged her way to Scott's truck to get in line for a treat. She walked right up to him, so he gave her a piece of granola. She's been coming back to see him ever since.
Hodges loves interacting with all of the animals. Most of the time, the dogs will go up in his truck to greet him, but Miss Porkchop can only manage to get her front legs up on the steps. Her little legs just can't make it up the ladder. That's probably a good thing because if she got up, she most likely wouldn't be able to get back down. 400 pounds is a lot of animal for Hodges to try to lift. Although, being a UPS driver, he's used to the heavy lifting.
Hodges and Porkchop met at a vineyard in Newberg, Oregon where he makes regular deliveries. Due to high rate of deliveries they receive, he's often there about four times a week. That leave plenty of time for Miss Porkchop to get her snacks. Those deliveries have become the highlight of Hodges day. Miss Porkchop lives on the grounds and is used to greeting people regularly as she likes to interact with those who come there for wine tasting.
Miss Porkchop is friendly and thinks she's just one of the dogs. Hodges treats all the animals with the same love and respect. He has added some additional snacks to his arsenal for Miss Porkchop. He's added apples, granola and carrots for her. She even allowed him to see her piglets when they were born, proving that the relationship is as important to her as it is to him. Now, she often brings them to the truck with her when she visits Hodges for treats.
Since having the babies, Miss Porkchop and her family have been moved into an outdoor enclosure to keep them all safe. There is a lot of traffic at the vineyard and everyone wants to ensure their safety. Even so, she still comes running over to see Hodges whenever he is there.
Hodges doesn't stop his friendship with dogs and pigs. He has extended it to horses, llamas and goats. He goes through almost three boxes of dog biscuits and extra produce per week to feed all of his friends. He doesn't mind, though, because the animals love him as much as he loves them. They make his job enjoyable and he looks forward to seeing them every day.
Man Creates AI Program To Alert Him And Greet Dogwalkers in His Community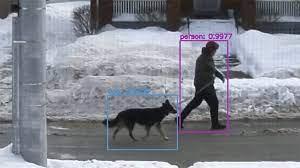 Dogs are deemed as man's best friend for a multitude of reasons. What we have to understand, though, is that the love has to be shown to the dog as much as we want to be delivered to us.
Watching someone walking their dog is a pastime that never grows old, to the point that one man decided to build a hi-tech machine to detect when dogs and their owners were passing by his home.
Is that a thing? Certainly it is, and it has been bringing immense joy to him as well as the pups and their masters as they pass by his home.
Some people think it's cute, others eerie, but no one can deny the thought and creativity behind developing that machine.
This may become the new greeting technology based on the incredible level of responses that have been pouring out towards both the owner and his creation, as you'll learn below.
If you have at any point spent an evening(or the whole year 2020) on the internet looking at adorable dog videos, you'll understand why Ryder of YouTube fame decided to create a computer, powered by Artificial Intelligence, which is able to discern dogs walking along the street pass their house and instantly shout praises to the dog walkers or owners.
His Youtube program is called Ryder Calm and has earned quite a following.
Getting things done by looking at the real puppers has always been better than wasting time and looking at only pictures of puppies, so the development began as an automated manner for Ryder to identify when somebody was walking down the street past their home. The computer, which is based on a Raspberry Pi, assesses a live feed from the camera module and employs a machine learning model (in this case, the YOLOv3) that has been programmed to recognize about Eighty different items, including people, vehicles, and dogs.
When a passing puppy is detected, an alarming automated text-to-speech voice warns Ryder via an actual megaphone, allowing them to rush to the window on time to catch sight, no matter what they're doing.
Watching dogs is obviously not just his passion, but clearly an activity that his entire family enjoys doing. They enjoy it so much that they've programmed the system to function even during their absence. If that isn't innovative, then what is?
For those occasions when they aren't home to hear the alarm, the system can be programmed to play a pre-recorded "I like your dog!" message through the window, providing a complimentary dopamine boost to anybody walking their dog down Ryder's street.
It's a random and somewhat weird act of generosity, but I think we'd all take something at this stage. After all, any good gesture is better than the negativity endured throughout 2020, right?