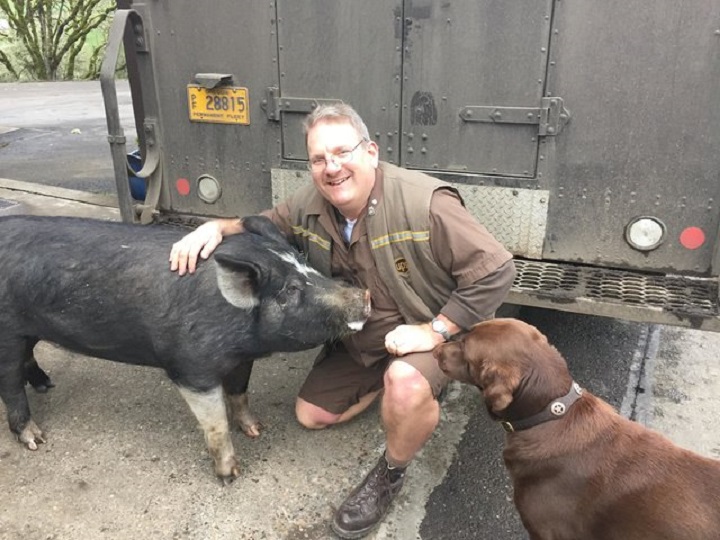 The Unexpected Friendship Between a UPS Driver and a Pig?
Miss Porkchop has personality. The 400 pound pig saw what was happening around her and wanted in on the deal, so she made herself known. Her fellow farm animals were getting special treats from their local delivery man and she wanted to make sure she wasn't forgotten.
Scott Hodges has been driving for UPS for over 30 years and in that time has forged many bonds. The strongest one being with the many animals along his delivery route. He would often have treats available for the dogs that he passed along the way. Three years ago, Hodges met a special animal unlike any other. Miss Porkchop trudged her way to Scott's truck to get in line for a treat. She walked right up to him, so he gave her a piece of granola. She's been coming back to see him ever since.
Hodges loves interacting with all of the animals. Most of the time, the dogs will go up in his truck to greet him, but Miss Porkchop can only manage to get her front legs up on the steps. Her little legs just can't make it up the ladder. That's probably a good thing because if she got up, she most likely wouldn't be able to get back down. 400 pounds is a lot of animal for Hodges to try to lift. Although, being a UPS driver, he's used to the heavy lifting.
Hodges and Porkchop met at a vineyard in Newberg, Oregon where he makes regular deliveries. Due to high rate of deliveries they receive, he's often there about four times a week. That leave plenty of time for Miss Porkchop to get her snacks. Those deliveries have become the highlight of Hodges day. Miss Porkchop lives on the grounds and is used to greeting people regularly as she likes to interact with those who come there for wine tasting.
Miss Porkchop is friendly and thinks she's just one of the dogs. Hodges treats all the animals with the same love and respect. He has added some additional snacks to his arsenal for Miss Porkchop. He's added apples, granola and carrots for her. She even allowed him to see her piglets when they were born, proving that the relationship is as important to her as it is to him. Now, she often brings them to the truck with her when she visits Hodges for treats.
Since having the babies, Miss Porkchop and her family have been moved into an outdoor enclosure to keep them all safe. There is a lot of traffic at the vineyard and everyone wants to ensure their safety. Even so, she still comes running over to see Hodges whenever he is there.
Hodges doesn't stop his friendship with dogs and pigs. He has extended it to horses, llamas and goats. He goes through almost three boxes of dog biscuits and extra produce per week to feed all of his friends. He doesn't mind, though, because the animals love him as much as he loves them. They make his job enjoyable and he looks forward to seeing them every day.
After 35 Years in Captivity, Elephant Is Finally Freed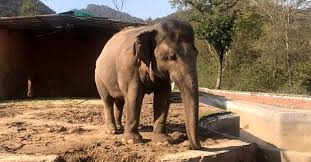 An Asian elephant spent 35 years chained up inside a zoo. The elephant, Kaavan, was called the loneliest elephant in Pakistan. He had been there for so long and was in such terrible circumstances that a number of viral campaigns sprang up with the goal of getting him freed from his prison. Now, he has been given back his freedom. Next month, a Cambodian animal sanctuary has agreed to take him in.
Many groups dedicated to animal welfare broadcasted their concern for the elephant's physical and mental well being.From 1990 to 2012, the elephant had a roommate called Saheli, but since her death Kaavan has lived all alone. Over the years, he has shown more and more signs of being under mental stress.
Beginning in 2015, Samar Kahan created a petition to get Kaavan freed. It talked about the abuse the poor animal endured and how cruel the zookeepers were to him. It told the public about his legs being chained up at all times. It also said that Kahan visited the zoo, and the elephant barely moved. He would only bob his head from side to side. This is a motion called weaving, and elephants do it when they are depressed and stressed out.
Luckily, this petition went viral around the world. Thanks to it, there was a lot of pressure for Pakistani officials to free this elephant. Even Cher got into the cause. She spoke publicly about the elephant and in 2016 sent someone to go to the zoo to see for himself how the elephant was being treated. Her representative found that the situation was pretty bad. He found that Kaavan had mental problems from being chained up for so long. When Pakistani officials heard this, they declared that the elephant's mental damage was from losing his mate and that a new mate would fix the problem. Cher's representative said that the answer wasn't just to give Kaavan a mate. Instead, he needed a an enclosure that was far bigger and nicer. He argued that if the zoo didn't have the money for a new enclosure for Kaavan, they ought to close down the zoo for good.
The years of public advocacy for the chained-up animal has finally paid off. Recently, the Islamabad High Court decided that the zoo would have to talk to the nation of Sri Lanka, where Kaavan was born, to find out how to return him to the wild. They gave them 30 days to find a suitable place for him. The rest of the animals in the zoo have 60 days to be relocated.
Cher was happy to hear about the court's decision and tweeted out her excitement at him being freed. She also thanked the government of Pakistan for making this decision. Recently, a perfect animal sanctuary was found for the elephant in Cambodia. While he waits in the zoo for his freedom, he is being better taken care of. He must be checked out for a vet before being returned to the wild. Once he has had medical tests, the permit to move Kaavan can be applied for. Of course, Covid-19 has made the move that much more complicated. But, everyone is still committed to getting the veterinary tests, applying for the permit and moving Kaavan to his new home in Cambodia.