The most popular student at Prairieview Elementary is a dog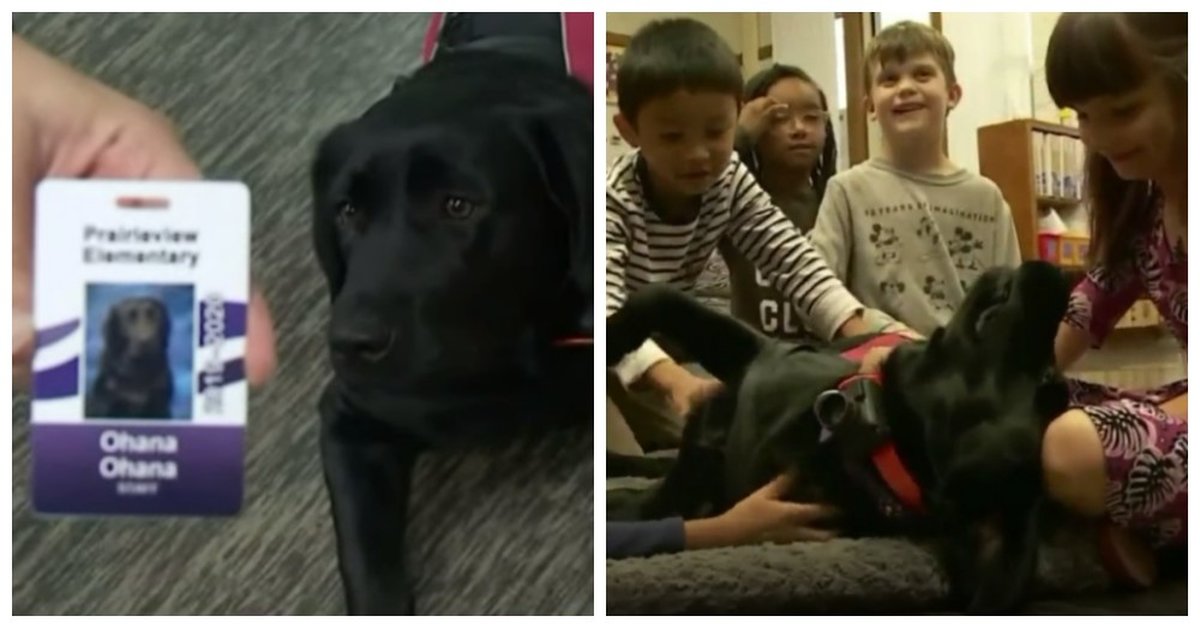 She hasn't been going there very long, but Ohana the therapy dog is already a big hit at her new school. The students at Prairieview Elementary School in Battle Creek, Michigan have welcomed the new student with open arms.
Whenever they see Ohana, the students greet her with greetings, pats, and belly rubs, which she loves. Ohana gets to go right into the classrooms with the children, where she sits close to them so they can pet her.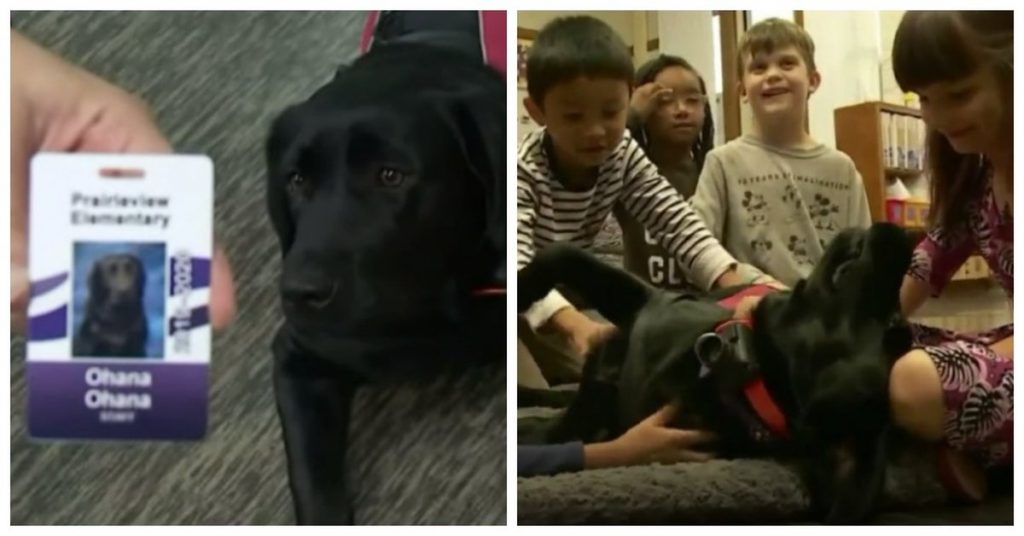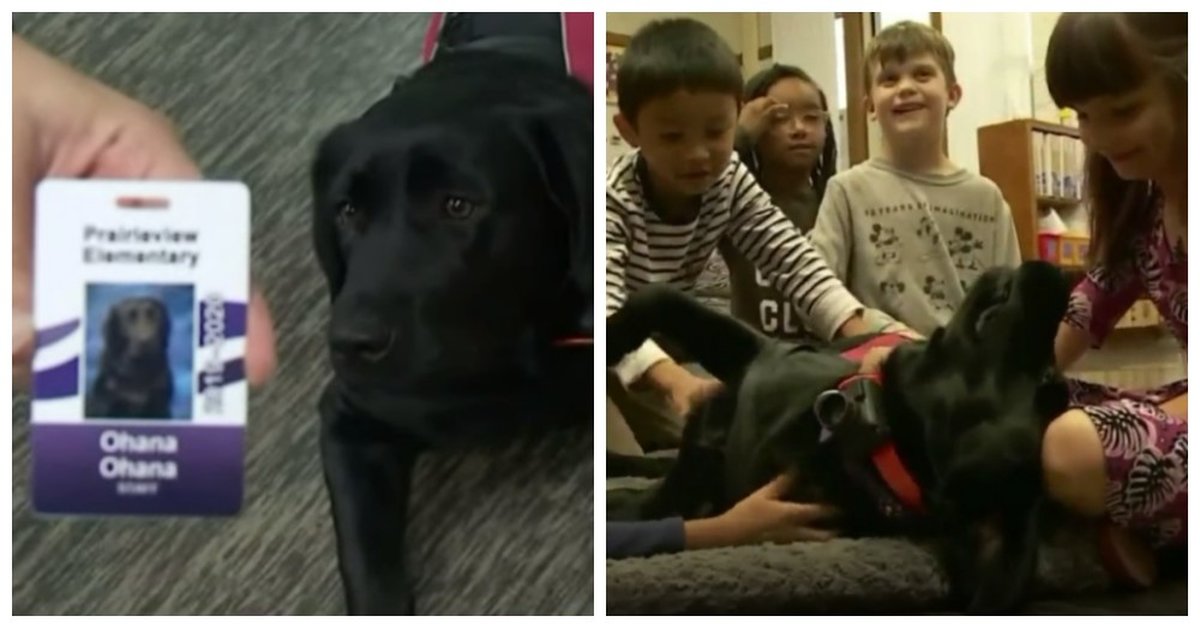 Therapy dogs in schools
Everyone knows that dogs aren't usually allowed in school, but there is an exception in the law for therapy dogs. Both Michigan law and the federal Americans with Disabilities Act make sure that when there are individuals who have disabilities, they can bring their service animals with them into places they need to go. This includes hotels, restaurants, movie theaters, museums, restaurants, schools, and other places.
There are many reasons that people might need service animals. Some guide dogs help people get around when they have visual impairments. Hearing dogs help people who can't hear for themselves, so they can hear noises like doorbells and alarms. There are dogs who are trained to recognize when their owners are about to have seizures, dogs who help with stability and balance, and psychiatric service animals, who help with anxiety and remind their owners to take their medications.
Ohana's job at Prairieview Elementary
Before Ohana was allowed to start at Prairieview Elementary School, the 1-year-old black Labrador Retriever had to go through training. She knows how to be calm throughout the day, and she understands how to help the kids. She doesn't bark and run off chasing anything that moves as many young dogs would.
Instead, she acts as a resource when the students need something. One little girl in the first grade was grieving her mother, and she said that petting Ohana helps her get through the tough days when she is missing her mom and feeling sad. She doesn't just help the students — the staff really appreciate her when they are having rough days, too.
An anonymous gift
The students and teachers were lucky enough to get Ohana because a generous person gave her to them as an anonymous gift. The anonymous donor also paid for the training in Ortonville, Michigan, where Ohana learned how to be a therapy dog.
Lakeview Schools Superintendent Blake Prewitt is lucky enough to get to take Ohana home at night, where she is treated like a member of the family. At home, Ohana runs around the yard and plays catch.
A member of the family
Ohana isn't just a member of Superintendent Prewitt's family; everyone at the school considers her family. They hope she can stay at the school helping the students and teachers for at least ten years.
When it was time for school pictures, Superintendent Prewitt had them take pictures of Ohana too. She has her own student ID and fits right in with the other students.
Puppy Care Basics: Top Tips for When Your Puppy is Attacked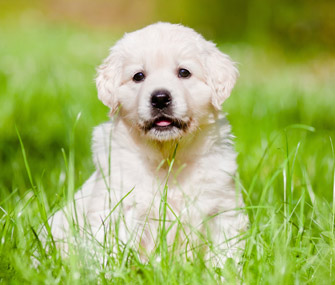 If you have a new puppy, one of your worst fears may be that it is attacked by another animal. It's one of those fears that we all have when we first get a new puppy. We've heard about and seen other attacks, so it's very much in the realm of possibilities. Fortunately, there are some important tips that you should consider, so you can protect your puppy.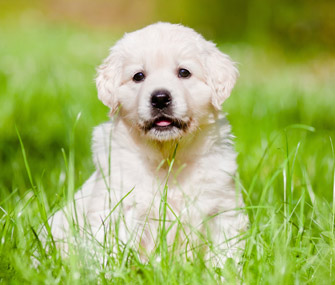 What Are the Signs of Attack?
Your puppy will probably appear to be an easy target to dogs and other animals, but if you pay attention, you may just notice the signs, and be able to remove yourself and your pet form the situation. You may notice the following signs:
Snarling
Barking
Growling
Baring teeth
You should be aware of your surroundings any time you're outside playing with, walking, or in other ways interacting with your puppy. So, at the first sign of aggressive behavior by another animal, take immediate action. If that behavior is directed specifically at your puppy, this is typically a good time to pick your puppy up and put yourself between you and the other animal.
You can also mitigate the circumstances by avoiding areas like dog parks where you know there may be dangerous animals or aggressive dogs, particularly when your dog is still so young. There are plenty of ways to give your puppy the social interaction and the exercise they need without putting them in a bad situation.
Stay Calm & Collective
You should be aware of your surroundings, but you must also stay calm both before and after the attack. When you are calm and collected, you may be able to pull the animals apart, ask for help from others who are close by, and even add a level-headed approach to the situation.
When you are calm and collected, you can also assert your authority over the other animal. It doesn't always work, particularly if the other animal already sees you as a threat or challenge.
Speak with conviction and command.
Watch your body language.
Stand tall and avoid submissive postures.
The best strategy is still to remove yourself and your puppy from the situation by making a quick exit. While you're edging away, though, you can (hopefully) avoid being bitten or attacked.
Emotional Support
Your first thought is to protect your puppy and get you and the puppy away from the situation. Your next thought should be to offer emotional support to your puppy. Check to make sure that your puppy really is physically ok. Are there bite marks? Bruising? Limping? Is the puppy whimpering?
If you're concerned about the well-being of your puppy, take your little one to the veterinarian. They will perform a full exam and may recommend additional tests or scans to make sure everything is ok. The vet may also recommend that you monitor your puppy over the next few days.
Gather Information
Don't forget to talk to the other owner(s). It's not typically helpful to confront or accuse the other person(s). Remain calm, and ask for contact information. Take pictures, and jot down (or record) details about what happened, what the dog looks like (breed if you know it), and any previous history about the animal. For example, if you know or if the owner mentions that the animal has attacked other dogs in the past, it shows a pattern of aggressive behavior. Take note of the date, time, and any other information that's related to the incident.
If your puppy is in good health, you may never need to remember the details of the attack or potential incident. But, it's better to be safe than sorry. If the owner of the other animal claims that you're at fault, you need as much information as you can get to describe what really happened.