The most popular student at Prairieview Elementary is a dog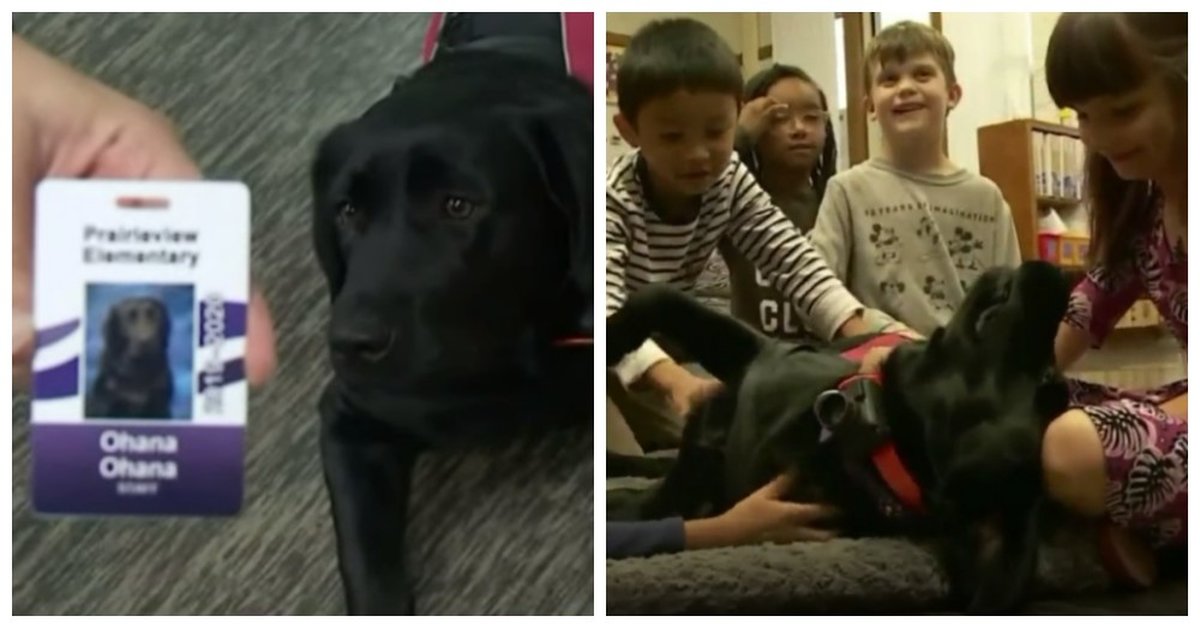 She hasn't been going there very long, but Ohana the therapy dog is already a big hit at her new school. The students at Prairieview Elementary School in Battle Creek, Michigan have welcomed the new student with open arms.
Whenever they see Ohana, the students greet her with greetings, pats, and belly rubs, which she loves. Ohana gets to go right into the classrooms with the children, where she sits close to them so they can pet her.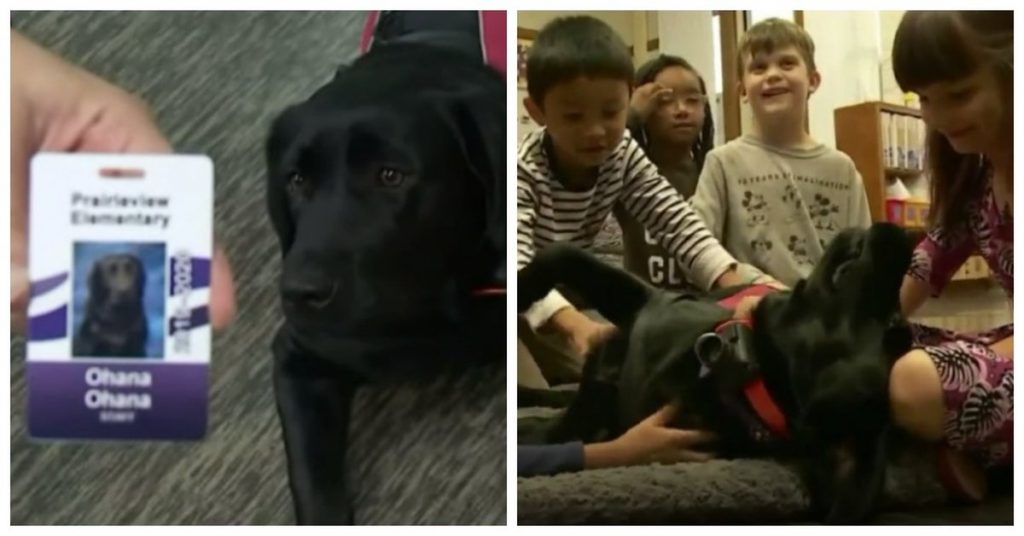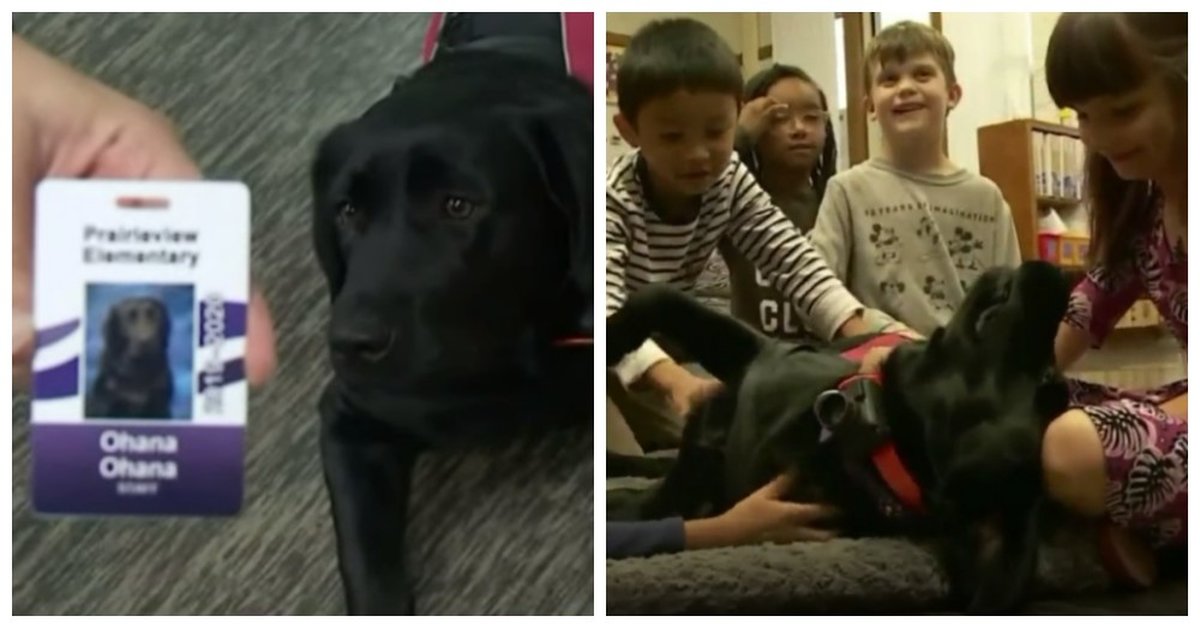 Therapy dogs in schools
Everyone knows that dogs aren't usually allowed in school, but there is an exception in the law for therapy dogs. Both Michigan law and the federal Americans with Disabilities Act make sure that when there are individuals who have disabilities, they can bring their service animals with them into places they need to go. This includes hotels, restaurants, movie theaters, museums, restaurants, schools, and other places.
There are many reasons that people might need service animals. Some guide dogs help people get around when they have visual impairments. Hearing dogs help people who can't hear for themselves, so they can hear noises like doorbells and alarms. There are dogs who are trained to recognize when their owners are about to have seizures, dogs who help with stability and balance, and psychiatric service animals, who help with anxiety and remind their owners to take their medications.
Ohana's job at Prairieview Elementary
Before Ohana was allowed to start at Prairieview Elementary School, the 1-year-old black Labrador Retriever had to go through training. She knows how to be calm throughout the day, and she understands how to help the kids. She doesn't bark and run off chasing anything that moves as many young dogs would.
Instead, she acts as a resource when the students need something. One little girl in the first grade was grieving her mother, and she said that petting Ohana helps her get through the tough days when she is missing her mom and feeling sad. She doesn't just help the students — the staff really appreciate her when they are having rough days, too.
An anonymous gift
The students and teachers were lucky enough to get Ohana because a generous person gave her to them as an anonymous gift. The anonymous donor also paid for the training in Ortonville, Michigan, where Ohana learned how to be a therapy dog.
Lakeview Schools Superintendent Blake Prewitt is lucky enough to get to take Ohana home at night, where she is treated like a member of the family. At home, Ohana runs around the yard and plays catch.
A member of the family
Ohana isn't just a member of Superintendent Prewitt's family; everyone at the school considers her family. They hope she can stay at the school helping the students and teachers for at least ten years.
When it was time for school pictures, Superintendent Prewitt had them take pictures of Ohana too. She has her own student ID and fits right in with the other students.
Handicapped Puppy Befriends Flightless Pigeon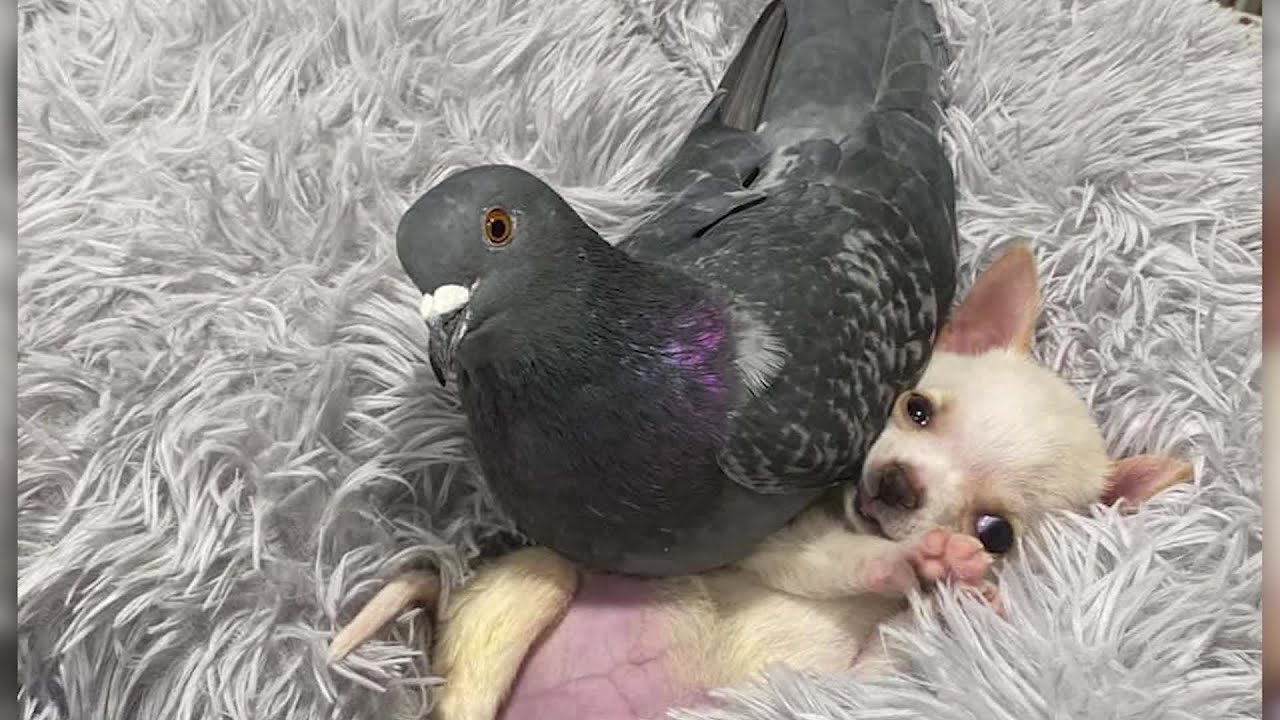 In Rochester, NY, Sue Rogers runs a non-profit called the Mia Foundation. The rescue organization rescues and rehabilitates animals who have birth defects or deformities and tries to find them a loving home. About a year ago, a pigeon was found unable to move in the parking lot of a car dealership. The pigeon was huddled and cowering on the ground. When a local wildlife rescue was called, they said the bird had neurological damage that caused him not to be able to fly. They thought that euthanization would be the best option for him.
Sue was having none of that. She stepped in and took the bird, who she named Herman, under her wing, so to speak. She made space for him in her shelter and kept him close where she could keep an eye on him. He liked to sit on a furry dog pillow and watch her work.
A couple months ago, a tiny Chihuahua was brought to the Mia Foundation. He was an infant, maybe a few months old, when his South Carolina breeders sent him to Sue. He's a teacup sized Chihuahua they named Little Lundy and he was born with spinal cord damage. Sue also determined that he was suffering from swimmers syndrome. Swimmers syndrome is a developmental deformity that causes the front and hind legs to be splayed out. This makes it almost impossible for Little Lundy to walk.
Although swimmers syndrome is thought to be untreatable, according to a few studies and an article in a veterinary journal, it can be treatable. With some physical therapy and at-home treatment, Little Lundy could live a long and happy life, which is exactly what Sue plans for him.
When Little Lundy arrived at the Mia Foundation he decided to get acquainted with his new surroundings and the other animals at the shelter. One particular encounter, created a friendship that has gone viral. Herman and Little Lundy, a puppy and a pigeon, are the unlikeliest of friends, but they have a lot in common. They both have trouble walking, or flying in Hermans case, and they were living in the same place. You could say, they were in the right place at the right time to become instant friends.
In the six weeks they have been together, Herman and Little Lundy have become inseparable. They do everything together, which is a lot of sleeping and snuggling. Mostly, with Herman sitting on top of Little Lundy, which doesn't bother him in the slightest. This friendship was so out of the ordinary that Sue had to document it. The viral sensation of the puppy and pigeon has brought attention to the Mia Foundation that was much needed. The rescue organization runs solely on donations to help cover the costs of taking care of the animals and for needed surgeries. So far, about $6000 was donated because of this unlikely friendship and over 100 adoption inquiries. Hopefully when they are adopted, they are able to stay together.