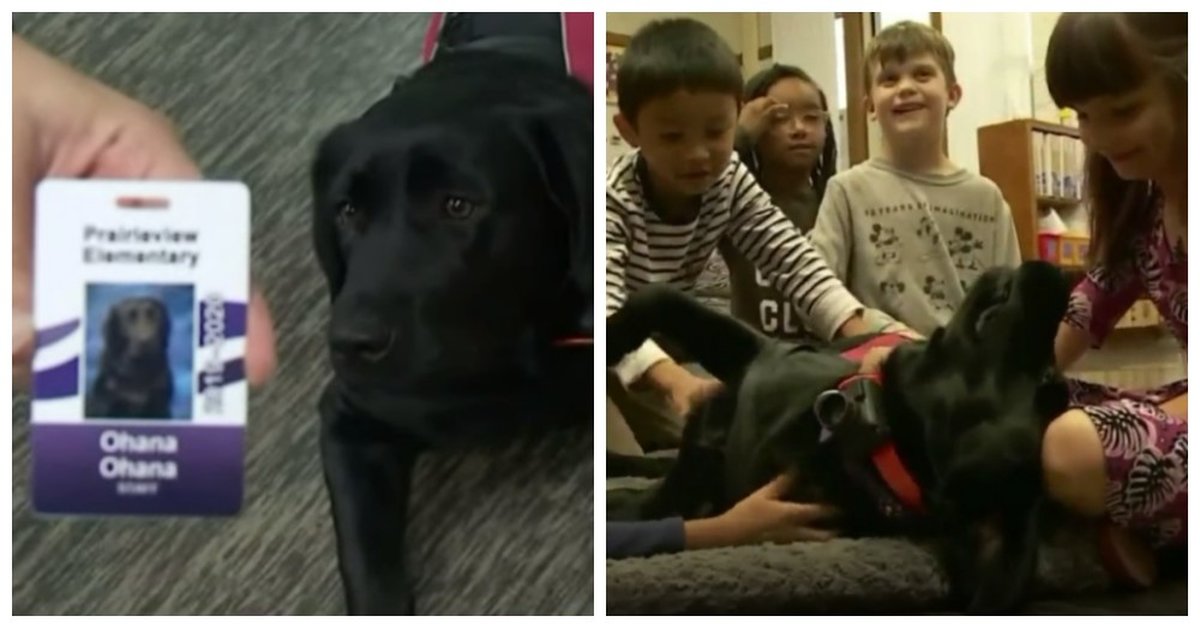 The most popular student at Prairieview Elementary is a dog
She hasn't been going there very long, but Ohana the therapy dog is already a big hit at her new school. The students at Prairieview Elementary School in Battle Creek, Michigan have welcomed the new student with open arms.
Whenever they see Ohana, the students greet her with greetings, pats, and belly rubs, which she loves. Ohana gets to go right into the classrooms with the children, where she sits close to them so they can pet her.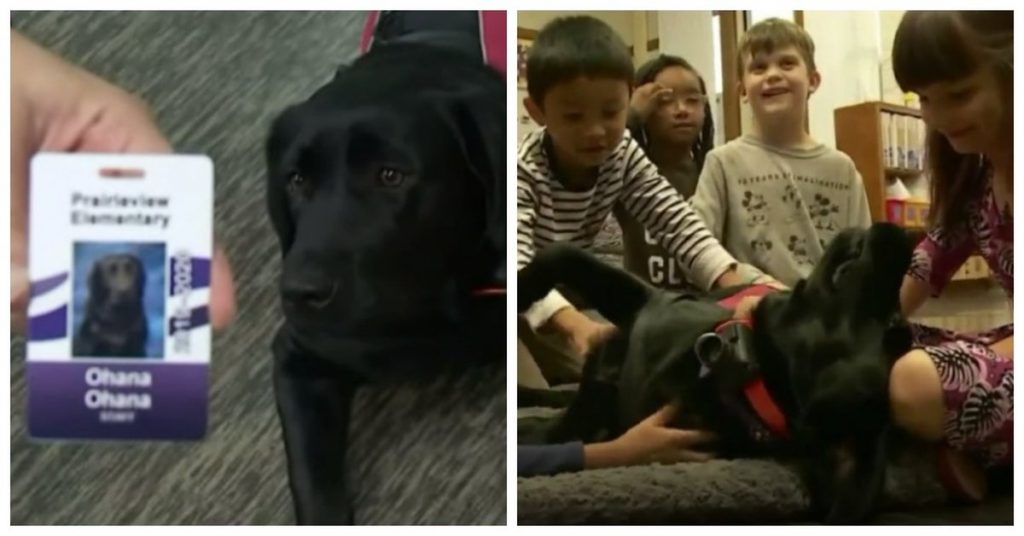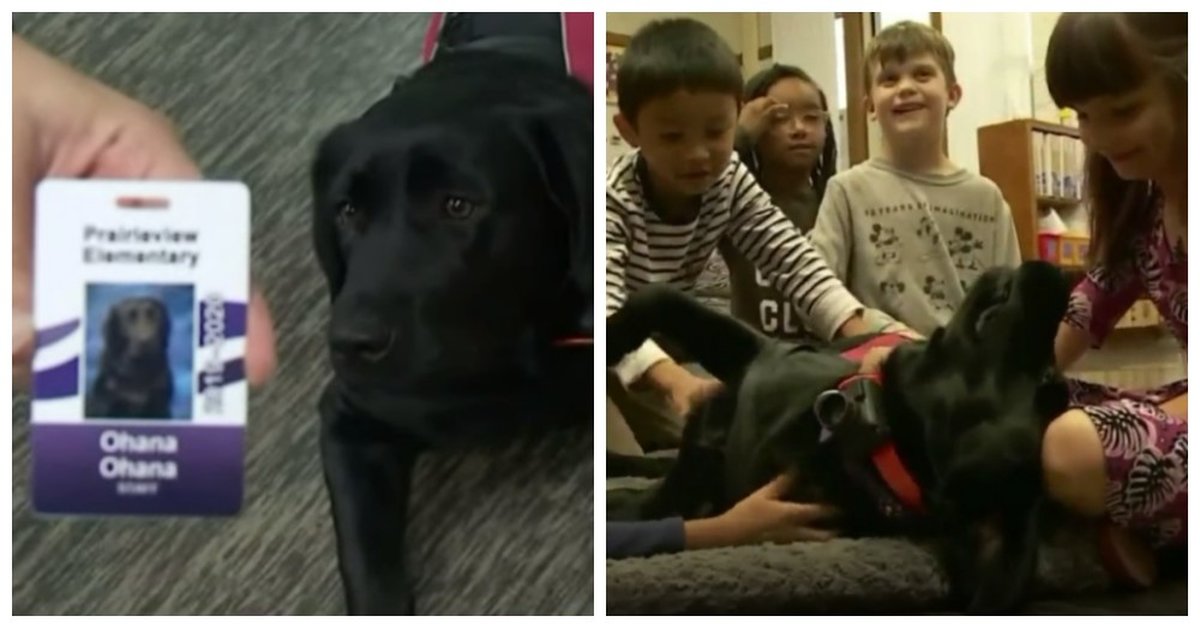 Therapy dogs in schools
Everyone knows that dogs aren't usually allowed in school, but there is an exception in the law for therapy dogs. Both Michigan law and the federal Americans with Disabilities Act make sure that when there are individuals who have disabilities, they can bring their service animals with them into places they need to go. This includes hotels, restaurants, movie theaters, museums, restaurants, schools, and other places.
There are many reasons that people might need service animals. Some guide dogs help people get around when they have visual impairments. Hearing dogs help people who can't hear for themselves, so they can hear noises like doorbells and alarms. There are dogs who are trained to recognize when their owners are about to have seizures, dogs who help with stability and balance, and psychiatric service animals, who help with anxiety and remind their owners to take their medications.
Ohana's job at Prairieview Elementary
Before Ohana was allowed to start at Prairieview Elementary School, the 1-year-old black Labrador Retriever had to go through training. She knows how to be calm throughout the day, and she understands how to help the kids. She doesn't bark and run off chasing anything that moves as many young dogs would.
Instead, she acts as a resource when the students need something. One little girl in the first grade was grieving her mother, and she said that petting Ohana helps her get through the tough days when she is missing her mom and feeling sad. She doesn't just help the students — the staff really appreciate her when they are having rough days, too.
An anonymous gift
The students and teachers were lucky enough to get Ohana because a generous person gave her to them as an anonymous gift. The anonymous donor also paid for the training in Ortonville, Michigan, where Ohana learned how to be a therapy dog.
Lakeview Schools Superintendent Blake Prewitt is lucky enough to get to take Ohana home at night, where she is treated like a member of the family. At home, Ohana runs around the yard and plays catch.
A member of the family
Ohana isn't just a member of Superintendent Prewitt's family; everyone at the school considers her family. They hope she can stay at the school helping the students and teachers for at least ten years.
When it was time for school pictures, Superintendent Prewitt had them take pictures of Ohana too. She has her own student ID and fits right in with the other students.
Politics Are Never an Empty Field – Barbie Runs for Office in 2020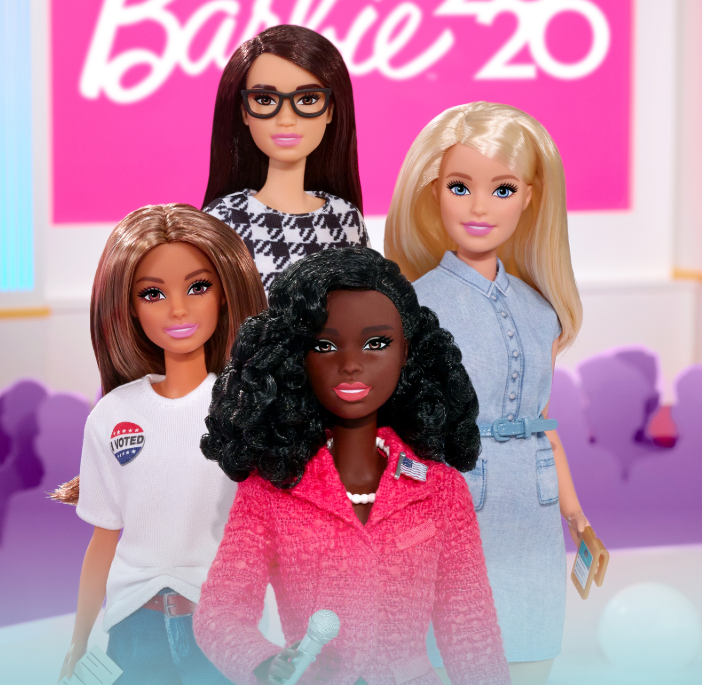 The classic American doll, Barbie, has performed, been portrayed in, or taken over just about every professional function in society. So, it's no surprise that given the real themes in 2020 that Barbie would also decide to go into politics. Art imitating life it may be, but Barbie is likely to represent a serious contender against even the most seasoned politicians, that is if her fans were old enough to vote.
2020 is not the first time Barbie has entered politics. Believe it or not, her first foray into elections was some 28 years ago in 1992 when she tried to run for President. However, the toy doll was a bit of an independent at the time and didn't get a lot of recognition on her own. Today, things are different. Not only is Barbie a 2020 candidate, she also has in place a solid professional election team on her side as well. Along with her are a handful of cool, savvy and with the times staffers and election strategists. The early polls are already showing Walmart and Target segments are responding, carrying her entire campaign team on the shelves and selling them as a combined unit.
Examined up close and interested electorate fans will find Barbie's campaign manager as a key strategist, her campaign fundraiser to keep things paid and moving, and even a Barbie voter. Of course, her fans can add votes too. The entire team is set to hit the prime time. Barbie herself is positioned to show herself as a leader ready to hit the ground running, complete in business suit and with her telecom assortment of communication tools. And, let's not forget, every business jacket should have an American flag lapel pin too.
Her campaign manager is decked out in a professional ensemble as well, ready to manage the stage as well as cue to the poll analysts and computer graphics behind the scenes to support her candidate. And Barbie's fundraiser is hitting the road in blue denim and comfortable style, driving miles and miles to bring in the donors.
The key message from Barbie, however, is to prime young girls for politics. Girls and women can not only have their part in campaigns, they can be the lead candidate as well. And the idea of a real woman President is no figment of the imagination. While Barbie is, after all, just a toy, the reality of a woman President is very likely in the next two elections if not the third. In fact, the U.S. is behind the curve in this respect, as many countries around the world have already had women leaders and many still do. When that happens, given elections happen every four years, the next candidate in 20 years may have well be a young girl who had Barbie as her own special election candidate.
In the meantime, Barbie and her campaign team let girls practice for the future now, complete with all the accessories and campaign road style needed to win the big ticket.