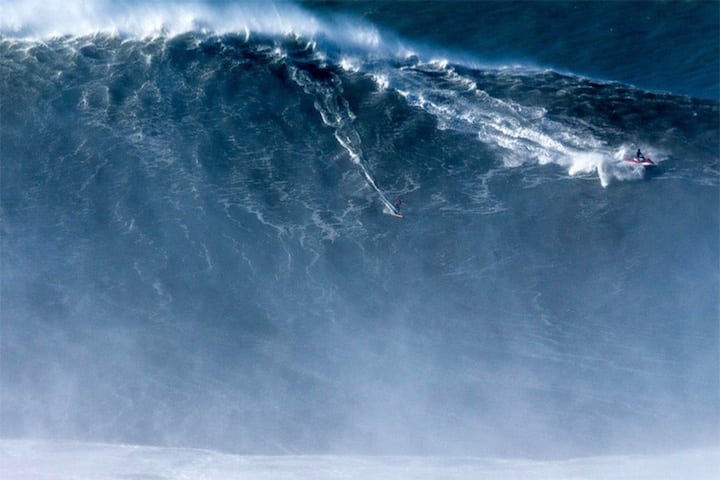 The Man That Rode a 60ft Wave
Surfing is a common pastime in different parts of the world. It's a fun sport, and that's why people love it. Anyone who loves being on the waters can surf for fun or competitively. Here, we're talking about normal surfing, you know, riding normal waves with your surfboard in the ocean. But there is another type of surfing that requires more than average skills to pull off. It's known as big wave surfing, and when it comes to extreme sports, big wave surfing tops the list.
Big wave surfing requires a very serious approach. It involves challenging deadly waves in harsh ocean and weather conditions. It's the ultimate celebration of extreme surfing. That's why Brazilian surfer Rodrigo "Koxa" became a social media sensation after riding a 60ft wave. He rode the massive wall of ocean water in Chile in 2010, breaking the record of the biggest wave ever ridden in South America. The surfer, who specializes in big waves, has quite the reputation when it comes to big wave surfing.
Living Dangerously
The profile of a big wave rider stems from several unparalleled personal attributes. For many, big wave surfers make a good example of living dangerously. Forget the breathless aerial antics, stunning floaters, or perfect cutbacks; big wave surfers like Rodrigo are not interested in performance. All they want to do is ride the biggest waves in the ocean like Rodrigo did in Chile and broke the record. But the 60ft wave is not the biggest wave the 38-year old surfer has attempted to ride.
In November 2017, the surfer broke yet another record when he rode an 80ft wave without wiping out. While the 60ft wave he surfed in Portugal eight years ago made him famous, this one did more. For starters, he posted the video on social media and it went viral. The 80ft wave Rodrigo surfed in Nazaré, Portugal also won him an award as he took home the Wipe Out award this year for riding the giant wave without wiping out.
Beating the World Record
The legendary surfer wanted to the beat the world record when he set out to ride the giant wave in Portugal, and he did. But big wave riding is a demanding sport; you don't get to ride such a big wave without sustaining some damage unless you are a very lucky person. Riding an 80ft wave left Rodrigo with a couple of injuries. He didn't even attend the award ceremony where he was present with the Wipe Out award; he was home nursing his injuries. But for big wave rider, a little injury is a small price to pay to ride a monster wave successfully.
Rodrigo cheated death narrowly and became internet famous. But that is not what the Brazilian surfer was looking for. He wanted to set the record for riding the largest wave in the world, which he did. He stunned the internet with his stunts. And at the 2018 World Surf League's Big Wave Awards in California, it was confirmed that the 38-year old surfer holds the record for riding the biggest wave in the history of surfing.
The Dog Who Works at a Car Dealership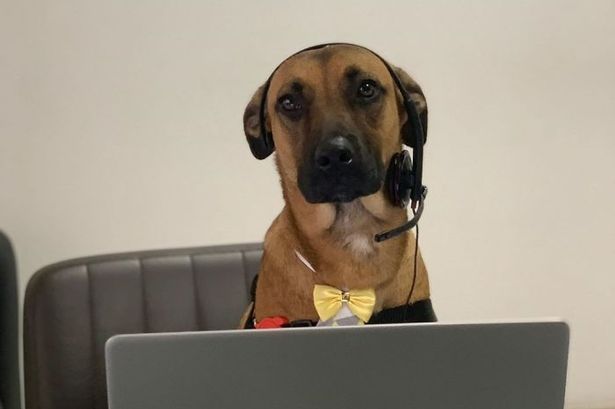 Strong bonds of friendships at times will be forged through the toughest of trials and the most challenging of misfortunes. However, there are friendships that are just destined to be and they easily fall into place and turn into near soulmate level of bonding right from the start. Regardless of how they first meet, friends both have to make the conscious choice and effort to keep the friendship alive and going. It is dependent on them both.

This is how it usually works for us humans, but it is not quite the same when it comes to dogs and the special bonds they form with the humans that they choose. And for one stray pup from Brazil, the friendship he chose to form with a group of humans likely ended up saving his life. It also got him a cozy position at a local car dealership. Yes, you heard that right. A dog got hired by a car dealership. Read on to learn more about this unique but utterly amazing friendship that has been forming for months now.

Staff at the Hyundai Prime dealership in a small but busy town in the heart of Brazil noticed there was a stray dog showing up on the property. The dog would show up usually in the early mornings and just hanging around the outskirts of the dealership and watch. Then over time be got accustomed to the humans he had grown fond of watching and would venture over for treats and belly rubs and pats on the head. This happened nearly every day for several weeks and so the employees as well as the dealership management decided to do something about it. If this pup was going to show up every day and hang out he needed to be part of the team, and so they gave him a job at the dealership.

The pup soon showed that he had natural talents as a crowd-pleaser and had a knack for making people smile and laugh. And so it was, his new friends put him to work as the dealership's unofficial local ambassador. Given the name Tucson Prime, he soon became a hit with the employees as well as the customers who came to the dealership. They even started an Instagram account for the pup where Tucson Prime shows off the warehouse, offices, shown room, and what exactly it is he does all day long at the dealership. He's only been there a few months but already has over 40,000 followers on his social media Instagram page.

And everyone is committed to this growing friendship and it is an accepted long-term commitment, as he has his very own dog house on the dealership property where he now lives. Employees rotate caring for him and he goes home with a team member anytime the dealership is closed for more than overnight. Tuscon Prime now has home within a home and no longer has to worry about being a stray. All because of the seemingly chance friendships he started with the right group of people. He gets all the love and tummy rubs and treats he could ever want and most importantly, he has a very special family he can now call his own.
It truly is a wonderful sight to see how much love these kind-hearted people have for this one pup. Seeing and feeling all of the love in this one very special place, and seeing the mutual friendship that has sprung up between the dealership and Tucson Prime is exactly the kind of story we need to be hearing about these days!