The Man That Rode a 60ft Wave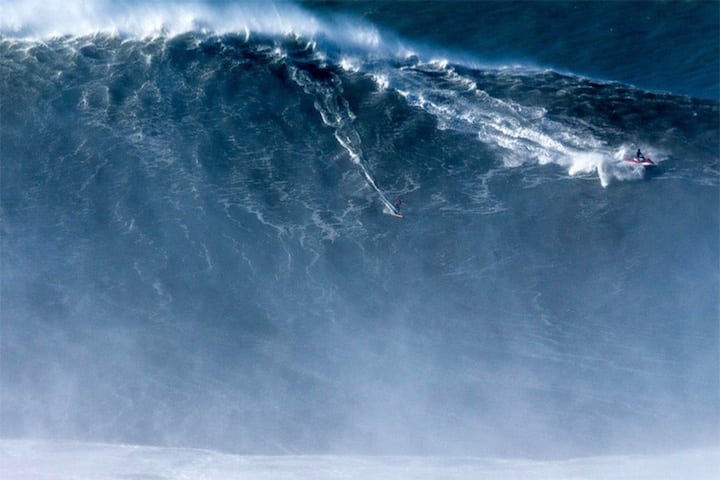 Surfing is a common pastime in different parts of the world. It's a fun sport, and that's why people love it. Anyone who loves being on the waters can surf for fun or competitively. Here, we're talking about normal surfing, you know, riding normal waves with your surfboard in the ocean. But there is another type of surfing that requires more than average skills to pull off. It's known as big wave surfing, and when it comes to extreme sports, big wave surfing tops the list.
Big wave surfing requires a very serious approach. It involves challenging deadly waves in harsh ocean and weather conditions. It's the ultimate celebration of extreme surfing. That's why Brazilian surfer Rodrigo "Koxa" became a social media sensation after riding a 60ft wave. He rode the massive wall of ocean water in Chile in 2010, breaking the record of the biggest wave ever ridden in South America. The surfer, who specializes in big waves, has quite the reputation when it comes to big wave surfing.
Living Dangerously
The profile of a big wave rider stems from several unparalleled personal attributes. For many, big wave surfers make a good example of living dangerously. Forget the breathless aerial antics, stunning floaters, or perfect cutbacks; big wave surfers like Rodrigo are not interested in performance. All they want to do is ride the biggest waves in the ocean like Rodrigo did in Chile and broke the record. But the 60ft wave is not the biggest wave the 38-year old surfer has attempted to ride.
In November 2017, the surfer broke yet another record when he rode an 80ft wave without wiping out. While the 60ft wave he surfed in Portugal eight years ago made him famous, this one did more. For starters, he posted the video on social media and it went viral. The 80ft wave Rodrigo surfed in Nazaré, Portugal also won him an award as he took home the Wipe Out award this year for riding the giant wave without wiping out.
Beating the World Record
The legendary surfer wanted to the beat the world record when he set out to ride the giant wave in Portugal, and he did. But big wave riding is a demanding sport; you don't get to ride such a big wave without sustaining some damage unless you are a very lucky person. Riding an 80ft wave left Rodrigo with a couple of injuries. He didn't even attend the award ceremony where he was present with the Wipe Out award; he was home nursing his injuries. But for big wave rider, a little injury is a small price to pay to ride a monster wave successfully.
Rodrigo cheated death narrowly and became internet famous. But that is not what the Brazilian surfer was looking for. He wanted to set the record for riding the largest wave in the world, which he did. He stunned the internet with his stunts. And at the 2018 World Surf League's Big Wave Awards in California, it was confirmed that the 38-year old surfer holds the record for riding the biggest wave in the history of surfing.
Zookeepers Set Up Camera And Capture Pregnant Rhino Giving Birth Without Any Assistance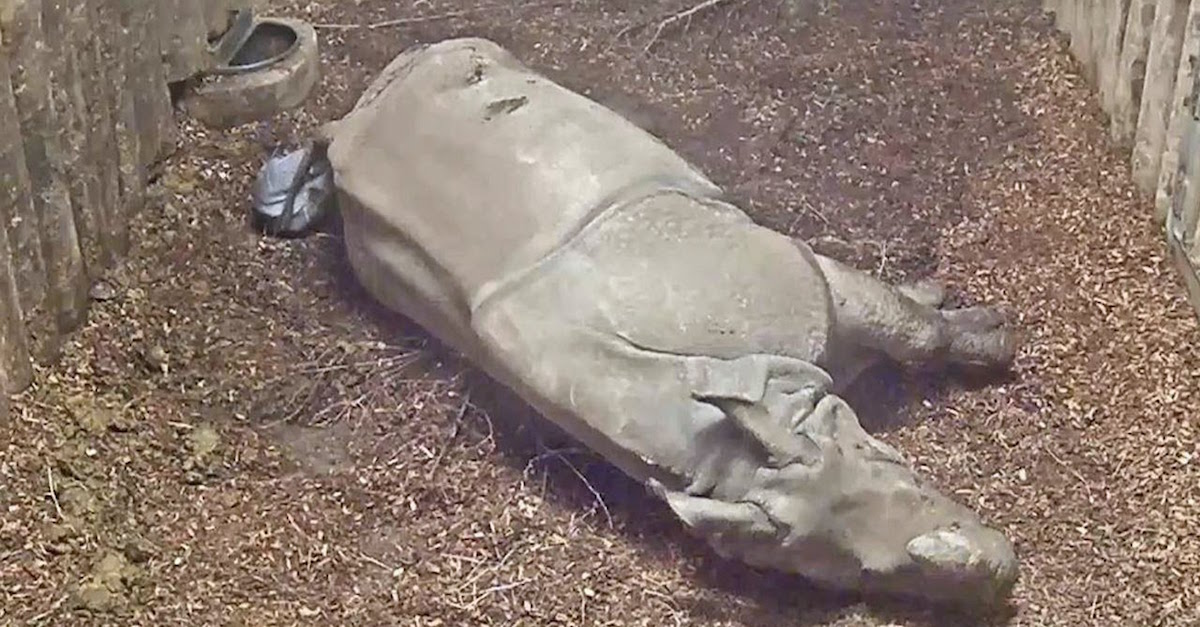 For a whopping sixteen months, Asha carried her baby in her womb. Asha, a rare greater one-horned rhinoceros, lives at the Chester Zoo in Cheshire, England. Luckily, her labor and delivery were much quicker than the gestational period was for her baby Rhino to come into the world.
After only about 20 minutes of labor, Asha successfully delivered a healthy male calf in the early morning hours on May 3, 2018, at her home at the Chester Zoo. The staff at the zoo were able to capture Asha's labor and delivery on video. The mama had an easy delivery on the floor of her enclosure and did not require assistance from the staff as she labored and brought her 132-pound baby boy. Once he is fully grown, Asha's son will balloon to an eye-popping two tons plus in weight!
Guests of the Chester Zoo were excited to visit the little rhino and his mama in their exhibit. Asha's baby is named Akeno which means "beautiful sunrise." Along with his birth, Akeno's first steps were also caught on tape along with snuggles with his 11-year-old mother Asha. They are a hit at the zoo and seem to be getting along well.
The staff at the well-visited zoo have been working towards keeping beautiful animals like Asha and baby Akeno together and better protected. One-horned rhinos are one-horned rhinos that are endangered at this point in a critical way and the staff is hoping the miraculous birth will not only attract visitors to the zoo but will draw attention to their work on this front. Animals like Asha and baby Akeno are the object of hunters who illegally poach them to be able to obtain their horns and sell them. There is a market for them as they are used in traditional Chinese medicine. A hunter can sell a single horn on the Asian black market for around $65,000 United States dollars. Even more offensive is the fact that wealthy hunters simply want the horns to hang on their walls and show off to friends as a status symbol of wealth and popularity.
According to a staff member of the Chester Zoo, not long ago there were less than 200 greater one-horned rhinoceros in the wild.
"They were hunted almost to extinction. Just in time steps were taken to protect them. Now there are about 2,600, but they still face threats in India and Nepal… it's important we do all we can to stop their numbers going down to critical levels again."
As the staff and many others work hard to fight against the illegally poaching of these beautiful animals, Asha and Akeno, who appears like he is dressed in a dark gray suit of armor, are enjoying their stay at the zoo and the many delighted visitors they come into contact with each day. The birth of Akeno on video has drawn more new visitors to the Chester Zoo and everyone seems to be happy with this new situation.