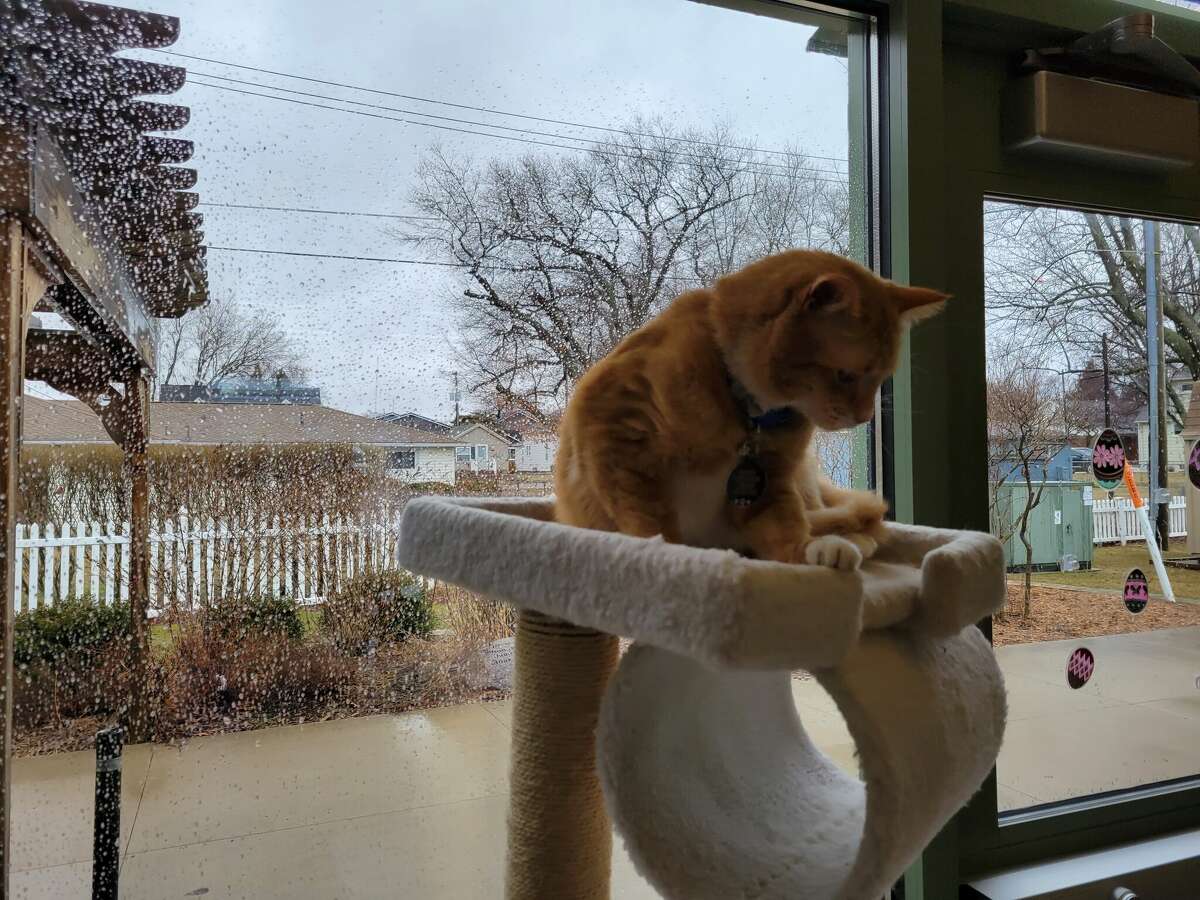 The Library Cat of Port Austin
Library regulars expect to see books, computers, magazines, posters, notices, bulletin boards and even seminars at the local library building or community center adjacent to such facilities. However, they typically don't expect to see a dedicated house cat and standard equipment. However, for Port Austin, a feline accompaniment is exactly what's on order for book lovers and library fans in the local town.
Named Booker, which oddly seems to be similar to books, the orange feline wasn't a planned acquisition for the library. Instead, the cat decided to make the place home all on its own. It helped that once the cat became a regular, the patrons and staff made a point of taking care of the cat as well. Good things happen when you're regularly fed at the same location daily.
This September 2022 will be a solid three years since the cat showed up, and Booker isn't making any bones about leaving. Mary Jaworski was the original discoverer of Booker. She originally found the cat had somehow snuck into her garage at home, half-blind, and unable to eat on its own. Jaworski tried to find someone to take in the cat, but nobody was volunteering or available. As the library director for Port Austin, Jaworski ended up watching and caring for the orange feline both at home and at work. It helped that the library board was also fond of cats as well. So, as it turned out, Booker was charmed; the cat not only had a home to roam around, it had multiple fans to take care of the cat as well throughout the day.
As it turned out, the patrons liked the idea of a home cat lounging around and roaming the Port Austin library on a regular basis. It made the library homey and comfortable. That helped Booker's transition inside the library as well, after the cat was up to date on all his shots and safe around all of the patrons, including kids.
Booker wasn't lacking anything inside the library, and there was no worry he was going to start exercising his claws on the book inventory. Instead, the cat has its own cat tree, carpet for claws, appropriate amenities for personal business, and plenty of cat toys and areas to escape when it gets busy and the cat just wants to be left alone. Booker actually became so popular, he started to develop a collection of donated toys and cat food from the locals. And if he happened to be out of sight longer than normal, everybody would start asking where he was and if everything was alright with the animal.
Celebrity status probably wasn't in the cat's original plans, but Booker seems to have adapted quite fine to all the attention he gets on a regular basis. The kids play with the cat when he wants activity, and, in turn, Booker has been an attraction to bring more kids to the facility and into reading in general. And Booker is quite good at hamming it up for the crowd. He loves the petting, getting held, sitting next to patrons on the furniture and is not easily spooked by the human activity going on daily. In fact, Booker is probably one of the best behaved cats most people will meet.
Finally, Jaworski notes, Booker has a habit of wanting to sound out any new arrivals he hasn't seen or smelled before. If there are bags or belongings, he's all over the stuff before the patron realizes what's going on. That said, Booker isn't about to have a team under his leadership. One cat seems to be more than enough for the library and its customers for now. Ironically, Jaworski herself is allergic to cats, but she tolerates Booker. Ultimately, the cat earns his keep attracting more than the normal flow of patrons to the Port Austin library, easily justifying the operations and helping the library grow.
An Alligator Comfort Pet…Wait Wait What?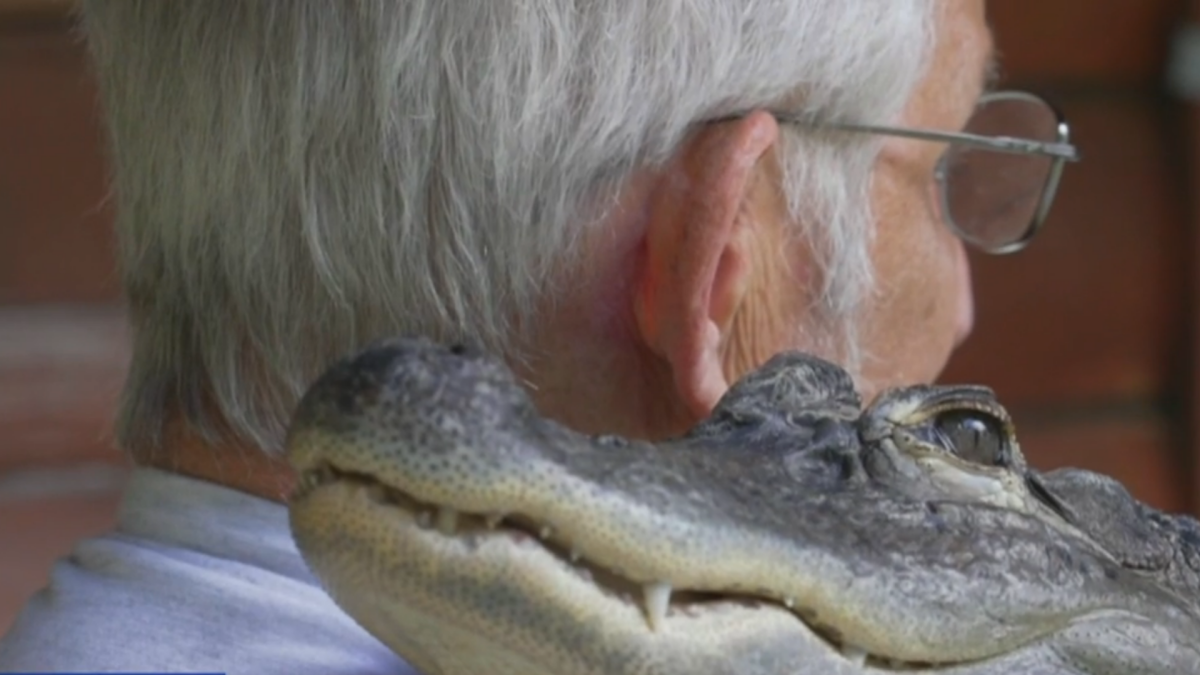 Joie Henney is the first to admit he has issues. Suffering from repeated deep depression, he has regularly had to seek out help to get out of deep funks that could become seriously negative. However, while many folks use counseling, pharmaceuticals or support groups, Henney has an odd comfort pet for emotional support. He has an alligator.
Personal pets are well-known for their mental health benefits, especially for people who otherwise suffer significantly from loneliness and isolation. And that emotional bond is not restricted to ordinary pets like dogs or cats. Many farm animals have been known to provide emotional support as well, like horses, ducks and even pigs. Some even had fictional made about the same. However, no one until Henney has specifically identified an alligator as a comfort pet.
Alligators are normally treated and placed in the category of dangerous predators. They are typically cold-blooded, no pun intended, killers that will snap at anything they consider food, including people. As it turns out though, Henney is also an alligator expert. So he knows a bit more about big lizards than the average person.
Dubbed, "Wally," Henney's comfort pet is a wayward fellow who first crossed paths with Henney when Wally mistakenly parked himself in a pond at the local Florida Disney World. Obviously, Wally and Disney visitors were not a good mix, so Henney was brought in to remove the confused alligator. Under state law, relocated alligators can't just be dumped in the wild again once they've been exposed to developed human areas, so Henney adopted the fellow instead. Wally can't complain much; he gets a steady diet of raw chicken legs and Cheetos at Henney's home in Pennsylvania.
Henney isn't an idiot about alligators either. From his own training and experience, Henney knows alligators will snap at anything near their face or head. Wally, for some reason, was not a snapper. In fact, Wally doesn't like to close his mouth. The odd behavior might explain why the alligator ended up at Disney World, unable to function normally in the wild. So, Henney figured out that Wally was very different and treated him accordingly. In his own words, Henney would describe their friendship and bond as very unique and special.
Um…what?
Henney himself has been through a lot. Having lost a number of close friends and relatives, he's been through the ringer with depression and many times would feel very down day to day. For some reason, Wally picked up on this and clearly made it evident he was there to help and comfort Henney. How was that signaled? Well, Henney would be sleeping on the couch and, since Wally was never kept in a cage, the alligator would find a way to get up on the couch and park himself on Henney. At least he didn't bite.
Some could argue the alligator just wanted to warm up on Henney since cold-blooded animals can't regulate their body heat well, but Henney has decided it's something more. These days, Henney brings Wally with him wherever he goes, whether it's on a walk or a visit to the doctor. Of course, they do have to keep their distance from folks, and the duo use the drive-through option a lot. Henney did get married as well, and Wally was the ringbearer. That said, no one was quick to grab the ring from the big lizard.
And for Henney, Wally has been a lifesaver, keeping the alligator expert out of depression and looking forward to tomorrow.