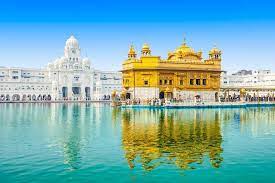 The Indian City That Feeds People Every Day
Have you ever wondered what it would be like to live in a place where no one has to go to bed hungry? Well, in the bustling city of Amritsar in India, this incredible reality exists. Amritsar is famous for its golden temple, known as Harmandir Sahib, and its extraordinary act of compassion that takes place within its sacred walls.
The golden temple, a magnificent and awe-inspiring structure, is not only a place of worship for Sikhs but also a beacon of hope and generosity for people from all walks of life. At the heart of this magnificent temple lies a remarkable tradition called "langar," which means a free communal kitchen.
Every single day, without fail, the golden temple's langar serves an astonishing 100,000 people, providing them with a nourishing and warm meal. Just imagine that for a moment – a hundred thousand meals a day! This incredible feat makes it the largest free kitchen in the world.
What makes the langar at the golden temple even more special is that it welcomes everyone, regardless of their religion, caste, or social status. There is no discrimination here. It is a place where the rich and the poor, the young and the old, the locals and the visitors, all come together to share a meal in harmony.
The practice of seva, or selfless service, lies at the core of Sikhism. It is not just a guiding principle for Sikhs but a way of life. The langar at the golden temple is a shining example of this. Sikhs believe that serving others is a noble act that promotes equality, humility, and compassion. In fact, seva is considered an act of love, an expression of care for fellow human beings.
The spirit of seva is deeply ingrained in the people of Amritsar. Many devote their time and effort to contribute to the langar. They peel vegetables, chop onions, cook meals, clean dishes, and serve food to the thousands who visit the temple every day. They do this without seeking recognition or reward, embodying the true essence of selflessness.
One of the beautiful aspects of seva is the humility with which it is carried out. Sikhs believe in performing seva so discreetly and selflessly that even their right hand should not know about their left hand's actions. This notion highlights the importance of doing good without seeking personal gain or acknowledgment.
The impact of the langar reaches far beyond just filling empty stomachs. It provides solace to those in need, a sense of community and belonging, and a reminder that in this world, we are all interconnected. It gives hope to the hungry, reminding them that there are people who care and are ready to offer support.
In Amritsar, the langar is available 24 hours a day, seven days a week. No one is turned away, and there are no restrictions on how long one can stay or how many meals one can have. Whether it's a homeless person seeking refuge, a traveler passing through the city, or a local resident facing hard times, the golden temple's langar offers a warm and fulfilling meal to anyone who needs it.
The Ockendon Solar Farm's Remarkable Transformation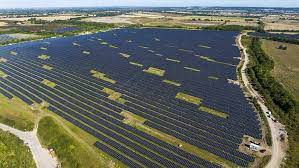 A once-neglected trash dump in England has undergone a breathtaking transformation into one of the United Kingdom's largest solar farms. The Ockendon solar farm, as it is now known, is set to provide electricity to an impressive 15,000 homes. With its 100,000 gleaming solar panels, it proudly stands as the third-largest solar farm in the entire UK.
This remarkable journey from waste ground to green energy oasis reflects the nation's growing commitment to renewable energy and sustainability. Frank Gordon, the director of policy at the Association for Renewable Energy and Clean Technology, highlighted the importance of projects like Ockendon solar farm in addressing the climate crisis. He told The Guardian, "We urgently need more solar in the UK to help meet our legally binding net-zero goals, and this summer's extraordinary global weather has further underlined the need for climate action."
The Ockendon solar farm is a shining example of the UK's transition to cleaner energy sources. Since 2020, nearly half of the nation's power has been sourced from a combination of wind, solar, bioenergy, and hydroelectric sources. This shift towards renewable energy not only reduces harmful emissions but also bolsters energy security and creates jobs in the burgeoning green energy sector.
The transformation of the Ockendon site is nothing short of inspirational. What was once a symbol of waste and environmental neglect has become a symbol of hope for a more sustainable future. As solar farms like Ockendon continue to sprout across the UK, they bring us one step closer to achieving our net-zero emissions goals and safeguarding the planet for generations to come.