The Funniest Thanksgiving Prank – Texting Mom and Asking How Long It takes to Microwave a Turkey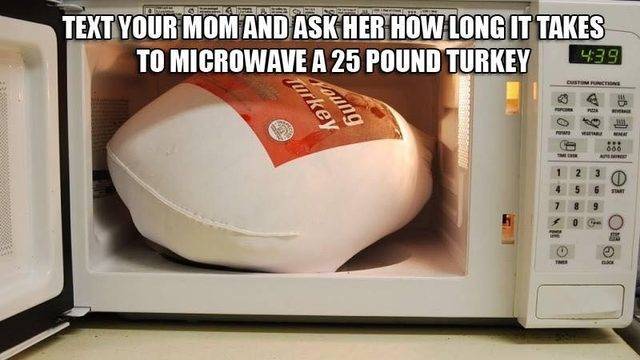 Thanksgiving is a time for holiday traditions: gathering around the table, eating turkey and cranberry sauce, watching the game on television. This year, you can add a new tradition to the list — millennials pranking their moms.
It started on Instagram. A poster named blessed.mess.jess texted her mom and asked her how long it would take to microwave a 25-pound turkey. Her mom's responses were hilarious, including a suggestion that her daughter put the stuffing up her butt (that wasn't the word she used). Blessed.mess.jess posted a screenshot of the conversation on Instagram, and a new trend was born, which soon spilled over from Instagram into Twitter.
The funniest exchanges were the ones where the moms, like the mom in the original post, lost their cool. In a Norman Rockwell vision of Thanksgiving, mothers are consistently patient and kind, always ready with an encouraging word for their children. In the real world, though, the moms pranked by their kids often cursed a blue streak or shook their fists at the fate that had brought them adult offspring who seemed so ignorant of the ways of the world. And the pranking millennials loved it, plastering the screenshots all over social media and claiming bragging rights for having the funniest mom.
Some pranked moms blamed their own parenting skills for raising such deficient offspring. Some thought their kids were drunk or high. Some used colorful descriptions of their children's abilities and of the way a microwaved turkey would taste — like a bicycle tire, one mom said.
Some of the prankers may have gone a wee bit too far, genuinely scaring their moms, who thought their offspring might blow themselves up when their turkeys exploded in the microwave.
The whole basis of the prank is that, of course, you can't microwave a 25-pound turkey, much less fit one into a microwave oven. Or can you? In an unexpected twist to this story, Butterball, the famous turkey company, actually responded to the prank by saying that yes, you CAN cook a turkey in a microwave oven. Here, in case for some crazy reason you want to try it, are Butterball's instructions:
1. Start with a turkey that's smaller than 25 pounds. This seems like Butterball is cheating a little, but the company does say that a smaller turkey will have enough meat for a typical millennial get-together.
2. Thaw it out first.
3. Put it breast-side down on a dish that is safe for the microwave.
4. Cook for 4 minutes per pound of turkey. Use the full power setting.
5. Baste the turkey with the drippings, then flip it over.
6. Cook for 8 minutes per pound at half power.
7. That's going to take a while, but don't go anywhere! Every 18 minutes (don't ask where Butterball came up with this number), you're going to need to use a meat thermometer to check the turkey's temperature. While you're in there, baste it again.
8. You're looking for a temperature of 180 to 185 in the turkey's thigh or 170 to 175 pounds in the turkey's breast.  When you see that, the turkey is done!  Yay, time to eat. But first, baste it one last time.
So, there you have it. Butterball actually pranked the prankers by showing that it really is possible to cook a Thanksgiving turkey in a microwave oven, though a 25-pound turkey isn't going to fit in a normal-sized microwave. As long as you go a little smaller, though, you can do it. Or so Butterball claims. Has anyone tried it?
These Hermit Crabs Will Blow Your Mind With Stunning Natural Ritual.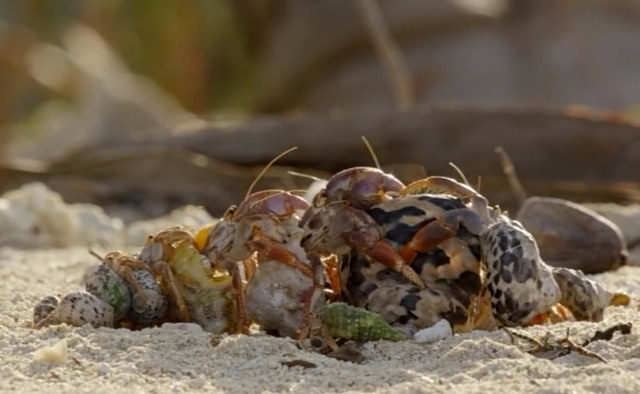 If you are like most people then you are likely fascinated with the ocean and all the creatures inside it. While we can talk forever about massive whales, scuttling squids, and scary sharks, we'd rather highlight a cute little crustacean known as the hermit crab. Now, you've likely heard of the hermit crab and, perhaps, you even know what it looks like. As a member of the superfamily known as the Paguroidea, hermit crabs manage to stand out all on their own. In fact, after learning about this natural ritual that hermit crabs complete, you might even want one of your own!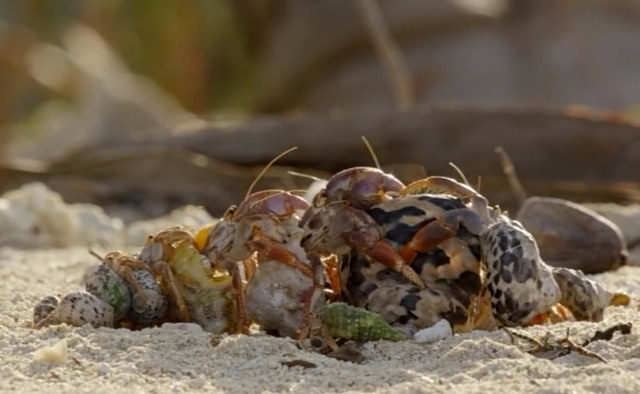 In a post shared on Facebook by a user named Melody Flowers, it was revealed that hermit crabs are always looking for bigger shells to live in. While you probably knew this already, what you didn't realize about this ritual is far more fascinating. According to the post, which has since been backed up by other scientific journals, hermit crabs like to line up next to shells that happen to be too big for them. Hermit crabs can wait for up to eight hours for another crab to come along and try the shell out. Why do these crabs wait next to shells that are too large for them? As it turns out, the first hermit crab is simply waiting for the second crab in line to discard its shell.
So we outlined a natural ritual that hermit crabs undertake when finding a new home. Why is this so fascinating? While you may have summoned up an image of two hermit crabs swapping shells, that isn't entirely accurate. As the second crab lines up behind the shell, more will come to follow. Before long, observers would be able to watch as dozens of hermit crabs all trade shells with one another to ensure that everyone has a comfortable home to live in. The smallest shell of the bunch gets left behind while the shell that started the queue will go to the largest hermit crab of the lot. That's pretty amazing, isn't it? The coordination and cooperation that these hermit crabs have to deploy is nothing short of impressive. If only humans could get along so well when it comes to making to sure everyone is comfortable and safe within their home.
Even though hermit crabs will work together in order to find homes, they are still a competitive species. Gastropod shells can become a limited resource due to a variety of natural and unnatural factors, such as climate change and pollution. When hermit crabs are of a similar size, they are more competitive and violent with one another. When hermit crabs vary dramatically in size, there are more resources available for every member of the group. Hermit crabs are a fascinating sort of creature because they can come in varying sizes with a lifespan ranging between 12 and 70 years. The next time that you see a hermit crab, make sure it has the perfect shell to call home. Maybe it will remember you a couple of decades later!