The Funniest Thanksgiving Prank – Texting Mom and Asking How Long It takes to Microwave a Turkey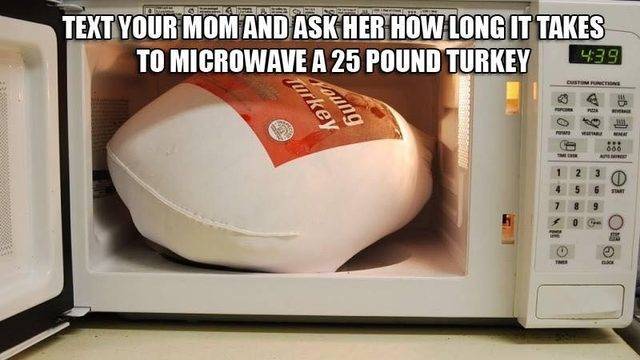 Thanksgiving is a time for holiday traditions: gathering around the table, eating turkey and cranberry sauce, watching the game on television. This year, you can add a new tradition to the list — millennials pranking their moms.
It started on Instagram. A poster named blessed.mess.jess texted her mom and asked her how long it would take to microwave a 25-pound turkey. Her mom's responses were hilarious, including a suggestion that her daughter put the stuffing up her butt (that wasn't the word she used). Blessed.mess.jess posted a screenshot of the conversation on Instagram, and a new trend was born, which soon spilled over from Instagram into Twitter.
The funniest exchanges were the ones where the moms, like the mom in the original post, lost their cool. In a Norman Rockwell vision of Thanksgiving, mothers are consistently patient and kind, always ready with an encouraging word for their children. In the real world, though, the moms pranked by their kids often cursed a blue streak or shook their fists at the fate that had brought them adult offspring who seemed so ignorant of the ways of the world. And the pranking millennials loved it, plastering the screenshots all over social media and claiming bragging rights for having the funniest mom.
Some pranked moms blamed their own parenting skills for raising such deficient offspring. Some thought their kids were drunk or high. Some used colorful descriptions of their children's abilities and of the way a microwaved turkey would taste — like a bicycle tire, one mom said.
Some of the prankers may have gone a wee bit too far, genuinely scaring their moms, who thought their offspring might blow themselves up when their turkeys exploded in the microwave.
The whole basis of the prank is that, of course, you can't microwave a 25-pound turkey, much less fit one into a microwave oven. Or can you? In an unexpected twist to this story, Butterball, the famous turkey company, actually responded to the prank by saying that yes, you CAN cook a turkey in a microwave oven. Here, in case for some crazy reason you want to try it, are Butterball's instructions:
1. Start with a turkey that's smaller than 25 pounds. This seems like Butterball is cheating a little, but the company does say that a smaller turkey will have enough meat for a typical millennial get-together.
2. Thaw it out first.
3. Put it breast-side down on a dish that is safe for the microwave.
4. Cook for 4 minutes per pound of turkey. Use the full power setting.
5. Baste the turkey with the drippings, then flip it over.
6. Cook for 8 minutes per pound at half power.
7. That's going to take a while, but don't go anywhere! Every 18 minutes (don't ask where Butterball came up with this number), you're going to need to use a meat thermometer to check the turkey's temperature. While you're in there, baste it again.
8. You're looking for a temperature of 180 to 185 in the turkey's thigh or 170 to 175 pounds in the turkey's breast.  When you see that, the turkey is done!  Yay, time to eat. But first, baste it one last time.
So, there you have it. Butterball actually pranked the prankers by showing that it really is possible to cook a Thanksgiving turkey in a microwave oven, though a 25-pound turkey isn't going to fit in a normal-sized microwave. As long as you go a little smaller, though, you can do it. Or so Butterball claims. Has anyone tried it?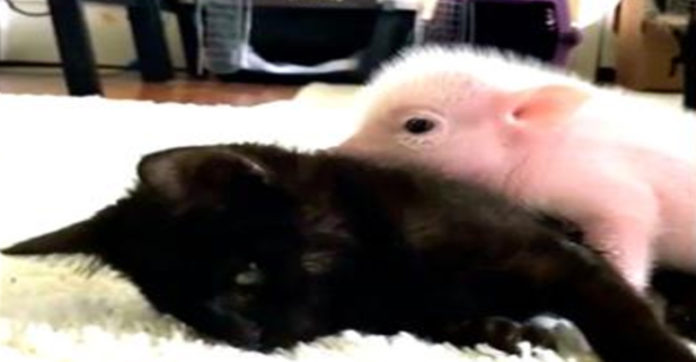 A piglet and a cat might seem like an odd pair, but the kitten named Sriracha and the little pig Batman have proved otherwise. The friendship and interactions of these two close friends are the most heartwarming thing you will ever see. Both animals lived at Rancho Relaxo – a non-profit rescue farm in Woodstown, New Jersey established by Caitlin Cimini. They were more than just friends because Sriracha depended on Batman in a big way.
Sriracha, a cute black kitten, suffers from a non-progressive and non-contagious neurological disorder known as feline cerebellar hypoplasia, causing walking and balance issues. There are seriously bad days when Sriracha has two seizures in a row and becomes a little "off". Feline cerebellar hypoplasia is caused by improper development of the parts of the cerebellum or exposure to infections, toxins, and nutritional deficiencies. It might be hard and sad to see the kitten shaking but, actually, such condition is absolutely painless.
When Sriracha was going through the bad period of her life, she found comfort and support from a two-week-old orphan rescued piglet. Caitlin Cimini says that Batman always felt when the kitten was about to experience a seizure. He rushed immediately to her to put his body on top of Sriracha's and comfort his poor friend. Caitlin wrote on her Instagram: "Sriracha found comfort in Batman. And Batman almost knew what he was doing for her. It was a beautiful thing to watch". The baby Batman did not leave his buddy alone. He cuddled up to Sriracha by keeping her company. Though the kitten cannot speak, she was definitely thankful for her little pink friend. They got really attached to each other and became inseparable.
Unfortunately, due to congenital problems, Batman passed away. Sriracha was devastated and brokenhearted by sobbing for a little pink buddy for days. However, fortunately, in an odd twist of fate, Caitlin soon rescued Batman's bittersweet sibling from the auction and named him Dragonlord. To everyone's surprise, after Dragonlord warmed up, he started taking care of Sriracha even better than his brother Batman did. Dragonlord and Sriracha became very close best friends by spending a lot of time together. Just like Batman, Dragonlord comforts the kitten every time when she is experiencing a seizure. In return, Sriracha shows her love by grooming her supportive friend and showering him with kisses.
Such a beautiful and unusual friendship of animals has captured the hearts of millions of fans around the world on social media. "That is why I do what I do" – says a founder of Rancho Relaxo on her Instagram. "This is the reason why my entire life is dedicated to helping animals. They are the most beautiful creatures on this planet". So far, Caitlin and her husband have rescued already hundreds of animals, and they do not have an intention to stop.