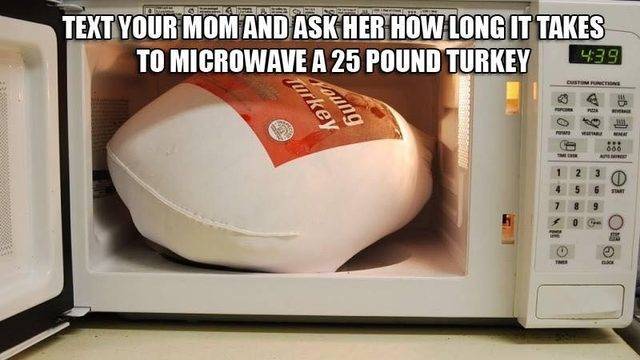 The Funniest Thanksgiving Prank – Texting Mom and Asking How Long It takes to Microwave a Turkey
Thanksgiving is a time for holiday traditions: gathering around the table, eating turkey and cranberry sauce, watching the game on television. This year, you can add a new tradition to the list — millennials pranking their moms.
It started on Instagram. A poster named blessed.mess.jess texted her mom and asked her how long it would take to microwave a 25-pound turkey. Her mom's responses were hilarious, including a suggestion that her daughter put the stuffing up her butt (that wasn't the word she used). Blessed.mess.jess posted a screenshot of the conversation on Instagram, and a new trend was born, which soon spilled over from Instagram into Twitter.
The funniest exchanges were the ones where the moms, like the mom in the original post, lost their cool. In a Norman Rockwell vision of Thanksgiving, mothers are consistently patient and kind, always ready with an encouraging word for their children. In the real world, though, the moms pranked by their kids often cursed a blue streak or shook their fists at the fate that had brought them adult offspring who seemed so ignorant of the ways of the world. And the pranking millennials loved it, plastering the screenshots all over social media and claiming bragging rights for having the funniest mom.
Some pranked moms blamed their own parenting skills for raising such deficient offspring. Some thought their kids were drunk or high. Some used colorful descriptions of their children's abilities and of the way a microwaved turkey would taste — like a bicycle tire, one mom said.
Some of the prankers may have gone a wee bit too far, genuinely scaring their moms, who thought their offspring might blow themselves up when their turkeys exploded in the microwave.
The whole basis of the prank is that, of course, you can't microwave a 25-pound turkey, much less fit one into a microwave oven. Or can you? In an unexpected twist to this story, Butterball, the famous turkey company, actually responded to the prank by saying that yes, you CAN cook a turkey in a microwave oven. Here, in case for some crazy reason you want to try it, are Butterball's instructions:
1. Start with a turkey that's smaller than 25 pounds. This seems like Butterball is cheating a little, but the company does say that a smaller turkey will have enough meat for a typical millennial get-together.
2. Thaw it out first.
3. Put it breast-side down on a dish that is safe for the microwave.
4. Cook for 4 minutes per pound of turkey. Use the full power setting.
5. Baste the turkey with the drippings, then flip it over.
6. Cook for 8 minutes per pound at half power.
7. That's going to take a while, but don't go anywhere! Every 18 minutes (don't ask where Butterball came up with this number), you're going to need to use a meat thermometer to check the turkey's temperature. While you're in there, baste it again.
8. You're looking for a temperature of 180 to 185 in the turkey's thigh or 170 to 175 pounds in the turkey's breast.  When you see that, the turkey is done!  Yay, time to eat. But first, baste it one last time.
So, there you have it. Butterball actually pranked the prankers by showing that it really is possible to cook a Thanksgiving turkey in a microwave oven, though a 25-pound turkey isn't going to fit in a normal-sized microwave. As long as you go a little smaller, though, you can do it. Or so Butterball claims. Has anyone tried it?
Man Creates AI Program To Alert Him And Greet Dogwalkers in His Community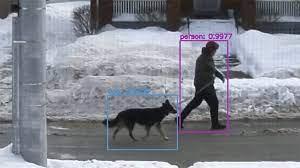 Dogs are deemed as man's best friend for a multitude of reasons. What we have to understand, though, is that the love has to be shown to the dog as much as we want to be delivered to us.
Watching someone walking their dog is a pastime that never grows old, to the point that one man decided to build a hi-tech machine to detect when dogs and their owners were passing by his home.
Is that a thing? Certainly it is, and it has been bringing immense joy to him as well as the pups and their masters as they pass by his home.
Some people think it's cute, others eerie, but no one can deny the thought and creativity behind developing that machine.
This may become the new greeting technology based on the incredible level of responses that have been pouring out towards both the owner and his creation, as you'll learn below.
If you have at any point spent an evening(or the whole year 2020) on the internet looking at adorable dog videos, you'll understand why Ryder of YouTube fame decided to create a computer, powered by Artificial Intelligence, which is able to discern dogs walking along the street pass their house and instantly shout praises to the dog walkers or owners.
His Youtube program is called Ryder Calm and has earned quite a following.
Getting things done by looking at the real puppers has always been better than wasting time and looking at only pictures of puppies, so the development began as an automated manner for Ryder to identify when somebody was walking down the street past their home. The computer, which is based on a Raspberry Pi, assesses a live feed from the camera module and employs a machine learning model (in this case, the YOLOv3) that has been programmed to recognize about Eighty different items, including people, vehicles, and dogs.
When a passing puppy is detected, an alarming automated text-to-speech voice warns Ryder via an actual megaphone, allowing them to rush to the window on time to catch sight, no matter what they're doing.
Watching dogs is obviously not just his passion, but clearly an activity that his entire family enjoys doing. They enjoy it so much that they've programmed the system to function even during their absence. If that isn't innovative, then what is?
For those occasions when they aren't home to hear the alarm, the system can be programmed to play a pre-recorded "I like your dog!" message through the window, providing a complimentary dopamine boost to anybody walking their dog down Ryder's street.
It's a random and somewhat weird act of generosity, but I think we'd all take something at this stage. After all, any good gesture is better than the negativity endured throughout 2020, right?