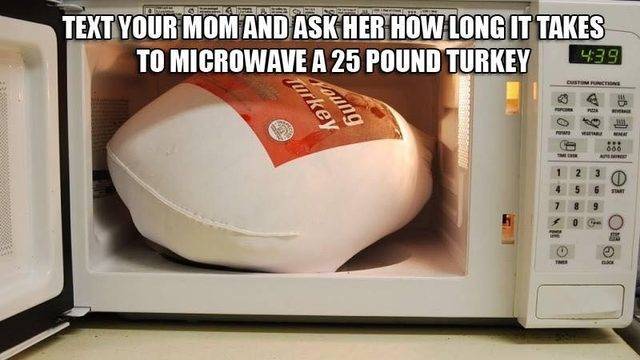 The Funniest Thanksgiving Prank – Texting Mom and Asking How Long It takes to Microwave a Turkey
Thanksgiving is a time for holiday traditions: gathering around the table, eating turkey and cranberry sauce, watching the game on television. This year, you can add a new tradition to the list — millennials pranking their moms.
It started on Instagram. A poster named blessed.mess.jess texted her mom and asked her how long it would take to microwave a 25-pound turkey. Her mom's responses were hilarious, including a suggestion that her daughter put the stuffing up her butt (that wasn't the word she used). Blessed.mess.jess posted a screenshot of the conversation on Instagram, and a new trend was born, which soon spilled over from Instagram into Twitter.
The funniest exchanges were the ones where the moms, like the mom in the original post, lost their cool. In a Norman Rockwell vision of Thanksgiving, mothers are consistently patient and kind, always ready with an encouraging word for their children. In the real world, though, the moms pranked by their kids often cursed a blue streak or shook their fists at the fate that had brought them adult offspring who seemed so ignorant of the ways of the world. And the pranking millennials loved it, plastering the screenshots all over social media and claiming bragging rights for having the funniest mom.
Some pranked moms blamed their own parenting skills for raising such deficient offspring. Some thought their kids were drunk or high. Some used colorful descriptions of their children's abilities and of the way a microwaved turkey would taste — like a bicycle tire, one mom said.
Some of the prankers may have gone a wee bit too far, genuinely scaring their moms, who thought their offspring might blow themselves up when their turkeys exploded in the microwave.
The whole basis of the prank is that, of course, you can't microwave a 25-pound turkey, much less fit one into a microwave oven. Or can you? In an unexpected twist to this story, Butterball, the famous turkey company, actually responded to the prank by saying that yes, you CAN cook a turkey in a microwave oven. Here, in case for some crazy reason you want to try it, are Butterball's instructions:
1. Start with a turkey that's smaller than 25 pounds. This seems like Butterball is cheating a little, but the company does say that a smaller turkey will have enough meat for a typical millennial get-together.
2. Thaw it out first.
3. Put it breast-side down on a dish that is safe for the microwave.
4. Cook for 4 minutes per pound of turkey. Use the full power setting.
5. Baste the turkey with the drippings, then flip it over.
6. Cook for 8 minutes per pound at half power.
7. That's going to take a while, but don't go anywhere! Every 18 minutes (don't ask where Butterball came up with this number), you're going to need to use a meat thermometer to check the turkey's temperature. While you're in there, baste it again.
8. You're looking for a temperature of 180 to 185 in the turkey's thigh or 170 to 175 pounds in the turkey's breast.  When you see that, the turkey is done!  Yay, time to eat. But first, baste it one last time.
So, there you have it. Butterball actually pranked the prankers by showing that it really is possible to cook a Thanksgiving turkey in a microwave oven, though a 25-pound turkey isn't going to fit in a normal-sized microwave. As long as you go a little smaller, though, you can do it. Or so Butterball claims. Has anyone tried it?
Hell, MI, Appoints Wonky Feet Big-Eyed Cat as Mayor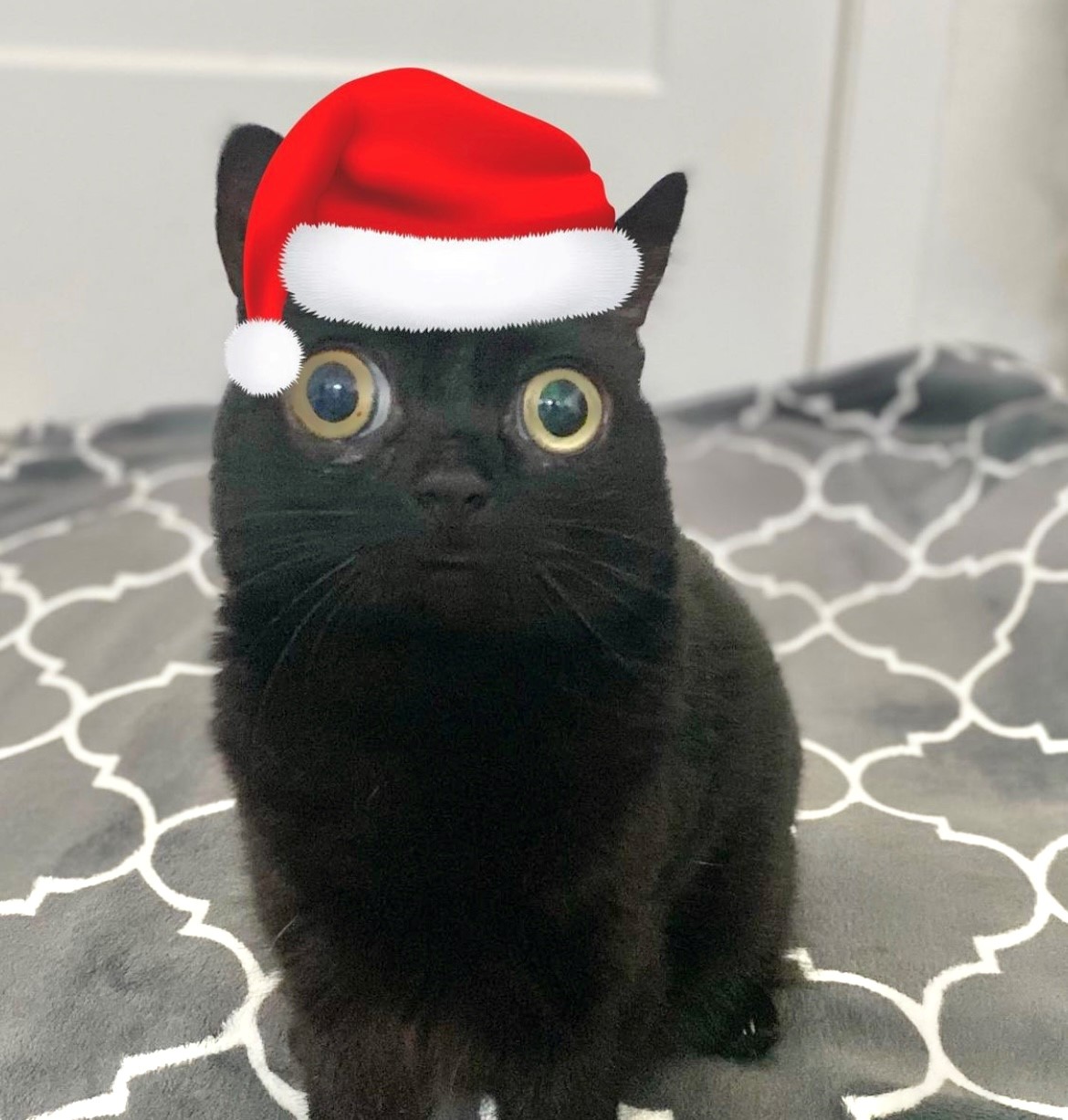 Don't let the name fool you, because Hell, a town in Michigan, is nothing like the name might suggest. Most recently, the town went as far as to install its most unlikely mayor, a cat! Keep reading for all the details.
A small Michigan town will very soon have as its mayor, a cat with big eyes and crooked feet. And it's not just any city either. Hell, which is approximately 20 miles to the north of Ann Arbor, will be under the control of this tiny black cat.
Just about anyone can elect the mayor of Hell for one day. Part of the town's marketing strategy. Pets, on the other hand, are a very different story. This is going to be an unprecedented move to have a cat intervene to keep Hell from erupting on April 24.
They've been together since Jinx's rescue by her owner, Mia, three years ago. Jinx follows Mia anywhere she goes. Mia is always in Jinx's vicinity.
California is where they reside. Because of Jinx's large number of followers on social media, Mia, a.k.a. MiaJinx, refused to have her surname included in this tale. We're talking about 735,000 TikTok followers as well as 400,000 Instagram followers here.
"I didn't even hunt for a cat when I saved Jinx in 2018," Mia told MLive. "I returned home from a football event early one day. I was meant to get home a long time later. I found her after hearing her meow in the backyard. She was only 3 weeks old at the time."
As Jinx developed, Mia claims she began to notice something odd about her new kitten.
"She had large eyes that didn't shrink in size as she grew larger, and I also noted she had large feet. The vet says she's healthy and hasn't found anything wrong with her. She'd just been born with these abnormalities. She's also a touch sluggish and awkward compared to other cats. This is her first year of landing on her feet."
From afar, Jinx will control Hell for the day. At approximately 4 p.m. ET which is 1:00 p.m. on the Pacific coast, Mia intends to make a huge declaration through Livestream on Jinx's Twitch page.
On the day before the cat's impeachment by the Reverend, Mia plots to jokingly produce graphs demonstrating how Jinx was elected mayor by a landslide, as well as what her proclamation states for the day.
According to Hell's Reverend Vonn, who will swear in Jinx as mayor over the phone, "We adore our in-person and faraway mayors." When it comes to individuals who are difficult to buy for or already have everything, the Mayor of the Day bundle is the ideal solution. They get to spend one Helluva wonderful day and then get the dreaded telephone call that they're about to be impeached."
How did a viral cat's owner in California come across the small town of Hell and realize that she could appoint her beloved kitty mayor for the day?
"I made a joke about Jinx running for president on Twitter. After seeing animal mayors earlier, I asked on Twitter how to make Jinx mayor, and somebody mentioned Michigan as well as the possibility of paying to be the mayor of Hell for a day.
For both animals and humans alike, it costs $100 to reign Hell for a day. It comes with a certificate of impeachment, a cup from Hell, a shirt from Hell, along with a certificate of mayor proclamation. In Hell, the mayor will have the property of his or her own as well. One square millimeter of space.
Interested in becoming mayor of Hell? Fill out a form or contact them at 734-878-2233 to find out when the position is available.