The Funniest Thanksgiving Prank – Texting Mom and Asking How Long It takes to Microwave a Turkey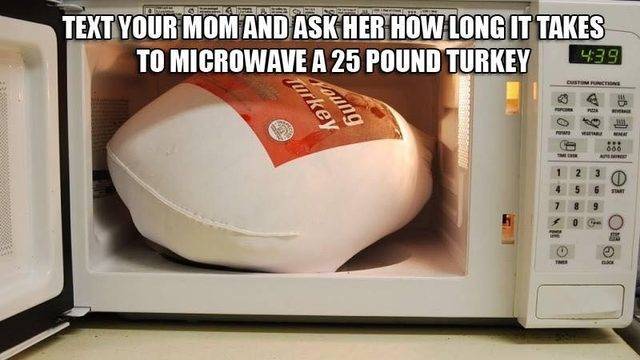 Thanksgiving is a time for holiday traditions: gathering around the table, eating turkey and cranberry sauce, watching the game on television. This year, you can add a new tradition to the list — millennials pranking their moms.
It started on Instagram. A poster named blessed.mess.jess texted her mom and asked her how long it would take to microwave a 25-pound turkey. Her mom's responses were hilarious, including a suggestion that her daughter put the stuffing up her butt (that wasn't the word she used). Blessed.mess.jess posted a screenshot of the conversation on Instagram, and a new trend was born, which soon spilled over from Instagram into Twitter.
The funniest exchanges were the ones where the moms, like the mom in the original post, lost their cool. In a Norman Rockwell vision of Thanksgiving, mothers are consistently patient and kind, always ready with an encouraging word for their children. In the real world, though, the moms pranked by their kids often cursed a blue streak or shook their fists at the fate that had brought them adult offspring who seemed so ignorant of the ways of the world. And the pranking millennials loved it, plastering the screenshots all over social media and claiming bragging rights for having the funniest mom.
Some pranked moms blamed their own parenting skills for raising such deficient offspring. Some thought their kids were drunk or high. Some used colorful descriptions of their children's abilities and of the way a microwaved turkey would taste — like a bicycle tire, one mom said.
Some of the prankers may have gone a wee bit too far, genuinely scaring their moms, who thought their offspring might blow themselves up when their turkeys exploded in the microwave.
The whole basis of the prank is that, of course, you can't microwave a 25-pound turkey, much less fit one into a microwave oven. Or can you? In an unexpected twist to this story, Butterball, the famous turkey company, actually responded to the prank by saying that yes, you CAN cook a turkey in a microwave oven. Here, in case for some crazy reason you want to try it, are Butterball's instructions:
1. Start with a turkey that's smaller than 25 pounds. This seems like Butterball is cheating a little, but the company does say that a smaller turkey will have enough meat for a typical millennial get-together.
2. Thaw it out first.
3. Put it breast-side down on a dish that is safe for the microwave.
4. Cook for 4 minutes per pound of turkey. Use the full power setting.
5. Baste the turkey with the drippings, then flip it over.
6. Cook for 8 minutes per pound at half power.
7. That's going to take a while, but don't go anywhere! Every 18 minutes (don't ask where Butterball came up with this number), you're going to need to use a meat thermometer to check the turkey's temperature. While you're in there, baste it again.
8. You're looking for a temperature of 180 to 185 in the turkey's thigh or 170 to 175 pounds in the turkey's breast.  When you see that, the turkey is done!  Yay, time to eat. But first, baste it one last time.
So, there you have it. Butterball actually pranked the prankers by showing that it really is possible to cook a Thanksgiving turkey in a microwave oven, though a 25-pound turkey isn't going to fit in a normal-sized microwave. As long as you go a little smaller, though, you can do it. Or so Butterball claims. Has anyone tried it?
Fans of the Duggar Family have a new theory about Josh Duggar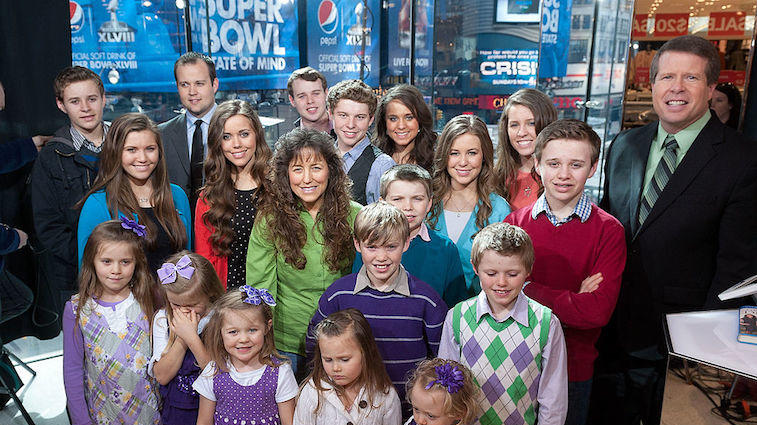 Jim Bob And Michelle Duggar continue to have a large fan following due to their 19 Kids and Counting reality show that aired from 2008 to 2015. The controversial show featured nine girls and ten boys of Jim and Michelle. At one point the show was the most popular show on TLC and also landed in Neilson's "Cable Top 25" ranking.
With 19 children in one house, there are a lot of different dynamics at play. Fan of the show believes that there is a money related dispute between Jim and Jill Bob. Both Derick and Jill don't get much screen time as they are often shown to be busy with their own private life. The other family member that doesn't get much screen time is Josh Duggar, who has developed a reputation for being a trouble maker. During his younger days, he was accused of sexually assaulting several family members. That eventually led to the cancellation of the show.
Recently, Josh Duggar has been back in the news. This time it is because of the fan theory that has surfaced online. According to the fan theory, Josh Duggar and his wife Anna are scheming to become owners of the Duggar family house, which is an enormous property, probably worth millions of dollars. Just to provide an idea of the size of the house, the laundry room has four washers and four dryers, running nine loads of laundry a day. The house has gone through expensive renovations and expansions.
The fan theory is based on the fact that Josh and Anna seem to be overly connected with the Duggar house. They continue to live in it even though Josh and his parents don't get along too well. With the history of the violence of Josh, his parents have distanced them from him and Anna. Josh has also been accused of cheating on his wife. It would be fair to say, Josh has not demonstrated himself as a person of high moral standards and character. The fan theory believes that the only reason Anna has been staying with Josh is because of the greed to own the property one day. Josh has even admitted to cheating. Anna claimed she didn't want to divorce him due to religious reasons but fan theory believes it all about the money. She is biding time until she gets the property. It's all part of a plan. Anna is shown to be "very happy" on her social media accounts, but given the track record of the couple, the fans believe it is all fake. The couple already has five children and they expect to continue to have more. Looks like they don't want to leave anything to chance and position themselves as front runners to inherit the house.
This theory is further reinforced with the news that Josh Duggar has not been doing good financially. The last job he had was of a used car salesperson and that was a while ago. On Reddit forums, this fan theory has gained a lot of attention. The fans believe that the Duggar child who has the most grandchildren might inherit the house. Also, Bob and Michelle might show some pity on Josh given that he has gone through a lot in his life, although it has mostly been his fault.