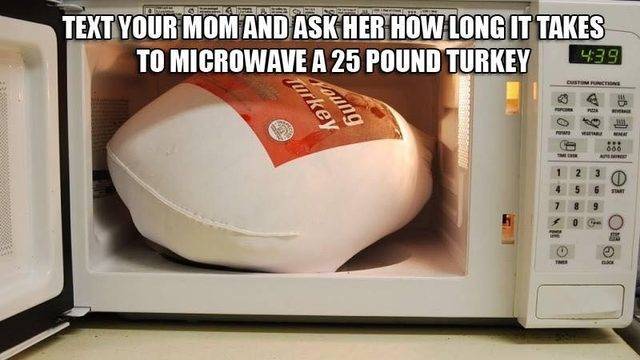 The Funniest Thanksgiving Prank – Texting Mom and Asking How Long It takes to Microwave a Turkey
Thanksgiving is a time for holiday traditions: gathering around the table, eating turkey and cranberry sauce, watching the game on television. This year, you can add a new tradition to the list — millennials pranking their moms.
It started on Instagram. A poster named blessed.mess.jess texted her mom and asked her how long it would take to microwave a 25-pound turkey. Her mom's responses were hilarious, including a suggestion that her daughter put the stuffing up her butt (that wasn't the word she used). Blessed.mess.jess posted a screenshot of the conversation on Instagram, and a new trend was born, which soon spilled over from Instagram into Twitter.
The funniest exchanges were the ones where the moms, like the mom in the original post, lost their cool. In a Norman Rockwell vision of Thanksgiving, mothers are consistently patient and kind, always ready with an encouraging word for their children. In the real world, though, the moms pranked by their kids often cursed a blue streak or shook their fists at the fate that had brought them adult offspring who seemed so ignorant of the ways of the world. And the pranking millennials loved it, plastering the screenshots all over social media and claiming bragging rights for having the funniest mom.
Some pranked moms blamed their own parenting skills for raising such deficient offspring. Some thought their kids were drunk or high. Some used colorful descriptions of their children's abilities and of the way a microwaved turkey would taste — like a bicycle tire, one mom said.
Some of the prankers may have gone a wee bit too far, genuinely scaring their moms, who thought their offspring might blow themselves up when their turkeys exploded in the microwave.
The whole basis of the prank is that, of course, you can't microwave a 25-pound turkey, much less fit one into a microwave oven. Or can you? In an unexpected twist to this story, Butterball, the famous turkey company, actually responded to the prank by saying that yes, you CAN cook a turkey in a microwave oven. Here, in case for some crazy reason you want to try it, are Butterball's instructions:
1. Start with a turkey that's smaller than 25 pounds. This seems like Butterball is cheating a little, but the company does say that a smaller turkey will have enough meat for a typical millennial get-together.
2. Thaw it out first.
3. Put it breast-side down on a dish that is safe for the microwave.
4. Cook for 4 minutes per pound of turkey. Use the full power setting.
5. Baste the turkey with the drippings, then flip it over.
6. Cook for 8 minutes per pound at half power.
7. That's going to take a while, but don't go anywhere! Every 18 minutes (don't ask where Butterball came up with this number), you're going to need to use a meat thermometer to check the turkey's temperature. While you're in there, baste it again.
8. You're looking for a temperature of 180 to 185 in the turkey's thigh or 170 to 175 pounds in the turkey's breast.  When you see that, the turkey is done!  Yay, time to eat. But first, baste it one last time.
So, there you have it. Butterball actually pranked the prankers by showing that it really is possible to cook a Thanksgiving turkey in a microwave oven, though a 25-pound turkey isn't going to fit in a normal-sized microwave. As long as you go a little smaller, though, you can do it. Or so Butterball claims. Has anyone tried it?
Herriot the Heron and the Underpants Sling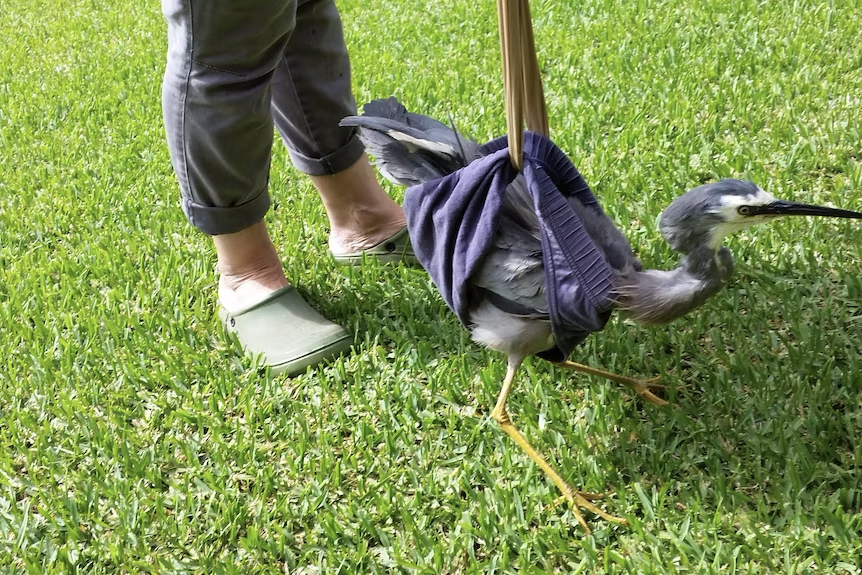 In the world of wildlife rescue, there are heroes who go above and beyond to help our feathered friends when they are in need. One such hero is Karen Ledger, a dedicated wildlife rescuer with a heart of gold. With over a decade of experience, Karen has helped countless birds in distress. However, it was her ingenious creation of an "underpants sling" that recently captured hearts and headlines, as she helped a heron named Herriot regain his ability to walk.
Herriot's story began with a troubling challenge. This majestic heron found himself unable to use his legs for reasons unknown. It was a dire situation, and things didn't look promising at the start. As Karen Ledger recounted, "It didn't look good at the start. He couldn't use his legs for unknown reasons. He might have been hit by a car."
Determined to help this long-legged bird find his footing again, Karen put her inventive mind to work. She faced the daunting task of making a heron walk when it seemed impossible. Her solution? An unconventional yet effective "underpants sling" made with a pair of stockings and her husband's underwear.
"I put the heron in the sling and physically made him use his legs three or four times a day until he could walk by himself," Karen explained. It was no easy feat, requiring intense effort and dedication. But for Karen, every minute was worth it when she saw Herriot finally regain his ability to walk independently.
Herriot's journey to recovery didn't end there. After his progress in the makeshift sling, he continued to improve by walking in an enclosed outdoor area for weeks. Finally, the day came when Herriot was strong enough to be released back into the wild, near a tranquil dam.
Karen's extraordinary efforts aren't limited to Herriot alone. She has a track record of helping a variety of birds in need. One heartwarming tale involves a barn owl who had lost his mate in a tragic road accident. Karen noticed that the owl was not physically injured but was deeply depressed, spending a week with his eyes closed and his head down.
Karen knew she had to find a way to lift the owl's spirits. "You have to think outside the square, just look at what you've got and adapt," she said. Drawing on her resourcefulness, she placed a stuffed toy penguin, roughly the same size as the owl, next to him in his cage. This simple act of comfort worked wonders. "After a couple of days, he started brightening up and opening his eyes. He came back to the point that he was well enough to be released," Karen said.
Karen Ledger's wildlife rescue efforts extend beyond her heroic acts with Herriot and the barn owl. She has dedicated herself to helping a wide array of birds, from barn owls and tawny frogmouths to lorikeets, rosellas, kookaburras, and more.