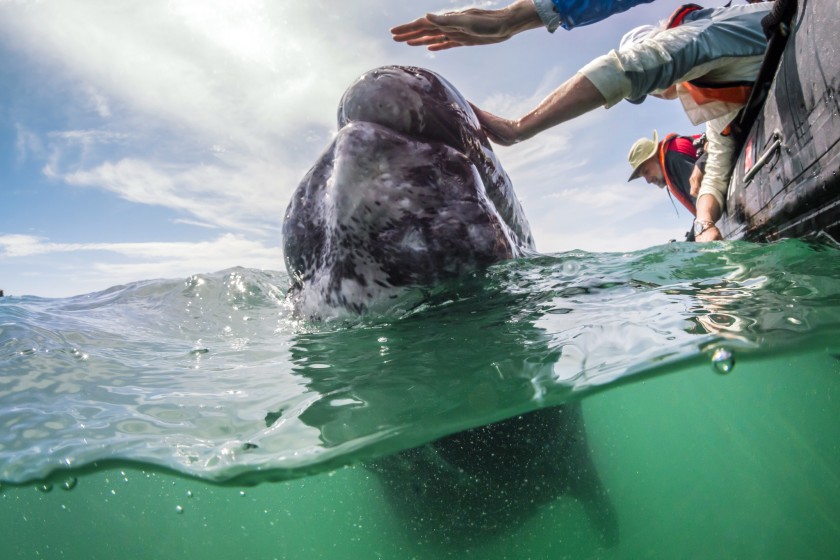 The Day I Met a Baby Gray Whale
In addition to being one of the most curious and intelligent creatures in Earth's oceans, due to their great size and the fact that they travel vast distances, gray whales are also host to a wealth of scientific data about the health of our oceans. Gray whales have a long history of unique interactions with humans. Most of the time they appear indifferent to us. Sometimes they behave in a friendly way. But during a few points in history, in a small number of locations, legends of gray whales flipping small boats and dragging men beneath the waves have cropped up.
But gray whales can even be dangerous when they do not mean to be. Weighing in at nearly 40 tons, with massive flippers and a huge, powerful tail, gray whales have downed many small boats either accidentally or otherwise. But these fascinating creatures still have a powerful draw for us. They are mysterious, massive, and have eyes which reflect a strangely familiar intelligence.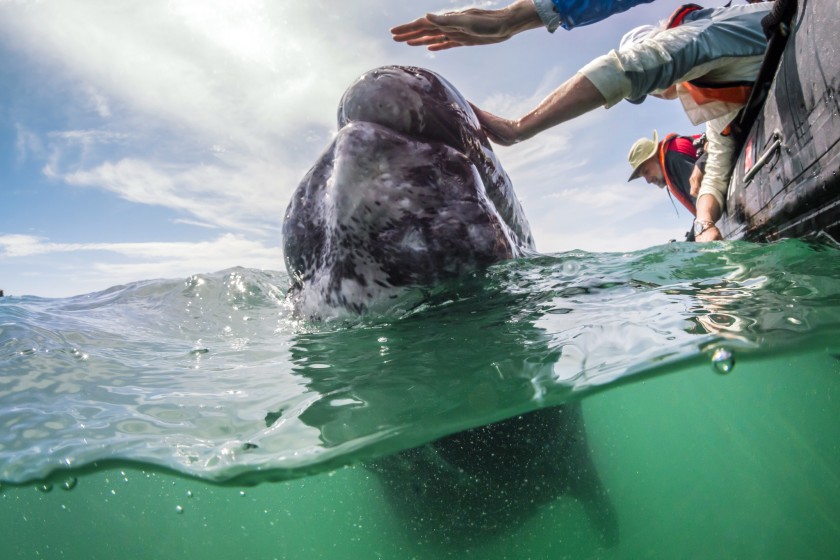 So when Cheryl and David Kipling set out in hopes of meetings these creatures face to face, it was no small task overcoming their trepidation. Cheryl and David are biologists and run a lab where they study the remains of whales that have been killed prematurely by the actions of humans.
Cheryl explained, "I've autopsied the brains of half a dozen gray whales and the one thing that stands out is the size and sophistication of their limbic brain."
We asked for more clarification on why having a big limbic brain is such a big deal.
She replied, "The limbic brain, in mammals, is the part of the brain that renders emotions. It's sandwiched between the fore-brain- which is big in humans, and the hindbrain- which controls all of our cravings and reflex instincts. The limbic brain motivates us with feelings. When you look at a puppy and say 'ahh' at his big brown eyes, or when you miss a loved one and want to see them, that's the limbic brain. Judging by the size of their's, these animals are deeply emotional. They are primarily emotional, in fact- whereas people might be said to be primarily intellect oriented. That's why it's such a crime to keep orcas in captivity, separate them from their pods- their families. They suffer intensely."
Equipped with this new and strange knowledge, going out with Dave and Cheryl to meet the whales felt all the more momentous. Getting out on the water to the right spot where the whale sightings were happening took most of the day. But the weather was beautiful, the water was calm, and we would have been happy even if no whales had shown up. But they did.
The couple spotted a mother and calf breaching the surface some distance off. They were headed in our direction. For several minutes, wonder, anticipation, and- we'll admit, a little bit of dread were palpable. All I could think about is what I would do if one of these animals accidentally flipped our boat.
But eventually, the mother and calf reached us. They were careening off to the south. But then the baby spotted us and approached our boat. It came right up to the boat and held its long snout out of the water right next to the boat. It just sort of "stood" there. Cheryl and David reached out and stroked the animal's nose while the mother looked on.
The baby whale turned and looked us over with its oddly small eye, calmly, almost serenely as Cheryl and David stroked her. Then the whales passed as quietly as they came. I'll never forget the lucidity and the depth of feeling in the eye of that baby whale.
500,000-Year-Old Wooden Structure Rewrites History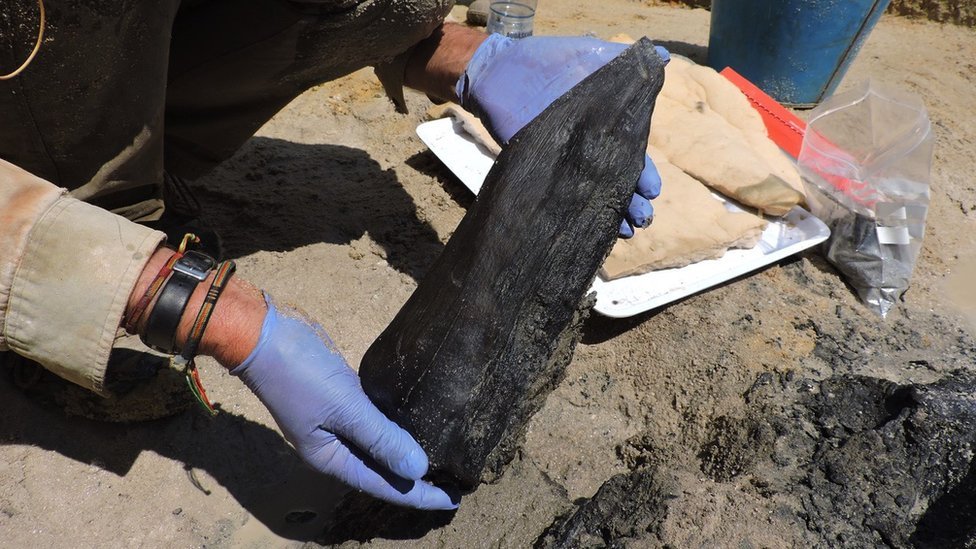 In an archaeological discovery, a wooden structure dating back an astonishing 500,000 years has been unearthed on the banks of a river in Zambia, challenging long-held beliefs about the capabilities of ancient humans. Researchers stumbled upon these ancient wooden logs, a revelation that has the potential to reshape our understanding of the lives of early humans.
The find, located on the riverbanks near Zambia's Kalambo Falls, provides compelling evidence that stone-age people may have constructed primitive shelters, forever altering our perception of their intelligence and resourcefulness. Archaeologist Prof Larry Barham, who led the research, was profoundly impacted by the discovery, stating, "This find has changed how I think about our early ancestors."
What makes this find truly remarkable is that it suggests ancient humans did more than merely survive; they thrived by creating something entirely new. These early humans exhibited intelligence, imagination, and craftsmanship by fashioning structures from wood, a material that had never before been transformed into such large and sophisticated objects.
The researchers also uncovered ancient tools, including digging sticks, but the most exciting find was two pieces of wood positioned at right angles to each other. "One is lying over the other, and both pieces of wood have notches cut into them," explained Geoff Duller, a professor of geography at the University of Aberystwyth and a member of the research team. "You can clearly see those notches have been cut by stone tools, making the two logs fit together to become structural objects."
Radiocarbon dating confirmed the wood's age, placing it at a staggering 476,000 years old. This revelation has ignited curiosity about the woodworking traditions of ancient societies, challenging the prevailing notion that early humans led simplistic, nomadic lives.
Perrice Nkombwe, a team member from the Livingstone Museum in Zambia, expressed her astonishment, saying, "I was amazed to know that woodworking was such a deep-rooted tradition. It dawned on me that we had uncovered something extraordinary."
The preservation of the wooden structure itself is a miracle. Typically, wood decays over time unless preserved under specific conditions. However, in the waterlogged environment along the Kalambo Falls, the wood remained intact, essentially pickled by the elements for millennia.
While the exact purpose of this ancient wooden structure remains a mystery, it has sparked numerous speculations. Prof. Duller suggests it might have been used as a place to sit beside the river and fish, although a complete understanding of its function remains elusive.
Moreover, the identity of the individuals who constructed this structure raises intriguing questions. "We don't know – it could have been Homo sapiens, and we just haven't discovered fossils from that age yet," Prof. Duller added. "But it could be a different species – [perhaps] Homo erectus or Homo naledi – there were a number of hominid species around at that time in southern Africa."
This discovery has the potential to enrich our understanding of ancient woodworking techniques, craftsmanship, and human interaction with the environment. As researchers continue their work at the Kalambo Falls site, the pages of history are being rewritten, and our appreciation for the ingenuity of our ancient ancestors grows ever deeper.