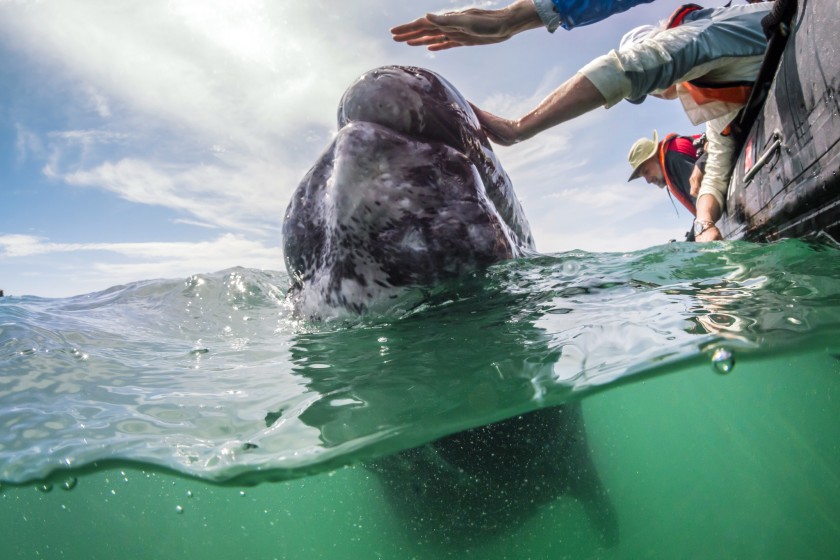 The Day I Met a Baby Gray Whale
In addition to being one of the most curious and intelligent creatures in Earth's oceans, due to their great size and the fact that they travel vast distances, gray whales are also host to a wealth of scientific data about the health of our oceans. Gray whales have a long history of unique interactions with humans. Most of the time they appear indifferent to us. Sometimes they behave in a friendly way. But during a few points in history, in a small number of locations, legends of gray whales flipping small boats and dragging men beneath the waves have cropped up.
But gray whales can even be dangerous when they do not mean to be. Weighing in at nearly 40 tons, with massive flippers and a huge, powerful tail, gray whales have downed many small boats either accidentally or otherwise. But these fascinating creatures still have a powerful draw for us. They are mysterious, massive, and have eyes which reflect a strangely familiar intelligence.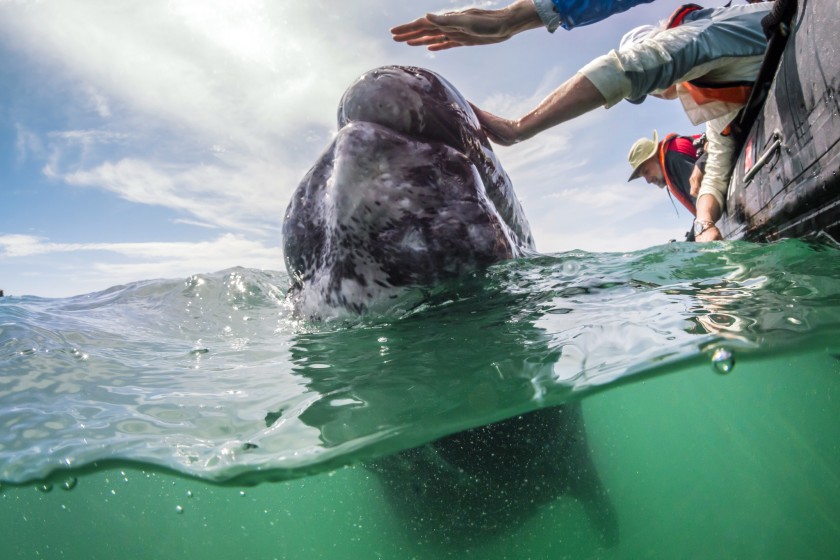 So when Cheryl and David Kipling set out in hopes of meetings these creatures face to face, it was no small task overcoming their trepidation. Cheryl and David are biologists and run a lab where they study the remains of whales that have been killed prematurely by the actions of humans.
Cheryl explained, "I've autopsied the brains of half a dozen gray whales and the one thing that stands out is the size and sophistication of their limbic brain."
We asked for more clarification on why having a big limbic brain is such a big deal.
She replied, "The limbic brain, in mammals, is the part of the brain that renders emotions. It's sandwiched between the fore-brain- which is big in humans, and the hindbrain- which controls all of our cravings and reflex instincts. The limbic brain motivates us with feelings. When you look at a puppy and say 'ahh' at his big brown eyes, or when you miss a loved one and want to see them, that's the limbic brain. Judging by the size of their's, these animals are deeply emotional. They are primarily emotional, in fact- whereas people might be said to be primarily intellect oriented. That's why it's such a crime to keep orcas in captivity, separate them from their pods- their families. They suffer intensely."
Equipped with this new and strange knowledge, going out with Dave and Cheryl to meet the whales felt all the more momentous. Getting out on the water to the right spot where the whale sightings were happening took most of the day. But the weather was beautiful, the water was calm, and we would have been happy even if no whales had shown up. But they did.
The couple spotted a mother and calf breaching the surface some distance off. They were headed in our direction. For several minutes, wonder, anticipation, and- we'll admit, a little bit of dread were palpable. All I could think about is what I would do if one of these animals accidentally flipped our boat.
But eventually, the mother and calf reached us. They were careening off to the south. But then the baby spotted us and approached our boat. It came right up to the boat and held its long snout out of the water right next to the boat. It just sort of "stood" there. Cheryl and David reached out and stroked the animal's nose while the mother looked on.
The baby whale turned and looked us over with its oddly small eye, calmly, almost serenely as Cheryl and David stroked her. Then the whales passed as quietly as they came. I'll never forget the lucidity and the depth of feeling in the eye of that baby whale.
AI, Childhood Images and a Holocaust Survivor Finding Her History Again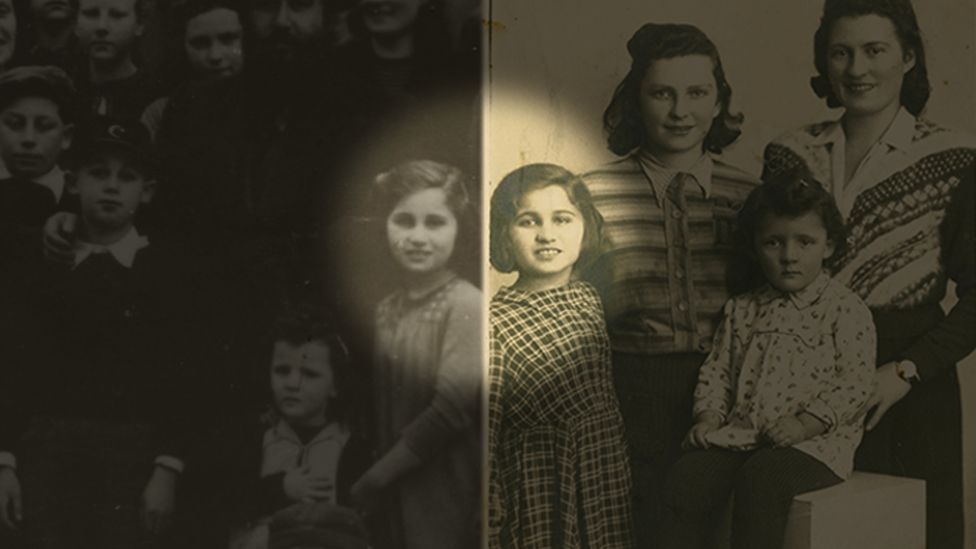 The first half the 20th century was not a good one for Blanche Fixler. As a Jew, she was a target for the Nazis, who succeeded in killing at least 6 million of her countrymen. They were so close to Fixler, at one point she was hiding underneath a bed trying not to breathe. Had she made a noise, the Nazi troops searching the room she was in would have grabbed her in an instant. Through luck, fear, feistiness and perseverance, Fixler survived the Holocaust.
Now, almost some 80 years later, Blanche Fixler is relieving history thanks to artificial intelligence, or AI. A program written by Daniel Pratt, also known as a engineer at Google, has become extremely effective at matching people's faces to their parts in history. In fact, it was so effective, it had a direct impact on Fixler; the software found her face in a historical image from the war period that no one previously knew was Blanche at all. She was just another face of thousands lost until she wasn't.
Dubbed "Numbers to Names," Pratt's program relies on the technology of facial recognition to do its work. While a person's appearance might change over time, their facial structure doesn't. And that makes for a comparable identification when the details are run through the thousands of calculations per second via the software.
In some respects, the software works with the logic of connecting dots. As it makes connections, it builds on that library and makes more connections. Many photos may have one or even two connections, but they still have five or a dozen more than are unknown. By constantly running and making new connections, the software persistently whittles away at the challenge. As it turned out, one of those successes was Blanche Fixler.
Blanche Fixler today is at the ripe age of 86. She is a world away from Germany and Poland and the nightmare she lived through, ensconced in the urban distance of New York. However, thanks to Pratt's program, Fixler has now been identified as a child in two historical photos. Pratt's software did the hard work and connected the dots.
Among the many who were grabbed, rounded up and killed in Poland, Fixler's entire family were victims of the Nazis. At the time, Blanche's name was Bronia to her family, but that was left in the past as she survived the war. Her luck was made possible by an aunt who hid Fixler from the soldiers regularly looking for Jews in hiding. When Fixler saw the photos that had her in them, she also identified her aunt as well as other relatives. That in turn creates more connections that Pratt and those using the software can benefit from in their ongoing work of identification.
The work has been partnered with the U.S. Holocaust Memorial Museum, and it continues to be worked on to provide closure and dignity for the thousands of families related to the victims of the Holocaust. By personalizing the faces of the 6 million, they gain a confirmed history versus being nameless and unknown among the masses lost.