The Day I Met a Baby Gray Whale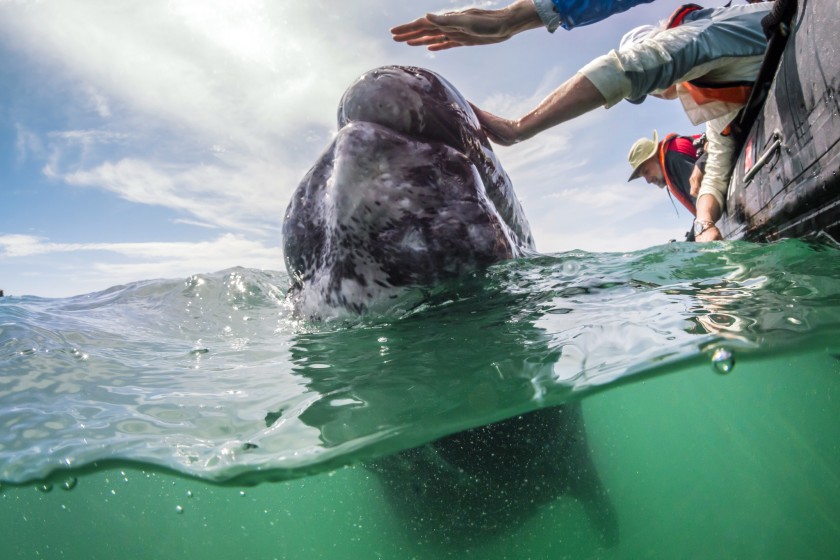 In addition to being one of the most curious and intelligent creatures in Earth's oceans, due to their great size and the fact that they travel vast distances, gray whales are also host to a wealth of scientific data about the health of our oceans. Gray whales have a long history of unique interactions with humans. Most of the time they appear indifferent to us. Sometimes they behave in a friendly way. But during a few points in history, in a small number of locations, legends of gray whales flipping small boats and dragging men beneath the waves have cropped up.
But gray whales can even be dangerous when they do not mean to be. Weighing in at nearly 40 tons, with massive flippers and a huge, powerful tail, gray whales have downed many small boats either accidentally or otherwise. But these fascinating creatures still have a powerful draw for us. They are mysterious, massive, and have eyes which reflect a strangely familiar intelligence.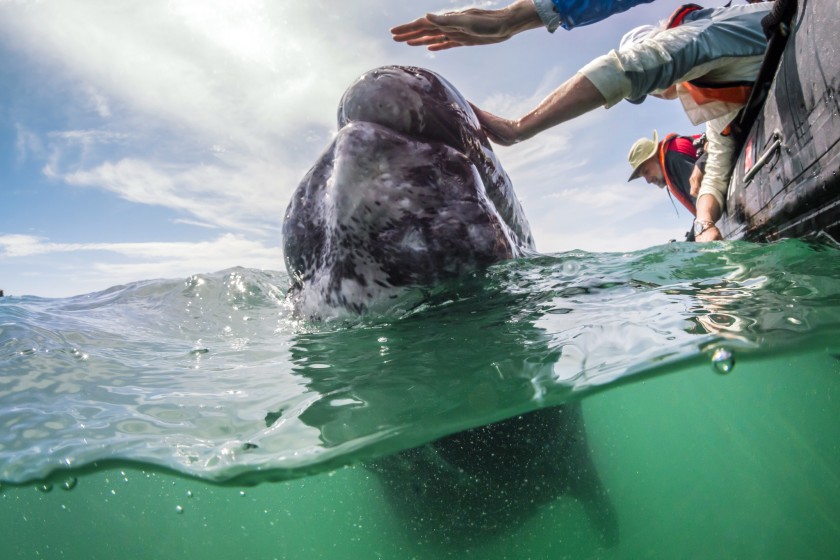 So when Cheryl and David Kipling set out in hopes of meetings these creatures face to face, it was no small task overcoming their trepidation. Cheryl and David are biologists and run a lab where they study the remains of whales that have been killed prematurely by the actions of humans.
Cheryl explained, "I've autopsied the brains of half a dozen gray whales and the one thing that stands out is the size and sophistication of their limbic brain."
We asked for more clarification on why having a big limbic brain is such a big deal.
She replied, "The limbic brain, in mammals, is the part of the brain that renders emotions. It's sandwiched between the fore-brain- which is big in humans, and the hindbrain- which controls all of our cravings and reflex instincts. The limbic brain motivates us with feelings. When you look at a puppy and say 'ahh' at his big brown eyes, or when you miss a loved one and want to see them, that's the limbic brain. Judging by the size of their's, these animals are deeply emotional. They are primarily emotional, in fact- whereas people might be said to be primarily intellect oriented. That's why it's such a crime to keep orcas in captivity, separate them from their pods- their families. They suffer intensely."
Equipped with this new and strange knowledge, going out with Dave and Cheryl to meet the whales felt all the more momentous. Getting out on the water to the right spot where the whale sightings were happening took most of the day. But the weather was beautiful, the water was calm, and we would have been happy even if no whales had shown up. But they did.
The couple spotted a mother and calf breaching the surface some distance off. They were headed in our direction. For several minutes, wonder, anticipation, and- we'll admit, a little bit of dread were palpable. All I could think about is what I would do if one of these animals accidentally flipped our boat.
But eventually, the mother and calf reached us. They were careening off to the south. But then the baby spotted us and approached our boat. It came right up to the boat and held its long snout out of the water right next to the boat. It just sort of "stood" there. Cheryl and David reached out and stroked the animal's nose while the mother looked on.
The baby whale turned and looked us over with its oddly small eye, calmly, almost serenely as Cheryl and David stroked her. Then the whales passed as quietly as they came. I'll never forget the lucidity and the depth of feeling in the eye of that baby whale.
Routine Traffic Stop Turns into Heartwarming Occasion Thanks to Officer's Kind Gesture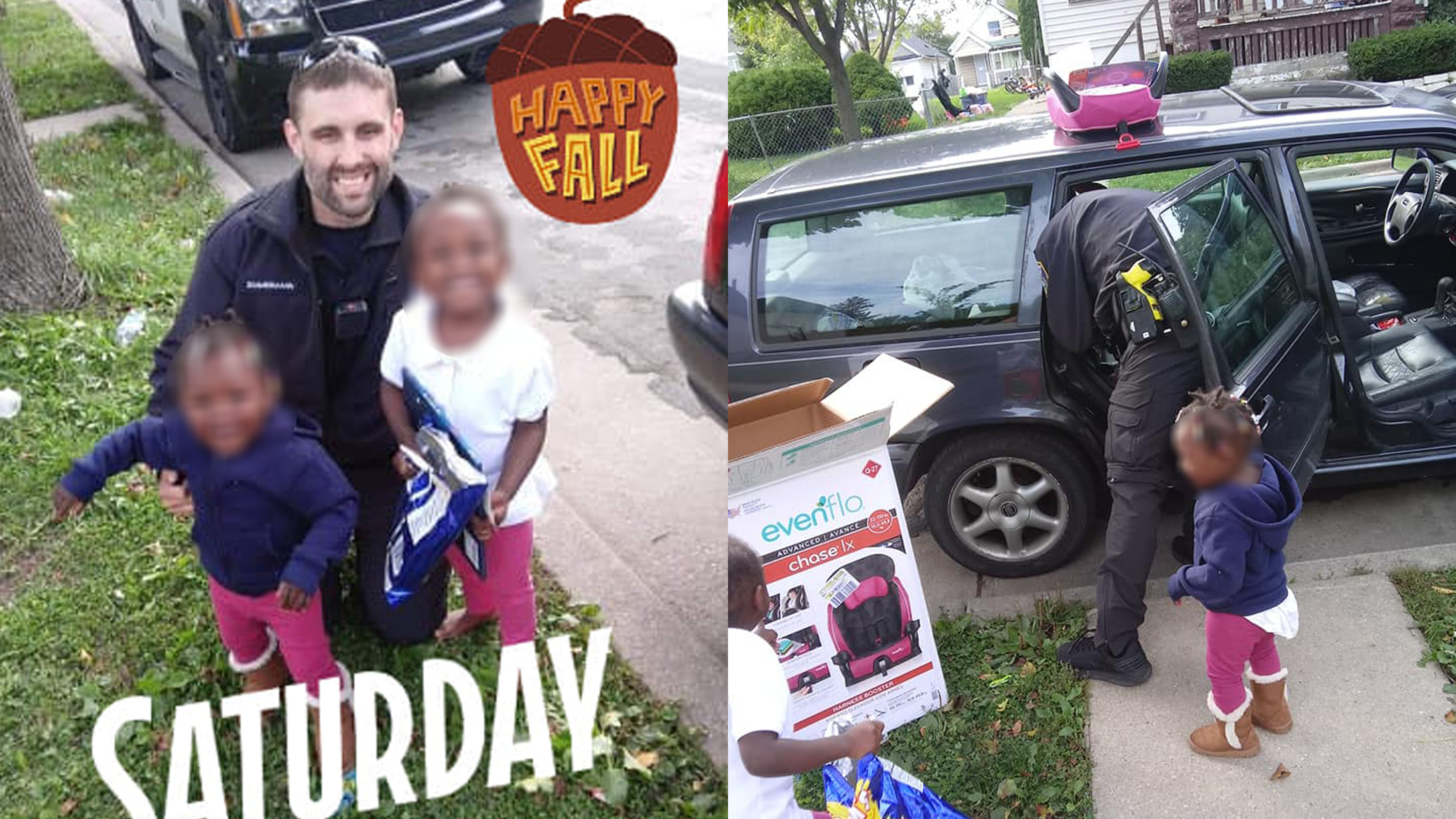 Getting pulled over can be a stressful situation. You may not know right away why you were asked to stop, but you probably have a good hunch that it's not for a good reason.
More often than not, that premonition we have about being pulled over turns out to be accurate and we have to be involved in a less than ideal situation. It's why many of us dread stopping to talk to an officer so much.
Andrella Jackson may now have different thoughts about being asked to stop by an officer though.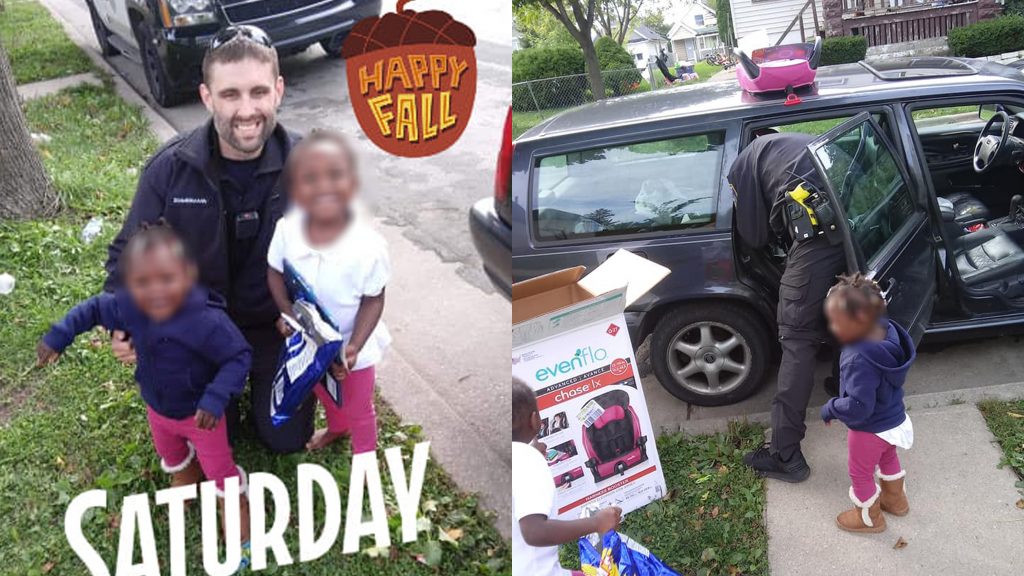 Not too long ago, Jackson was spotted by Milwaukee police officer Kevin Zimmerman and was asked to pull over. Officer Zimmerman requested that Jackson stop because she had the wrong registration for her car.
As he approached the vehicle though, something else caught the eye of Officer Zimmerman. To be more specific, he saw that there were three kids in the backseat of Jackson's car and two of them were still very small, WTMJ-TV reported. He also noticed that the two small children in question were not in car seats.
Officer Zimmerman then asked Jackson why the small kids were not placed in car seats and she said that she did not have the money to pay for those essential pieces of safety equipment at that time. Jackson mentioned that with winter on the way, she was saving up to buy her children new coats and boots.
A shortage of money is the same reason why Jackson had failed to get her vehicle registered properly.
Per the American Automobile Association (AAA), there are laws in every state dictating that children should be in car seats or restraints.
It would have been easy for Officer Zimmerman to issue Jackson tickets for her violations, but he opted to handle things a different way. Instead of adding to her problems, he went about solving one of them.
Officer Zimmerman soon made his way to a nearby Walmart, and after learning how much the kids weighed from Jackson, he went ahead and purchased two car seats using money out of his own pocket. He even stuck around to install the car seats himself.
By the way, the police officer did more than just give Jackson and her kids new car seats. According to this report from CNN, Officer Zimmerman also made a stop at the police department to pick up a few things – children's books and stickers – that he also gifted to Jackson's kids.
The police officer explained why he went the extra mile to help out Jackson. Officer Zimmerman shared that he has kids of his own. He hinted at how frightening the thought is of his own kids moving around in a vehicle with no car seats and how they can be placed in grave danger if an accident occurs.
Officer Zimmerman also said that he was always taught to "do the right thing even if no one is looking." In this case, both Jackson and the Milwaukee Police Department wanted to make sure that Officer Zimmerman would receive the recognition he deserved even if he wasn't looking for that.
The generous act touched Jackson, prompting her to shower Officer Zimmerman with numerous "thank yous." Her kids got in on the chorus of generosity as well.
Jackson called Officer Zimmerman "awesome" and that she is appreciative of the kindness he showed. She added that with the car seats now purchased and installed, she will be able to allocate a bigger budget that will then be used to buy those new coats and boots that her kids need.
What could have turned into an even more trying situation for Jackson and her kids became a shining example of humanity at its best and that is thanks to the generosity exhibited by Officer Zimmerman.