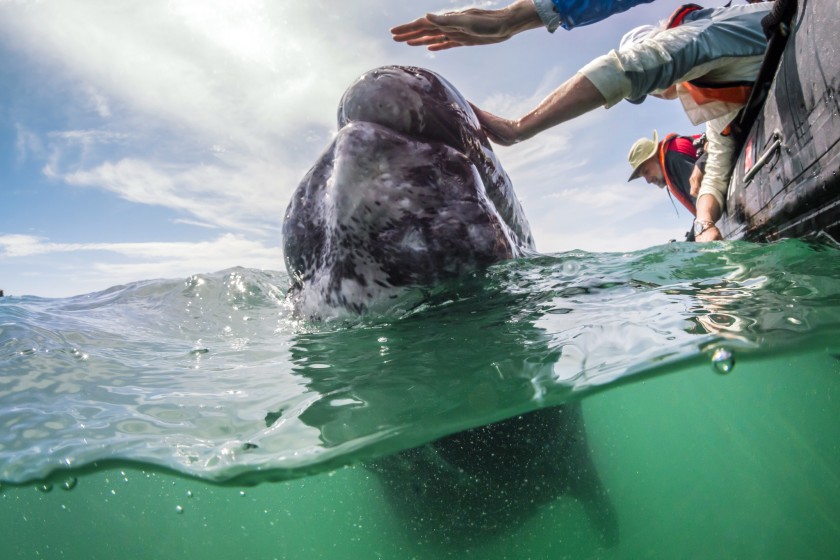 The Day I Met a Baby Gray Whale
In addition to being one of the most curious and intelligent creatures in Earth's oceans, due to their great size and the fact that they travel vast distances, gray whales are also host to a wealth of scientific data about the health of our oceans. Gray whales have a long history of unique interactions with humans. Most of the time they appear indifferent to us. Sometimes they behave in a friendly way. But during a few points in history, in a small number of locations, legends of gray whales flipping small boats and dragging men beneath the waves have cropped up.
But gray whales can even be dangerous when they do not mean to be. Weighing in at nearly 40 tons, with massive flippers and a huge, powerful tail, gray whales have downed many small boats either accidentally or otherwise. But these fascinating creatures still have a powerful draw for us. They are mysterious, massive, and have eyes which reflect a strangely familiar intelligence.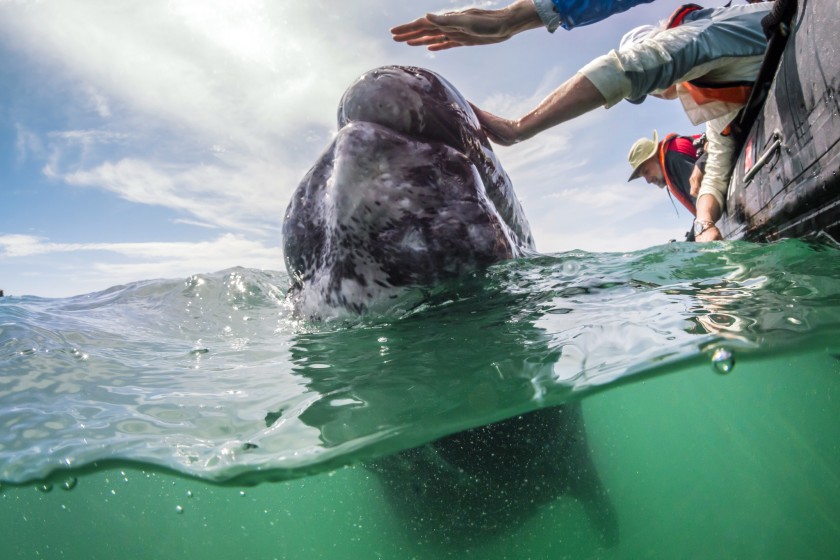 So when Cheryl and David Kipling set out in hopes of meetings these creatures face to face, it was no small task overcoming their trepidation. Cheryl and David are biologists and run a lab where they study the remains of whales that have been killed prematurely by the actions of humans.
Cheryl explained, "I've autopsied the brains of half a dozen gray whales and the one thing that stands out is the size and sophistication of their limbic brain."
We asked for more clarification on why having a big limbic brain is such a big deal.
She replied, "The limbic brain, in mammals, is the part of the brain that renders emotions. It's sandwiched between the fore-brain- which is big in humans, and the hindbrain- which controls all of our cravings and reflex instincts. The limbic brain motivates us with feelings. When you look at a puppy and say 'ahh' at his big brown eyes, or when you miss a loved one and want to see them, that's the limbic brain. Judging by the size of their's, these animals are deeply emotional. They are primarily emotional, in fact- whereas people might be said to be primarily intellect oriented. That's why it's such a crime to keep orcas in captivity, separate them from their pods- their families. They suffer intensely."
Equipped with this new and strange knowledge, going out with Dave and Cheryl to meet the whales felt all the more momentous. Getting out on the water to the right spot where the whale sightings were happening took most of the day. But the weather was beautiful, the water was calm, and we would have been happy even if no whales had shown up. But they did.
The couple spotted a mother and calf breaching the surface some distance off. They were headed in our direction. For several minutes, wonder, anticipation, and- we'll admit, a little bit of dread were palpable. All I could think about is what I would do if one of these animals accidentally flipped our boat.
But eventually, the mother and calf reached us. They were careening off to the south. But then the baby spotted us and approached our boat. It came right up to the boat and held its long snout out of the water right next to the boat. It just sort of "stood" there. Cheryl and David reached out and stroked the animal's nose while the mother looked on.
The baby whale turned and looked us over with its oddly small eye, calmly, almost serenely as Cheryl and David stroked her. Then the whales passed as quietly as they came. I'll never forget the lucidity and the depth of feeling in the eye of that baby whale.
The little boy shares a special moment with a police officer during a protest rally for George Floyd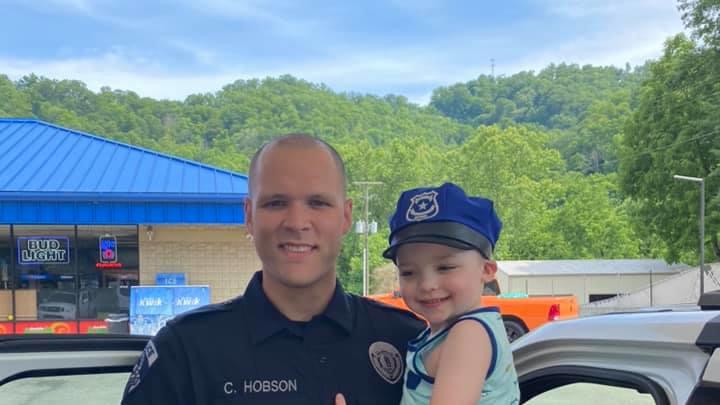 The ruthless killing of George Floyd has caused a thunderous uproar and rage throughout the world. In Winston-Salem, NC, hundreds of people gathered to protest against the killing of Floyd. They took to one knee for 8 minutes and 46 seconds that is the exact length of time former police officer Derek Chauvin had shoved his knee onto Floyd's neck which resulted in Floyd's death. The killing of George Floyd has become a symbol of injustice not only in American society but throughout the world. "Say no to racism" has been the most trending topic in all regions of the globe. In this particular incident, it was a black man who was the victim and this is not the only time it has happened. Several cases have occurred which demonstrated the lack of compassion and justice in the way law enforcement has dealt with individuals from minority racial groups.
Yolanda Williams Dickey, a resident of Winston-Salem, NC, was driving by the protest when she decided she wanted her family to be part of this protest as a sign of solidarity against discrimination against the minority groups. She went home to pick up her husband and son, who were glad they got a chance to be part of this historic protest. For her little son, Kamari it was quite the experience. He had never seen a protest rally before this. He saw a lot of anger and pain in the faces of the protestors. He could also see his parents being very emotional too. His parents had told him what the protest was about and how Floyd had been murdered. Kamari couldn't understand why the former police officer did what he did to George Floyd.
Kamari's attention went to the police officers on the sidelines. He watched them very closely as they stood by making sure there was no violence at the protest. Kamari had always wanted to a police officer himself but now his mother was concerned that after this incident, maybe he would not want to be one. Most of the toys that Kamari had were related to the police and he spent most of his days playing with them. He often told his parents that when he grows up he wanted to be a police officer so he could catch the bad guys. This unfortunate killing of George Floyd might have shattered the dreams of the little boy. At the protest, as the family moved closer to the police officers, Kamari approached Sgt. Dan Battjes, who was sitting on his motorcycle.
Kamari formally introduced himself to the police officer, who was very kind and friendly to the boy. After a few minutes of talking, Kamari said goodbye to the officer by a friendly fist pump. While the citizens of the country are demonstrating against the police and there is an unbelievable level of anger toward law enforcement, this little boy kept no hatred in his heart. The innocence of the little boy showed the resilience of the American community. One incident cannot dismantle years of peaceful coexistence. Yes, there have been cases where the minority communities have been discriminated and there should be strict actions and reforms against such incident but Americans still need to live together. The dream of Kamari to become a police officer might still be alive. The question remains, is the dream of a multi-racial America living with each other with love, compassion, and tolerance still alive? Only time will tell if this dream is alive.