The Cutest Pets Eating the Cutest Food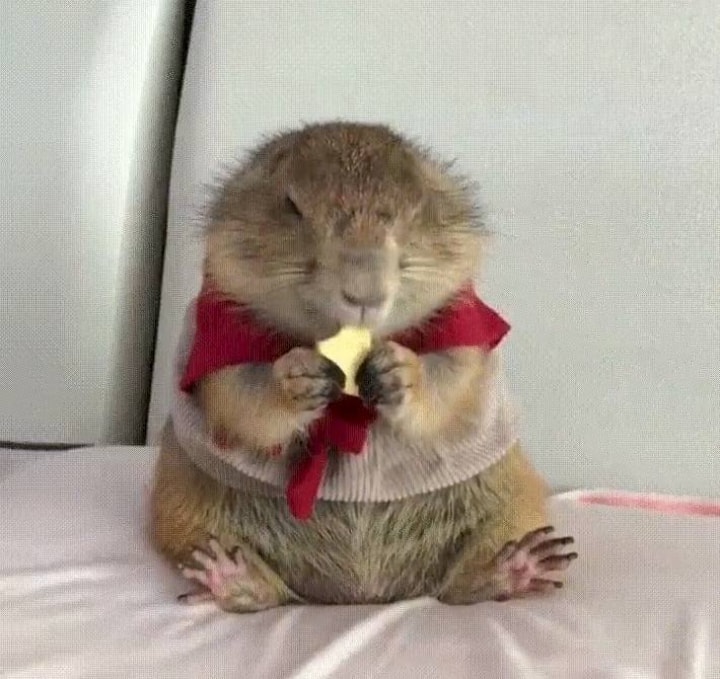 We all know how much pets love snacks. If you want to make an animal happy, simply give it something delicious to eat. Pets can also do some seriously cute things with their food, or for their food. Some people even train them to do awesome tricks for a bite to eat. This list of cute things animals do for food will make you smile, laugh, say "aw", and probably want to give a pet you love a yummy treat or two.
1. This Prairie Dog Who Loves Cheese
Prairie dogs in the wild are one of mother nature's cutest animals. They are wiley, furry, and do this cute squeaking noise to actually talk to other prairie dogs in one of the most elaborate communication methods in the animal kingdom. They live in holes and in communities called "prairie dog towns." Cousins of the squirrels, prairie dogs live in families called coteries.
Not one of the most common pet, this redditor still has a prairie dog to call his own. He even has a cute red outfit, which distinguishes him from other prairie dogs. This prairie dog's favorite snack is cheese. Just look at his little feet!
2. The Cat with the Purr-fect Posture
Did you know that cats have exactly 517 muscles? This gives them incredible flexibility. Maybe that's one reason why American pet owners love cats so much… almost 10 million more cats are kept as pets than dogs. Wow! Our feline friend in this picture sat himself in the right spot to chow down. His posture is pretty comical, and not something that you typically see everyday. You don't normally see a cat's legs bend in that direction, but he doesn't seem to mind at all. LOL.
3. This Cat With Some Leftovers
Not a bad look for this furry friend. He seems just as surprised as you are that his snack left a little mustache on his face. He had a walk through the garden and ate flowers, and now there is pollen left over on his face. It will probably wash off, but in the meantime this cute critter has a funny story to tell.
4. This Raccoon With Healthy Eating Habits
In the wild, raccoons are known to wash off their food before eating it. I wonder if he helped rinse off the berries before his afternoon brunch. It's surprising to see a raccoon not going through the garbage or in the wild, and it looks like his paws are perfect for eating blueberries.
5. This Dog Reaches For It
There's nothing quite like a pup's determination when it comes to getting some of their favorite treats. This adorable Corgi has his eyes on the prize. Whether it's your dinner or some of their dog biscuits, dogs always find a way to get something to munch on. With those big eyes and fluffy, pointy ears, who can say no to that face? Better take a picture first to show the world how cute your dog is first.
"Homeless Hero" Saves Multiple People from Fiery Highway Crash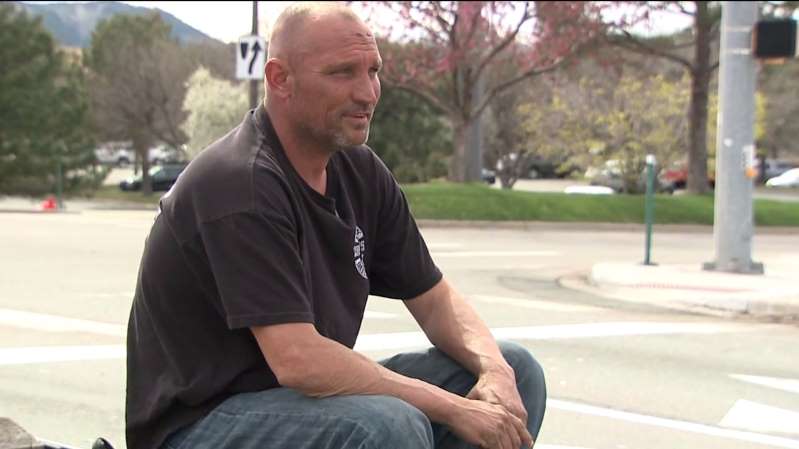 Just two short days ago a man named Darin Barton, who the people and news are calling the "Homeless Hero," saved multiple people from a fiery car crash on Colorado's Interstate 70.
Reports say the late April crash was caused by a truck driver that had lost control of his vehicle and collided with oncoming traffic. The same company has a bad history of problems with their vehicles. There are multiple reports letting trucks in need of repair on the road—including vehicles with break problems.
Luckily for the survivors of the crash, Darin Barton just happened to be passing by. Barton, a local homeless man, saw the crash happen and immediately sprang into action. He was able to pull several victims from the wreckage before emergency services arrived on the scene. The survivors of the crash are all lucky to have had the "Homeless Hero" passing by in their time of need.
Interestingly, this isn't the first time Barton has been a hero to the victims of a traffic accident. Two years ago, Barton saved a woman named Valerie Blease from a flaming car wreck. Blease describes how the collision left her confused and unable to escape her burning car when the "Homeless Hero" arrived and pulled her from the fire. She recalls that in the moment, she didn't know what was happening, only that someone was telling her there was a fire and she needed to get out.
Barton has become something of a local celebrity in Colorado despite his homelessness. He has appeared several times on the local news. Each of these appearances have been stories covering his heroics and even interviews with the "Homeless Hero" and the people he has saved. One of the victims of April's pileup said she "wasn't surprised" to learn that Barton had saved people from these kinds of wrecks before.
Not to leave this selfless hero unrewarded, the local community has banded together and raised thousands of dollars to help Barton in his time of need. Just like he has helped save people from car crashes on multiple occasions, the people of Colorado have come together to help Barton. Local news agencies have started a fundraising effort that has, so far, raised thousands of dollars to help cover Barton's costs as he finds work and a place to live. There have been some concerns that Barton may be the target of robbery given his insecure living situation and sudden rush to local fame, but a few local news agencies said they are working with local authorities to help ensure Barton's safety.
Darin Barton, the "Homeless Hero," is an inspiration reminder that even those of us with the least to give can still help people in the time of need. When interviewed, Barton said he was just helping people in need and hopes that others will be inspired to do the same.