The Cutest Pets Eating the Cutest Food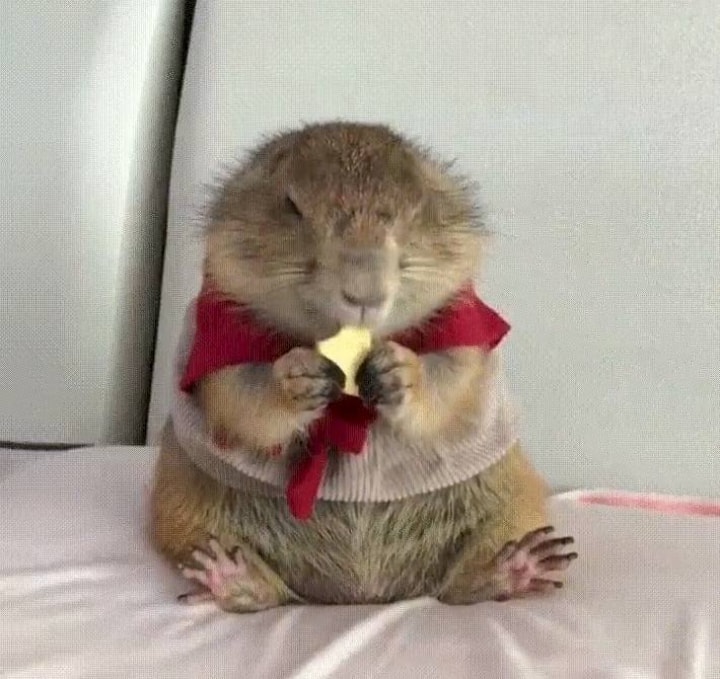 We all know how much pets love snacks. If you want to make an animal happy, simply give it something delicious to eat. Pets can also do some seriously cute things with their food, or for their food. Some people even train them to do awesome tricks for a bite to eat. This list of cute things animals do for food will make you smile, laugh, say "aw", and probably want to give a pet you love a yummy treat or two.
1. This Prairie Dog Who Loves Cheese
Prairie dogs in the wild are one of mother nature's cutest animals. They are wiley, furry, and do this cute squeaking noise to actually talk to other prairie dogs in one of the most elaborate communication methods in the animal kingdom. They live in holes and in communities called "prairie dog towns." Cousins of the squirrels, prairie dogs live in families called coteries.
Not one of the most common pet, this redditor still has a prairie dog to call his own. He even has a cute red outfit, which distinguishes him from other prairie dogs. This prairie dog's favorite snack is cheese. Just look at his little feet!
2. The Cat with the Purr-fect Posture
Did you know that cats have exactly 517 muscles? This gives them incredible flexibility. Maybe that's one reason why American pet owners love cats so much… almost 10 million more cats are kept as pets than dogs. Wow! Our feline friend in this picture sat himself in the right spot to chow down. His posture is pretty comical, and not something that you typically see everyday. You don't normally see a cat's legs bend in that direction, but he doesn't seem to mind at all. LOL.
3. This Cat With Some Leftovers
Not a bad look for this furry friend. He seems just as surprised as you are that his snack left a little mustache on his face. He had a walk through the garden and ate flowers, and now there is pollen left over on his face. It will probably wash off, but in the meantime this cute critter has a funny story to tell.
4. This Raccoon With Healthy Eating Habits
In the wild, raccoons are known to wash off their food before eating it. I wonder if he helped rinse off the berries before his afternoon brunch. It's surprising to see a raccoon not going through the garbage or in the wild, and it looks like his paws are perfect for eating blueberries.
5. This Dog Reaches For It
There's nothing quite like a pup's determination when it comes to getting some of their favorite treats. This adorable Corgi has his eyes on the prize. Whether it's your dinner or some of their dog biscuits, dogs always find a way to get something to munch on. With those big eyes and fluffy, pointy ears, who can say no to that face? Better take a picture first to show the world how cute your dog is first.
The little boy shares a special moment with a police officer during a protest rally for George Floyd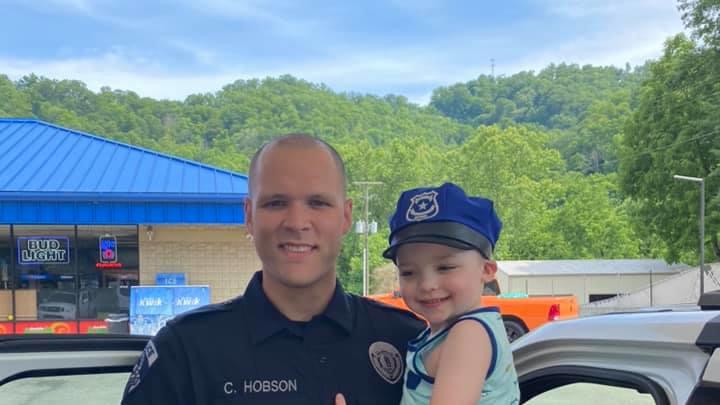 The ruthless killing of George Floyd has caused a thunderous uproar and rage throughout the world. In Winston-Salem, NC, hundreds of people gathered to protest against the killing of Floyd. They took to one knee for 8 minutes and 46 seconds that is the exact length of time former police officer Derek Chauvin had shoved his knee onto Floyd's neck which resulted in Floyd's death. The killing of George Floyd has become a symbol of injustice not only in American society but throughout the world. "Say no to racism" has been the most trending topic in all regions of the globe. In this particular incident, it was a black man who was the victim and this is not the only time it has happened. Several cases have occurred which demonstrated the lack of compassion and justice in the way law enforcement has dealt with individuals from minority racial groups.
Yolanda Williams Dickey, a resident of Winston-Salem, NC, was driving by the protest when she decided she wanted her family to be part of this protest as a sign of solidarity against discrimination against the minority groups. She went home to pick up her husband and son, who were glad they got a chance to be part of this historic protest. For her little son, Kamari it was quite the experience. He had never seen a protest rally before this. He saw a lot of anger and pain in the faces of the protestors. He could also see his parents being very emotional too. His parents had told him what the protest was about and how Floyd had been murdered. Kamari couldn't understand why the former police officer did what he did to George Floyd.
Kamari's attention went to the police officers on the sidelines. He watched them very closely as they stood by making sure there was no violence at the protest. Kamari had always wanted to a police officer himself but now his mother was concerned that after this incident, maybe he would not want to be one. Most of the toys that Kamari had were related to the police and he spent most of his days playing with them. He often told his parents that when he grows up he wanted to be a police officer so he could catch the bad guys. This unfortunate killing of George Floyd might have shattered the dreams of the little boy. At the protest, as the family moved closer to the police officers, Kamari approached Sgt. Dan Battjes, who was sitting on his motorcycle.
Kamari formally introduced himself to the police officer, who was very kind and friendly to the boy. After a few minutes of talking, Kamari said goodbye to the officer by a friendly fist pump. While the citizens of the country are demonstrating against the police and there is an unbelievable level of anger toward law enforcement, this little boy kept no hatred in his heart. The innocence of the little boy showed the resilience of the American community. One incident cannot dismantle years of peaceful coexistence. Yes, there have been cases where the minority communities have been discriminated and there should be strict actions and reforms against such incident but Americans still need to live together. The dream of Kamari to become a police officer might still be alive. The question remains, is the dream of a multi-racial America living with each other with love, compassion, and tolerance still alive? Only time will tell if this dream is alive.