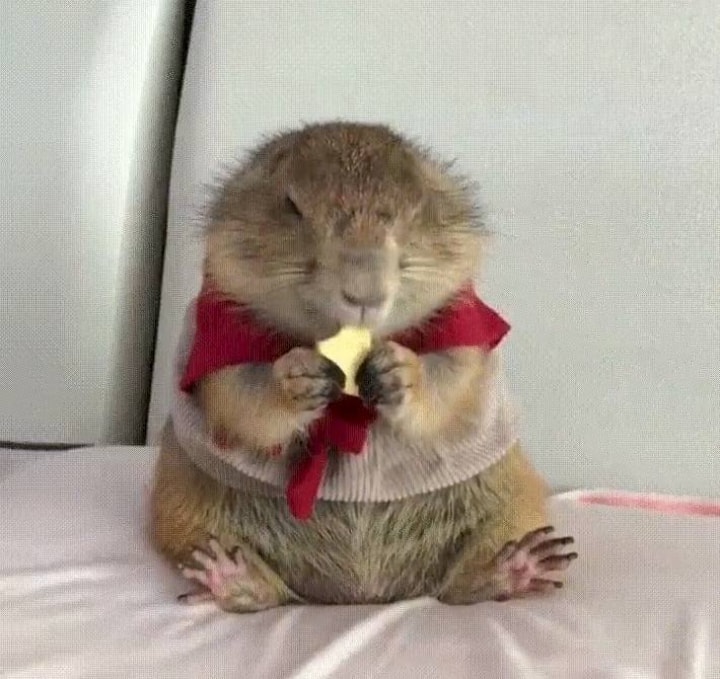 The Cutest Pets Eating the Cutest Food
We all know how much pets love snacks. If you want to make an animal happy, simply give it something delicious to eat. Pets can also do some seriously cute things with their food, or for their food. Some people even train them to do awesome tricks for a bite to eat. This list of cute things animals do for food will make you smile, laugh, say "aw", and probably want to give a pet you love a yummy treat or two.
1. This Prairie Dog Who Loves Cheese
Prairie dogs in the wild are one of mother nature's cutest animals. They are wiley, furry, and do this cute squeaking noise to actually talk to other prairie dogs in one of the most elaborate communication methods in the animal kingdom. They live in holes and in communities called "prairie dog towns." Cousins of the squirrels, prairie dogs live in families called coteries.
Not one of the most common pet, this redditor still has a prairie dog to call his own. He even has a cute red outfit, which distinguishes him from other prairie dogs. This prairie dog's favorite snack is cheese. Just look at his little feet!
2. The Cat with the Purr-fect Posture
Did you know that cats have exactly 517 muscles? This gives them incredible flexibility. Maybe that's one reason why American pet owners love cats so much… almost 10 million more cats are kept as pets than dogs. Wow! Our feline friend in this picture sat himself in the right spot to chow down. His posture is pretty comical, and not something that you typically see everyday. You don't normally see a cat's legs bend in that direction, but he doesn't seem to mind at all. LOL.
3. This Cat With Some Leftovers
Not a bad look for this furry friend. He seems just as surprised as you are that his snack left a little mustache on his face. He had a walk through the garden and ate flowers, and now there is pollen left over on his face. It will probably wash off, but in the meantime this cute critter has a funny story to tell.
4. This Raccoon With Healthy Eating Habits
In the wild, raccoons are known to wash off their food before eating it. I wonder if he helped rinse off the berries before his afternoon brunch. It's surprising to see a raccoon not going through the garbage or in the wild, and it looks like his paws are perfect for eating blueberries.
5. This Dog Reaches For It
There's nothing quite like a pup's determination when it comes to getting some of their favorite treats. This adorable Corgi has his eyes on the prize. Whether it's your dinner or some of their dog biscuits, dogs always find a way to get something to munch on. With those big eyes and fluffy, pointy ears, who can say no to that face? Better take a picture first to show the world how cute your dog is first.
500,000-Year-Old Wooden Structure Rewrites History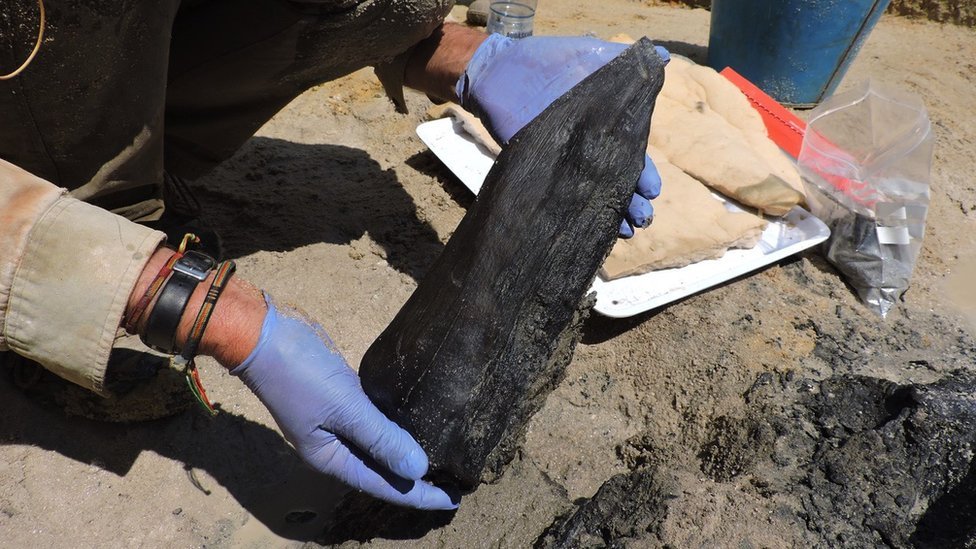 In an archaeological discovery, a wooden structure dating back an astonishing 500,000 years has been unearthed on the banks of a river in Zambia, challenging long-held beliefs about the capabilities of ancient humans. Researchers stumbled upon these ancient wooden logs, a revelation that has the potential to reshape our understanding of the lives of early humans.
The find, located on the riverbanks near Zambia's Kalambo Falls, provides compelling evidence that stone-age people may have constructed primitive shelters, forever altering our perception of their intelligence and resourcefulness. Archaeologist Prof Larry Barham, who led the research, was profoundly impacted by the discovery, stating, "This find has changed how I think about our early ancestors."
What makes this find truly remarkable is that it suggests ancient humans did more than merely survive; they thrived by creating something entirely new. These early humans exhibited intelligence, imagination, and craftsmanship by fashioning structures from wood, a material that had never before been transformed into such large and sophisticated objects.
The researchers also uncovered ancient tools, including digging sticks, but the most exciting find was two pieces of wood positioned at right angles to each other. "One is lying over the other, and both pieces of wood have notches cut into them," explained Geoff Duller, a professor of geography at the University of Aberystwyth and a member of the research team. "You can clearly see those notches have been cut by stone tools, making the two logs fit together to become structural objects."
Radiocarbon dating confirmed the wood's age, placing it at a staggering 476,000 years old. This revelation has ignited curiosity about the woodworking traditions of ancient societies, challenging the prevailing notion that early humans led simplistic, nomadic lives.
Perrice Nkombwe, a team member from the Livingstone Museum in Zambia, expressed her astonishment, saying, "I was amazed to know that woodworking was such a deep-rooted tradition. It dawned on me that we had uncovered something extraordinary."
The preservation of the wooden structure itself is a miracle. Typically, wood decays over time unless preserved under specific conditions. However, in the waterlogged environment along the Kalambo Falls, the wood remained intact, essentially pickled by the elements for millennia.
While the exact purpose of this ancient wooden structure remains a mystery, it has sparked numerous speculations. Prof. Duller suggests it might have been used as a place to sit beside the river and fish, although a complete understanding of its function remains elusive.
Moreover, the identity of the individuals who constructed this structure raises intriguing questions. "We don't know – it could have been Homo sapiens, and we just haven't discovered fossils from that age yet," Prof. Duller added. "But it could be a different species – [perhaps] Homo erectus or Homo naledi – there were a number of hominid species around at that time in southern Africa."
This discovery has the potential to enrich our understanding of ancient woodworking techniques, craftsmanship, and human interaction with the environment. As researchers continue their work at the Kalambo Falls site, the pages of history are being rewritten, and our appreciation for the ingenuity of our ancient ancestors grows ever deeper.