The Cutest Pets Eating the Cutest Food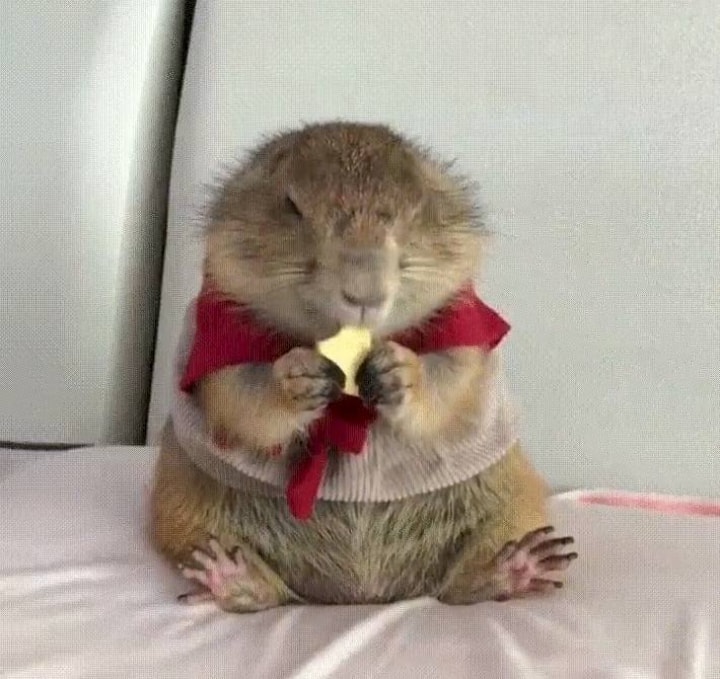 We all know how much pets love snacks. If you want to make an animal happy, simply give it something delicious to eat. Pets can also do some seriously cute things with their food, or for their food. Some people even train them to do awesome tricks for a bite to eat. This list of cute things animals do for food will make you smile, laugh, say "aw", and probably want to give a pet you love a yummy treat or two.
1. This Prairie Dog Who Loves Cheese
Prairie dogs in the wild are one of mother nature's cutest animals. They are wiley, furry, and do this cute squeaking noise to actually talk to other prairie dogs in one of the most elaborate communication methods in the animal kingdom. They live in holes and in communities called "prairie dog towns." Cousins of the squirrels, prairie dogs live in families called coteries.
Not one of the most common pet, this redditor still has a prairie dog to call his own. He even has a cute red outfit, which distinguishes him from other prairie dogs. This prairie dog's favorite snack is cheese. Just look at his little feet!
2. The Cat with the Purr-fect Posture
Did you know that cats have exactly 517 muscles? This gives them incredible flexibility. Maybe that's one reason why American pet owners love cats so much… almost 10 million more cats are kept as pets than dogs. Wow! Our feline friend in this picture sat himself in the right spot to chow down. His posture is pretty comical, and not something that you typically see everyday. You don't normally see a cat's legs bend in that direction, but he doesn't seem to mind at all. LOL.
3. This Cat With Some Leftovers
Not a bad look for this furry friend. He seems just as surprised as you are that his snack left a little mustache on his face. He had a walk through the garden and ate flowers, and now there is pollen left over on his face. It will probably wash off, but in the meantime this cute critter has a funny story to tell.
4. This Raccoon With Healthy Eating Habits
In the wild, raccoons are known to wash off their food before eating it. I wonder if he helped rinse off the berries before his afternoon brunch. It's surprising to see a raccoon not going through the garbage or in the wild, and it looks like his paws are perfect for eating blueberries.
5. This Dog Reaches For It
There's nothing quite like a pup's determination when it comes to getting some of their favorite treats. This adorable Corgi has his eyes on the prize. Whether it's your dinner or some of their dog biscuits, dogs always find a way to get something to munch on. With those big eyes and fluffy, pointy ears, who can say no to that face? Better take a picture first to show the world how cute your dog is first.
Why women make capable firefighters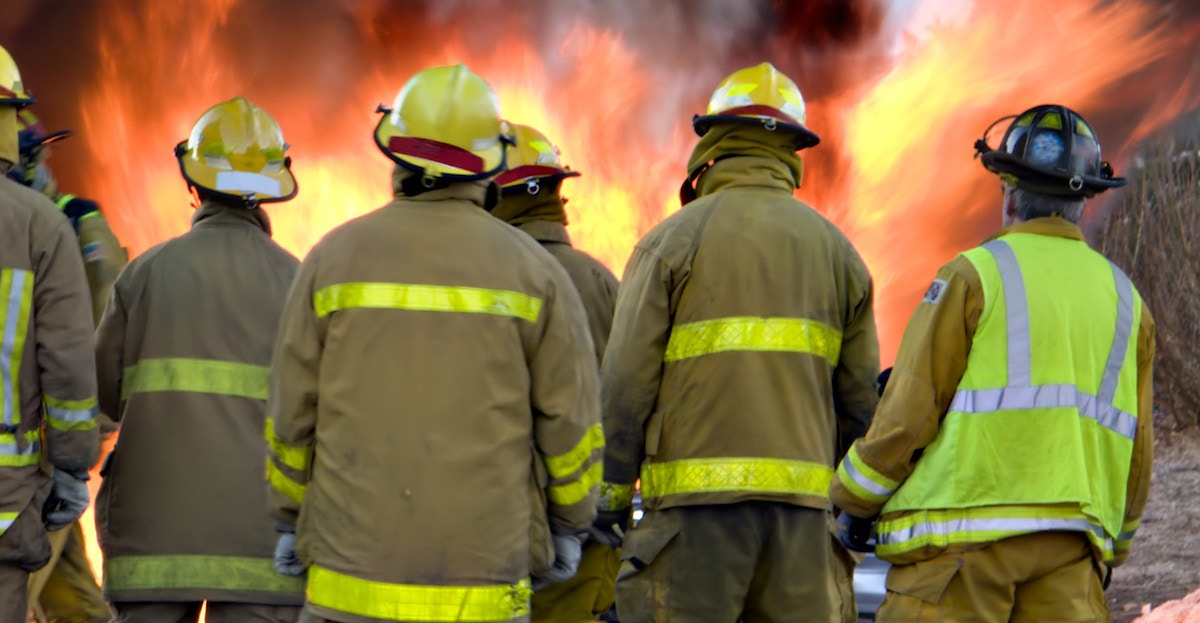 It's unfortunate that the idea persists in society that women are not capable of working as firefighters. As women have become increasingly prominent in other industries that have been traditionally dominated by males such as construction and logging, their numbers on the ranks of firefighting squads continue to remain low.
Take the Fire Department of New York as an example. In 2018, five women succeeded in graduating from New York City's Fire Academy. While some progress has been made for women in the FDNY since the fire department lost a gender discrimination lawsuit back in 1982, there are still fewer than one percent of firefighters for the department who are female. While fire departments in cities such as Seattle, Minneapolis, and Miami have more women, the average for fire departments across the nation is only about five percent female.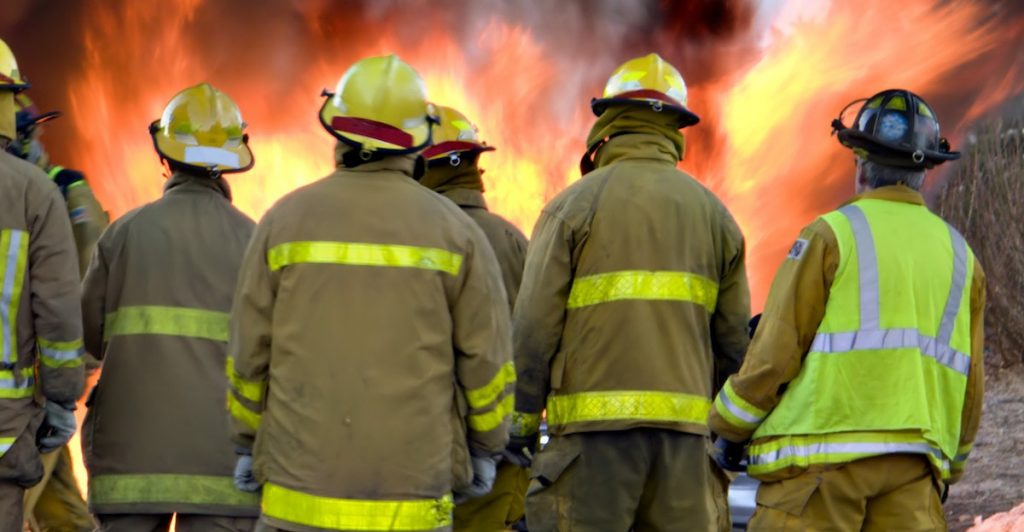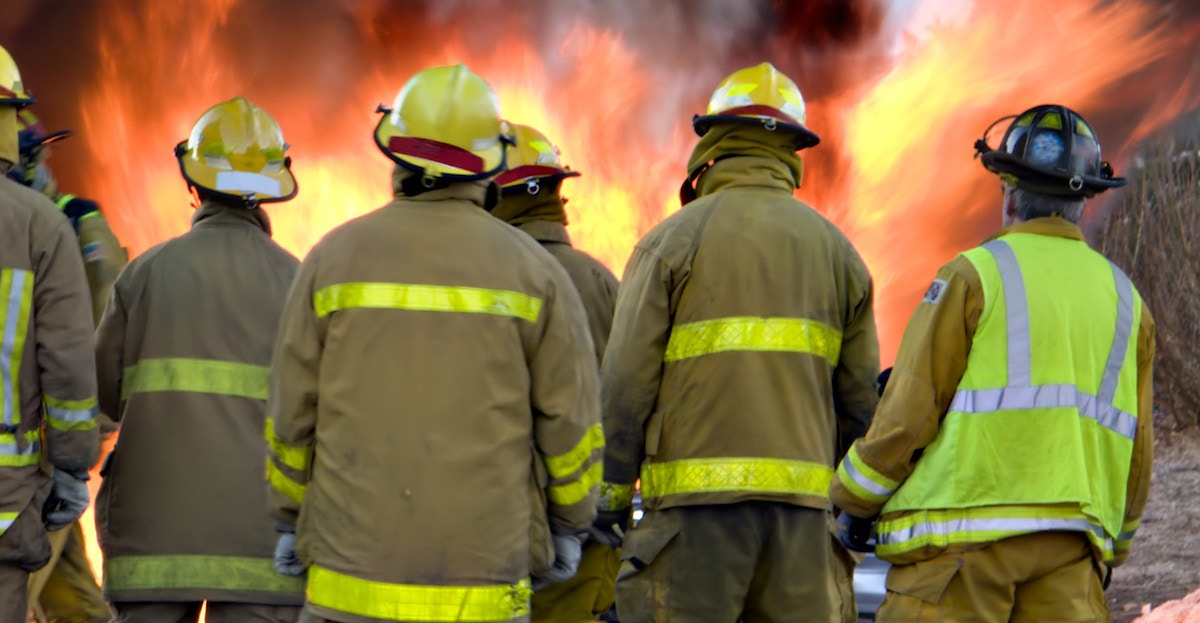 Historically, women have long been successfully putting out fires in this country. Back in 1815, Molly Williams volunteered to serve at the firehouse fo New York City's Oceanus Engine Company No. 11. Williams was a female slave working with a company that was not only all male, but all white as well. Williams was offered a job after she single-handedly handled a call when every man in the company was unable to handle the call because of being infected by the flu.
Another early female firefighter in the US was Emma Vernell. She was 50 years old when she became the first woman to work as a firefighter in the state of New Jersey.
Some people continue to wonder if women are really capable of working as firefighters. One needs only look at statistics to find an answer to this quandary. Consider statistics from the national Candidate Physical Abilities Test that firefighters need to pass. In 2008, 70 percent of all women who took the exam passed. This figure is not significantly far behind the percentage of men who passed the exam. In the same year, 75 percent of men passed. This shows that women are not statistically far behind men in taking the exam and passing or failing is more a matter of individual capabilities than a question of gender.
It's likely that women remain underrepresented in the firefighting profession because of traditionally perceived gender roles. Fire departments all over the country have been found to have testing and qualification procedures that not only discriminate against women, but also against minorities as well. Available equipment is often designed to fit men rather than women. Also, harassment toward women is rampant in some departments.
Nevertheless, women succeed in careers as firefighters. In fact, hundreds of women have attained the rank of captain or lieutenant in their careers as firefighters. In fact, the city of San Francisco fire department was led by a woman, Chief JoAnne Hayes-White, as of 2004.
It's important that people realize that females are perfectly capable of serving as firefighters because, as a female Wisconsin firefighter once remarked, "No one cares if you're a woman when their house is on fire".