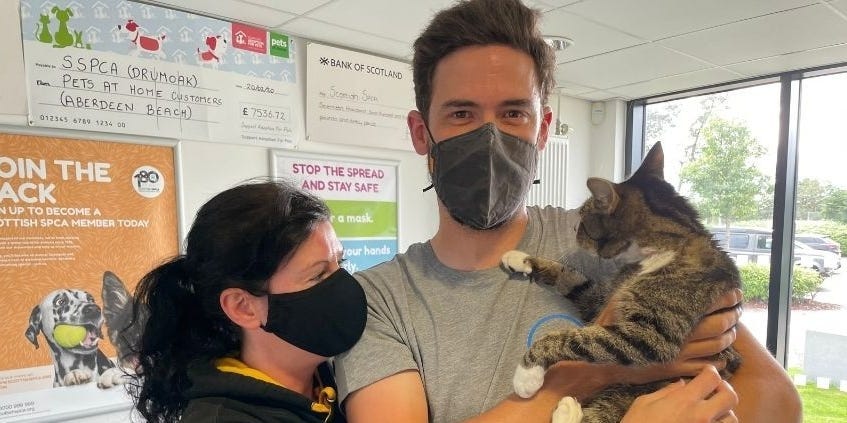 The Cat That Came Out of the Time Machine a Decade Later
When cats go missing, the stories often end sadly or with no ending at all. Naturally born to roam, cats regularly get separated from their human owners and end up either being picked up by animal control, getting killed by a car or some other cause (dogs and, unfortunately, humans sometimes), or getting sick. As a result, when Forbes became lost from his owners in Aberdeen, Scotland, the couple were understandably upset.
Forbes had been a furry companion for the Hendersons for years. Neil and Lucy raised the cat and always assumed he would stay put and stay connected with them. Unfortunately, that was not how fate would work. In 2011, the feline got separated from the couple and seemingly disappeared. The pair were completely chucked and sad for months after the loss and, as the years went by, accepted the seeming finality that Forbes was permanently gone. So, when the SPCA called and kept talking about a cat microchipped with the couple's info in him, the Lucy and Neil were completely shocked.
Neil and Lucy had had Forbes microchipped at a young age to prevent the exact thing happening that occurred with his disappearance. The thinking was, and continues to be with the program, that if the animal gets lost, it will then eventually be picked up by animal control. Scanned and identified, the cat would be returned. However, Neil and Lucy never expected it would take more than a decade for the program to actually work. Their surprise at being reunited with Forbes was nothing short of movie-like in the way things worked out.
The couple had spent weeks looking for Forbes, trying to find the cat when he was first lost. Ironically, years later, the cat was caught by animal control only a few blocks or two miles from where Neil and Lucy lived originally in Aberdeen. Since that time, Neil and Lucy relocated to Edinburgh, a lot in life has happened, and now they have Forbes back in their life. At a minimum, the couple is just overjoyed with the reconnection with their feline pet. As for Forbes, hanging out with two humans that take care of his needs is probably a lot better than living off the street. He seems to have gotten over that feline wandering need, and Forbes spends most of his time now just sleeping.
Looking back on the event, the couple and their friends remember canvassing the neighborhood with posters of Forbes, but nothing turned up, not even a simple, possible clue. It was as if aliens came along and just kidnapped the cat right off the street. Folks were checking everywhere to see if the cat had gotten himself trapped in a hole, a shed, a garage or anything similar. No luck.
When the SPCA call came through a decade later, Lucy was the first to get the contact and immediately rang up Neil. He had to pull over and good he did; Neil was flabbergasted when Lucy, in all seriousness, described to him how Forbes had been found again, alive. Neil swung a U-turn, got back to their home, and both started packing their bags to get to Aberdeen and see Forbes again. It seemed on meeting that Forbes knew exactly who Neil and Lucy were as well, likely by smell. The cat curled right into Neil immediately.
Forbes has an adjustment though. Lucy and Neil did end up getting more pets, so the old cat now has to share attention with two other cats and two dogs. Talk about a crowded life change from the empty street! Interestingly, Forbes seemed to do quite fine on the street all those years. Animal control noted the case was very friendly to humans, was not aggressive, and did not spook like feral cats usually do. Likely, Forbes had made friends doing the rounds visiting people daily all over the neighborhood. As for the couple and their cat now, it's memories and reminiscing in a warm flat now.

A Boy Expected to Never Write Shows the World What 12 Fingers Can Do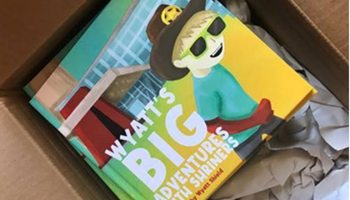 When Wyatt Shield was born, doctors immediately knew they had a developmental mutation case on their hands, no pun intended. The newborn boy was born with 12 fingers. Specifically, each hand came with an additional thumb. Technically known as thumb polydactyly, Wyatt was going to be able to live and function, but the use of hands for dexterity work like writing was going to be limited or none. Like many children with extra parts due to development mutations, Wyatt's extra thumbs were removed a year later thanks to the support and help of the Shriners Children's Hospital, located in St. Louis.
However, regardless of what the medical experts and doctors thought at the time, Wyatt wasn't keen on agreeing with their conclusion about his recovery. Instead, some five years later, Wyatt decided to become an author and write his first book. The story was about his experience at the Shriners' Hospital, from what he could remember, and what he was told about what occurred there to help him. Even more surprising, the book gained enough support to be published, and it's now in circulation.
The story of Wyatt's surgery trip covers all the different procedures he had to go through as well as his perspective of the doctors. It's a kid's view of the world clearly, and Wyatt wanted to show other kids not only could he prove medical experts wrong, but write a book doing so as well. His parents think Wyatt just rocks something huge. It's a classic outcome of what a child can pursue if he's not stopped first and prevented from achieving the "impossible."
The Shriner impact is a family thing for Wyatt and his parents as well. Wyatt's grandfather on his mother's side was a Shriner for a half century. Seeing the program give back personally to the family was a work effort coming full circle because of all the years of volunteering and support his grandfather provided Shriners before Wyatt was ever born. In the same vein, some of the profits from Wyatt's book sales will go right back to the Shriners, as Wyatt and his family wanted. It's a sense of paying forward for the next child that needs help like what Wyatt received for his hands.
And, as for Wyatt, he's off to his next adventure and challenge. His hands are doing just fine, and he's taking on new ideas for his next books as well.