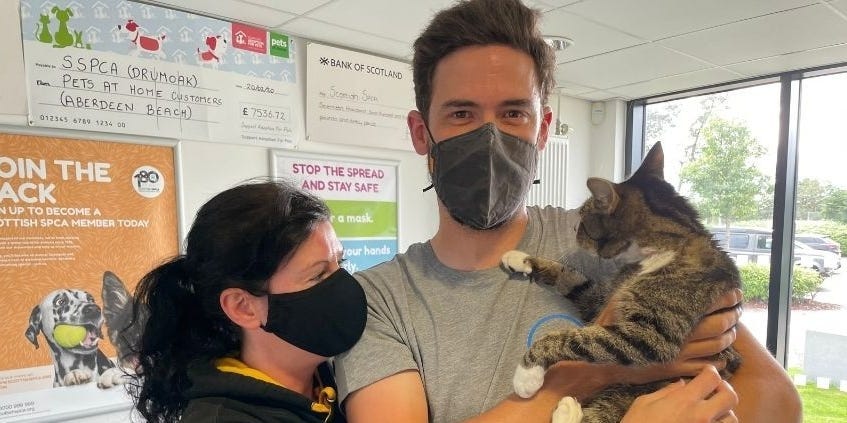 The Cat That Came Out of the Time Machine a Decade Later
When cats go missing, the stories often end sadly or with no ending at all. Naturally born to roam, cats regularly get separated from their human owners and end up either being picked up by animal control, getting killed by a car or some other cause (dogs and, unfortunately, humans sometimes), or getting sick. As a result, when Forbes became lost from his owners in Aberdeen, Scotland, the couple were understandably upset.
Forbes had been a furry companion for the Hendersons for years. Neil and Lucy raised the cat and always assumed he would stay put and stay connected with them. Unfortunately, that was not how fate would work. In 2011, the feline got separated from the couple and seemingly disappeared. The pair were completely chucked and sad for months after the loss and, as the years went by, accepted the seeming finality that Forbes was permanently gone. So, when the SPCA called and kept talking about a cat microchipped with the couple's info in him, the Lucy and Neil were completely shocked.
Neil and Lucy had had Forbes microchipped at a young age to prevent the exact thing happening that occurred with his disappearance. The thinking was, and continues to be with the program, that if the animal gets lost, it will then eventually be picked up by animal control. Scanned and identified, the cat would be returned. However, Neil and Lucy never expected it would take more than a decade for the program to actually work. Their surprise at being reunited with Forbes was nothing short of movie-like in the way things worked out.
The couple had spent weeks looking for Forbes, trying to find the cat when he was first lost. Ironically, years later, the cat was caught by animal control only a few blocks or two miles from where Neil and Lucy lived originally in Aberdeen. Since that time, Neil and Lucy relocated to Edinburgh, a lot in life has happened, and now they have Forbes back in their life. At a minimum, the couple is just overjoyed with the reconnection with their feline pet. As for Forbes, hanging out with two humans that take care of his needs is probably a lot better than living off the street. He seems to have gotten over that feline wandering need, and Forbes spends most of his time now just sleeping.
Looking back on the event, the couple and their friends remember canvassing the neighborhood with posters of Forbes, but nothing turned up, not even a simple, possible clue. It was as if aliens came along and just kidnapped the cat right off the street. Folks were checking everywhere to see if the cat had gotten himself trapped in a hole, a shed, a garage or anything similar. No luck.
When the SPCA call came through a decade later, Lucy was the first to get the contact and immediately rang up Neil. He had to pull over and good he did; Neil was flabbergasted when Lucy, in all seriousness, described to him how Forbes had been found again, alive. Neil swung a U-turn, got back to their home, and both started packing their bags to get to Aberdeen and see Forbes again. It seemed on meeting that Forbes knew exactly who Neil and Lucy were as well, likely by smell. The cat curled right into Neil immediately.
Forbes has an adjustment though. Lucy and Neil did end up getting more pets, so the old cat now has to share attention with two other cats and two dogs. Talk about a crowded life change from the empty street! Interestingly, Forbes seemed to do quite fine on the street all those years. Animal control noted the case was very friendly to humans, was not aggressive, and did not spook like feral cats usually do. Likely, Forbes had made friends doing the rounds visiting people daily all over the neighborhood. As for the couple and their cat now, it's memories and reminiscing in a warm flat now.

The Mother Doberman and the Kitten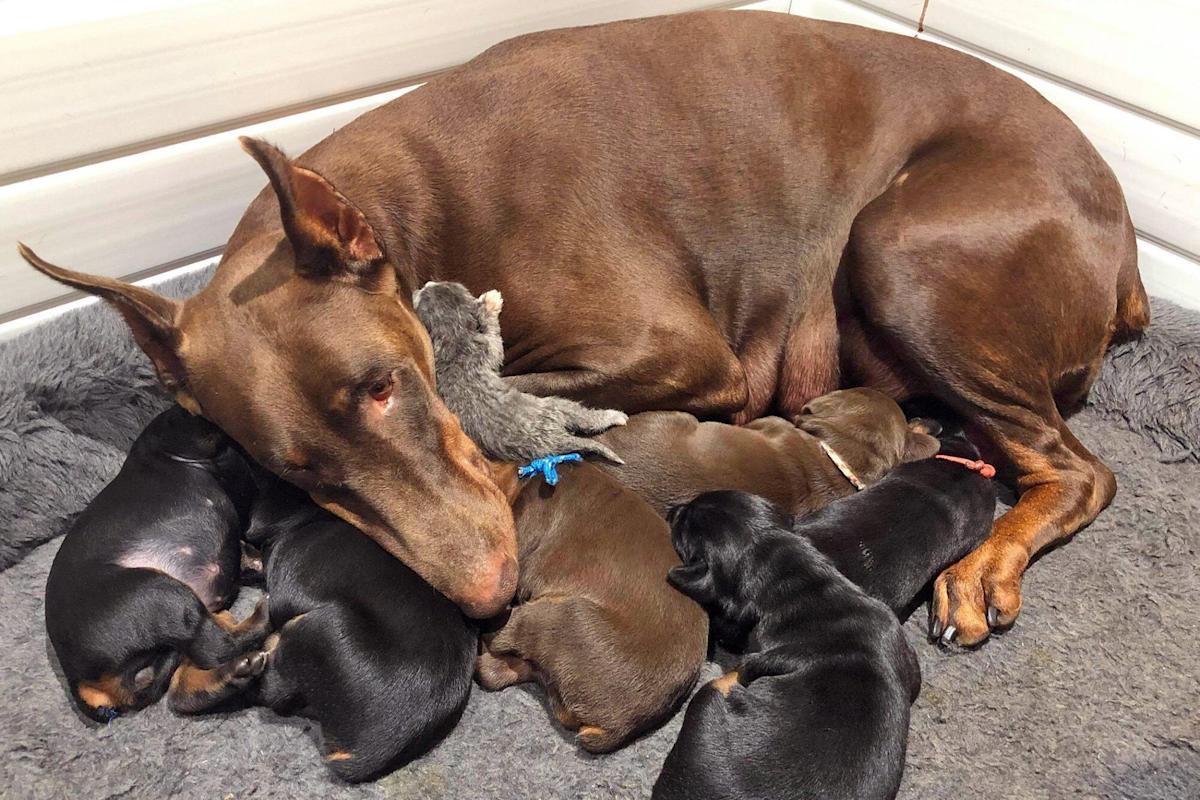 The idea of one animal raising a baby of a different species has long been part of human folklore. After all, the ancient myth of how Rome was created started with Romulus and Remus, twin babies, kept alive by a mother wolf. In far more modern times, Dr. Seuss books also took the same theme and reflected the story line with Horton the Elephant helping to hatch a baby bird. And then, of course, there is Dumbo the Elephant, Disney's version, flying after being raised and taught by crows.
Of course, in real life, cross-species care rarely happens. However, once in a while, animals do show empathy and go beyond their norms to help a young one in need. Koko the Gorilla, famous for learning sign language, raised a kitten. And a big-sized Doberman, Ruby, did the same with a little kitten she found herself with. Ruby was already in mother mode, which probably helped the situation; she had six puppies of her own nursing at the time, so the idea of a newborn kitten being added to the mix didn't seem that far-fetched, even to a big dog.
The human taking care of Ruby and her brood, Brittany Callan, normally manages the raising of Dobermans as her occupation. It helps that she lives on a farm, with plenty of room and facilities to manage animal husbandry. Given that background, when Callan happened to find a baby kitten without her mother and sure to end up passing away exposed, Callan immediately wondered whether Ruby could help. Ruby had just given birth to her own puppies just a few days before, so if anything, the dog would likely be in a prime maternal mood. It was worth a chance to save the cat.
It took a few minutes for Ruby to be comfortable with the new feline introduction, but once the nursing mother deemed the kitten no apparent threat, she was fine with taking care of one more baby in the melee of her puppies clamoring for food. Ruby was quite accommodating, actually, according to Callan. The Doberman was already used to being on the farm and surrounded by multiple species and sizes, so another kitten wasn't going to be much of a shock to her compared to how a city dog might act.
Is inter-species motherhood common? Not really, but it does happen. Russian ookeepers trying to save two tiger cubs were able to depend on the help of a Shar-Pei that nursed the two cubs long enough that they would survive. And in Ireland, a similar situation occurred with a cat raising three ducklings along with her regular kittens. In Callan's opinion and experience on the farm, the maternal instinct is so strong, it drives animals to become sympathetic to the plight of young ones needing care. And being around other animals regularly helps a lot with that trend of adoption.
As it turned out, Ruby's new kitten puppy, Ramblin' Rose, ended up doing just fine. The baby cat even got protective care from mom when the puppies started getting a bit too rough for the cat. The kitten ended up growing strong and taking on weight and will likely be just fine around dogs on the farm as a result of her rearing by Ruby.