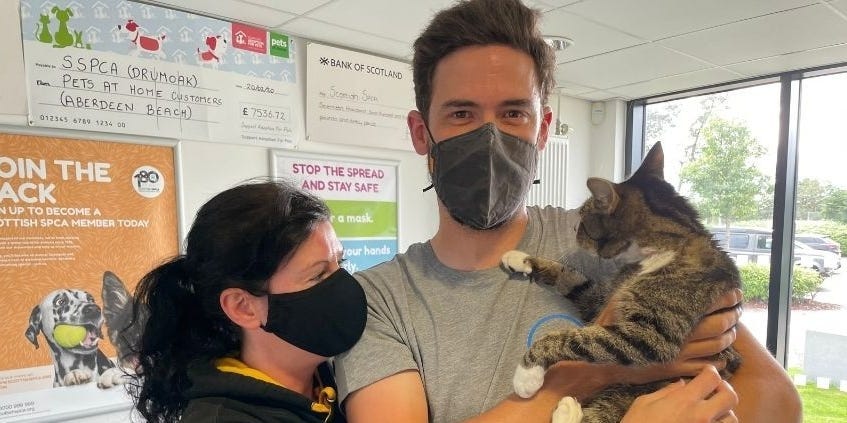 The Cat That Came Out of the Time Machine a Decade Later
When cats go missing, the stories often end sadly or with no ending at all. Naturally born to roam, cats regularly get separated from their human owners and end up either being picked up by animal control, getting killed by a car or some other cause (dogs and, unfortunately, humans sometimes), or getting sick. As a result, when Forbes became lost from his owners in Aberdeen, Scotland, the couple were understandably upset.
Forbes had been a furry companion for the Hendersons for years. Neil and Lucy raised the cat and always assumed he would stay put and stay connected with them. Unfortunately, that was not how fate would work. In 2011, the feline got separated from the couple and seemingly disappeared. The pair were completely chucked and sad for months after the loss and, as the years went by, accepted the seeming finality that Forbes was permanently gone. So, when the SPCA called and kept talking about a cat microchipped with the couple's info in him, the Lucy and Neil were completely shocked.
Neil and Lucy had had Forbes microchipped at a young age to prevent the exact thing happening that occurred with his disappearance. The thinking was, and continues to be with the program, that if the animal gets lost, it will then eventually be picked up by animal control. Scanned and identified, the cat would be returned. However, Neil and Lucy never expected it would take more than a decade for the program to actually work. Their surprise at being reunited with Forbes was nothing short of movie-like in the way things worked out.
The couple had spent weeks looking for Forbes, trying to find the cat when he was first lost. Ironically, years later, the cat was caught by animal control only a few blocks or two miles from where Neil and Lucy lived originally in Aberdeen. Since that time, Neil and Lucy relocated to Edinburgh, a lot in life has happened, and now they have Forbes back in their life. At a minimum, the couple is just overjoyed with the reconnection with their feline pet. As for Forbes, hanging out with two humans that take care of his needs is probably a lot better than living off the street. He seems to have gotten over that feline wandering need, and Forbes spends most of his time now just sleeping.
Looking back on the event, the couple and their friends remember canvassing the neighborhood with posters of Forbes, but nothing turned up, not even a simple, possible clue. It was as if aliens came along and just kidnapped the cat right off the street. Folks were checking everywhere to see if the cat had gotten himself trapped in a hole, a shed, a garage or anything similar. No luck.
When the SPCA call came through a decade later, Lucy was the first to get the contact and immediately rang up Neil. He had to pull over and good he did; Neil was flabbergasted when Lucy, in all seriousness, described to him how Forbes had been found again, alive. Neil swung a U-turn, got back to their home, and both started packing their bags to get to Aberdeen and see Forbes again. It seemed on meeting that Forbes knew exactly who Neil and Lucy were as well, likely by smell. The cat curled right into Neil immediately.
Forbes has an adjustment though. Lucy and Neil did end up getting more pets, so the old cat now has to share attention with two other cats and two dogs. Talk about a crowded life change from the empty street! Interestingly, Forbes seemed to do quite fine on the street all those years. Animal control noted the case was very friendly to humans, was not aggressive, and did not spook like feral cats usually do. Likely, Forbes had made friends doing the rounds visiting people daily all over the neighborhood. As for the couple and their cat now, it's memories and reminiscing in a warm flat now.

Grandpa Rudy Noorlander's Remarkable Recovery After Grizzly Bear Attack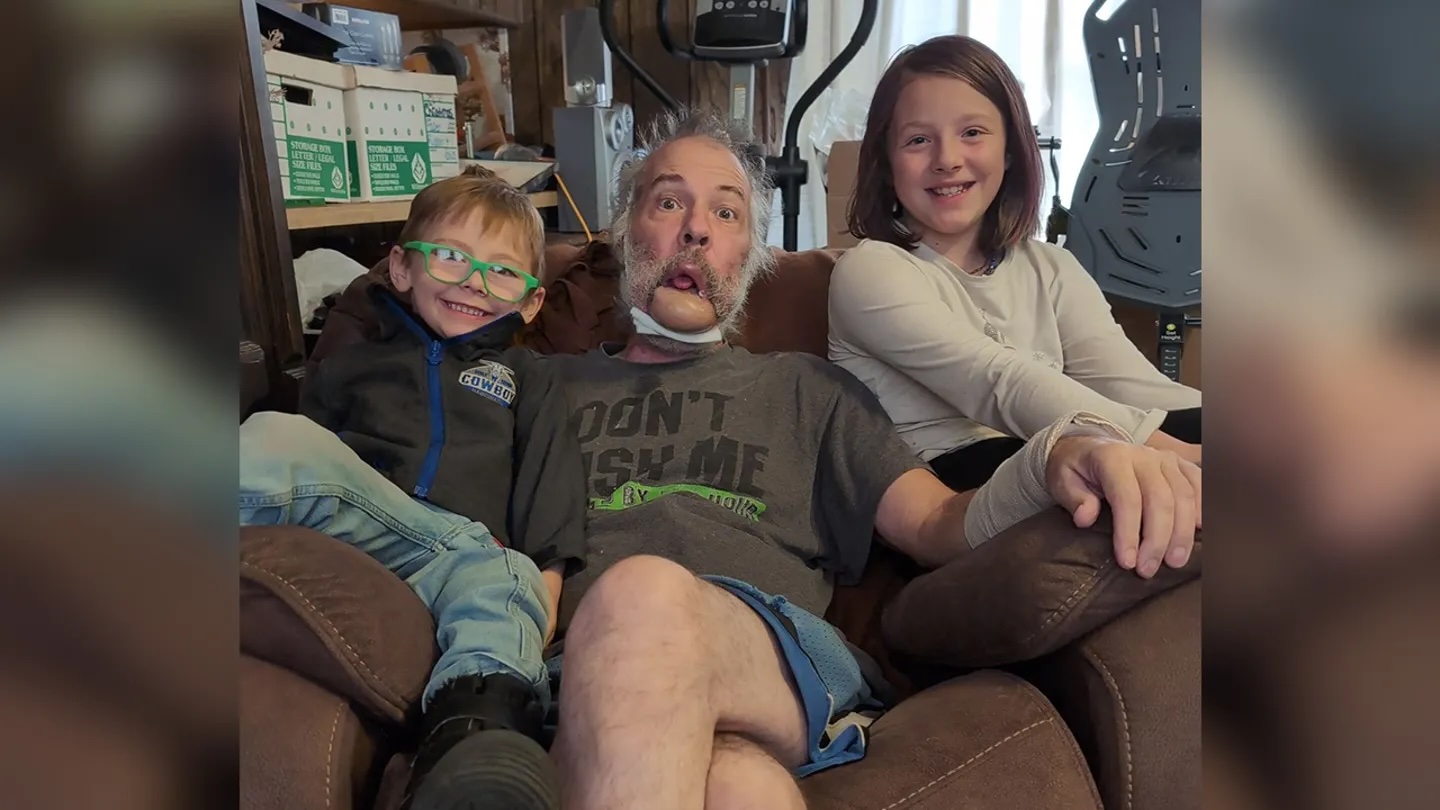 In the rugged wilderness of Montana, a brave 61-year-old man named Rudy Noorlander faced a terrifying encounter with a 9-foot-tall grizzly bear that left him with a ripped-off jaw. Despite this harrowing experience, Rudy's indomitable spirit and determination to recover have amazed his family and community.
On September 8th, while helping a father and son track a shot deer in Custer Gallatin National Forest, Rudy unexpectedly crossed paths with the massive grizzly bear. In a moment of sheer surprise, the bear attacked him, resulting in what Rudy humorously described as the "most disgusting French kiss of his life." The bear tore into his lower jaw, leaving Rudy in a life-threatening situation.
Recalling the traumatic incident, Rudy shared that the attack happened so quickly that he couldn't deploy his bear spray in time, and a misfire from his gun further complicated the situation. Desperate to fend off the bear, Rudy resorted to using his hands, but the grizzly clamped onto his lower jaw with incredible force. Despite the unbearable pain and the bear's rancid breath, Rudy valiantly fought for his life.
Miraculously, Rudy survived the ordeal, and he is expected to make a full recovery. Reflecting on the incident, he acknowledged that there were things he could have done differently to change the outcome, but he remains optimistic about the future. Supported by his family, including daughter Ashley, Rudy jokingly declared that he's going to be "like Rambo out there" in the Montana wilderness.
Despite facing one of the most challenging moments of his life, Rudy Noorlander maintains a positive and resilient attitude. Describing him as the "most positive person" she knows, Ashley praised her father's will to live and his fighting spirit. Rudy, a Montana native, owns Alpine Adventures, a snowmobile rental shop in Big Sky, and the incident has strengthened his connection with family, God, and personal growth.
With unwavering faith, Rudy believes that there is a purpose for his survival, and he plans to share his story through church devotionals and inspirational talks. He sees the attack as a turning point that has guided the rest of his life's journey.