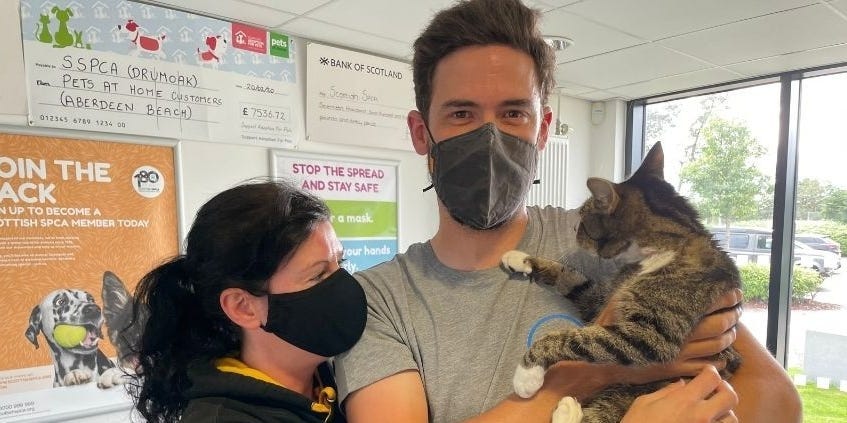 The Cat That Came Out of the Time Machine a Decade Later
When cats go missing, the stories often end sadly or with no ending at all. Naturally born to roam, cats regularly get separated from their human owners and end up either being picked up by animal control, getting killed by a car or some other cause (dogs and, unfortunately, humans sometimes), or getting sick. As a result, when Forbes became lost from his owners in Aberdeen, Scotland, the couple were understandably upset.
Forbes had been a furry companion for the Hendersons for years. Neil and Lucy raised the cat and always assumed he would stay put and stay connected with them. Unfortunately, that was not how fate would work. In 2011, the feline got separated from the couple and seemingly disappeared. The pair were completely chucked and sad for months after the loss and, as the years went by, accepted the seeming finality that Forbes was permanently gone. So, when the SPCA called and kept talking about a cat microchipped with the couple's info in him, the Lucy and Neil were completely shocked.
Neil and Lucy had had Forbes microchipped at a young age to prevent the exact thing happening that occurred with his disappearance. The thinking was, and continues to be with the program, that if the animal gets lost, it will then eventually be picked up by animal control. Scanned and identified, the cat would be returned. However, Neil and Lucy never expected it would take more than a decade for the program to actually work. Their surprise at being reunited with Forbes was nothing short of movie-like in the way things worked out.
The couple had spent weeks looking for Forbes, trying to find the cat when he was first lost. Ironically, years later, the cat was caught by animal control only a few blocks or two miles from where Neil and Lucy lived originally in Aberdeen. Since that time, Neil and Lucy relocated to Edinburgh, a lot in life has happened, and now they have Forbes back in their life. At a minimum, the couple is just overjoyed with the reconnection with their feline pet. As for Forbes, hanging out with two humans that take care of his needs is probably a lot better than living off the street. He seems to have gotten over that feline wandering need, and Forbes spends most of his time now just sleeping.
Looking back on the event, the couple and their friends remember canvassing the neighborhood with posters of Forbes, but nothing turned up, not even a simple, possible clue. It was as if aliens came along and just kidnapped the cat right off the street. Folks were checking everywhere to see if the cat had gotten himself trapped in a hole, a shed, a garage or anything similar. No luck.
When the SPCA call came through a decade later, Lucy was the first to get the contact and immediately rang up Neil. He had to pull over and good he did; Neil was flabbergasted when Lucy, in all seriousness, described to him how Forbes had been found again, alive. Neil swung a U-turn, got back to their home, and both started packing their bags to get to Aberdeen and see Forbes again. It seemed on meeting that Forbes knew exactly who Neil and Lucy were as well, likely by smell. The cat curled right into Neil immediately.
Forbes has an adjustment though. Lucy and Neil did end up getting more pets, so the old cat now has to share attention with two other cats and two dogs. Talk about a crowded life change from the empty street! Interestingly, Forbes seemed to do quite fine on the street all those years. Animal control noted the case was very friendly to humans, was not aggressive, and did not spook like feral cats usually do. Likely, Forbes had made friends doing the rounds visiting people daily all over the neighborhood. As for the couple and their cat now, it's memories and reminiscing in a warm flat now.

Drew Carey's Beyond Generous Gesture to Support Striking Writers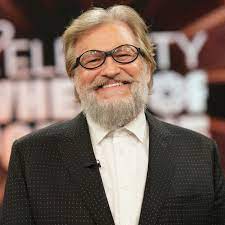 In times of struggle, acts of kindness and generosity can bring hope and relief to those in need. Drew Carey, a well-known television personality, has once again shown his compassion by providing daily lunches for members of the Writer's Guild of America (WGA) who are currently on strike. This remarkable gesture is helping to alleviate some of the financial strain faced by these hardworking individuals.
Drew Carey is graciously covering the expenses at two local businesses for WGA members who show their guild card. The two restaurants involved in this endeavor are Bob's Big Boy in Burbank and Swingers Diner on Beverly. With every meal, Drew is estimated to be spending thousands of dollars per day to ensure that these writers are well-fed during this challenging time.
This is not the first time that Drew Carey has demonstrated his support for the WGA. During the 2007 strike, he generously provided lunches to struggling writers for two consecutive months. His commitment to helping others in need has not wavered over the years, and he continues to be a beacon of kindness.
The gratitude expressed by the WGA members for Drew's actions is overwhelming. Many writers have taken to social media to share their appreciation and to highlight the impact of his generosity. One writer tweeted, "Drew bought me lunch for two months straight in '07 when I was struggling with that WGA strike. In a better place now, but Drew continues to be a good dude." The outpouring of thanks and support from the WGA community is a testament to the positive effect that Drew's kind gestures have on their lives.
The participating restaurants have become a gathering place for WGA members, who are not only enjoying the delicious meals but also feeling the love and support from Drew. The writers express their gratitude repeatedly, and the staff at the restaurants are grateful to be part of this compassionate act. They feel privileged to play a role in facilitating Drew's generosity and witness the joy it brings to those in need.
Being a writer can be challenging, with periods of financial uncertainty and limited opportunities. The current strike has exacerbated these difficulties, making every complimentary meal a significant relief for the writers. As one member explained, "They're very, very happy and they're very, very thankful to Drew." The impact of Drew's support goes beyond a single meal—it represents a lifeline for those facing financial hardships during the strike.
Drew Carey's unwavering commitment to supporting the WGA and his genuine care for those in need is truly commendable. His actions remind us of the power of kindness and the difference one person can make in the lives of others. As the strike continues, the lunches provided by Drew serve as a ray of hope and a reminder that the writing community is not alone in their fight.
In times of hardship, it is heartwarming to see individuals like Drew Carey step forward and offer their support. His kindness and generosity are an inspiration to us all, and his contributions to the well-being of the WGA members are deeply appreciated.