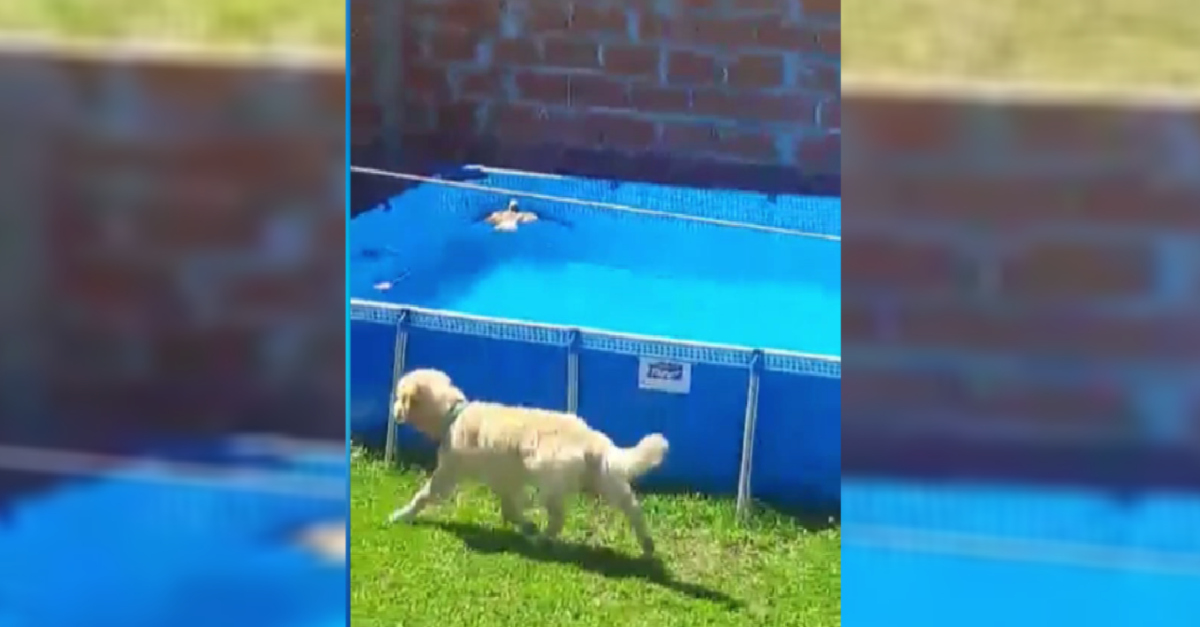 Many humans dream of being a hero. They think about all the ways they might be able to do so: become a police officer or fireman, join the military, maybe get bit by a radioactive spider or struck by lightening. The truth is, though, that you do not need any of that to be a hero. The decisions you make on a daily basis, the response you have to the unexpected, and how you give of yourself even if it does not benefit you- that is what makes a hero. Just take it from Yago…
Yago is a beautiful golden retriever who lives with his humans in Buenos Aires, Argentina. He was simply enjoying a day in his back yard when he noticed a bird drowning in the family pool. The poor bird was scared to death, and I am quite sure that seeing Yago there was not the least bit comforting. After all, he could easily eat the helpless bird. Even as the bird is flapping around, frantically waving its wings, Yago keeps his cool. He assesses the situation, find the best point of rescue, and gently pulls the frightened bird from the water.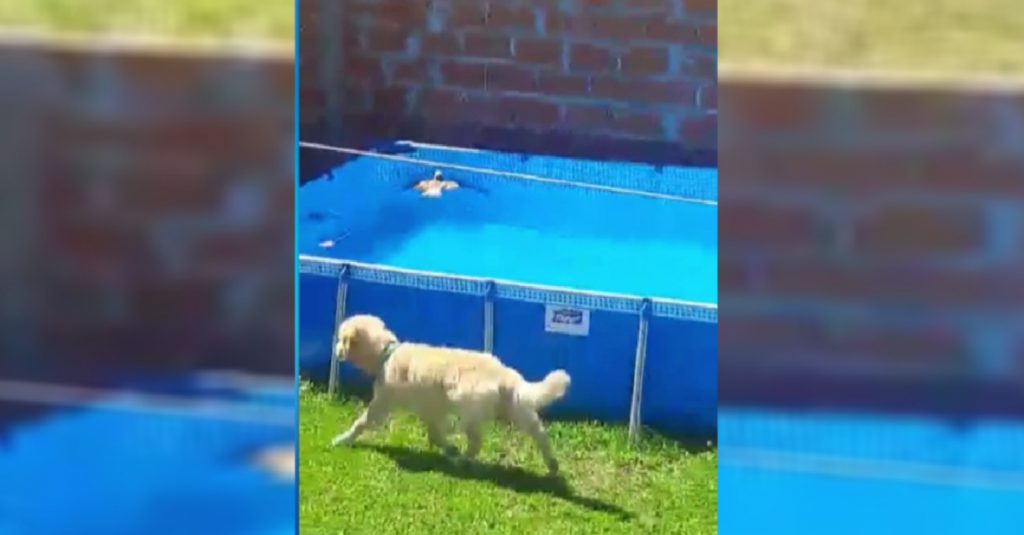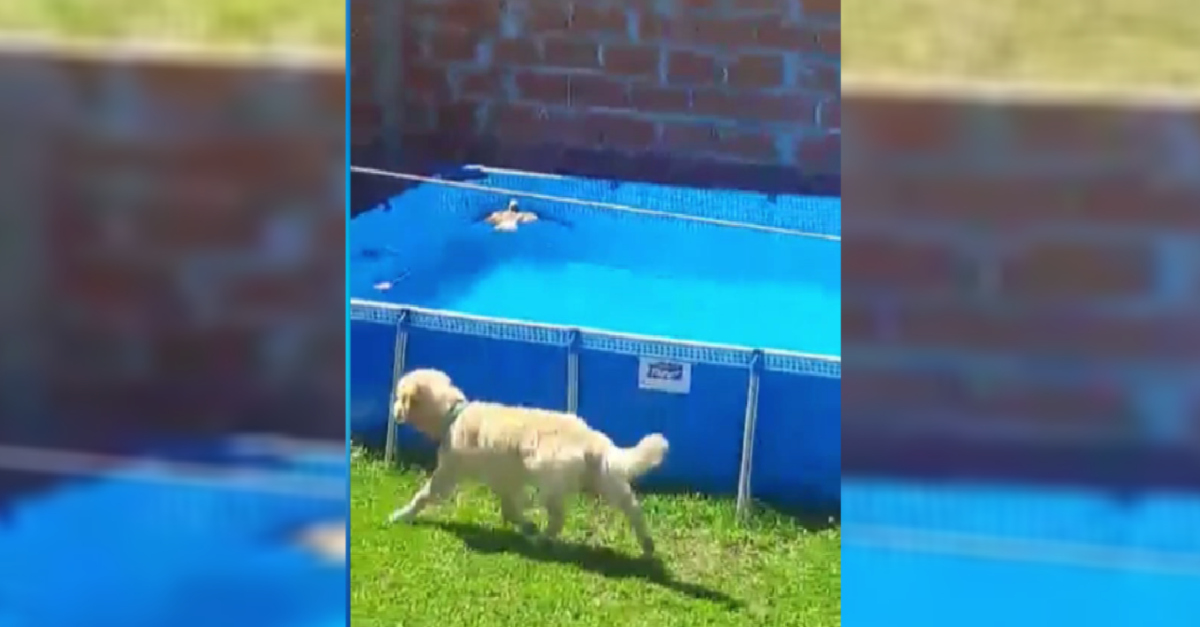 Thinking about what we know of predator and prey, no one would have been shocked if Yago had eaten the bird. Instead, he placed the bird on the ground and went on about his day. The sweet bird- who was probably still a bit numb with shock- stayed in place until it had dried, then flew away.
Yago is the definition of a hero. He saw someone in trouble- a natural enemy, no less- and sprung into action. His only hesitation was in finding the best way to help. Then, without thought for himself, he played out a rescue mission. After, he did not even ask for praise. To him, it was the most natural thing in the world. What a guy!
We could all learn a lesson from sweet Yago. There are opportunities every day to be a hero, though it is rarely so physically drastic. Helping kids with homework, feeding a hungry person, holding the door open, treating those in your life with kindness, helping to coach the little league team, adopting a pet who desperately needs a home, cleaning your daughters skinned up knee…These may seem like small acts, but they carry on a long way. These are acts that will affect lives for years to come.
Being a hero does not require a cape, super powers, a badge, or a gun. You can be a hero simply by being what those around you need you to be, by making a difference in your part of the world. It means standing up when others need you to, and inspiring them to be better themselves. Yago's selfless act may have taken place in a five foot area, but it has now spread across the Internet, inspiring others to become better as well. That is a hero!

Handicapped Puppy Befriends Flightless Pigeon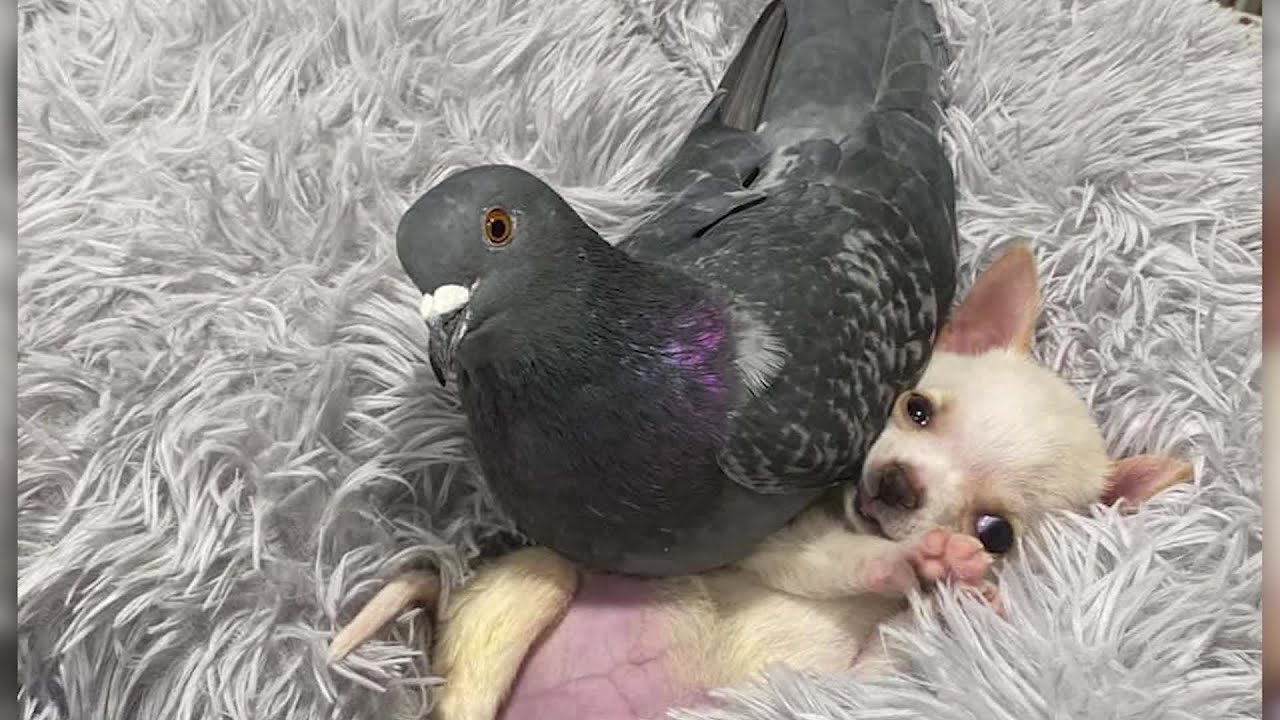 In Rochester, NY, Sue Rogers runs a non-profit called the Mia Foundation. The rescue organization rescues and rehabilitates animals who have birth defects or deformities and tries to find them a loving home. About a year ago, a pigeon was found unable to move in the parking lot of a car dealership. The pigeon was huddled and cowering on the ground. When a local wildlife rescue was called, they said the bird had neurological damage that caused him not to be able to fly. They thought that euthanization would be the best option for him.
Sue was having none of that. She stepped in and took the bird, who she named Herman, under her wing, so to speak. She made space for him in her shelter and kept him close where she could keep an eye on him. He liked to sit on a furry dog pillow and watch her work.
A couple months ago, a tiny Chihuahua was brought to the Mia Foundation. He was an infant, maybe a few months old, when his South Carolina breeders sent him to Sue. He's a teacup sized Chihuahua they named Little Lundy and he was born with spinal cord damage. Sue also determined that he was suffering from swimmers syndrome. Swimmers syndrome is a developmental deformity that causes the front and hind legs to be splayed out. This makes it almost impossible for Little Lundy to walk.
Although swimmers syndrome is thought to be untreatable, according to a few studies and an article in a veterinary journal, it can be treatable. With some physical therapy and at-home treatment, Little Lundy could live a long and happy life, which is exactly what Sue plans for him.
When Little Lundy arrived at the Mia Foundation he decided to get acquainted with his new surroundings and the other animals at the shelter. One particular encounter, created a friendship that has gone viral. Herman and Little Lundy, a puppy and a pigeon, are the unlikeliest of friends, but they have a lot in common. They both have trouble walking, or flying in Hermans case, and they were living in the same place. You could say, they were in the right place at the right time to become instant friends.
In the six weeks they have been together, Herman and Little Lundy have become inseparable. They do everything together, which is a lot of sleeping and snuggling. Mostly, with Herman sitting on top of Little Lundy, which doesn't bother him in the slightest. This friendship was so out of the ordinary that Sue had to document it. The viral sensation of the puppy and pigeon has brought attention to the Mia Foundation that was much needed. The rescue organization runs solely on donations to help cover the costs of taking care of the animals and for needed surgeries. So far, about $6000 was donated because of this unlikely friendship and over 100 adoption inquiries. Hopefully when they are adopted, they are able to stay together.