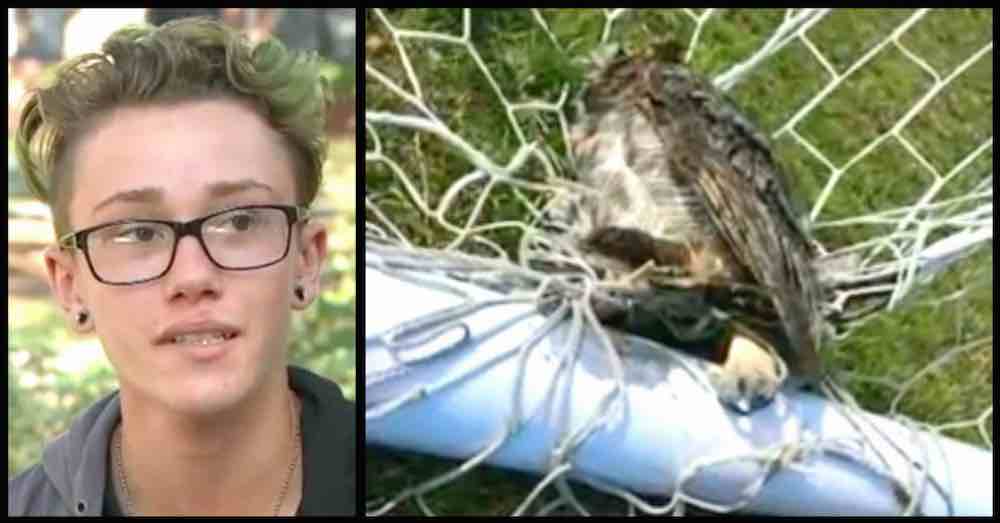 Teen Animal Rescuer Sets Owl Free
Blake Milliken was headed to his local soccer field to play with his friends. It was a regular afternoon at the local park until he discovered something he'd never seen before – the net was moving!
Caught in the Net
As Blake and his friends got closer, they discovered a large and very frightened owl, trapped and struggling in the netting of a soccer goal. In the bird's panic, it had fought the netting to the point that it was fully entangled, and every attempt the boys made to get close enough to untangle the bird only made it more fearful. As it struggled more, it only caught itself more firmly in the net.
Blake to the Rescue
Blake, quick on his feet, pulled out a small knife he carried with him and began to cut the netting free around the animal. "He nicked my hand," Blake said in a video of the event, "… I didn't panic." Blake actually had to display the presence of mind to stay very still and convince the bird he wasn't a threat, before the animal released his hand so that he could continue his work.
A Gathering Crowd
Not long after, a crowd began to form around the group of would-be soccer players, seeking to help out in this unexpected rescue operation. First Blake's girlfriend, then his parents, and then not long after the local police, all pitched in to help save a terrified animal.
Once the owl was cut free, local officials helped bring the owl to a local rehab facility. He has since been cared for and nursed back to health, thanks to the boys who cared enough to stop and make a difference.
Choosing to Help
If these local heroes had simply found another goal or another pastime, it's likely that this full grown owl could have died in the netting, injured and unable to reach food or water. It would have been easy to look the other way, but it took compassion, quick action, and no small amount of bravery to get involved. Blake in particular displayed clear thinking and courage in using what he had available to quickly make a difference for the bird, instead of standing back with his friends and waiting for help to arrive.
The teens' compassion and determination to help an animal in need is an example to us all. So, too, are the actions of the adults who took the time to get involved, from Blake's parents to local authorities who made sure the frightened owl received the proper veterinary care.
A Bright Future
Though undoubtedly terrified and suffering wounds related to his struggles with the net, the owl was nevertheless blessed with a lucky outcome. A bit battered, the animal will still most likely heal well and be able to return to the wild, thanks to the actions of a few local heroes who cared enough to make a difference.
Mayor Max III: The Golden Retriever Who Leads with Love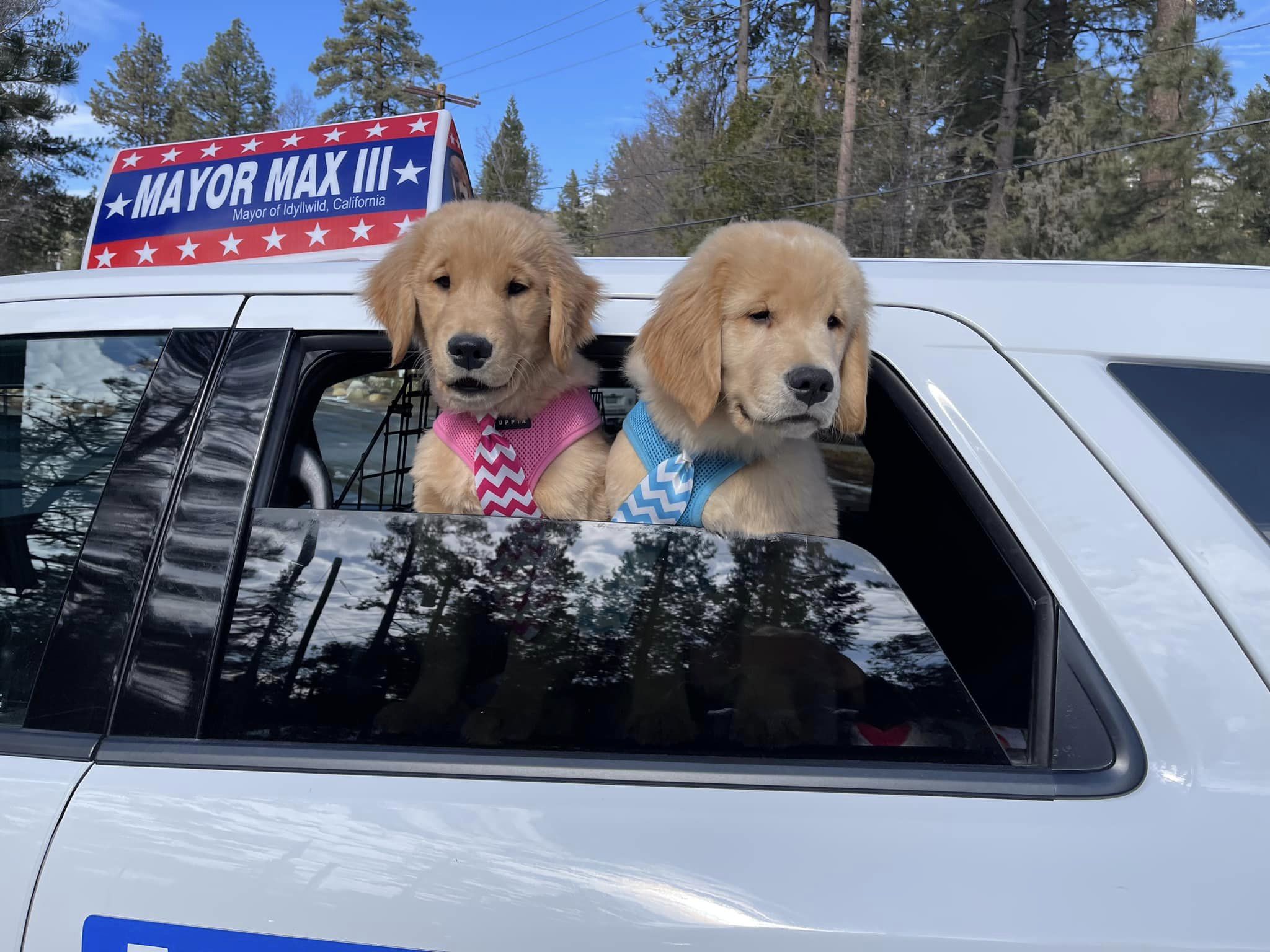 In the picturesque unincorporated mountain town of Idyllwild, nestled in the heart of Southern California, an extraordinary political figure has been making waves for the past year. But this isn't your typical politician; this is Mayor Max III, a lovable and charismatic golden retriever who has celebrated a year in office as the town's mayor. In a town known for its unique and quirky traditions, Max III has carved out a special place in the hearts of the residents.
The legacy of golden retriever mayors in Idyllwild began in 2012 when Mayor Max I took office, followed by Mayor Max II. These remarkable dogs were more than just pets; they were symbols of unity and positivity in a world sometimes marked by division and strife. Max III proudly continues this legacy, and some say he possesses a unique talent passed down from his predecessors—a charming "mouth-closing trick."
Phyllis Mueller, Max III's owner, attests to the magic of this trick. "I just held the treat above his mouth, and he knew exactly what to do, without any instruction," she says with a proud smile. This special skill has become a signature move during his public appearances in the center of town, where Max III has embraced his role with enthusiasm.
Mayor Max III's duties extend beyond his charming tricks. He is a dog on a mission to bring joy and comfort to the people of Idyllwild. His calendar is filled with visits to schools, nursing homes, and hospitals, where he spreads cheer and offers a welcome distraction from life's challenges. "It's a fun way to do politics because we don't do anything divisive, ever," Mueller explains.
Max's journey to becoming the mayor of Idyllwild is a heartwarming tale. Phyllis Mueller, a successful owner of a full-service marketing agency, always maintained a commitment to living on a smaller budget with the intention of giving back to the community. When she adopted Max, she realized that golden retrievers were the perfect ambassadors for her mission to achieve world peace through love and compassion.
Several golden retrievers later, Mueller, along with her husband Warren and their elderly dog Max, made a life-changing move from Pasadena to Idyllwild in the summer of 2011. Fate seemed to be on their side when the town's animal rescue center announced that it would be holding its first-ever election for a non-human mayor. This was the opportunity they had been waiting for.
In their cozy mountain home, Mayor Max III enjoys the perks of his position. Mueller proudly showcases one of two tie closets for the mayor, where Max's collection boasts an impressive 3,000 ties. However, being a mischievous pup at heart, Max couldn't resist indulging in a few of his ties, devouring three of them during his first month in office.
But beyond the ties and the charming tricks, Mayor Max III serves as a reminder to the people of Idyllwild that there is still goodness in the world. "Every day, people do good things," says Mueller, "and these dogs here, they are living angels, and they love you with all their heart."
As Mayor Max III continues his reign, the town of Idyllwild remains a shining example of how love, unity, and the unbreakable bond between humans and their four-legged companions can make the world a better place—one adorable golden retriever at a time.