Teen Animal Rescuer Sets Owl Free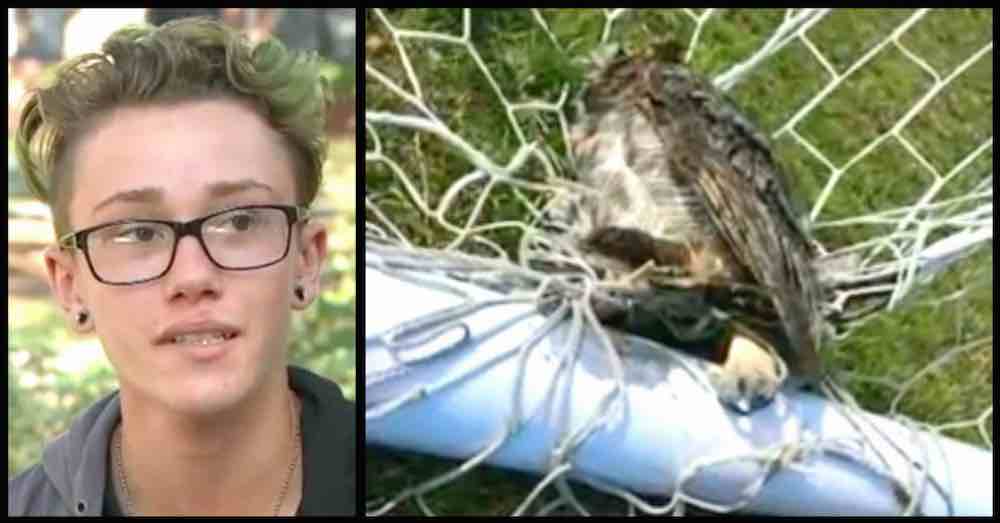 Blake Milliken was headed to his local soccer field to play with his friends. It was a regular afternoon at the local park until he discovered something he'd never seen before – the net was moving!
Caught in the Net
As Blake and his friends got closer, they discovered a large and very frightened owl, trapped and struggling in the netting of a soccer goal. In the bird's panic, it had fought the netting to the point that it was fully entangled, and every attempt the boys made to get close enough to untangle the bird only made it more fearful. As it struggled more, it only caught itself more firmly in the net.
Blake to the Rescue
Blake, quick on his feet, pulled out a small knife he carried with him and began to cut the netting free around the animal. "He nicked my hand," Blake said in a video of the event, "… I didn't panic." Blake actually had to display the presence of mind to stay very still and convince the bird he wasn't a threat, before the animal released his hand so that he could continue his work.
A Gathering Crowd
Not long after, a crowd began to form around the group of would-be soccer players, seeking to help out in this unexpected rescue operation. First Blake's girlfriend, then his parents, and then not long after the local police, all pitched in to help save a terrified animal.
Once the owl was cut free, local officials helped bring the owl to a local rehab facility. He has since been cared for and nursed back to health, thanks to the boys who cared enough to stop and make a difference.
Choosing to Help
If these local heroes had simply found another goal or another pastime, it's likely that this full grown owl could have died in the netting, injured and unable to reach food or water. It would have been easy to look the other way, but it took compassion, quick action, and no small amount of bravery to get involved. Blake in particular displayed clear thinking and courage in using what he had available to quickly make a difference for the bird, instead of standing back with his friends and waiting for help to arrive.
The teens' compassion and determination to help an animal in need is an example to us all. So, too, are the actions of the adults who took the time to get involved, from Blake's parents to local authorities who made sure the frightened owl received the proper veterinary care.
A Bright Future
Though undoubtedly terrified and suffering wounds related to his struggles with the net, the owl was nevertheless blessed with a lucky outcome. A bit battered, the animal will still most likely heal well and be able to return to the wild, thanks to the actions of a few local heroes who cared enough to make a difference.
Handicapped Puppy Befriends Flightless Pigeon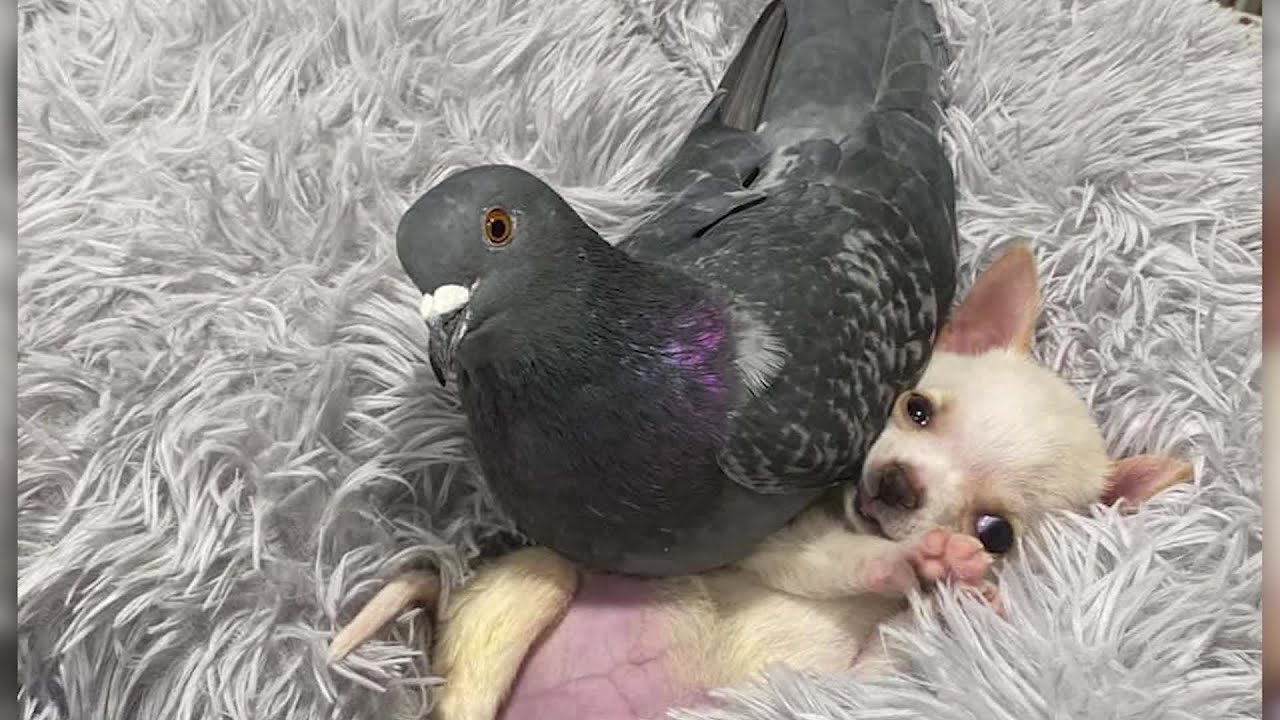 In Rochester, NY, Sue Rogers runs a non-profit called the Mia Foundation. The rescue organization rescues and rehabilitates animals who have birth defects or deformities and tries to find them a loving home. About a year ago, a pigeon was found unable to move in the parking lot of a car dealership. The pigeon was huddled and cowering on the ground. When a local wildlife rescue was called, they said the bird had neurological damage that caused him not to be able to fly. They thought that euthanization would be the best option for him.
Sue was having none of that. She stepped in and took the bird, who she named Herman, under her wing, so to speak. She made space for him in her shelter and kept him close where she could keep an eye on him. He liked to sit on a furry dog pillow and watch her work.
A couple months ago, a tiny Chihuahua was brought to the Mia Foundation. He was an infant, maybe a few months old, when his South Carolina breeders sent him to Sue. He's a teacup sized Chihuahua they named Little Lundy and he was born with spinal cord damage. Sue also determined that he was suffering from swimmers syndrome. Swimmers syndrome is a developmental deformity that causes the front and hind legs to be splayed out. This makes it almost impossible for Little Lundy to walk.
Although swimmers syndrome is thought to be untreatable, according to a few studies and an article in a veterinary journal, it can be treatable. With some physical therapy and at-home treatment, Little Lundy could live a long and happy life, which is exactly what Sue plans for him.
When Little Lundy arrived at the Mia Foundation he decided to get acquainted with his new surroundings and the other animals at the shelter. One particular encounter, created a friendship that has gone viral. Herman and Little Lundy, a puppy and a pigeon, are the unlikeliest of friends, but they have a lot in common. They both have trouble walking, or flying in Hermans case, and they were living in the same place. You could say, they were in the right place at the right time to become instant friends.
In the six weeks they have been together, Herman and Little Lundy have become inseparable. They do everything together, which is a lot of sleeping and snuggling. Mostly, with Herman sitting on top of Little Lundy, which doesn't bother him in the slightest. This friendship was so out of the ordinary that Sue had to document it. The viral sensation of the puppy and pigeon has brought attention to the Mia Foundation that was much needed. The rescue organization runs solely on donations to help cover the costs of taking care of the animals and for needed surgeries. So far, about $6000 was donated because of this unlikely friendship and over 100 adoption inquiries. Hopefully when they are adopted, they are able to stay together.