Teen Animal Rescuer Sets Owl Free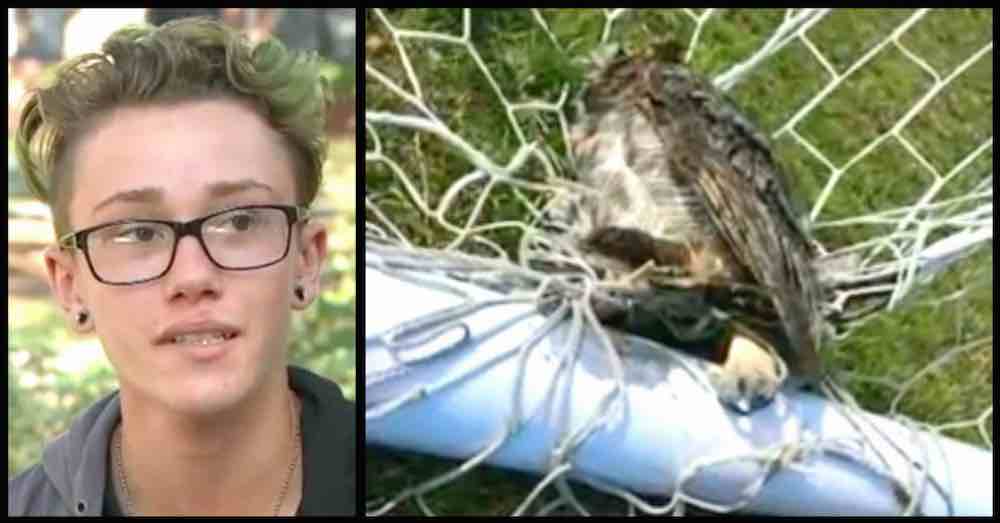 Blake Milliken was headed to his local soccer field to play with his friends. It was a regular afternoon at the local park until he discovered something he'd never seen before – the net was moving!
Caught in the Net
As Blake and his friends got closer, they discovered a large and very frightened owl, trapped and struggling in the netting of a soccer goal. In the bird's panic, it had fought the netting to the point that it was fully entangled, and every attempt the boys made to get close enough to untangle the bird only made it more fearful. As it struggled more, it only caught itself more firmly in the net.
Blake to the Rescue
Blake, quick on his feet, pulled out a small knife he carried with him and began to cut the netting free around the animal. "He nicked my hand," Blake said in a video of the event, "… I didn't panic." Blake actually had to display the presence of mind to stay very still and convince the bird he wasn't a threat, before the animal released his hand so that he could continue his work.
A Gathering Crowd
Not long after, a crowd began to form around the group of would-be soccer players, seeking to help out in this unexpected rescue operation. First Blake's girlfriend, then his parents, and then not long after the local police, all pitched in to help save a terrified animal.
Once the owl was cut free, local officials helped bring the owl to a local rehab facility. He has since been cared for and nursed back to health, thanks to the boys who cared enough to stop and make a difference.
Choosing to Help
If these local heroes had simply found another goal or another pastime, it's likely that this full grown owl could have died in the netting, injured and unable to reach food or water. It would have been easy to look the other way, but it took compassion, quick action, and no small amount of bravery to get involved. Blake in particular displayed clear thinking and courage in using what he had available to quickly make a difference for the bird, instead of standing back with his friends and waiting for help to arrive.
The teens' compassion and determination to help an animal in need is an example to us all. So, too, are the actions of the adults who took the time to get involved, from Blake's parents to local authorities who made sure the frightened owl received the proper veterinary care.
A Bright Future
Though undoubtedly terrified and suffering wounds related to his struggles with the net, the owl was nevertheless blessed with a lucky outcome. A bit battered, the animal will still most likely heal well and be able to return to the wild, thanks to the actions of a few local heroes who cared enough to make a difference.
Giant Seal is Beached and Then has a Baby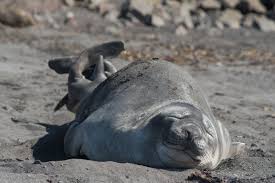 The exact moment when a mother sees her newborn baby for the first time is one of the most amazing sights in the world. The utter disbelief and joy on her face in combination with wonderment is one of the finest moments in any woman's life. It is the same feeling that animals have when they give birth and the look on their faces when they first see their babies is as equally magical.
Recently a tourist spotted a large female seal on the beach. She appeared to be in great pain because of the manner in which she was writhing around. The tourist shot a video of the seal. A few minutes later, the elephant seal appeared to have a spot beneath her tail. After some hard pushing, her calf was born. She quickly turned around and inspected her new baby to make certain that it was okay.
Elephant Seal Interesting Facts
Giant seals or elephant seals are the largest seals in the world. There are two types: the Northern elephant seal and the Southern elephant seal. The northern species are found in the coastal waters near Canada and Mexico and the southern species are found off the coast of South Africa, Argentina and New Zealand.
The adult bull or male seal has a proboscis that appears much like the trunk of an elephant, making it easy to distinguish males from females at a glance. The males roar through this appendage during the mating season to attract females. They also use it to fight with other males in order to win battles and claim females as their own.
The average adult southern male can weigh up to 6,600 pounds and reach a length of 16 feet in total. The female adults weigh about 2,000 pounds and measure around 10 feet long. Elephant seals may be light brown, dark brown, gray or rust colored.
Southern elephant seals can live to reach 22 years old and the northern species life span is only about 9 years.
Elephant Seal Reproduction
Elephant seals return to the coast for their breeding grounds in the winter. Female giant seals reach maturity between 3 and 6 years old and males mature slower between 5 and 6 years. Males battle each other to gain the alpha status that allows them to mate with the females. A male will mate with 30 to 100 females. A bit over 50 percent of first time breeding seals fail to produce a pup. A female elephant seal has one pup per year and the gestation period is 11 months. So, when females arrive at the breeding grounds in the winter, they are already pregnant. Females don't eat while nursing their pups for the first month of its life.
Don't Get Too Close to Wildlife
If you ever spot an animal of any kind that appears to be hurt, it's best not to get too close to them. In 2000, Homer, an elephant male seal terrorized Gisborne, a town in New Zealand. He attacked trash bins, cars, boat trailers, a tree and a power transformer in a rage. It isn't known what made him so mad, but it's best to keep your distance from all wildlife—thus the term of wild and life.