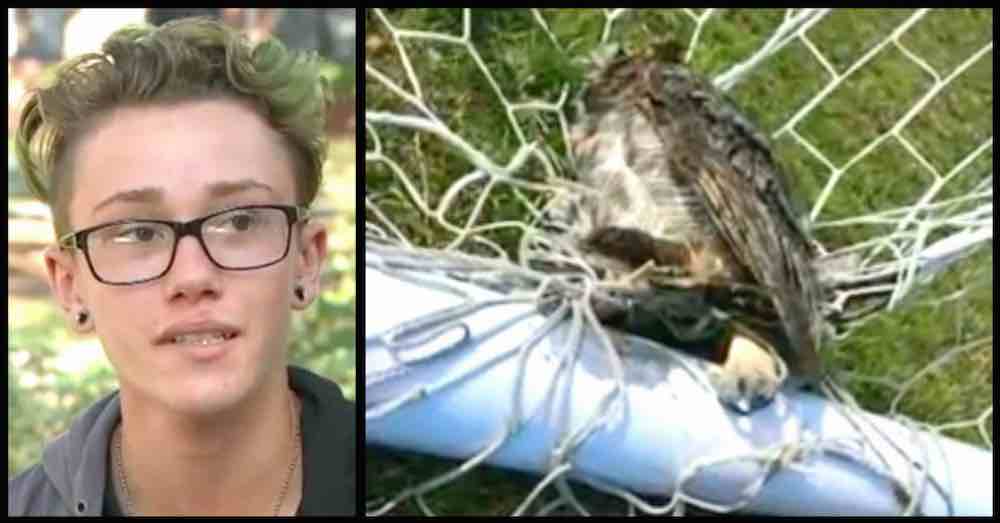 Teen Animal Rescuer Sets Owl Free
Blake Milliken was headed to his local soccer field to play with his friends. It was a regular afternoon at the local park until he discovered something he'd never seen before – the net was moving!
Caught in the Net
As Blake and his friends got closer, they discovered a large and very frightened owl, trapped and struggling in the netting of a soccer goal. In the bird's panic, it had fought the netting to the point that it was fully entangled, and every attempt the boys made to get close enough to untangle the bird only made it more fearful. As it struggled more, it only caught itself more firmly in the net.
Blake to the Rescue
Blake, quick on his feet, pulled out a small knife he carried with him and began to cut the netting free around the animal. "He nicked my hand," Blake said in a video of the event, "… I didn't panic." Blake actually had to display the presence of mind to stay very still and convince the bird he wasn't a threat, before the animal released his hand so that he could continue his work.
A Gathering Crowd
Not long after, a crowd began to form around the group of would-be soccer players, seeking to help out in this unexpected rescue operation. First Blake's girlfriend, then his parents, and then not long after the local police, all pitched in to help save a terrified animal.
Once the owl was cut free, local officials helped bring the owl to a local rehab facility. He has since been cared for and nursed back to health, thanks to the boys who cared enough to stop and make a difference.
Choosing to Help
If these local heroes had simply found another goal or another pastime, it's likely that this full grown owl could have died in the netting, injured and unable to reach food or water. It would have been easy to look the other way, but it took compassion, quick action, and no small amount of bravery to get involved. Blake in particular displayed clear thinking and courage in using what he had available to quickly make a difference for the bird, instead of standing back with his friends and waiting for help to arrive.
The teens' compassion and determination to help an animal in need is an example to us all. So, too, are the actions of the adults who took the time to get involved, from Blake's parents to local authorities who made sure the frightened owl received the proper veterinary care.
A Bright Future
Though undoubtedly terrified and suffering wounds related to his struggles with the net, the owl was nevertheless blessed with a lucky outcome. A bit battered, the animal will still most likely heal well and be able to return to the wild, thanks to the actions of a few local heroes who cared enough to make a difference.
More than Three Decades After Adoption, DNA Reunites Mother and Son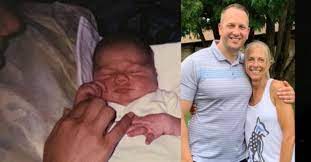 Melanie Pressley found out she was pregnant when she was 18 years old. Her boyfriend insisted on a termination, which she declined, but she worried that she wouldn't be able to give her kid the life he deserved. She gave her baby child up for adoption, but she never forgot about him. The mother and son have eventually reunited after 33 years apart.
Pressley described what lead her to explore adoption in an interview. "I simply knew I wouldn't be able to accomplish it financially," she explained. "And the second issue is that I wished him to have parents, so I thought it best to place him for adoption at that juncture."
During her pregnancy, Pressley engaged with an adoption center with the help of her family. She gave birth to her son in June of 1988 but didn't name him. After an initial objection, she convinced a nurse to hold the baby, and her sister snapped a photo.
Even after marrying and having three additional children, she pondered what her first child looked like while stressing every year on his birthday. After the death of Pressley's mother, she became overwhelmed with the desire to meet her son and cried since her mother never got the opportunity.
As a result, one of her daughters sent her a 23andMe kit as a surprise gift in May 2021. Meanwhile, her kid was doing the same activity approximately 300 miles away.
When Greg Vossler was nine years old, his parents informed him that he was adopted, but he was uninterested in learning more about his biological family. "I used to joke that 'I don't see a star who looks like me,' or 'No one who is a king or queen in some foreign nation looks like me,'" he remarked. "And I always claimed it was a joke. It was my method of getting that fast reply in my back pocket whenever someone asked; I'd never actually given it any serious thought."
But later, Vossler had his child, a son whom he named after himself. "One night, my spouse and I were relaxing and talking, and I remarked, 'I don't know anything about my medical records, heredity, or where I came from,'" he recalled. "And there was some 23andMe campaign going on." As a result, I took the exam."
Vossler did the test in 2019; therefore, when Pressley sent in her specimen in 2021, he was immediately identified as a match. Pressley stated, "I immediately sent a reply, and my first text was, I believe we're related." "I feel I am your birth mother," said the following message. And it just exploded up from there."
They started conversing, though Pressley stated that she didn't want to hear his voice until they met in person. They were ultimately reunited earlier this summer, and the bond was instantaneous. Vossler not only met his original mother, but he also received new family members. Meanwhile, Pressley has a recent photo of herself with her long-lost son.
"Everyone is emotional; they're all holding hands or hugging one other. 'Hey, I'm your half-brother, half-sister,' and so on. Melanie's elder sister, who was key in permitting Melanie to take that initial photo, approached me and touched my face. "It's the first time she's seen me in 33 years," Vossler said. "It's an incredible sensation. And that demonstrates that there's always space for families to develop and more love to share among them."