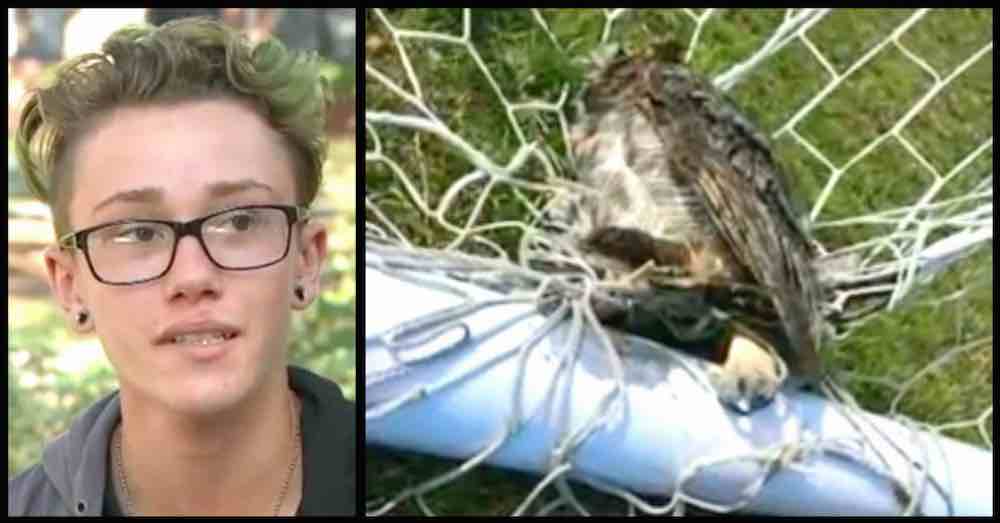 Teen Animal Rescuer Sets Owl Free
Blake Milliken was headed to his local soccer field to play with his friends. It was a regular afternoon at the local park until he discovered something he'd never seen before – the net was moving!
Caught in the Net
As Blake and his friends got closer, they discovered a large and very frightened owl, trapped and struggling in the netting of a soccer goal. In the bird's panic, it had fought the netting to the point that it was fully entangled, and every attempt the boys made to get close enough to untangle the bird only made it more fearful. As it struggled more, it only caught itself more firmly in the net.
Blake to the Rescue
Blake, quick on his feet, pulled out a small knife he carried with him and began to cut the netting free around the animal. "He nicked my hand," Blake said in a video of the event, "… I didn't panic." Blake actually had to display the presence of mind to stay very still and convince the bird he wasn't a threat, before the animal released his hand so that he could continue his work.
A Gathering Crowd
Not long after, a crowd began to form around the group of would-be soccer players, seeking to help out in this unexpected rescue operation. First Blake's girlfriend, then his parents, and then not long after the local police, all pitched in to help save a terrified animal.
Once the owl was cut free, local officials helped bring the owl to a local rehab facility. He has since been cared for and nursed back to health, thanks to the boys who cared enough to stop and make a difference.
Choosing to Help
If these local heroes had simply found another goal or another pastime, it's likely that this full grown owl could have died in the netting, injured and unable to reach food or water. It would have been easy to look the other way, but it took compassion, quick action, and no small amount of bravery to get involved. Blake in particular displayed clear thinking and courage in using what he had available to quickly make a difference for the bird, instead of standing back with his friends and waiting for help to arrive.
The teens' compassion and determination to help an animal in need is an example to us all. So, too, are the actions of the adults who took the time to get involved, from Blake's parents to local authorities who made sure the frightened owl received the proper veterinary care.
A Bright Future
Though undoubtedly terrified and suffering wounds related to his struggles with the net, the owl was nevertheless blessed with a lucky outcome. A bit battered, the animal will still most likely heal well and be able to return to the wild, thanks to the actions of a few local heroes who cared enough to make a difference.
Young Boy Keeps Toy He Was Measured Against As A Premature Baby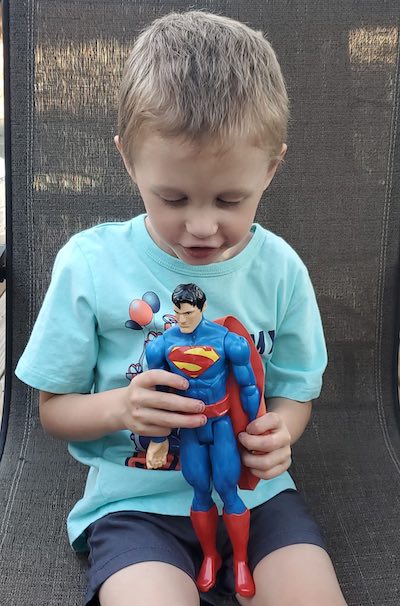 Doctors sent home a woman and her husband to prepare for a miscarriage, but the defiant parents stayed put and now have the tale of a lifetime to tell.
So does their four-year-old son Logan Ray, born less than six months of pregnancy, has a Superman action-figure as proof of how small he was at birth. He was only 12 inches in length and weighed a pound and a half. He and the action figure his parents Rob and Val placed beside him shortly after his birth, are now inseparable.
How did this fascinating and heartwarming story come about?
Nearly five years ago, when Val was pregnant with their son, doctors wiped the smiles off their faces by announcing that the baby would not make it to full term. The Physician claims the baby would not survive at all, and they should brace themselves for any eventuality.
The reason for the bad news was that Val had been diagnosed with a cervix problem. The doctors said examinations showed her Cervix was incompetent. That situation usually transpires when unstable cervical tissue induces or contributes to premature delivery or the loss of pregnancy even though the gestation is, on the other hand, healthy.
Val and Rob blocked out the bad news they received, and we're adamant that they would remain in the hospital to see the pregnancy through. The baby was a fighter too and stayed put for all of twenty-three weeks. Val helped out by keeping her feet elevated and staying in bed for three weeks without getting up to do anything that could further jeopardize the pregnancy.
She gave birth to a child now known as the "Superman Baby" for dual reasons. He was mighty strong and put up a fight to survive, and he was the size of a Superman toy. The toy idea came about when the nurses suggested to the mom that she should use something like a keepsake to measure the baby alongside. When she ran the idea by her husband, he was very supportive and they agreed on the Superman novelty.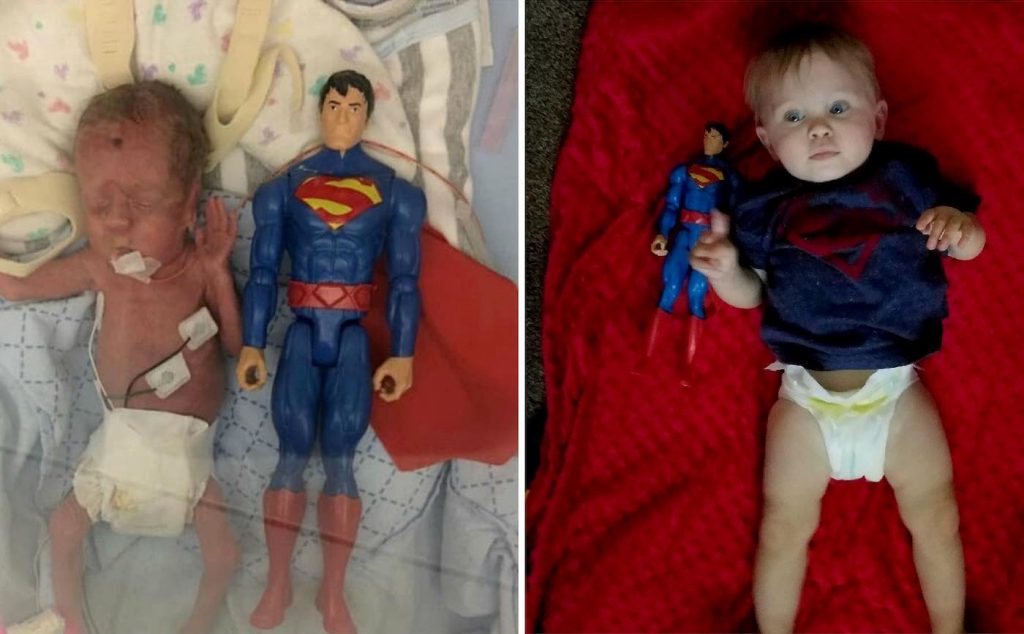 The doll was sanitized and placed beside Logan. For fifteen weeks, he remained in an incubator at the Randall Children's Hospital in Portland, Oregon fighting a myriad of complications that many feared would hinder the survival of Logan, but he pulled through like a champ. It was after those four months that he was finally able to leave with his parents.
From the hospital days to now, four years later, Val has been taking a multitude of photos with Logan carrying around his action figure. The doll is an indicator of Logan's successful development after a traumatic experience in the first few months of his life.
According to the happy and grateful parents, they communicate with the doctor who wants a regular update on Logan, who he refers to as " tough."
Many people consider not just Logan's survival but the fact that he has no further complications a miracle. Just like his action figure, Logan is healthy and strong as any regular child his age. His parents say they will never get rid of the Superman tog as memorabilia is not just for them, but for Logan when he becomes an adult.
He will have a tear-jerking story to tell years from now if or when he becomes a parent as well.