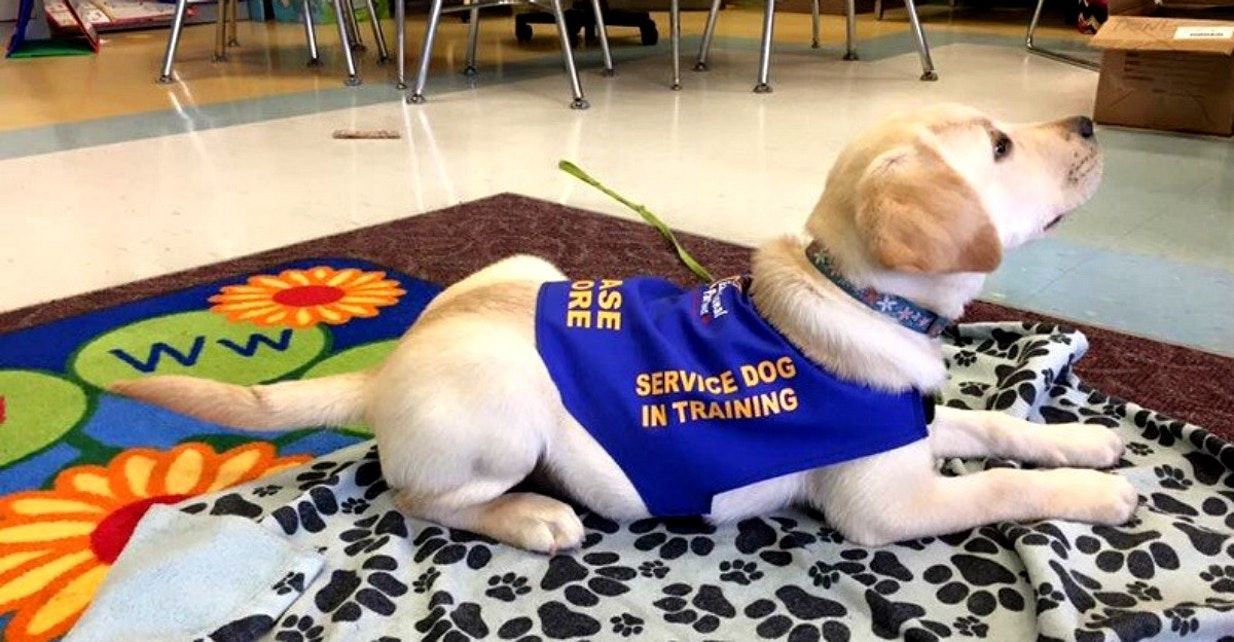 Teachers are Being Enlisted to Help Train Service Dogs
Most people associate teachers with classrooms filled with young, impressionable minds who are going to play a major role in the future of this country and the world. At the same time, teachers can do much more than teach children. Recently, it was announced that teachers are being enlisted to help train service dogs as well. This is a fascinating story that shows just how much of an impact teachers have on society. This means that they can impact not only children but dogs as well. In turn, these dogs are going to repay the kindness of people tenfold.
There are lots of people out there who live with mental illnesses such as anxiety and depression. Often, these symptoms can impact people in profound ways, making it hard for them to function and build relationships both personal and professional. In many cases, it takes only a small act of kindness to change how these individuals look at the world. Frequently, these people see kindness come from an animal, such as a service dog.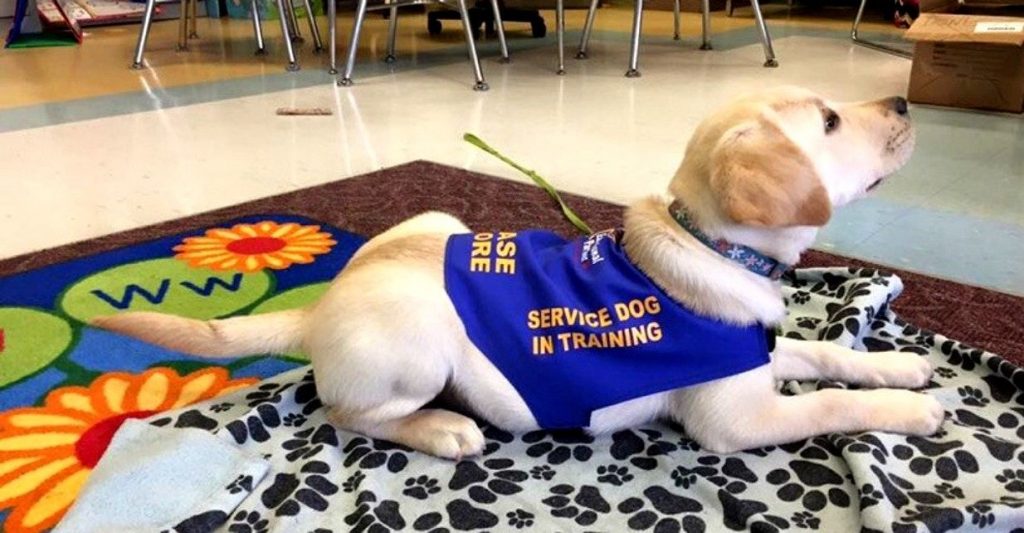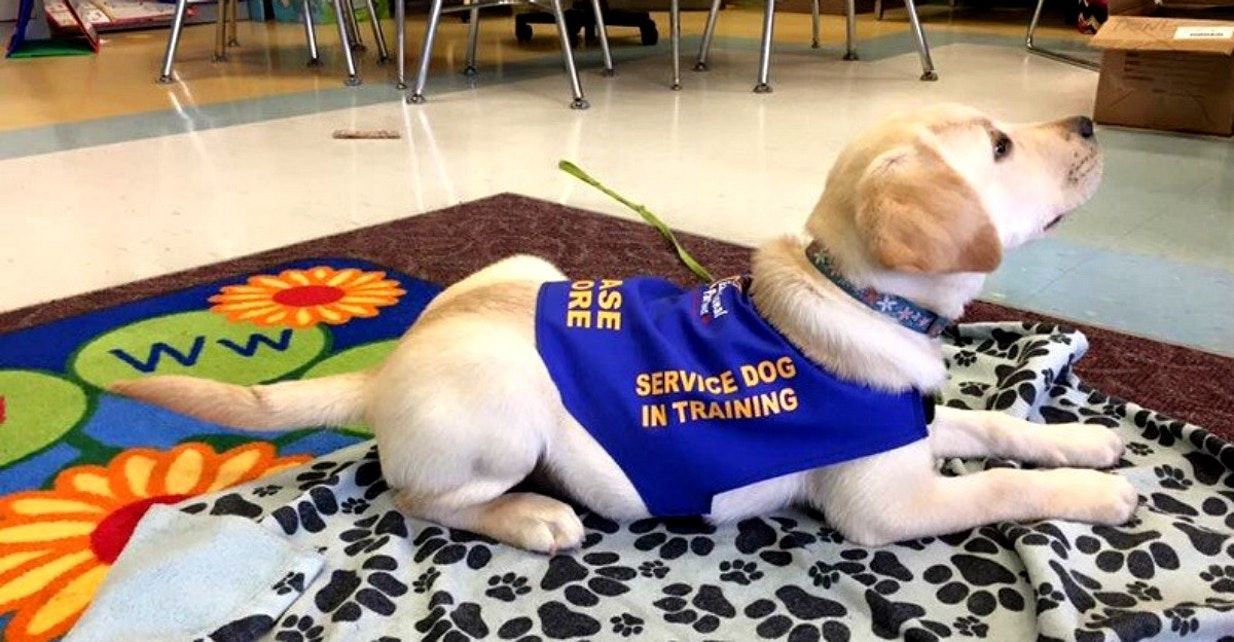 That is exactly what many people have stated about their interactions with service dogs. For many, it is the contagious smile that comes from these dogs that helps people get out of bed on the hardest days. It helps these individuals crawl out of bed, leave their home, and face another challenging day with a smile on their face.
Because so many people have seen the impacts that these dogs can have on the lives of others, teachers are now being enlisted to help train these dogs. Having a companion for individuals who struggle with mental illnesses is invaluable. Dogs always provide unconditional love and support, never judging someone else. This is the uplifting feeling that many people need. Unfortunately, the wait to get a service dog can be long. For some people, the wait might be years. Furthermore, the cost of these dogs is high and is often not covered by insurance.
That is why one individual is now setting out on a mission to help people get the help they need without this long wait or cost. The Exceptional Partner Service Dogs is a nonprofit company that has been put together to provide service dogs to children and adults who live with mental conditions. The program is funded on donations from other people. Because the program is funded through donations, the organization pairs service dogs with people who need them free of charge. What is unique about this program is that most of the people who train these dogs are teachers. These teachers bring dogs into their classrooms to get the dogs used to being around children and chaos. This helps the dogs train to remain focused and respond to situations appropriately.
Because of the unique environment of classrooms, they serve as a golden proving ground for puppies and dogs that have a future as service animals. Often, it doesn't take very long for dogs to get used to the chaos of a classroom. They can get used to having a vest on, associating that with being "at work," helping children in the classroom who look like they need it.
It takes puppies about 15 months to go through this basic training, which is focused on interacting with children who might not be comfortable around dogs; however, at the end of the training period, both the children and puppies are more than comfortable around each other. Teachers have noticed this training goes both ways as well. Children are learning more about mental health, which is going to break the stigma and make the world a better place for both children and dogs.
The Ockendon Solar Farm's Remarkable Transformation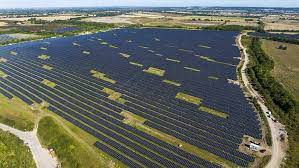 A once-neglected trash dump in England has undergone a breathtaking transformation into one of the United Kingdom's largest solar farms. The Ockendon solar farm, as it is now known, is set to provide electricity to an impressive 15,000 homes. With its 100,000 gleaming solar panels, it proudly stands as the third-largest solar farm in the entire UK.
This remarkable journey from waste ground to green energy oasis reflects the nation's growing commitment to renewable energy and sustainability. Frank Gordon, the director of policy at the Association for Renewable Energy and Clean Technology, highlighted the importance of projects like Ockendon solar farm in addressing the climate crisis. He told The Guardian, "We urgently need more solar in the UK to help meet our legally binding net-zero goals, and this summer's extraordinary global weather has further underlined the need for climate action."
The Ockendon solar farm is a shining example of the UK's transition to cleaner energy sources. Since 2020, nearly half of the nation's power has been sourced from a combination of wind, solar, bioenergy, and hydroelectric sources. This shift towards renewable energy not only reduces harmful emissions but also bolsters energy security and creates jobs in the burgeoning green energy sector.
The transformation of the Ockendon site is nothing short of inspirational. What was once a symbol of waste and environmental neglect has become a symbol of hope for a more sustainable future. As solar farms like Ockendon continue to sprout across the UK, they bring us one step closer to achieving our net-zero emissions goals and safeguarding the planet for generations to come.