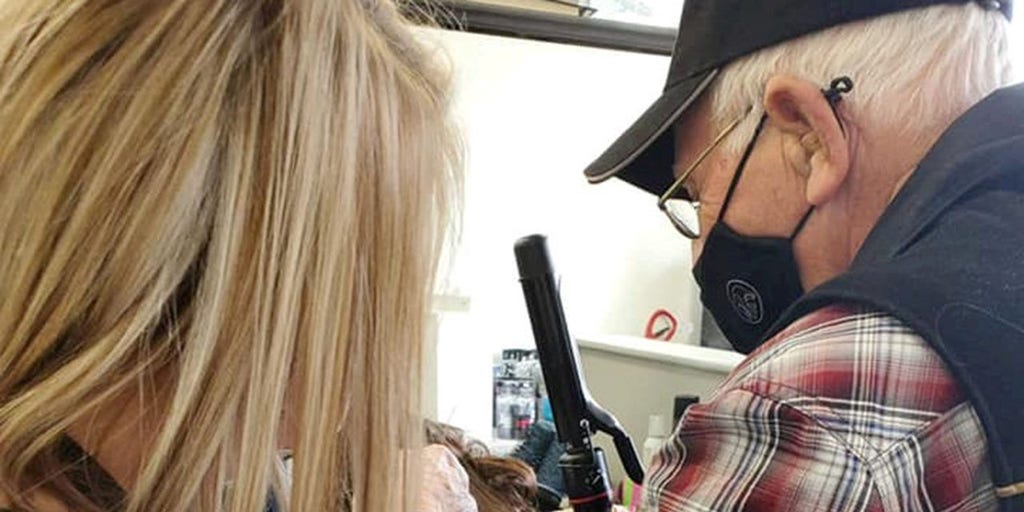 Sweet Elderly Man Joins Makeup Class To Help Wife With Makeup, Quickly Goes Viral!
Carrie Hannah is the director at Delmar College of Hair and Esthetics, located in Alberta, Canada. A haircare professional with years of experience under her belt as an instructor, Hannah had grown accustomed to teaching even the most unusual of students the skills they would need to succeed in the hair, makeup, and beauty world. With that being said, even Carrie was surprised when she met with an elderly man at her school who had wished to learn a few things in the field. His reasoning? Well, that's the reason for today's story.
Let's leap into one of the most touching beauty school stories you'll ever read!
Helping Hands For Those We Love
There are few things in life more important than taking care of and providing care to the ones that we love. When we stand before our significant other and bind ourselves together in marriage, we truly hope to embrace 'TIl Death Do Us Part' in the same way that our story's subject has.
Carrie Hannah had been preparing for classes with her students as if it were any other day when she was approached by a white-haired, elderly man. The man, who wishes to remain anonymous, would introduce himself to Carrie before getting into the reason for their meeting — the elderly man had wanted to help his wife with her makeup.
According to Carrie, the elderly man explained that his wife had been struggling with her vision as she grew older. As she struggled to see, her beauty routine became more of a chore. His wife was struggling to curl her hair and had even burned herself in the process. Her husband wanted to help, but he didn't know exactly how, and that's where our two protagonists came together.
Carrie would go on to say that the man "genuinely cared" about his wife and her process. Carrie would continue, "His wife always cared about her appearance, and he wanted to help."
A New Set of Skills
With his motive explained and a spot available to him, Carrie would quickly get her new student into a class. At 79 years old, he was certainly going to be one of her most experienced students. The story would get picked up by Hair Design by Birtney and photos from the class would quickly go viral. Thousands of users would share the images and hundreds of thousands of views would quickly follow.
According to Hair Design by Britney, the man learned how to use a curler while also teaching him how to perform volume curls on shorter hair. Another point of emphasis that the teacher was sure to go over would involve the application of mascara. Of course, all of these lessons were combined with a hefty dose of safety training as they did not want to have any more burn incidents at home.
Commenters on the story would go crazy for the elderly man looking to support his wife. Comments ranged from compliments over his heart and attention to respect for his ambition to learn new skills outside his comfort zone. Another user recalled that their father had done something similar for their mother who had been diagnosed with Alzheimer's.
According to Hannah, working with the man to help his wife would become a highlight of her more than 31-year-career in the beauty industry. Hannah says, "We needed some cheering up and he sure did it."
Mayor Max III: The Golden Retriever Who Leads with Love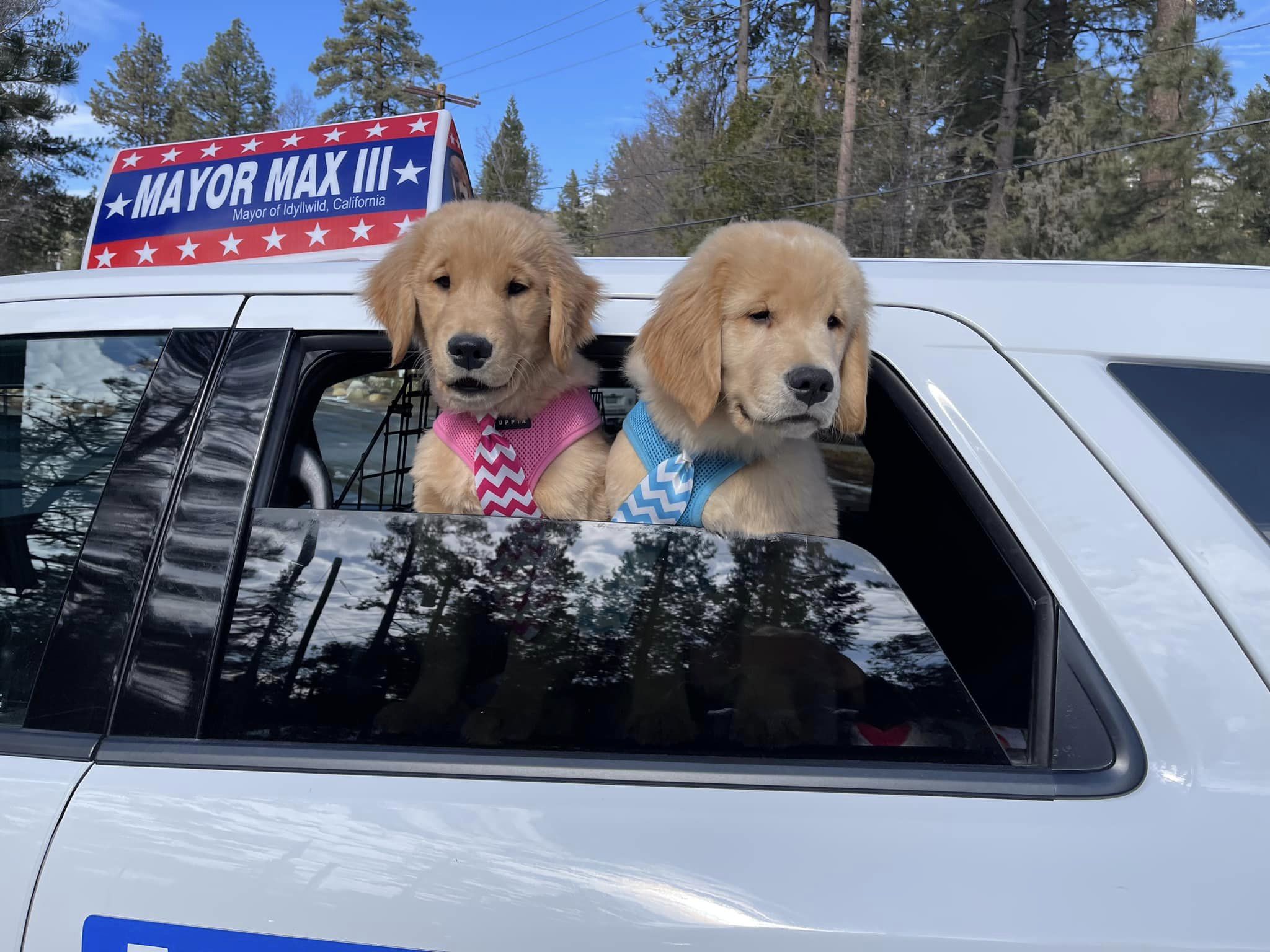 In the picturesque unincorporated mountain town of Idyllwild, nestled in the heart of Southern California, an extraordinary political figure has been making waves for the past year. But this isn't your typical politician; this is Mayor Max III, a lovable and charismatic golden retriever who has celebrated a year in office as the town's mayor. In a town known for its unique and quirky traditions, Max III has carved out a special place in the hearts of the residents.
The legacy of golden retriever mayors in Idyllwild began in 2012 when Mayor Max I took office, followed by Mayor Max II. These remarkable dogs were more than just pets; they were symbols of unity and positivity in a world sometimes marked by division and strife. Max III proudly continues this legacy, and some say he possesses a unique talent passed down from his predecessors—a charming "mouth-closing trick."
Phyllis Mueller, Max III's owner, attests to the magic of this trick. "I just held the treat above his mouth, and he knew exactly what to do, without any instruction," she says with a proud smile. This special skill has become a signature move during his public appearances in the center of town, where Max III has embraced his role with enthusiasm.
Mayor Max III's duties extend beyond his charming tricks. He is a dog on a mission to bring joy and comfort to the people of Idyllwild. His calendar is filled with visits to schools, nursing homes, and hospitals, where he spreads cheer and offers a welcome distraction from life's challenges. "It's a fun way to do politics because we don't do anything divisive, ever," Mueller explains.
Max's journey to becoming the mayor of Idyllwild is a heartwarming tale. Phyllis Mueller, a successful owner of a full-service marketing agency, always maintained a commitment to living on a smaller budget with the intention of giving back to the community. When she adopted Max, she realized that golden retrievers were the perfect ambassadors for her mission to achieve world peace through love and compassion.
Several golden retrievers later, Mueller, along with her husband Warren and their elderly dog Max, made a life-changing move from Pasadena to Idyllwild in the summer of 2011. Fate seemed to be on their side when the town's animal rescue center announced that it would be holding its first-ever election for a non-human mayor. This was the opportunity they had been waiting for.
In their cozy mountain home, Mayor Max III enjoys the perks of his position. Mueller proudly showcases one of two tie closets for the mayor, where Max's collection boasts an impressive 3,000 ties. However, being a mischievous pup at heart, Max couldn't resist indulging in a few of his ties, devouring three of them during his first month in office.
But beyond the ties and the charming tricks, Mayor Max III serves as a reminder to the people of Idyllwild that there is still goodness in the world. "Every day, people do good things," says Mueller, "and these dogs here, they are living angels, and they love you with all their heart."
As Mayor Max III continues his reign, the town of Idyllwild remains a shining example of how love, unity, and the unbreakable bond between humans and their four-legged companions can make the world a better place—one adorable golden retriever at a time.