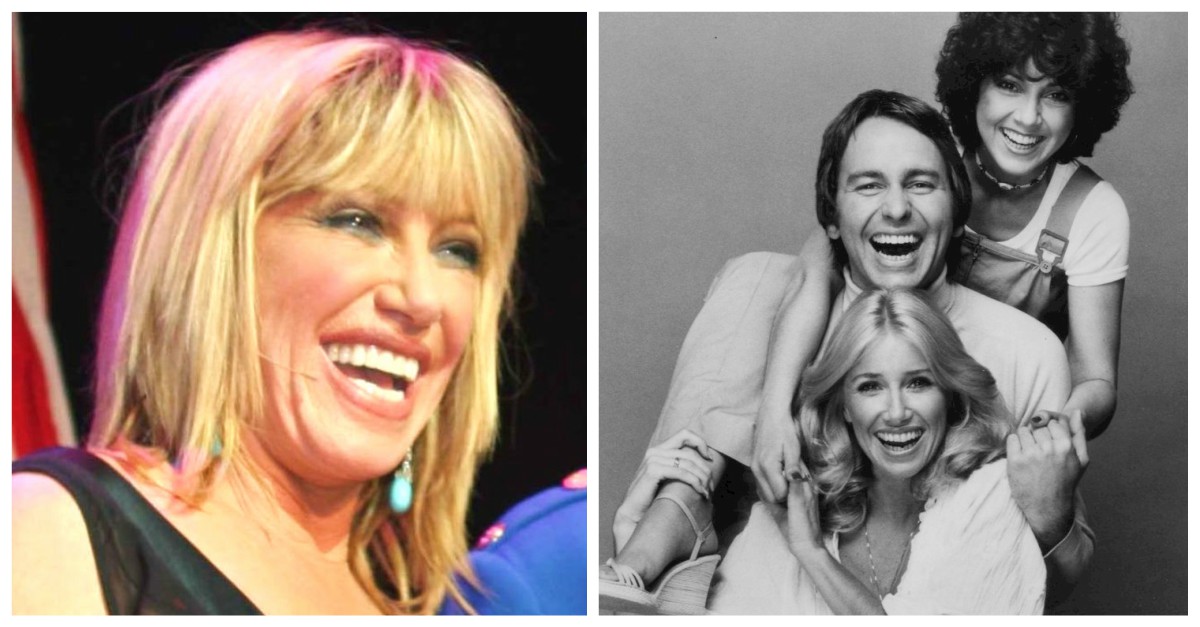 Suzanne Somers Confesses She Didn't Like Being A Movie Star Because She Had To Wake Up Early
Suzanne Somers, a serial movie star, surprised most of her fans when she confessed that she didn't like being a movie star because she had it difficult to wake up very early. When she came onto The Doctors on January 26, 2018, together with her husband Alan Hamel to discuss her new book, she admitted that being an actress is a demanding occupation that requires one to work for long hours. Somers, who has featured in over 14 movies, seems to dislike the 9 to 5 daily routine that often starts at 4 AM.
She further revealed that most of her colleagues and friends in the series "Three's Company" ended up being divorced due to the long hours they spent at work. According to Somers, the early morning alarms and long hours are some of the most irritating things that she had to put up with when she was active in theatre. In fact, her husband had to tolerate her incessant early morning cries.
What keeps her healthy?
At 71, Somers believes that she is in her optimal health by illustrating how she practices what she has written in her new book dabbed "Two's Company," which is a Fifty-Year Romance With Different Lessons Learned in Life, Love, & Business. Her secrets to leading a simple healthy lifestyle are:
Staying away from hard liquor– Since she came from a family of alcoholics, she was quite skeptical about using hard liquor. But, when she started drinking wine and realized it was making her fat, she decided to drink only tequila, once in a while.
Staying active and being realistic– Somers and her husband love dancing and staying active in general by engaging in other healthy practices like Yoga, which she does daily. She confessed that her fifty years of marriage haven't been a bed of roses because they went through some rough patches, but they managed to sort things out. She believes that getting a soul mate in life is what makes her full and rich.
Brief history of Suzanne Somers
Somers, born to Frank and Marion Mahoney, had three siblings. She started nurturing an acting talent at a young age by performing well in arts. In fact, she was very active in the school's theatre activities. She endured the physical abuse she got from her alcoholic father and her dyslexia diagnosis to win a college scholarship that defined her destiny and groomed her to become one of the renowned actresses of the modern day.
Her first marriage to her baby's father and her only child, Bruce Somers, in 1965 was terminated abruptly because it was an unhappy union. She turned to modeling in San Francisco and met with her future husband, Alan Hamel, who was a hosting a game show where she won a job as a prize model.
She struggled with getting a breakthrough in the 1970s by taking up minor roles in TV and Film until 1976 when she finally landed a role in the famous series "Three's Company." She married Hamel in 1977, moved to Las Vegas and wrote her autobiography "keeping Secrets" that later on became a TV movie. Since then, she has featured in theatre roles such as the "Step by Step" and "Candid Camera." Although she declared to be battling cancer in 1985, Somers has won several accolades in her lifetime such as the Las Vegas' Female Entertainer of the Year in 1986.
'Trail Angel' Leaves Behind Good Deeds For Other Hikers to Find
A marked route stretching between the Eastern United States and into Maine, the Appalachian Trail offers hikers the chance to experience the longest hiking-only trail on the planet. As a one-of-a-kind destination, the Appalachian Trail brings in more than 2 million visitors every single year. Reaching heights of 6,643 feet and extending for more than 2,200 total miles, the Appalachian Trail is as challenging as it is inviting, a testament both to nature and those willing to overcome it.
Due to the intensity of the trail and its large coverage area, Trail Angels have begun to leave behind little gifts to help others follow in their path. Michele Staudenmaier had been hiking on the Appalachian Trail (A.T.) in March alongside her son, Zach. While walking the trail, Zach and Michele got to talking about gifts left behind for the hikers. Apparently, the hiking community has always appreciated donated gifts and drinks alongside trail markers, lovingly referring to these individuals as Trail Angels.
Understanding how important food and drink can be to a wilderness hike that ranges from easy to strenuous, Michel decided that she would become a Trail Angel herself alongside her husband, Dave.
Becoming a Trail Angel
When Michel and Zach had their discussion regarding trail angels, they were in the middle of a fun family trip. Michel's husband, Dave, had already booked several Airbnb's along their route through the A.T., with booked stops in Georgia, Tennessee, Vermont, Maine, West Virginia, and Pennsylvania. The trip was scheduled to take roughly six months, crossing through many significantly remote and rural places. Some of these rural areas end up featuring a small oasis of hikers, and finding these areas is known as stumbling upon Trail Magic.
Michel and her family ran into a group of Trail Angels during their work. Michele said, "I realized there was a massive community of volunteers that spend their time and money to support A.T. hikers." Michele went on to say, "I had no idea!"
While an average hike will knock out nearly 600 calories per hour, it can be hard to normalize this average. Many hikers will carry packs weighing upwards of 30 to 50lbs, adding a tremendous amount of stress to their physical efforts. To help keep these folks fed and energized, Michele would cook and pack foods like hot dogs, chips, sweet treats, Gatorade, and even sodas. One such Trail Magic event saw Michele arrive with several buckets of Kentucky Fried Chicken, leading to more than 30 hikers eating well and sharing their stories.
One event showed Michele the true stakes pertaining to Trail Angels as well as the importance of her own work. Michele had fueled a trail marker with food when a hiker arrived. After talking to the weakened hiker, he revealed that he had run out of food completely. Had he not found Michele and her food, there is no telling what could have happened.
According to Michele and many of the hiking enthusiasts that she has met, it is rare to have any food leftover after a long hike. For that reason, unexpected hot meals waiting in the middle of the A.T. will always be seen and enjoyed as a magical moment!