Strange Dog Turns Out To Be An Acquaintance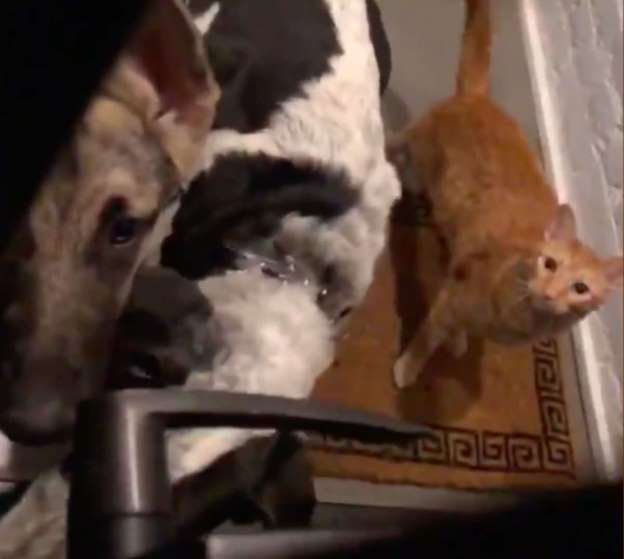 Have you ever heard a knock at your door without seeing anyone knocking and it felt like you are hallucinating? Well something similar happened to me on Sunday morning. My daughter and I had watched a movie overnight about a ghost. So, in the morning we heard a knock on the door.
Of course, I was surprised because I wasn't expecting any visitor and Danny the mail delivery man does not come on Sunday. Well, I was in the kitchen trying to make some breakfast so I told Gwen, my daughter to get the door. She pushed a stool towards the door and checked the eyehole.
She ran straight back to me, looking like she had seen a real ghost, having goose pimples all over her face. Her first few words didn't make any sense to me at all. What does "Daddy I warned you" have to do with who was at the door. I was like, Gwen didn't you get the door? She kept on repeating the same sentence as she ran to her room. So, I ran after her.
Gwen, what did you warn me about? My daughter checked the eyehole but didn't see anything while she was still hearing what sounded like knocks. So, she was definite that the ghost in the movie had visited us. Her friend at school told her that if you watch ghost movies at night, the ghost will visit you in the morning and indeed, she warned me. At that moment, nobody could convince her otherwise. No one could tell her that what Meg told wasn't correct.
The funniest part was that she screamed and tried to hold me back when I said I was going to see the ghost myself. I had to spend 5 minutes to convince her that not every ghost is evil and ghosts only hurt evil people. By the time I finished, I was sure the "ghost" would have gone. So, I went back to the kitchen and as our visitor new I was nearby, he barked. Could it be a dog that had been knocking?
I went straight to open the door without even checking the eyehole and – lo and behold, I was looking at the cutest pup I had ever seen. I was stunned and I stood there for some seconds and he barked once again to tell say won't you let me in dummy?
Even before I did anything I heard Gwen say waaaaooooh! She was also stunned. Her next question was "daddy can we keep him?" You will definitely love the pup. Immediately I opened the door wider, he ran in went near one of the chairs and sat beside and the look in his eyes was like "oh sorry I scared you buddy".
My daughter asked me the same question again and I said no! Keeping him will make us thieves. We have to find its owner. By the time we got outside with the dog, we saw a little who should be around 8 years, shedding tears and throwing tantrums in front of a much older boy who I presumed to be her big brother. On sighting them, the pup gave an adorable bark and jumped out of my hand.
The joy in the girl's eyes said it all. While cuddling her pet, you would hear her say you naughty boy, where did you go? I have been looking all over for you. At this juncture, I cut in. I said your cute dog just decided to pay us an impromptu visit. He came to knock at my door and decided to spend a few minutes with us. She couldn't thank me enough.
I later found out that the girl, her brother, and their mother came to visit one of my neighbors, Mr. and Mrs. Carlton and they had all spent some minutes inside the house before they realized Timmy had other plans. He deliberately didn't go in with them. Now here is the bomb. Timmy knew where he was going all along.
When my wife was around, the girl and her mum came to see my Mr. and Mrs. Carlton but they were not around so my wife invited them inside our apartment so that they could wait for the Carltons. So, Timmy actually came to say hello to her.
Couple Who Fed Hippo Jell-O For Their Gender Reveal Respond: 'It Was A Very Small Amount'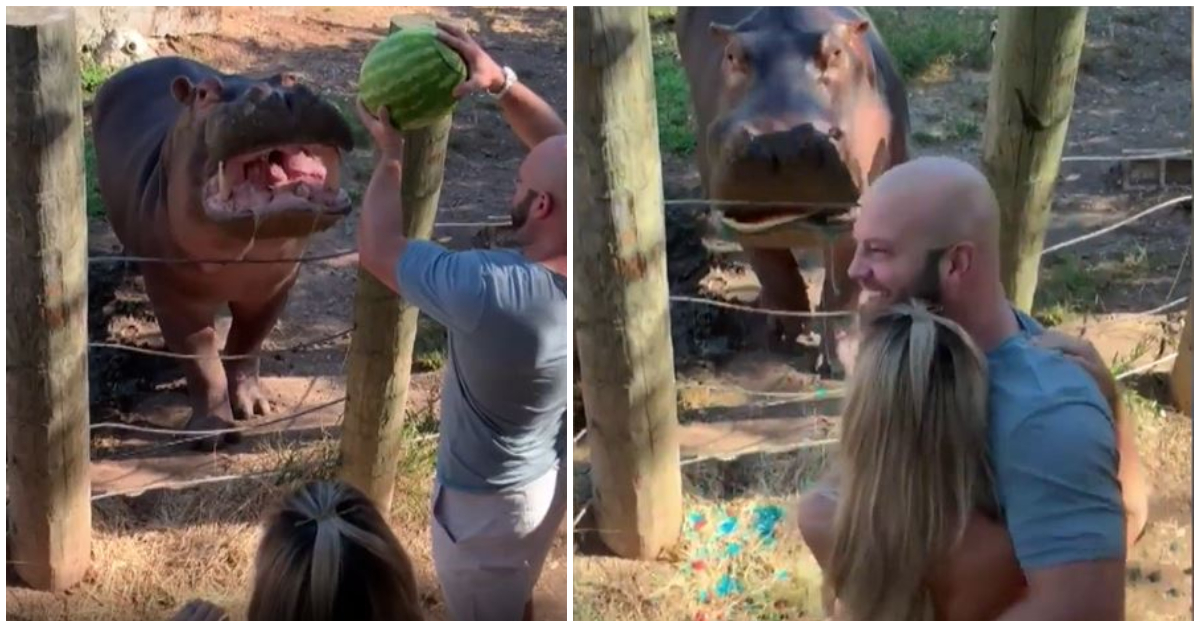 Feeding a hippo Jell-O to reveal the gender of an unborn child is not an everyday thing. Perhaps such is why this couple decided to solicit the services of Tank, a friendly hippo who happens to love Jell-O and watermelon, to help them reveal the gender of their baby.
The couple from Texas went to great lengths to make their big reveal different. "Everyone it seems has done the cake thing," the expectant father says. "You cut the cake open and there is either pink or blue inside. Not many people think outside of the box with these things," he adds. The father-to-be and his wife hoped to change that dynamic.
The expectant couple went to Capital of Texas Zoo in Cedar Creek where Tank the friendly hippo currently resides. "From the moment we saw Tank, we knew that he was the one," the mother-to-be says. "He came right up to us," she adds. "He was so friendly."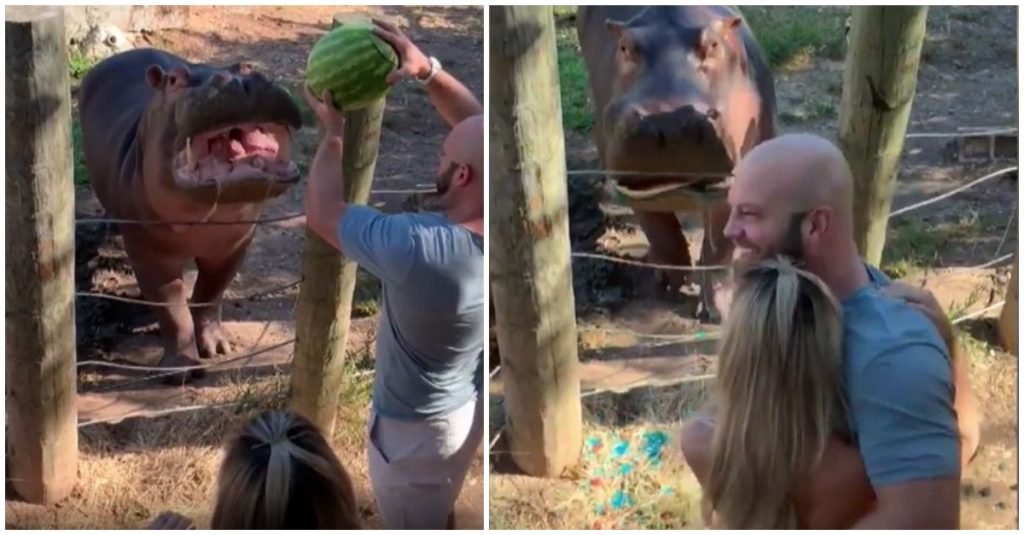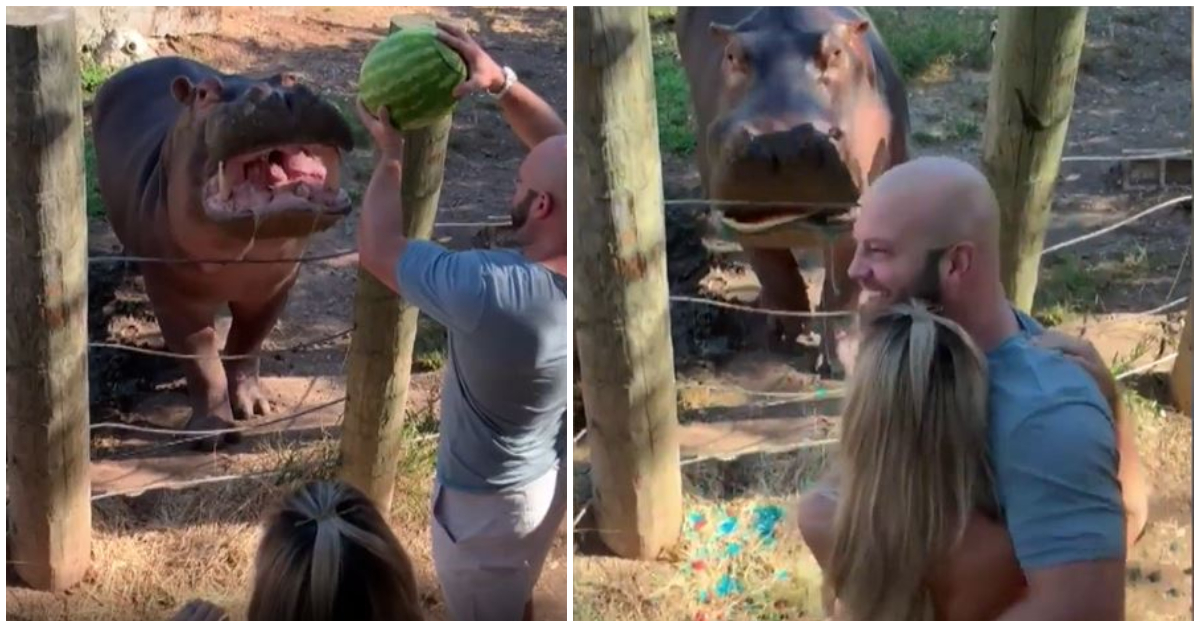 The couple formed a bond with the animal and knew that they had to have him at their gender reveal party. "We asked the zookeeper and he told us everything that we needed to know about Tank. He told us about the hippo's sleeping patterns, when he is most interactive, and his favorite foods."
The couple got an idea upon hearing that Tank loves Jell-O and watermelon. "Why not fill a watermelon with Jell-O that represents the color of our unborn child's gender? We knew that our idea was fresh," the mother-to-be says.
Fresh is one way to describe the notion of giving a hippo blue Jell-O (the couple is expecting a son). Controversial is another word that comes to mind. Social media was certainly happy to see another couple expanding their family with the expectancy of a child. Viewers were not thrilled to see the father-to-be give Tank the mystery watermelon.
"Are you serious," one Twitter critic asked. "Who had the bright idea to give this animal food coloring? How dumb can you be? And they're having a kid??? God help us all." Another critic was not as harsh.
"Jell-O may be good for humans but it is not the best thing for animals," the social media viewer wrote. "There is a lot of sugar in Jell-O and other artificial ingredients that a hippo's system may not be able to digest. Did you all do any research before deciding to do this?"
The expectant couple assured their critics that they in fact researched the matter. "This was not a rush job," the father-to-be wrote in response to all the scrutiny. "We asked Tank's caregiver what would be best."
If given the opportunity, would the couple do things differently? "I think we would do it again," the mom-to-be says. "We probably wouldn't share it with the world, though," she added. "There are way too many critics out there."