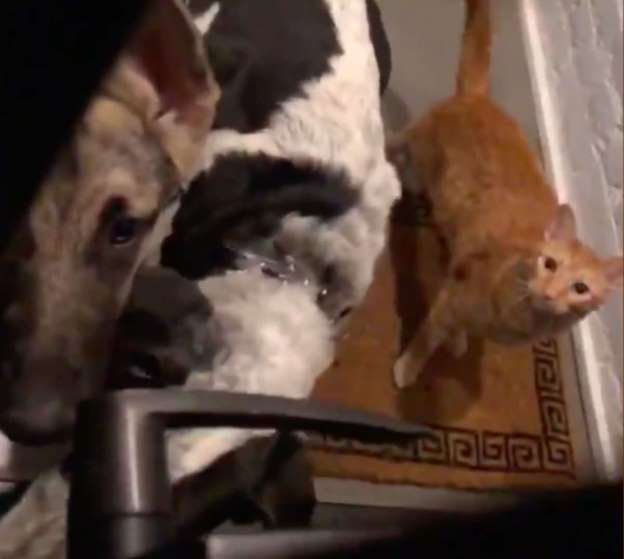 Strange Dog Turns Out To Be An Acquaintance
Have you ever heard a knock at your door without seeing anyone knocking and it felt like you are hallucinating? Well something similar happened to me on Sunday morning. My daughter and I had watched a movie overnight about a ghost. So, in the morning we heard a knock on the door.
Of course, I was surprised because I wasn't expecting any visitor and Danny the mail delivery man does not come on Sunday. Well, I was in the kitchen trying to make some breakfast so I told Gwen, my daughter to get the door. She pushed a stool towards the door and checked the eyehole.
She ran straight back to me, looking like she had seen a real ghost, having goose pimples all over her face. Her first few words didn't make any sense to me at all. What does "Daddy I warned you" have to do with who was at the door. I was like, Gwen didn't you get the door? She kept on repeating the same sentence as she ran to her room. So, I ran after her.
Gwen, what did you warn me about? My daughter checked the eyehole but didn't see anything while she was still hearing what sounded like knocks. So, she was definite that the ghost in the movie had visited us. Her friend at school told her that if you watch ghost movies at night, the ghost will visit you in the morning and indeed, she warned me. At that moment, nobody could convince her otherwise. No one could tell her that what Meg told wasn't correct.
The funniest part was that she screamed and tried to hold me back when I said I was going to see the ghost myself. I had to spend 5 minutes to convince her that not every ghost is evil and ghosts only hurt evil people. By the time I finished, I was sure the "ghost" would have gone. So, I went back to the kitchen and as our visitor new I was nearby, he barked. Could it be a dog that had been knocking?
I went straight to open the door without even checking the eyehole and – lo and behold, I was looking at the cutest pup I had ever seen. I was stunned and I stood there for some seconds and he barked once again to tell say won't you let me in dummy?
Even before I did anything I heard Gwen say waaaaooooh! She was also stunned. Her next question was "daddy can we keep him?" You will definitely love the pup. Immediately I opened the door wider, he ran in went near one of the chairs and sat beside and the look in his eyes was like "oh sorry I scared you buddy".
My daughter asked me the same question again and I said no! Keeping him will make us thieves. We have to find its owner. By the time we got outside with the dog, we saw a little who should be around 8 years, shedding tears and throwing tantrums in front of a much older boy who I presumed to be her big brother. On sighting them, the pup gave an adorable bark and jumped out of my hand.
The joy in the girl's eyes said it all. While cuddling her pet, you would hear her say you naughty boy, where did you go? I have been looking all over for you. At this juncture, I cut in. I said your cute dog just decided to pay us an impromptu visit. He came to knock at my door and decided to spend a few minutes with us. She couldn't thank me enough.
I later found out that the girl, her brother, and their mother came to visit one of my neighbors, Mr. and Mrs. Carlton and they had all spent some minutes inside the house before they realized Timmy had other plans. He deliberately didn't go in with them. Now here is the bomb. Timmy knew where he was going all along.
When my wife was around, the girl and her mum came to see my Mr. and Mrs. Carlton but they were not around so my wife invited them inside our apartment so that they could wait for the Carltons. So, Timmy actually came to say hello to her.
Man Creates AI Program To Alert Him And Greet Dogwalkers in His Community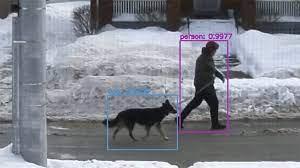 Dogs are deemed as man's best friend for a multitude of reasons. What we have to understand, though, is that the love has to be shown to the dog as much as we want to be delivered to us.
Watching someone walking their dog is a pastime that never grows old, to the point that one man decided to build a hi-tech machine to detect when dogs and their owners were passing by his home.
Is that a thing? Certainly it is, and it has been bringing immense joy to him as well as the pups and their masters as they pass by his home.
Some people think it's cute, others eerie, but no one can deny the thought and creativity behind developing that machine.
This may become the new greeting technology based on the incredible level of responses that have been pouring out towards both the owner and his creation, as you'll learn below.
If you have at any point spent an evening(or the whole year 2020) on the internet looking at adorable dog videos, you'll understand why Ryder of YouTube fame decided to create a computer, powered by Artificial Intelligence, which is able to discern dogs walking along the street pass their house and instantly shout praises to the dog walkers or owners.
His Youtube program is called Ryder Calm and has earned quite a following.
Getting things done by looking at the real puppers has always been better than wasting time and looking at only pictures of puppies, so the development began as an automated manner for Ryder to identify when somebody was walking down the street past their home. The computer, which is based on a Raspberry Pi, assesses a live feed from the camera module and employs a machine learning model (in this case, the YOLOv3) that has been programmed to recognize about Eighty different items, including people, vehicles, and dogs.
When a passing puppy is detected, an alarming automated text-to-speech voice warns Ryder via an actual megaphone, allowing them to rush to the window on time to catch sight, no matter what they're doing.
Watching dogs is obviously not just his passion, but clearly an activity that his entire family enjoys doing. They enjoy it so much that they've programmed the system to function even during their absence. If that isn't innovative, then what is?
For those occasions when they aren't home to hear the alarm, the system can be programmed to play a pre-recorded "I like your dog!" message through the window, providing a complimentary dopamine boost to anybody walking their dog down Ryder's street.
It's a random and somewhat weird act of generosity, but I think we'd all take something at this stage. After all, any good gesture is better than the negativity endured throughout 2020, right?