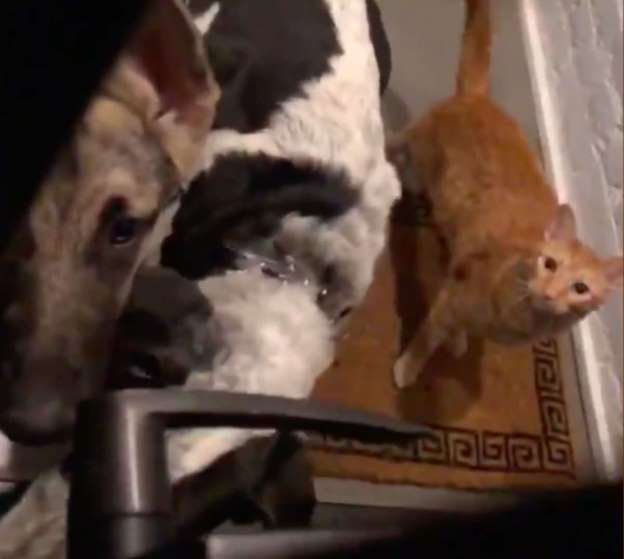 Strange Dog Turns Out To Be An Acquaintance
Have you ever heard a knock at your door without seeing anyone knocking and it felt like you are hallucinating? Well something similar happened to me on Sunday morning. My daughter and I had watched a movie overnight about a ghost. So, in the morning we heard a knock on the door.
Of course, I was surprised because I wasn't expecting any visitor and Danny the mail delivery man does not come on Sunday. Well, I was in the kitchen trying to make some breakfast so I told Gwen, my daughter to get the door. She pushed a stool towards the door and checked the eyehole.
She ran straight back to me, looking like she had seen a real ghost, having goose pimples all over her face. Her first few words didn't make any sense to me at all. What does "Daddy I warned you" have to do with who was at the door. I was like, Gwen didn't you get the door? She kept on repeating the same sentence as she ran to her room. So, I ran after her.
Gwen, what did you warn me about? My daughter checked the eyehole but didn't see anything while she was still hearing what sounded like knocks. So, she was definite that the ghost in the movie had visited us. Her friend at school told her that if you watch ghost movies at night, the ghost will visit you in the morning and indeed, she warned me. At that moment, nobody could convince her otherwise. No one could tell her that what Meg told wasn't correct.
The funniest part was that she screamed and tried to hold me back when I said I was going to see the ghost myself. I had to spend 5 minutes to convince her that not every ghost is evil and ghosts only hurt evil people. By the time I finished, I was sure the "ghost" would have gone. So, I went back to the kitchen and as our visitor new I was nearby, he barked. Could it be a dog that had been knocking?
I went straight to open the door without even checking the eyehole and – lo and behold, I was looking at the cutest pup I had ever seen. I was stunned and I stood there for some seconds and he barked once again to tell say won't you let me in dummy?
Even before I did anything I heard Gwen say waaaaooooh! She was also stunned. Her next question was "daddy can we keep him?" You will definitely love the pup. Immediately I opened the door wider, he ran in went near one of the chairs and sat beside and the look in his eyes was like "oh sorry I scared you buddy".
My daughter asked me the same question again and I said no! Keeping him will make us thieves. We have to find its owner. By the time we got outside with the dog, we saw a little who should be around 8 years, shedding tears and throwing tantrums in front of a much older boy who I presumed to be her big brother. On sighting them, the pup gave an adorable bark and jumped out of my hand.
The joy in the girl's eyes said it all. While cuddling her pet, you would hear her say you naughty boy, where did you go? I have been looking all over for you. At this juncture, I cut in. I said your cute dog just decided to pay us an impromptu visit. He came to knock at my door and decided to spend a few minutes with us. She couldn't thank me enough.
I later found out that the girl, her brother, and their mother came to visit one of my neighbors, Mr. and Mrs. Carlton and they had all spent some minutes inside the house before they realized Timmy had other plans. He deliberately didn't go in with them. Now here is the bomb. Timmy knew where he was going all along.
When my wife was around, the girl and her mum came to see my Mr. and Mrs. Carlton but they were not around so my wife invited them inside our apartment so that they could wait for the Carltons. So, Timmy actually came to say hello to her.
Punk Kid Goes From Homeless to Opening A Quirky Barbershop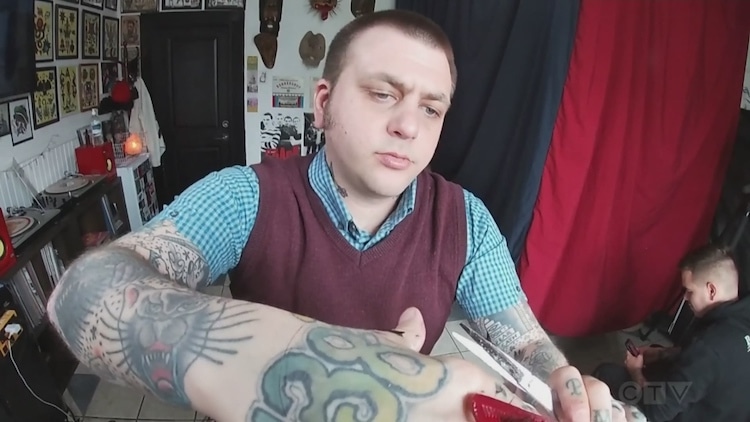 If you've ever seen the musical movie, Sweeney Todd: The Demon Barber of Fleet Street, starring Johnny Depp and Helena Bonham-Carter, then you could be forgiven for thinking twice before stepping into a barbershop for a straight-razor shave. However, many people have that reaction as well when stepping into Daryl Bidner's Little Barbershop of Horrors in today's Vancouver Island.
Bidner himself was never one for being mainstream. Growing up as a punk kid in his teen years, the barber today is a close-cropped fellow, arms blazoned with tattoos, and a late 1960s skinhead-style outfit décor via collared shirt, sleeveless sweater matched to his jeans and boots. However, when it comes to cutting hair, Bidner is all the professional and about business.
Starting off definitely wanting his barbershop to stand out and apart from the competition locally, Bidner modeled the entire theme of his haircutting venue around the movie, Little Shop of Horrors. He parlayed his interest in cutting hair for friends with mohawks into a bona fide skill, and now enjoys regular business as a barber for clientele young and old.
However, life wasn't always peachy-keen for Bidner. He was a school drop-out, had been in and out of drug addiction, and reached his own personal bottom after being homeless for an extended period. Ironically, it was a tattoo that finally seemed to put the young man back on track. His first tattoo allowed Bidner to skip the usual downspin of wasting the night high on something, and he sobered up. A number of days later, he did it again, using tattoos to get clean. By the 40th inking, Bidner was fundamentally off his addictions and broke his need to use mindlessly.
The tattooing was cathartic for Bidner, and he finally began to think about tomorrow instead of the next binge today. That in turn got him into thinking what Bidner could do for a proper living. Obviously, the young man was not going to go and wear a corporate suit the following Monday. So, he looked around at what made sense. Being a tattoo artist was logical, but then haircutting and being a barber appealed even more.
Bidner knuckled down, figured out how to get himself into barbering school, and after three years of grinding to perfect his skill, he had a license and started his own business with a single barber chair. Since that major breakthrough, Bidner has been at it as a barber for over five years, and he's been involved with community help drives and giving free haircuts to the homeless at local shelters as well. No surprise, Bidner credits his profession for saving his life and giving him direction, but it has also been a living lesson to others that no matter how bad it gets, people can pull themselves out and up again.