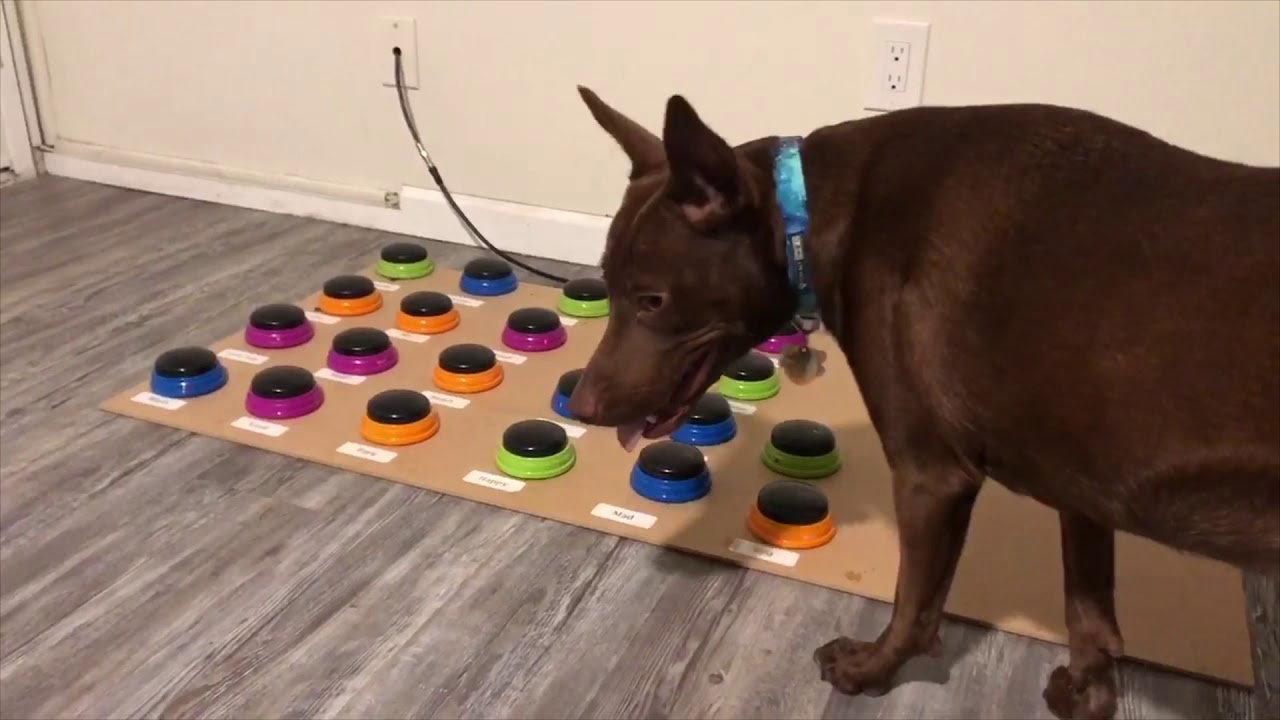 Christina Hunger is a speech pathologist who works with young children around two years old to enhance their ability to communicate with adults. Christina has always wondered if she could teach a puppy to use the word buttons, too. Several years ago, Christina adopted a dog named Stella. She decided to try and see if the same methods she uses for her therapy would also help her puppy to learn to communicate. Many dog owners would like to really understand what their pets are thinking about. Stella uses buttons to communicate her wishes to her owners. Christina can talk with her dog.
Christina set up a group of buttons for Stella to push with her paws. Each button was introduced singularly, and over time Stella learned the meaning of a variety of buttons. The buttons were also grouped by color. Each color represents a particular group of words. Stella can press "walk" or "beach" with her paws to indicate what she wants to do. She can also press buttons for Christina or Jake, her other owner. Stella will walk on the board of 26 buttons as she looks for the one she wants. Stella took the longest to learn her first button. After that, it was much easier to introduce more buttons to the dog.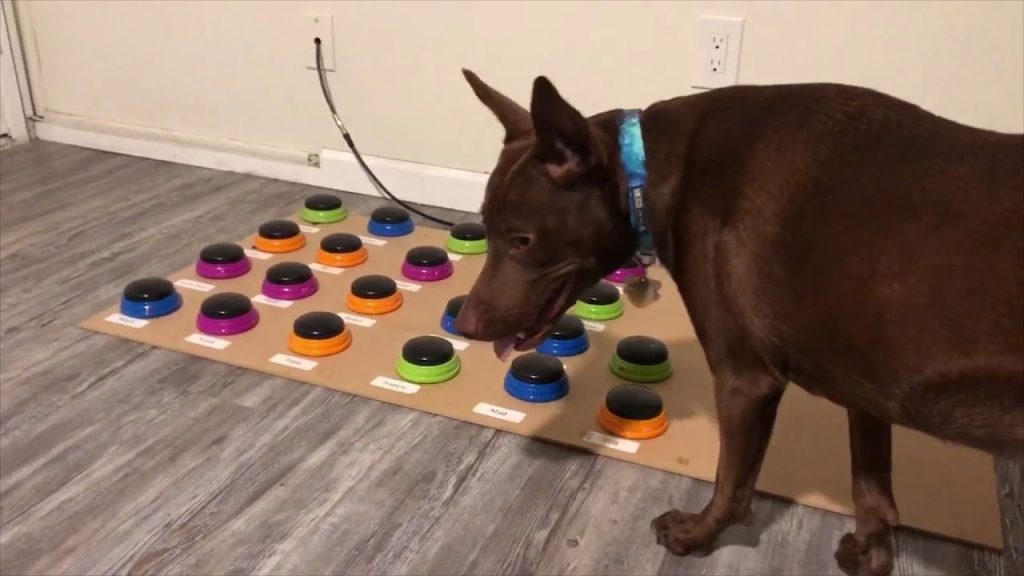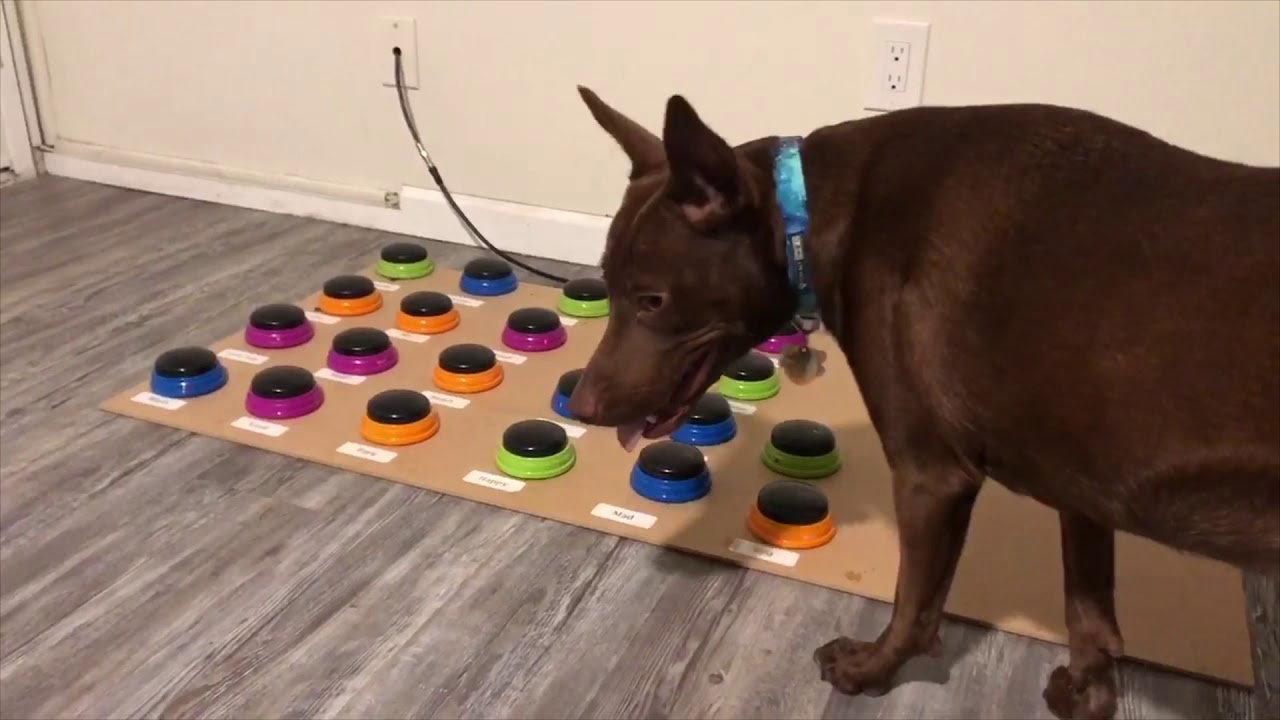 When Stella began to learn to use the buttons, she would only use one paw. Over time, Stella began using both paws to press the buttons. Using both paws makes it easier for Stella to put more than one button together. At this point, she can put a series of five or less words together such as "Christina walk" or "Want Jake Come." Christina feels that the dog showed relief when she finally learned how to punch the buttons for her needs. Stella barks when she hits the buttons, and is able to repeat requests if Christina does not understand her or does not see the dog punch all of her buttons.
Christina has started a blog entitled Hunger for Words where visitors can see the progress of Stella and her buttons. The blog has a number of cool videos of Stella's day. Christina is hoping to teach this method to other dogs and hopes that this method will improve the communication between owners and pets. She also feels that having the board made a recent move easier for Stella to understand. Moves often make pets anxious, but Stella was very calm about their recent move to the beach. Stella intends to introduce more words for Stella to learn.
Stella has been featured in People magazine, which is following the story of Stella from time to time for its readers. For more on Stella, go here to reach Christina's blog. Christina is currently looking for another dog that can learn to push buttons. She is hoping to organize a class of animals and show their owners how to make both of their lives easier.
Beautiful Story Goes Viral as Educator Meets Two Wonderful Children at a New Orleans Saints Game.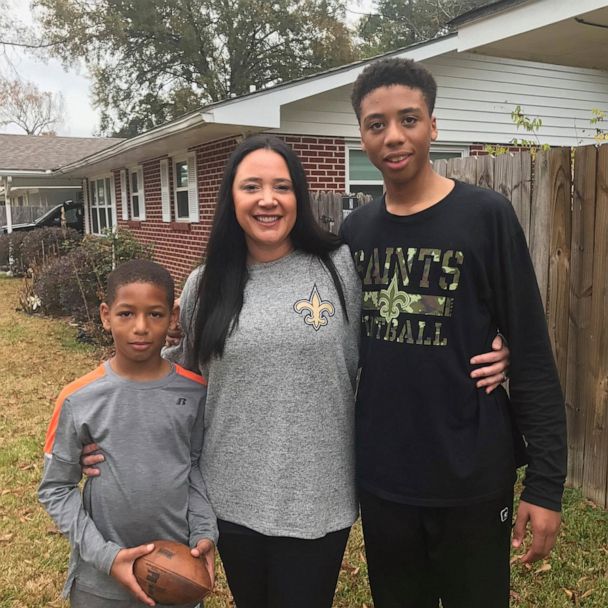 When Danielle and Dustin Trahan bought tickets for the Saints/Panthers game this season, they had no idea what they were getting into. In a world where we hear so much about how poorly people have behaved, it can be nice to have a little bit of a silver lining to admire. Danielle Trahan attended the New Orleans Saints versus the Carolina Panthers which was played in New Orleans. When she sat down at her seat beside her husband, she soon realized that she was seated next to a pair of young children. Quickly realizing that the two boys were without their parents, the Trahan's began to look out for the kids. What happened next was as delightful as it was inspiring!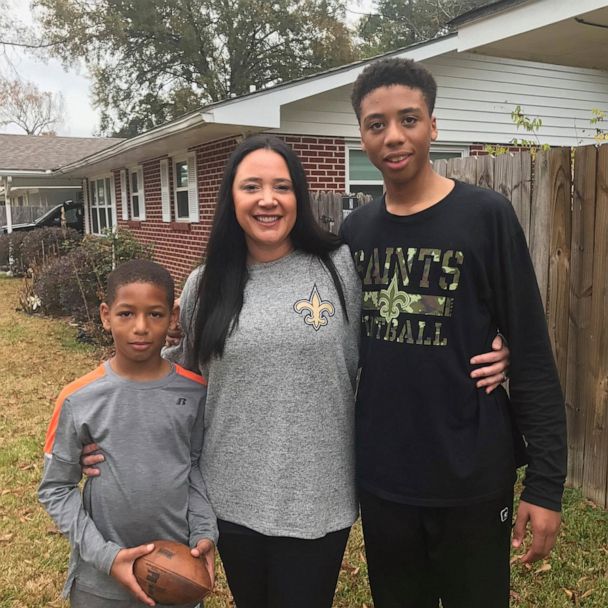 First and foremost, let's introduce you to Jairen Fisher and Terrion Shaffer, two brothers aged 8 and 14. Jairen and Terrion had been gifted a pair of tickets to the game by their father, Jonathan Shaffer. Unfortunately, the family could not afford to purchase enough tickets for everyone to attend. Knowing how much the game meant to Jairen and Terrion, their father decided to drop them off at the secured entry so that they could be escorted to their seats by the arena guards. Jonathan would wait at the gate after the game for his kids to be escorted back. Jonathan said, "When I sent them in and decided to send them by themselves, I was worried a little bit." Shaffer went on to expound, "But I wasn't worried a lot, because I know my kids. They can handle themselves, and I know they're respectable." As it turns out, Jonathan was more right than even he could have guessed!
During the game, Danielle and Dustin quickly struck up a friendship with the boys. Danielle noticed that Terrion would lift his brother onto his shoulders whenever the boy wanted a better view. The two kids would high five when the Saints made big plays, and they would groan in concert when something bad happened on the field. Through it all, both kids were respectful, polite, and utterly beaming with joy at the sight of the game going on below them. Trahan struck up a conversation with the kids and soon came to learn that they were from Baton Rouge and that young Jairen was only in 3rd grade and that this was the first football game that either boy had ever seen in person.
After the game ended with a Saints victory, the Trahan's made sure that the children made it back to their father who was waiting at the gate. Without thinking too much about it, Trahan would go home and share her story online. Danielle is a special ed paraeducator as well as a mother of four, and she was just blown away by how well-behaved and kind the children were. Danielle decided to share the photo they had taken with the boys just to share their stories. In the blink of an eye, Danielle's story was going viral. Thankfully this already sweet story has an even sweeter ending. After the story went viral, Jonathan and his sons were gifted tickets to a Monday Night Football game featuring the Saints and Colts. Guess what else? The boys wanted to see the game with Danielle! The two families managed to reconnect via the internet and have since become close friends.
In a world of anger and cynicism, isn't it nice to hear about two lovely families coming together to do something nice?