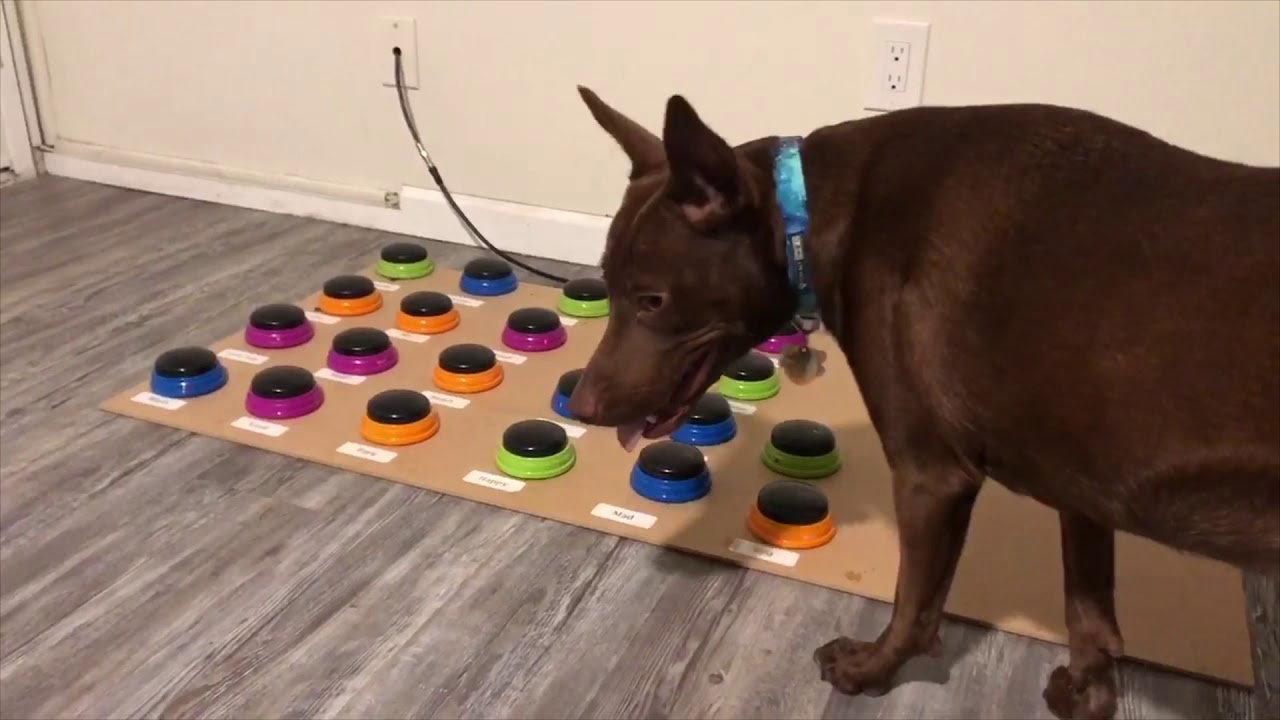 Christina Hunger is a speech pathologist who works with young children around two years old to enhance their ability to communicate with adults. Christina has always wondered if she could teach a puppy to use the word buttons, too. Several years ago, Christina adopted a dog named Stella. She decided to try and see if the same methods she uses for her therapy would also help her puppy to learn to communicate. Many dog owners would like to really understand what their pets are thinking about. Stella uses buttons to communicate her wishes to her owners. Christina can talk with her dog.
Christina set up a group of buttons for Stella to push with her paws. Each button was introduced singularly, and over time Stella learned the meaning of a variety of buttons. The buttons were also grouped by color. Each color represents a particular group of words. Stella can press "walk" or "beach" with her paws to indicate what she wants to do. She can also press buttons for Christina or Jake, her other owner. Stella will walk on the board of 26 buttons as she looks for the one she wants. Stella took the longest to learn her first button. After that, it was much easier to introduce more buttons to the dog.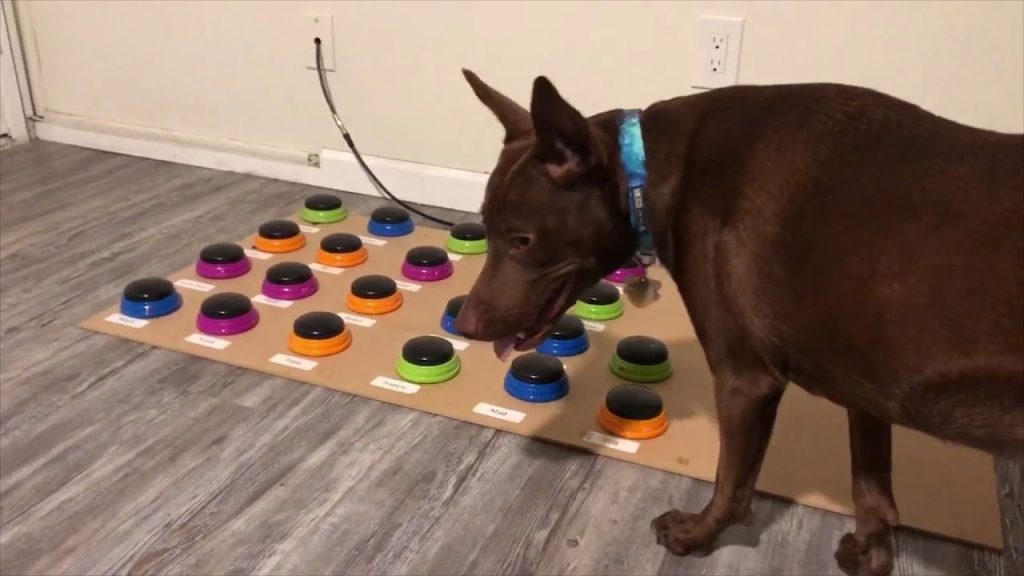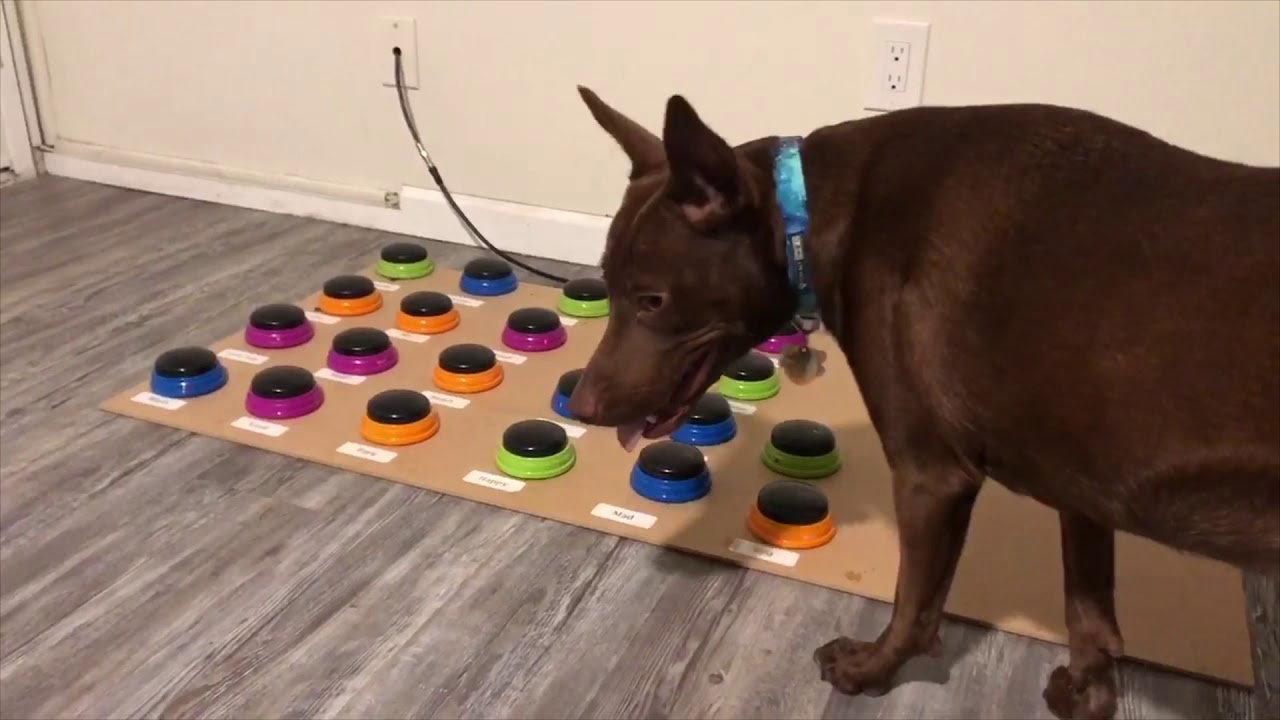 When Stella began to learn to use the buttons, she would only use one paw. Over time, Stella began using both paws to press the buttons. Using both paws makes it easier for Stella to put more than one button together. At this point, she can put a series of five or less words together such as "Christina walk" or "Want Jake Come." Christina feels that the dog showed relief when she finally learned how to punch the buttons for her needs. Stella barks when she hits the buttons, and is able to repeat requests if Christina does not understand her or does not see the dog punch all of her buttons.
Christina has started a blog entitled Hunger for Words where visitors can see the progress of Stella and her buttons. The blog has a number of cool videos of Stella's day. Christina is hoping to teach this method to other dogs and hopes that this method will improve the communication between owners and pets. She also feels that having the board made a recent move easier for Stella to understand. Moves often make pets anxious, but Stella was very calm about their recent move to the beach. Stella intends to introduce more words for Stella to learn.
Stella has been featured in People magazine, which is following the story of Stella from time to time for its readers. For more on Stella, go here to reach Christina's blog. Christina is currently looking for another dog that can learn to push buttons. She is hoping to organize a class of animals and show their owners how to make both of their lives easier.
Think About the Science of the Mind Can Lead to a Happier Life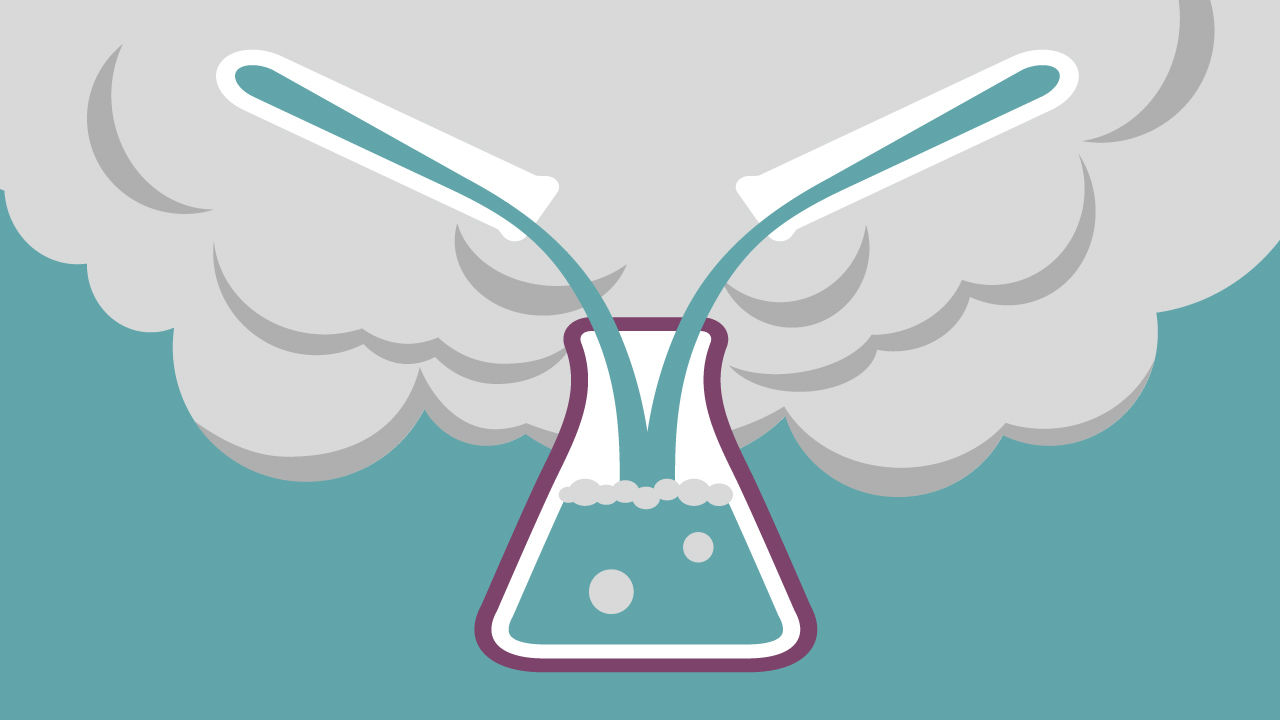 There are people who say that the mind is a place unto itself. It can be formed into heaven, hell, or anything in between. The brain is one of the most powerful machines. Given that no other intelligent life has been found anywhere else, many people believe the brain to be the most powerful, interesting, creative, and awesome machine that has ever been created. The brain is an incredibly complex thing and is responsible for everything that man has ever created, both concrete and abstract. In a sense, the brain is also amazing because it is completely organic. No matter how hard people try, they cannot make anything that compares to the human brain.
The brain gives rise to a host of impressive cognitive abilities and feats. It allows humans to think and feel. It gives rise to the imagination. It gives rise to perception. People can respond to emotions with concrete actions, weigh the options, and make the correct decision. Along with the feats of speaking and memorizing, the brain is incredibly powerful. Perhaps the most impressive part of the brain is the ability to process emotions and translate them into visible reactions.
There are lots of viewpoints when it comes to the mind and the brain. Some people think they are the same. Other people think they are different. Today, most people think that the brain contributes to the power of the mind. There are older views who believe the mind is totally different and is not connected to the physical body in any way. Therefore, the brain has also given rise to some of the most impressive debates in human history.
Now, there are people asking whether or not the mind is the sole property of humans. Does anyone (or anything) else out there have a mind? On this planet, there are millions of species. There have been millions of species in the past. Undoubtedly, there will be millions of species in the future as well. Throughout the entire time, people are the only species that appear to show any evidence of intelligence.
Scientists and engineers are working hard to come up with a way to mimic the human mind. Right now, they have settled on the development of AI. Many people have hailed this as a breakthrough. Some are afraid that something similar to Terminator or I Robot is going to come out of the development of AI. The development of AI is far more than just a fancy video game. It is more than automation technology. In reality, AI is the first technology to even attempt to replicate the human mind. It will be interesting to see where this research goes.
On the other hand, the development of AI has spurred the human research of the central nervous system. Neuroscience is the study of the physical nervous system and how it impacts the mind and body. It is the natural foil for the study of the physical motor system. There are plenty of ancillary fields such as psychology and psychiatry that study how people respond to a variety of situations and their emotions. Some of these extend into the clinical field. Now, people are pushing for the development of mindfulness and meditation as their own field. Evidence is starting to show that the study of the mind itself can lead to a happier life. Some people feel that when people study the mind, they study themselves. This can lead to the fulfillment of individual identity, making people feel fulfilled. Regardless, mindfulness is going to be important in the future.