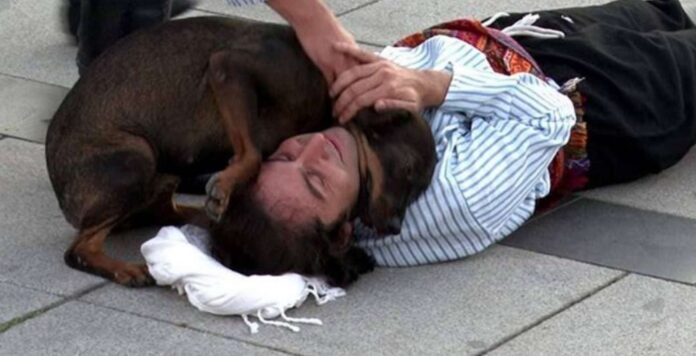 So Touching! Actor In Street Performance Gets Heartwarming Reaction From A Stray Dog
A surprising act happened in the Turkish city of Izmit this past week.
A drama group was filming one of its scenes by the roadside when a homeless dog who was watching interrupted albeit for a good cause. It happened that one of the actors, Numan Ertugrul Uzunsoy was demonstrating to be injured and pretended to be dead on the ground.
The dog seeing this, thought the actor was truthfully dying and needed help urgently. He sprinted forward to the scene, interrupting the filming process.
Uzonsoy was startled when the dog drooled over him, mistakening the touch for one of the crew members.
"I felt warmth on my face. First, I thought my costar was approaching me," Uzunsoy told the Dodo. "I was very happy when I felt the dog's kisses… I was very touched. He was like an angel who wanted to help me. It was a very emotional moment for me. I was not expecting it."
Passersby and the crew felt emotional about the dog's interference and didn't stop the heartwarming moment. Thereafter, the dog was led off from the scene. Uzunsoy was able to resume and the drama continued.
For Uzunsoy, he was a little bit pained he couldn't see the dog after they ended the filming. Yet locals confirmed the dog often visited the area.
A dog lover, Uzinsoy has resolved to look for the hound as he wants to keep the dog as a friend. When he does find him, Uzunsoy would ensure his pet becomes his friend forever.
Dog Trainer and Dog Groomer Get Married Accompanied By Their Best Friends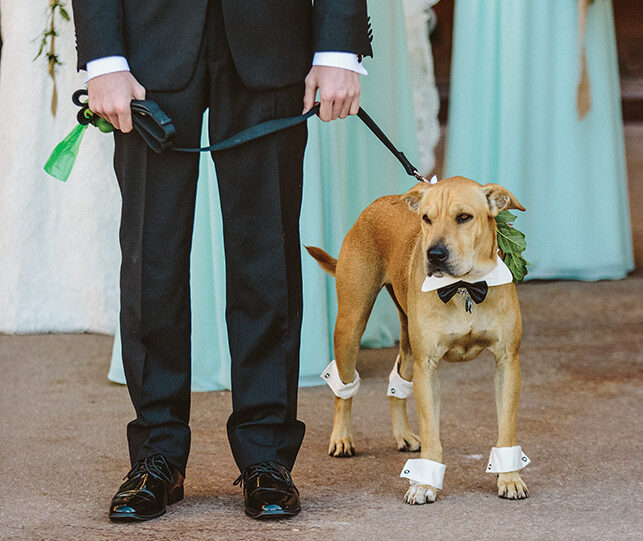 Weddings Are for Sharing With Loved Ones
When people get married, they spend one perfect day with their most loved friends and family. While many people only think about their human friends and family, there are a lot of people who could never imagine starting this important new chapter in their lives without their beloved pets. In fact, many people might have to admit, if they were being honest, that they loved their pets more than some of the relatives who came to the wedding, especially if they felt obligated to invite some relatives they rarely see and barely know.
Some People Already Spend Their Lives With Pets
Anyone who works full-time as a dog trainer or groomer already spends most of their working days with animals. They see dogs all day long, and they make the choice to do so because of many reasons. Working with pets is rewarding on many levels. Especially if you see the same dogs again and again, you form a close bond. Communicating with pets is therapeutic and generally far less stressful than dealing with humans. The people who work with dogs don't get sick of dogs and try to go home to a quiet house; they tend to have larger pet families than average.
A Dog Trainer and a Dog Groomer Tie the Knot
Paul and Annette Anthony are typical in that they work with dogs as a profession, and they have a large pet family. On the day they got married, their family consisted of 2 humans and 9 canines. Both Paul and Annette admitted that their pets were more to them than just fun — their beloved dogs also helped them get through rough times in their lives, including personal tragedies. Annette's German Shepherd Pesci is even an emotional support animal, helping her to deal with severe anxiety and depression. There was no way that their pets were going to be left out of the most important day of their lives going forward.
Canine Best Man
Paul's service dog Finn has earned his retirement. Finn has competed in over 40 events, earning titles and even setting records. He was also there for Paul when Paul developed PTSD after being at the scene of the deadliest plane crash in Pennsylvania's history. Finn was the one who helped with the proposal, giving Annette the ring with a note asking her to marry his dad. It was only fitting that Finn ended up being one of the best men at the wedding too.
A Family Affair
All 9 dogs walked down the aisle and stayed throughout the ceremony. Annette's dog Pesci even came to comfort her during the ceremony when she started to cry from happiness because he wanted to make sure his momma was all right. Whether you want to use your dogs in the ceremony as ring bearers, best men, or flower girls, or if you just want them to be present, it makes sense to have your pets help you celebrate such an important day in your life.