Snow Is Just Too Much For This Young Pup Who Has Never Seen It Before!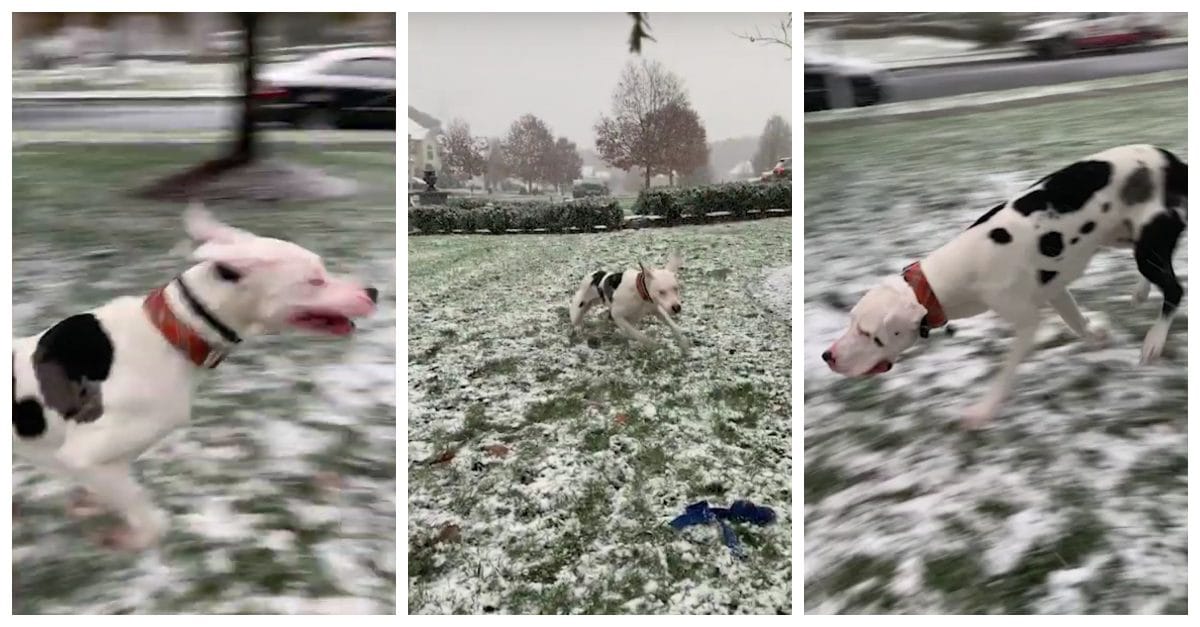 The first snow of the season is always a magical time when children catch snowflakes on their tongues and retired folks reconsider moving to Florida. Kids aren't the only ones who appreciate that first snow, however. Multitudes of animals were born in the warm season, kicking their heels up in the sunshine, and never knowing that there's a new and wilder fun yet to come. People who have raised puppies are quite familiar with this phenomenon, when pups, like kids, go crazy over every new thing. Which is pretty entertaining, considering that just about everything is new to them.
Donovan is an 11-month-old Great Dane puppy who is in training as a service dog. Service dogs lead disciplined lives of helping others which serves as an example to all of us. But it's fun to see them get to kick back and take a break from their job once in a while, too. Donovan lives with Amanda Gonchar in New Jersey and is learning his job to provide dependable support for some person who is waiting for the dog that will offer them new opportunities. In the meantime, Donovan has somehow made it almost a year without seeing snow. Perhaps he's spent part of his life elsewhere, or perhaps the weather was particularly mild for his first few months. Whatever the reason, he's perfectly primed as a pet who has never seen snow. Amanda notices that it's snowing, and she knows Donovan always needs exposure to new experiences as a service dog. Besides, it'll be fun! I wonder if Amanda imagined Donovan had this much excitement pent up in him, just waiting for those first magical flakes to fall.
Amanda's video shows how Donovan reacted to the experience. Did he cringe back inside the house, crawl under a blanket, and swear off the world (like I might)? No! He ran and leaped and slid around in the snow in an ecstasy of winter excitement. His long legs bounding about in the yard, Donovan simply wants to burn off this first-snow magic like it was an energy drink. Think about that the next time you have to scrape the ice off your windshield!
Donovan is a Great Dane pup, which means he makes a very big puppy. He's also a Harlequin, an unusual coloration where the spots of a Dalmatian grow to fit a Great Dane's body. He certainly fits in with the colors of the wintry season! Great Danes take at least two years to grow into their full adult form. Chihuahuas don't have to deal with this, of course.
Donovan's enthusiasm will serve him well for learning the many tasks that a service dog needs to know. Not only does he have to learn great discipline and unusual tasks, but his training will be specialized further to meet the situation of his new owner when the time comes. Let's hope that wherever his new owner awaits him, they'll have snow to enjoy together!
Amanda says that Donovan is a "goofball". This is pretty typical of Great Dane puppies. We're glad to have had the chance to see Donovan being a goofball with so much energy and-er-finesse. Check out the video whenever you need to feel energized.
Way to go, Donovan!
The Little Blue Eyed Miracle Puppy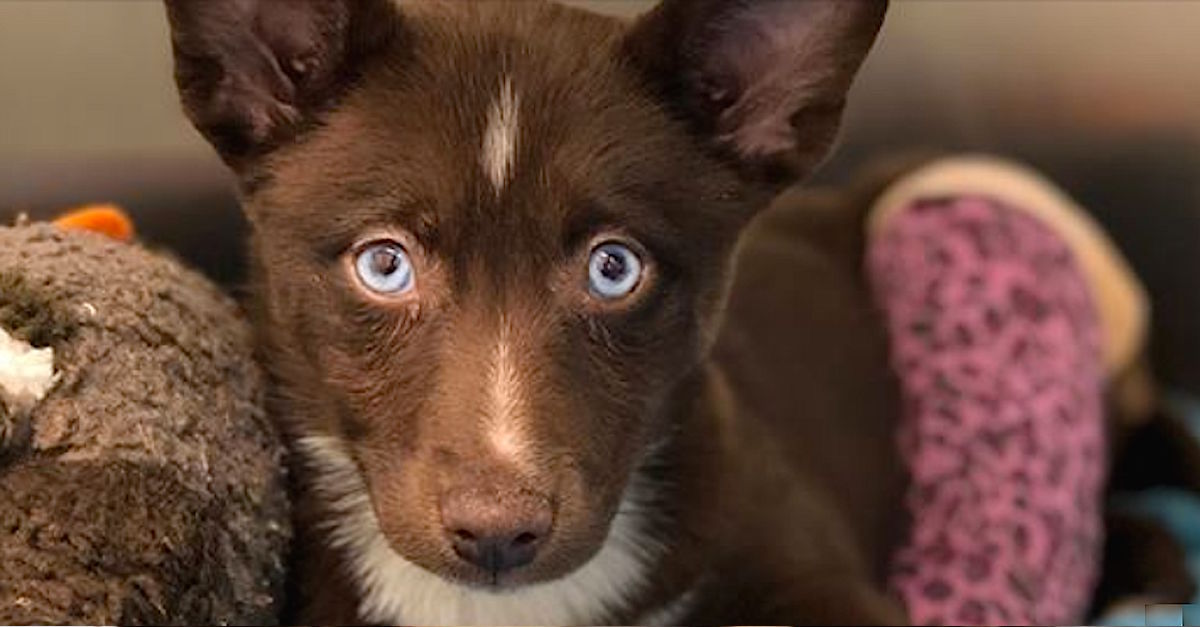 The Massachusetts Society for the Prevention of Cruelty to Animals (MSPCA) received an amazing gift with a new arrival at their shelter. The long lines of people wanting Tahani, the mix of Siberian husky and Pomeranian, were quite a show at the shelter with news reporters arriving in a nice way to honor the miracle gift. Tahani even received gifts of dog bones, toys, and blankets. The shelter had miraculous adoption rates throughout this fun event and directors were pleased to see so many dogs getting adopted by such nice people. The impressive blue eyes of the rare puppy were seen by so many and enjoyed so much by the children that were able to visit calmly with the doggie. The shelter even received additional support with interest from the news stations, potential funders, and people calling about the shelter's hours. Adoption rates made everyone happy and many discussed more events to celebrate the dogs and puppies waiting for the nice people to take them home. All were thankful the dog brought good news and so much happiness for the people that showed up to see her.
The rare puppy was determined to be a "Pomsky", which is a really rare mix and loved for the Siberian blue eyes. At 10-weeks old, the owners weren't sure what to do with the little broken leg so they took the puppy to the shelter. The gift hit the news quickly and all were honored to be a part of such fun as people quickly lined up to see Tahani. The shelter enjoyed the opportunity to hand out information about dog care and adoptions. The young people were pleased to see how much nicer dog shelters are now and many signed up for workshops. The dog trainers that showed up were happy to discuss services and programs for animal care. The proponents of dog shelters are strong to present positive messages about dog care and adoption opportunities.
The kids that showed up asked if they could see more happy doggies. Happily, several group leaders started discussing the opportunity with strong support for the suggestion. All applauded when some of the adults agreed to arrange dog shows. Anyone could bring their dog and many could work with them for the events. They were pleased to understand how simple it would be to have agility courses for the people and their dogs. Other suggestions for outdoor bands and concerts turned into a huge celebration for the little Pomsky dog. The small and larger events that were being planned arrived at the top of the news stories and all were again thankful. Little Tahani looked the cutest and everyone agreed. The news station really enjoyed that all the people were happy with the community outreach and additional support.
The dog shelter was so much better and the staff was thankful for the incredible number of volunteers that signed up. The media that had showed up were enjoying the people and gifts of food that some had brought. The people were thankful they could mingle with the others and everyone was pleased with how polite the groups were together. They kept thanking the little dog and agreeing she had brought so many miracles for everyone. The "feel good story" hit the streets quickly and so many agreed they liked to be so happy with positive news stories about everyone working together in nice ways. Volunteers continued to call the shelter and the amount of support funding had increased in an extraordinary way with little Tahani, the little blued eyed miracle puppy.