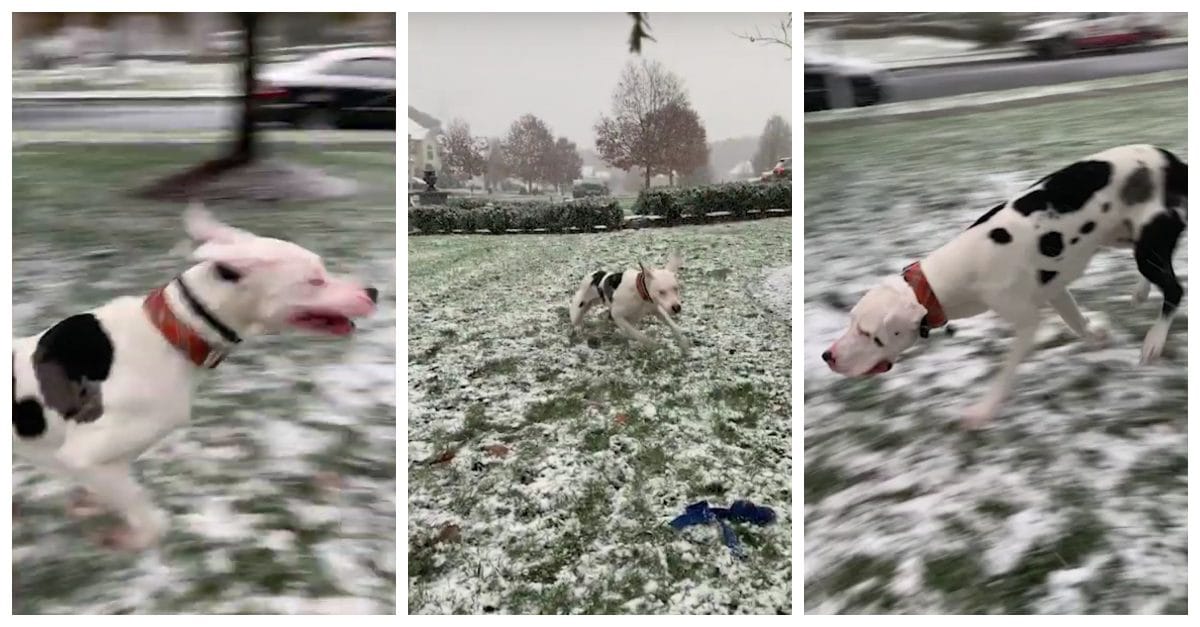 Snow Is Just Too Much For This Young Pup Who Has Never Seen It Before!
The first snow of the season is always a magical time when children catch snowflakes on their tongues and retired folks reconsider moving to Florida. Kids aren't the only ones who appreciate that first snow, however. Multitudes of animals were born in the warm season, kicking their heels up in the sunshine, and never knowing that there's a new and wilder fun yet to come. People who have raised puppies are quite familiar with this phenomenon, when pups, like kids, go crazy over every new thing. Which is pretty entertaining, considering that just about everything is new to them.
Donovan is an 11-month-old Great Dane puppy who is in training as a service dog. Service dogs lead disciplined lives of helping others which serves as an example to all of us. But it's fun to see them get to kick back and take a break from their job once in a while, too. Donovan lives with Amanda Gonchar in New Jersey and is learning his job to provide dependable support for some person who is waiting for the dog that will offer them new opportunities. In the meantime, Donovan has somehow made it almost a year without seeing snow. Perhaps he's spent part of his life elsewhere, or perhaps the weather was particularly mild for his first few months. Whatever the reason, he's perfectly primed as a pet who has never seen snow. Amanda notices that it's snowing, and she knows Donovan always needs exposure to new experiences as a service dog. Besides, it'll be fun! I wonder if Amanda imagined Donovan had this much excitement pent up in him, just waiting for those first magical flakes to fall.
Amanda's video shows how Donovan reacted to the experience. Did he cringe back inside the house, crawl under a blanket, and swear off the world (like I might)? No! He ran and leaped and slid around in the snow in an ecstasy of winter excitement. His long legs bounding about in the yard, Donovan simply wants to burn off this first-snow magic like it was an energy drink. Think about that the next time you have to scrape the ice off your windshield!
Donovan is a Great Dane pup, which means he makes a very big puppy. He's also a Harlequin, an unusual coloration where the spots of a Dalmatian grow to fit a Great Dane's body. He certainly fits in with the colors of the wintry season! Great Danes take at least two years to grow into their full adult form. Chihuahuas don't have to deal with this, of course.
Donovan's enthusiasm will serve him well for learning the many tasks that a service dog needs to know. Not only does he have to learn great discipline and unusual tasks, but his training will be specialized further to meet the situation of his new owner when the time comes. Let's hope that wherever his new owner awaits him, they'll have snow to enjoy together!
Amanda says that Donovan is a "goofball". This is pretty typical of Great Dane puppies. We're glad to have had the chance to see Donovan being a goofball with so much energy and-er-finesse. Check out the video whenever you need to feel energized.
Way to go, Donovan!
Mysterious Buyer Orders HUGE Girl Scout Order to Save Troop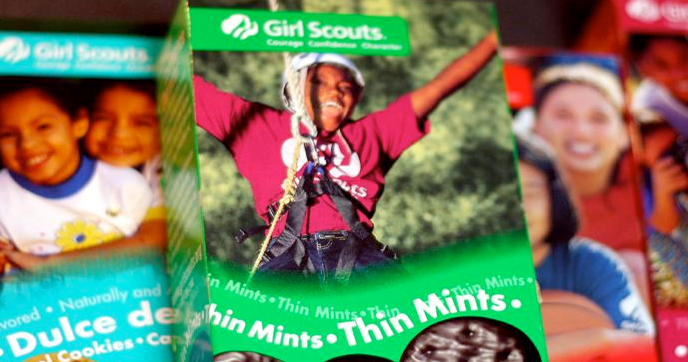 When Kayla Dillard and her daughter went gathered with their troop to sell Girl Scout Cookies, they had no idea what was in store for them. If you only have a brief understanding of the Girl Scouts, you likely know that they are revered for the delicious snacks sold outside of stores and parking lots every year. One mystery man in Greenville, South Carolina, apparently loved the cookies so much that he decided to buy the entire stock from Dillard and her troop. This heartwarming story had a rather mysterious ending, however, with nobody knowing who the man was.
Let's peel this story back and start from the beginning, and maybe we'll learn more about the mysterious hero!
Troop 1574: Selling Cookies to Make a Difference
Kayla Dillard manages the cookie sales offered by Troop 1574. As part of her job, Dillard helps the scouts to advertise their cookies while making sales, using the received money to further support the troop. Dillard had been managing the station on a regular Friday night when a mystery man approached the table. Dillard relayed the story on social media at a later time saying, "This man purchased seven packs of cookies and gave the girls $40 and said to keep the change."
A large order and not at all out of the ordinary, Dillard thought that she had made a great sale to a kind soul. Little did she know, the night was only getting started. The man would return shortly after making his first purchase before telling the troop, "Pack up all of your cookies – I'm taking them!"
According to Dillard, the man had wanted to help the troop while also getting the kids out of the cold. Apparently, the weather was bitter and cold, leaving the troop more than a little uncomfortable. Needless to say, the entire troop was ecstatic when they heard that their mystery buyer was taking the rest of the lot. Dillard would go on to say of the mystery buyer, "$540 he spent on cookies. What an amazing soul!!!!"
Despite the story going viral, Dillard and her scout troop have been unable to identify the man. Numerous reporters and local news agencies have tried to contact the mystery buyer in order to highlight his story. As it turns out, this is one hero who has decided to remain unidentified.
History of the Girl Scouts
The Girl Scouts were founded by Juliette Gordon Low in 1912, during the middle of what we now call the Progressive Era. It was at this point in American history that women couldn't vote and this was something that frustrated the nearly deaf Juliette Gordon Low to no end. In order to fight back against this oppressive, Juliette would host events with fellow women, playing games, hiking, camping, and learning about the world around them.
Juliette and her girls would learn different languages, how to lend a helping hand, and how to read the stars. Thanks to these early efforts, the Girl Scouts Club would grow by leaps and bounds over the years, potentially to a level that Juliette never could have imagined. At the time of this writing, and according to the Girl Scouts, there are more than 1.7 m million girls and 750,000 adults within the organization across 92 countries.