Snow Is Just Too Much For This Young Pup Who Has Never Seen It Before!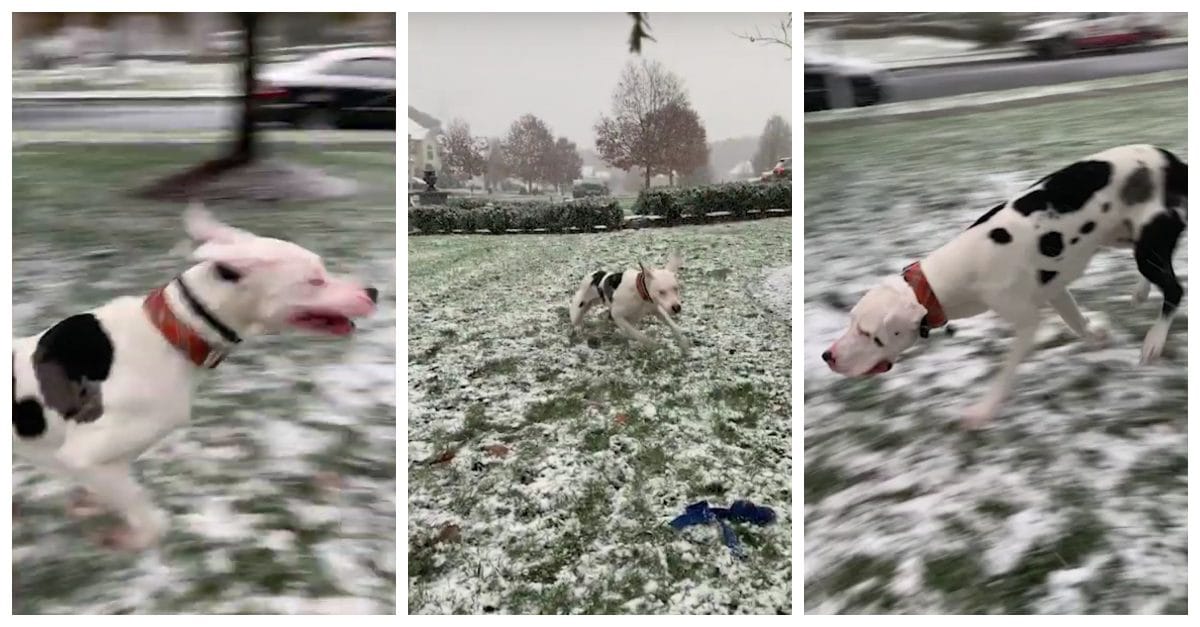 The first snow of the season is always a magical time when children catch snowflakes on their tongues and retired folks reconsider moving to Florida. Kids aren't the only ones who appreciate that first snow, however. Multitudes of animals were born in the warm season, kicking their heels up in the sunshine, and never knowing that there's a new and wilder fun yet to come. People who have raised puppies are quite familiar with this phenomenon, when pups, like kids, go crazy over every new thing. Which is pretty entertaining, considering that just about everything is new to them.
Donovan is an 11-month-old Great Dane puppy who is in training as a service dog. Service dogs lead disciplined lives of helping others which serves as an example to all of us. But it's fun to see them get to kick back and take a break from their job once in a while, too. Donovan lives with Amanda Gonchar in New Jersey and is learning his job to provide dependable support for some person who is waiting for the dog that will offer them new opportunities. In the meantime, Donovan has somehow made it almost a year without seeing snow. Perhaps he's spent part of his life elsewhere, or perhaps the weather was particularly mild for his first few months. Whatever the reason, he's perfectly primed as a pet who has never seen snow. Amanda notices that it's snowing, and she knows Donovan always needs exposure to new experiences as a service dog. Besides, it'll be fun! I wonder if Amanda imagined Donovan had this much excitement pent up in him, just waiting for those first magical flakes to fall.
Amanda's video shows how Donovan reacted to the experience. Did he cringe back inside the house, crawl under a blanket, and swear off the world (like I might)? No! He ran and leaped and slid around in the snow in an ecstasy of winter excitement. His long legs bounding about in the yard, Donovan simply wants to burn off this first-snow magic like it was an energy drink. Think about that the next time you have to scrape the ice off your windshield!
Donovan is a Great Dane pup, which means he makes a very big puppy. He's also a Harlequin, an unusual coloration where the spots of a Dalmatian grow to fit a Great Dane's body. He certainly fits in with the colors of the wintry season! Great Danes take at least two years to grow into their full adult form. Chihuahuas don't have to deal with this, of course.
Donovan's enthusiasm will serve him well for learning the many tasks that a service dog needs to know. Not only does he have to learn great discipline and unusual tasks, but his training will be specialized further to meet the situation of his new owner when the time comes. Let's hope that wherever his new owner awaits him, they'll have snow to enjoy together!
Amanda says that Donovan is a "goofball". This is pretty typical of Great Dane puppies. We're glad to have had the chance to see Donovan being a goofball with so much energy and-er-finesse. Check out the video whenever you need to feel energized.
Way to go, Donovan!
Handicapped Puppy Befriends Flightless Pigeon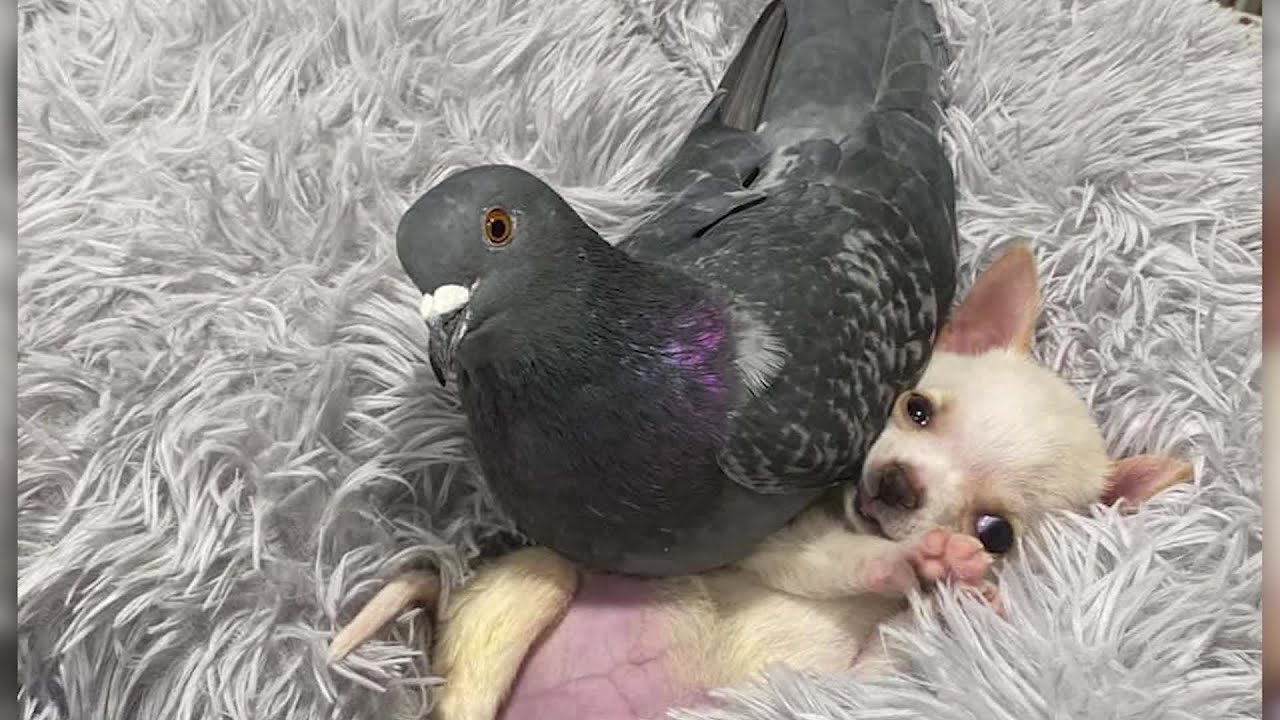 In Rochester, NY, Sue Rogers runs a non-profit called the Mia Foundation. The rescue organization rescues and rehabilitates animals who have birth defects or deformities and tries to find them a loving home. About a year ago, a pigeon was found unable to move in the parking lot of a car dealership. The pigeon was huddled and cowering on the ground. When a local wildlife rescue was called, they said the bird had neurological damage that caused him not to be able to fly. They thought that euthanization would be the best option for him.
Sue was having none of that. She stepped in and took the bird, who she named Herman, under her wing, so to speak. She made space for him in her shelter and kept him close where she could keep an eye on him. He liked to sit on a furry dog pillow and watch her work.
A couple months ago, a tiny Chihuahua was brought to the Mia Foundation. He was an infant, maybe a few months old, when his South Carolina breeders sent him to Sue. He's a teacup sized Chihuahua they named Little Lundy and he was born with spinal cord damage. Sue also determined that he was suffering from swimmers syndrome. Swimmers syndrome is a developmental deformity that causes the front and hind legs to be splayed out. This makes it almost impossible for Little Lundy to walk.
Although swimmers syndrome is thought to be untreatable, according to a few studies and an article in a veterinary journal, it can be treatable. With some physical therapy and at-home treatment, Little Lundy could live a long and happy life, which is exactly what Sue plans for him.
When Little Lundy arrived at the Mia Foundation he decided to get acquainted with his new surroundings and the other animals at the shelter. One particular encounter, created a friendship that has gone viral. Herman and Little Lundy, a puppy and a pigeon, are the unlikeliest of friends, but they have a lot in common. They both have trouble walking, or flying in Hermans case, and they were living in the same place. You could say, they were in the right place at the right time to become instant friends.
In the six weeks they have been together, Herman and Little Lundy have become inseparable. They do everything together, which is a lot of sleeping and snuggling. Mostly, with Herman sitting on top of Little Lundy, which doesn't bother him in the slightest. This friendship was so out of the ordinary that Sue had to document it. The viral sensation of the puppy and pigeon has brought attention to the Mia Foundation that was much needed. The rescue organization runs solely on donations to help cover the costs of taking care of the animals and for needed surgeries. So far, about $6000 was donated because of this unlikely friendship and over 100 adoption inquiries. Hopefully when they are adopted, they are able to stay together.