Smuggled Photos from North Korea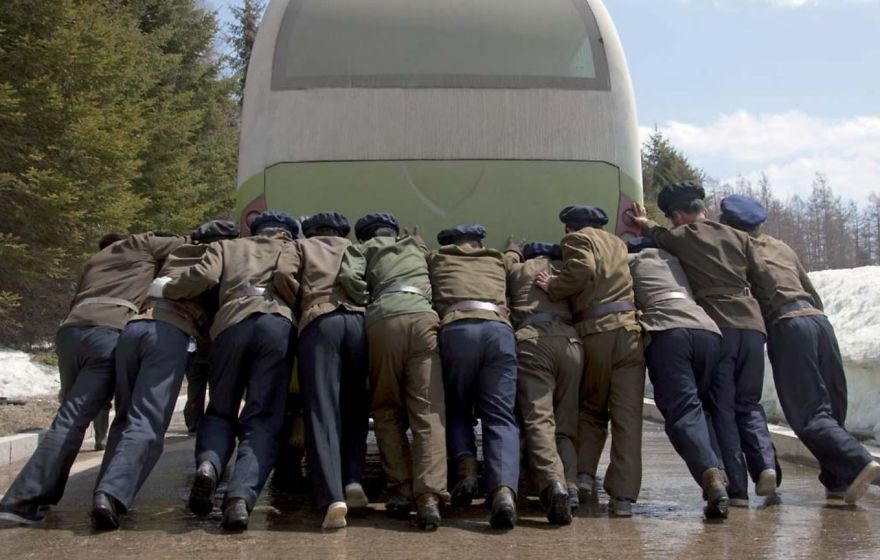 Not many people from the West can honestly say they have a firsthand knowledge of what North Korea looks like today. Most of the knowledge the West did have came from the Korean War, which is severely outdated. However, a few modern visitors have made it into the country and back out again, not only with their memories but with photographs as well. The highly insulated nation has been aggressively anti-open towards any source that shows the accurate picture of life inside North Korea, so almost all photos aside from the government itself have been smuggled out. Here is a set of images from Eric Lafforgue was able to get out because of the advance of digital storage and small memory cards versus film cannisters.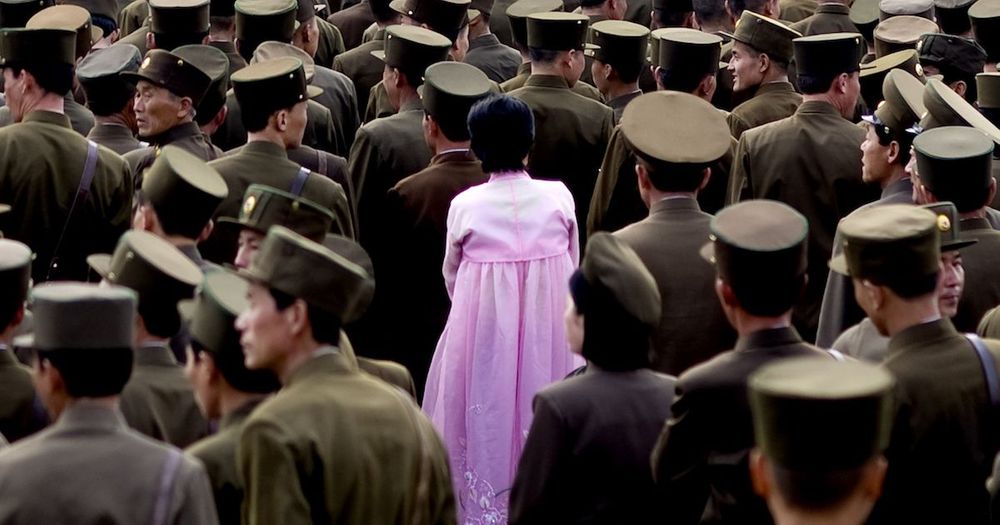 The Woman Among the Soldiers
Much of Eric's tour around North Korea was what the government wanted him to see, one of those things being how strong their military should be seen as. So, no surprise, he had a lot of photos of soldiers. In this case, however, he was also able to capture a sole North Korean lady in traditional dress among a sea of uniforms.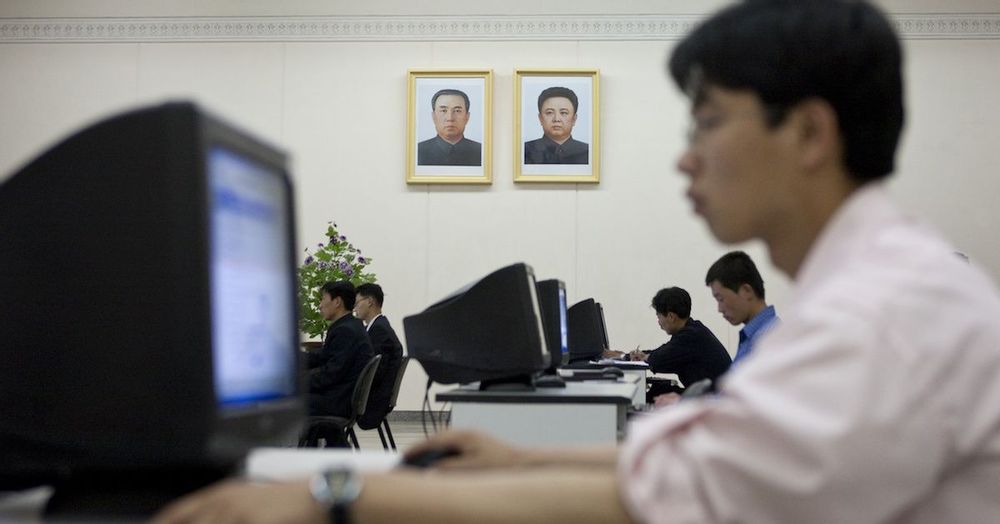 Computer Access
The computer age has made it to North Korea, which has been well-documented by the attack on Sony. However, from the government's perspective, computers are a tool of the people's ability to be education and effective. So, there were lots of photos showing technology advancement. Unfortunately, the computers were only functional when there was power. Blackouts are common in North Korea.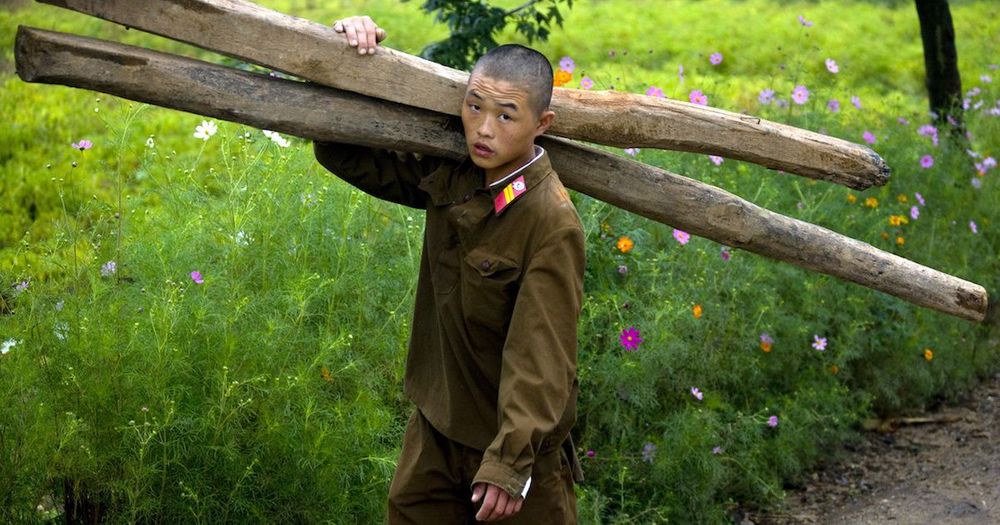 Military Work Means Farm Work
Farming is essential for the country. North Korea has had multiple famines, so it's food production is critical for maintain the country as a whole. The military is no exception, often being used as manpower to assist farms and keep them functional. Eric's photo of this soldier showed policy in action.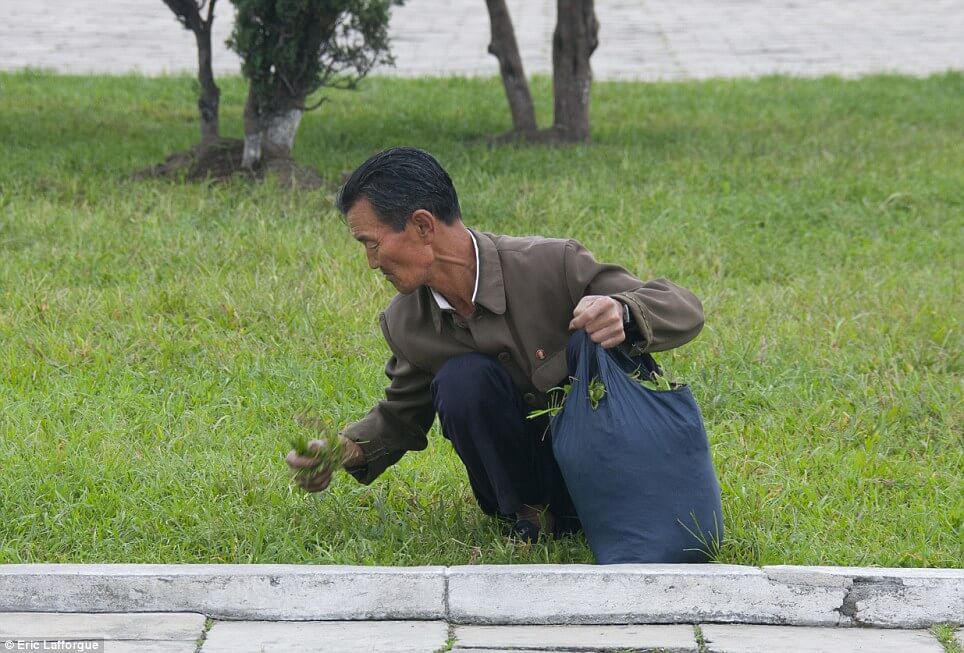 Eating the Grass
Hunger is commonplace for the average person in North Korea, which makes it no surprise why so many lean towards finding a role in some kind of apparatus – at least they get a guaranteed meal every day. Unfortunately, what Eric saw was a lot of other people starving, even to the point of harvesting grass to eat it and make it to another day. His government minders made it clear no one should take photos of the practice.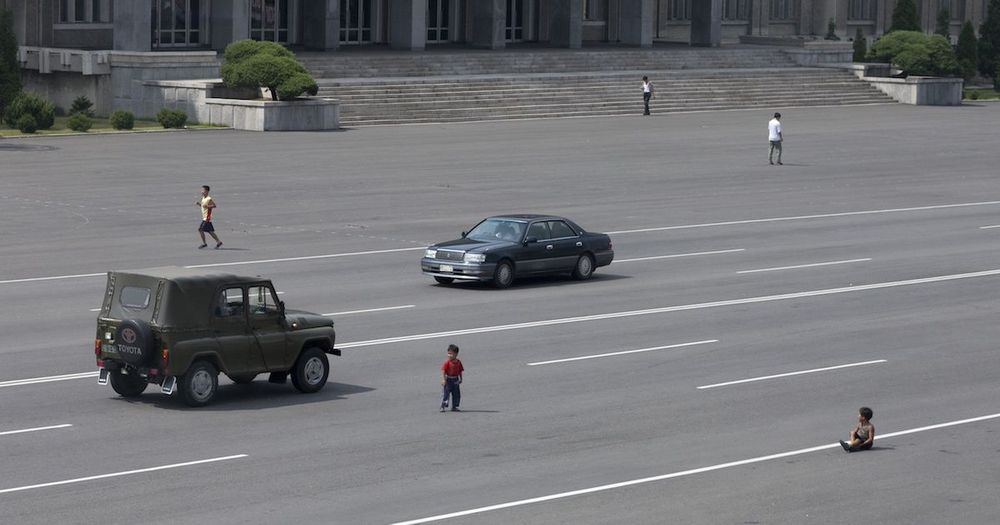 Kids Playing
Children are extremely controlled and disciplined in the country, so it was an odd experience to find one just being a normal kid and standing out, as in this case in the middle of the road. Curiosity and adventure are normal for children as they explore the world, but the behavior is practically banned in-country.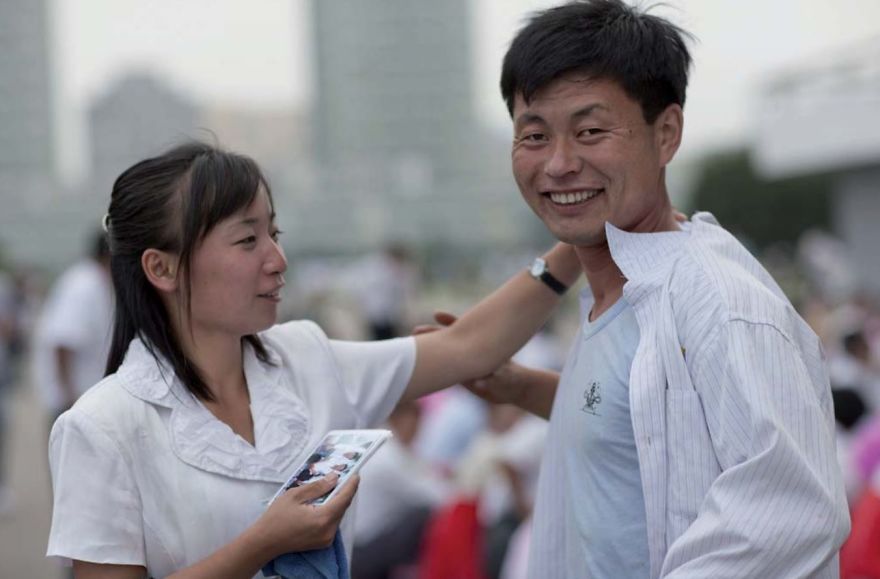 Appearance Matters
The government has very clear rules about how everything is displayed in the country, even how people are dressed when photographed. Eric was able to catch this interaction where a man to be photographed is essentially being straightened out to look more presentable, i.e. get his shirt unruffled.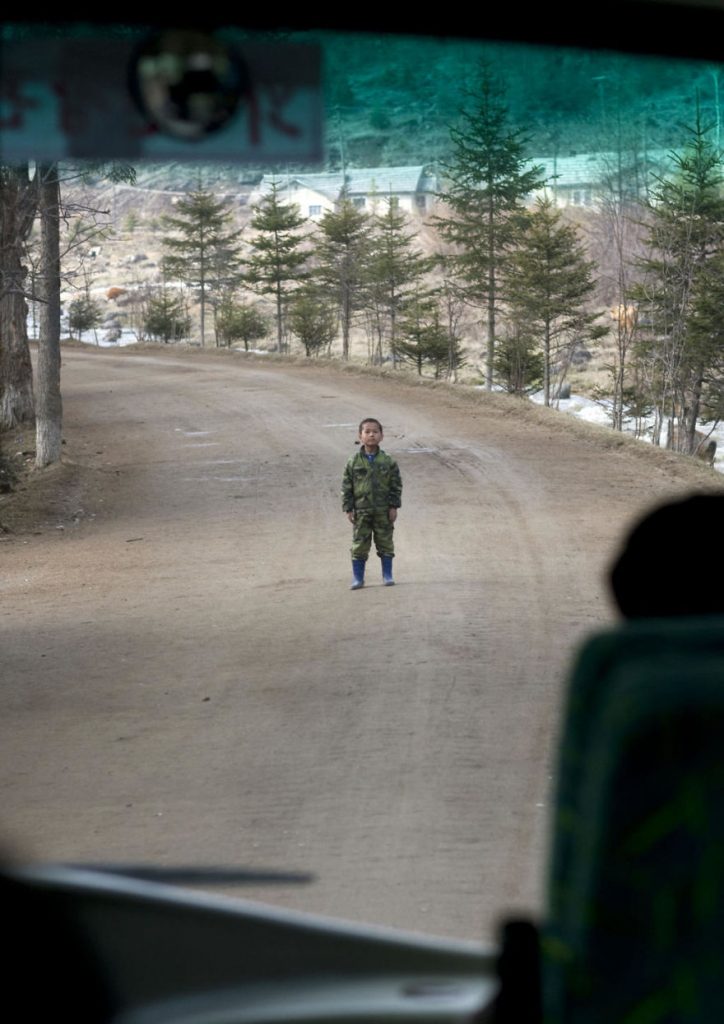 Cars are a Rarity
Most people in North Korea only see a vehicle when it involves the military. However, in the main cities a few more are seen regularly as government officials use them in and out of locations. Cars are starting to be a bit more frequent in terms of non-military use, but they still frighten folks in the rural areas.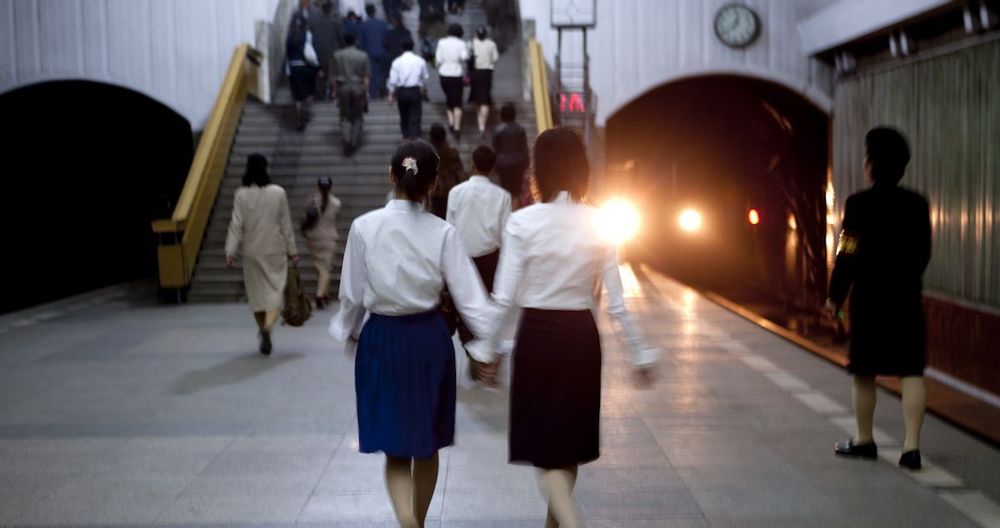 Double Duty Subway
The subway system for Pyongyang was intentionally designed for more than transportation. It also functions as a ready-made bomb shelter for a significant number of inhabitants of the capital. Photographs showing the tunnels are forbidden and Eric was immediately told to delete this image.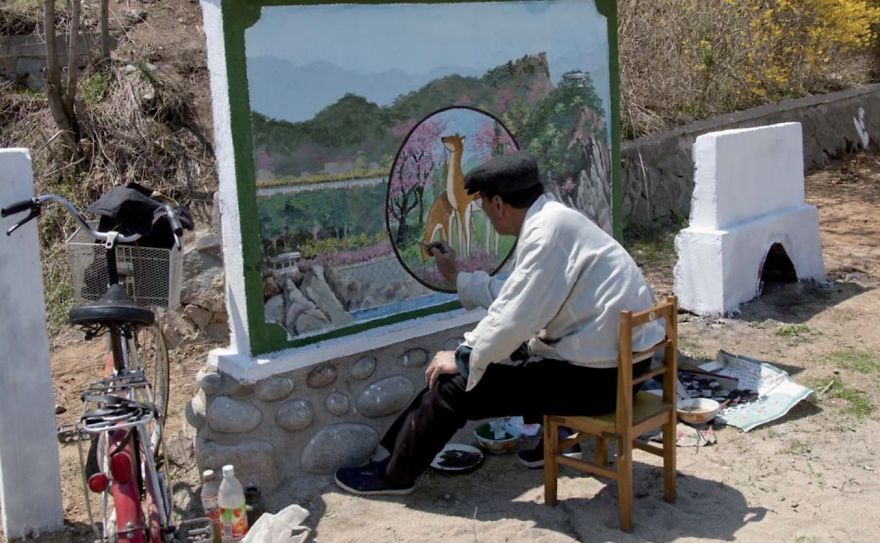 Art has to be Finished
The government has a real problem showing anything unfinished and unapproved, even in the case of artwork being developed or created. That was the case with this painter who was photographed during his work. The government minders made it clear the picture was unfinished and off-limits.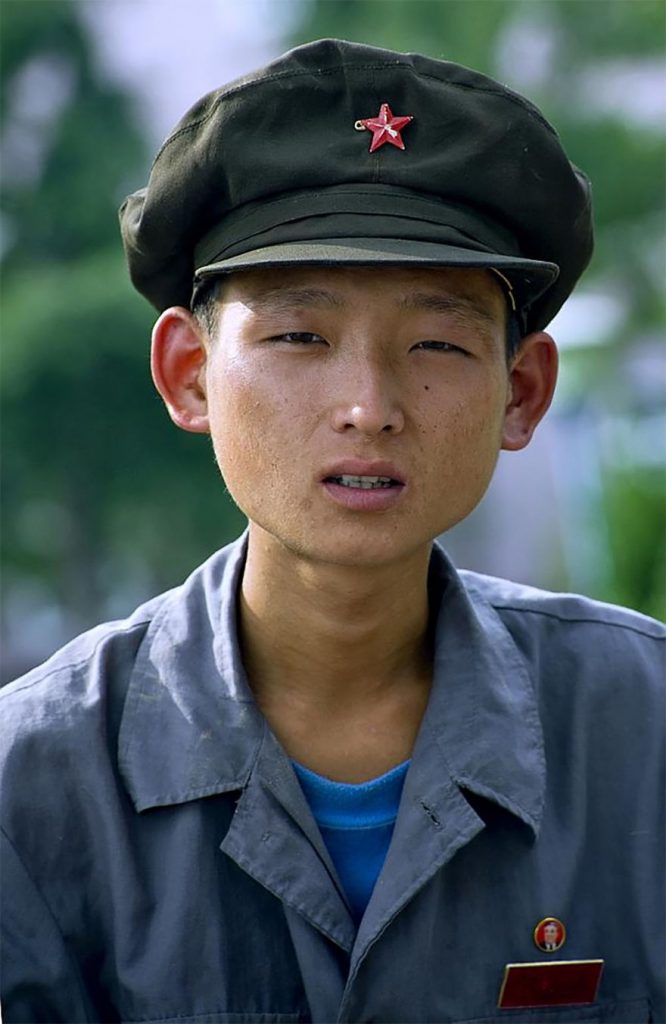 Signs of Famine Barred
Clearly the North Korean government wants any image of its people to show them as prosperous and happy and most importantly, well-fed. That was not the case with this fellow who clearly evokes an image of malnourishment.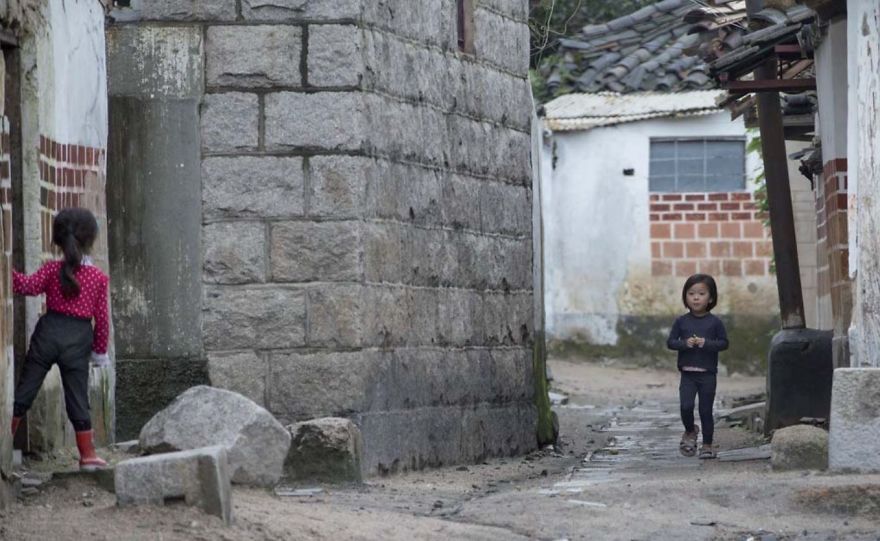 DMZ Hotels
Any hotels near the DMZ are very restricted to the point that the guests are not allowed to walk outside on their free time. However, most of the accommodations are actually old houses in the area. Any guest attempting to go outside will likely block a guest asking why they need to go outside. The common phrase is that it is the same as inside the hotel.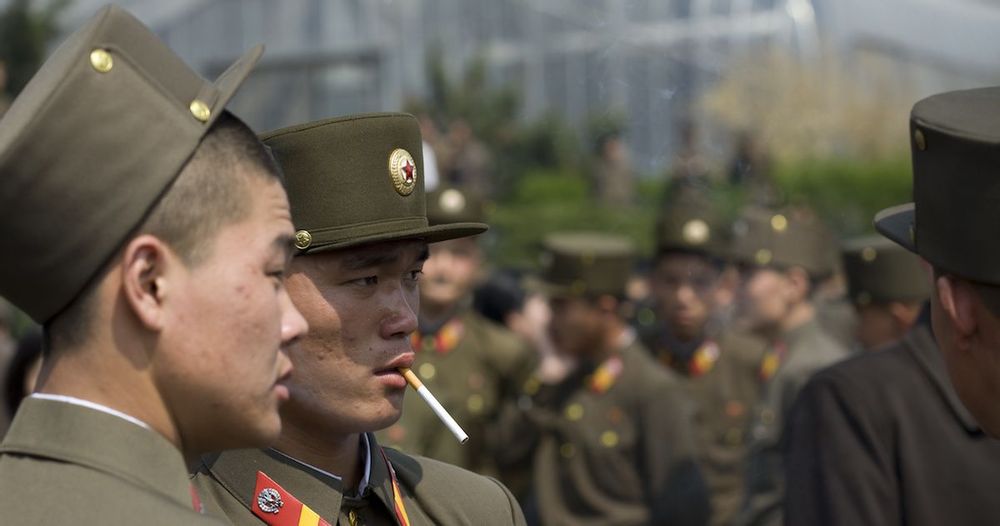 No Soldiers Relaxing
Soldiers in North Korea are always seen at attention. So, actually capturing an image of soldiers just being human beings was a big no-no. Eric managed to grab this image of a couple uniforms just having a cigarette and conversation. It's a big risk as the country has a national law forbidding photographs of people's faces when doing things that are considered embarrassing to the government.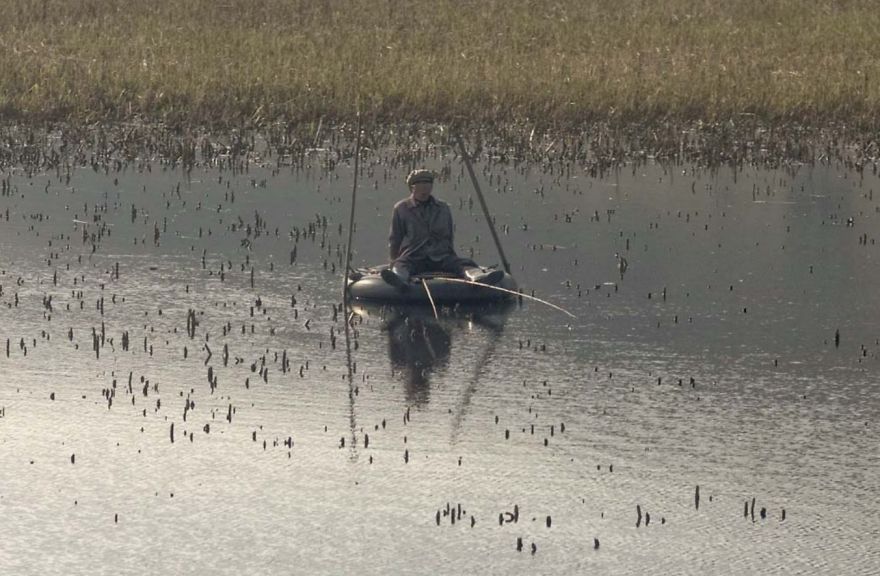 Creative Boating
One fellow decided to a tire was good flotation device to get from one place to another on water. The image looks typical of a countryside, but what it really might be indicative of is the fact that even natural resources like wood are controlled and extremely rare for use other than the government.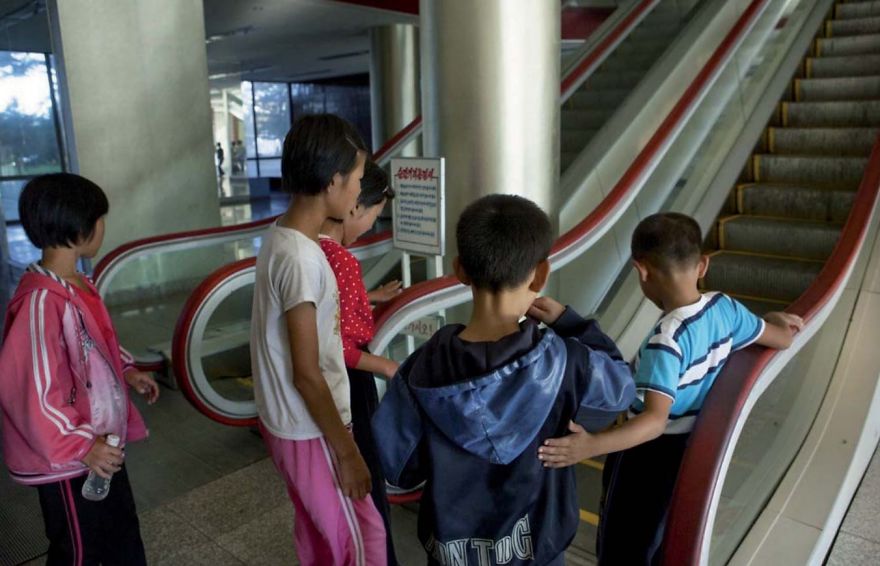 Kid Camps
Wonsan has a Pionners Camp designed to help education children from all over the country. However, for many of the first time attendees, the facility itself is scary and nothing they've ever seen in the countryside. That was the case for these kids staring at an escalator.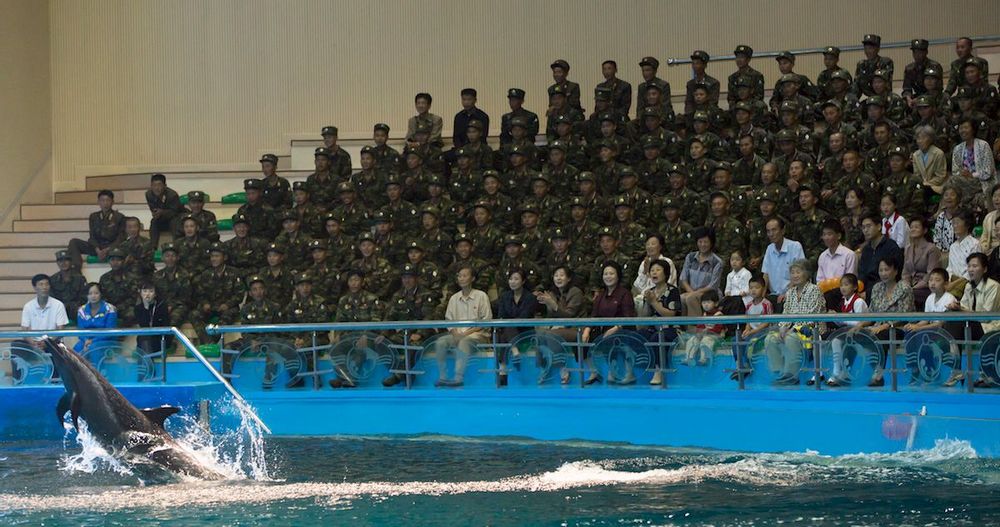 The Challenge of Group Photos
Again, Eric was told with certain clarity, none of his photographs were allowed have military personnel in them. That's fine when the soldiers are stationed at military functions, but it becomes a real problem when 99 percent of the crowd at a zoo or amusement park is military personnel. That was the case in this event at the Delphinium located in Pyongyang.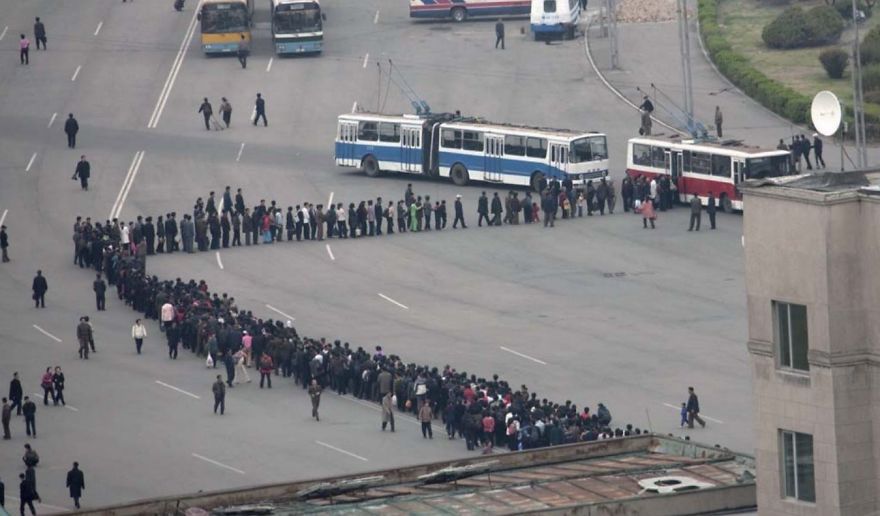 Lines, Lines Everywhere
A common practice in North Korea involves standing in line. Just about everything involves a line and mass queues are commonplace, even for taking the local bus as seen in this image of the main plaza connection point.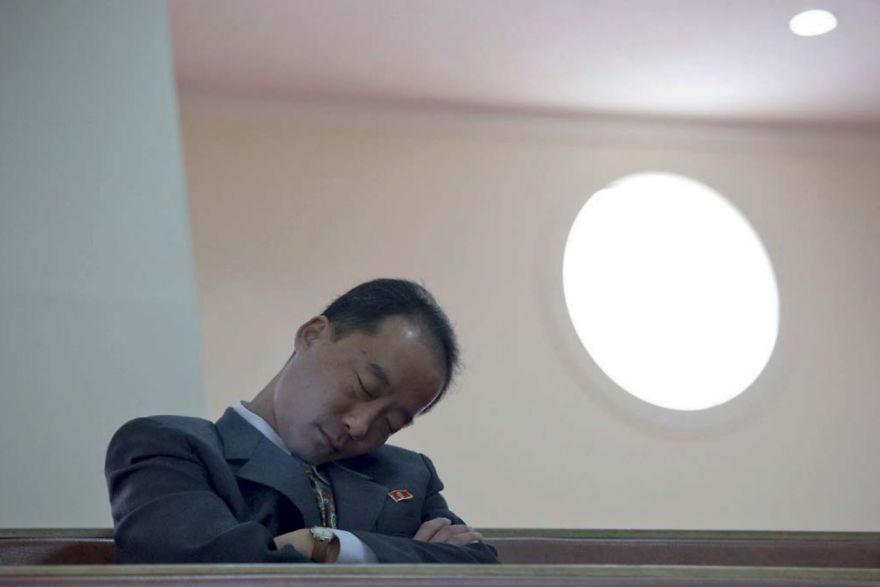 People Must Be Shown Respectfully
The idea that an official is ever portrayed not doing their job correct is never allowed, so photography of that happening is a huge problem for the photographer. Eric managed to catch an image of this official snoozing, which would never have been allowed past the normal censors had they seen in it in his allowed images.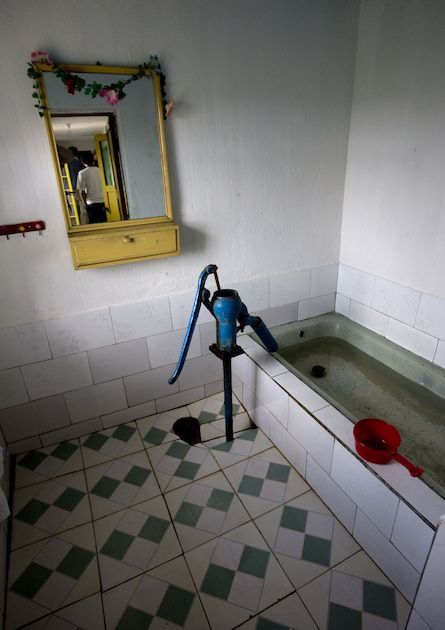 Normal Life is Rough
Visiting groups are shown the best of homes to prove that North Korea is just fine for the average person, even in the country. However, the details give away what's really going on, as in the case of this bathroom that uses a bath tub and installed water pump for the general water supply for everything.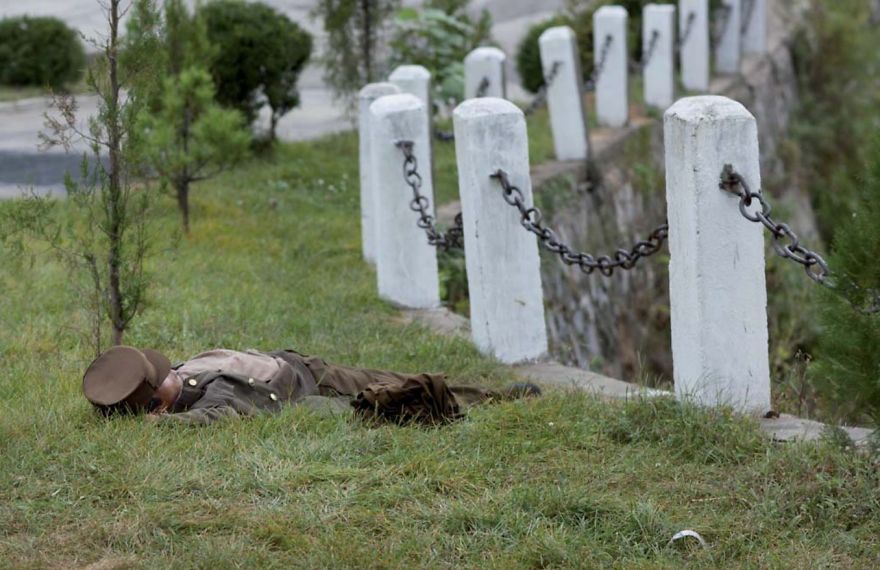 Sleeping Off Duty
Military personnel are expected to wear their uniform all the time, even when off-duty. So, it's not a surprise to see a fellow catching a nap when he can, as was the case with this one in a field.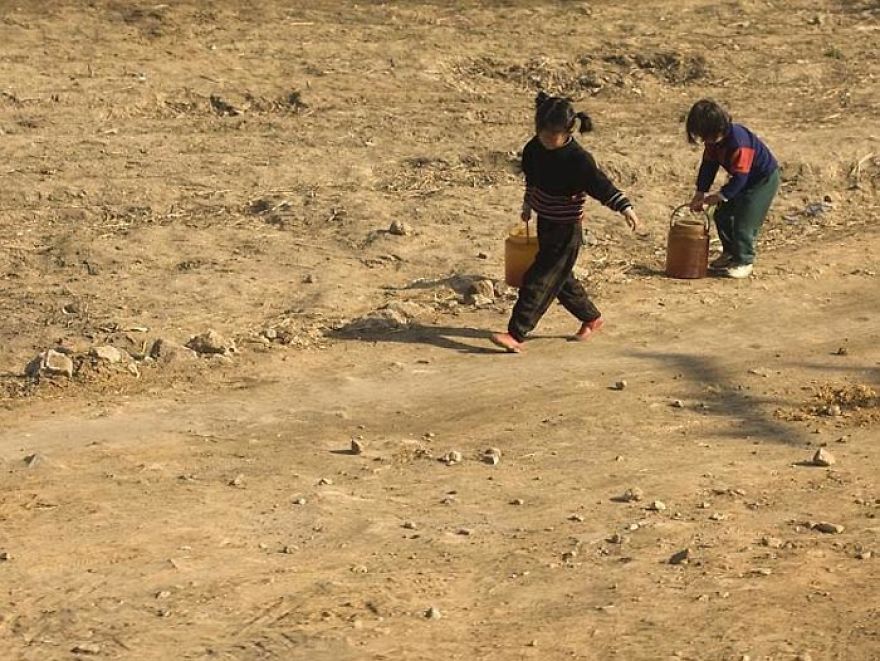 Poverty
Photos of the poor in North Korea are also forbidden, and it doesn't matter if one argues that poverty exists in every country, even in the West. Yet, just about everyone in the countryside lives in poverty unless they are military or running a collective farm. These two kids carrying buckets aren't showing hard disparity, but it's not a luxury life either.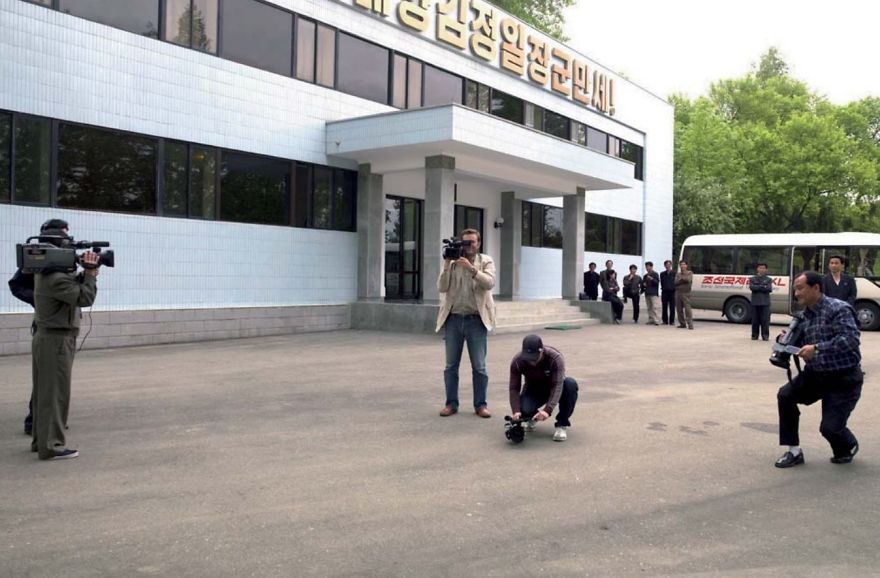 Tremendous Monitoring
Any visiting groups are monitored heavily in North Korea, and one has to wonder how the country sustains itself with so many personnel dedicated to watching others instead of producing anything themselves. It's very common for visiting media to be followed and watched by two, three even four groups of monitors, so it's amazing Eric was able to smuggle out any images at all.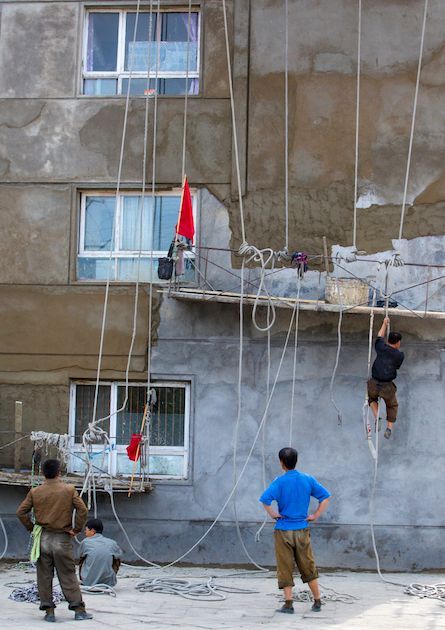 There's No OSHA in North Korea
Worker safety is how well the workers protect themselves. Occupational safety standards as known in the West don't seem to exist in the country. That was evident in this image of wall repair crews that Eric took in a key moment.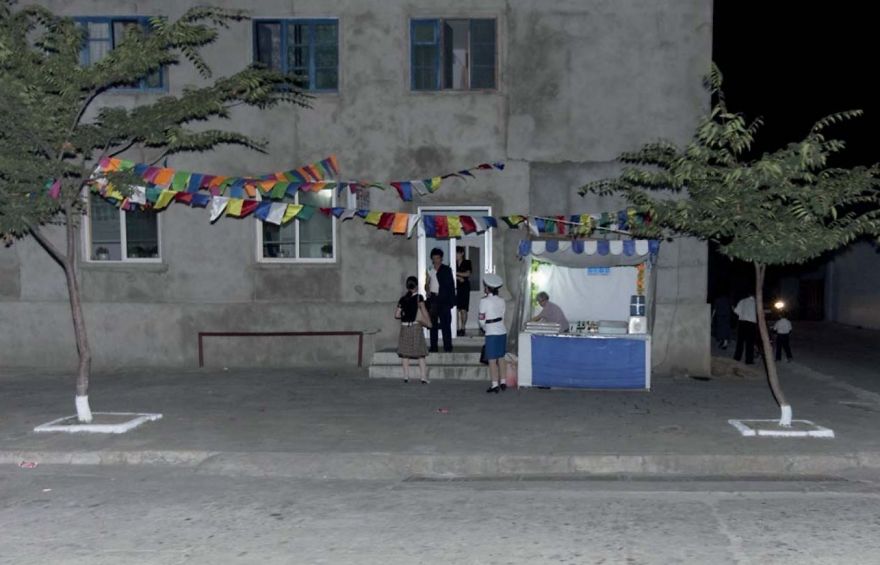 Flash Photography Banned
If you're the type who likes to take night photos with a flash, good luck. They are often not allowed, and minders will tell you it's because the flash might scare the locals.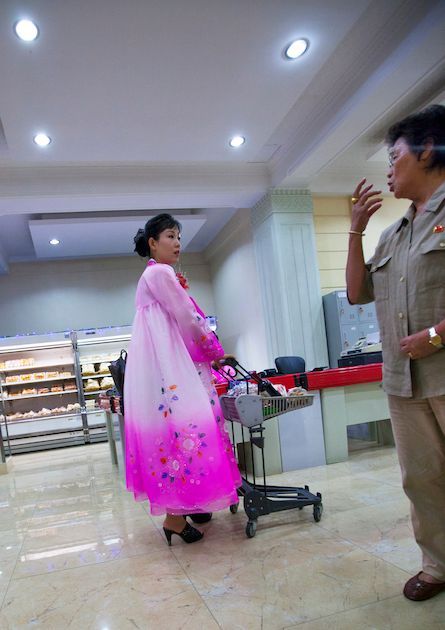 They Have Grocery Stores
The market stores in Pyongyang carry many of the recognizable products people are used to in the West. The issue is who actually shops in these markets. While you can easily find Evian water, for example, the customers allowed are only the country's elite.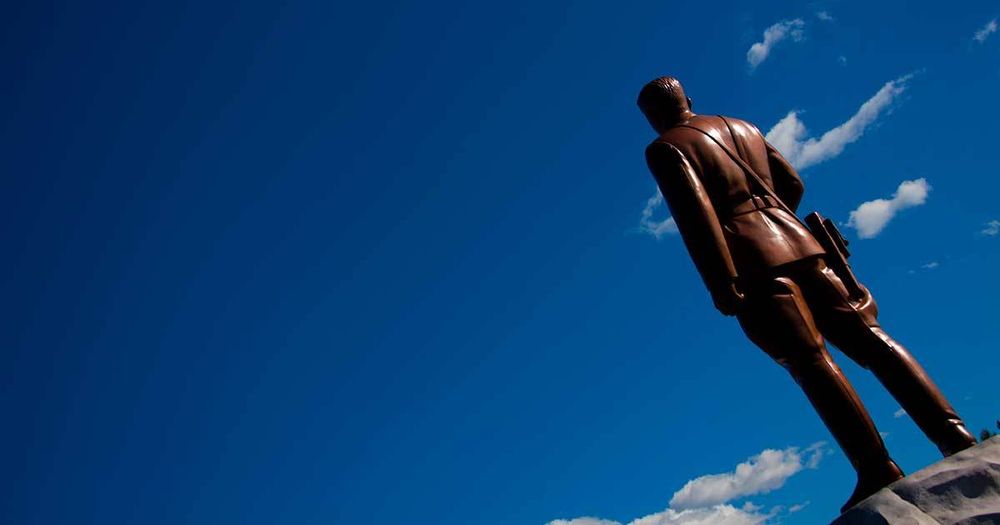 Tip for Tourists
Never take a photograph of the country's leader from the back, especially statues. Rear images are not allowed and will get you into a lot of trouble. They are considered culturally rude to produce.
Tony the Plant Man Grows Very Expensive Plants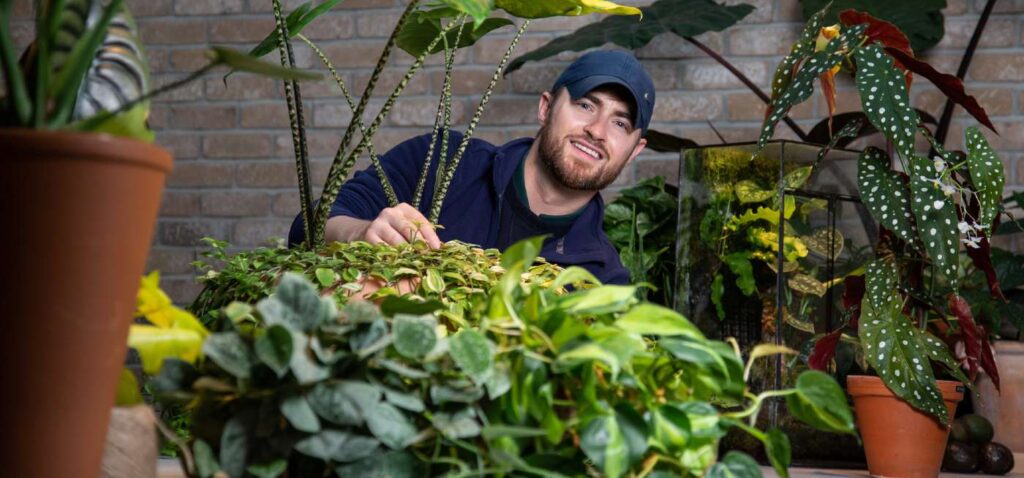 A Briton has quietly created his own Garden of Eden in his home, including one plant that is so rare, it could easily command almost $16,000 for one leaf. The botanist extraordinaire is a fellow named Tony Le-Britton.
Tony is, like many geniuses, a bit odd and extremely dedicated to his work. He's so committed to plants and growing them, an entire room of his home is an indoor jungle, complete with a personal greenhouse and environment control to help support the kind of plants he is able to bring to full fruition. Tony's collection, however, isn't the typical plant collection one gets from seeds at the local hardware store or plant farm. His focus is on growing some of the world's most uncommon and rare plants altogether. In fact, some of his flora are so rare, plant scientists and researchers around the world would love to spend a day with Tony simply examining his plants. He even has some plants that the scientific folks thought was completely gone and no longer alive, i.e. extinct.
Plant-growing, however, was not Tony's only career. As it turns out, he's quite adept as a photographer as well, having enjoyed a professional career producing images of hair and beauty. However, given how much his plants are in demand now, it's pretty clear his plants will also take care of him too financially. Just the leaves alone versus the entire plant has the financial capacity to provide him a living income.
The most valuable plant that Tony has in his greenhouse is known as a Rhaphidophora Tetrasperma Variegata. This particular plant is different version from a far more common plant that could be bought anywhere. Because it is a genetic mutation, an anomaly that has occurred due to a genetic change that occurred at the DNA level, it is extremely rare and practically impossible to find elsewhere. As a result, even samples of the plant are in high demand for collection or study or both. At the time of the interview, Tony had three orders on standby for just a leaf with a hefty price tag of $12,000 British Pounds. Of course, just taking leaves off the plant willy-nilly could kill it. So he has a waiting list, and the plant is literally growing money for him.
The above said, Tony has other plants in his stable as well. He is also a cultivator of an extremely rare Monastera sp Bolivia, a plant that has no complete documentation from a research or botany perspective. Tony was lucky enough to score a small stem, and he's since been able to grow the plant to a tremendous size. The size and robust nature of the plant is so unique, Tony's is constantly getting request for photographs of the plant for reference.
Another flora sample that was generally thought to be extinct in the wild is the Begonia Chloristica. Again, finding one with a collector in Europe, Tony was able to get another sample and grow is own version in his personal greenhouse in England.
The plant-growing interest, zeal, skill and hobby came from his grandparents, according to Tony. As a boy, they would spend a lot of time in the grandparents' garden. When they didn't have their hands in the soil, the boy and his grandmother would watch "Gardener's World" on the TV.
In short, Tony is a working plant genius. He's learned his skill and expertise in practice, trial and error, and 25 years of hands-on work. And, one notable trick is that he doesn't over-care his plants. In fact, many times, he lets the plants take care of themselves, which in fact allows them to grow stronger and self-sufficient to an extent. After all, Tony still controls and maintains the greenhouse with temperature, humidity and the light levels.
Most importantly, however, Tony enjoys what he does, which also makes a huge difference in his success. He has created an amazing collection of flora that nobody else would otherwise know exists, and it's his achievement.