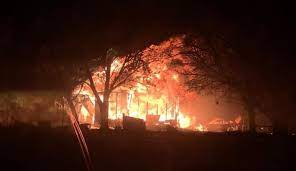 Smart Toddler Saves Firefighter Family From Their Own House Fire
Among home fires, night-time and early morning incidents are among the worst, often catching victims unaware while they are sleeping. That was the case in January when a fire started making its way through the Dahl home. Amazingly, it was their toddler who not only woke up the couple but alerted them to the emergency, allowing the family to get out before being killed in the smoke and flames. Ultimately, their house was for the most part destroyed, but the entire family survived thanks to the 2-year-old son who woke his parents up in time.
Brandon Dahl had enough education and understanding that even with it still being dark outside and in the wee hours of the morning, he went to his mother and told her, "Momma hot!" While what Brandon said wasn't grammatically correct, it was enough for the Dahls to wake up and realize what was going on. They got the entire family awake, dressed enough to get out, and exited the house. The fire moved so fast, had it been another minute they likely would not have made it all alive.
Nathan and Kayla Dahl had their work cut out for them that morning. With a total of five children, the family were a regular appearance in Alvord, TX, just a bit in the northwest direction from Fort Worth. Trying to get everybody up enough to move quickly at 4:30am in the morning in the cold of January might seem like a Grand Canyon task, but their lives were on the line. The fire grew large and hot enough to eventually burn the entire home down.
Ironically, Nathan Dahl knows fire. He serves as a volunteer firefighter for the local fire department and had done so for at least five years prior. That training was instilled in his family. Pre-emptively thinking, Nathan had trained his family on what to do if they had to vacate the home fast. While kids normally panic and try to grab anything that seems precious to them, the Dahl children knew the drill – get up, get dressed and get out. That kind of forward thinking paid off; every family member knew what to do, most importantly, Brandon, who realized the danger first.
When things go off normal is when accidents usually happen. Both Nathan and Kayla had come down with COVID-19 and were recovering, sleeping extra hard from exhaustion, so they didn't realize the fire danger right away. The virus had wiped out their ability to smell, so the obvious smoke wasn't picked up. Even once awake, they never smelled the fire. Worse, the fire alarms in the home never triggered and they were new models. Only Brandon figured out what was needed and what to do.
Once Kayla realized there was an active fire going in the living room and smoke everywhere, she woke everyone else up. That moment was essential, and the family was able to escape unharmed, aside from some smoke exposure and fright. But nobody is thinking otherwise; two-year-old Brandon literally saved his family with his alertness. And the Dahls learned a powerful lesson about smell, over-reliance on untested smoke alarms, and the amazing ability of kids to learn important lessons for life
Safe Haven for Pets Who's Owners Enter Rehab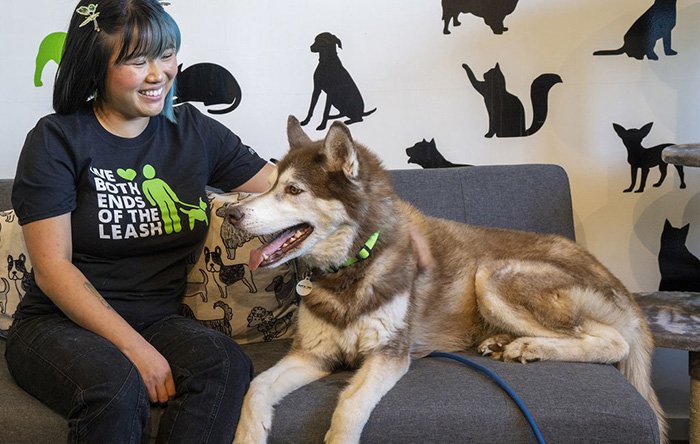 No pet owner likes to leave their pets for extended periods, no matter the reason for leaving. It's no different for people who may have drug or alcohol issues and might need to go for rehabilitation.
Not knowing who to leave the pet with or the level of care it will receive can lead to anxiety. However, there's a new resolve for people faced with that situation. Read on…
Bella was skeptical as she put her head up from inside the carrier she was being transported on to the boarding house.
A volunteer massaged the little black-and-white cat's hair to calm her fear of the dogs barking at the boarding facility's back.
The cat goes by the alias Bella since her owner, who's dealing with a tough time at home, wants to keep her cat's real name a secret. Pets in need of emergency shelter can stay with a foster family at Ruff Haven Crisis Sheltering, which provides short-term, no-cost accommodation for animals whose owners are homeless or fleeing domestic abuse.
Odyssey House, Utah's largest integrated addiction treatment center, and the foundation have just teamed up to offer three months of no-fee pet lodging to those who need it most.
"This is truly person-based, like person-led," said Beth Henry, Ruff Haven's foster coordinator. Pets are returned to their owners once treatment is complete and they have achieved a sense of security and well-being.
Enrollment and documenting of the owner's present status, followed by a brief examination of the pet (weight and overall health), immunizations, and ensuring that the animal is either fixed or is scheduled to be treated, are the first steps in the process of adoption.
The pet then gets connected with a foster home, and the owner receives weekly SMS updates on the progress of their animal. When a client and their pet are apart, Ruff Haven's fosters send videos and pictures of the pet to the client.
Several clients have the option of having their dogs dropped off for the Dogs All Day program by their foster parents, and their owners can come to meet them.
Henry stated, "It's a terrific confidence boost for them." In some cases, dogs are kept at the Dogs All Day center since their owners prefer to be able to visit them every day… It's rare for them to be greeted by their loved ones every single day. The stress of living with a cat is very hard on them.
In a press release, Adam Cohen, CEO of Odyssey, stated that pets can be a motivation for people to stay in difficult situations because they are worried about how their animals will be cared for if they are not there.
However, Ruff Haven Crisis Sheltering, which launched in June 2020, has already aided 320 families and almost hundreds of animals since then.
Owners often worry that they'll forget their pets during this time, but "the pets don't ever forget their owner," according to Kristina Pulsipher, the executive director at Ruff Havens. We do this for the reunions. And many of our former clients are now either volunteers or foster parents for us.