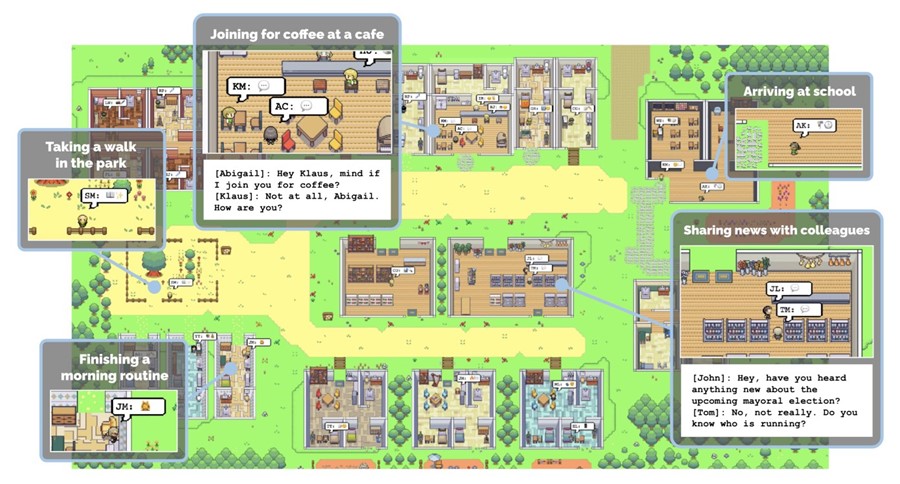 Smallville: A Social Village Simulator That's Advancing AI Research
Researchers created a world where an entire village thrives with inhabitants who are not human but AI-driven characters exhibiting intricate human social behavior. This fascinating experiment is called Smallville, and it's turning heads in the world of AI research. A collaborative effort between Stanford University and Google, Smallville is pushing the boundaries of what artificial intelligence can achieve.
Last August, Stanford and Google published a groundbreaking paper titled "Generative Agents: Interactive Simulacra of Human Behavior," which shed light on their ambitious project, Smallville. At its core, Smallville is designed to simulate a small city environment, complete with local shops, a college featuring dormitories, a library, a café, and a handful of houses. Notably, there's also a co-living space housing 25 generative agents – the AI characters that make this simulation so unique.
What sets Smallville apart is the remarkable depth of its AI characters. Each generative agent is imbued with its own identity, goals, and roles, essentially becoming "characters" within this simulated world. The objective? To explore what a world entirely populated by AI would look like and how these AI beings would interact with one another.
The results have been nothing short of astounding. Smallville has provided valuable insights into AI's ability to mimic complex human social interactions. The agents within this simulated world engage in intricate relationships, reminiscent of real-life social dynamics. They rely on their memory to remember past interactions and nurture connections, demonstrating a level of sophistication that was once considered science fiction.
However, this advancement in AI research comes with a mix of excitement and apprehension. The potential of AI agents participating in complex social interactions has numerous applications, from improving customer service to enhancing virtual worlds and even aiding in mental health support. On the flip side, it raises questions about ethics, privacy, and the boundaries of AI's capabilities.
Smallville is a testament to the ever-evolving landscape of AI research, where the line between the artificial and the human becomes increasingly blurred. As the development of AI agents like those in Smallville progresses, it challenges us to navigate the exciting and, at times, unsettling frontier of AI's potential impact on our society.
Zimbabwean Ranger's Heroic Effort to Save Unloved Painted Dogs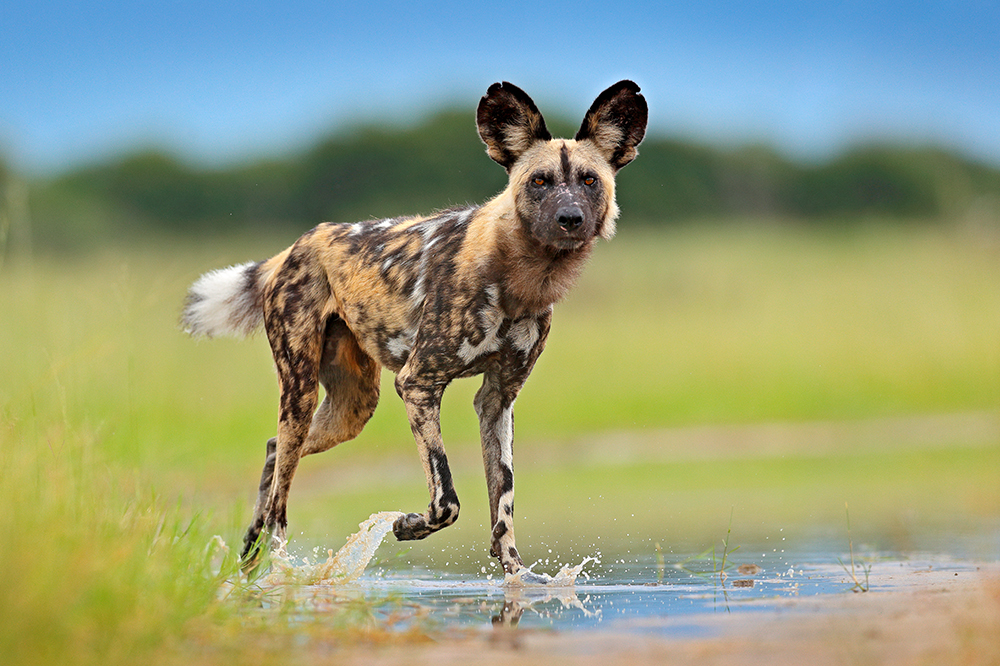 In the vast wilderness of Zimbabwe, where the African sun paints the landscape with its golden hues, a dedicated ranger named Jealous Mpofu has taken up the noble cause of rescuing and reviving the unloved African painted dogs. These striking and highly social animals, also known as African wild dogs, have faced numerous challenges, causing their population to plummet over the years.
African painted dogs are distinctive creatures, adorned with unique coat patterns that resemble a colorful mosaic. Unfortunately, they have been unjustly overlooked by both conservationists and tourists, contributing to a decline in interest and support for their preservation. Jealous Mpofu, however, has emerged as their champion, defying the misconceptions that have surrounded these animals.
Mpofu recalls the biased opinions of his father's bosses, who dismissed painted dogs as rough and undesirable creatures. "They said they didn't kill an animal; they grabbed the flesh. They said they were rough animals," Mpofu shared, shedding light on the unfounded prejudices that have plagued these beautiful canines.
Conservationists and tourists have shown little interest in painted dogs, leaving them vulnerable to various threats. Poachers, initially targeting antelopes, inadvertently ensnare these dogs in their traps. Cars pose another danger as they unwittingly run over these creatures, contributing to the challenges faced by the painted dog population.
Jealous Mpofu's journey with painted dogs began in 1997 when he first laid eyes on these fascinating animals. Growing up trekking barefoot to school and working as a casual laborer in Zimbabwe's national park system, Mpofu left his job when he witnessed the country's decline. His life took a positive turn when he crossed paths with Peter Blinston, a Briton who founded Painted Dog Conservation after being inspired by a Jane Goodall documentary at the age of eight.
Tragedy struck in 2006 when the alpha male in Hwange's last painted dog pack was killed, leading to the group's dispersal. Mpofu and his team played a pivotal role in rescuing the alpha female, bringing her into a rehabilitation enclosure. For six months, Hwange had no painted dogs in the wild, but the team persevered. They released the female and selected an alpha male from the enclosure. Over the years, the female raised as many as 30 puppies, a testament to Mpofu and his team's dedication.
Peter Blinston credits Mpofu with saving dozens of painted dogs' lives, recounting instances where he found and rescued dogs ensnared in traps. Last year alone, Mpofu rescued four dogs from one pack entangled together in snares.
In recognition of his extraordinary efforts, Jealous Mpofu has been named Tusk's Ranger of the Year, an honor bestowed upon him for his quarter-century-long commitment to bringing these unique animals back from the brink of extinction. He will receive the award, along with a grant of £30,000, in London, most likely from Prince William, who played a role in establishing the awards in 2013.
Mpofu, humble and surprised by the news of his award, plans to use the grant to support his family and community. "I share that with painted dogs," Mpofu emphasized, highlighting his commitment to not only these remarkable animals but also the well-being of those around him.
Painted dogs, known for their cooperative and sharing nature, have found an ally in Jealous Mpofu. Through his unwavering dedication, these once-unloved creatures are getting a second chance at life, and Mpofu's story serves as an inspiring testament to the impact one individual can have on the survival of a species.