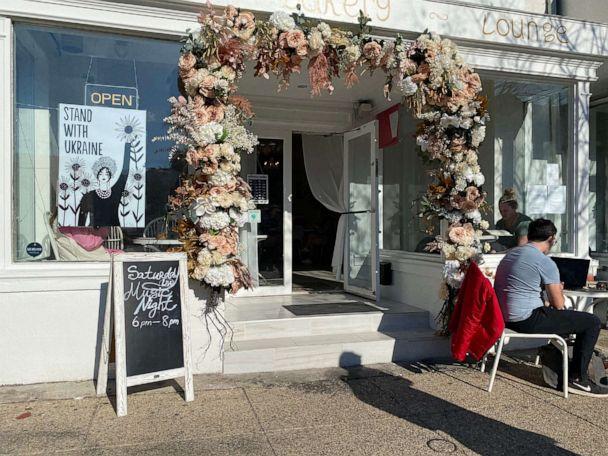 Sisters' Bakery Fundraiser for Ukrainian Cause Gets Massive Community Support
In the suburbs of Kyiv, where Russian missiles and bombs are a constant threat, Vira Derun's parents reside. She's in constant fear for their safety as well as her grandmother's.
While her dad is serving in the Ukrainian military, her mom and grandma are defending their home and providing refuge to community members whose dwellings have been damaged or destroyed by the conflict therein.
When asked why her family declined to use their American visas to travel to the United States and leave her childhood home, Derun said she begged them numerous times to come. They want to stay and help their community.
Derun, along with her sister, Anastasiia, opened a bakery in Washington, D.C., to earn money for the people of Ukraine.
Derun says her father's reaction when she asked him not to fight was, "If I don't do it, then who will?"
D Light Cafe & Bakery is owned by the sisters in the Adams Morgan district of Washington, D.C.
In a week, Derun says the café's fundraiser got $7,000 for Ukrainian assistance, with customers lining up down the street to support their bakery.
"My mom, she is not an emotional person," Derun said. However, as Derun talked about the support that the bakery's fundraising efforts got, she says her mother just kept weeping. "She expresses her gratitude to every one of you. There was a moment when she said, "Please tell them how much we appreciate what they're doing and how much they are a hero."
"I've been coming here since it started," remarked retired financial officer Bill Lammers. It was a month ago that a GoFundMe was started by him and some of his neighbors in response to an attack by arsonists on the business a few months back. The same GoFundMe is now being used to raise money for Ukraine for those who are unable to visit the store.
There have been many people injured by COVID, but because this one is so unique to the conflict, a lot of folks have stepped up and stood forward," said Lammers.
On Tuesday, Clarice Gee made her first trip to the bakery. When the retired nurse inquired about the bakery, she stated she had relatives in Ukraine, so she wanted to help out.
Because of this, many people have been forced to relocate, either for work or because of the war's effects on family relationships. That is why it is difficult," Gee remarked. However, she started her small contribution to the bakery as a gesture of solidarity with the Ukrainian people.
During a spring break shopping trip to Adams Morgan, American University student Reagan Bauer learned that D Light Cafe & Bakery, where he was doing his shopping, is owned by Ukrainians.
"As college students, we don't have a lot of money to give," remarked Bauer. Even if we just patronize Ukrainian-owned businesses, we're helping the cause.
As much as Derun says she is overjoyed by the outpouring of support and encouragement, she says she weeps constantly for the deaths of children in her homeland.
He said, "You can reconstruct buildings, individuals can restore your mental state after a battle, it's great. "Psychologists and psychiatrists are part of the medical profession. What do you do when life is over? Six-year-olds have a unique perspective on life. Simply said, it's unjust.
You don't count how many years have passed; you count how many lives have been impacted by your activity. "I must save as many children as I possibly can."
500,000-Year-Old Wooden Structure Rewrites History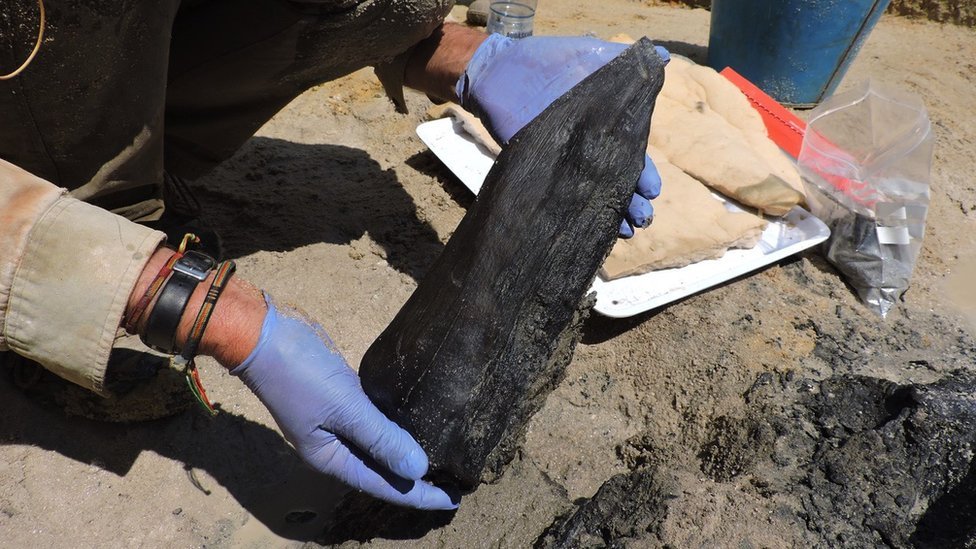 In an archaeological discovery, a wooden structure dating back an astonishing 500,000 years has been unearthed on the banks of a river in Zambia, challenging long-held beliefs about the capabilities of ancient humans. Researchers stumbled upon these ancient wooden logs, a revelation that has the potential to reshape our understanding of the lives of early humans.
The find, located on the riverbanks near Zambia's Kalambo Falls, provides compelling evidence that stone-age people may have constructed primitive shelters, forever altering our perception of their intelligence and resourcefulness. Archaeologist Prof Larry Barham, who led the research, was profoundly impacted by the discovery, stating, "This find has changed how I think about our early ancestors."
What makes this find truly remarkable is that it suggests ancient humans did more than merely survive; they thrived by creating something entirely new. These early humans exhibited intelligence, imagination, and craftsmanship by fashioning structures from wood, a material that had never before been transformed into such large and sophisticated objects.
The researchers also uncovered ancient tools, including digging sticks, but the most exciting find was two pieces of wood positioned at right angles to each other. "One is lying over the other, and both pieces of wood have notches cut into them," explained Geoff Duller, a professor of geography at the University of Aberystwyth and a member of the research team. "You can clearly see those notches have been cut by stone tools, making the two logs fit together to become structural objects."
Radiocarbon dating confirmed the wood's age, placing it at a staggering 476,000 years old. This revelation has ignited curiosity about the woodworking traditions of ancient societies, challenging the prevailing notion that early humans led simplistic, nomadic lives.
Perrice Nkombwe, a team member from the Livingstone Museum in Zambia, expressed her astonishment, saying, "I was amazed to know that woodworking was such a deep-rooted tradition. It dawned on me that we had uncovered something extraordinary."
The preservation of the wooden structure itself is a miracle. Typically, wood decays over time unless preserved under specific conditions. However, in the waterlogged environment along the Kalambo Falls, the wood remained intact, essentially pickled by the elements for millennia.
While the exact purpose of this ancient wooden structure remains a mystery, it has sparked numerous speculations. Prof. Duller suggests it might have been used as a place to sit beside the river and fish, although a complete understanding of its function remains elusive.
Moreover, the identity of the individuals who constructed this structure raises intriguing questions. "We don't know – it could have been Homo sapiens, and we just haven't discovered fossils from that age yet," Prof. Duller added. "But it could be a different species – [perhaps] Homo erectus or Homo naledi – there were a number of hominid species around at that time in southern Africa."
This discovery has the potential to enrich our understanding of ancient woodworking techniques, craftsmanship, and human interaction with the environment. As researchers continue their work at the Kalambo Falls site, the pages of history are being rewritten, and our appreciation for the ingenuity of our ancient ancestors grows ever deeper.