Shoplifting Mom Gets Help Instead Of Handcuffs From Arresting Officer
Many people are often unsympathetic to anyone accused of theft, but there are others who understand or may be able to relate to what the person was going through at the time when they committed the crime.
This was the case for two women who stole to feed their children over the Christmas holiday but received a reprieve from their arresting officer.
A respite was, however, not the only thing that they received as the officer turned around and ensured the family had a wonderful Christmas, in addition to not spending it behind bars.
What was proven over the holiday is that despite what many people may think of police officers, there are still many good ones out there.
Not only good but also doing their deeds without any expectation of getting anything in return, as we learn from the story below.
In Massachusetts, a Somerset police officer responded to a shoplifting incident, but determined that the penalty did not suit the crime, so instead, he purchased food for the suspects.
It was five days before Christmas that Officer Matt Lima responded to Stop & Shop's reaction to a shoplifting call.
Upon arrival at the store where the alleged incident reportedly occurred, Officer Lima was informed that two adult women with two minor children neglected to scan all of their items from the grocery store at the self-check-out kiosk before leaving the store with several unscanned items.
Lima took the two suspects aside and discovered that they had fallen into hard times and tried to pick up additional grocery stores so that they could have a Christmas dinner for the two girls.
The mother of the children did not work and had some other family problems going on, and what she had taken was a Christmas dinner for the children.
Officer Lima served the two women Notice Not To Trespass forms and declined to file criminal charges.
Lima's boss, Chief George McNeil, says the incident is a testament to the strong character and decision-making of Officer Lima.
The officer states that the two children with the woman reminded him of his children, so he had to help them out.
Officer Lima then bought a two hundred and fifty dollar gift card with his own money so that the women would be able to buy food for their Christmas dinner at another Stop & Shop place.
Officer Lima was personally commended by the Chief of Police for his acts, noting that they exemplified what it means to protect and support the community.
Faced with a tough situation in which the family wanted to provide their children with a meal, he made a gracious decision not to press charges and instead made sure they had a Christmas dinner that they could enjoy.
Ever since the incident took place, the officer has been receiving accolades from both his colleagues, superiors, and the general populace.
This is understandable, especially when one looks back at how negative a year 2020 was in relation to police and residents due to many accusations regarding the lawmen.
There are so many ways that the incident could have gone wrong when officer Lima responded to the store's call.
He chose a route of empathy that benefited the women, saved their children from possibly ending up with child services, and overall, kept a family united.
For that family, Christmas will never be the same again because they'll always have a benchmark to look back at and count their lucky stars or blessings, depending on who you might ask.
What many hope can be learned from this situation is that good can come from any situation; it just depends on how you choose to view and handle it.

The Returned Wallet from Antarctica – Half A Decade Later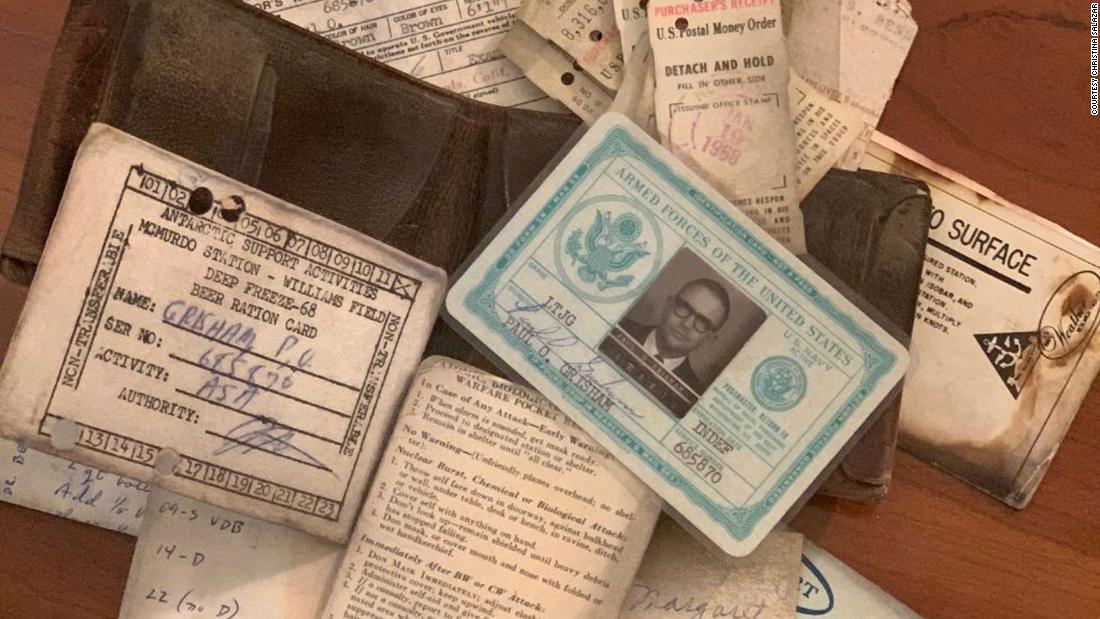 In 1968 a meteorologist was stationed in Antarctica among a number of military personnel. Their role was research as well as, and Paul Grisham's job was to track the weather in the southern pole region. Unfortunately, as crazy as it seems, Grisham managed to lose his wallet while working in the remote location and never did find it before leaving. That wallet sat in Antarctica at the station for another 53 years until it was rediscovered.
When the wallet was returned to Grisham, he felt like he was going back in a mental time machine. The wallet was in exceptionally good condition as well as the cards and materials that were kept in it. At 91 Grisham remarked first about how young he looked in the card photos as well as how far back that part of his life was.
The location, McMurdo Station, was being redesigned along with the demolishing and removal of older buildings. During the work, one of the construction crew found the wallet which had stayed in its place since Grisham had been stationed. Looking back on the cards now, Grisham continues to repeatedly trigger memories when he looks at his own Navy ID card. Last carried in 1968, the card was preserved and never deteriorated except for the edges of the leather. Included in the contents was a beer ration card, a guide card on how to deal with attacks ranging from nuclear to biological. And Grisham even included a recipe folded up in the cards for a liqueur.
The weather monitoring was a big issue at the time. Unlike today with tons of satellites spinning around the planet for watching everything from a farmer in the western side of China eat a sandwich to the weather's minute moves, back then the weather had to be observed in person. Grisham's job was to track the regional patterns so that planes and ships moving through the edge of the southern hemisphere to the station could do so safely and avoid storms. The work shifts were hard; Grisham remembered working a half day on, literally, and the half day off to rest and went straight for five long months.
Things weren't all about work. Grisham remembers they had pretty useful mini bowling alley which never got boring. And an inside gym was handy since jogging outside was off the list everyday of the year. Location-wise, the station was in one of the best locations in Antarctica as well; it would usually get to a balmy 25 degrees Fahrenheit. That was considerably better than other locations a bit further in easily only getting to a tepid minus 65 degrees.
When Grisham left the southern continent, he did so with a promotion, but he never did find his wallet before taking off. He doesn't have any fond wishes to return, still remembering a soda would explode from the cold in under 15 minutes if left outside. However, one thing he did miss was all the IOUs Grisham kept in his wallet from winning an inordinate number of poker games while on duty at McMurdo. It does make one wonder if he can still collect on this plus interest.
Grisham continues to be a name in history, but the rediscovered wallet was not his first entry. Grisham spent two hours talking with Sir Edmund Hillary about weather when Hillary arrived, and Grisham himself also got to reach the South Pole as well, some 850 miles inland. Sitting now at home, he enjoys the San Diego weather a lot more, but the wallet recovery was definitely a nice touch to Memoryville.