Shoplifting Mom Gets Help Instead Of Handcuffs From Arresting Officer
Many people are often unsympathetic to anyone accused of theft, but there are others who understand or may be able to relate to what the person was going through at the time when they committed the crime.
This was the case for two women who stole to feed their children over the Christmas holiday but received a reprieve from their arresting officer.
A respite was, however, not the only thing that they received as the officer turned around and ensured the family had a wonderful Christmas, in addition to not spending it behind bars.
What was proven over the holiday is that despite what many people may think of police officers, there are still many good ones out there.
Not only good but also doing their deeds without any expectation of getting anything in return, as we learn from the story below.
In Massachusetts, a Somerset police officer responded to a shoplifting incident, but determined that the penalty did not suit the crime, so instead, he purchased food for the suspects.
It was five days before Christmas that Officer Matt Lima responded to Stop & Shop's reaction to a shoplifting call.
Upon arrival at the store where the alleged incident reportedly occurred, Officer Lima was informed that two adult women with two minor children neglected to scan all of their items from the grocery store at the self-check-out kiosk before leaving the store with several unscanned items.
Lima took the two suspects aside and discovered that they had fallen into hard times and tried to pick up additional grocery stores so that they could have a Christmas dinner for the two girls.
The mother of the children did not work and had some other family problems going on, and what she had taken was a Christmas dinner for the children.
Officer Lima served the two women Notice Not To Trespass forms and declined to file criminal charges.
Lima's boss, Chief George McNeil, says the incident is a testament to the strong character and decision-making of Officer Lima.
The officer states that the two children with the woman reminded him of his children, so he had to help them out.
Officer Lima then bought a two hundred and fifty dollar gift card with his own money so that the women would be able to buy food for their Christmas dinner at another Stop & Shop place.
Officer Lima was personally commended by the Chief of Police for his acts, noting that they exemplified what it means to protect and support the community.
Faced with a tough situation in which the family wanted to provide their children with a meal, he made a gracious decision not to press charges and instead made sure they had a Christmas dinner that they could enjoy.
Ever since the incident took place, the officer has been receiving accolades from both his colleagues, superiors, and the general populace.
This is understandable, especially when one looks back at how negative a year 2020 was in relation to police and residents due to many accusations regarding the lawmen.
There are so many ways that the incident could have gone wrong when officer Lima responded to the store's call.
He chose a route of empathy that benefited the women, saved their children from possibly ending up with child services, and overall, kept a family united.
For that family, Christmas will never be the same again because they'll always have a benchmark to look back at and count their lucky stars or blessings, depending on who you might ask.
What many hope can be learned from this situation is that good can come from any situation; it just depends on how you choose to view and handle it.

Paralyzed Farmer Returns to Work Thanks to One-of-a-Kind Tractor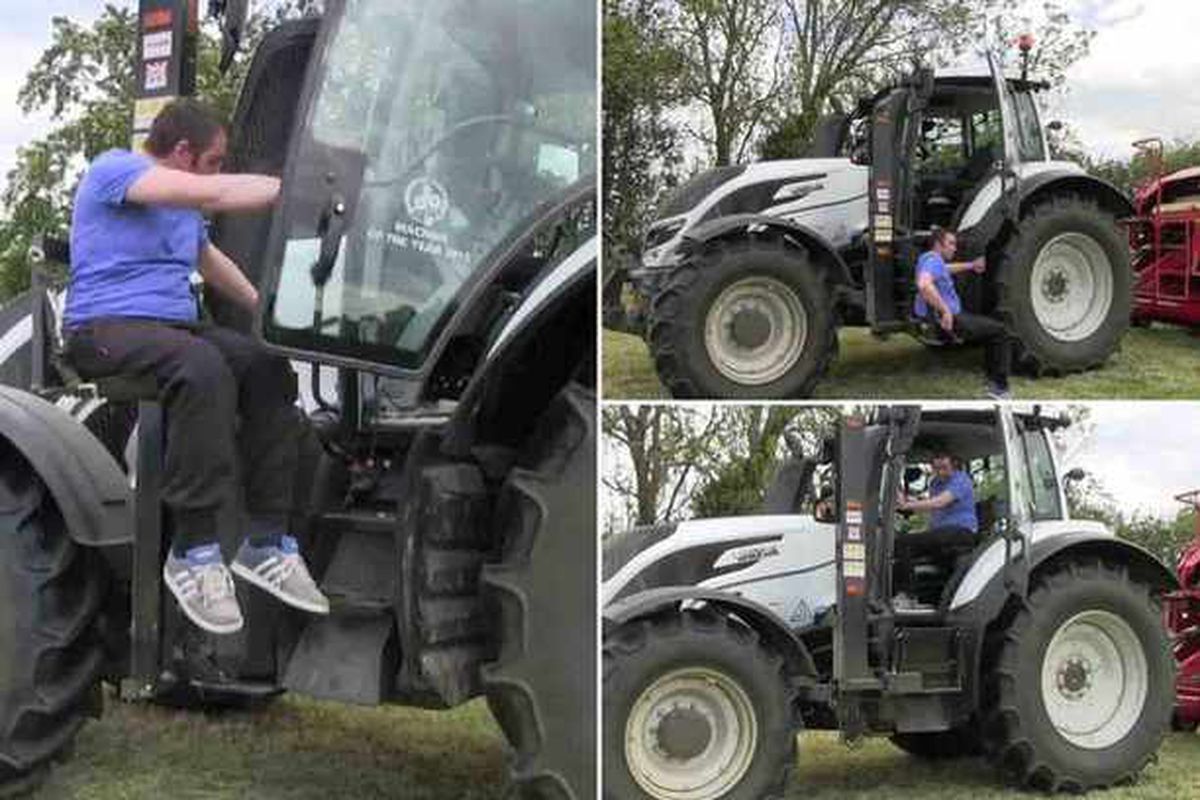 Matthew Evans was as hard a working farmer as there was in the country when the 30-year-old experienced a tragic accident. Left paralyzed from the chest down, Evans would have to turn away from his career as a farmer due to the repercussions of the sudden incident. Injured and desperate to get back on the road and into work, Evans would work alongside another disabled farmer to craft something that would change both of their lives.
Introducing the Valtra Tractor
Matthew had been leaving a Denbigh and Flint Show in late April 2014 when he was struck by a 4×4 truck while walking along the road. Injured and immediately in need of help, Evans would get taken to the Ysbyty Glan Clwyd in Rhyl before getting transferred via an ambulance to the Robert Jones and Agnes Hunt Orthopaedic Hospital. It was there that the agriculture contractor would be forced to undergo several operations to fix his spine. Broken in two places, the outcome of the incident was nothing less than dire.
While the incident was seven years ago at the time of this writing, Evans would require only ten months of recovery before he was able to return to some semblance of his normal routine. While the therapy was life-changing it was also painful, slow, and filled with frustration. After leaving rehab behind, Matthew knew that he would want more help in the future so that he could get back to life as he knew it. This would lead to a meeting with an engineer by the name of Andrew Stubbs.
The duo had met after Matthew wrote about his story, submitting it to WalesOnline. Stubbs had read Mathew's story on the website and due to his relative proximity to the farmer, the duo decided to connect. Stubbs had been living in Astle Farm East of Cheshire at the time and he had been disabled himself, offering another layer of connectivity between the two. Andrew said, "You can see by the smile on his face what it means to be back on the job."
Andrew Stubbs is a fellow disabled farmer who had been figuring out his own ways back into the industry. In order to get Matthew back on the tractor, the duo decided to work on a Valtra Tractor that had been specially fitted with a hydraulic chairlift. This chairlift would offer Matthew the ability to get in and out of the tractor while remaining in his wheelchair. Matthew says, "I've been using it for the past six weeks or so — and so far, no hiccups."
While working with Andrew, Matthew would request that the tractor be painted white so that he could drive it during his wedding the following year. For his part, Matthew has revered the ability to engage with and develop his independence once again, noting just how difficult the journey has been.
Andrew and Michael have shared their story extensively and it has been covered by the production company known as Funkimation. The video would get posted online to the Vimeo platform where tens of thousands of viewers have already viewed Michael's journey.