She started doing track and field at age 60. Now, at 84, she's a competitive pole vaulter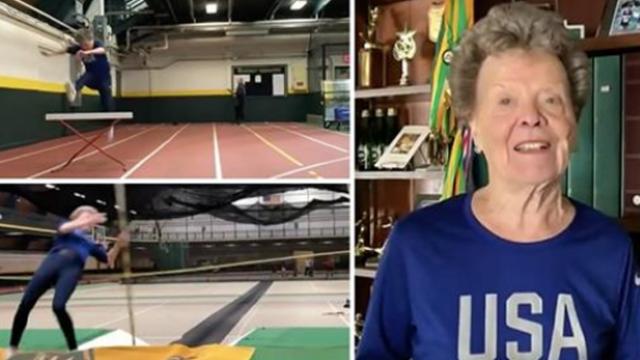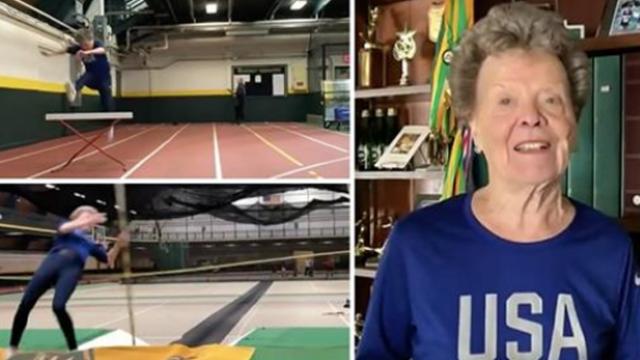 Those with a million and one excuses for why they cannot get out of bed and get active can stop. Flo Meiler is putting everyone to shame as an 84-year-old competitive pole vaulter. Did we mention that this woman is 84-years-old? Simply amazing!
For those who do not know, pole vaulting involves the athlete running full speed towards a marker. Upon arriving at the spot, the runner must stick a fiberglass pole into the ground and propel himself forward over a bar, which serves as the qualifying measure. Those who fail to provide enough strength during the running segment may knock down the bar and find themselves out of the competition. Flo works to make sure that such does not happen to her.
"You really have to work at that," the athlete tells the Associated Press. "You have to have the upper core and you have to have timing, and I just love it because it's challenging."
Flo has always been quite the athlete during her lifetime. She spent much of her early life playing tennis and other sports that require good coordination and thinking skills. It was not until age 60, however, that Flo decided to take up track and field. Many avid runners hang up their tennis shoes and switch to more calm sports at this age. Flo, however, is not your average person. She decided to start running for competition at 60-years-old and moved into the sport of pole vaulting at age 65.
Of course, pole vaulting is not the only thing that Flo does in the area of track and field. The 84-year-old also competes in the 60-meter hurdle, 800-meter run, and 200-meter relay races. Did we mention that Flo also participates in the triple jump, long jump, and pentathlon competitions? Well, she does.
So how does an 84-year-old athlete who shows no signs of slowing down do it? "I do training five days a week," Flo revealed. "And when I found out I was going to compete at the worlds, I've been training six days a week because I knew I would really [need to] get my body in shape."
Flo is deemed as quite the role model for obvious reasons. What other senior citizens do you know trains for competition in track and field? Most athletes hang up their hopes of winning gold in the sport after the age of 35. They are certainly not looking to compete after age 60.
Flo, once again, is not like the average athlete. This woman has clearly faced challenges in life with tenacity and a "can do" attitude. "She definitely shows up ready to train," said Flo's coach when asked about her oldest competitor. "Flo always has an amazing attitude and outlook on life."
May Flo's incredible attitude, dedication to excellence, and superb athletic skills bring her loads of success. You go, Flo!
Routine Traffic Stop Turns into Heartwarming Occasion Thanks to Officer's Kind Gesture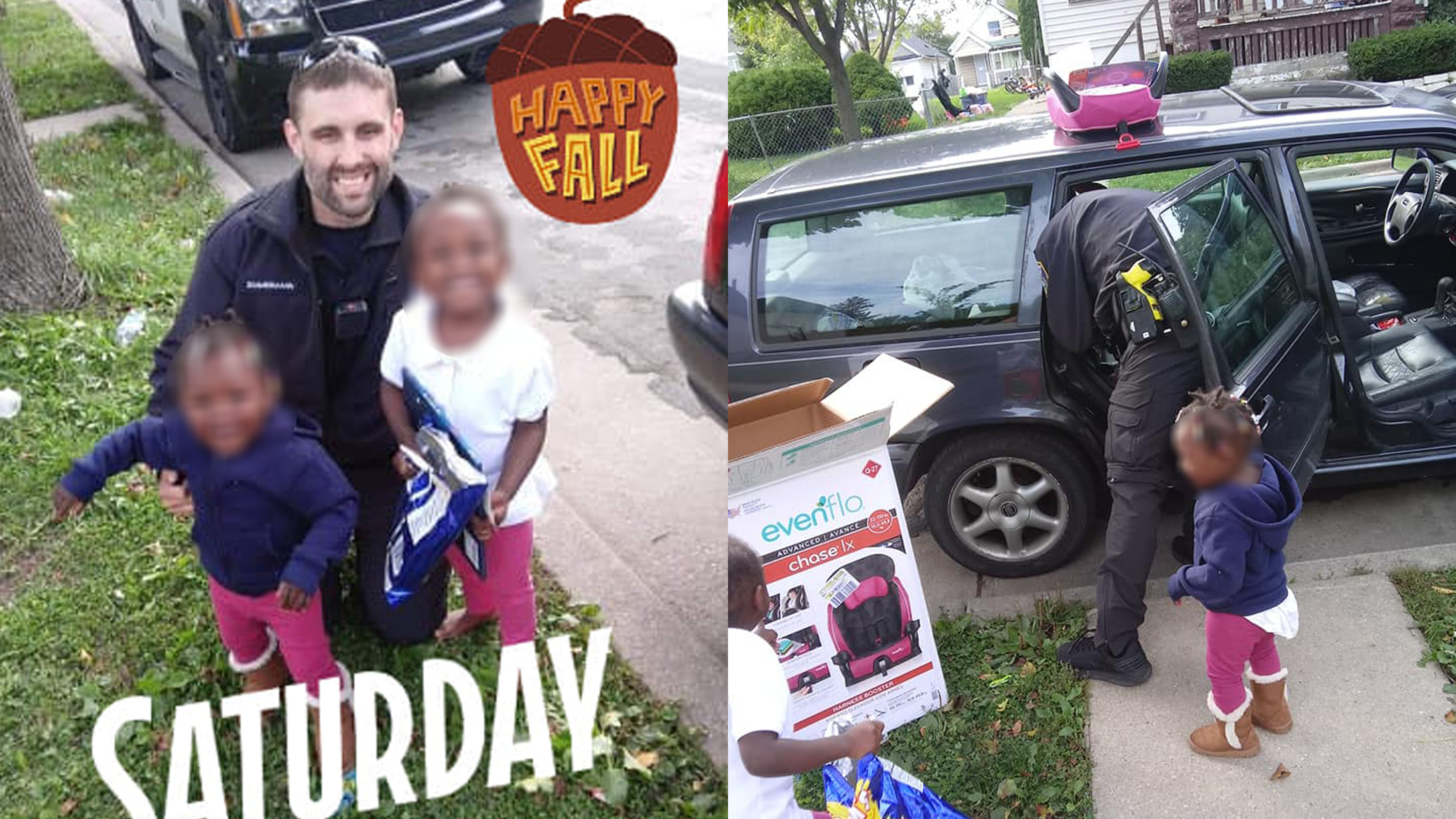 Getting pulled over can be a stressful situation. You may not know right away why you were asked to stop, but you probably have a good hunch that it's not for a good reason.
More often than not, that premonition we have about being pulled over turns out to be accurate and we have to be involved in a less than ideal situation. It's why many of us dread stopping to talk to an officer so much.
Andrella Jackson may now have different thoughts about being asked to stop by an officer though.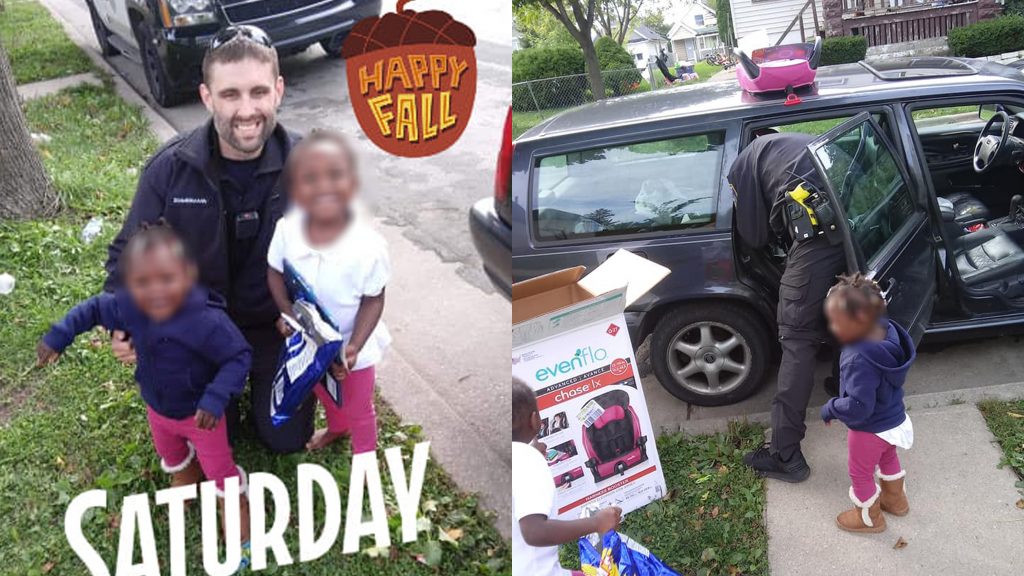 Not too long ago, Jackson was spotted by Milwaukee police officer Kevin Zimmerman and was asked to pull over. Officer Zimmerman requested that Jackson stop because she had the wrong registration for her car.
As he approached the vehicle though, something else caught the eye of Officer Zimmerman. To be more specific, he saw that there were three kids in the backseat of Jackson's car and two of them were still very small, WTMJ-TV reported. He also noticed that the two small children in question were not in car seats.
Officer Zimmerman then asked Jackson why the small kids were not placed in car seats and she said that she did not have the money to pay for those essential pieces of safety equipment at that time. Jackson mentioned that with winter on the way, she was saving up to buy her children new coats and boots.
A shortage of money is the same reason why Jackson had failed to get her vehicle registered properly.
Per the American Automobile Association (AAA), there are laws in every state dictating that children should be in car seats or restraints.
It would have been easy for Officer Zimmerman to issue Jackson tickets for her violations, but he opted to handle things a different way. Instead of adding to her problems, he went about solving one of them.
Officer Zimmerman soon made his way to a nearby Walmart, and after learning how much the kids weighed from Jackson, he went ahead and purchased two car seats using money out of his own pocket. He even stuck around to install the car seats himself.
By the way, the police officer did more than just give Jackson and her kids new car seats. According to this report from CNN, Officer Zimmerman also made a stop at the police department to pick up a few things – children's books and stickers – that he also gifted to Jackson's kids.
The police officer explained why he went the extra mile to help out Jackson. Officer Zimmerman shared that he has kids of his own. He hinted at how frightening the thought is of his own kids moving around in a vehicle with no car seats and how they can be placed in grave danger if an accident occurs.
Officer Zimmerman also said that he was always taught to "do the right thing even if no one is looking." In this case, both Jackson and the Milwaukee Police Department wanted to make sure that Officer Zimmerman would receive the recognition he deserved even if he wasn't looking for that.
The generous act touched Jackson, prompting her to shower Officer Zimmerman with numerous "thank yous." Her kids got in on the chorus of generosity as well.
Jackson called Officer Zimmerman "awesome" and that she is appreciative of the kindness he showed. She added that with the car seats now purchased and installed, she will be able to allocate a bigger budget that will then be used to buy those new coats and boots that her kids need.
What could have turned into an even more trying situation for Jackson and her kids became a shining example of humanity at its best and that is thanks to the generosity exhibited by Officer Zimmerman.