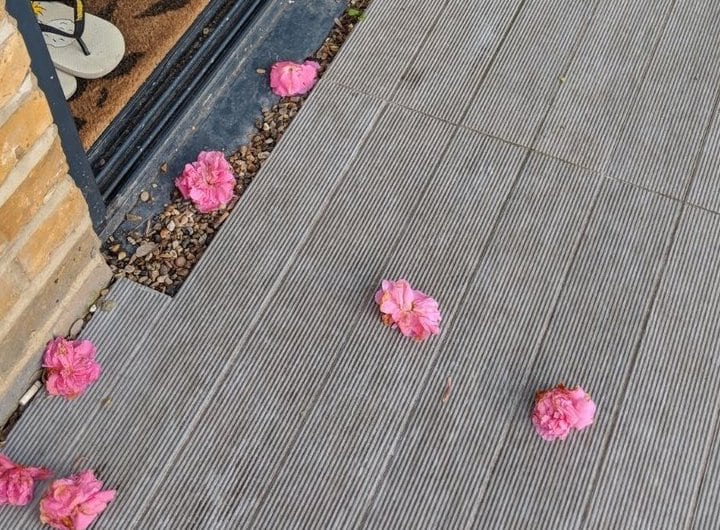 She Did Not Guess That Her Secret Admirer Was a Cat
At most times, it feels really sweet to have a secret admirer. It feels nice to know that someone out there views you as special and interesting. Who said that all secret admirers have to be human beings? You will be interested to know that a secret admirer can also be your beloved furry neighborhood friend.
Rosie started to notice pink flowers everyday on the back of her deck, she did not think much of them at first until it became a continuous occurrence. Her secret admirer was very unexpected. Read on to know more about the unexpected feline admirer.
Flowers on Rosie's Porch
Rosie relocated to a quaint neighborhood in the United Kingdom to start her life afresh. She shared the home with several roommates. 6 houses down from where she stayed lived a cat called Willow, who was not like any ordinary neighborhood kitty. Ever since the spring started in that particular year, Rosie would find a flower display on her terrace every day. It was pretty.
At first, she assumed that it was the wind that was blowing flowers on to her porch, but a housemate of hers told her about Willow the neighborhood cat. This kitty is well-known in the neighborhood as being friendly and affectionate to people who reside there. She just seems to care for the people who live there, who also tend to be kind too her too.
Rosie was baffled by the flowers on the porch until her housemate informed her that she had seen this beloved cat carrying pretty flowers in her mouth. This was really surprising to Rosie, and she wanted to witness this spectacle for herself.
Willow the affectionate kitty
The cat clearly liked Rosie and her housemates because she was stealing flowers from her owner's garden and leaving them on their terrace. They would come home from their daily activities to find pink pretty flowers spread all over their back porch nicely. Clearly, there was a secret admire leaving the flowers on a daily basis.
Domestic cats have provided companionship to their owners for many centuries. Without a doubt, cats have a reputation for being unfriendly and proud animals that do not heed to commands, but Rosie and her friends are certain that their friendly neighborhood feline is different from other cats. Willow ensured that her new-found friends had a flower display daily on their deck.
The arrangement of houses in Willow's neighborhood are such that Garden corridors have been used to separate each house. Each day, the popular cat would cross 6 garden corridors, and get some tasty treats in every house she passed before she reached Rosie's home. Rosie admits that it is not easy to turn Willow down, she is just too cute and charming.
Seen in action
Rosie really wanted to see Willow doing what she always did. One day, as she was busy cooking in their kitchen, she happened to see what she had been waiting for. Rosie grabbed her phone quickly to capture the inspiring moment.
Willow was prancing up to their deck carrying a flower in her mouth. This was really surprising because cats are known for bringing dead animals at home, not pretty flowers! This was such a cute scene. Obviously, this friendly kitten understands how to keep the neighborhood happy. Rosie says that Willow holds a special place in her heart.
Willow is not the only cat with a unique story, every year interesting stories about affectionate animals hit the papers. It just goes to show that human beings are not the only species on earth that understands the meaning of caring and being considerate.
American Couple's Kindness Shines in Snowy Adventure with South Korean Tourists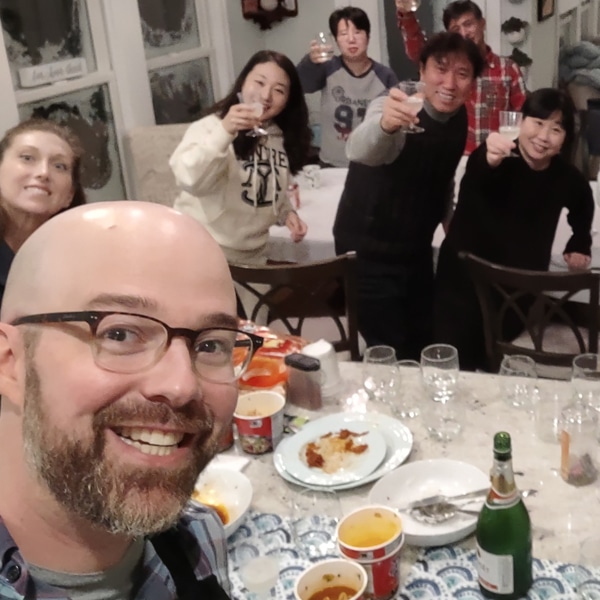 In a heartwarming tale of kindness and friendship, an American couple from Buffalo, New York, opened their home to a group of stranded South Korean tourists during a severe blizzard on December 23rd. What started as a simple request for shovels turned into a heartwarming story that went viral, bringing people together across borders. The couple's act of compassion not only provided shelter but also sparked an enduring bond that led to a special reunion in South Korea. Let's delve into this remarkable story and explore the lasting impact of their selfless act.
As the blizzard raged outside, ten South Korean tourists found themselves stuck in their van, unable to move through the heavy snow. Seeking assistance, they approached a nearby house and requested shovels to dig themselves out. However, they received much more than they had anticipated. The couple, who had prepared for a quiet Christmas at home, welcomed the strangers with open arms and invited them inside.
The storm had brought these strangers together, creating an opportunity for cultural exchange and friendship. During the two nights and three days they spent together, the couple and their unexpected guests bonded over stories, shared meals, and even watched American football. The couple, who had a deep appreciation for Korean cuisine, surprised their guests with an array of Korean food ingredients. The South Korean visitors were amazed to find soy sauce, mirin, chili powder, chili paste, a rice cooker, and Korean cookbooks, as if the couple had been preparing for their arrival.
News of the couple's kindness quickly spread across the internet, captivating hearts around the world. Social media platforms buzzed with messages of admiration and appreciation for their selfless act. Many people were inspired by their story and were motivated to perform acts of kindness themselves. The couple received an outpouring of support, with kind messages, cards, and generous gifts from various Korean groups, including a year of free fried chicken at Genesis BBQ.
Months later, in May, the couple embarked on a 10-day tour of Seoul, graciously invited by the Korea Tourism Organization. This visit was not merely a sightseeing adventure but a chance to reunite with the guests they had sheltered during the blizzard. Andrea, the wife, expressed her gratitude and joy, saying, "To see everyone in Korea again is such a blessing." The couple had always held an appreciation and interest in Korean culture, and their chance encounter had brought them closer to this beautiful country.
The bond forged during their time together in Buffalo proved to be strong and lasting. The couple and their South Korean guests became lifelong friends. The experience inspired not only the couple but also their guests, who felt compelled to pay it forward and spread kindness to others. Through their act of compassion, the American couple created a ripple effect of goodwill, reminding us of the power of empathy and humanity.