She Did Not Guess That Her Secret Admirer Was a Cat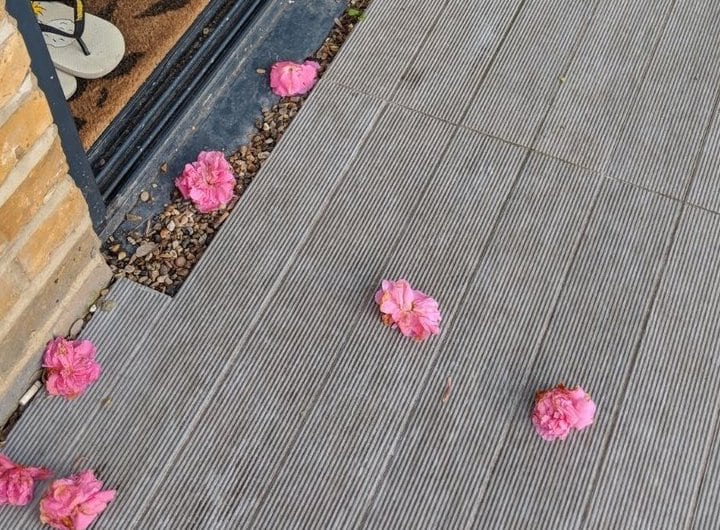 At most times, it feels really sweet to have a secret admirer. It feels nice to know that someone out there views you as special and interesting. Who said that all secret admirers have to be human beings? You will be interested to know that a secret admirer can also be your beloved furry neighborhood friend.
Rosie started to notice pink flowers everyday on the back of her deck, she did not think much of them at first until it became a continuous occurrence. Her secret admirer was very unexpected. Read on to know more about the unexpected feline admirer.
Flowers on Rosie's Porch
Rosie relocated to a quaint neighborhood in the United Kingdom to start her life afresh. She shared the home with several roommates. 6 houses down from where she stayed lived a cat called Willow, who was not like any ordinary neighborhood kitty. Ever since the spring started in that particular year, Rosie would find a flower display on her terrace every day. It was pretty.
At first, she assumed that it was the wind that was blowing flowers on to her porch, but a housemate of hers told her about Willow the neighborhood cat. This kitty is well-known in the neighborhood as being friendly and affectionate to people who reside there. She just seems to care for the people who live there, who also tend to be kind too her too.
Rosie was baffled by the flowers on the porch until her housemate informed her that she had seen this beloved cat carrying pretty flowers in her mouth. This was really surprising to Rosie, and she wanted to witness this spectacle for herself.
Willow the affectionate kitty
The cat clearly liked Rosie and her housemates because she was stealing flowers from her owner's garden and leaving them on their terrace. They would come home from their daily activities to find pink pretty flowers spread all over their back porch nicely. Clearly, there was a secret admire leaving the flowers on a daily basis.
Domestic cats have provided companionship to their owners for many centuries. Without a doubt, cats have a reputation for being unfriendly and proud animals that do not heed to commands, but Rosie and her friends are certain that their friendly neighborhood feline is different from other cats. Willow ensured that her new-found friends had a flower display daily on their deck.
The arrangement of houses in Willow's neighborhood are such that Garden corridors have been used to separate each house. Each day, the popular cat would cross 6 garden corridors, and get some tasty treats in every house she passed before she reached Rosie's home. Rosie admits that it is not easy to turn Willow down, she is just too cute and charming.
Seen in action
Rosie really wanted to see Willow doing what she always did. One day, as she was busy cooking in their kitchen, she happened to see what she had been waiting for. Rosie grabbed her phone quickly to capture the inspiring moment.
Willow was prancing up to their deck carrying a flower in her mouth. This was really surprising because cats are known for bringing dead animals at home, not pretty flowers! This was such a cute scene. Obviously, this friendly kitten understands how to keep the neighborhood happy. Rosie says that Willow holds a special place in her heart.
Willow is not the only cat with a unique story, every year interesting stories about affectionate animals hit the papers. It just goes to show that human beings are not the only species on earth that understands the meaning of caring and being considerate.
These Hermit Crabs Will Blow Your Mind With Stunning Natural Ritual.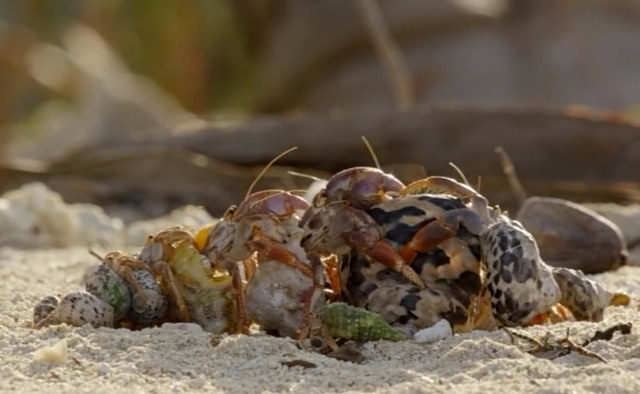 If you are like most people then you are likely fascinated with the ocean and all the creatures inside it. While we can talk forever about massive whales, scuttling squids, and scary sharks, we'd rather highlight a cute little crustacean known as the hermit crab. Now, you've likely heard of the hermit crab and, perhaps, you even know what it looks like. As a member of the superfamily known as the Paguroidea, hermit crabs manage to stand out all on their own. In fact, after learning about this natural ritual that hermit crabs complete, you might even want one of your own!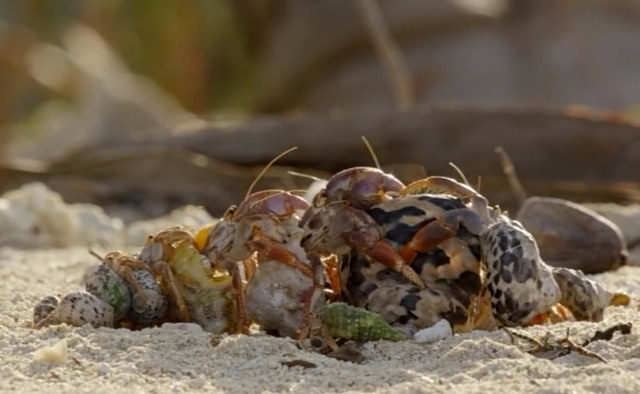 In a post shared on Facebook by a user named Melody Flowers, it was revealed that hermit crabs are always looking for bigger shells to live in. While you probably knew this already, what you didn't realize about this ritual is far more fascinating. According to the post, which has since been backed up by other scientific journals, hermit crabs like to line up next to shells that happen to be too big for them. Hermit crabs can wait for up to eight hours for another crab to come along and try the shell out. Why do these crabs wait next to shells that are too large for them? As it turns out, the first hermit crab is simply waiting for the second crab in line to discard its shell.
So we outlined a natural ritual that hermit crabs undertake when finding a new home. Why is this so fascinating? While you may have summoned up an image of two hermit crabs swapping shells, that isn't entirely accurate. As the second crab lines up behind the shell, more will come to follow. Before long, observers would be able to watch as dozens of hermit crabs all trade shells with one another to ensure that everyone has a comfortable home to live in. The smallest shell of the bunch gets left behind while the shell that started the queue will go to the largest hermit crab of the lot. That's pretty amazing, isn't it? The coordination and cooperation that these hermit crabs have to deploy is nothing short of impressive. If only humans could get along so well when it comes to making to sure everyone is comfortable and safe within their home.
Even though hermit crabs will work together in order to find homes, they are still a competitive species. Gastropod shells can become a limited resource due to a variety of natural and unnatural factors, such as climate change and pollution. When hermit crabs are of a similar size, they are more competitive and violent with one another. When hermit crabs vary dramatically in size, there are more resources available for every member of the group. Hermit crabs are a fascinating sort of creature because they can come in varying sizes with a lifespan ranging between 12 and 70 years. The next time that you see a hermit crab, make sure it has the perfect shell to call home. Maybe it will remember you a couple of decades later!