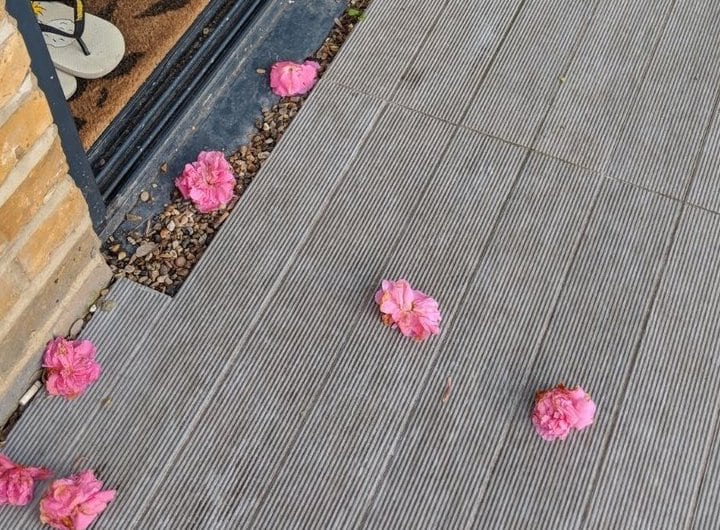 She Did Not Guess That Her Secret Admirer Was a Cat
At most times, it feels really sweet to have a secret admirer. It feels nice to know that someone out there views you as special and interesting. Who said that all secret admirers have to be human beings? You will be interested to know that a secret admirer can also be your beloved furry neighborhood friend.
Rosie started to notice pink flowers everyday on the back of her deck, she did not think much of them at first until it became a continuous occurrence. Her secret admirer was very unexpected. Read on to know more about the unexpected feline admirer.
Flowers on Rosie's Porch
Rosie relocated to a quaint neighborhood in the United Kingdom to start her life afresh. She shared the home with several roommates. 6 houses down from where she stayed lived a cat called Willow, who was not like any ordinary neighborhood kitty. Ever since the spring started in that particular year, Rosie would find a flower display on her terrace every day. It was pretty.
At first, she assumed that it was the wind that was blowing flowers on to her porch, but a housemate of hers told her about Willow the neighborhood cat. This kitty is well-known in the neighborhood as being friendly and affectionate to people who reside there. She just seems to care for the people who live there, who also tend to be kind too her too.
Rosie was baffled by the flowers on the porch until her housemate informed her that she had seen this beloved cat carrying pretty flowers in her mouth. This was really surprising to Rosie, and she wanted to witness this spectacle for herself.
Willow the affectionate kitty
The cat clearly liked Rosie and her housemates because she was stealing flowers from her owner's garden and leaving them on their terrace. They would come home from their daily activities to find pink pretty flowers spread all over their back porch nicely. Clearly, there was a secret admire leaving the flowers on a daily basis.
Domestic cats have provided companionship to their owners for many centuries. Without a doubt, cats have a reputation for being unfriendly and proud animals that do not heed to commands, but Rosie and her friends are certain that their friendly neighborhood feline is different from other cats. Willow ensured that her new-found friends had a flower display daily on their deck.
The arrangement of houses in Willow's neighborhood are such that Garden corridors have been used to separate each house. Each day, the popular cat would cross 6 garden corridors, and get some tasty treats in every house she passed before she reached Rosie's home. Rosie admits that it is not easy to turn Willow down, she is just too cute and charming.
Seen in action
Rosie really wanted to see Willow doing what she always did. One day, as she was busy cooking in their kitchen, she happened to see what she had been waiting for. Rosie grabbed her phone quickly to capture the inspiring moment.
Willow was prancing up to their deck carrying a flower in her mouth. This was really surprising because cats are known for bringing dead animals at home, not pretty flowers! This was such a cute scene. Obviously, this friendly kitten understands how to keep the neighborhood happy. Rosie says that Willow holds a special place in her heart.
Willow is not the only cat with a unique story, every year interesting stories about affectionate animals hit the papers. It just goes to show that human beings are not the only species on earth that understands the meaning of caring and being considerate.
Sweet Elderly Man Joins Makeup Class To Help Wife With Makeup, Quickly Goes Viral!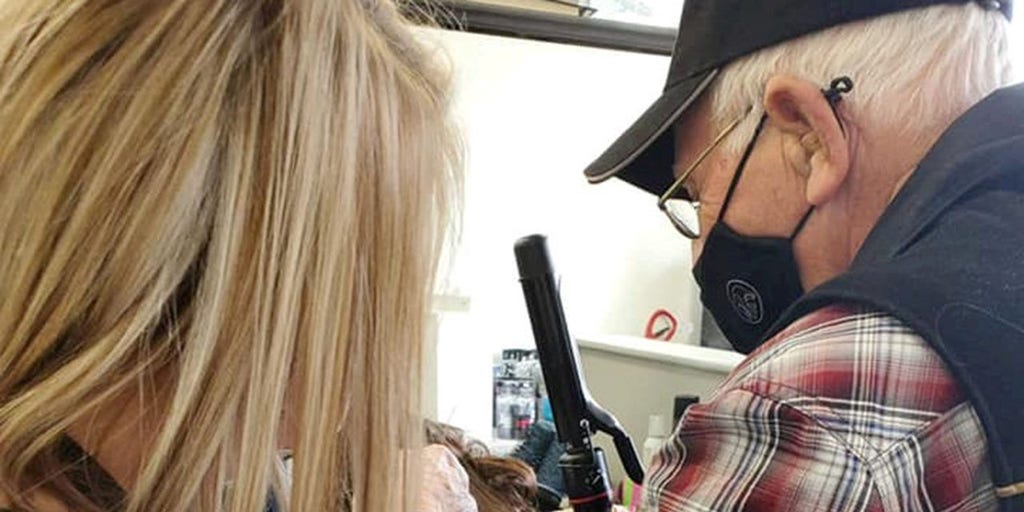 Carrie Hannah is the director at Delmar College of Hair and Esthetics, located in Alberta, Canada. A haircare professional with years of experience under her belt as an instructor, Hannah had grown accustomed to teaching even the most unusual of students the skills they would need to succeed in the hair, makeup, and beauty world. With that being said, even Carrie was surprised when she met with an elderly man at her school who had wished to learn a few things in the field. His reasoning? Well, that's the reason for today's story.
Let's leap into one of the most touching beauty school stories you'll ever read!
Helping Hands For Those We Love
There are few things in life more important than taking care of and providing care to the ones that we love. When we stand before our significant other and bind ourselves together in marriage, we truly hope to embrace 'TIl Death Do Us Part' in the same way that our story's subject has.
Carrie Hannah had been preparing for classes with her students as if it were any other day when she was approached by a white-haired, elderly man. The man, who wishes to remain anonymous, would introduce himself to Carrie before getting into the reason for their meeting — the elderly man had wanted to help his wife with her makeup.
According to Carrie, the elderly man explained that his wife had been struggling with her vision as she grew older. As she struggled to see, her beauty routine became more of a chore. His wife was struggling to curl her hair and had even burned herself in the process. Her husband wanted to help, but he didn't know exactly how, and that's where our two protagonists came together.
Carrie would go on to say that the man "genuinely cared" about his wife and her process. Carrie would continue, "His wife always cared about her appearance, and he wanted to help."
A New Set of Skills
With his motive explained and a spot available to him, Carrie would quickly get her new student into a class. At 79 years old, he was certainly going to be one of her most experienced students. The story would get picked up by Hair Design by Birtney and photos from the class would quickly go viral. Thousands of users would share the images and hundreds of thousands of views would quickly follow.
According to Hair Design by Britney, the man learned how to use a curler while also teaching him how to perform volume curls on shorter hair. Another point of emphasis that the teacher was sure to go over would involve the application of mascara. Of course, all of these lessons were combined with a hefty dose of safety training as they did not want to have any more burn incidents at home.
Commenters on the story would go crazy for the elderly man looking to support his wife. Comments ranged from compliments over his heart and attention to respect for his ambition to learn new skills outside his comfort zone. Another user recalled that their father had done something similar for their mother who had been diagnosed with Alzheimer's.
According to Hannah, working with the man to help his wife would become a highlight of her more than 31-year-career in the beauty industry. Hannah says, "We needed some cheering up and he sure did it."