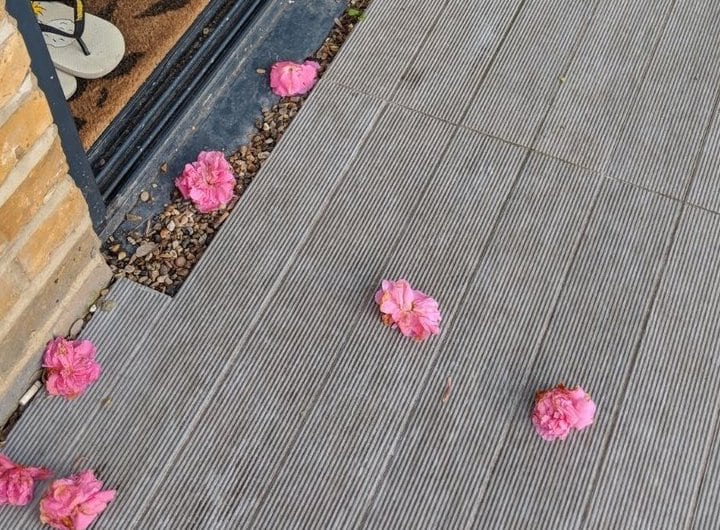 She Did Not Guess That Her Secret Admirer Was a Cat
At most times, it feels really sweet to have a secret admirer. It feels nice to know that someone out there views you as special and interesting. Who said that all secret admirers have to be human beings? You will be interested to know that a secret admirer can also be your beloved furry neighborhood friend.
Rosie started to notice pink flowers everyday on the back of her deck, she did not think much of them at first until it became a continuous occurrence. Her secret admirer was very unexpected. Read on to know more about the unexpected feline admirer.
Flowers on Rosie's Porch
Rosie relocated to a quaint neighborhood in the United Kingdom to start her life afresh. She shared the home with several roommates. 6 houses down from where she stayed lived a cat called Willow, who was not like any ordinary neighborhood kitty. Ever since the spring started in that particular year, Rosie would find a flower display on her terrace every day. It was pretty.
At first, she assumed that it was the wind that was blowing flowers on to her porch, but a housemate of hers told her about Willow the neighborhood cat. This kitty is well-known in the neighborhood as being friendly and affectionate to people who reside there. She just seems to care for the people who live there, who also tend to be kind too her too.
Rosie was baffled by the flowers on the porch until her housemate informed her that she had seen this beloved cat carrying pretty flowers in her mouth. This was really surprising to Rosie, and she wanted to witness this spectacle for herself.
Willow the affectionate kitty
The cat clearly liked Rosie and her housemates because she was stealing flowers from her owner's garden and leaving them on their terrace. They would come home from their daily activities to find pink pretty flowers spread all over their back porch nicely. Clearly, there was a secret admire leaving the flowers on a daily basis.
Domestic cats have provided companionship to their owners for many centuries. Without a doubt, cats have a reputation for being unfriendly and proud animals that do not heed to commands, but Rosie and her friends are certain that their friendly neighborhood feline is different from other cats. Willow ensured that her new-found friends had a flower display daily on their deck.
The arrangement of houses in Willow's neighborhood are such that Garden corridors have been used to separate each house. Each day, the popular cat would cross 6 garden corridors, and get some tasty treats in every house she passed before she reached Rosie's home. Rosie admits that it is not easy to turn Willow down, she is just too cute and charming.
Seen in action
Rosie really wanted to see Willow doing what she always did. One day, as she was busy cooking in their kitchen, she happened to see what she had been waiting for. Rosie grabbed her phone quickly to capture the inspiring moment.
Willow was prancing up to their deck carrying a flower in her mouth. This was really surprising because cats are known for bringing dead animals at home, not pretty flowers! This was such a cute scene. Obviously, this friendly kitten understands how to keep the neighborhood happy. Rosie says that Willow holds a special place in her heart.
Willow is not the only cat with a unique story, every year interesting stories about affectionate animals hit the papers. It just goes to show that human beings are not the only species on earth that understands the meaning of caring and being considerate.
Dog Trainer and Dog Groomer Get Married Accompanied By Their Best Friends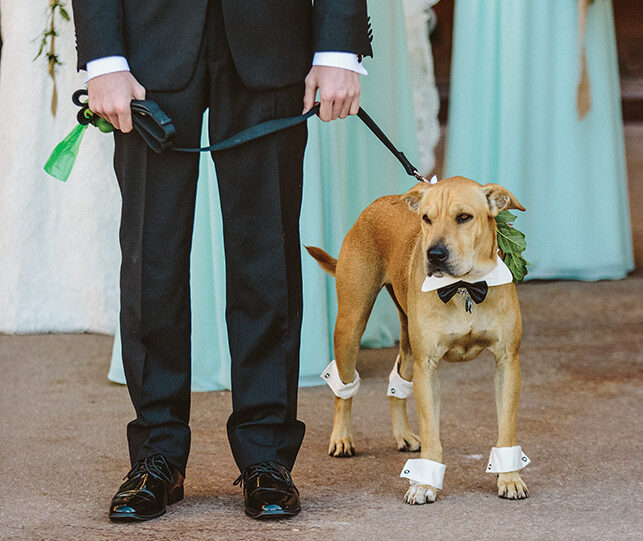 Weddings Are for Sharing With Loved Ones
When people get married, they spend one perfect day with their most loved friends and family. While many people only think about their human friends and family, there are a lot of people who could never imagine starting this important new chapter in their lives without their beloved pets. In fact, many people might have to admit, if they were being honest, that they loved their pets more than some of the relatives who came to the wedding, especially if they felt obligated to invite some relatives they rarely see and barely know.
Some People Already Spend Their Lives With Pets
Anyone who works full-time as a dog trainer or groomer already spends most of their working days with animals. They see dogs all day long, and they make the choice to do so because of many reasons. Working with pets is rewarding on many levels. Especially if you see the same dogs again and again, you form a close bond. Communicating with pets is therapeutic and generally far less stressful than dealing with humans. The people who work with dogs don't get sick of dogs and try to go home to a quiet house; they tend to have larger pet families than average.
A Dog Trainer and a Dog Groomer Tie the Knot
Paul and Annette Anthony are typical in that they work with dogs as a profession, and they have a large pet family. On the day they got married, their family consisted of 2 humans and 9 canines. Both Paul and Annette admitted that their pets were more to them than just fun — their beloved dogs also helped them get through rough times in their lives, including personal tragedies. Annette's German Shepherd Pesci is even an emotional support animal, helping her to deal with severe anxiety and depression. There was no way that their pets were going to be left out of the most important day of their lives going forward.
Canine Best Man
Paul's service dog Finn has earned his retirement. Finn has competed in over 40 events, earning titles and even setting records. He was also there for Paul when Paul developed PTSD after being at the scene of the deadliest plane crash in Pennsylvania's history. Finn was the one who helped with the proposal, giving Annette the ring with a note asking her to marry his dad. It was only fitting that Finn ended up being one of the best men at the wedding too.
A Family Affair
All 9 dogs walked down the aisle and stayed throughout the ceremony. Annette's dog Pesci even came to comfort her during the ceremony when she started to cry from happiness because he wanted to make sure his momma was all right. Whether you want to use your dogs in the ceremony as ring bearers, best men, or flower girls, or if you just want them to be present, it makes sense to have your pets help you celebrate such an important day in your life.