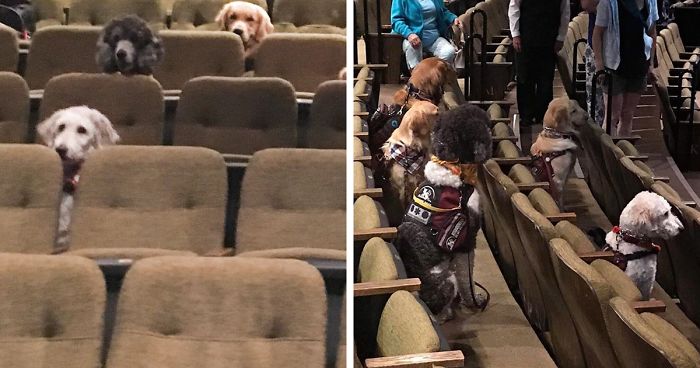 Service Dogs Receive Valuable Training During Recently Held Theater Performance
A typical audience for the performance of a popular musical tends to feature young and old people alike with varying levels of experience with the medium. Some may know lyrics to all the songs while others may just be trying to keep up with the happenings.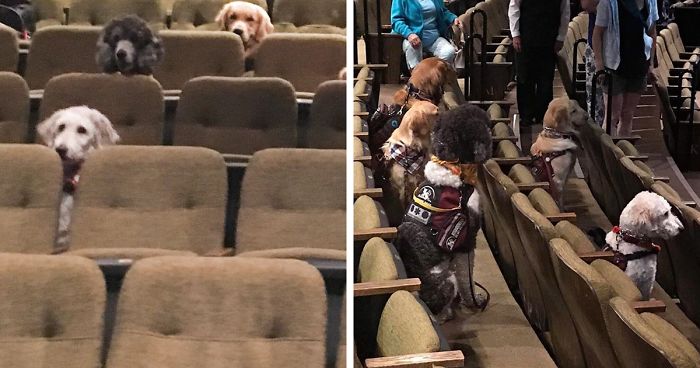 Still, you don't usually expect to see dogs taking part in the festivities, but for one recently held show, that turned out to be the case.
Via Little Things, a performance of the acclaimed musical "Billy Elliot" at the Festival Theatre in Ontario, Canada was attended by numerous dogs. It was a unique audience to say the least, but there was a good reason behind why the dogs were asked to be present for the performance.
These were not ordinary dogs catching a show. They are from K-9 Country Inn Working Service Dogs.
The performance itself was not of the usual variety. On the aforementioned occasion, the theater company put on a "relaxed performance."
Per the Stratford Festival's website, relaxed performances differ from the regular performances in that they are meant for attendees who will feel more comfortable being a part of a "less restricted audience environment."
To further differentiate the relaxed performances from their more conventional counterparts and to also make them more accommodating, they also feature reduced lighting and sounds so as to prevent any audience members from being startled during the performance itself.
The relaxed performance of "Billy Elliot" was not just for the sake of entertaining the service dogs as it was also intended more to provide training for the hounds. The dogs who were present for the show were asked to sit along theater seats and they were taught how to properly behave as the show progressed.
Speaking to the Canadian Broadcasting Corporation, Laura Mackenzie, the owner and head trainer at K-9 Country Inn Working Service Dogs, said that the training was "important" for the dogs as it can prepare them to act accordingly in the future when the time comes for their handler to attend their preferred activities.
Mackenzie also pointed out that the dogs being at the performance was beneficial because it gave them an opportunity to be exposed to different kinds of lights and noises.
The theater company was also complimentary of the service dogs who were on hand for the relaxed performance of "Billy Elliot." Stratford Festival spokesperson Ann Swerdfager said that the dogs were "extremely well-behaved" during the performance. Swerdfager also highlighted the way in which the dogs moved about the theater, saying that they acted just like people would for a performance.
It's not just the service dogs and their potential future handlers who benefited from the recent relaxed performance. Swerdfager said that the dogs being in the audience also helped the performers. Thanks to the experience, the performers were able to get a sense of what it's like to put on a show for an audience made up of people as well as some service dogs.
The hope here is that the training will make it possible for more people to attend theater shows.
More service dogs could also be heading to the theater sometime soon. Mackenzie already has plans to bring new service dogs to future performances.
While nothing is set in stone just yet, it's possible that more service dogs could get a taste of the theater when a relaxed performance of "The Neverending Story" takes place in October. To be more specific, a relaxed performance of "The Neverending Story" is expected to take place on Oct. 2 at the Avon Theatre.
For those eager to see the service dogs as they were attending the show, K-9 Country Inn Service Dogs has an Instagram account featuring them.
Tony Hawk Trades Skateboard With a 6-Year-Old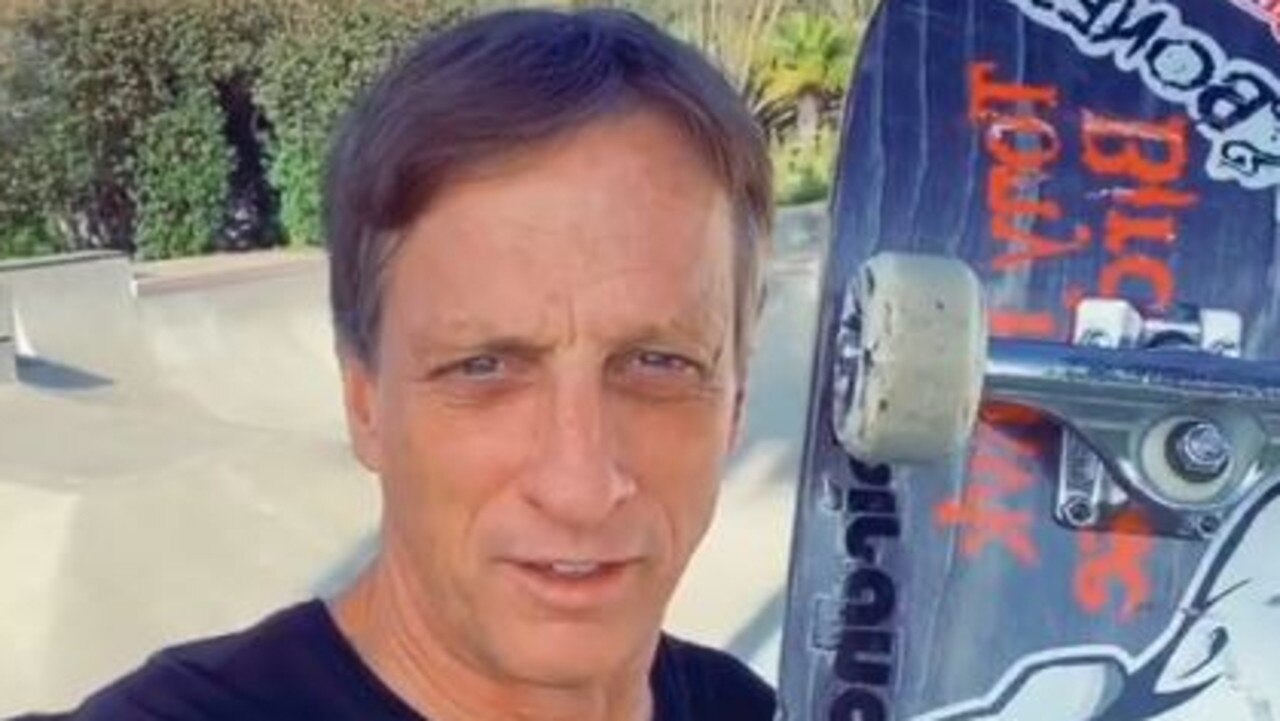 Kids have the most straightforward, amazing imaginations. They aren't burdened by the complications of the adult world. For example, in the case of FedEx carrier, Mikail Farrar, he found himself challenged to make the connection between a 6-year-old, Cooper Taylor, and a famous skateboarder, Tony Hawk. As the FedEx deliveryman was making his rounds, Cooper stopped him and asked the FedEx employee to deliver one, well-used skateboard titled "Tony Hawk" to the famed skate hero. Cooper's mom was behind the boy and nodded in a knowing manner that what the boy was asking for was a bit impossible, but she was going along with it anyways. However, Farrar took the matter a bit more seriously.
Instead, the FedEx employee got online and started trying to figure out what Tony Hawk's shipping address was. The skateboard only had his name; kids don't think in terms of addresses and zip codes at Cooper's age. So, off to TikTok the driver went to see what some group-thinking could do in the digital age. It turned out to be an extremely smart move. By that evening, Farrar's phone was getting so hot from activity, it was becoming a bit uncomfortable to hold. As it turned out, Farrar either accidentally or ingeniously tagged the video correctly, and everyone saw the info request, at least everyone that mattered in the skateboard world. Not only did the video get attention, it went viral!
As it turned out, even Tony Hawk himself got involved, a rarity given that he generally has avoided TikTok since 2018. Hawk arranged for the delivery of the board with FedEx and, in the video message response he posted, he made it clear he wanted to meet up with Cooper as well. Between the adults involved, Farrar and Hawk made the arrangement for the old skateboard to get to its destination as desired by Cooper, and, for anyone checking online with tracking, it arrived at Hawk's address on May 27, 2022.
Farrar himself didn't expect Tony Hawk to engage the way he did. While even as a FedEx driver he knew who Tony Hawk was, Farrar had no real hope that Hawk himself would get involved. Generally, he assumed celebrities are far more engaged in other things than answering kids' requests. In that respect, Farrar definitely didn't know about Hawk's reputation of engaging with kids and skateboarding proactively, regularly going to classrooms for speeches, and showing up for charities and nonprofits when he can.
So, as the story went along, Cooper as well as his sibling, Tucker, both ended up getting a response from Tony Hawk. The two boys, literally looking skater-poster ready with long hair and over-sized T-shirts, responded on TikTok to Tony Hawk and thanked him for their presents, courtesy of Hawk. Both kids got brand new boards with slick graphics and plenty of Bones brand equipment for their new boards as well.
For their father, the whole thing is a bit of a dream come true. He skated when he was younger, idolizing the tricks and amazing aerial stunts Tony Hawk became famous for. To see his kids connect with a hero is a bit of an amazing moment for the boys' parents as well.